Looking for an inspirational quote about dreaming big and the true meaning of success? Here's a collection of dream big quotes that will surely light the fire in your heart and encourage you to work harder. If you ever feel tired or feel like giving up, remind yourself of these quotes to help you get going. 
Dream Big Quotes
1. Throw your dreams into space like a kite, and you do not know what it will bring back, a new life, a new friend, a new love, a new country. – Anais Nin
2. There is always a realistic way to fulfill any dream. There has never been a dream that you can't have–at least, not the heart of it, not the part you love the most. – Barbara Sher
3. The more you can dream, the more you can do. – Michael Korda
4. We will only grow as big as we dream that's why we must dream big. – Gabrielle Williams
5. Have the courage to follow your dreams. It's the first step towards attaining your destiny. – Nikita Koloff
6. If you have a dream, don't just sit there. Gather courage to believe that you can succeed and leave no stone unturned to make it a reality. – Dr Roopleen 
7. Dare to dream big. Never fear to fail. Take actions with love. – Debasish Mri
8. If a little dreaming is dangerous, the cure for it is not to dream less but to dream more, to dream all the time. – Marcel Proust
9. Reality is wrong. Dreams are for real. – Tupac Shakur
10. No matter how small you start, always dream and think big. If you start with small thoughts then you will stay with small thoughts. – Stephen Richards
11. Always dream big dreams. Big dreams attract big people. – Dave Liniger
12. Dream big and your problems become small. – Vishen Lakhiani
13. To dream is to have a chest filled with stars, a mind captivated by possibilities and a heart enveloped in imagination. – Anastasia Bolinder
14. You can go as far as you dream, think and imagine. – Lailah Gifty Akita
15. You must dream big and dream often. Take risks and see what happens. – Debasish Mridha
16. Dream big for you can't stuff a great life into a small dream. – Barb Rees
17. You cannot dream yourself into a character, you must hammer and forge yourself one. – James A. Froude
18. Dream the impossible. See the invisible. Pursue the intangible. Achieve the incredible. – Matshona Dhliwayo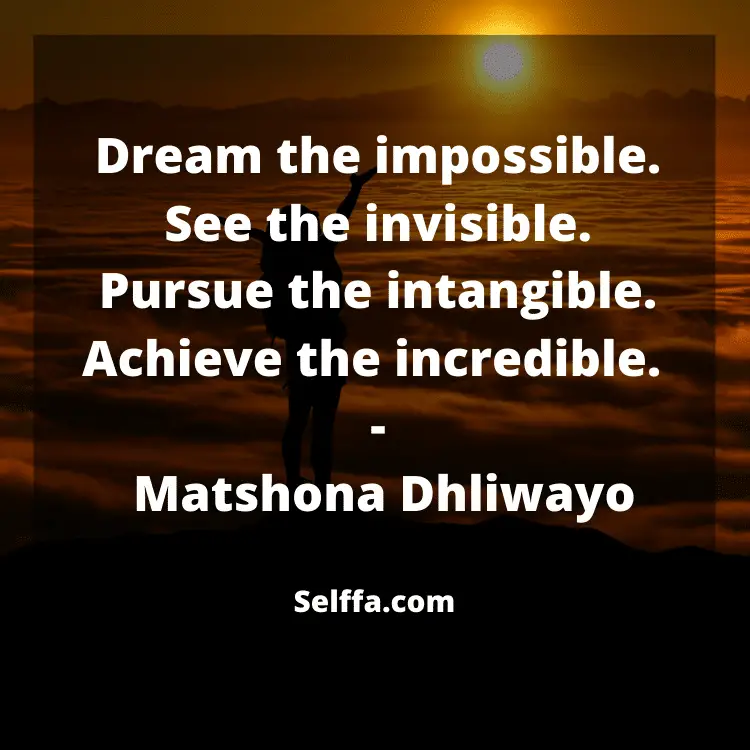 19. There is no need to reach high for the stars. They are already within you just reach deep into yourself. – Terri Guillemets
20. Keep your eyes on the stars, and your feet on the ground. – Theodore Roosevelt
21. Life is short, live bold. Be heard, be you, dream big, take risks, don't wait. – Misty Gibbs
22. Keep your head up, because success doesn't come from giving up. Just dream big, work hard, and believe that you can do anything you put your mind to. – Nishan Panwar
23. Don't be afraid of the space between your dreams and reality. If you can dream it, you can make it so. – Belva Davis
24. If you can dream it, then you can achieve it. – Zig Ziglar
25. All our dreams can come true if we have the courage to pursue them. – Walt Disney
26. Dreams do come true, if only we wish hard enough. You can have anything in life if you will sacrifice everything else for it. – James Matthew Barrie
27. Now is the time for us to dream new dreams, move out into uncharted waters and stay positive. – Jane Freeman
28. A dream doesn't become reality through magic, it takes sweat, determination and hard work. – Colin Powell
29. All your dreams are within reach, no matter how big or crazy they might seem. – Jeannette Maw
30. When we think big, it becomes less important whether we succeed or fail, and more importantly how we approach any given situation. – Jennifer Arnold
31. The right people encourage you, to try harder, dream bigger, do better. They bring out the most incredible parts of yourself and make you want to fight harder than ever before. – Heidi Priebe
32. Big dreams drive us to do things we'd never do for lesser dreams in many ways they almost pull us through the obstacles we're likely to have on the way to reaching them. – Vic Johnson
33. Dream big dreams, only big dreams have the power to move men's souls- Marcus Aurelius
34. If you dream big, believe big, and pray big. Do you know what will happen, big things. – Mark Dudley
35. Think big, think rich, think forwards, believe in yourself and always have your next ideas ready to turn into ventures for the future, be adaptable with your ideas, examine your ideas out of the box and do not put rose coloured glasses on them, really get into their bare bones. – Linda Corby
36. But behind every big play, there's a guy who grew up dreaming of making that big play. He's got a story, and he was inspired by someone else's.
37. If you dream and you allow yourself to dream you can do anything. And that's what this Olympic medal represents. – Clara Hughes
38. Set out each day believing in your dreams. Know without a doubt that you were made for amazing things. – Josh Hinds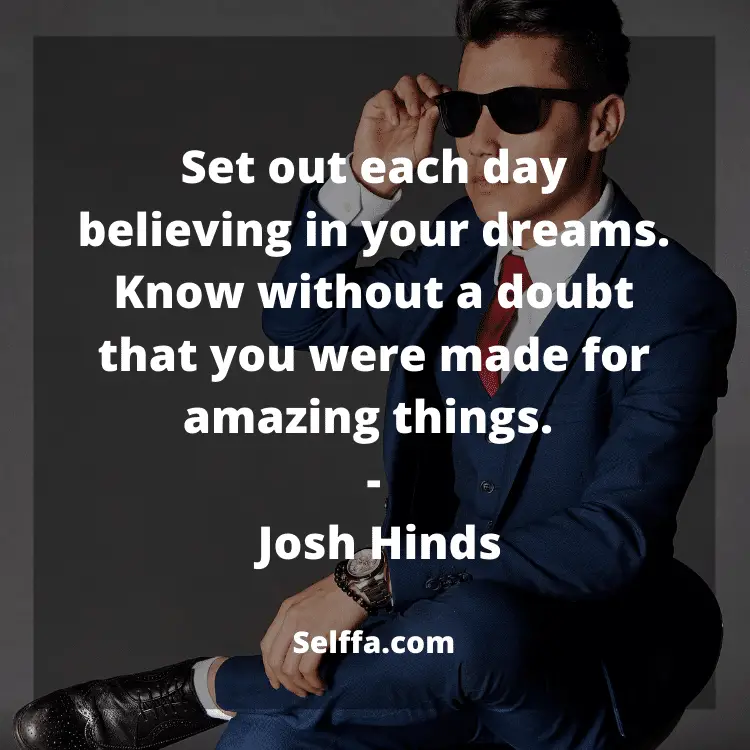 39. Disturb us, Lord, when we are too well pleased with ourselves, when our dreams have come true because we have dreamed too little. – Sir Frances Drake
40. Keep your dreams they're richer far than the facts discovered are. Do not seek all things to touch. Do not want to know too much. – Edgar A. Guest
41. Well, the one thing that has a huge impact on whether you pursue your dreams or not is your mind. – Benjamin Smith
42. I am grateful to people who push boundaries, who do things differently, and who trust in miracles, dreams, and big possibilities. – Emma Wright
43. Most people never run far enough on their first wind to find out they've got a second. Give your dreams all you've got and you'll be amazed at the energy that comes out of you. – William James
44. A person is the product of their dreams. So make sure to dream great dreams. And then try to live your dream.
45. I had a big dream. A big goal. A major goal, but no idea how to achieve it. So I started to study. – Jacob Reimer
46. You dream big dreams and as you dream so you become. You nurture your dream. You cherish your dream. And you know that the dream you live in the inside will soon be seen by all on the outside. – Rahul Badami
47. You're the one that gets to decide how big your dreams are. You are in complete control of your own destiny and best of all, your own creativity. – Gerry Marrs
48. Risk more than others think is safe. Care more than others think is wise. Dream more than others think is practical. Expect more than others think is possible. – Claude Bissell
49. We've removed the ceiling above our dreams. There are no more impossible dreams. – Jesse Jackson
50. I do not think you should think big or try to follow your dreams if you feel really stuck, instead, find the simplest act that would bring benefit to your situation and then pursue it with single-pointed focus. – David Baker
51. What if dreaming the impossible dream enough times begins to make the impossible possible. – Debbie Dixon
52. Don't put limits on yourself. Not every dream will come true, and not every dream is from God. But when your dreams connect with God's plans, you'll find open doors that you never thought you'd see. – Max Lucado
53. Each and every one of us is capable of achieving greatness, yet only a few of us actually tap into our talents, passions, and dreams, that would allow us to do great and mighty things, far above and beyond our wildest dreams. – Curt Hinson
54. Dreams don't have to be big to change a life, and neither does the start-up capital to launch them into action. – Marion Ahlers
55. Pursuing our biggest dreams sometimes takes time. If we can't wait, or if we find something that looks more valuable to us, then we have the luxury of giving up what we're currently pursuing in favor of a new goal. – Ben Robinson
56. If you want to reach the highest peak of your dream, think big. You should always remember that there is nothing wrong if you set higher goals, aims or standards in life most especially if you know that you can do it. – Kellie Sullivan
57. Make sure that you dream big so that whatever you accomplish in your life can be meaningful. – Michael Henson
58. Becoming comfortable and surviving is just a start. It's knowing that you have greater goals than survival that makes it possible to begin living the life of your dreams. – Tamara Rasheed
59. Dream bigger than you think anyone else will let you. Nobody's in charge of your thoughts, just go for it.
60. If you've aims in your life; if you've wishes in your life; if you've dreams in your life, if you've objectives in your life, if you've plans in your life, then first of all you've to think something big, something great, and something unique in order to fulfil it in your life. – Birister Sharma
61. Have a vision, dream, and dream big, create a vision board of the things you want and the goals you have. – Raymona Brown
62. Dream lofty dreams, and as you dream, so shall you become.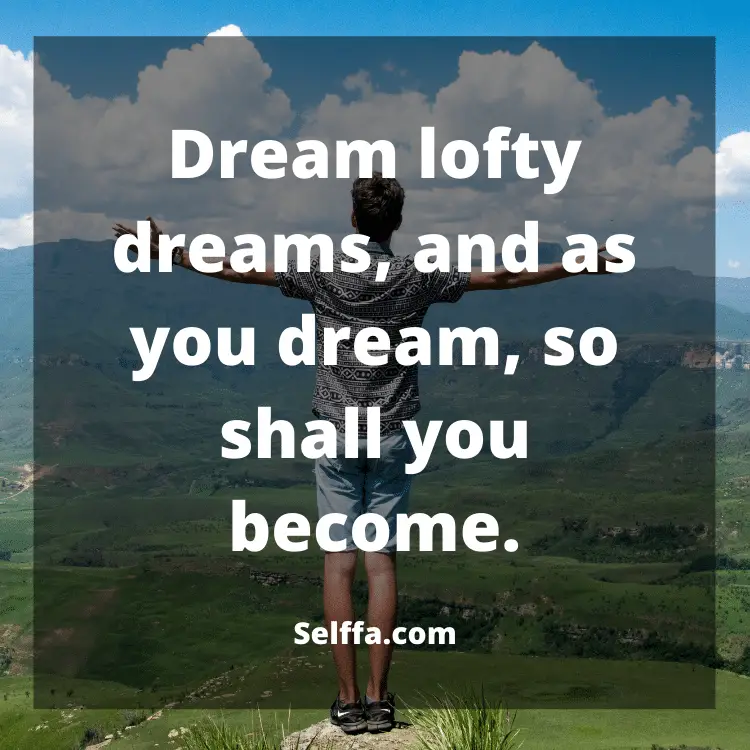 63. So think, dream and talk about things that you would like and you will lead a life that others envy. Don't focus on the things you don't want, realize that those are creations, manifestations of other people and you don't have to like them. – Andreas Boskugel
64. Dare to grow into your dreams and claim this as your motto, let it be me.
65. You should sit down with yourself and explore your dreams. What have you always wanted to do. – Monica Bell
66. Live the life of your dreams, be brave enough to live the life of your dreams according to your vision and purpose instead of the expectations and opinions of others. – Roy T. Bennett
67. A little progress each day adds up to big results. 
68. Think big when you set your goals. Dare to think big and then set a series of smaller goals to get you there. 
69. Some people are born with tornadoes in their lives, but constellations in their eyes. Other people are born with stars at their feet, but their souls are lost at sea. – Nikita Gill
70. There is strange comfort in knowing that no matter what happens today, the Sun will rise again tomorrow. – Aaron Lauritsen
71. The struggles we endure today will be the good old days we laugh about tomorrow. – Aaron Lauritsen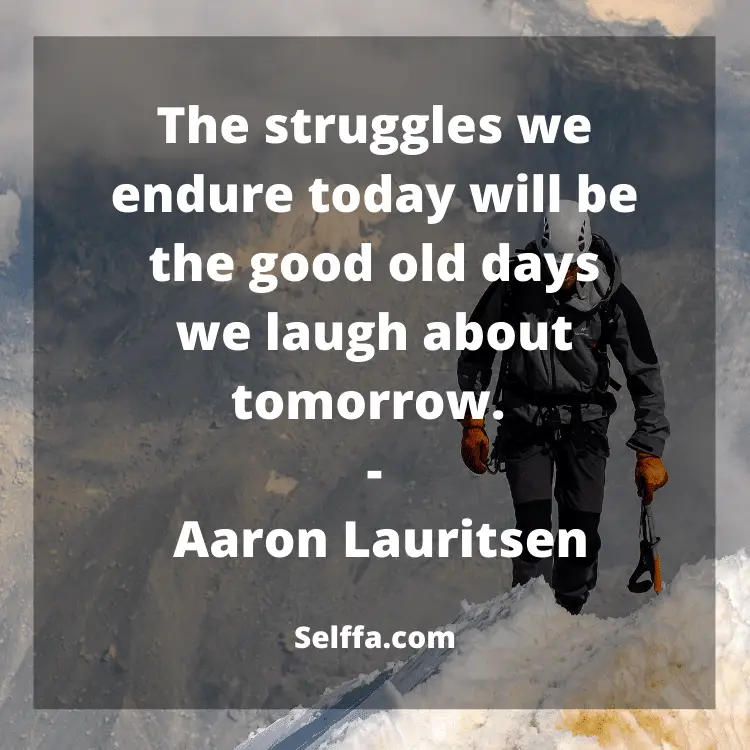 72. If your dream is a big dream, and if you want your life to work on the high level that you say you do, there's no way around doing the work it takes to get you there. – Joyce Chapman
73. Your comfort zone is a place where you keep yourself in a self-illusion and nothing can grow there but your potentiality can grow only when you can think and grow out of that zone. – Rashedur Ryan Rahman
74. Life's trials will test you, and shape you, but don't let them change who you are. – Aaron Lauritsen
75. It's in those quiet little towns, at the edge of the world, that you will find the salt of the earth people who make you feel right at home. – Aaron Lauritsen
76. Without struggle, success has no value. – Aaron Lauritsen
77. When the actions become frequent than the words, success becomes heavier than the dreams. Do more, say less. – Israelmore Ayivor
78. When you optimize your talents very well, you can pick money from people's pockets and nobody will ever get the guts to call you a thief. – Israelmore Ayivor
79. Life is a dream. We wake up when we die. – Bangambiki Habyarimana
80. Step out of the crowd of average people. Enter that game and change the values on the scoreboard. – Israelmore Ayivor
81. From this point forward, you don't even know how to quit in life. – Aaron Lauritsen
82. The possibility of the dream gives strength. – Lailah Gifty Akita
83. If you didn't earn something, it's not worth flaunting. – Aaron Lauritsen, 
84. The excitement of dreams coming true is beyond the description of words. – Lailah Gifty Akita
85. It's the everyday experiences we encounter along the journey to who we wanna be that will define who we are when we get there. – Aaron Lauritsen
86. He who has the audacity to stop you from dreaming is he who had given you the imaginations to think, but not those who watch you as you explore the dreams. – Israelmore Ayivor
87. When a dream is fulfilled, it is always a glorious feeling. – Lailah Gifty Akita
88. You got the eggs in you, the world is fully ready to celebrate the chicks out of your laying labour. Never give up. Go and breed. Go and breed great dreams. – Israelmore Ayivor
89. The sky is not the limit. Beyond the universe is. – Suzy Kassem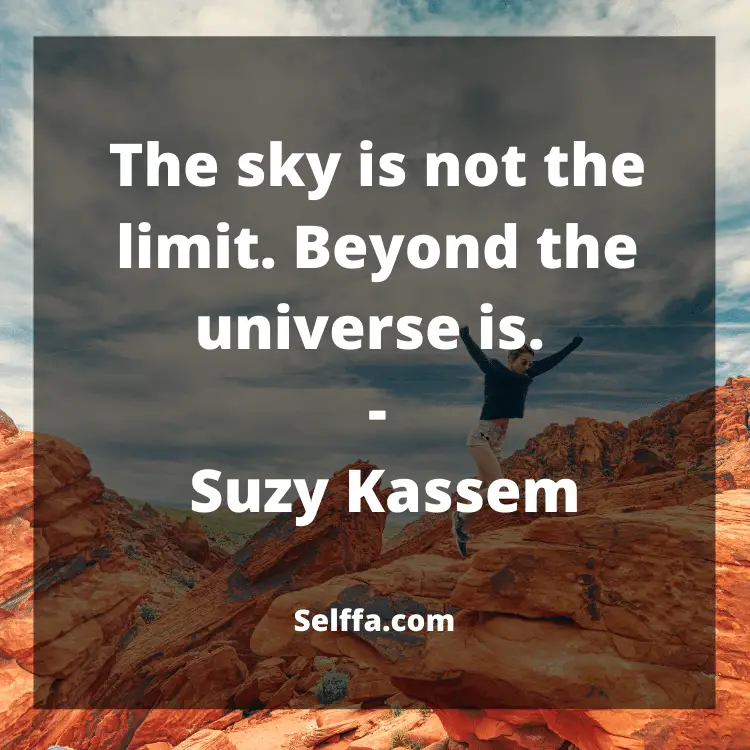 90. Great leaders get people to admit the truth because they know that dreams are buried under the lies they tell themselves, in order to feel okay with giving up. – Shannon L. Alder
91. You can go as far as you dream, think and imagine. – Lailah Gifty Akita
92. If your thoughts are as tall as the height of your ceiling, you can't fly above your room. – Israelmore Ayivor
93. Dreams are fulfilled at the right. Be patient and wait for the fulfillment of your dreams. – Lailah Gifty Akita
94. Whatever you dream of, there will be fulfillment. –  Lailah Gifty Akita
95. The will to dream, the courage to act and the hope to win are the stuffs that make life meaningful. Create the life you wish to live and live it fully. – Israelmore Ayivor
96. Dream high. Aim for it as long as you can. Don't let anyone ruin it. You have the power to make it come true. – Jennifer Magtagñob
97. If one person says that I inspired him or her to become a better version of himself or herself then I will feel happy.
98. But wearing branded clothes, holding high designations, and possessing cool visiting cards don't allure me.
99. That's not how legends are made. – Avijeet Das
100. Dream no small dreams for they have no power to move the hearts of men. – Johann Wolfgang Von Goethe
101. For once you have tasted flight you will walk the earth with your eyes turned skywards, for there you have been and there you will long to return. – Leonard da Vinci
102. What lies behind us and what lies before us are tiny matters compared to what lies within us. – Henry Stanley Haskins
103. Whatever you do, or dream you can, begin it. Boldness has genius and power and magic in it. – Goethe
104. A number 2 pencil and a dream can take you anywhere. – Joyce A. Myers
105. A bird sitting on a tree is never afraid of the branch breaking, because her trust is not on the branch but on its own wings.  Always believe in yourself.
106. A dream is your creative vision for your life in the future. A goal is what specifically you intend to make happen. Dreams and goals should be just out of your present reach but not out of sight. Dreams and goals are coming attractions in your life. – Joseph Campbell
107. A great leader's courage to fulfill his vision comes from passion, not position. – John Maxwell
108. A man's dreams are an index to his greatness. – Zadoc Rabinowitz
109. Alice laughed, there's no use trying, she said. One can't believe impossible things. I daresay you haven't had much practice, said the queen. When I was your age, I always did it half an hour a day. Why, sometimes, I've believed as many as six impossible things before breakfast. – Lewis Carroll
110. All big things in this world are done by people who are naive and have an idea that is obviously impossible. – Frank Richards
111. All of us failed to match our dreams of perfection. So I rate us on the basis of our splendid failure to do the impossible. – William Faulkner
112. All parents believe their children can do the impossible. They thought it the minute we were born, and no matter how hard we've tried to prove them wrong, they all think it about us now. And the really annoying thing is, they're probably right. – Cathy Guisewite
113. All things are created twice. There is a mental  creation, and a physical creation. The physical creation follows the mental, just as a building follows a blueprint. If you don't make a conscious effort to visualize who you are and what you want in life, then you empower other people and circumstances to shape you and your life by default. – Stephen Covey
114. Always be a first-rate version of yourself, instead of a second-rate version of somebody else. – Judy Garland
115. Always dream and shoot higher than you know you can do. Don't bother just to be better than your contemporaries or predecessors. Try to be better than yourself. – William Faulkner
116. Ask yourself, 'How long am I going to work to make my dreams come true?' I suggest you answer, as long as it takes. – Jim Rohn
117. At a time when opportunism is everything, when hope seems lost, when everything boils down to a cynical business deal, we must find the courage to dream. To reclaim romance. The romance of believing in justice, in freedom, and in dignity. For everybody. – Arundhati Roy
118. Be who you are and say what you feel, because those who mind don't matter and those who matter don't mind. –  Dr. Seuss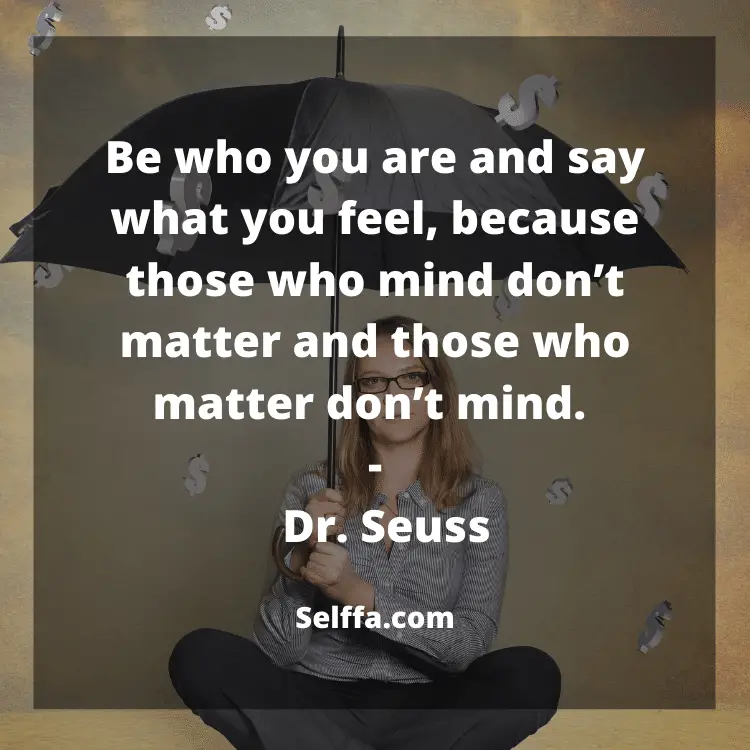 119. Begin to free yourself at once by doing all that is possible with the means you have, and as you proceed in this spirit the way will open for you to do more. – Robert Collier
120. Believe this, the higher you go, the further you see and also 'the further you see the clearer you hear,  the clearer you hear, the wiser you become. – Israelmore Ayivor
121. Believing in fate produces fate. Believing in freedom will create infinite possibilities. – Ayn Rand
122. Books, to the reading child, are so much more than books they are dreams and knowledge, they are a future, and a past. – Esther Meynell
123. Bravery and adventure. That's the ticket. Don't sit and gather moss. Get up, get out, do what you dream of doing, and if it doesn't work, it doesn't work, and you don't need to made that particular mistake again, but at least you won't get old wondering what if you had. – Garrison Keillo
124. Climb high, climb far. Your goal the sky, your aim the star.
125. Commit yourself to a dream. Nobody who tries to do something great but fails is a total failure. Why, because he can always rest assured that he succeeded in life's most important battle he defeated the fear of trying. – Robert H. Schuller
126. Commitment unlocks the doors of imagination, allows vision, and gives us the right stuff to turn our dreams into reality. – James Womack
127. Don't be pushed by your problems. Be led by your dreams.
128. Don't let anyone steal your dream. It's your dream, not theirs. – Dan Zadra
129. Dream and give yourself permission to envision a You that you choose to be. – Joy Page
130. Dream as if you'll live forever live as if you'll die today. – James Dean
131. Dream big and see further. Sharpen your eyes, you have the eagle's sight. Quicken your steps, you have the horse's limbs. All that is a burden for others would be beaten several times by you. – Israelmore Ayivor
132. Dream big dreams, Imagine that you have no limitations and then decide what's right before you decide what's possible. – Brian Tracey
133. Dream your dreams with open eyes and make them come true. – T. E. Lawrence
134. Dreams are free, so free your dreams. – Terri Guillemets
135. Dreams are the touchstones of our character. – Henry David Thoreau
136. Dreams, ideas, and plans not only are an escape, they give me purpose, a reason to hang on. – Steven Callahan
137. Each one of us should lead a life stirring enough to start a movement. – Max Lucado
138. Either you let your life slip away by not doing the things you want to do, or you get up and do them. – Roger Von Oech
139. Even if you can't just snap your fingers and make a dream come true, you can travel in the direction of your dream, every single day and you can shorten the distance between the two of you. – Douglas Pagels
140. Every dreamer works in violent disagreement with their times. – Conway Stone
141. Every great work, every big accomplishment, has been brought into manifestation through holding to the vision, and often just before the big achievement, comes apparent failure and discouragement. – Florence Scovel Shinn
142. Every life comes with a story and a possibility for a great adventure. – Kobi Yamada
143. Far away there in the sunshine are my highest aspirations. I may not reach them, but I can look up and see their beauty, believe in them, and try to follow where they lead. – Louisa May Alcott
144. Great things are only possible with outrageous requests. – Thea Alexander
145. You can only become truly accomplished at something you love. Don't make money your goal. Instead, pursue the things you love doing, and then do them so well that people can't take their eyes off you.– Maya Angelou
146. Follow your heart and your dreams will come true.
147. To accomplish great things, we must not only act but also dream.
148. Not fulfilling your dreams will be a loss to the world, because the world needs everyone's gift–yours and mine. – Barbara Sher
149. Any dream worth dreaming is worth the effort to make it come true. – Evan Gourley
150. Go for it now. The future is promised to no one. – Wayne W. Dyer
151. A journey of a thousand miles must begin with a single step. – Lao Tzu
152. This one step, choosing a goal and sticking to it, changes everything. – Scott Reed