Sometimes, hearing a few words of motivation can already make a difference in someone's life. If a certain person in your life needs a bit of encouragement right now, feel free to take some of these short motivational quotes we compiled. You can also write them on a card and send them out to your loved ones. It's a great and thoughtful way to show that you care!
Short Motivational Quotes
1. Write it on your heart that every day is the best day of the year. – Ralph Waldo Emerson
2. Perfection is not attainable, but if we chase perfection we can catch excellence. – Vince Lombardi
3. Everything you've ever wanted is on the other side of fear. – George Addair
4. Dwell on the beauty of life. Watch the stars, and see yourself running with them. – Marcus Aurelius
5. You cannot tailor-make the situations in life but you can tailor-make the attitudes to fit those situations. – Zig Ziglar
6. There are two ways of spreading light, to be the candle or the mirror that reflects it. – Edith Wharton
7. To be the best, you must be able to handle the worst. – Wilson Kanadi
8. The key to immortality is first living a life worth remembering. – Bruce Lee
9. Do not dwell in the past, do not dream of the future, concentrate the mind on the present moment. – Buddha
10. I can't change the direction of the wind, but I can adjust my sails to always reach my destination. – Jimmy Dean
11. Keep your face always toward the sunshine and shadows will fall behind you. – Walt Whitman
12. The greatest discovery of all time is that a person can change his future by merely changing his attitude. – Oprah Winfrey
13. To succeed in life, you need two things: ignorance and confidence. – Mark Twain
14. Don't judge each day by the harvest you reap but by the seeds that you plant. – Robert Louis Stevenson
15. Without His love I can do nothing, with His love there is nothing I cannot do.     
16. Begin at the beginning, and go on till you come to the end, then stop. – Lewis Carroll
17. Make each day your masterpiece. – John Wooden
18. Put your heart, mind, and soul into even your smallest acts. This is the secret of success. – Swami Sivananda
19. Wherever you go, go with all your heart. – Confucius
20. The day is what you make it. So why not make it a great one? – Steve Schulte
21. What we've got to do is keep hope alive. Because without it we'll sink. – John Lennon
22. Create the highest, grandest vision possible for your life, because you become what you believe.
23. When you can't find the sunshine, be the sunshine.
24. The grass is greener where you water it.
25. Wherever life plants you, bloom with grace.
26. So, what if, instead of thinking about solving your whole life, you just think about adding additional good things. One at a time. Just let your pile of good things grow.
27. Little by little, day by day, what is mean for you will find its way.
28. Don't forget you're human. It's okay to have a meltdown. Just don't unpack and live there. Cry it out. Then refocus on where you're headed.
29. An arrow can only be shot by pulling it backward. When life is dragging you back with difficulties, it means it's going to launch you into something great. So just focus, and keep aiming.
30. A great attitude becomes a great day which becomes a great month which becomes a great year which becomes a great life.
31. I am in charge of how I feel and today I am choosing happiness.
32. Happiness is letting go of what you think your life is supposed to look like and celebrating it for everything that it is.
33. If you have good thoughts they will shine out of your face like sunbeams and you will always look lovely.
34. Learn from yesterday, live for today, hope for tomorrow.
35. Take time to do what makes your soul happy.
36. Be so happy that when others look at you, they become happy too.
37. The sun is a daily reminder that we too can rise again from the darkness, that we too can shine our own light.
38. Believe. Act as if. Live like you already have it. It's coming.
39. Enjoy this list of short inspirational quotes. Discover simple thoughts, one liners and wise sayings to start your day.
40. You can totally do this. 
41. Impossible is for the unwilling. – John Keats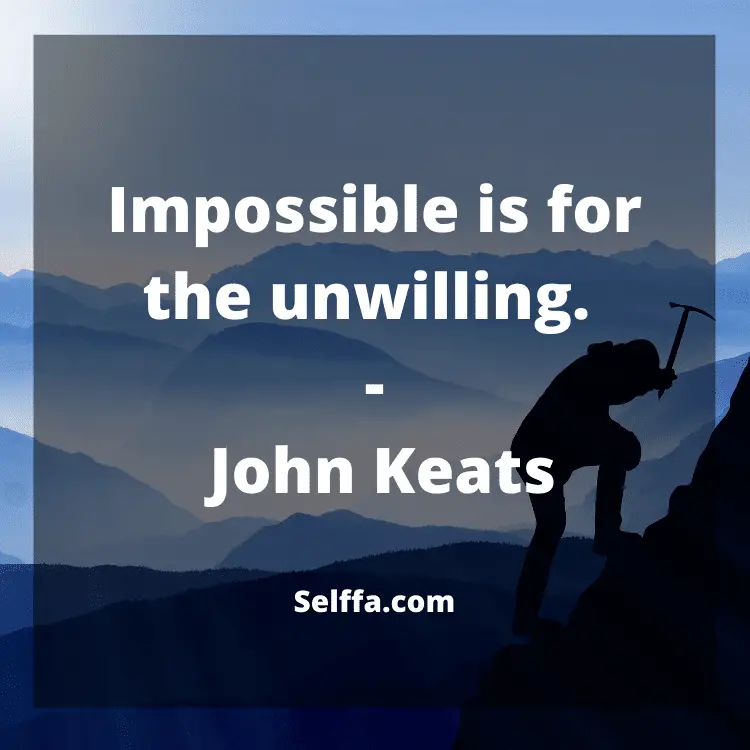 42. No pressure, no diamonds. – Thomas Carlyle 
43. Stay foolish to stay sane. – Maxime Lagacé 
44. When nothing goes right, go left. 
45. Don't tell people your plans. Show them your results.  
46. I can and I will. 
47. Take the risk or lose the chance.  
48. Prove them wrong.  
49. No guts, no story. – Chris Brady 
50. My life is my message. – Mahatma Gandhi 
51. Screw it, let's do it. – Richard Branson 
52. Boldness be my friend. – William Shakespeare 
53. Keep going. Be all in. – Bryan Hutchinson 
54. My life is my argument. – Albert Schweitzer 
55. Dream big. Pray bigger. 
56. Leave no stone unturned. – Euripides 
57. Fight till the last gasp. – William Shakespeare 
58. Stay hungry. Stay foolish. – Steve Jobs  
59. Broken crayons still color.  
60. And so the adventure begins. 
61. If you want it, work for it. 
62. You can if you think you can. – George Reeves 
63. Grow through what you go through. 
64. Do it with passion or not at all. 
65. She believed she could, so she did. 
66. The past does not equal the future. – Tony Robbins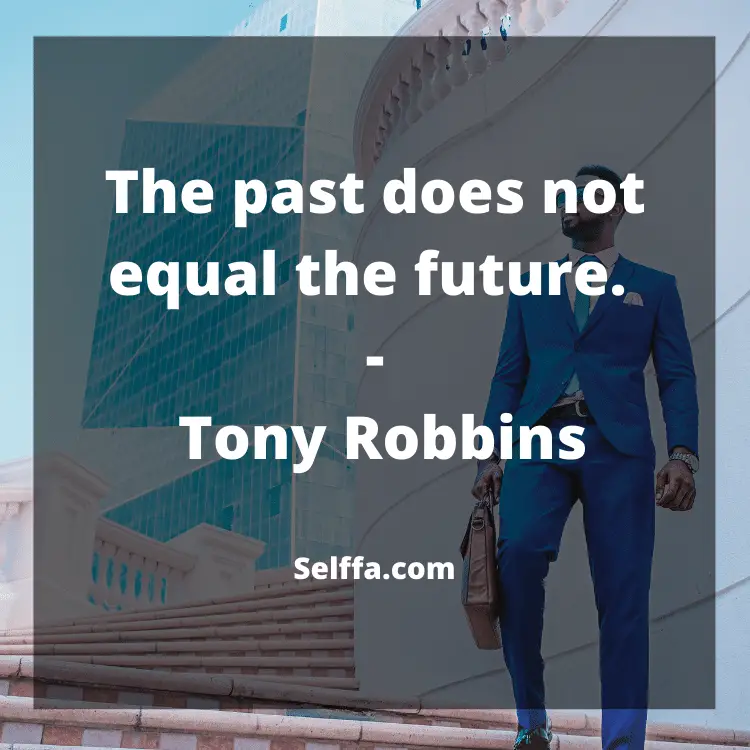 67. Good things happen to those who hustle. – Anaïs Nin 
68. At the end of hardship comes happiness. 
69. If it matters to you, you'll find a way. – Charlie Gilkey 
70. Forget about style, worry about results. – Bobby Orr 
71. Whatever you do, do with all your might. – Marcus Tullius Cicero 
72. Dream without fear. Love without limits. 
73. Every noble work is at first impossible. – Thomas Carlyle 
74. If you're going through hell, keep going. – Winston Churchill 
75. You can do anything you set your mind to. 
76. We are twice armed if we fight with faith. – Plato 
77. The wisest mind has something yet to learn. – George Santanaya 
78. Open your mind. Get up off the couch. Move. – Anthony Bourdain 
79. Be faithful to that which exists within yourself. – André Gide 
80. Persistence guarantees that results are inevitable. – Paramahansa Yogananda 
81. In life you need either inspiration or desperation. – Tony Robbins 
82. I would rather die on my feet than live on my knees. – Euripides
83. The true success is the person who invented himself. – Al Goldstein 
84. Let him that would move the world first move himself. – Socrates 
85. Go forth on your path, as it exists only through your walking. – Augustine of Hippo 
86. We can do anything we want to if we stick to it long enough. – Helen Keller 
87. It is better to live one day as a lion, than a thousand days as a lamb. – Roman proverb 
88. Life is fragile. We're not guaranteed a tomorrow so give it everything you've got. – Tim Cook 
89. The two most important days in your life are the day you are born and the day you find out why. – Mark Twain 
90. Fall seven times, stand up eight. – Japanese proverb 
91. Actually, you can. Yes, yes, you can do it. Focus on the good. You are doing great. We rise by lifting others. Be happy. Be bright. Be you. Every day is a second chance. You are amazing. Remember that. Darling, you are a work of art. Each day provides its own gifts. – Marcus Aurelius 
92. Happiness looks gorgeous on you. You are capable of amazing things. You are somebody's reason to smile. 
93. Nothing is worth more than this day. – Johann Wolfgang von Goethe 
94. Life is a question and how we live it is our answer. – Gary Keller 
95. God provides the wind, but man must raise the sails. – Augustine of Hippo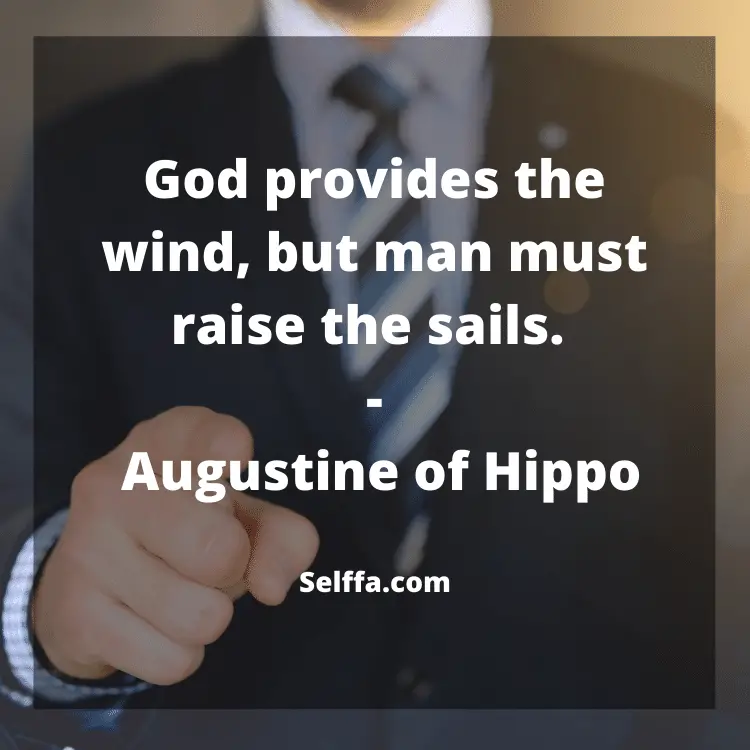 96. Art is the lie that enables us to realize the truth. – Pablo Picasso 
97. Enlightenment is when a wave realizes it is the ocean. 
98. The truth isn't always beauty, but the hunger for it is. – Nadine Gordimer 
99. This is your life, and it's ending one minute at a time. 
100. Hearts are wild creatures, that's why our ribs are cages. 
101. Life without love is like a tree without blossoms or fruit. – Khalil Gibran 
102. Your faith can move mountains and your doubt can create them. 
103. The knowledge of happiness brings the knowledge of unhappiness. – Swami Vivekananda 
104. There are those who give with joy, and that joy is their reward. – Khalil Gibran 
105. Life is the car, your heart is the key and God is the chauffeur. – Sri Sathya Sai Baba 
106. You are not a drop in the ocean. You are the entire ocean in a drop. – Rumi 
107. Normality is a paved road: it's comfortable to walk, but no flowers grow on it.
108. One is never afraid of the unknown, one is afraid of the known coming to an end. – Jiddu Krishnamurti 
109. When you're happy you enjoy the music, when you're sad you understand the lyrics. 
110. When you've seen beyond yourself, then you may find, peace of mind is waiting there. – George Harrison 
111. You have to be odd to be number one. – Dr. Seuss  
112. Please all and you will please none. – Aesop 
113. The fool wonders, the wise man asks. – Benjamin Disraeli 
114. A smooth sea never made a skillful sailor. 
115. A man can't ride your back unless it's bent. – Martin Luther King Jr 
116. Don't raise your voice. Improve your argument. 
117. Chop your own wood and it will warm you twice. – Henry Ford 
118. Some people are so poor, all they have is money. – Jack Kerouac 
119. All generalizations are false, including this one. – Mark Twain 
120. It's not what you look at that matters, it's what you see. – Henry David Thoreau 
121. There is no saint without a past, no sinner without a future. Augustine of Hippo  
122. We make a living by what we get, but we make a life by what we give. – Winston Churchill 
123. It's so strange that autumn is so beautiful; yet everything is dying. 
124. It's no wonder that truth is stranger than fiction. Fiction has to make sense. – Mark Twain 
125. The man who wants to lead the orchestra must turn his back on the crowd. James Crook 
126. What counts can't always be counted; what can be counted doesn't always count. – Albert Einstein 
127. As a well-spent day brings happy sleep, so a life well spent brings happy death. – Leonardo da Vinci 
128. Life is not about how fast you run or how high you climb, but how well you bounce. – Vivian Komori 
129. Concentration is the ability to think about absolutely nothing when it is absolutely necessary. – Ray Knight 
130. It is better to remain silent and be thought a fool than to open one's mouth and remove all doubt. – Mark Twain 
131. So it goes. – Kurt Vonnegut  
132. Live the life you've dreamed. – Henry David Thoreau 
133. Life is not fair. Get used to it. – Bill Gates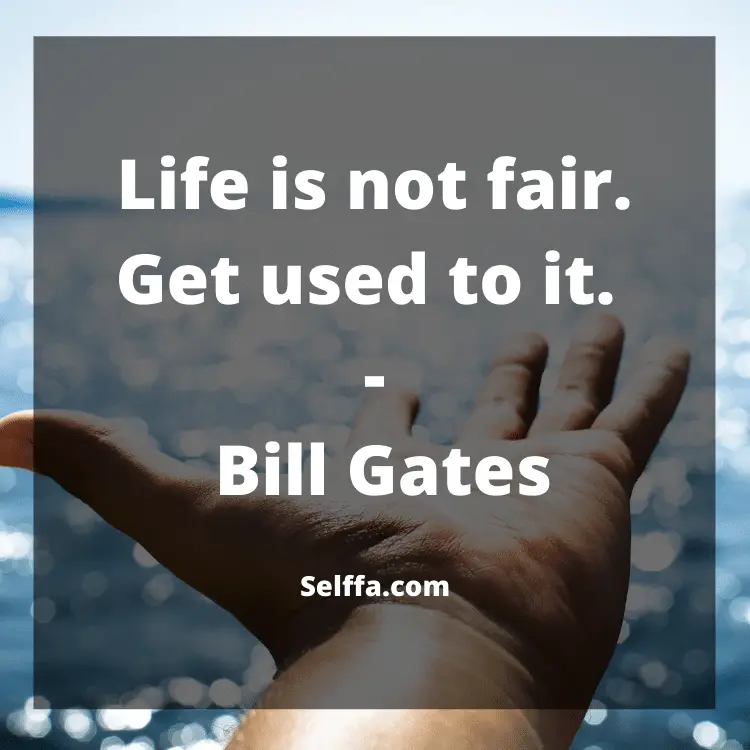 134. Life is a long lesson in humility. – James M. Barrie 
135. Life is a lively process of becoming. – Douglas MacArthur 
136. The unexamined life is not worth living. – Socrates 
137. Life is largely a matter of expectation. – Homer 
138. Don't count the days. Make the days count. 
139. Anything worth doing is worth doing slowly. – Mae West 
140. Be soft. Do not let the world make you hard. 
141. Life is too important to be taken seriously. – Oscar Wilde 
142. Life is either a daring adventure or nothing. – Helen Keller 
143. The sole meaning of life is to serve humanity. – Leo Tolstoy 
144. Love the life you live. Lead the life you love. – Bob Marley 
145. Life is accepting what is and working from that. – Gloria Naylor 
146. We are all, right now, living the life we choose. – Peter McWilliams 
147. Not life, but good life, is to be chiefly valued. – Socrates 
148. Live your life, do your work, then take your hat. – Henry David Thoreau  
149. Life got to be about more than just solving problems. – Elon Musk 
150. Life isn't as serious as the mind makes it out to be. – Eckhart Tolle 
151. Life is about making an impact, not making an income. – Kevin Kruse 
152. The quality of life is more important than life itself. – Alexis Carrel 
153. You have to die a few times before you can really live. – Charles Bukowski 
154. What's coming will come and we'll meet it when it does. – Hagrid 
155. Life shrinks or expands in proportion to one's courage. – Anaïs Nin 
156. Life is defined more by its risks than by its samenesses. – Mary Anne Radmacher 
157. You only live once, but if you do it right, once is enough. – Mae West 
158. Sometimes life has its way with you when you least expect it. – Jon Hamm 
159. Life isn't about getting and having, it's about giving and being. – Kevin Kruse 
160. Life can only be understood backwards, but it must be lived forwards. – Soren Kierkegaard 
161. Life is amazing. Life is fucking messy. Life is what you make of it. – Dwayne Johnson 
162. Life is not a problem to be solved, but a reality to be experienced. – Soren Kierkegaard
163. Nowadays people know the price of everything and the value of nothing. – Oscar Wilde 
164. Only one life that soon is past, only what's done with love will last. 
165. Don't be afraid your life will end. Be afraid that it will never begin. – Grace Hansen 
166. To live is the rarest thing in the world. Most people exist, that is all. – Oscar Wilde 
167. In three words I can sum up everything I've learned about life, it goes on. – Robert Frost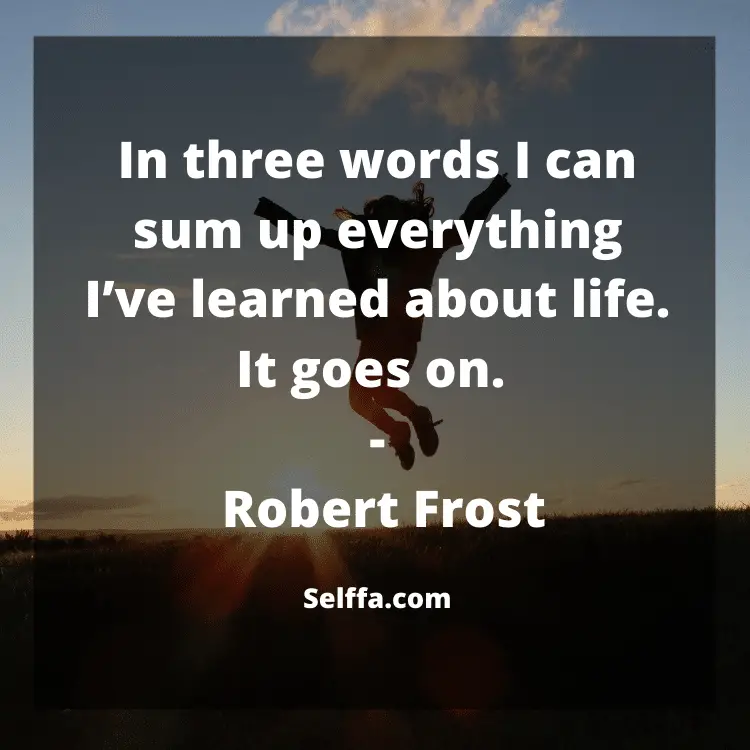 168. Life really does begin at forty. Up until then, you are just doing research. – Carl Gustav Jung
169. The meaning of life is to find your gift. The purpose of life is to give it away. – William Shakespeare
170. Life, it seems, is nothing if not a series of initiations, transitions, and incorporations. – Alan Dundes
171. Life becomes harder for us when we live for others, but it also becomes richer and happier. – Albert Schweitzer
172. Life is not measured by the number of breaths we take, but by the moments that take our breath away. 
173. Love for all, hatred for none. – Khalifatul Masih III
174. Change the world by being yourself. – Amy Poehler
175. Never regret anything that made you smile. – Mark Twain
176. Aspire to inspire before we expire.
177. Simplicity is the ultimate sophistication. – Leonardo da Vinci
178. All limitations are self-imposed. – Oliver Wendell Holmes
179. Tough times never last but tough people do. – Robert H. Schiuller
180. Problems are not stop signs, they are guidelines. – Robert H. Schiuller
181. One day the people that don't even believe in you will tell everyone how they met you. – Johnny Depp
182. If I'm gonna tell a real story, I'm gonna start with my name. – Kendrick Lamar
183. If you tell the truth you don't have to remember anything. – Mark Twain
184. Have enough courage to start and enough heart to finish. – Jessica N. S. Yourko
185. Hate comes from intimidation, love comes from appreciation. – Tyga
186. I could agree with you but then we'd both be wrong. – Harvey Specter
187. Oh, the things you can find, if you don't stay behind. – Dr. Seuss
188. termine your priorities and focus on them. – Eileen McDargh
189. Dream as if you'll live forever, live as if you'll die today. – James Dean
190. Yesterday you said tomorrow. Just do it. – Nike
191. I don't need it to be easy, I need it to be worth it. – Lil Wayne
192. If you dream it, you can do it.-Walt Disney
193. If not us, who? If not now, when? – John F. Kennedy
194. I can, therefore I am. – Simone Weil
195. Remember no one can make you feel inferior without your consent. – Eleanor Roosevelt
196. Wherever you go, go with all your heart. – Confucius
197. Do what you can, with what you have, where you are. – Theodore Roosevelt
198. Hope is a waking dream. – Aristotle
199. Do one thing every day that scares you. – Eleanor Roosevelt
200. You must do the thing you think you cannot do. – Eleanor Roosevelt
201. Life is trying things to see if they work. – Ray Bradbury
202. Don't regret the past, just learn from it. – Ben Ipock
203. Live what you love. – Jo Deurbrouck
204. The power of imagination makes us infinite. – John Muir
205. May you live every day of your life. – Jonathan Swift
206. Eighty percent of success is showing up. – Woody Allen
207. To be the best, you must be able to handle the worst. – Wilson Kanad
208. A jug fills drop by drop. – Buddha
209. The obstacle is the path. – Zen Proverb
210. If you have never failed you have never lived.
211. Hope is the heartbeat of the soul. – Michelle Horst
212. We become what we think about. – Earl Nightingale
213. An obstacle is often a stepping stone. – Prescott Bush
214. Dream big and dare to fail. – Norman Vaughan
215. Men are born to succeed, not fail. – Henry David Thoreau
216. Every road has two directions. – Russian Proverb
217. You have to make the most of the chances that come your way. – Spanish Proverb
218. Better to wear out than rust out. – French Proverb
219. He who starts well is halfway done. – Italian Proverb
220. Wishes won't wash dishes. – American Proverb
221. A turtle travels only when it sticks its neck out. – Korean Proverb
222.   He who cannot dance puts the blame on the floor. – Hindu Proverb
223. For tomorrow belongs to the people who prepare for it today. – African Proverb
224. Patience is a bitter plant, but its fruit is sweet. – Chinese Proverb
225. It's no use carrying an umbrella if your shoes are leaking. – Irish Proverb
226. One who smiles rather than rages is always the stronger. – Japanese Proverb
227. If a job is worth doing it is worth doing well. – English Proverb
228. Live your life and forget your age. – Norman Vincent Peale
229. May you live all the days of your life. – Jonathan Swift
230. Look at the positive side: at least you're not as old as you will be next year. 
231. To me, a birthday means celebrating the presence of an individual in our lives. – Meena Bajaj
232.   No wise man ever wished to be younger. – Jonathan Swift
233. We don't stop playing because we grow old; we grow old because we stop playing. – George Bernard Shaw
234. Whatever with the past has gone, the best is always yet to come. – Lucy Larcom
235. Age does not protect you from love. But love, to some extent, protects you from age. – Jeanne Moreau
236. Age is a matter of feeling, not of years. – George W. Curtis
237. And in the end, it's not the years in your life that count. It's the life in your years. – Abraham Lincoln
238. Today is the oldest you have been, and the youngest you will ever be. – Nicky Gumbel
239. A birthday is just the first day of another 365-day journey around the sun. Enjoy the trip.
240. You are never too old to set another goal or to dream a new dream. – Les Brown
241. There is no personal charm so great as the charm of a cheerful temperament. – Henry Van Dyke
242. There is always something to be happy about in this world. – Ken Black
243. To feel happy, focus on things in your life that will make you feel happy. – Stephen Hall
244. Happiness is a state of mind. It's just according to the way you look at things. – Walt Disney
245. I'm grateful for charity that provides the opportunity to help others in need. – Aliya Saige
246. Make each new day count by helping someone or just making someone smile. – Catherine Pulsifer
247. We can be bitter about our handicaps or we can be happy at our blessings. – William Arthur Ward
248. Whoever is happy will make others happy, too. – Anne Frank
249. Most folks are about as happy as they make their minds up to be. – Abraham Lincoln
250. Politeness and good manners open the door to successful and happy adult life. – Jacquie McTaggart
251. It is a happiness to wonder. It is a happiness to dream. – Edgar Allan Poe
252. Really happy are those who share their happiness with others. – M. K. Soni
253. People who manage their time well feel positive, confident, and in charge of their lives. – Brian Tracy
254. Either you run the day or the day runs you. – Jim Rohn
255. I've seen many troubles in my time, only half of which ever came true. – Mark Twain
256. Hang on to your youthful enthusiasms you'll be able to use them better when you're older. – Seneca
257. The joy in life is to be used for a purpose. I want to be used up when I die. – George Bernard Shaw
258. A lot of people quit looking for work as soon as they find a job. – Zig Ziglar
259. Life is not a football game to be watched. – W. Clement Stone
260. Chase your passion, not your pension. – Denis Waitley
261. The best of all the preachers are the men who live their creeds. – Edgar A. Guest
262. Channeling stress properly turns coal into diamonds. – Sharon Melnick
263. Laughter is the fireworks of the soul. – Josh Billings
264. It's fun to do the impossible. – Walt Disney
265. The finest steel has to go through the hottest fire. – Richard Nixon
266. Just mention the word sibling and everyone has a story to share. – Karen Gail Lewis
267. When you come to the end of your rope, tie a knot and hang on. – Franklin Roosevelt
268. Never use a long word where a short one will do. – George Orwell
269. Most of all, learn to laugh at yourself, meet each day with a sense of humor. – Wilferd Peterson