Listening to other peoples' words of appreciation, listening to relaxing music, watching fun movies, or being with the people you love are some of the most common ways to feel good. Sometimes, an inspiring quote from some of the greatest minds can make us feel good about ourselves as well. Here you can find a list of feel-good quotes to lift your mood.
Feel Good Quotes
1. You can look in the mirror and find a million things wrong with yourself. Or you can look in the mirror and think, 'I feel good, I have my health, and I'm so blessed.' That's the way I choose to look at it. – Isla Fisher
2. You can be sexy and feel good in your skin, no matter what size you are. – Ashley Graham
3. One way to feel good about yourself is to love yourself to take care of yourself. – Goldie Hawn
4. People gossip. People are insecure, so they talk about other people so that they won't be talked about. They point out flaws in other people to make them feel good about themselves. I think at any age or any social class, that's present. – Blake Lively
5. When you take care of yourself, you're a better person for others. When you feel good about yourself, you treat others better. – Solange Knowles
6. For me, I think one of the biggest battles is mentally. You have good days, and you have bad days. Randomly, you'll feel good for weeks, and then all of a sudden, you'll have a bad day where you're really sore. And you end up questioning yourself, like, 'Am I doing the right thing? Why is this so hard?' – Jimmy Graham
7. Looking good and feeling good go hand in hand. If you have a healthy lifestyle, your diet and nutrition are set, and you're working out, you're going to feel good. – Jason Statham
8. It's also selfish because it makes you feel good when you help others. I've been helped by acts of kindness from strangers. That's why we're here, after all, to help others. – Carol Burnett
9. We all work really hard, and we do it because we're passionate. We don't do it because we're being rated. However, we'd all be remiss if we didn't think that some kind of recognition for efforts and accomplishments didn't make you feel good. – Mindy Grossman
10. It's important to keep on keeping on, to feel good about yourself and be happy with who you are.   – Sonia Rykiel
11. I don't judge others. I say if you feel good with what you're doing, let your freak flag fly.   – Sarah Jessica Parker
12. You should feel good about making your home nicer for your family and your friends. You should feel great about cooking a good dinner and making a dress for a granddaughter, creating a beautiful birthday party. It's all part of life. – Martha Stewart
13. Being in a rock band is about touring. It's about writing songs and it's about making records but it's also about taking a wonderful smile onto that stage and making the people feel good about themselves. – James Young
14. Instead of going out to dinner, buy good food. Cooking at home shows such affection. In a bad economy, it's more important to make yourself feel good. – Ina Garten
15. I always feel good after I change my hair. You get a haircut and feel positive and ready to take on the day.  – Kirstin Maldonado
16. When you look good, you feel good. Confidence with what you're wearing is very important. If you feel good, you will always perform your best without worrying about anything. – Maria Sharapova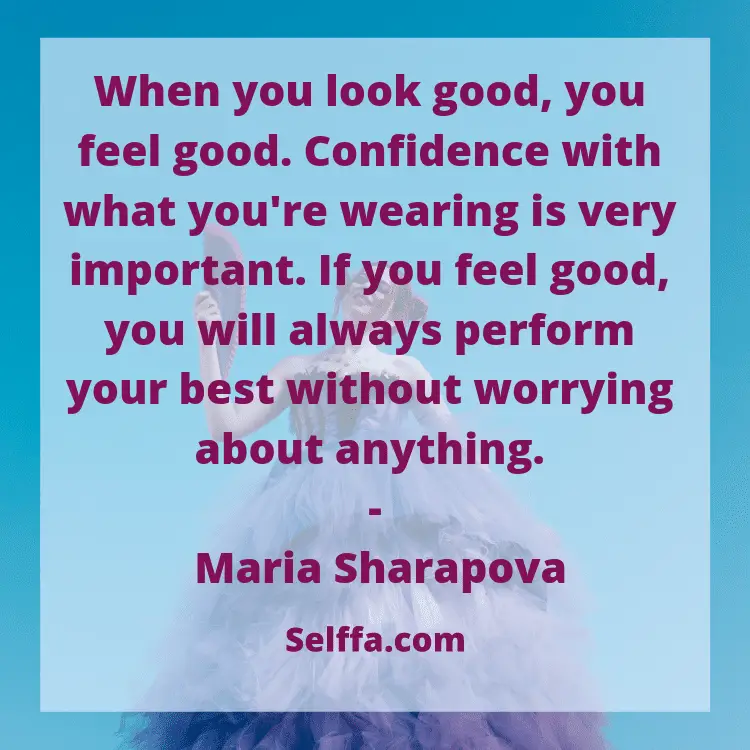 17. When you feel good, you look good. And vice versa: When you look good, you feel good. – Christie Brinkley
18. I can only control my own performance. If I do my best, then I can feel good at the end of the day. – Michael Phelps
19. I will always find a way and a way will always find me. – Charles F. Glassman
20. Why? It's an excellent question. But an even better one is. Why not? – Lara Whatley
21. Using your talent, hobby or profession in a way that makes you contribute with something good to this world is truly the way to go. – Simon Zingerman
22. You will never get everything in life but you will get enough. – Sanhita Baruah
23. Don't water your weeds. – Harvey Mackay
24. When you're comfortable and content with who you are, the voices of others who try and define, control or direct you are not important. – Rachel Robins
25. That is why enemies can be great motivators. They serve as fuel for your fire. –  Simon Zingerman
26. Don't try to follow trends. Create them. – Simon Zingerman
27. It's like one of those scenes from a feel-good Hollywood movie. Where everybody is happy and nobody's hair fizzes in the wind. Where it doesn't rain, your shoes stay comfortable all day, and everybody's jokes are funny. – Randa Abdel-Fattah
28. Saying thanks to the world, and acknowledging your own accomplishments, is a great way to feel good and stay positive. – Rachel Robins
29. The more details, depth and thought you put into your ideas the more valuable they become. – Simon Zingerman
30. If we are always pushing away from feelings that we condemn as wrong, painful, or ugly, we are also pushing away from the very energy that can bring us incredible joy and ecstasy. – Shaeri Richards
31. See with the eyes of love and a thing becomes beautiful. See with the eyes of hate and things are ugly. – Joy Cowley
32. Mark ran his fingers over the bindings and whispered words, written long ago, words that wriggled through the aged leather, trembled beneath his touch. What lives and loves, hopes and dreams, deaths and despair these volumes held. – Ellen Read
33. It's always a nice day above the clouds. – James Stoddah
34. Hard work makes you feel good because you have accomplished something. – Alcurtis Turner
35. There is nothing that works out for the worst that won't work out for the better. – Karldon Okruta
36. I'm looking to make a miracle. – Dana Reinhardt
37. By making yourself a lifelong learner you'll keep discovering new and exciting things about yourself and others. – Rachel Robins
38. People say everybody has a book inside them, so why not make your life a great story?
39. Keep your bad vibes out of my cornflakes. – Gerard Way
40. When you feel good about yourself, you inevitably increase your self worth. – Lebo Grand
41. You don't just want to sit in a chair. You want to experience it. – Anthony T.Hincks
42. Adopt a sensually-driven lifestyle. – Lebo Grand
43. Six contemporary, young, strong women taking control of their lives and making decisions. Snapshots – what's your story? – Helen Libby
44. Sensuality never takes a day off. – Lebo Grand
45. If you are not making somebody feel good, what are you making them feel? –  Melody Carstairs
46. You'll never be happy if you continue to search for what happiness consists of and you'll never live if you are looking for the meaning of life. – Mohsin Jameel
47. You have not started living until your sensuality is your top priority. – Lebo Grand
48. Even relationship is hard work. You reap what you sow. And if one side stops then slowly and eventually it will all fade away. You need to be aware to make the other feel good such that in similar manner the other will make you feel good. This will keep the flame of relationship alive forever. – Suyasha Subedi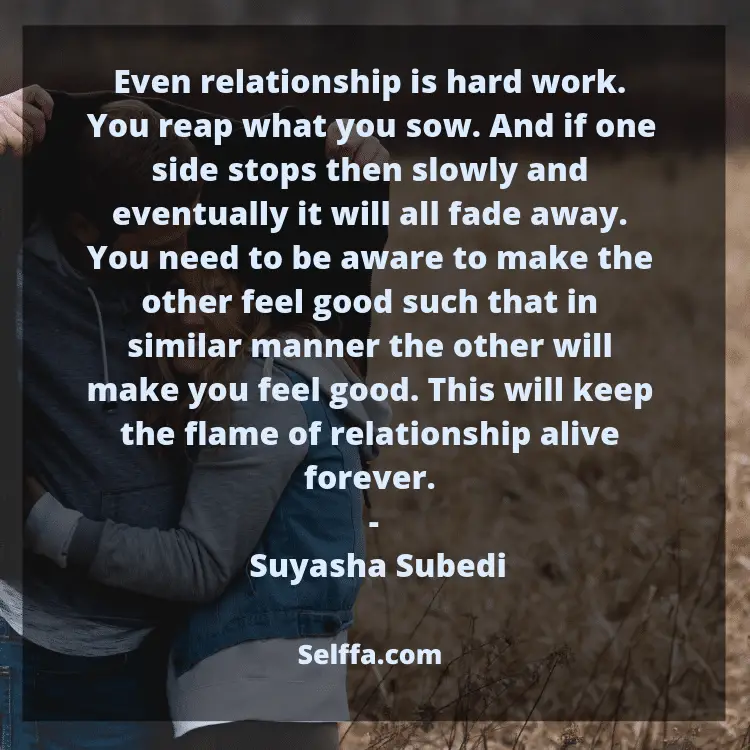 49. About morals, I know only that what is moral is what you feel good after and what is immoral is what you feel bad after. – Ernest Hemingway
50. People are sad. People are broke. People are worried about money, people are worried that they're not enough and not amounting to anything and they don't feel good about themselves. People have rough times, and everybody's pretending it's not true, and we need to break that veneer. – Eve Ensler
51. If I feel really ugly or unhappy, sometimes I'll choose bright colors so they'll make me feel good. Yellows, pinks, light blues and orange. I just want to feel good all the time if I can. And colors and hairstyles and all that kind of helps out. – Jill Scott
52. I don't want to feel shamed into making a choice about my physical appearance or my body or even about the choices I make about my life. I want to be feel empowered and inspired because they feel good to me. – Tracee Ellis Ross
53. Some people feel good about helping others, and they do so often. They do not realize that their good deeds have a second agenda. They want to be appreciated. – Gary Zukav
54. I don't think there's anybody in this world who should be required to make you feel good about yourself. Be happy on your own. – Shahid Kapoor
55. Do what makes you feel good. Remind yourself of what you're good at and make sure you do that. – Jessie J
56. True love does not only encompass the things that make you feel good, it also holds you to a standard of accountability. – Monica Johnson
57. Food is a lot of people's therapy – when we say comfort food, we really mean that. It's releasing dopamine and serotonin in your brain that makes you feel good. – Brett Hoebel
58. It sounds like a cliche but I also learnt that you're not going to fall for the right person until you really love yourself and feel good about how you are. – Emma Watson
59. Giving back, doing motivational speeches and stuff like that, that's always made me feel good. If you repeatedly go out there, and you are the change that you want to see, then that's what you are. – Keke Palmer
60. Music has the power to make me feel good like nothing else does. It gives me some peace for a while. Takes me back to who I really am. – Gil Scott-Heron
61. I like to live well and I feel good about it because I know how much we give back. There's plenty for my family, now let's take care of the rest. – John Paul DeJoria
62. Makeup does a lot for your confidence. When I put makeup on, I walk taller. I smile more. I feel good. I know I look prettier. Even if I just put day makeup on. – Maye Musk
63. Sometimes it's okay to give yourself a pat on the back and say, 'That was cool. That made me feel good.' – Sebastian Stan
64. When you feel good is when you're not afraid to feel the worst. – Kirsten Dunst
65. Rather than giving people an inflated view of themselves, we need to give them concrete reasons to feel good about themselves. – Martin Seligman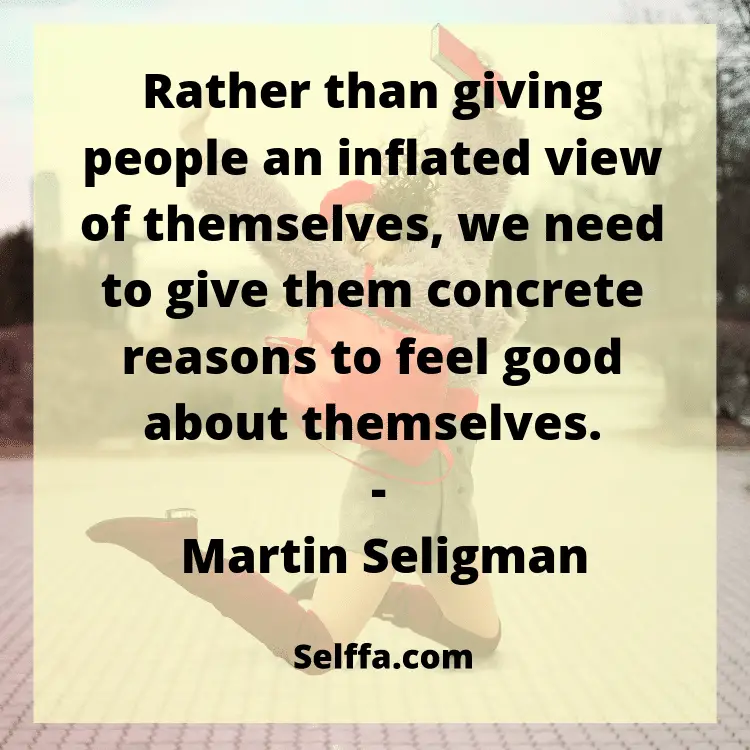 66. Violence doesn't feel good. Justified violence feels great. And fighting solves everything.  Gavin McInnes
67. It's easy to love yourself when you feel good enough, when you feel special enough, when you're loved enough, when you have enough money, and you're appreciated. – Debbie Ford
68. Everybody wants what feels good; and if we wish a symphony of attention from a bunch of caring people and a harmony of happy sounds during our lifetime, we must not act like dark horses, saving up our emotions, but be bountiful to all significant others. – Erik Pevernagie
69. Be around people that make you want to be a better person, who make you feel good, make you laugh, and remind you what's important in life. – Germany Kent
70. A woman who is in touch with her sensuality subliminally empowers her man to prosper, flourish and truly live a happy life. She does not know it, but she is a huge catalyst to his fulfillment. But those who suppress their own sensuality whether consciously or unconsciously make it difficult for their men to find the motivation they need to succeed, and thus be fulfilled. – Lebo Grand
71. Relationships fail not because we have stopped loving but primarily because we have stopped living seductively. – Lebo Grand
72. Chances are, you won't find the right love until you find the lifestyle you love. – Lebo Grand
73. The next time you feel really good, just keep feeling that way for the rest of your life. – Donny Miller
74. The problem with love is that there is so much of it to give. – Monique Golda Nerman
75. It's about time to see the downfall of the scorecards of who's right and who's wrong. At the end of the day, what's important is that you feel good. – Eve Evangelista,
76. Take me. I'll make the pain go away. I'll make you feel good. – K.O. Bailey
77. I really live a simple life and don't need very much to feel good and happy. Don't get me wrong; I believe you should get what you earn. Sometimes you have to fight for it. – Kevin Eubanks
78. Women are wonderful, but they get so caught up about their body. We need to unhook from worrying so much. When I don't feel good, I look in the mirror and think I look fat and miserable. But when I feel good and whole, I'm not worried about my body because I'm living in it. It doesn't become an object. – Natalie Goldberg
79. When I do good, I feel good. When I do bad, I feel bad. That's my religion.
– Abraham Lincoln
80. To avoid criticism, do nothing, say nothing and be nothing. – Elbert Hubbard
81. You're only here for a short visit. Don't hurry, don't worry. And be sure to smell the flowers along the way. – Walter Hagen
82. Keep away from people who try to belittle your ambitions. Small people always do that, but the really great make you feel that you, too, can become great. – Mark Twain
83. The free soul is rare, but you know it when you see it, basically because you feel good, very good, when you are near or with them. – Charles Bukowski
84. You can't get much done in life if you only work on the days when you feel good. – Jerry West
85. Support the type of thinking that leads you to feeling good, peaceful & happy.
– Allan Lokos
86. When you feel good, you're allowing good. When you don't feel good, you are not allowing good. – Esther Hicks
87. Genius is more often found in a cracked pot than in a whole one. – E. B. White
88. No one can make you feel inferior without your consent. – Eleanor Roosevelt
89. Those who matter don't mind, and those who mind don't matter. – Bernard Baruch
90. When I feel good about myself, things start happening for myself. When you look up, you go up. – Herschel Walker
91. Music crosses cultures and language barriers and it makes people feel good. – John Seagall
92. Sometimes the only way you can feel good about yourself is by making someone else look bad. And I'm tired of making other people feel good about themselves. – Dan Castellaneta
93. If you can dream it, you can do it. – Walt Disney
94. Push yourself because no one else is gonna do it for you.
95. A flower does not think of competing to the flower next to it. It just blooms.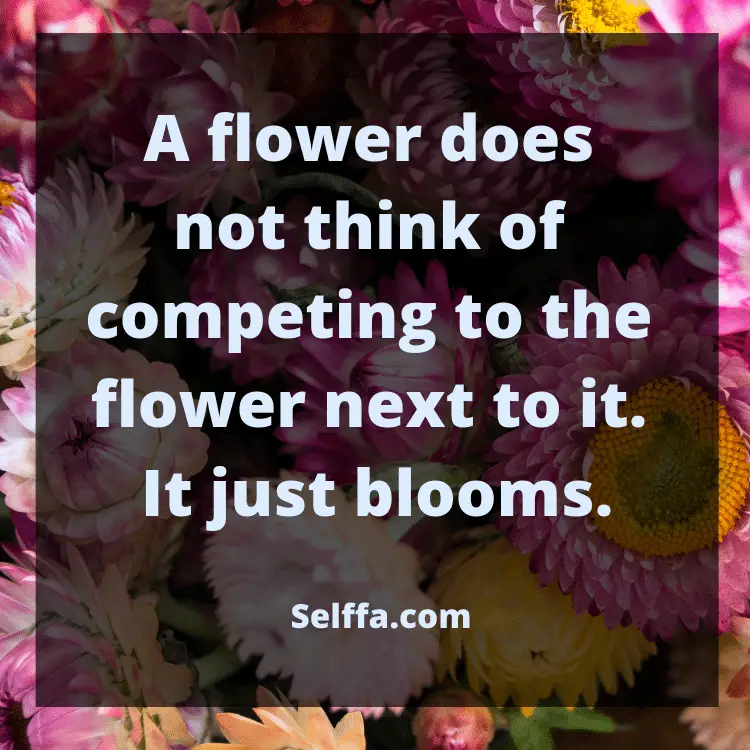 96. The culture we have does not make people feel good about themselves. And you have to be strong enough to say if the culture doesn't work, don't buy it. – Morrie Schwartz
97. Money solves a lot more problems than people who have money think.
98. I love it when the coffee kicks in and I realize what an adorable badass I'm going to be today.
99. Why be moody when you can shake yo' booty?
100. Do more things that make you forget to check your phone.
101. Don't be eye candy. Be soul food.
102. A diamond is a chunk of coal that did well under pressure.
103. Always keep your chin up otherwise you are just looking at your boobs all day.
104. An apple a day keeps anyone away if you throw it hard enough.
105. Based on how I react when toast pops out of the toaster, I will never look cool walking away from an explosion.
106. Better an oops than what if.
107. When life shuts a door open it again. It's a door. That's how they work.
108. Always dress like it's the best day of your life.
109. People ask me, 'why are you single? You're attractive, intelligent and creative.' My reply is, 'I'm overqualified.
110. That's not a gray hair, honey. That's your silver lining. – Pamela Price
111. Two things prevent us from happiness, living in the past and observing others.
112. Everything will be okay in the end. If it's not okay, it's not the end.
113. When you can't control what's happening, challenge yourself to control the way you respond to what's happening. That's where your power is.
114. Know what sparks the light in you so that you, in your own way, can illuminate the world. – Oprah Winfrey
115. There are many shades on every journey. Nothing is black or white. I've been through hell and back, and I'm grateful for every scar. – Beyonce
116. I know that all I can do is be the best me that I can. And live life with some gusto. – Micchelle Obama
117. You may not control all the events that happen to you, but you can decide not to be reduced by them. – Maya Angelou
118. If you got it, flaunt it. If you don't got it, flaunt it. – Mindy Kaling
119. Good things happen when you believe.
120. I think happiness is what makes you pretty. Period. Happy people are beautiful. They become like a mirror and they reflect that happiness. – Drew Barrymore
121. I don't really want to become normal, average, standard. I want merely to gain in strength, in the courage to live out my live more fully, enjoy more, experience more. – Anaïs Nin
122. It's like we women consciously decide we're going to be mean to ourselves. But you're your own hero, not some image you can't live up to. – Gina Rodridguez
123. You're never too old to chase your dreams. – Diana Nyad
124. Whatever is good for your soul, do that.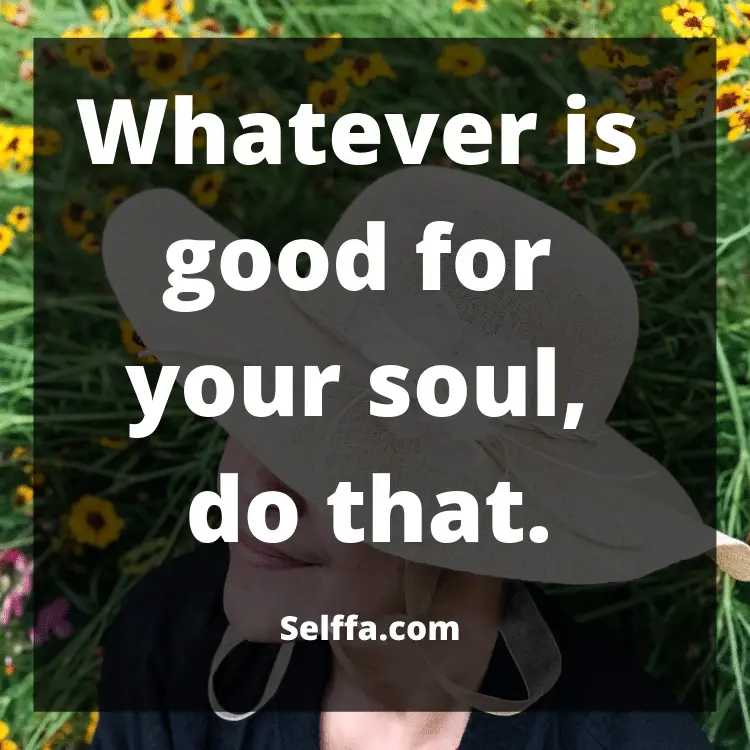 125. Stay in your own lane. Comparison kills creativity and joy. – Brené Brown
126. Gratitude is a celebration we are all invited to. – Cleo Wade
127. The thing that is really hard, and really amazing, is giving up on being perfect and beginning the work of becoming yourself. – Anna Quindlen
128. If I didn't define myself for myself, I would be crunched into other people's fantasies for me and eaten alive. – Audre Lorde
129. I've come to believe that seeking happiness is not a frivolous pursuit. It's honorable and necessary. And most people forget even to think about it. – Goldie Hawn
130. Be thankful for all of it. There is no other life than this. You would not have stumbled into the vastly imperfect, beautiful, impossible present. – Dani Shapiro
131. To love yourself as you are is a miracle, and to seek yourself is to have found yourself, for now. And now is all we have, and love is who we are. – Anne Lamott
132. Only a life lived for others is a life worthwhile. – Albert Einstein
133. People should find happiness in the little things, like family. – Amanda Bynes
134. Family, friends, a good laugh and beautiful weather are the best cures. – Bar Refaeli
135. Be the change you want to see in this world.
136. There is some kind of a sweet innocence in being human—in not having to be just happy or just sad—in the nature of being able to be both broken and whole, at the same time. – C. JoyBell C.
137. Even a happy life cannot be without a measure of darkness, and the word happy would lose its meaning if it were not balanced by sadness. It is far better to take things as they come along with patience and equanimity. – Carl Jung
138. The secret of happiness is freedom, the secret of freedom is courage. – Carrie Jones
139. It isn't what you have or who you are or where you are or what you are doing that makes you happy or unhappy. It is what you think about it. – Dale Carnegie
140. People are unhappy when they get something too easily. You have to sweat – that's the only moral they know. – Dany Laferrière
141. We can't control the world. We can only (barely) control our own reactions to it. Happiness is largely a choice, not a right or entitlement. – David C. Hill
142. Life is so much easier when you have the right people around you.
143. The essence of philosophy is that a man should so live that his happiness shall depend as little as possible on external things. – Epictetus
144. The search for happiness is one of the chief sources of unhappiness. – Eric Hoffer
145. My family didn't have a lot of money, and I'm grateful for that. Money is the longest route to happiness. – Evangeline Lilly
146. Happiness is a place between too much and too little. – Finnish proverb
147. Give a man health and a course to steer, and he'll never stop to trouble about whether he's happy or not. – George Bernard Shaw
148. Be happy not because everything is good, but because you can see the good side of everything.
149. I've learned that people will forget what you said, people will forget what you did, but people will never forget how you made them feel. – Maya Angelou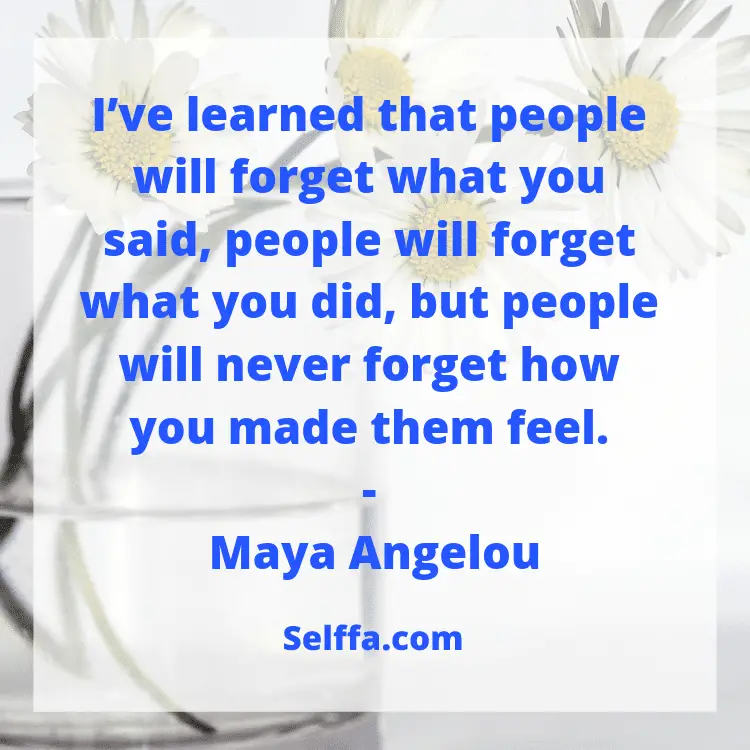 150. Cheerfulness is what greases the axles of the world. Don't go through life creaking. – H.W. Byles
151. You can only have bliss if you don't chase it. – Henepola Gunaratana
152. Be brave. Be bold. Be yourself.
153. That is why enemies can be a great motivators. They serve as fuel for your fire. – Simon Zingerman
154. Don't try to follow trends. Create them. – Simon Zingerman
155. May you see sunshine where others see shadows and opportunities when others see obstacles. – Zig Ziglar