It is never too late to change your life for the better or even for the best. And no matter who you are and what you're going through, it is not impossible to turn the odds in your favor. So maybe now is the time for a new perspective onto the right direction of your life's journey with these 20 life changing poems.
Life Changing Poems
1. The Impossible Dream
To dream the impossible dream
To fight the unbeatable foe
To bear with unbearable sorrow
To run where the brave dare not go
To right the unrightable wrong
To love pure and chaste from afar
To try when your arms are too weary
To reach the unreachable star
This is my quest
To follow that star
No matter how hopeless
No matter how far
To fight for the right
Without question or pause
To be willing to march into Hell
For a heavenly cause
And I know if I'll only be true
To this glorious quest
That my heart will lie peaceful and calm
When I'm laid to my rest
And the world will be better for this
That one man, scorned and covered with scars
Still strove with his last ounce of courage
To reach the unreachable star!
– Man of La Mancha
2. Stopping by Woods on a Snowy Evening
Whose woods these are I think I know.
His house is in the village though;
He will not see me stopping here
To watch his woods fill up with snow.
My little horse must think it queer
To stop without a farmhouse near
Between the woods and frozen lake
The darkest evening of the year.
He gives his harness bells a shake
To ask if there is some mistake.
The only other sound's the sweep
Of easy wind and downy flake.
The woods are lovely, dark and deep,
But I have promises to keep,
And miles to go before I sleep,
And miles to go before I sleep.
– Robert Frost
3. Heart Over Matter
When your heart suddenly feels
light, excited, at ease.
When you feel like your heart just knows what to do
and your worries are far from your mind as are you.
You know that your mind will start chasing,
racing to hold down your heart.
After all, it is there to protect it,
ever from breaking apart.
But in order to keep your heart happy,
like a child, you must soften your hold.
You must let it run free for a while,
follow and see what unfolds.
Your heart is stronger than what you would think
and recovers at much greater speed,
so please just try, every once in a while,
to give it the freedom it needs.
Believe in your heart and embrace it,
and give it all that you've got.
Because whether it turns for the best or the worse,
you'll be happy more often than not.
– Din Kriegsman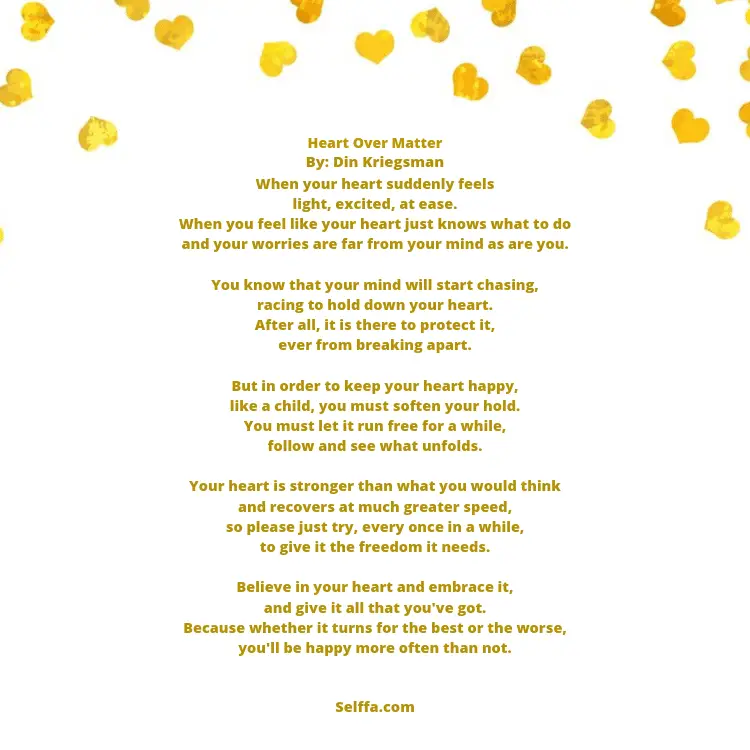 4. The Builders
All are architects of Fate,
Working in these walls of Time;
Some with massive deeds and great,
Some with ornaments of rhyme.
Nothing useless is, or low;
Each thing in its place is best;
And what seems but idle show
Strengthens and supports the rest.
For the structure that we raise,
Time is with materials filled;
Our to-days and yesterdays
Are the blocks with which we build.
Truly shape and fashion these;
Leave no yawning gaps between;
Think not, because no man sees,
Such things will remain unseen.
In the elder days of Art,
Builders wrought with greatest care
Each minute and unseen part;
For the Gods see everywhere.
Let us do our work as well,
Both the unseen and the seen;
Make the house, where Gods may dwell,
Beautiful, entire, and clean.
Else our lives are incomplete,
Standing in these walls of Time,
Broken stairways, where the feet
Stumble as they seek to climb.
Build to-day, then, strong and sure,
With a firm and ample base;
And ascending and secure
Shall to-morrow find its place.
Thus alone can we attain
To those turrets, where the eye
Sees the world as one vast plain,
And one boundless reach of sky.
– Henry Wadsworth Longfellow
5. A Rabbit As King Of The Ghosts
The difficulty to think at the end of day,
When the shapeless shadow covers the sun
And nothing is left except light on your fur—
There was the cat slopping its milk all day,
Fat cat, red tongue, green mind, white milk
And August the most peaceful month.
To be, in the grass, in the peacefullest time,
Without that monument of cat,
The cat forgotten in the moon;
And to feel that the light is a rabbit-light,
In which everything is meant for you
And nothing need be explained;
Then there is nothing to think of. It comes of itself;
And east rushes west and west rushes down,
No matter. The grass is full
And full of yourself. The trees around are for you,
The whole of the wideness of night is for you,
A self that touches all edges,
You become a self that fills the four corners of night.
The red cat hides away in the fur-light
And there you are humped high, humped up,
You are humped higher and higher, black as stone—
You sit with your head like a carving in space
And the little green cat is a bug in the grass.
– Wallace Stevens
6. My Wage
I bargained with Life for a penny,
And Life would pay no more,
However I begged at evening
When I counted my scanty store;
For Life is a just employer,
He gives you what you ask,
But once you have set the wages,
Why, you must bear the task.
I worked for a menial's hire,
Only to learn, dismayed,
That any wage I had asked of Life,
Life would have paid.
– Jessie B. Rittenhouse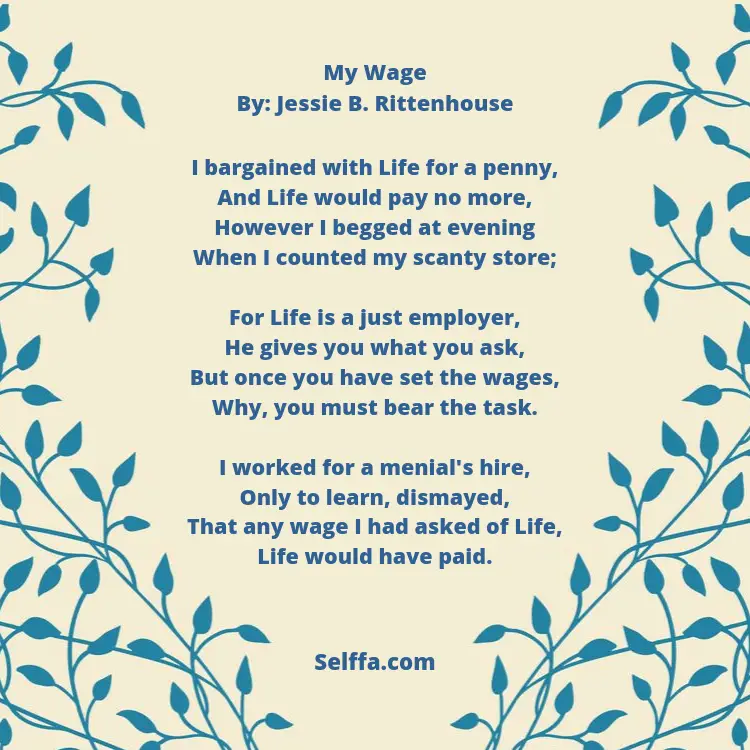 7. Still I Rise
You may write me down in history
With your bitter, twisted lies,
You may tread me in the very dirt
But still, like dust, I'll rise.
Does my sassiness upset you?
Why are you beset with gloom?
'Cause I walk like I've got oil wells
Pumping in my living room.
Just like moons and like suns,
With the certainty of tides,
Just like hopes springing high,
Still I'll rise.
Did you want to see me broken?
Bowed head and lowered eyes?
Shoulders falling down like teardrops.
Weakened by my soulful cries.
Does my haughtiness offend you?
Don't you take it awful hard
'Cause I laugh like I've got gold mines
Diggin' in my own back yard.
You may shoot me with your words,
You may cut me with your eyes,
You may kill me with your hatefulness,
But still, like air, I'll rise.
Does my sexiness upset you?
Does it come as a surprise
That I dance like I've got diamonds
At the meeting of my thighs?
Out of the huts of history's shame
I rise
Up from a past that's rooted in pain
I rise
I'm a black ocean, leaping and wide,
Welling and swelling I bear in the tide.
Leaving behind nights of terror and fear
I rise
Into a daybreak that's wondrously clear
I rise
Bringing the gifts that my ancestors gave,
I am the dream and the hope of the slave.
I rise
I rise
I rise.
– Maya Angelou
8. Before I…
Before I became strong, I knew what it was like
To be weak,
How difficult it is to love yourself,
To find the wholeness that you seek.
Before I knew the light,
I have had my fair share of darkness, too,
Where my world fell into a hopelessness
And I didn't know how to get through.
For I have known the tears it takes,
The courage to stand up again,
When you are broken down and bruised
And you know nothing but the pain.
You forget to appreciate love,
If you haven't seen the hate,
Till you forget the meaning of smile and laughter,
And your heart is left abate.
I have known the strength and courage
It requires to get it right,
To face the things that hold you down
And hold your head up and fight.
Before I was who I am now,
I was someone I didn't want to be.
I was lost, battered, and defeated,
Before I knew how to be me!
– Insiya K. Patanwala
9. Yes, I'll Go On Laughing
When worries and fears I claim for my own,
When I feel helpless and all alone,
When my deepest memories come to mind
And all my sadness I leave behind,
Then yes, I'll go on laughing.
When I feel I'm going under with nothing
To hold onto,
When dark shadows cloud my senses,
My sadness and fears I'll be through.
When sweet, gentle ways have come to pass
And I get my fill of sadness at last,
Then yes, I'll go on laughing.
When I give up and go on living
And become wiser than I am,
I'll try not to cry tomorrow
So this heart and soul shall mend.
Then yes, I'll go on laughing.
– Jac Judy A. Campbell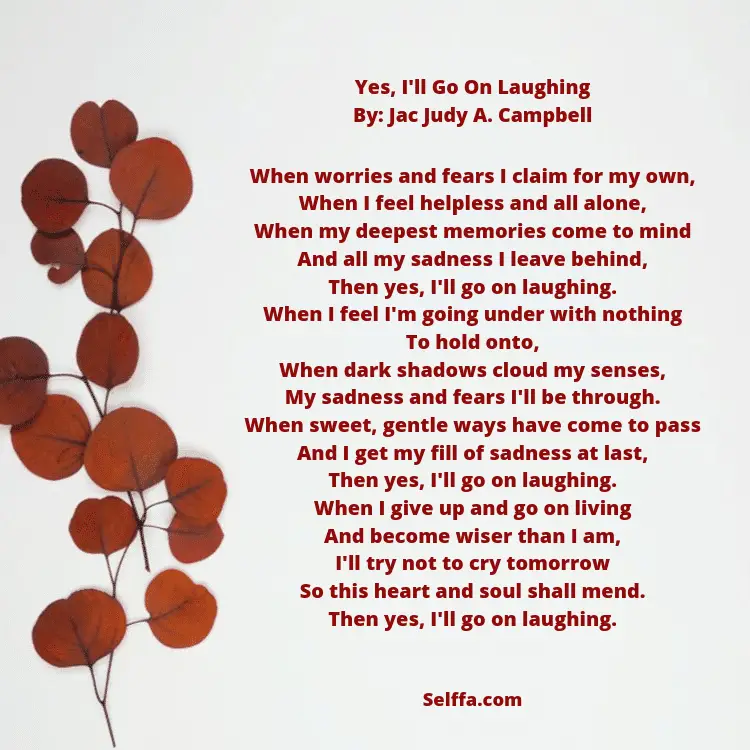 10. A Little Bird Am I
I ask but this one small thing.
Give me the worldly skies
For I cannot stay trapped here
A little bird am I….
Let me leave this here land.
Don't keep me in a cage.
Let me fly to the highest heights.
Let me come of age.
Let me soar among the clouds.
Let my wings spread into flight.
I need to be free; I need to see
The world without a fright.
I have spent my life so grounded,
But my instincts pull me up.
They tell me to go, to see the new,
To finger each buttercup.
I need to witness greatness,
need the sorrow of poverty.
I need to show the world my wings
And shed this gravity.
I want a life of freedom,
And I want to know what's real.
I want to step to the edge of earth
And watch the sea reveal.
I want to take the longest ride,
And I want to feel the wind
I want to share this life with you,
So, forgive me, for I have sinned.
For I know I'm leaving you behind
To shadow in my wake,
But I cannot stay in these four walls
Simply for your sake.
I will keep you in my mirror.
With me you'll always be.
I will share with you my tales,
And I will return to thee.
So I ask but this one small thing
Give me the worldly skies
For I cannot stay trapped here
A little bird am I….
– Hanna Heath
11. Wild Geese
You do not have to be good.
You do not have to walk on your knees
For a hundred miles through the desert, repenting.
You only have to let the soft animal of your body
love what it loves.
Tell me about despair, yours, and I will tell you mine.
Meanwhile the world goes on.
Meanwhile the sun and the clear pebbles of the rain
are moving across the landscapes,
over the prairies and the deep trees,
the mountains and the rivers.
Meanwhile the wild geese, high in the clean blue air,
are heading home again.
Whoever you are, no matter how lonely,
the world offers itself to your imagination,
calls to you like the wild geese, harsh and exciting —
over and over announcing your place
in the family of things.
– Mary Oliver
12. Invictus
Out of the night that covers me,
Black as the pit from pole to pole,
I thank whatever gods may be
For my unconquerable soul.
In the fell clutch of circumstance
I have not winced nor cried aloud.
Under the bludgeonings of chance
My head is bloody, but unbowed.
Beyond this place of wrath and tears
Looms but the Horror of the shade,
And yet the menace of the years
Finds and shall find me unafraid.
It matters not how strait the gate,
How charged with punishments the scroll,
I am the master of my fate,
I am the captain of my soul.
– William Ernest Henley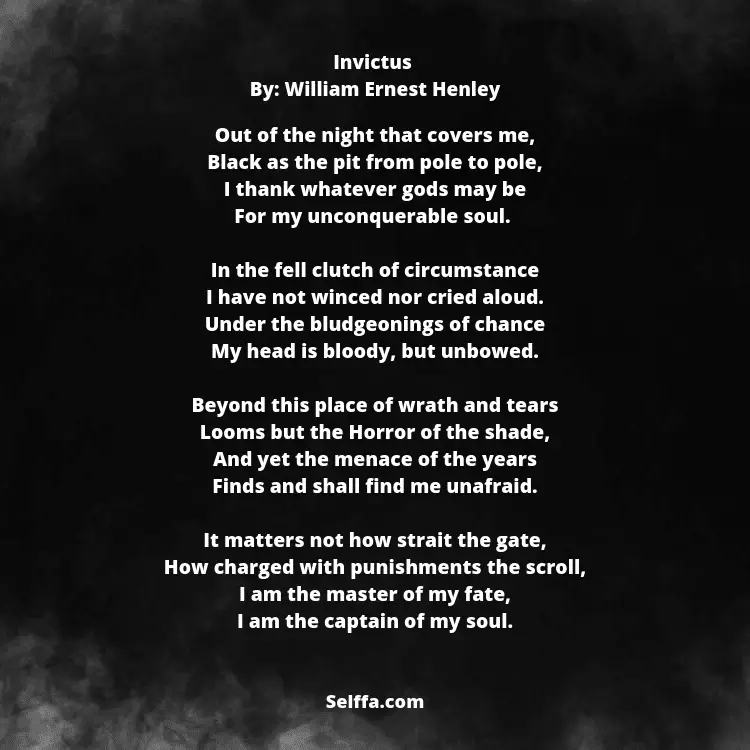 13. That's Life
This life is a wonderful gift .. accept it, embrace it.
It starts with a new day .. wake up and greet it.
Life is a challenge .. take it head on and meet it.
Full of opportunity .. use it, don't waste it.
This life is a mystery .. unfold it, solve it.
It starts with meaning .. wake up and understand it.
Life is a goal .. take it head on and achieve it.
Full of promise .. fulfill it but keep it.
This life is a tragedy .. face it, accept it.
It starts with pain .. wake up and help numb it.
Life is a struggle .. take it head on and fight it.
Full of sorrow .. sorry, just overcome it.
This life is precious .. hold it, treasure it,
It starts with hope .. wake up and feel it.
Life is a choice .. take it head on and make it.
Full of knowledge .. use it, don't abuse it.
This life is adventurous .. enjoy it, explore it.
It starts with a duty .. wake up and perform it.
Life is love .. take it full on and love it.
Full of beauty .. praise it and behold it.
That life is life .. live it, learn and grow
Life is good .. be good with all that you know.
– Danny Joyce
14. Remember
As I walk through life,
I look at all I have done.
I had wandered aimlessly,
And wondered what I have become.
I have been through so much.
It is amazing I made it through.
Lessons I have learned.
I am shocked I pulled through.
At times I wondered
What life was all about.
The trials experienced in life
Can make all the good come out.
We try to make it day by day,
Remembering what we were taught.
Just remember some time to pray.
It is important;
We need it every day.
Life can be short,
Unexpected at that.
We try to take its punches,
Just hoping it won't break our back.
Remember who you are,
Who you want to become.
Everything will fall into place,
When the time comes.
Don't forget I love you's
Every chance you get.
The time may be short.
There is no time to regret.
Life can be exciting,
As we all have found out,
Eventful, even busy.
There is no time to be left out.
Remember who you are
And who you want to become.
The time can be short.
Don't leave things undone.
Remember your families,
They are the only ones you've got
To carry you in times of need.
They cannot be bought.
Remember they love you,
Either here or there.
They will always be with us,
Help for things to bear.
– Dawn Jensen
15. A Wing And A Prayer
Under the wing of an angel, we feel protected.
Through prayers to God, we feel connected.
Peace is said to be offered on the wings of a dove.
Prayers can bring peace along with hope, faith, and love.
Wings of a jet plane provide a steady flight.
I pray you remain steady and strong through this fight.
Butterflies have wings to fly playfully free,
And free from this monster is what I pray you'll soon be.
Birds spread their wings as they may leave their nest.
We're spreading our prayers that you'll always be blessed.
Go fight and win this battle you didn't start.
On the wings of an angel and prayers from my heart.
– Michelle Butler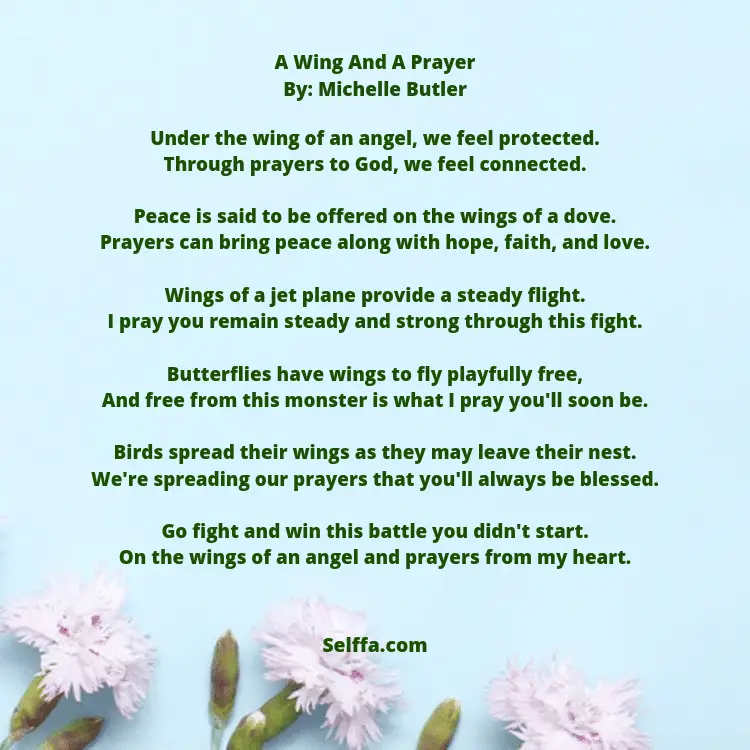 16. If You Stand For Nothing You Will Fall For Anything
A time has come
and it is now.
Will you take a stand
or bend your knee and bow?
Will you state your case?
Will you run this race
or turn in disgrace,
try to hide your face?
You've spoken the word,
and by many were heard.
Now what will you do
when it's left up to you?
Will you act out your faith
in the midst of a trial?
Will you do what is right?
Will you put up a fight?
When you're put at a cross-road,
what choice will you make?
Will you stand for the truth
for the Lord's name sake?
Do what is right;
try not to lose sight.
make the right decision
amidst all the derision.
For when you've done all to stand,
take a hold of God's hand.
he will lead you and guide you,
staying right there beside you.
Don't try to please man
doing all that you can.
make time for the Lord;
you will reap a reward.
Be a blessing to others;
help your sisters and brothers.
Care for those in need.
Help multiply their seed.
Be gracious and faithful.
Be fair and be true,
looking not unto others.
Let the change come through you.
– Lydia Preston
17. What Life Should Be
To learn while still a child
What this life is meant to be.
To know it goes beyond myself,
It's so much more than me.
To overcome the tragedies,
To survive the hardest times.
To face those moments filled with pain,
And still manage to be kind.
To fight for those who can't themselves,
To always share my light.
With those who wander in the dark,
To love with all my might.
To still stand up with courage,
Though standing on my own.
To still get up and face each day,
Even when I feel alone.
To try to understand the ones
That no one cares to know.
And make them feel some value
When the world has let them go.
To be an anchor, strong and true,
That person loyal to the end.
To be a constant source of hope
To my family and my friends.
To live a life of decency,
To share my heart and soul.
To always say I'm sorry
When I've harmed both friend and foe.
To be proud of whom I've tried to be,
And this life I chose to live.
To make the most of every day
By giving all I have to give.
To me that's what this life should be,
To me that's what it's for.
To take what God has given me
And make it so much more
To live a life that matters,
To be someone of great worth.
To love and be loved in return
And make my mark on Earth.
– Pat A. Fleming
18. Inner Strength
It's only through mistakes we make
We learn where we went wrong.
It's only when we're far from home
We realize where we belong.
It's only when we close our eyes
Our dreams seem clear and bright.
It's only in our darkest hours
We truly see the light.
It's only when we lose our way
We pray to the stars above.
It's only through times of grief
We learn the true meaning of love.
It's only when all hope seems lost
And our weary journey seems so far,
When all the world's against you
We learn how strong we really are
All things are sent to try us.
We must strive and give our best.
I believe God is watching over us,
And he guides us in our quest.
– John P. Read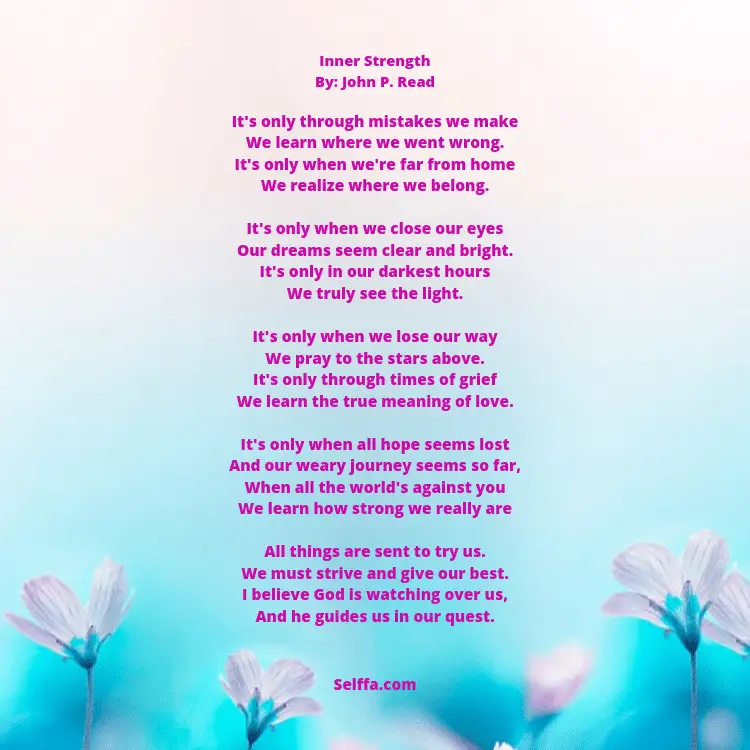 19. Time To Stop Struggling
Life is unfair; sometimes the misery we can't bear.
This was a feeling I could never share.
I am strong, strong enough to move on from this pain.
I won't feel the shame; my life is not a game.
Tired of these tears and my fears,
I will cherish my inspirations.
I will find my dream, I promise; that's what I will achieve.
I will find a way to leave.
I'm not who you will deceive.
I believe in miracles; these people laugh like it's hysterical.
I won't fall; I may be lost, but I will be found.
One day I will find the perfect life; life will run beautifully,
I will fly like a butterfly through the night, will have a pleasant sight.
Afraid but I will fight.
No boundaries, free my mind of all the pressure.
Leaving here will be my pleasure.
I want so much to be free; so much I want to see.
I want to reach the sky; I want so badly to fly.
See, I used to be a fool when I let you treat me cruel.
I made a mistake, but I won't let myself break.
Leave me, for God's sake.
So now I kneel down to pray.
For these times of struggle I will just say,
I'll leave in your hands, God. I will let go.
– Tanya
20. Climb Every Mountain
We all have a massive mountain to climb,
Especially those who've lost someone dear.
But climb that big mountain, we surely must,
If we are going to overcome fear.
Everyone's got a big mountain to climb,
All those with an incurable illness.
Each step on that rocky, dangerous climb
Gets you nearer to an inner stillness.
Each of us have a big mountain to climb.
It might well be just a family rift,
But you must begin to climb that mountain
Because families are a God given gift.
Everyone's got their own mountain to climb.
It could be something you just can't accept,
But you must sort it out, make it good now,
Or you'll never take that first tiny step.
We all have a great big mountain to climb.
We walk the same path that our fathers trod,
But when you've ascended and reached the top,
Then surely, you will be nearer to your God.
– Eric R. Harvey