Sometimes, finding the right words to say to express your sympathy to someone who's going through a lot of pain or struggle can be difficult. That's why we collected some of the most touching sympathy poems to help ease the pain of someone you love. Some are long, some are short, but they all came from the poet's heart.
Sympathy Poems
1. Please Don't Cry
By: Joe Green
Please, don't cry.
I'm not really gone.
When you look out the window,
I'll be standing on the lawn.
Please, don't cry.
I'll see you again.
Don't be sad,
Keep up your chin.
Please, don't cry.
I'm not really dead.
When you cry yourself to sleep,
I'll be by your bed.
Please, don't cry.
Just because we had to part,
As long as you remember me,
I'll live in your heart.
Please, don't cry.
I'm not gone forever.
I'll be a cool and gentle breeze
In hot summer weather.
Please, don't cry.
Don't run and hide.
When you need a shoulder to lean on,
I'll be by your side.
Please, don't cry.
When you're sad and weak,
I'll be there
To kiss you on the cheek.
Please, don't cry.
This is just a goodbye.
So please, oh please,
Baby, do not cry.
2. Finally Home
By: Lynn Casstevens 
Although your work on earth is done,
Your life in heaven has just begun.
Your struggles here were hard and long,
But they're over now, you're finally home.
Life wasn't easy, by choice or fate.
A decision made, sometimes too late.
A fight to the finish, always strong.
Rest easy, mom, you're finally home.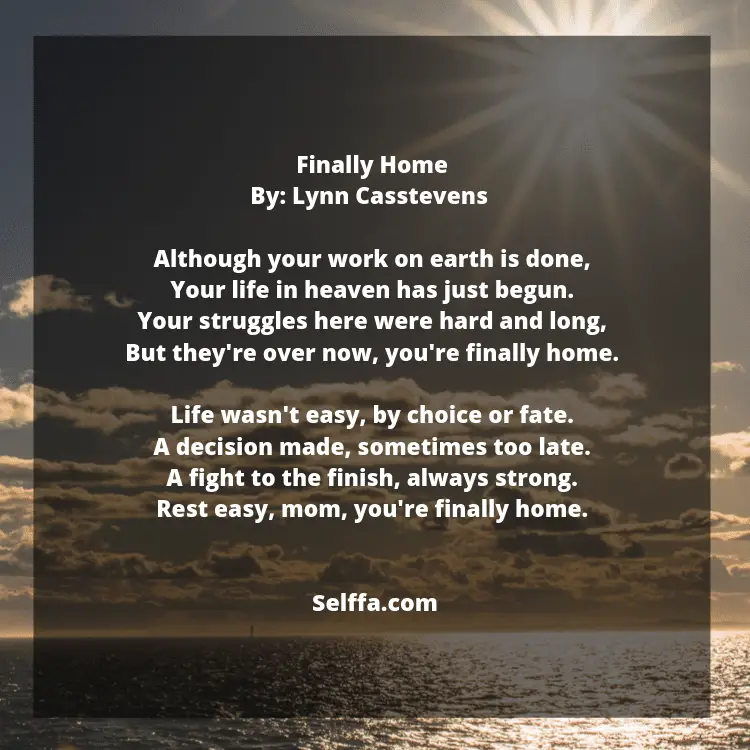 3. The Loss Of A Loved One
By: Kenya. H
The loss of a loved one is so hard to face.
You just want to hide, 
go somewhere and escape! 
But death is something
we all must go through.
I know it's hard
when it's someone you loved and knew. 
Just know now, 
he is in a better place.
No more hurt or pain shall he face. 
It seems unfair, and yes, this is true, 
but he is in heaven now
watching over me and you.
God has called him home to rest.
And he's being well taken care of 
Because God knows best
4. The Little White Hearse
By: Ella Wheeler Wilcox 
Somebody's baby was buried today
The empty white hearse from the grave rumbled back,
And the morning somehow seemed less smiling and gay
As I paused on the walk while it crossed on its way,
And a shadow seemed drawn o'er the sun's golden track.
Somebody's baby was laid out to rest,
White as a snowdrop, and fair to behold,
And the soft little hands were crossed over the breast,
And those hands and the lips and the eyelids were pressed
With kisses as hot as the eyelids were cold.
Somebody saw it go out of her sight,
Under the coffin lid out through the door,
Somebody finds only darkness and blight
All through the glory of summer sun light,
Somebody's baby will waken no more.
Somebody's sorrow is making me weep,
I know not her name, but I echo her cry,
For the dearly bought baby she longed so to keep,
The baby that rode to its long-lasting sleep
In the little white hearse that went rumbling by.
I know not her name, but her sorrow I know,
While I paused on the crossing I lived it once more,
And back to my heart surged that river of woe
That but in the breast of a mother can flow,
For the little white hearse has been, too, at my door.
5. The Return
By: Alora M. Knight
At a time of sorrow, it is hard to believe
That the sun will once again shine.
That's when it seems you do nothing but grieve,
With all joy being left far behind.
Still, life has a way of starting anew, 
A gradual moving away
From heartaches that linger, as heartaches will do,
If you will allow them to stay.
As spring returns to the Earth every year,
Bringing all of its beauty in view,
So merciful time will heal everything,
Bringing peace of mind back to you.
Know in your heart that love never dies,
No matter whatever befalls.
The only ones who never have tears in their eyes
Are those who loved no one at all.
The greater the love, the greater the loss.
Still, it's love that makes life worth living.
Few are the ones who will not bear the cost
To have shared in the joy of its giving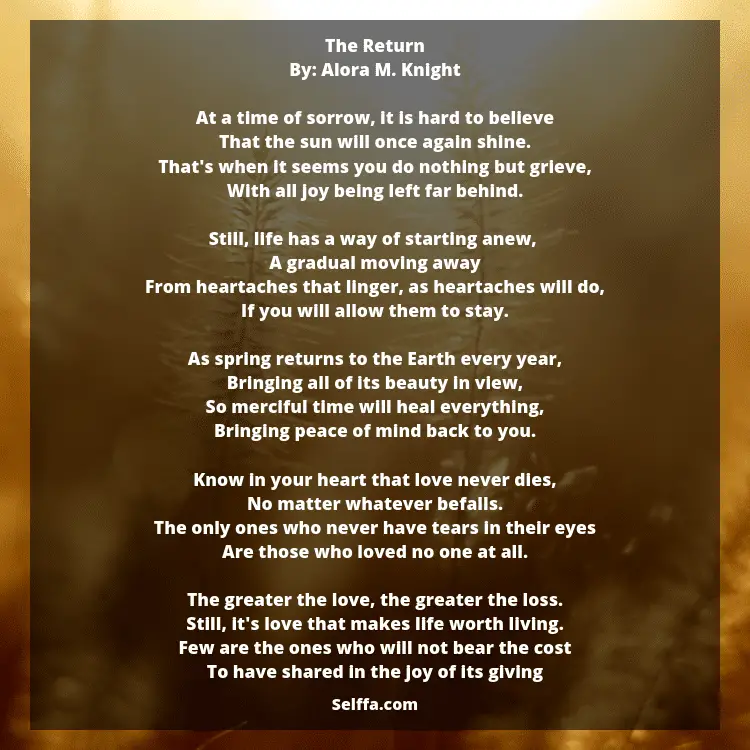 6. Precious Boy
By: Ilona M. Blake  
I'd like to offer my condolences
With a poem I'd like to share.
To all those suffering in this difficult time, 
I say a little prayer.
It is so hard for everyone
To think that you're not here,
Your happy face, your gorgeous eyes, 
Your beautiful smile so dear.
Little angel, precious boy, 
Please spread your wings and fly.
God picked you as his new angel
Up there in the sky.
It's times like this we question just
How could he let this be?
But he has a plan for each of us.
Sometimes it's just hard to see.
Who knows in heaven, there might've been
Little angels in need
Of a special friend just like you, 
Someone to play with or to lead.
My heart goes out to your family,
Especially your mum and dad.
I can't imagine how they must feel.
It is just so terribly sad.
But rest assured they'll think of you, 
Each day through and through,
And they will keep you close to their heart 
In all they say and do.
So I encourage them to keep their faith
In this time that they grieve
To have courage, strength and be brave, 
To continue to believe.
To see the signs you'll send to them, 
To let them know you're near,
To keep your love alive forever 
And bring them a little cheer.
So whenever they see a beautiful rainbow 
High up in the sky
Or in the garden when they see
A graceful butterfly flutter by,
They will think of you, little one, 
And you will all never be apart,
As you will always have a place
Nestled deep within their heart.
We'll look to the sky on a starry night 
And search for the brightest star,
As we will know that will be you
Shining down from afar.
God bless you, our beautiful boy.
Fly high up above.
May you always keep on smiling, 
And look after all those you love.
Little Angel, precious boy, 
We all just want you to know
That you'll be safe in God's hands now
And be missed forever so.
7. Heaven's Light
By: Ron Tranmer 
The sun shines down upon us 
and gives us warmth and light.
Then when the day has ended,
it disappears from sight.
Though we're left in darkness,
we know the sun has not died,
for it is shining brightly
on the world's other side.
So it is when one we love
comes to their end of days.
They just go to the other side
to shine their loving rays.
That's why heaven is a place
that glows beyond compare.
The lights of those who've left us
are all brightly shining there.
8. They Say
By: Ron Tranmer
They say I'm sorry for your loss.
They say your heart will mend.
They say you're in a better place
and death is not the end.
They say you're reunited
with loved ones gone before.
They say that you'll be waiting
when I walk through heaven's door.
I feel their love in every word
of comfort they impart
and know that each is spoken
from deep within the heart.
But all the words of comfort,
though kind, sincere, and true,
can't take away the emptiness
I'm feeling without you.
9. A Child Never Forgotten
By: Carolyn Autiello
Our heart was broken
Without a warning, no words spoken
You were taken away
Someone said you could not stay
Empty and lonely is what we are
We lost a precious shining star
Our family torn apart
Your world began with a promising start
Life is unfair
This difficult cross we must bear
Strength and courage we will find
Our special child always in our mind
A place in heaven is where you sit
Looking at that star you lit
In our thoughts forever you will be
Never knowing why someone set you free
10. Just Call On Me
By: Karl Fuchs
I can't comprehend just how sad you must feel
For the loss of someone you love.
This sorrowful time must still feel unreal
And you're looking for strength from above.
I hope, from my heart, that your pain will decrease,
That your spirit will gain strength again,
And I pray that your faith will create inner peace
And that God will send blessings, Amen.
Till then, if you need me to lighten your load,
I'm waiting to come to your aid.
Just call on me, and I'll walk down that road,
Until the dark times start to fade.
Deep condolences.
11. Sending Sympathy
By: Joanna Fuchs
I'm so sorry to hear of your recent loss,
I'm sending my sympathy,
If you need someone to help you now,
Please, friend, call on me.
12. After They Are Gone
By: Joanna Fuchs
When someone we love passes away,
We ache, but we go on,
Our dear departed would want us to heal,
After they are gone.
Grief is a normal way to mend
The anguish and pain in our hearts,
We need time to remember and time to mourn,
Before the recovery starts.
Let's draw together to recuperate,
As we go through this period of sorrow,
Let's help each other, with tender care
To find a brighter tomorrow.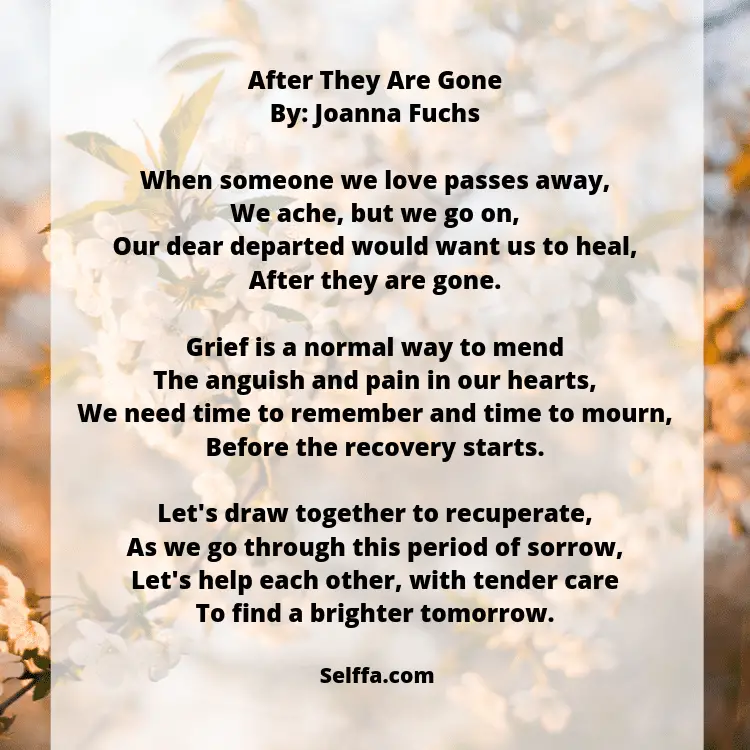 15. If We Could Bring You Back Again
By: Joanna Fuchs
If we could bring you back again,
For one more hour or day,
We'd express all our unspoken love,
We'd have countless things to say.
If we could bring you back again,
We'd say we treasured you,
And that your presence in our lives
Meant more than we ever knew.
If we could bring you back again,
To tell you what we should,
You'd know how much we miss you now,
And if we could, we would.
15. A Better Place
By: Joanna Fuchs
She's in a better place right now
Than she's ever been before;
All pain is gone, she's now at rest,
Nothing troubles her anymore.
It's we who feel the burden of
Our sadness and our grief,
We have to cry, to mourn our loss,
Before we get relief.
We know we'll reconnect with her
At the end of each life's road,
We'll see her cherished face again
When we release our earthly load.
16. William Morecomb
By: Victoria Bruce
For a second you were flying
Like you always wanted to
Now you'll fly forever
In skies of azure blue
We'll see your smile in every ray
Of sunshine after rain
And hear the echo of your laughter
Over all the pain
The world's a little quieter now
The colours have lost their hue
The birds are singing softly
And our hearts are missing you
Each time we see a little cloud
Or a rainbow soaring high
We'll think of you and gently
Wipe a tear from our eye
17. Sympathy
By: Paul Laurence Dunbar
I know what the caged bird feels, alas! 
When the sun is bright on the upland slopes,
When the wind stirs soft through the springing grass, 
And the river flows like a stream of glass, 
When the first bird sings and the first bud opes, 
And the faint perfume from its chalice steals
I know what the caged bird feels.
I know why the caged bird beats his wing 
Till its blood is red on the cruel bars,
For he must fly back to his perch and cling 
When he fain would be on the bough a swing,
And a pain still throbs in the old, old scars 
And they pulse again with a keener sting,
I know why he beats his wing.
I know why the caged bird sings, ah me, 
When his wing is bruised and his bosom sore, 
When he beats his bars and he would be free, 
It is not a carol of joy or glee, 
But a prayer that he sends from his heart's deep core, 
But a plea, that upward to Heaven he flings 
I know why the caged bird sings.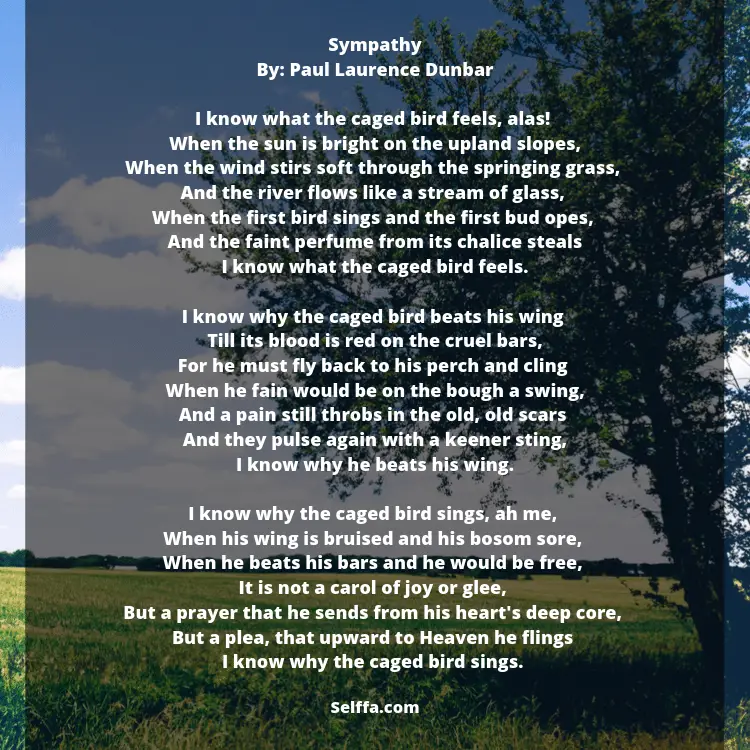 18. Fallen Limb
A limb has fallen from the family tree.
I keep hearing a voice that says, grieve not for me.
Remember the best times, the laughter, the song.
The good life I lived while I was strong.
Continue my heritage, I'm counting on you.
Keep smiling and surely the sun will shine through.
My mind is at ease, my soul is at rest.
Remembering all, how I truly was blessed.
Continue traditions, no matter how small.
Go on with your life, don't worry about falls
I miss you all dearly, so keep up your chin.
Until the day comes we're together again.
19. The Day God Called You Home
God looked around his garden
And He found an empty place.
He then looked down upon this earth,
And saw your tired face.
He put his arms around you
And lifted you to rest.
God's garden must be beautiful
He always takes the best.
He knew that you were suffering
He knew you were in pain
He knew that you would never
Get well on earth again.
He saw that the road was getting rough.
And the hills are hard to climb,
So He closed your weary eyelids
And whispered, peace be thine.
It broke our hearts to lose you
But you didn't go alone
For part of us went with you
That day that God called you home
21. I Have Not Gone
You think I've gone, that I am dead, and life has lost its will,
But look around, I am right there, living with you still
I watch your tears, I feel your pain I see the things you do
I weep as well, each time you cry, my soul, it lives with you
It gives such joy to hear you laugh, and do the things you do
And when you smile o'er by gone days, I smile right with you too
For we're still one, just you and me, one mind, one soul, one being
Walking forward into life, though only you are seen
And in the stillness of the night, when the pain it really starts
Stretch out a little with your mind and draw me to your heart
For I am always right in there, always by your side
For you have been, all my life's days, my joy, my love my pride.
22. I Wrote Your Name
I wrote your name in the sand,
but the waves washed it away.
I wrote your name in the sky,
but the wind blew it away.
So I wrote your name in my heart,
and that's where it will stay, always.
23. Do Not Stand At My Grave And Weep
By: Mary Frye
Do not stand at my grave and weep,
I am not there, I do not sleep.
I am in a thousand winds that blow,
I am the softly falling snow.
I am the gentle showers of rain,
I am the fields of ripening grain.
I am in the morning hush,
I am in the graceful rush
Of beautiful birds in circling flight,
I am the starshine of the night.
I am in the flowers that bloom,
I am in a quiet room.
I am in the birds that sing,
I am in each lovely thing.
Do not stand at my grave and cry,
I am not there.  I do not die.
24. High Flight
By: John Gillespie Magee, Jr
Oh, I have slipped the surly bonds of earth
And danced the skies on laughter-silvered wings,
Sunward I've climbed, and joined the tumbling mirth
Of sun-split clouds, and done a hundred things
You have not dreamed of wheeled and soared and swung
High in the sunlit silence. Hov'ring there,
I've chased the shouting wind along, and flung
My eager craft through footless halls of air.
Up, up the long, delirious burning blue
I've topped the wind-swept heights with easy grace
Where never lark, or ever eagle flew,
And, while with silent, lifting mind I've trod
The high untrespassed sanctity of space,
Put out my hand, and touched the face of God.
25. A Stone I Died
By: J. Rumi
A stone I died and rose again a plant,
A plant I died and rose an animal,
I died an animal and was born a man.
Why should I fear? What have I lost by death?
26. My Secret and Sacred Bird
By: Sri Chinmoy
My secret and sacred bird now flies
To meet the Spirit's vacancy.
All chaos of life today dissolved,
In me a surge of ecstasy.
Gold flames within my longing heart
Invoke the cosmos parent sun.
A tapestry of truth unseen
Bursts forth within, the play is begun.
27. Funeral Blues
By: W.H. Auden
Stop all the clocks, cut off the telephone,
Prevent the dog from barking with a juicy bone,
Silence the pianos and with muffled drum
Bring out the coffin, let the mourners come.
Let aeroplanes circle moaning overhead
Scribbling on the sky the message he is dead.
Put crepe bows round the white necks of the public doves,
Let the traffic policemen wear black cotton gloves.
He was my North, my South, my East and West,
My working week and my Sunday rest,
My noon, my midnight, my talk, my song,
I thought that love would last forever, I was wrong.
The stars are not wanted now, put out every one,
Pack up the moon and dismantle the sun,
Pour away the ocean and sweep up the woods,
For nothing now can ever come to any good.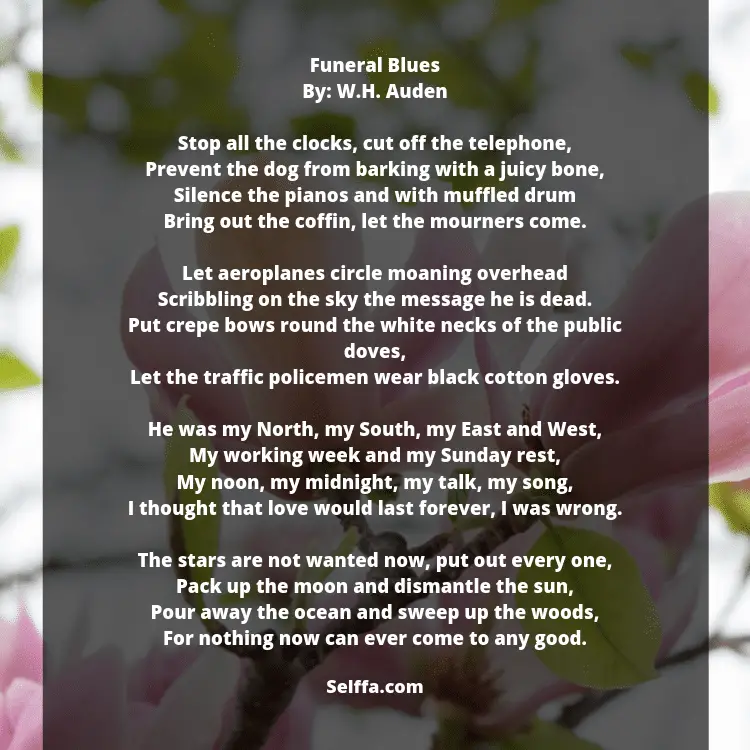 28. Traditional Irish Blessing
May the road rise up to meet you.
May the wind be always at your back.
May the sun shine warm upon your face,
the rains fall soft upon your fields.
And until we meet again,
May God hold you in the palm of His hand.
May the road rise up to meet you
May the wind be always at your back
May the warm rays of sun fall upon your home
And may the hand of a friend always be near.
May green be the grass you walk on,
May blue be the skies above you,
May pure be the joys that surround you,
May true be the hearts that love you.
29. Give What's Left Of Me Away
By: Merrit Malloy
When I die
Give what's left of me away
To children
And old men that wait to die.
And if you need to cry,
Cry for your brother
Walking the street beside you
And when you need me,
Put your arms
Around anyone
And give to them
What you need to give to me.
I want to leave you something,
Something better
Than words
Or sounds.
Look for me
In the people I've known
Or loved,
And if you cannot give me away,
At least let me live in your eyes
And not on your mind.
You can love me most
By letting
Hands touch hands
By letting
Bodies touch bodies
And by letting go
Of children
That need to be free.
Love doesn't die,
People do.
So, when all that's left of me
Is love,
Give me away.
30. A Gardener's Last Wish
By: Joyce Fothergill
Don't carry me off in a brass handledcoffin
With a wreath on my chest I won't be at rest
There's nothing much worse than a ride in a hearse
To a hole in the ground with just strangers around
No! bury me deep in the compost heap
Or pop me right under a nice floribunda
Its really much wiser to become fertiliser
Then I can grow roses as I decomposes.
31. Death is a Journey
By: Sri Chinmoy
Death is at once
The end of the body's
Old journey
And the beginning of the soul's
New journey.
32. The Life That I Have
By: Leo Marks
The life that I have
Is all that I have
And the life that I have
Is yours
The love that I have
Of the life that I have
Is yours and yours and yours.
A sleep I shall have
A rest I shall have
Yet death will be but a pause
For the peace of my years
In the long green grass
Will be yours and yours and yours.
33. I Am Free
Don't grieve for me, for now I'm free,
I'm following paths God made for me
I took his hand, I heard him call
Then turned, and bid farewell to all
I could not stay another day
To laugh, to love, to sing, to play
Tasks left undone must stay that way
I found my peace at close of play
And if my parting left a void
Then fill it with remembered joy
A friendship shared, a laugh, a kiss
Ah yes, these things I too will miss.
Be not burdened… deep with sorrow
I wish you sunshine of tomorrow
My life's been full I've savoured much
Good friends, good times
A loved one's touch
Perhaps my time seemed all too brief,
Don't lengthen it now with undue grief.
Lift up your hearts and peace to thee
God wanted me now
He set me free.