Undeniably, moms are our life's greatest treasure. Because of them, we have understood the true meaning of unconditional love and care. And for your mom's birthday, she deserves nothing but the best. So make her special day even more lovely with these 55 birthday poems for moms.
Birthday Poems for Moms
1. On Your Birthday Dear Mom!
All that you have done for me,
Always play in front of my eyes to see.
You showed me unconditional love
And came into my life like an angel from up above.
Today on your birthday
I promise you a lot of happiness in every way.
2. Special Birthday Wishes to Mom
Moms are special, moms are kind,
And their love is elsewhere tough to find.
Mom, on your birthday, I send you a gift,
Wrapped with my love and a few tears adrift.
Gentle birthday wishes for a lovelier you,
From your child who loves you the most too…
3. To Mom My Dear
Happy birthday to my mommy dear,
Let's celebrate and cheer,
On this special day of yours,
Coz you are the best you know,
So, please take a bow,
From my side,
Wish you a lovely birthday,
Stay blessed this day!
4. Great Mom
Happy birthday, Mom!
I hope everyone can see,
What a great mom you've always been,
And how much you mean to me.
I always think about you,
In times both good and bad,
For the things you taught are with me,
In happy times and sad.
On your birthday I wish you joy,
Just like you pass around.
May all your good times multiply,
And happiness abound.
– Karl Fuchs
5. Dearest Mother
I may leave my thought unspoken
till a day like this is here –
I may seem to take for granted
all the things that make you dear.
But there's not a day that passes
that I'm not reminded of –
Your kindness and your thoughtfulness,
your sweetness and your love.
And with every thought, I'm wishing
that your life will always be –
As happy for you, Mother
as you've made my life for me!
Have a Wonderful Day
6. It's Your Birthday Mom
So let your hair down
and have some fun –
Forget all those chores
they'll still get done.
So dust of your glad rags
and head downtown –
Jump on the dance floor
and start getting down.
But just remember
you're still my mom –
I've got a reputation
to uphold with everyone.
So don't do anything
that'd make grandma frown –
Like getting drunk
and falling down.
And when you come home
at half past two –
Just remember
to take off your shoes.
'Cause climbing the stairs
in that state –
Is a mistake
you don't want to make.
7. My Wonderful Mother On Her Birthday
Deep as an ocean
constant as the sea –
Strong and steady like the tide
a Mother's love can be.
Warm as noon-day sunshine
restful as the night –
A mother's love makes all the world
more beautiful and bright.
Happy Birthday Mum
8. Mom You Are So Special
You're so special in so many ways
you're caring and you're kind –
A Mom who is more wonderful
would be hard to find.
And now that it's your birthday
this comes especially to say –
You're loved and thought
the whole world of
each and every day.
Happy Birthday Mom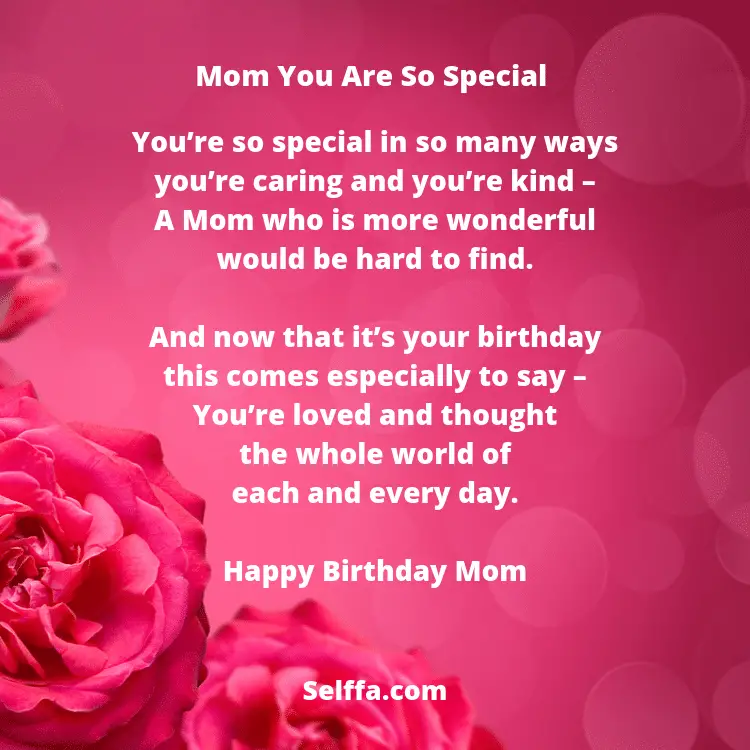 9. Happy Birthday, Mom!
Happy birthday, Mom!
May every second, minute
hour, day and year of your life
be filled with the kind of
comfort, security, and happiness
you give unfailingly to me.
Happy Birthday, Mom!
Without you, there would be
a gaping hole in my life, an emptiness
that only your love can fill.
Thank you, Mom, for all that you do,
for the extraordinary person you are.
Happy Birthday, Mom!
– Joanna Fuchs
10. My Loving Mother
Today is your birthday,
I'm so happy to say.
My wishes and love,
I'd like to convey.
For being your daughter,
I'm much more than glad.
With you in my life,
I rarely get sad.
Only good things,
I hope dearly for you.
May all your sweet dreams,
continue to come true.
But first let's have dinner,
and openly talk.
It brings me great peace,
when together we walk.
I'm so happy to celebrate,
your birthday with you.
My love will never end,
and shall always be true.
11. You Burn Like Candle
You burn like a candle to brighten my life
You do things which I do like
Many times you get hurt but you fake a smile
This is for like all the way and shine
I am so lucky that I have you in my life
Mom with you I know the real meaning of strive
I am so lucky to have you with me
With you I laugh unconditionally
You are my only glee!
Wish you a loving birthday!
God bless you!
12. A Birthday Poem for Mother
A mother like you is very, very rare,
Thanks for so much affection and care.
You gave me a superb childhood,
I am so grateful to you and more I should.
Mom what you given me I can never repay,
Wishing for you a great, grand birthday.
13. A Prayer for a Mother's Birthday
Lord Jesus, Thou hast known
A mother's love and tender care:
And Thou wilt hear, while for my own
Mother most dear I make this birthday prayer.
Protect her life, I pray,
Who gave the gift of life to me;
And may she know, from day to day,
The deepening glow of Life that comes from Thee.
As once upon her breast
Fearless and well content I lay,
So let her heart, on Thee at rest,
Feel fears depart and troubles fade away.
Her every wish fulfill;
And even if Thou must refuse
In anything, let Thy wise will
A comfort bring such as kind mothers use.
Ah, hold her by the hand,
As once her hand held mine;
And though she may not understand
Life's winding way, lead her in peace divine.
I cannot pay my debt
For all the love that she has given;
But Thou, love's Lord, wilt not forget
Her due reward,–bless her in earth and heaven.
– Henry Van Dyke
14. Special Mom
My mother I love,
She came from above.
Gentle and kind,
A beautiful mind.
Today is her day,
With a birthday bouquet.
Her smile so warm,
Our hearts will transform.
I wish her the most,
With this little toast.
Happiness and health,
Internal wealth.
– Martin Dejnicki
15. God Gave Me An Angel
Today is the birthday of God given angel.
Her love knows no rival.
An incredible and concrete presence,
Her love has the power to bind all my senses.
My promise to be with you
Is given on the most important day of my life – your birthday!
16. All You've Done
Today, Mom, is your birthday
And I want to take this opportunity
To thank you for all that you've done
All the help that you have given me
And all the sacrifices you have made.
I can't tell you how much you mean to me
But I hope your birthday is a good one
And that your wishes all come true.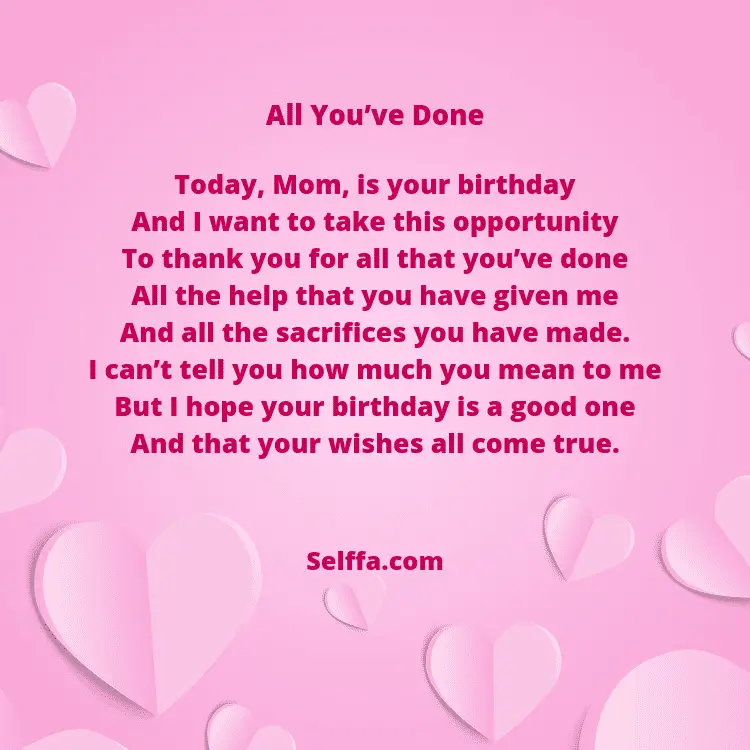 17. A Time for Renewal
For the rest of the year you sacrifice
To help your children through the day
But today is something different
Because it should go your way.
Enjoy your birthday while it's here
Hope it's a special one for you.
Hope you discover surprises
And you feel yourself renew.
18. Unconditional Love
Happy birthday, my mother and friend,
Since I was a child, you would always defend.
Your love has always, been unconditional,
Even when, my moods were transitional.
I cannot forget, all the things you have done,
Through actions and words, my esteem you have won.
You taught me to live, with courage and passion,
With the less fortunate, I learned your compassion.
Today is your birthday, I hope you dance,
This celebration, I'm sure you'll enhance.
From the depths of my heart, I just want to say,
You are my mother, and my love I display.
19. Your Birthday Gift
For your birthday miss
I would like to give you this
A great watch from Swiss
Or that sweet trip to Paris
You are so sweet
With that great heart beat
Mom you are the gift of this sweet home
So I would like to take you to Rome
You know that we wish you a great birthday
As we wish for more sweet years
– Khaoula Ouakar
20. Greatest Mom
Thoughtful lady, that works so hard,
Always been there, my dear lifeguard.
Places others before herself,
Proud of pictures on her shelf.
When in pain, maintains here smile,
Multi-tasking, she's versatile.
With all of this; time she finds,
Her love for us, constantly reminds.
On her birthday, just want to say,
I don't know how, I will repay?
Eternally grateful, I hope she will see,
The greatest mother, she will always be.
– Martin Dejnicki
21. Happy Birthday
Happy birthday,
my mother and friend.
A few birthday wishes,
I'd just like to send.
Hope your birthday,
is a complete blast.
Don't think about age,
nor the length of your past.
May this birthday,
be filled with plenty of cheers.
We're here to celebrate,
all your beautiful years.
I'd also like to,
wish you good health.
These moments we share,
is the greatest of wealth.
Wishing you happiness,
beyond any dream or desire.
You have so many great traits,
that I hope to acquire.
Happy birthday,
my mother and friend.
My love for you,
I shall always extend.
22. How Much Are You Loved?
More than bubble gum
or somersaults –
Piggy-back rides
or chocolate malts.
Cotton candy
a tire swing –
Mommy, you're loved
more than anything!
Happy Birthday Mommy, with Love!
23. Flowers For Mum
The plants are glad to see the Sun.
They turn their faces
to enjoy the fun!
When clouds bring down
a refreshing shower,
their leaves turn green
to embellish the flowers.
Sun or showers,
Whatever may come,
those gorgeous flowers
sing 'Happy Birthday, Mum'!
– Shelagh E Osborn Wright
24. For You Mommy, Happy Birthday
For working so hard
and sharing so much –
For giving such pleasure
with a love beyond measure.
For making a home, a place
of good times and laughter –
And for caring today
and every day after.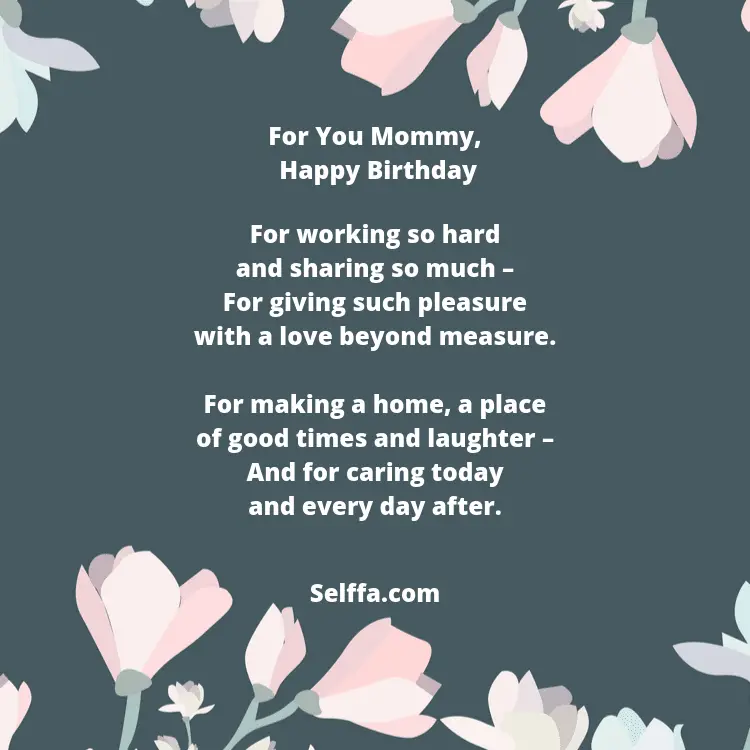 25. A Birthday Wish For Mother
You are a mother who is very dear
With a heart full of love and so sincere
With special wishes on the way
Just for you on your special day
You are so thoughtful kind and sharing
Always warm and oh so caring
Happy Birthday Mother
– Diane Hannah
26. Spring Is In The Air
Spring is in the air
The sun is breaking through
The rays are shinning down
For a wonderful day for you.
This birthday wish is special
With all that will come true
It's sent with love and wishes
For a birthday just for you.
Happy Birthday Mum
– Sandra Carlse
27. Happy Birthday To You
Happy Birthday to you
there is so much to do,
lots of surprises to come
lots of hours of fun.
May this day bring you treats,
may your day be so sweet
happy birthday to you
there is so much to do.
– Wenona Elie
28. Happy Birthday Mom
I really love my mother,
And it surely makes me proud,
To know I'm one of her kids,
And to sing her praises loud.
My mother has a birthday,
once every year.
And on that day she'll ponder life,
And even shed a tear.
See, Mom doesn't like her birthdays;
She says they make her old,
But she's as sharp as she ever was,
If the truth be told.
My mother showed me lots of things,
About the world, you see,
So then I could teach my kids,
The things my mom taught me.
My Mother has a Pure heart
That's made of gold
I love my mother very much
In my book she will never be old.
My mom is a sweetie
She is beautiful, which is true
I Thank god for you, mom
Where would I be without you?
Happy Birthday Mom!
– Kristen M Saccardi
29. A Mother Is So Many Things
First, she lets you grow within
when the miracle takes place –
That is where all life begins
In a warm and loving space.
Then she is you nurturer
your life is in her hands –
24 hours a day, she gives
that's what, this job demands.
Then she is your nurse
cleaner and your cook –
She takes care of everything
without a guide book.
A Mother means so much more
than words could ever say –
She is everything we love
and means the world each day.
Thank You, Mom
Happy Birthday
– Toni Norton Kane
30. Don't Forget
Your birthday is the day I remember
all the wonderful things you do.
Time will fly; each day goes by,
and I've forgotten to say, "Thank you."
Thank you for teaching me strength,
to have confidence while I grow,
for helping me through my biggest challenges,
and for teaching me what I know.
Although our paths may be distant,
and we spend so much time apart,
remember you are the one
who made the essence of my heart.
I will love you until my last breath,
this I know for sure,
as you are the first love I ever had,
and so I will love you forever more.
– Vicki Fearnley
31.
No one cares as you care,
I know that you are always there,
No one is as nice as you are,
You are like the most beautiful star,
Of my life,
Mom, without you,
I really cannot survive,
Wish you a lovely birthday,
Have a super day!
32.
Each day and each moment that I spend with you,
Each loving memory old and new,
One thing I know for sure,
That your love is so pure,
Mom, there is no one like you,
Because you are God's chosen few,
And I am super blessed to have you,
In my life,
A very happy birthday to you!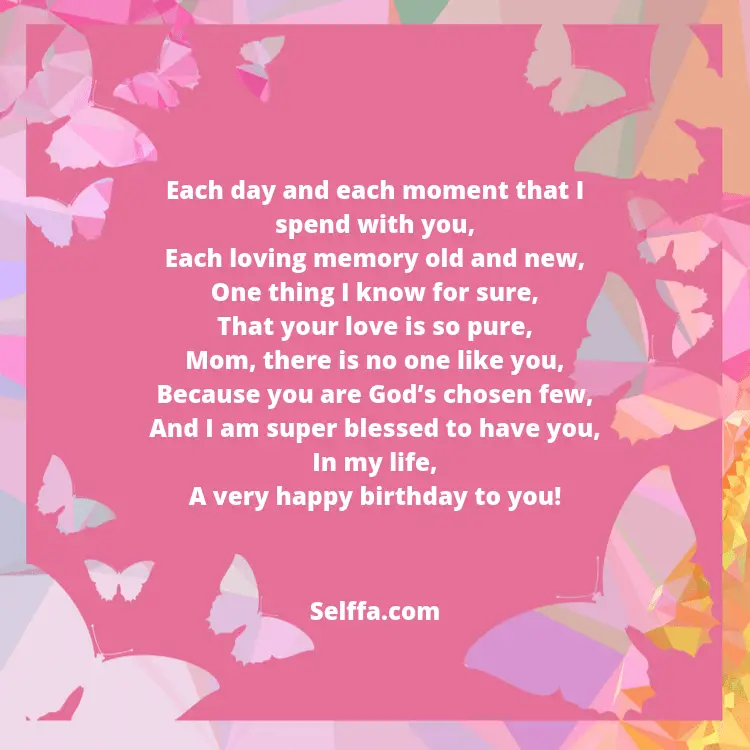 33.
Mom, your birthday means a lot
Especially for me;
You're smart and strong and all that's good;
It's true, indubitably!
That's why I send this birthday wish,
That all your dreams come true;
May your life be filled with happiness,
Because, Mom, I love you!
34.
As a vine sustains and nourishes its branches
So do you provide and care for your own
You make my sorrows and pain your own
So that I don't have to bear any
And you allay my worries and fears
So that I can thrive unencumbered
You deserve all the hugs and kisses a child can give a mother
Happy birthday to the best mother in the world
35.
The ship of my youth
Would have been destroyed for good
If not for a stay called mom
Who clutched me when waters were stormy
Mother, you are a demigod
Without you, I would have never come up until now
You are the best mother on the planet, I know
My regard for you, I don't know how to appear
My life has come to fruition, all on account of your mystical touch
Wish you a happy birthday, mother I cherish you in particular
36.
People change with time,
People change with season,
But, your love is so selfless,
It does not need any reason,
I love you so much mom,
I am so proud to me you belong!
Happy Birthday!
37.
Now that it's your birthday, Mom
I'd really like to say
Thank you Mom for all you do
In your quiet efficient way
I don't know how I'd cope
Without you by my side
I know my life would be
A very bumpy ride
As the seasons come and go
And your birthday arrives
It takes this occasion
To make me realize
I don't take the time to say
I appreciate all you do
So have a very Happy Birthday, Mom
And lots of love to you
38.
To the World's best Mom,
Who's my friend and companion too,
I really don't what I'd do,
If I didn't have you,
So let's celebrate your birthday
Not face it with dread
OK you're another year older
But you have a wonderful year ahead
39.
Dearest mom, I can't bear to see you sad
I will protect you from everything bad
Celebrating you today brings joy to my heart
To me, you'll always be my priceless work of art
Wishing you a happy birthday
40.
Mom, my thank yous to you
Should be said every day
For the happiness you impart
And your loving caring way
And on this day, to you Mom, I say
Have a truly wonderful and happy birthday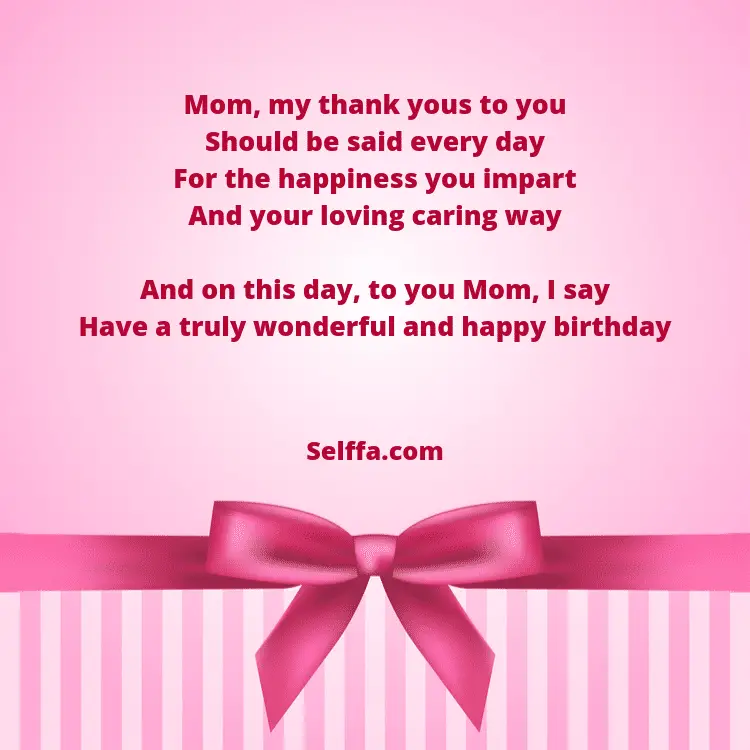 41.
You spread the joy each night and day,
Your silent prayers and cool ways,
Mom you are the lifeline of my life,
Without you I can't survive
Happy birthday!
42.
Mother, you had soooo many things to do,
From washing and ironing to tying a shoe.
You scrubbed, mended, cooked and sewed,
You kept us shod and you kept us clothed.
You were the doctor when we were ill,
Giving us a bandage, a hug or a pill?
You were the teacher when we had schoolwork to do
You gave us love and patience, too
Mother you had soooo many things to do
It's no wonder that I soooo love you
In life you've really passed the Test
Coming out on top, the best of the best
Thank you sooo much
and Happy Birthday
43.
Your love has no condition,
Your love is as pure as soul,
In my life mommy dear,
You play the most amazing role,
I love you so much!
Happy Birthday, mom!
44.
Your loving touch makes me forget all the pain,
Your words of assurance wipe my tears in vain,
Mom thanks is not enough for you,
But, today I would like to wish on your special day,
A very happy birthday!
45.
I can't even imagine the sacrifice it took
For you to be a wife, mother, worker and cook
Working hard, making sacrifices to keep me happy
From sending me to school to changing my nappy
From the expensive toys to trips to the zoo
There is no one else to thank but you
Happy birthday mom!
46.
May you live a rich, long life,
Filled with joy, wonder and health,
May you possess gold galore,
The very least of your wealth.
May your dreams be aplenty,
So your wildest ones come true,
May the good karma you deserve,
Come instantly back to you.
Happy birthday!
47.
God bless you on your birthday,
And each day all year through,
For all the loving things you are
And all the things you do.
God bless you for your warm and love,
And more than any other,
God bless you just for being you —
My dear loving Mother!
48.
You are brighter than the sunshine and calmer than the moon,
You brighten up our mornings and also our afternoons,
You are so special to us, words will never be enough to say,
You make us so happy each time you come to dance with us and play.
So a very Happy Birthday to a person so very dear,
May you always go around and spread your happy cheer.
Happy Birthday Mom
49.
A Mom is loved in a special way
for many, many things ..
For the way She's supported, encouraged
inspired, and for all the joy she brings.
You're a wonderful Mom
who is loved and treasured ..
For so many reasons
that could never be measured.
For the caring and kindness
that you always show ..
And for many more things
that mean more than you know.
Happy Birthday
50.
You taught me every meaning in life,
You taught the real value of strive,
Thanks mom for being such a great inspiration,
Hats off to your dedication,
Wish you a very happy birthday!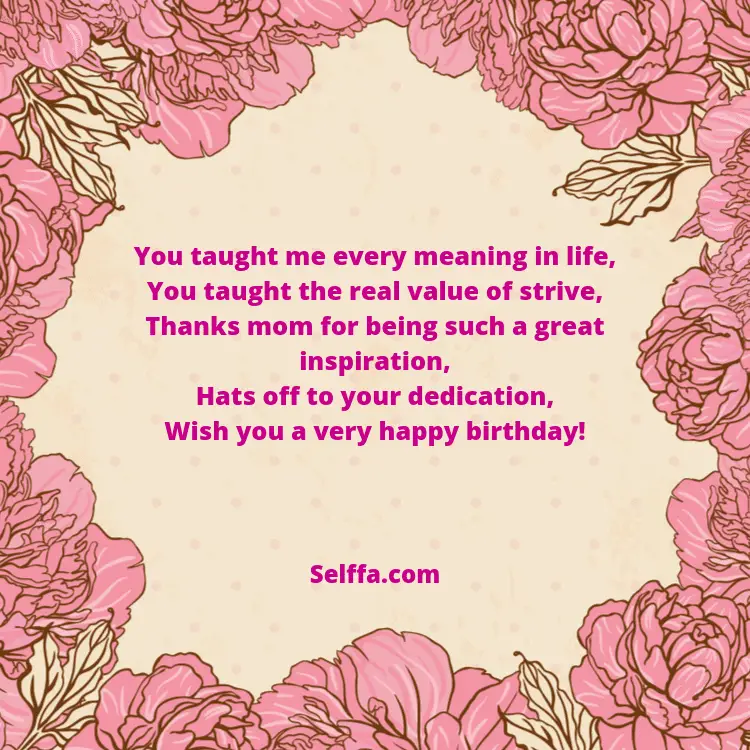 51.
I find myself wondering…
Did I give you your due..
For all that you've done for me
Did I ever thank you?
For all of my childhood memories
For helping me deal with life's stresses
For helping me accept my defeats
And celebrate my successes?
Or for teaching me the value of hard work,
Good judgement, courage, and being true
The laughter, smiles, and quiet times we've shared
Did I ever thank you?
If I have forgotten, I'm thanking you now
You taught me right from wrong….
I hope you know how much you're loved and appreciated
I hope you, instinctively, knew all along.
Happy Birthday Mom
52.
When I was a child
You made sure my birthdays were awesome
I kept expecting cool gifts and parties
Without knowing from where, the money would come
Not once, did you ever say no
To anything I asked for, ever
I can't imagine how you did all that
As a working single mother
Now that I am older and more mature
I look back at those days
I feel blessed to have grown up under your wings
For you, there can never be enough praise
Happy birthday ma
53.
The almighty gave to me, since the
day I was born, a very special gift ..
A gift so peaceful and loving
a gift full of kindness and care ..
A gift that I like to call Mother
one that has always been there.
Happy Birthday Mom, I Love You
54.
You held me in your arms and kissed me gently,
The sweetest of kisses and the gentlest of touches.
May angels sing for you on your birthday,
And my love in front of you I lay.
Happy birthday mom for the person you are,
From a daughter who thinks you are a shining star.
55.
Mothers are darlings, they can heal all hurt
They are always caring and generous, never rude or curt
My mother too is a gem of a woman
She is the reason my life is so much fun
On your birthday today let me confess
Without you, our family would have been a mess
How did you pull us all through, year after year
Without letting sorrow and anger come near
You are my super woman, the person I look up to
Here's wishing a happy birthday to you