If one day you find yourself feeling disappointed and heartbroken because of something or someone, take a quick review of these inspirational, wise, and humorous spiritual sayings we have compiled here. They are sure to brighten up your darkest days and may even bring you back to your old, happy, self. Hang in there, friend. You are not alone in this journey.
Spiritual Sayings
1. At my lowest, God is my hope. At my darkest , God is my light. At my weakest, God is my strength. At my saddest, God is my comforter.
2. Happy moments praise God, difficult moments seek God, quiet moments worship God, painful moments trust God, every moment, thank God.
3. I am with you always.
4. Make every moment a prayer of your being.
5. I honor the place in you in which the entire universe dwells. I honor the place in you which is of love, of truth, of light and of peace. When you are in that place in you, and I am in that place in me, we are one.
6. No amount of darkness can hide a spark of light.
7. Physical beauty can be lost with the marks of age or through accident, spiritual beauty can never be lost.
8. The nature of God is a circle of which the centre is everywhere and the circumference is nowhere. – Sandra Reeves
9. A day hemmed in prayer is less likely to unravel.
10. A peaceful spirit is one that is in harmony with itself and the world around them.
11. A person's energy can tell you more about them then their own words.
12. Be the light that helps others see.
13. Cast yourself into the arms of God and be very sure that if He wants anything of you, He will fit you for the work and give you strength.
14. Change in physical, mental, emotional and spiritual well-being will only be achieved by change in physical, mental, emotional and spiritual ways of being.
15. Compassion is magical.  It connects your heart with other hearts.
16. Divine light, within me, as me. Through me, blesses and multiplies. All that I am,all that I have and all that I circulate.
17. Do not pray by heart, but with heart.
18. Don't confuse your path with your destination. Just because it's stormy now, doesn't mean that you aren't heading for sunshine.
19. Everyone is at a different stage of consciousness. There is a certain stage you reach where your intent is to only speak the truth, not convince others of it. You begin to realize that everyone has their own path. In other words, you cannot convince a baby they should be walking when they are at the stage of crawling, to convince them of that truth, is irrelevant.
20. Get lost in nature, and find yourself.
21. Give thanks for unknown blessings already on their way.
22. Glorious indeed is the world of God around us, but more glorious the world of God within us.
23. God hides things by putting them all around us.
24. God is glorified in the fruitage of our lives.
25. God is love.
26. God often visits us, but most of the time we are not at home.
27. Happiness doesn't derive from location, or material possession, it derives from a higher state of consciousness.
28. Help us to find God. No one can help you there. Why not, for the same reason that no one can help the fish to find the ocean.
29. Hold on, God knows what He is doing.
30. However many holy words you read or speak. What good will they do, if you do not act upon them?
31. I am thankful everyday I live, for the warmth and kindness that you give. Thankful that in God's design, He planned it so your path crossed mine.
32. I am wherever there is love.
33. I surround myself with circles of Light, that no negative energy can cross.
34. I thought I heard the voice of God, and climbed the highest steeple. But God declared, go down again, I dwell among the people.
35. If a task is performed in the consciousness that God is my companion, the impossible becomes possible.
36. If God be for us, who can be against us.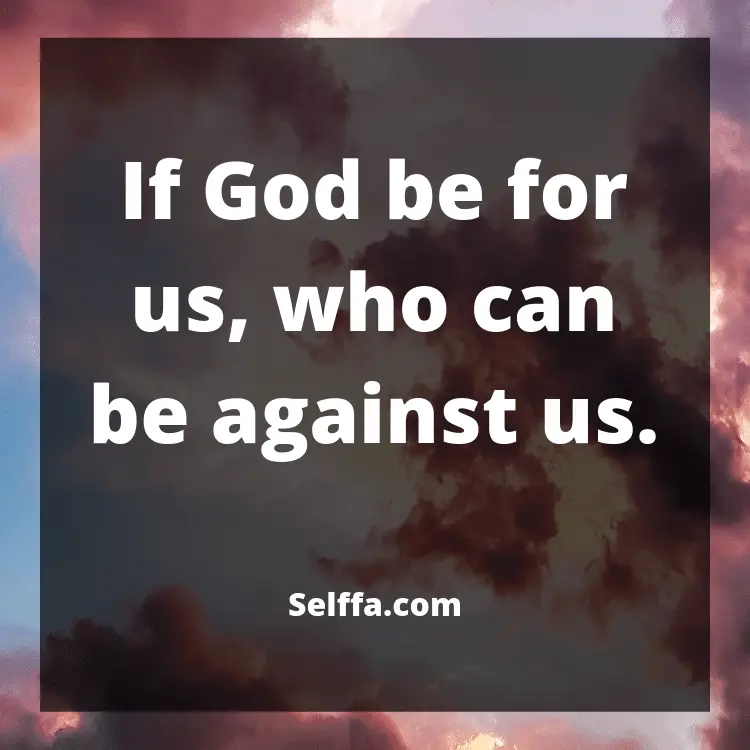 37. In this world you can become a spotless mirror, in which the Holiness of your Creator shines forth from you to all around you.
38. Intuition is the GPS of the soul.
39. It is God who arms me with strength and makes my way perfect.
40. It's your road, and yours alone. Others may walk it with you, but no one can walk it for you.
41. Joy is an attitude. It is the presence of love for self and others. It comes from a feeling of inner peace, the ability to give and receive, and appreciation of the self and others. It is a state of gratitude and compassion, a feeling of connection to your higher self.
42. Leave a little Sparkle wherever you go.
43. Let go, and let God.
44. Let love enlighten your path.
45. Let nothing disturb you. Let nothing frighten you. Everything passes away except God. God alone is sufficient.
46. Let us love one another, for love is of God.
47. Loneliness comes when I forget that God is my supreme companion.
48. Lord, help me to remember that nothing is going to happen to me today, that you and I cannot handle together.
49. Love all creation and you will feel heaven on earth.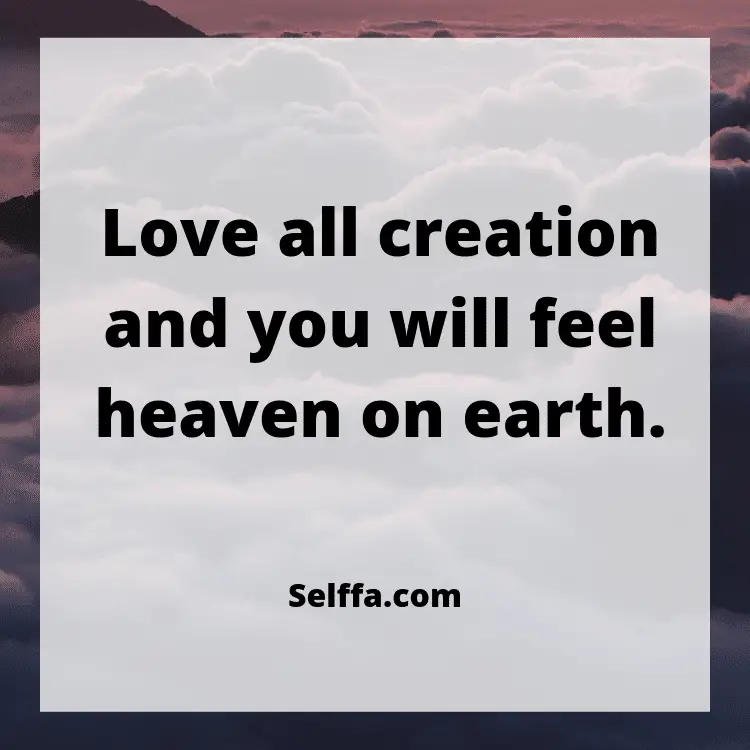 50. No amount of darkness can hide a spark of Light.
51. Physical beauty can be lost with marks of age or through accident.
52. Spiritual beauty can never be destroyed.
53. Physical beauty can be lost with the marks of age or through accident, spiritual beauty can never be lost .
54. The nature of God is a circle of which the centre is everywhere and the circumference is nowhere. – Sandra
55. The person who has a firm trust in the supreme being is powerful in His Power, wise by His wisdom, happy by His happiness.
56. They told me I could be anything I wanted so I became everything.
57. Throughout your whole earthly life, there is a spiritual realm within that always loves you, unconditionally.
58. To forget troubles remember God.
59. To have an open heart is to be fully awakened and truly alive.
60. Walk the spiritual path say little, love much, give all, judge no man. Aspire to all that is pure and good and keep on keeping on.
61. We are all linked through a web of energy.
62. We are all one. Only egos, beliefs and fear separate us.
63. When I try my best and this is not enough, leave it in the hands of God.
64. When people cannot stand me, because they do not understand me. God will stand by me.
65. When the world becomes like a wild storm, the most beautiful shelter is God.
66. When you drink of the spring, be thankful for the source.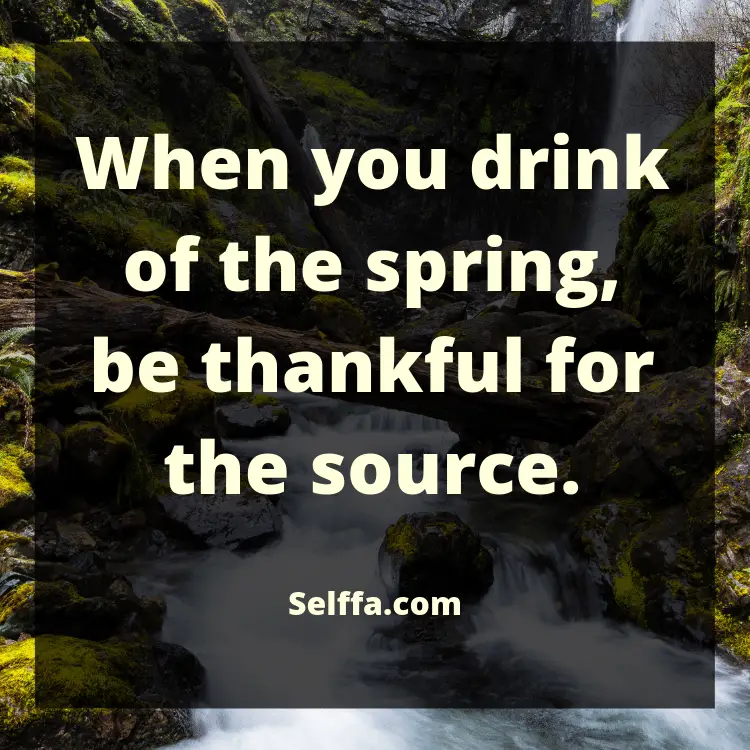 67. Where God guides me, He provides me.
68. Which book you choose to follow is actually less important than the one you write yourself.
69. You are spirit first and body last. Let your spirit so shine before men that they may see their Christ in you.
70. You are the light of the world.
71. You came to the earth in this powerful time to assist with the transition into a higher consciousness. You know who you are. All you need to know is within you. Honour it.
72. You can reflect heaven in the mirror of your mind.
73. You have to find what sparks a Light in you so that you in your own way can illuminate the world.
74. Your love of God is no greater than your love for the least important person you know.
75. Create a life that feels good on the inside, not just one that looks good on the outside.
76. Spirituality is indeed the master key of the Indian mind, he sense of the infinitive is native to it. – Sri Aurobindo
77. Most importantly, the meaning of spirituality lays the seeds for our destiny and the path we must follow. – Dennis Banks
78. Saying thank you is more than good manners. It is good spirituality. – Alfred Painter
79.  It is the inner life that is to spark the change in consciousness that will permit us to advance. – Brother Wayne Teasdale
80. I think we have to be careful about what we label as a prerequisite for spirituality. I don't think you have to know a lot to have a spiritual life, but knowing gives life richness. – Olympia Dukakis
81. We can no more do without spirituality than we can do without food, shelter, or clothing. – Ernest Holmes
82. I have a much wider, freer view about spirituality. I feel that people need to pursue it on their own, personally. You know, let it be theirs, a personal relationship with their soul, or their God, or with their church. – Peter Jurasik
83. Any spirituality can be enhanced with the practice or study of yoga. – Christy Turlington
84. Being spiritual has nothing to do with what you believe and everything to do with your state of consciousness. – Eckhart Tolle
85. You have to grow from the inside out. None can teach you, none can make you spiritual. There is no other teacher but your own soul.  – Swami Vivekananda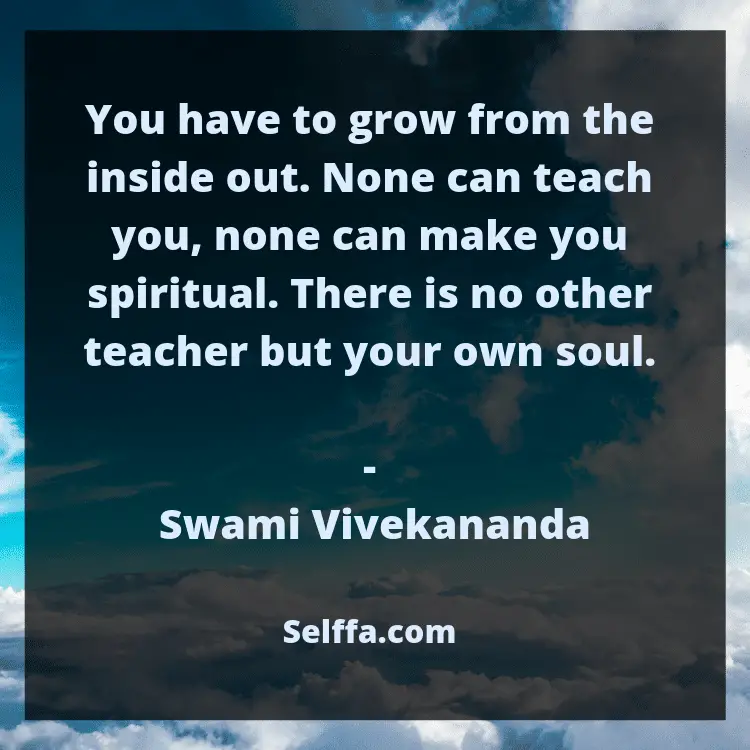 86.  Keep your feet on the ground, but let your heart soar as high as it will. Refuse to be average or to surrender to the chill of your spiritual environment. – Arthur Helps
87. My religion is very simple. My religion is kindness. – Dalai Lama XIV
88. We are not human beings having a spiritual experience. We are spiritual beings having a human experience. – Pierre Teilhard de Chardin
89. A rebirth out of spiritual adversity causes us to become new creatures. – James E. Faust
90. I think a spiritual journey is not so much a journey of discovery. It's a journey of recovery. It's a journey of uncovering your own inner nature. It's already there. – Billy Corgan
91. The goal of spiritual practice is full recovery, and the only thing you need to recover from is a fractured sense of self. – Marianne Williamson
92. Spirituality is meant to take us beyond our tribal identity into a domain of awareness that is more universal. – Deepak Chopra
93. Before one accepts spirituality, astrology is very powerful, like a lion. Then when one enters into a deeper spiritual life, astrology becomes a tiny household cat. – Sri Chinmoy
94. We should honor Mother Earth with gratitude, otherwise our spirituality may become hypocritical. – Radhanath Swami
95. The new spirituality is that it will produce an experience in human encounters in which we become a living demonstration of the basic spiritual teaching We are all one. – Neale Donald Walsch
96. The spiritual quest is not some added benefit to our life, something you embark on if you have the time and inclination. We are spiritual beings on an earthly journey. Our spirituality makes up our being. – John Bradshaw
97. I'm touched by the idea that when we do things that are useful and helpful collecting these shards of spirituality that we may be helping to bring about a healing. – Leonard Nimoy
98. Twelve-step promotes spirituality, not religion. It gives a practical, day-to-day spirituality that tells me what I can and cannot control. There is room to be imperfect and to be someone who struggles to find God. – Melody Beattie
99. Spirituality lies in what you do and how you do it and not what result you get. – Kapil Dev
100. To be a light to others you will need a good dose of the spiritual life. Because as my mother used to say, if you are in a good place, then you can help others, but if you're not well, then go look for somebody who is in a good place who can help you. – Rigoberta Menchu
101. Our spirituality is our opening to one another as whole human beings, each different and precious, and our exploring how we can truly learn to love. – Jean Grasso Fitzpatrick
102. Keeping the Sabbath day holy is much more than just physical rest. It involves spiritual renewal and worship. – James E. Faust
103. The most important thing that happens within Christian spirituality is when a person falls in love with Jesus. – Donald Miller
104. I think spirituality is a good thing but I dislike any sort of dogmatic organization. – Noah Taylor
105. Inner peace doesn't come from getting what we want, but from remembering who we are. – Marianne Williamson
106. We undertake certain spiritual exercises to achieve alignment with the creative energy of the universe. – Julia Cameron
107. In order to experience everyday spirituality, we need to remember that we are spiritual beings spending some time in a human body. – Barbara De Angelis
108. The spiritual path is simply the journey of living our lives. Everyone is on a spiritual path, most people just don't know it. – Marianne Williamson
109. We have always been involved in spiritual evolution. We are spiritual beings, we have always been spiritual beings and we will always be spiritual beings. – Gary Zukav
110. Spiritual relationship is far more precious than physical. Physical relationship divorced from spiritual is body without soul. – Mahatma Gandhi
111. When we grow in spiritual consciousness, we identify with all that is in the world there is no exploitation. It is ourselves we're helping, ourselves we're healing. – Govindappa Venkataswamy
112. Humility is the most important quality in the spiritual life. When it is lacking spiritual growth stops. – Frederick Lindemann
113. It isn't until you come to a spiritual understanding of who you are – not necessarily a religious feeling, but deep down, the spirit within – that you can begin to take control. – Oprah Winfrey
114. Attachment to spiritual things is just as much an attachment as inordinate love of anything else. – Beverly Sills
115. Physical strength can never permanently withstand the impact of spiritual force. – Franklin D. Roosevelt
116. The spiritual journey is individual, highly personal. It can't be organized or regulated. It isn't true that everyone should follow one path. Listen to your own truth. – Ram Dass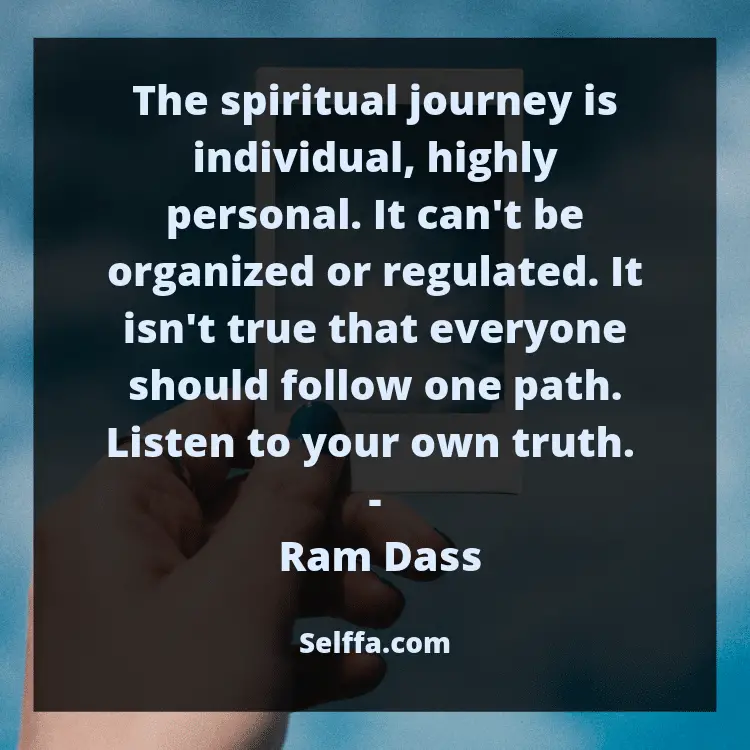 117.  Learning to celebrate joy is one of the great practices of the spiritual life. – Joan D. Chittister
118. Your spiritual journey and your spiritual welfare are really dependent on two primary factors: One, your ability to meditate and two, your ability to give of yourself. – Frederick Lenz
119. Spiritual life and secure life do not go together, to save oneself on must struggle and take risks. – Ignazio Silone
120. The spiritual journey is the unlearning of fear and the acceptance of love. – Marianne Williamson
121. When there's nothing but humility, there's nothing but spiritual oneness. – Frederick Lenz
122. The inward journey is about finding your own fullness, something that no one else can take away. – Deepak Chopra
123. Spiritual knowledge is fruitful only when it is applied. – Shri Radhe Maa
124. The more light you allow within you, the brighter the world you live in will be. – Shakti Gawain
125. Problems are spiritual lessons from God-spiritual lessons to be learned. – Tony Robbins
126. There are no planes in the spiritual life; we are either going uphill or coming down. – Fulton J. Sheen
127. The first act of awe, when man was struck with the beauty or wonder of Nature, was the first spiritual experience. – Henryk Skolimowski
128. Spiritual stagnation ensues when man's environment becomes unpredictable or when his inner life is made wholly predictable. – Eric Hoffer
129. In the spiritual life, as in all organic processes, everyone has their optimum and it is just as harmful to go beyond it as not to attain it. – Pierre Teilhard de Chardin
130. Each of us is here to discover our true selves; that essentially we are spiritual beings who have taken manifestation in physical form; that we're not human beings that have occasional spiritual experiences, that we're spiritual beings that have occasional human experiences. – Deepak Chopra
131. Spiritual education is not a distinct and separate discipline, it is part and parcel of all types and levels of education. In fact, it is the very foundation on which a lasting edifice can be built. – Sathya Sai Baba
132. We don't sit in meditation to become good meditators. We sit in meditation so that we'll become more awake in our lives. – Pema Chodron
133. Impart as much as you can of your spiritual being to those who are on the road with you, and accept as something precious what comes back to you from them. – Albert Schweitzer
134. If you look to others for fulfillment, you will never be truly fulfilled. – Lao Tzu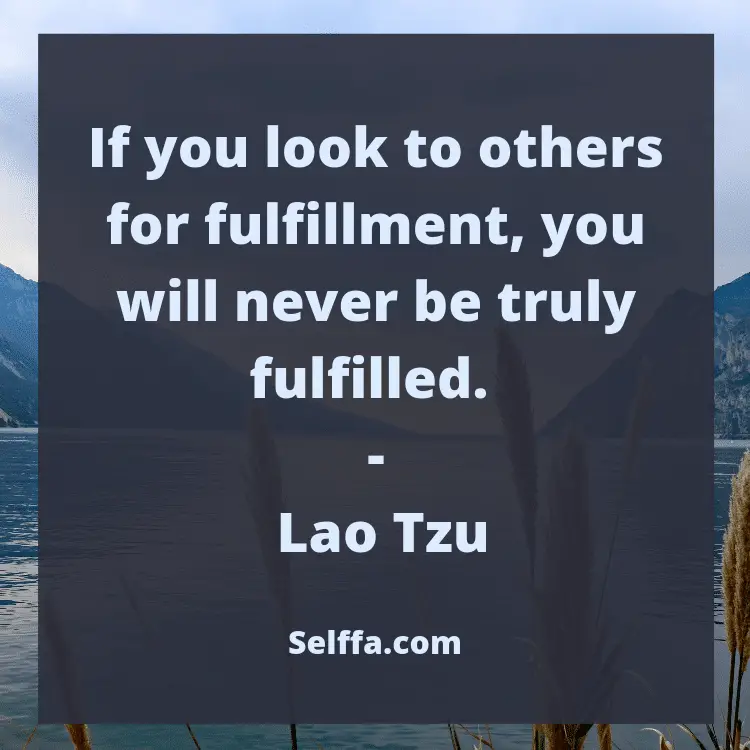 135. Many of us have realized in the last few days that silence can be enjoyable. We realize that there are many things that we do not have to say, and that then we can reserve the time and energy to do other things that can help us to look more deeply into ourselves and things around us. – Thich Nhat Hanh
136. Man is more than his environment. It is from the innate quality of the Spirit in him, his inner storehouse, that he draws those ideas, his intuitions, which unify his perceptions of the external world instantaneously with a value which is qualitative and not quantitative, and which he embodies in the works of his culture – those achievements which belong not only to one particular time but to all times, and mark the path of his upward progress. – N. Sri Ram
137. For a long time it has seemed to me that life was about to begin, real life. But there was always some obstacle in the way, something to be gotten through first, some unfinished business, time still to be served, a debt to be paid. Then life would begin. At last it dawned on me that these obstacles were my life. – Father Albert D'Souza
138. All the Buddhas of all the ages have been telling you a very simple fact, don't try to become. Within these two words, be and becoming, your whole life is contained. Being is enlightenment, becoming is ignorance. – Osho
139. Everything in your life is there as a vehicle for your transformation. Use it. – Ram Dass
140. To obtain the pure silence necessary for the disciple, the heart and emotions, the brain and its intellectualisms, have to be put aside. Both are but mechanisms, which will perish with the span of man's life. It is the essence beyond, that which is the motive power, and makes man live, that is now compelled to rouse itself and act. – Mabel Collins
141. We are not human beings on a spiritual journey. We are spiritual beings on a human journey. – Stephen R. Covey
142. Keep me from the wisdom that does not weep, and the philosophy that does not laugh, and the pride that does not bow its head before a child. – Kahlil Gibran
143. What could you not accept, if you but knew that everything that happens, all events, past, present, and to come, are gently planned by One Whose only purpose is your good.
144. Error runs down an inclined plane, while the Truth has to laboriously climb its way up hill. Old truisms are often the wisest. The human mind can hardly remain entirely free from bias, and decisive opinions are often formed before a thorough examination of a subject from all its aspects has been made. – H.P. Blavatsky
145. If you have a particular faith or religion, that is good. But you can survive without it. – Dalai Lama
146. You are my religion.
147. To serve others with gratitude for the opportunity of service is good adab. A dervish seeks opportunities to serve, knowing that service is an essential part of the spiritual path. – Robert Frager
148. Control of the tongue. Vital for the man who would try to tread the Path, for no harsh or unkind word, no hasty impatient phrase, may escape from the tongue which is consecrated to service, and which must not injure even an enemy for that which wounds has no place in the kingdom of love. – Annie Besant
149. And so Galahad decided that it would be a disgrace to set off on a quest with the other knights. Alone he would enter the dark forest where there was no path. – Joseph Campbell
150. A man who is sincere and makes philosophy his life's endeavor, will emanate that sincerity. A man who thinks it and lives it will touch the intuition of others. – Richard Rose
151. God does not play dice with the universe. – Einstein
152. A good friend with a quiet mouth is a rare find.
153. Avoid loud and aggressive persons, they are vexations to the spirit. – Max Ehrman
154. Conventional education makes independent thinking extremely difficult. Conformity leads to mediocrity. To be different from the group or to resist environment is not easy and is often risky as long as we worship success. – Jiddu Krishnamurti
155. Creeds, dogmas, doctrines, rituals, ceremonies, stained glass, altars, mitre, cope what have these to do with religion. Religion is in the spirit, the spirit that belongs to all creation, which expresses itself in every rhythm and manifestation of life, that is revealed in every aspect of nature and in the striving of all idealists and reformers who wish to serve. What has that to do with creeds. – Silver Birch