Ever wish someone could pick you up whenever you're feeling down? We all go through difficult moments and sometimes, having a friend to help us get back on our feet is all we need. These pick me up quotes will remind you of the importance of friendships and encourage you to stand up again no matter how many times you fall will down.
Pick Me Up Quotes
1. A life lived in fear is a life half lived. – Spanish proverb
2. A burning passion coupled with absolute detachment is the key to all success. – Gandhi
3. Life isn't as serious as the mind makes it out to be. – Eckhart Tolle
4. Thoughts become things. – Mike Dooley
5. He who is not courageous enough to take risks will accomplish nothing in life. – Muhammad Ali
6. Abundance is not something we acquire. It is something we tune into. – Wayne Dryer
7. If you see it in your mind, you will hold it in your hand. – Bob Proctor
8. No problem can be solved from the same level of consciousness that created it. – Albert Einstein
9. The way is not in the sky. The way is in the heart. – Buddha
10. It had long since come to my attention that people of accomplishment rarely sat back and let things happen to them. They went out and happened to things.– Leonardo da Vinci
11. To conquer oneself is the best and noblest victory, to be vanquished by one's own nature is the worst and most ignoble defeat. – Plato
12. The possibility of stepping into a higher plane is quite real for everyone. It requires no force or effort or sacrifice. It involves little more than changing our ideas about what is normal. – Deepak Chopra
13. We could never learn to be brave and patient if there were only joy in the world. – Helen Keller
14. A positive attitude gives you power over your circumstances instead of your circumstances having power over you. – Joyce Meyer
15. You may not be able to control every situation and its outcome, but you can control your attitude and how you deal with it.
16. A negative thinker sees a difficulty in every opportunity. A positive thinker sees an opportunity in every difficulty. – Zig Ziglar
17. Being positive in a negative situation is not naive. It's leadership. –  Ralph Marston
18. A negative mind will never give you a positive life. –  Ziad K. Abdelnour
19. To succeed, we must believe that we can. – Michael Korda
20. I release my negative thoughts, to create space for positive thinking and optimism.
21. You don't need a new sunrise to start over, you only need a new mindset.
22. Decide what you want. Believe you can have it. Believe that you deserve it, and believe it's possible for you. – Jack Canfield
23. Life always offers you a second change. It's called tomorrow.
24. Before Alice got to Wonderland, she had to fall.
25. Be like a very small joyous child, living gloriously in the ever-present now, without a single worry or concern about even the next moment of time. – Eileen Caddy
26. Life is 10% what happens to you and 90% how you react to it. – Charles R. Swindoll
27. Pessimism leads to weakness, optimism to power. – William James
28. The most effective way to achieve the right relations with any living thing is to look for the best in it, and then help that best into the fullest expression. – Allen J. Boone
29. People get disturbed not so much by events, but by the view which they take of them. – Epictetus
30. And I think to myself, what a wonderful world. – Louis Armstrong
31. Ability is what you're capable of doing. Motivation determines what you do. Attitude determines how well you do it. – Lou Holtz
32. A positive thinker sees the invisible, feels the intangible, and achieves the impossible. – Winston Churchill
33. Attitude is a little thing that makes a big difference.
34. When you can't find the sunshine, be the sunshine.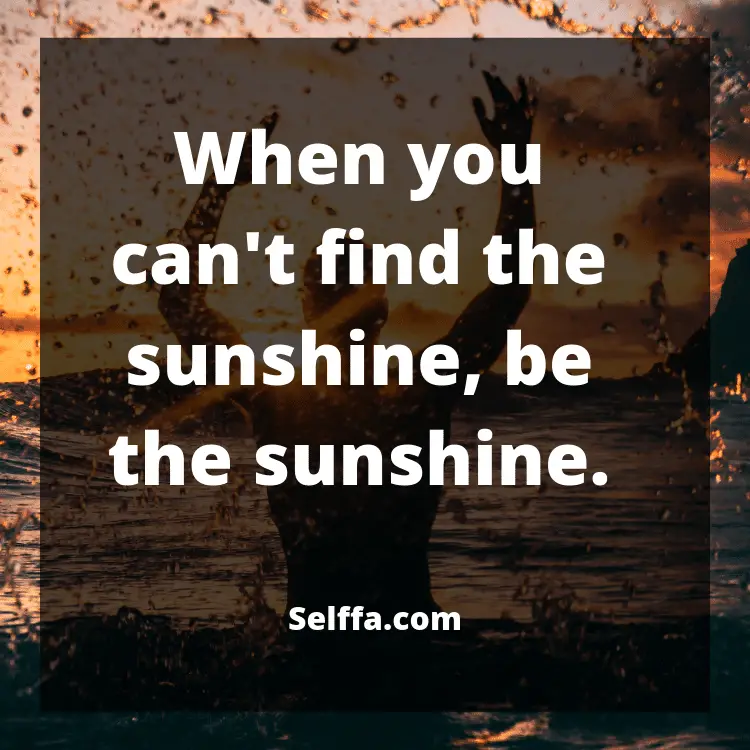 35. What consumes your mind, controls your life.
36. Your attitude, not your aptitude, will determine your altitude. – Zig Ziglar
37. Forget all the reasons why it won't work and believe the one reason why it will. –  Ziad K. Abdelnour
38. Always believe that something wonderful is about to happen. – Sukhraj Dhillon​
39. It's a good day to have a good day.
40. When it rains, look for the rainbow. When it's dark, look for the stars.
41. Live well, laugh often, love much.
42. Keep on dreaming, even if it breaks your heart.
43. Failure can be the foundation of success.
44. The true courage is in facing danger when you are afraid.
45. Pain is weakness leaving the body.
46. Giving up is the easiest thing to do. Trying again, especially when everyone says it's impossible, is the hardest.
47. Work like you don't need the money, love like you've never been hurt, and dance like nobody's watching.
48. And when all else fails, yolo.
49. Change the way you see things, and the things you see will change. – Wayne Dyer
50. Don't be afraid to start over. It's a chance to build something better the second time around.
51. Life isn't about waiting for the storm to pass, it's about learning to dance in the rain.
52. Less is more.
53. I'm going to make the rest of my life, the best of my life.
54. Good, better, best. Never let it rest. Until your good is better and your better is best.
55. You're allowed to scream, you're allowed to cry, but do not give up.
56. The secret of getting ahead is getting started. – Agatha Christie
57. If today is the worst day of your life, then you know tomorrow will be better.
58. You were born to be real, not to be perfect.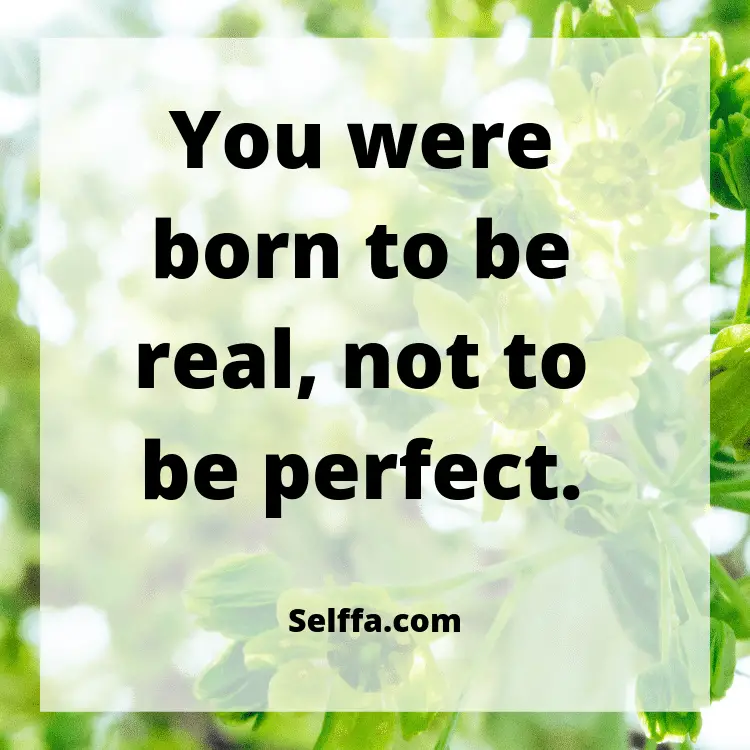 59. Do what you can with what you have, where you are.
60. It might take a year, it might take a day, but what is meant to be, will always find a way.
61. Accept what is, let go of what was, and have faith in what will be.
62. Stop focusing on how stressed you are and remember how blessed you are.
63. It doesn't matter how slowly you go, as long as you do not stop. – Confucius
64. Forget all the reasons why it won't work and believe in the one reason why it will.
65. If you can dream it, you can do it. – Walt Disney
66. Make a wish, take a chance, make a change.
67. Breathe, it's just a bad day, not a bad life.
68. Everything will be okay in the end, if it's not okay, it's not the end.
69. Sometimes the smallest step in the right direction ends up being the biggest step of your life. Tip toe if you must, but take the step.
70. Cheer up when the night comes, because mornings always give you another chance.
71. Hands on your hips, a smile on your lips, spirit in your heart, we're ready to start.
72. Keep believing, keep growing. Heaven will be cheering you on today, tomorrow, forever.
73. In the middle of difficulty lies opportunity. – A. Einstein
74. Cheer up. Although life may not be easy now, in the end it's all worth it. Everything will get better in time. So smile.
75. Cheer up, buttercup. Storms don't last forever.
76. Life is not a waste as long as there is at least one person in the world who cares for you. So when things go wrong and you feel like giving up, remember you've got me.
77. You are confined only by the walls you build yourself.
78. You don't always need a plan. Sometimes you just need to breathe, trust, let go and see what happens.
79. It's hard to beat a person who never gives up.
80. One of the happiest moments in life is when you find the courage to let go of what you can't change.
81. God will not give you a burden you can't handle. So, if you find yourself in a mess that's impossible to resolve take challenge as a compliment.
82. Sometimes you have to just pick yourself up and carry on.
83. Sometimes the reason good things are not happening to you is because you are the good thing that needs to happen to other people.
84. If plan A didn't work, the alphabet has 25 more letters. Stay cool.
85. Always chase your dreams instead of running from your fears.
86. Cheer up, tomorrow is another chance.
87. Stars can't shine without darkness.
88. What screws us up most in life is the picture in our head of how it's supposed to be.
89. Life is better when you're laughing.
90. My entire life can be described in one sentence. It didn't go as planned, and that's ok.
91. Two things define you. Your patience when you have nothing, and your attitude when you have everything.
92. Starting today, I need to forget what's gone. Appreciate what still remains and look forward to what's coming next.
93. Let your smile change the world. But don't let the world change your smile.
94. You carry so much love in your heart. Give some to yourself.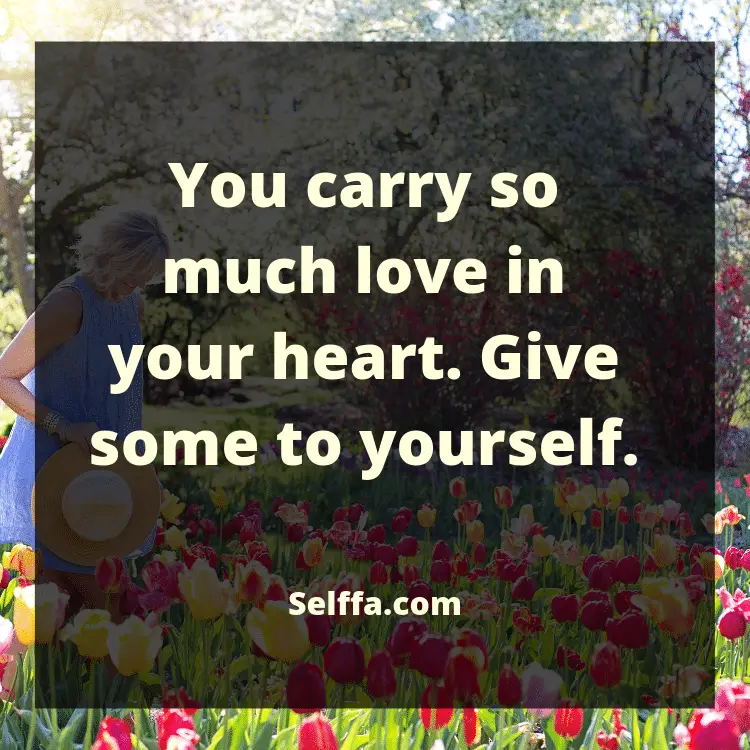 95. Hardships often prepare ordinary people for an extraordinary destiny.
96. The best way to cheer yourself up is to try to cheer somebody else up. – Mark Twain
97. Don't let the bastards get you down.
98. Someday, everything will make perfect sense. So for now, laugh at the confusion, smile through the tears, and keep reminding yourself that everything happens for a reason.
99. Tough times don't last, tough people do.
100. It is through falling down that we learn how to stand up, again. It is through adversity that we gather our strengths to live the life we want and pursue our dreams.
101. Every day may not be good. But there is something good in every day.
102. You have to fight through some bad days to earn the best days of your life.
103. Knowing when to walk away is wisdom. Being able to is courage. Walking away, with your head held high is dignity.
104. Cheer up, sweet, beautiful girl. You are going to be in love again and it will be magnificent.
105. Being challenged in life is inevitable, being defeated is optional.
106. Do not grieve. Anything you lose comes round in another form.
107. How to cheer someone up. Talk to them, eat something yummy, show cute video, hug them, do something goofy, show funny video.
108. Nothing is permanent in this wicked world, not even our troubles. – Charlie Chaplin
109. Note to self I am allowed to cry, I am allowed to scream, but I am not allowed to give up. It will all get done somehow. Just breathe.
110. Whenever you feel sad just remember that there are billions of cells in your body and all they care about is you.
111. You're going to pass something down no matter what you do or if you do nothing. Even if you let yourself go fallow, the weeds will grow and the brambles. Something will grow.
112. You may not control all the events that happen to you, but you can decide not to be reduced by them. – Maya Angelou
113. If you hear a voice within you say you cannot paint, then by all means paint, and that voice will be silenced. – Vincent van Gogh
114. To change one's life, start immediately. Do it flamboyantly. No exceptions. – William James
115. Life is either a daring adventure or nothing at all. – Helen Keller
116. Realize that true happiness lies within you. Waste no time and effort searching for peace and contentment and joy in the world outside. Remember that there is no happiness in having or in getting, but only in giving. Reach out. Share. Smile. Hug. Happiness is a perfume you cannot pour on others without getting a few drops on yourself. – Og Mandino
117. We are not human beings having a spiritual experience. We are spiritual beings having a human experience. – Pierre Teilhard de Chardin
118. Your work is to discover your work and then, with all your heart, to give yourself to it. – Buddha
119. You can have anything you want if you are willing to give up the belief that you can't have it. – Robert Anthony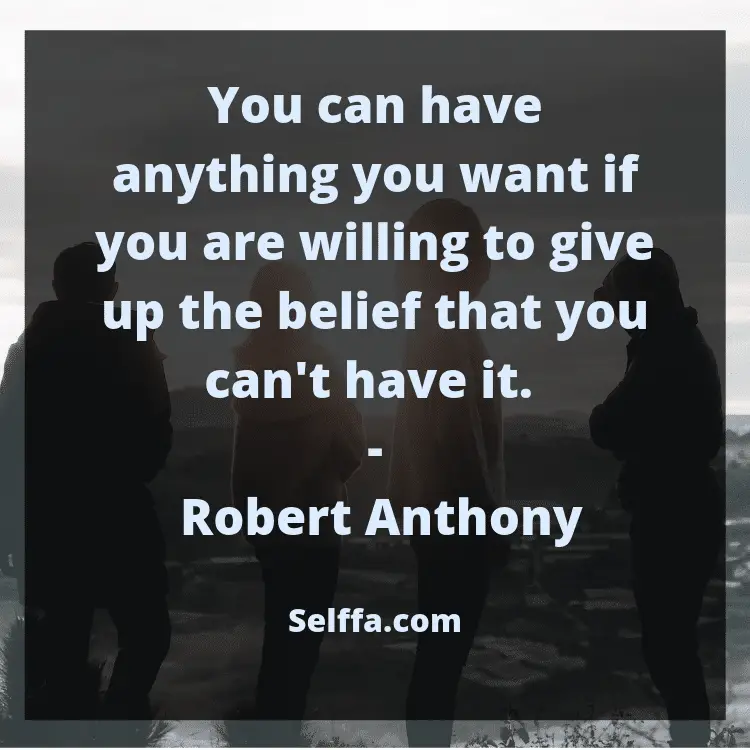 120. There is no man living who isn't capable of doing more than he thinks he can do. – Henry Ford
121. I've missed more than 9000 shots in my career. I've lost almost 300 games. 26 times, I've been trusted to take the game winning shot and missed.
122. I've failed over and over and over again in my life. And that is why I succeed. – Michael Jordan
123. I believe in pink. I believe that laughing is the best calorie burner. I believe in kissing, kissing a lot. I believe in being strong when everything seems to be going wrong. I believe that happy girls are the prettiest girls. I believe that tomorrow is another day and I believe in miracles. – Audrey Hepburn
124. I hated every minute of training, but I said, don't quit. Suffer now and live the rest of your life as a champion. – Muhammad Ali
125. I attribute my success to this – I never gave or took any excuse. – Florence Nightingale
126. Eighty percent of success is showing up. – Woody Allen
127. I am not a product of my circumstances. I am a product of my decisions. – Stephen R. Covey
128. The best revenge is massive success. – Frank Sinatra
129. Life shrinks or expands in proportion to one's courage. – Anaïs Nin
130. The only person you are destined to become is the person you decide to be. – Ralph Waldo Emerson
131. If you want to lift yourself up, lift up someone else. – Booker T. Washington
132. I didn't fail the test. I just found 100 ways to do it wrong. – Benjamin Franklin
133. When everything seems to be going against you, remember that the airplane takes off against the wind, not with it. – Henry Ford
134. Change your thoughts and you change your world. – Norman Vincent Peale
135. If you can dream it, you can achieve it. You will get all you want in life if you help enough other people get what they want. – Zig Ziglar
136. The only way that we can live, is if we grow. The only way that we can grow is if we change. The only way that we can change is if we learn. The only way we can learn is if we are exposed. And the only way that we can become exposed is if we throw ourselves out into the open. Do it. Throw yourself. – C. JoyBell C.
137. There will be a few times in your life when all your instincts will tell you to do something, something that defies logic, upsets your plans, and may seem crazy to others. When that happens, you do it. Listen to your instincts and ignore everything else. Ignore logic, ignore the odds, ignore the complications, and just go for it. – Judith McNaught
138. One day, in retrospect, the years of struggle will strike you as the most beautiful. – Sigmund Freud
139. All our dreams can come true, if we have the courage to pursue them. – Walt Disney
140. Just keep going. Be patient. Results take time, but if you're consistent they will come.
141. The moment you're ready to quit is usually the moment right before a miracle happens. Don't give up.
142. Good things come to those who believe, better things come to those who are patient, and the best things come to those who don't give up.
143. You never fail until you stop trying. – Albert Einstein
144. Chin up kid. They'd kill to see you fall.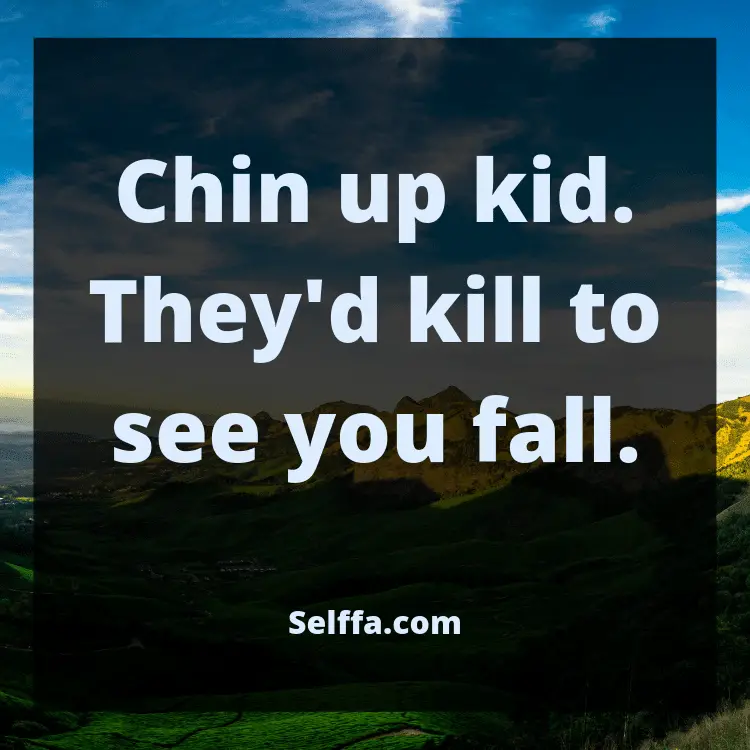 145. When you're ready to give up, you're halfway there.
146. Our greatest weakness lies in giving up. The most certain way to succeed is always to try just one more time. – Thomas A. Edison
147. Get up and try again.
148. In moments of doubt, close your eyes and imagine your body a year from now if you didn't give in. Stay Strong.
149. Have patience, heart.
150. Never give up on a dream just because of the time it will take to accomplish it. The time will pass anyway. – ​Earl Nightingale
151. Stay strong and carry on.
152. Just when the caterpillar thought the world was over, it became a butterfly.
153. Everything is going to be alright. Maybe not today but eventually.
154. It's always too early to quit. – Norman Vincent Peale
155. Keep going. Everything you need will come to you at the perfect time.
156. You're allowed to scream, you're allowed to cry, but do not give up.
157. When you feel like quitting, remember why you started.
158. Don't give up, great things take time.
159. I didn't come this far to only come this far.
160. Magic happens when you do not give up, even though you want to. The universe falls in love with a stubborn heart.
161. When you want to give up just think of the people who would love to see you fail. Don't give them that pleasure.
162. Sometimes you have to be strong when you feel like giving up, have to fight when you just want to run away. Because sometimes it is all you can do to keep going.
163. When you feel like giving up, remember why you held on for so long in the first place.
164. Sometimes you just have to be strong and keep going, no matter how much you want to give up; not for yourself, but for those you care about
165. No matter what you do, no matter how many times you screw up and think to yourself there's no point to carry on, no matter how many people tell you that you can't do it keep going. Don't quit. Don't quit, because a month from now you will be that much closer to your goal than you are now. Yesterday you said tomorrow. Make today count.
166. Don't give up. When things go wrong as they sometimes will, when the road you're trudging seems all uphill, when funds are low and debts are high, and you want to smile but you have to sigh, when care is pressing you down a bit, rest if you must, but don't you quit.
167. Never forget, how far you've come. Everything you have gotten through. All the times you have pushed on even when you felt you couldn't. All the mornings you got out of bed no matter how hard it was. All the times you wanted to give up but you got through another day. Never forget how much strength you have learned and developed.
168. The climb is ugly, but the peak is beautiful. Don't let your struggle keep you from your success.
169. Persist until something happens.
170. Obstacles don't have to stop you. If you run into a wall don't turn around and give up. Figure out how to climb it, go through it, or work around it.
171. You're doing better than you think you are. I'm proud of you, keep going, you've got this.
172. You have a choice. You can either throw in the towel or use it to wipe the sweat off your face.
173. Life is tough my darling but so are you. – Stephanie Bennett Henry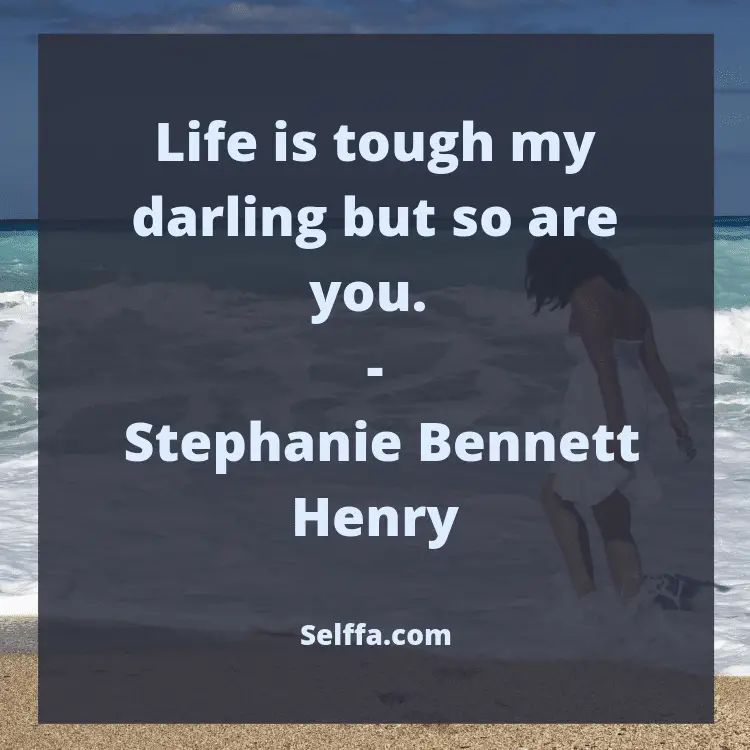 174. Sometimes the strength within you is not a fiery flame that all can see, it is just a tiny spark that whispers softly, you got this, keep going.
175. I will breathe. I will think of solutions. I will not let my worry control me. I will not let my stress level break me. I will simply breathe. And it will be okay. Because I don't quit.
176. Winners are not people who never fail, but people who never quit.
177. The more you resist quitting the more power you gain. – ​Maxie McCoy
178. I'm going to keep running 'cause a winner don't quit on themselves.
179. A break up is like a broken mirror. It is better to leave it broken than hurt yourself trying to fix it.
180. Giving up on your goal because of one setback is like slashing your other three tires because you got a flat.
181. Life is not a problem to be solved but a gift to be enjoyed.
182. You are perfect exactly as you are. With all your flaws and problems, there's no need to change anything. All you need to change is the thought that you have to change.
183. It's just a bad day not a bad life.
184. Cheer up, my friend. God doesn't give us what we can handle, God helps us handle what we are given.
185. Sometimes breakups aren't meant for makeups, sometimes they are meant for wake-ups.
186. I hope you wake up feeling exceptional. You are important, needed and unique.
187. If you really love something set it free. If it comes back it's yours, if not it wasn't meant to be.
188. Sometimes it takes an overwhelming breakdown to have an undeniable breakthrough.
189. Pain is inevitable. Suffering is optional.
190. When it rains, it pour but soon, the sun shines again. Stay positive. Better days are on their way.
191. Don't cry because it's over, smile because it happened.
192. When you're lonely have a cup of tea. Read a good book. Breathe. Know that even the saddest moments will come to an end eventually.
193. I will rise up. I will not be defeated. My champion is Jesus Christ.
194. Cheer up now, you faint hearted warrior. Not only has Christ travelled the road, but He has defeated your enemies.
195. Whenever you feel sad just remember that there are billions of cells in your body and all they care about is you.
196. Sweat dries, blood clots, bones heal. Suck it up, princess.