The end of the year brings joy to all of us not only because we get to celebrate Christmas, watch holiday movies, enjoy the sweater weather, and be with the people we love, but also because we get to welcome another year full of hope and aspirations. These end of the year quotes we compiled below will remind you of the wonderful things you can look forward to and the many life lessons you've learned throughout the year.
End Of The Year Quotes
1. Hope smiles from the threshold of the year to come, whispering it will be happier. – Alfred Lord Tennyson
2. For last year's words belong to last year's language and next year's words await another voice. – T.S. Eliot
3. Tomorrow, is the first blank page of a 365 page book. Write a good one. – Brad Paisley
4. Cheers to a new year and another chance for us to get it right. – Oprah Winfrey
5. It's not goodbye. It's see you soon.
6. Be at war with your vices, at peace with your neighbors, and let every new year find you a better man. – Benjamin Franklin
7. As long as I am breathing, in my eyes, I am just beginning. – Criss Jamil
8. We will open the book, its pages are blank. We are going to put words on them ourselves. The book is called opportunity and its first chapter is New Year's Day. – Edith Lovejoy Pierce
9. A bridge of silver wings stretches from the dead ashes of an unforgiving nightmare to the jeweled vision of a life started anew. – Aberjhani
10. May the New Year bring you courage to break your resolutions early. My own plan is to swear off every kind of virtue, so that I triumph even when I fall. – Aleister Crowley
11. I would say happy new year but it's not happy, it's exactly the same as last year except colder. – Robert Clark
12. We spend January 1st walking through our lives, room by room, drawing up a list of work to be done, cracks to be patched. Maybe this year, to balance the list, we ought to walk through the rooms of our lives not looking for flaws, but for potential. – Ellen Goodman
13. Each New Year, we have before us a brand new book containing 365 blank pages. Let us fill them with all the forgotten things from last year, the words we forgot to say, the love we forgot to show, and the charity we forgot to offer. – Peggy Toney Horton
14. This is the new year the new you. You can pass through another year, coasting on cruise control. Or you can step out of your comfort zone, trying things you have never done before, & make 2012 as the year that you elevate from where you are & soar high. Make it happen. – Pablo
15. The object of a New Year is not that we should have a new year. It is that we should have a new soul and a new nose, new feet, a new backbone, new ears, and new eyes. – G.K. Chesterton
16. In the New Year, never forget to thank to your past years because they enabled you to reach today. Without the stairs of the past, you cannot arrive at the future. – Mehmet Murat Ildan
17. Past and present I know well, each is a friend and sometimes an enemy to me. But it is the quiet, beckoning future, an absolute stranger, with whom I have fallen madly in love. – Richelle E. Goodrich
18. Many things are thrown our way in this game of life. It's how you deal with them that shows your true character. I want all of you to feel the hope, love & passion I feel for the upcoming year & the rest of my life. I want all of you to not only go for your dreams, but have a damn ass good time doing it. – May Water
19. What do you need in the New Year is you need a dream, your dream needs an action, and your action needs right thinking. Without right thinking, you can have only unrealized dreams. – Mehmet Murat Ildan
20. May the blessings of God be upon us from the beginning of the year to its end. – Lailah Gifty Akita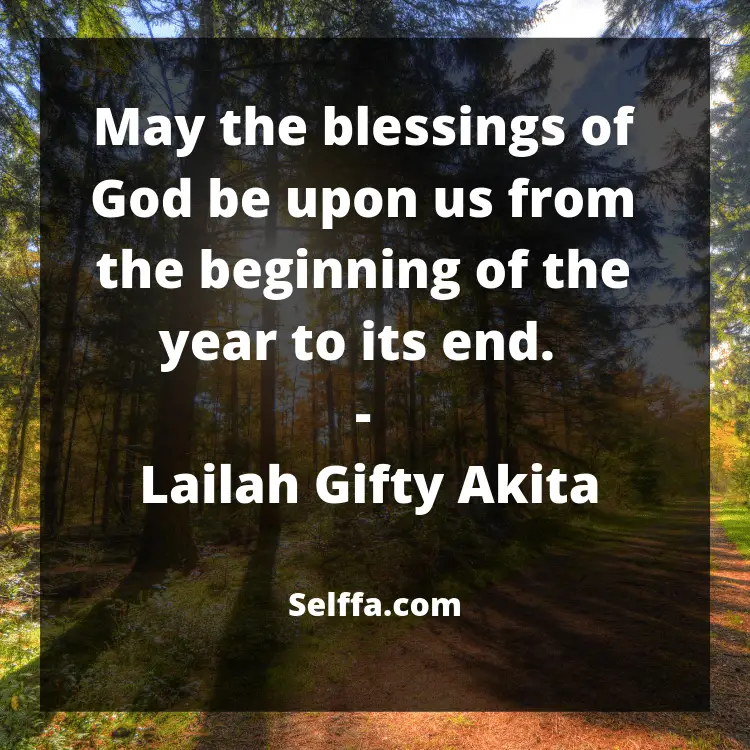 21. Year end financial statements express a truth about office life which is no less irrefutable yet also, in the end, no less irrelevant or irritating than an evolutionary biologist's proud reminder that the purpose of existence lies in the propagation of our genes. – Alain De Botton
22. Last year, at the beginning of the year, we couldn't get arrested, so I'll take this. Feast versus famine. – Josh Schwartz
23. A happy new year. Grant that I may bring no tear to any eye when this new year in time shall end let it be said I've played the friend, have lived and loved and labored here, and made of it a happy year. – Edgar Guest
24. Say goodbye to the past. Say hello to the future.
25. New Year's Day, a fresh start, new chapter in life waiting to be written. New questions to be asked, embraced, and loved. Answers to be discovered and then lived in this transformative year of delight and self-discovery. Today carve out a quiet interlude for yourself in which to dream, pen in hand. Only dreams give birth to change. – Sarah Ban Breathnach
26. Every new beginning comes from some other beginning's end. – Seneca
27. At the end of each year I make a list of my mistakes and it's pretty friggin long. – Dean Lombardi
28. Dear world, I am excited to be alive in you, and I am thankful for another year. – Charlotte Eriksson
29. I've become fascinated by the idea that it's really achievable to make two or three small improvements in a week and by the end of the year, it's 150 improvements. – Darrell Hammond
30. I made no resolutions for the new year. The habit of making plans, of criticizing, sanctioning and molding my life, is too much of a daily event for me. – Anais Nin
31. At the end of the day, it's all about what's on the shelf at the end of the year. – Steve Coppell
32. The year end brings no greater pleasure then the opportunity to express to you season's greetings and good wishes. May your holidays and New Year be filled with joy. – Charles Dickens
33. Another fresh new year is here another year to live! to banish worry, doubt, and fear, to love and laugh and give. – William Arthur Ward
34. Every tomorrow is an outcome of what I do today, and the beauty of it all is that today is happening all the time. – Craig D. Lounsbrough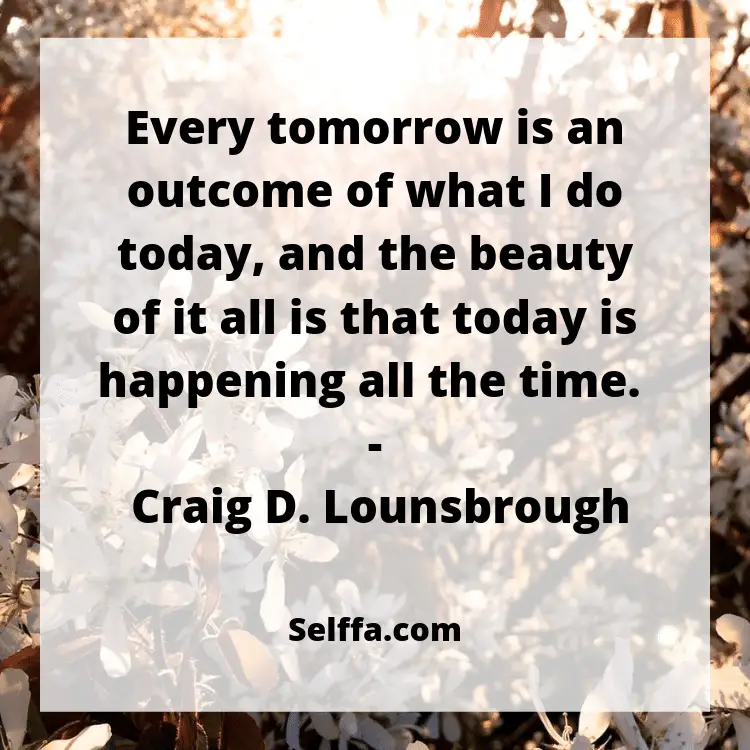 35. As years passed away I have formed the habit of looking back upon that former self as upon another person, the remembrance of whose emotions has been a solace in adversity and added zest to the enjoyment of prosperity. – Simon Newcomb
36. Everybody has difficult years, but a lot of times the difficult years end up being the greatest years of your whole entire life, if you survive them. – Brittany Murphy
37. Tomorrow is the first blank page of a 365 page book, write a good one. – Brad Paisley
38. Year's end, all corners of this floating world, swept. – Matsuo Basho
39. A new year can begin only because the old year ends. – Madeleine L'Engle
40. It is always important to know when something has reached its end. Closing circles, shutting doors, finishing chapters, it doesn't matter what we call it, what matters is to leave in the past those moments in life that are over. – Paulo Coelho
41. There is no real ending. It's just the place where you stop the story. – Frank Herbert
42. A man is like a novel: until the very last page you don't know how it will end. Otherwise it wouldn't be worth reading. – Yevgeny Zamyatin
43. Ends are not bad things, they just mean that something else is about to begin. And there are many things that don't really end, anyway, they just begin again in a new way. Ends are not bad and many ends aren't really an ending; some things are never-ending. – C. JoyBell C.
44. I always had this idea that you should never give up a happy middle in the hopes of a happy ending, because there is no such thing as a happy ending. Do you know what I mean? There is so much to lose. – John Green
45. There's a trick to the graceful exit. It begins with the vision to recognize when a job, a life stage, or a relationship is over and let it go. It means leaving what's over without denying its validity or its past importance to our lives. It involves a sense of future, a belief that every exit line is an entry, that we are moving up, rather than out. – Ellen Goodman
46. He nods, as if to acknowledge that endings are almost always a little sad, even when there is something to look forward to on the other side. – Emily Giffin
47. The end of a melody is not its goal, but nonetheless, had the melody not reached its end it would not have reached its goal either. A parable. – Friedrich Nietzsche
48. Build your life on your dreams because dreams never have bad endings. – M.F. Moonzajer
49. The greatest challenges humans face throw-out their lives are two. The challenge of where to start and the challenge of when to stop. – Sameh Elsayed
50. Our story may have any number of endings but its start is a singular choice we make today. – Faisal Khosa
51. Endings are thus formally unappealing to me, more than beginning or ending, in life, I enjoy continuing. Continuing is my only focus or concern. – Brian D'Ambrosio
52. We lose the precious sense that an end is only a beginning in disguise. – Craig D. Lounsbrough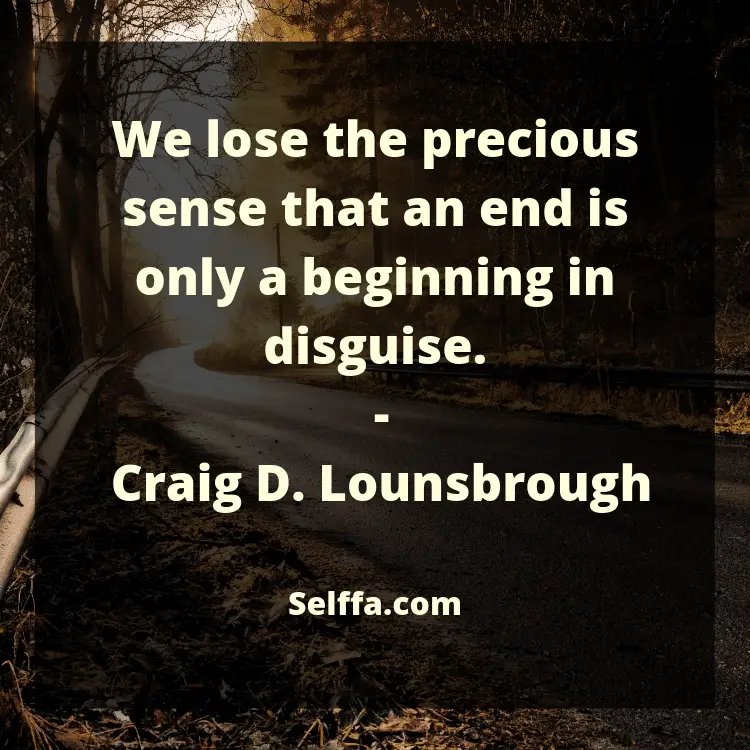 53. Every ending is a beginning. We just don't know it at the time. – Mitch Albom
54. Despite my pain, I felt not the regret of an ending, but the foreboding of a beginning. – Robin Hobb
55. The best endings resonate because they echo a word, phrase, or image from earlier in the story, and the reader is prompted to think back to that reference and speculate on a deeper meaning. – James Plath
56. An end is only a beginning in disguise. – Craig D. Lounsbrough
57. A sunset is nothing more and nothing less than the backside of a sunrise. – Craig D. Lounsbrough
58. It all begins and ends in your mind. What you give power to has power over you. – Leon Brown
59. Do not wait until the near end of your life to realize that you have not fully lived to love. – Lailah Gifty Akita
60. The priceless lesson in the New Year is that endings birth beginnings and beginnings birth endings. And in this elegantly choreographed dance of life, neither ever find an end in the other. – Craig D. Lounsbrough
61. I try to avoid stories that end with and he was never seen again. – Ken Poirot
62. And above all else, remember that the end of a movie or a TV show, or a play, or a book is never really the end. – Jen Calonita
63. There should have been a better farewell. But in the end, there never is. And we take what meagre scraps we can find. – Richard K. Morgan
64. There is always more after the ending. Always the next morning, and the next. Always changes, losses and gains. Always one step after the other. Until the one true ending that none of us can escape. But even that ending is only a small one, larges as it looms for us. There is still the next morning for everyone else. For the vast majority of the rest of the universe that ending might as well not ever have happened. Every ending is an arbitrary one. Everything ending is from another angle, not really an ending. – Ann Leckie
65. A moment's beginning ends in a moment. – Munia Khan
66. The great miraculous bell of translucent ice is suspended in mid-air. It rings to announce endings and beginnings. And it rings because there is fresh promise and wonder in the skies. – Vera Nazarian
67. Endings to be useful must be inconclusive. – Samuel R. Delany
68. It's a lot easier to say when something ended rather than when it began. Most of us can recognize the end from a mile away, but the beginning always slips up on us, lulling us into thinking what we're living through is yet another moment, in yet another day. – Steve Yarbrough
69. The most important thing is this: to sacrifice what you are now for what you can become tomorrow. – Shannon L. Alder
70. The feeling is less like an ending than just another starting point. – Chuck Palahniuk
71. What did a happy ending even mean in real life, anyway in stories you simply said, 'They lived happily ever after and that was it. But in real life people had to keep on living, day after day, year after year. – Scott Westerfeld
72. I may regret the way we ended, but I will never regret what we had. – Drake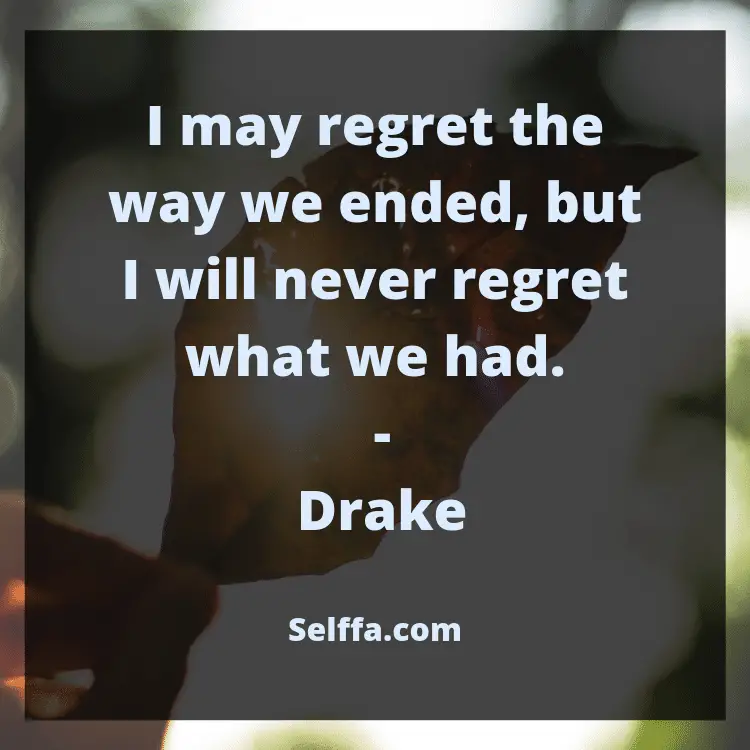 73. It's much easier to not know things sometimes. Things change and friends leave. And life doesn't stop for anybody. – Stephen Chbosky
74. Everything has to come to an end, sometime. – L. Frank Baum
75. I don't go by or change my attitude based on what people say. At the end of the day, they, too, are judging me from their perspective. I would rather be myself and let people accept me for what I am than be somebody who I am not, just because I want people's approval. – Karan Patel
76. When you reach the end of your rope, tie a knot in it and hang on. – Franklin D. Roosevelt
77. I used to think that the worst thing in life was to end up alone. It's not. The worst thing in life is to end up with people who make you feel alone. – Robin Williams
78. Keep looking up! I learn from the past, dream about the future and look up. There's nothing like a beautiful sunset to end a healthy day. – Rachel Boston
79.At the end of the day, you are solely responsible for your success and your failure. And the sooner you realize that, you accept that, and integrate that into your work ethic, you will start being successful. As long as you blame others for the reason you aren't where you want to be, you will always be a failure. – Erin Cummings
80. To be a champion, I think you have to see the big picture. It's not about winning and losing, it's about every day hard work and about thriving on a challenge. It's about embracing the pain that you'll experience at the end of a race and not being afraid. I think people think too hard and get afraid of a certain challenge. – Summer Sanders
81. Your personal life, your professional life, and your creative life are all intertwined. I went through a few very difficult years where I felt like a failure. But it was actually really important for me to go through that. Struggle, for me, is the most inspirational thing in the world at the end of the day – as long as you treat it that way. – Skylar Grey
82. At the end of the day, life is about being happy being who you are, and I feel like we are so blessed to have the support system and the best family to really just support each other no matter what we're going through. – Kim Kardashian
83. There is no end to education. It is not that you read a book, pass an examination, and finish with education. The whole of life, from the moment you are born to the moment you die, is a process of learning. – Jiddu Krishnamurti
84. You go through life wondering what is it all about but at the end of the day it's all about family. – Rod Stewart
85. The truth is incontrovertible. Malice may attack it, ignorance may deride it, but in the end, there it is. – Winston Churchill
86. At the end of the day, the most overwhelming key to a child's success is the positive involvement of parents. – Jane D. Hull
87. Wherever my story takes me, however dark and difficult the theme, there is always some hope and redemption, not because readers like happy endings, but because I am an optimist at heart. I know the sun will rise in the morning, that there is a light at the end of every tunnel. – Michael Morpurgo
88. You cannot hope to build a better world without improving the individuals. To that end, each of us must work for his own improvement and, at the same time, share a general responsibility for all humanity, our particular duty being to aid those to whom we think we can be most useful. – Marie Curie
89. A healthy friendship is one where you share your true feelings without fearing the end of the relationship. It's also one where you sometimes have to let things that bug you slide. The tough moments will make you wiser about yourself and each other. They will also make you stronger and closer as friends. – Rachel Simmons
90. At the end of the day, if I can say I had fun, it was a good day. – Simone Biles
91. Be thankful for what you have, you'll end up having more. If you concentrate on what you don't have, you will never, ever have enough. – Oprah Winfrey
92. You have to believe in yourself, challenge yourself, and push yourself until the very end, that's the only way you'll succeed. – G-Dragon
93. I see the world being slowly transformed into a wilderness; I hear the approaching thunder that, one day, will destroy us too. I feel the suffering of millions. And yet, when I look up at the sky, I somehow feel that everything will change for the better, that this cruelty too shall end, that peace and tranquility will return once more. – Anne Frank
94. Red is such an interesting color to correlate with emotion, because it's on both ends of the spectrum. On one end you have happiness, falling in love, infatuation with someone, passion, all that. On the other end, you've got obsession, jealousy, danger, fear, anger and frustration. – Taylor Swift
95. In the end, abortion is an issue of fundamental human rights. To force women to undergo pregnancy and childbirth against their will is to deprive them of the right to make basic decisions about their lives and well-being, and to give that power to the state. – Katha Pollitt
96. No matter what you're going through, there's a light at the end of the tunnel and it may seem hard to get to it but you can do it and just keep working towards it and you'll find the positive side of things. – Demi Lovato
97. Qualities you need to get through medical school and residency: Discipline. Patience. Perseverance. A willingness to forgo sleep. A penchant for sadomasochism. Ability to weather crises of faith and self-confidence. Accept exhaustion as fact of life. Addiction to caffeine a definite plus. Unfailing optimism that the end is in sight. – Khaled Hosseini
98. I think it's important to have closure in any relationship that ends – from a romantic relationship to a friendship. You should always have a sense of clarity at the end and know why it began and why it ended. You need that in your life to move cleanly into your next phase. – Jennifer Aniston
99. When we adopt a dog or any pet, we know it is going to end with us having to say goodbye, but we still do it. And we do it for a very good reason: They bring so much joy and optimism and happiness. They attack every moment of every day with that attitude. – W. Bruce Cameron
100. It's been a long comeback. Things were pretty dark for me. But I have a faith now, and it saves my day. I was angry with God for a long time because I was unhappy with me. I hadn't learned to make the distinction between God and my parents. But there's a peace now. In the end, I got sick and tired of being sick and tired. – William Hurt
101. It doesn't matter where you came from. All that matters is where you are going. – Brian Tracy
102. Think big and don't listen to people who tell you it can't be done. Life's too short to think small. – Tim Ferriss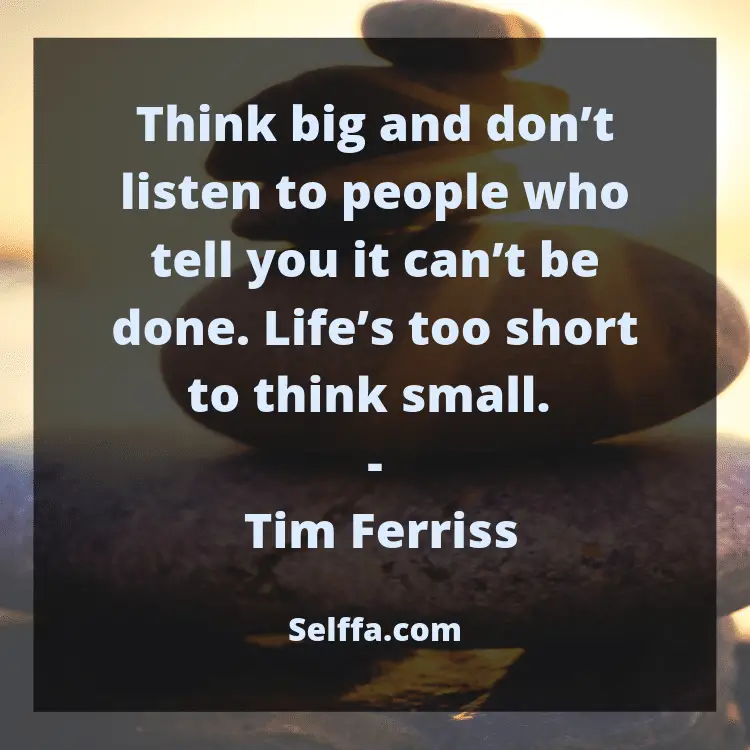 103. You can develop any habit or thought or behavior that you consider desirable or necessary. – Brian Tracy
104. We become what we think about. – Earl Nightingale
105. A clear vision, backed by definite plans, gives you a tremendous feeling of confidence and personal power. – Brian Tracy
106. The person who says it cannot be done should not interrupt the person who is doing it. – Chinese Proverb
107. Everything you've ever wanted is on the other side of fear. – George Addaire
108. Success is getting what you want, happiness is wanting what you get. – W. P. Kinsella
109. Your life only gets better when you get better. – Brian Tracy
110. Think continually about what you want, not about the things you fear. – Brian Tracy
111. Optimism is the one quality more associated with success and happiness than any other. – Brian Tracy
112. Success does not consist in never making mistakes, but in never making the same one a second time. – George Bernard Shaw
113. The only place where success comes before work is in the dictionary. – Vidal Sassoon
114. Happiness is not something ready made. It comes from your own actions. – Dalai Lama
115. I am thankful for all of those who said, "no" to me. It's because of them I'm doing it myself. – Albert Einstein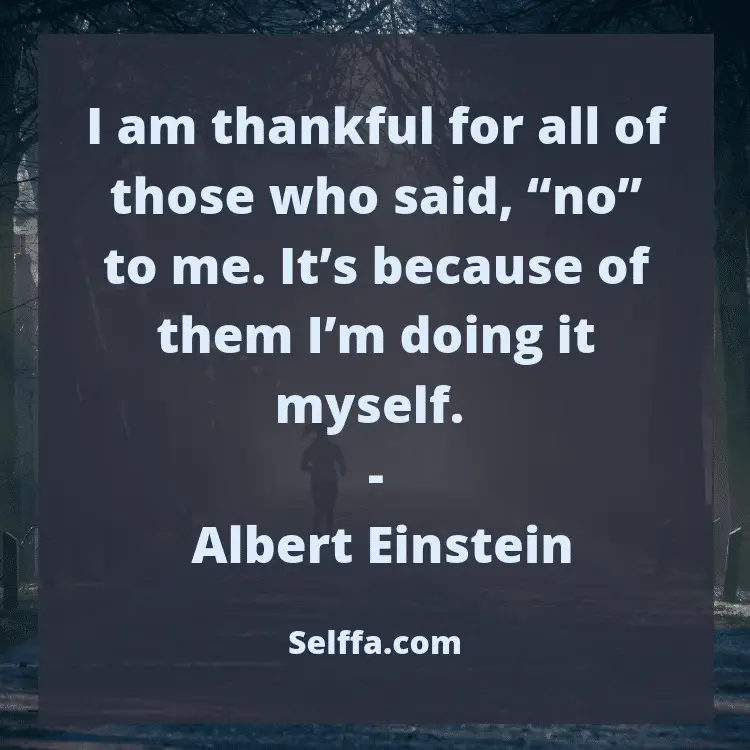 116. Don't be too timid and squeamish about your actions. All life is an experiment. The more experiments you make the better. – Ralph Waldo Emerson
117. All our dreams can come true if we have the courage to pursue them. – Walt Disney
118. Develop an attitude of gratitude this year, and give thanks for everything that happens to you, knowing that every step forward is a step toward achieving something bigger and better than your current situation. – Brian Tracy
119. Move out of your comfort zone. You can only grow if you are willing to feel awkward and uncomfortable when you try something new. – Brian Tracy