Have you heard or read quotes before that really touched your heart and made you feel like they were really written for you? If you have, you will surely love these amazing quotes we compiled here. We hope you enjoy them as much as we do!
Amazing Quotes
1. Those who have courage and faith shall never perish in misery. – Anne Frank
2. Making love to me is amazing. Wait, I meant, making love, to me, is amazing. The absence of two little commas nearly transformed me into a sex god. – Dark Jar Tin Zoo
3. I'm the living embodiment of 'it could be worse. – Dan Howell 
4. I laughed as I twisted to face him and raised my arm to hit in one move. He caught my wrist and my laugh caught in my throat. A mischievous grin curved my mouth as I raised my other hand to hit him. He reached over me and caught that wrist too, gently pinning my arms above my head as he straddled my hips. The space between us boiled my blood. – Michelle Hodkin 
5. I hope to write someday and that's even more terrifying than performing. You don't just entertain the audience, you give them little bits of your soul. – Chris Colfer 
6. We are what we believe we are. – C.S. Lewis 
7. Maybe the truth was, it shouldn't be so easy to be amazing. Then everything would be. It's the things you fight for and struggle with before earning that have the greatest worth. When something is difficult to come by, you'll do that much more to make sure it's even harder if not impossible–to lose. – Sarah Dessen 
8. Something amazing happens when you're in love and don't give a damn about what day it is anymore. – Chad Sugg 
9. I wrote the song down to earth a few years ago, and I was really excited to record it for My World album. It's a huge fan favorite. So many people feel where I'm coming from. It doesn't need any spectacular stage effects in the touring show; the best thing I can do is just sing it straight from my heart. I'm not afraid to show my emotions; if you love someone, you should tell them. If you think a girl is beautiful, you should say that. Usher says some songs work best when there's a sob in the singer's voice. You gotta let that deep feeling come through. And that's how I felt about this song. Sometimes the emotion of it is enough to bring tears to my eyes. – Justin Bieber 
10. Sometimes I get so caught up in my own problems that I forget how amazing the world is. – Wendelin Van Draanen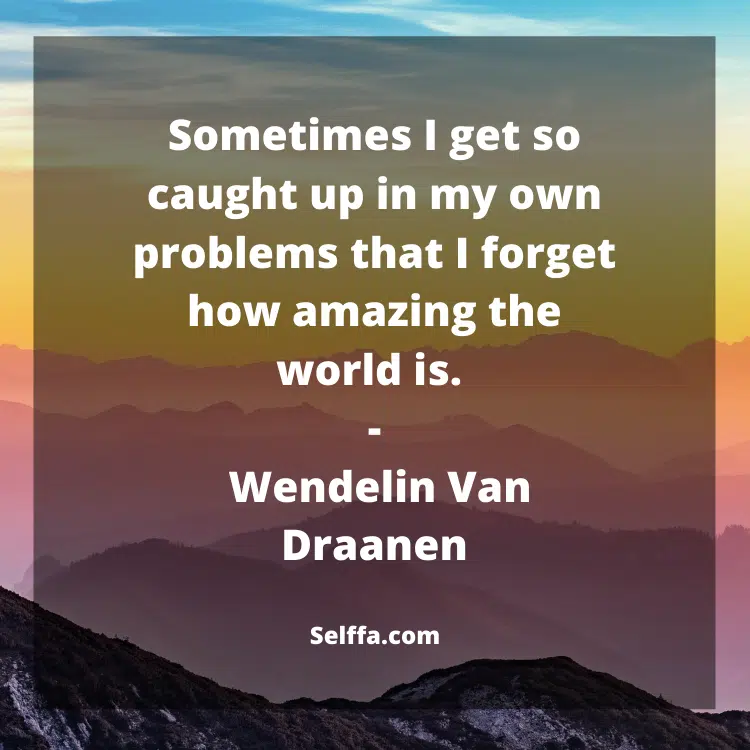 11. I hated the mountains and the hills, the rivers, and the rain. I hated the sunsets of whatever colour, I hated its beauty and its magic and the secret I would never know. I hated its indifference and cruelty which was part of its loveliness. Above all I hated her. For she belonged to the magic and the loveliness. She had left me thirsty and all my life would be thirst and longing for what I had lost before I found it. – Jean Rhys 
12. It is important that we know where we come from, because if you do not know where you come from, then you don't know where you are, and if you don't know where you are, you don't know where you're going. And if you don't know where you're going, you're probably going wrong. – Terry Pratchett 
13. Everything's amazing right now, and nobody's happy. – Louis C.K. 
14. Spread love everywhere you go, first of all in your own house. Give love to your children, to your wife or husband, to a next door neighbor. Let no one ever come to you without leaving better and happier. Be the living expression of God's kindness; kindness in your face, kindness in your eyes, kindness in your smile, kindness in your warm greeting. – Mother Theresa 
15. You must be the change you wish to see in the world. – Gandhi 
16. Strive not to be a success, but rather to be of value. – Albert Einstein 
17. Keep your face to the sunshine and you can never see the shadow. – Helen Keller 
18. The best way out is always through. – Robert Frost 
19. The dream crossed twilight between birth and dying. – T. S. Eliot 
20. Don't think. Thinking is the enemy of creativity. It's self-conscious, and anything self-conscious is lousy. You can't try to do things. You simply must do things. – Ray Bradbury 
21. Creativity is just connecting things. When you ask creative people how they did something, they feel a little guilty because they didn't really do it, the just saw something. It seemed obvious to them after a while. – Steve Jobs 
22. Doing the best at this moment puts you in the best place for the next moment. – Oprah Winfrey 
23. Originality is nothing but judicious imitation. – Voltaire
24. Life is made of ever so many partings welded together. – Charles Dickens
25. It's amazing what you can see when you just sit quietly and look. – Jacqueline Kelly,  
26. I came here to say that I do not recognize anyone's right to one minute of my life. Nor to any part of my energy. Nor to any achievement of mine. No matter who makes the claim, how large their number or how great their need. I wished to come here and say that I am a man who does not exist for others. – Ayn Rand 
27. What you see is kinda what you get with me. I'm a very real person, or I hope to be, anyway. I don't have nothing to hide. – Kenny Chesney 
28. He loved you. – Marie Lu 
29. I ended up dropping out of high school. I'm a high school dropout, which I'm not proud to say, I had some teachers that I still think of fondly and were amazing to me. But I had other teachers who said, you know what? This dream of yours is a hobby. When are you going to give it up?' I had teachers who I could tell didn't want to be there. And I just couldn't get inspired by someone who didn't want to be there. – Hilary Swank 
30. Directly above them, framed in the doorway from the brain room, stood Albus Dumbledore, his wand aloft, his face white and furious. Harry felt a kind of electric charge surge through every particle of his body they were saved. – J.K. Rowling 
31. Before we do, I suggest you take a break. If you need to go to the bathroom, this is a good time. If you're sleepy, go to bed and save the next chapter for tomorrow. For the magician's story, you must have all your wits about you. No wandering minds allowed. – Pseudonymous Bosch 
32. Islam expect every Muslim to do this duty, and if we realise our responsibility time will come soon when we shall justify ourselves worthy of a glorious past. – Muhammad Ali Jinnah 
33. But deep down she said to herself, Franz maybe strong, but his strength is directed outward, when it comes to the people he lives with, the people he loves, he's weak. Franz's weakness is called goodness. Franz would never give Sabina orders. He would never command her, as Tomas had, to lay the mirror on the floor and walk back and forth on it naked. Not that he lacks sensuality, he simply lacks the strength to give orders. 
34. There are things that can be accomplished only by violence. Physical love is unthinkable without violence. – Milan Kundera 
35. Good. Because we could be amazing. You and me. – Chelsea M. Cameron 
36. Pakistan not only means freedom and independence but the Muslim ideology which has to be preserved, which has come to us as a precious gift and treasure and which, we hope other will share with us. – Muhammad Ali Jinnah 
37. Like it or not, there are people who are capable to love genuinely and kill brutally. The amazing thing about that, few of those could even sleep well like babies in the night. – Toba Beta 
38. She realized all at once that doon, thin, dark-eyed doon, with his troublesome temper and his terrible brown jacket, and his good heart was the person she knew better than anyone now. He was her best friend. – Jeanne DuPrau 
39. There's a good kind of crazy, Kaylee, he insisted softly, reaching out to wrap his warm hand around mine. It's the kind that makes you think about things that make your head hurt, because not thinking about them is the coward's way out. The kind that makes you touch people who bruise your soul, just because they need to be touched. This is the kind of crazy that lets you stare out into the darkness and rage at eternity, while it stares back at you, ready to swallow you whole. – Rachel Vincent 
40. Those who have courage and faith shall never perish in misery. – Anne Frank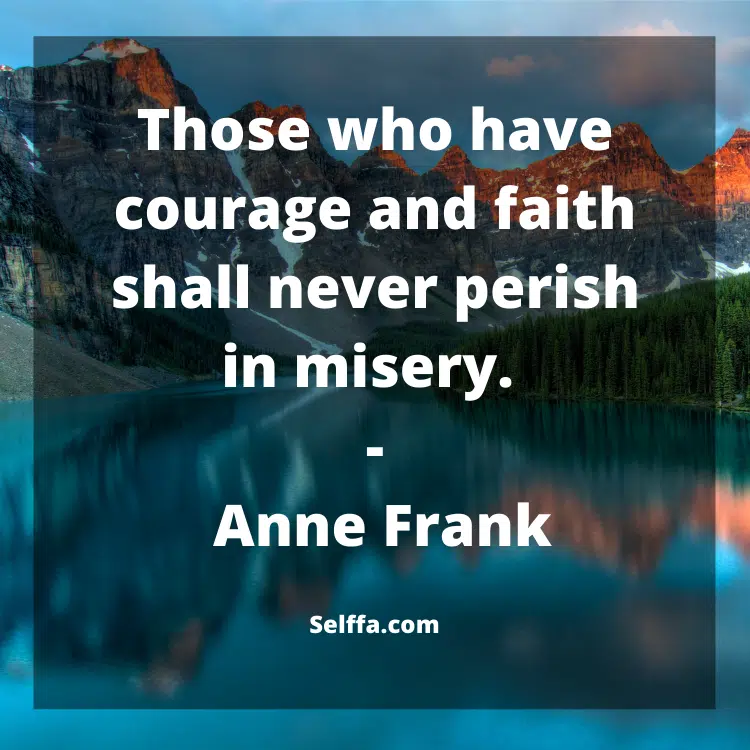 41. There is an amazing power getting to know your inner self and learning how to use it and not fight with the world. If you know what makes you happy, your personality, interests and capabilities, just use them, and everything else flows beautifully. – Juhi Chawla 
42. When you have confidence, you can have a lot of fun. And when you have fun, you can do amazing things. – Joe Namath 
43. Your life is your canvas, and you are the masterpiece. There are a million ways to be kind, amazing, fabulous, creative, bold, and interesting. – Kerli
44. I find that life can become so complex that we can forget the things in life that were meant to bring us the most pleasure. – Dolores Ayotte 
45. Live for today, hope for tomorrow. And forget about yesterday. – Grant Ngobean 
46. The biggest adventure you can take is to live the life of your dreams. – Oprah Winfrey 
47. Life's most persistent and urgent question is, what are you doing for others? – Martin Luther King, Jr. 
48. Nothing can dim the light that shines from within. – Maya Angelou 
49. Only I can change my life. No one can do it for me. – Carol Burnett 
50. Accept no one's definition of your life; define yourself. – Harvey Fierstein 
51. One day your life will flash before your eyes. Make sure it's worth watching. – Gerard Way 
52. Never regret a day in your life. Good days give you happiness and bad days give you experience. 
53. Accept responsibility for your life. Know that it is you who will get you where you want to go, no one else. – Les Brown 
54. You only live once, but if you do it right once is enough. – Mae West 
55. He who lives in harmony with himself lives in harmony with the universe. – Marcus Aurelius 
56. In the midst of movement and chaos, keep stillness inside of you. – Deepak Chopra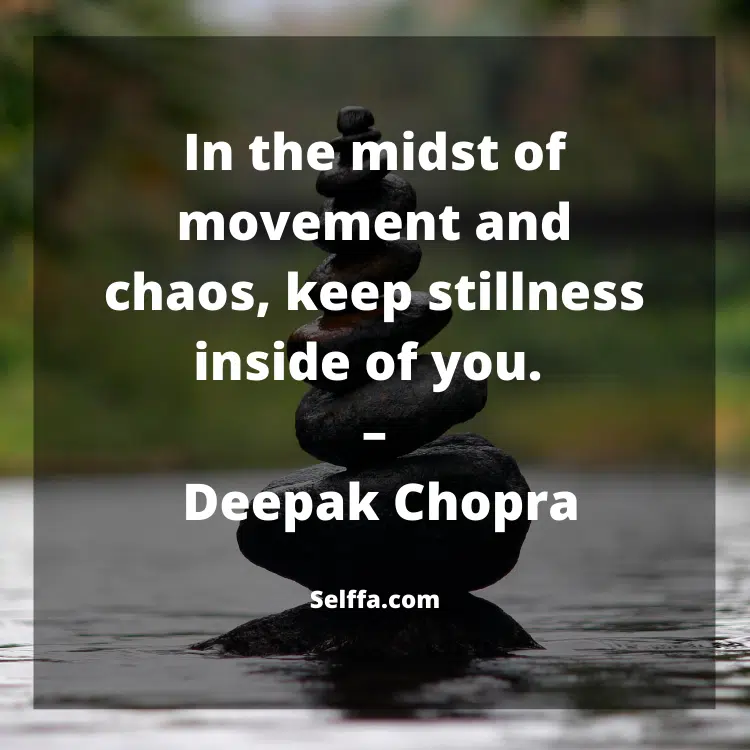 57. Live with intention. Walk to the edge. Listen hard. Practice wellness. Play with abandon. Laugh. Choose with no regret. Do what you love. Live as if this is all there is. – Mary Anne Roadacher Hershey 
58. In the end, it's not the years in your life that count. It's the life in your years. – Abraham Lincoln 
59. Believe that life is worth living and your belief will help create the fact. – William James 
60. Be happy for this moment. This moment is your life. – Omar Khayyam 
61. To live is the rarest thing in the world. Most people exist, that is all. – Oscar Wilde 
62. Life is really simple, but we insist on making it complicated. – Confucius 
63. Love all, trust a few, do wrong to none. – William Shakespeare 
64. The best thing to hold onto in life is each other. – Audrey Hepburn 
65. Life is like riding a bicycle. To keep your balance, you must keep moving. – Albert Einstein 
66. Reflect upon your present blessings, of which every man has many not on your past misfortunes, of which all men have some. – Charles Dickens 
67. Study while others are sleeping; work while others are loafing, prepare while others are playing; and dream while others are wishing. – William Arthur Ward 
68. The quality of a person's life is in direct proportion to their commitment to excellence, regardless of their chosen field of endeavor. – Vince Lombardi  
69. You change your life by changing your heart. – Max Lucado 
70. Life is short, and it is up to you to make it sweet. – Sarah Louise Delany 
71. The purpose of life is to believe, to hope, and to strive. – Indira Gandhi 
72. Challenges are what make life interesting and overcoming them is what makes life meaningful. – Joshua J. Marine 
73. One of the lessons that I grew up with was to always stay true to yourself and never let what somebody else says distract you from your goals. – Michelle Obama 
74. When I was five years old, my mother always told me that happiness was the key to life. When I went to school, they asked me what I wanted to be when I grew up. I wrote down happy. They told me I didn't understand the assignment, and I told them they didn't understand life. – John Lennon 
75. The reason people find it so hard to be happy is that they always see the past better than it was, the present worse than it is, and the future less resolved than it will be. – Marcel Pagnol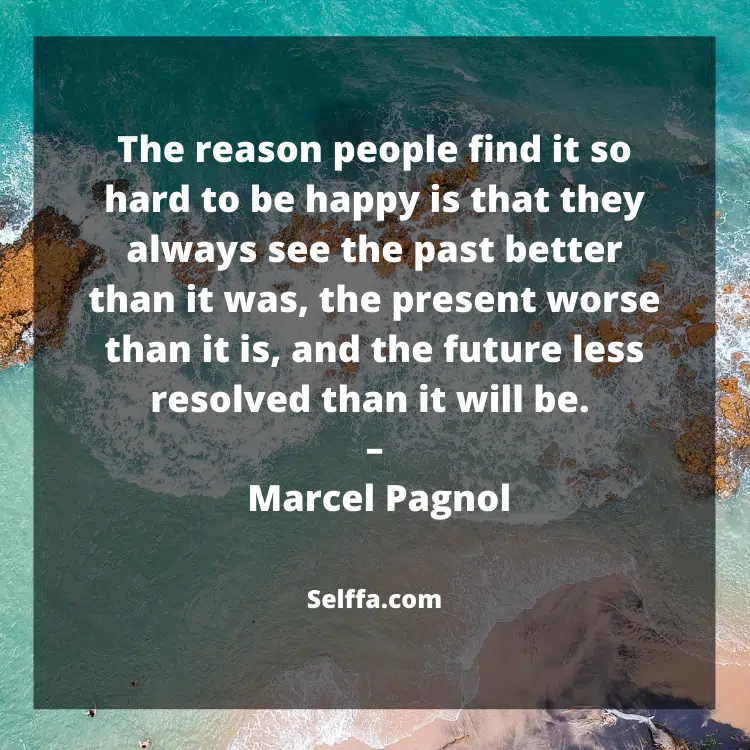 76. The two most important days in your life are the day you are born and the day you find out why. – Mark Twain 
77. Life is 10% what happens to us and 90% how we react to it. – Charles Swindoll 
78. The meaning of life is to find your gift. The purpose of life is to give it away. 
79. I find that the harder I work, the more luck I seem to have. – Thomas Jefferson 
80. People often say that motivation doesn't last. Well, neither does bathing that's why we recommend it daily. – Zig Ziglar 
81. If there is at least one person you've helped in life, then your life has been worthwhile. – L. Sydney Abel 
82. To get where we want to go in life, we have to keep at it. We have to create a vision, make choices based on what moves us most swiftly toward our goals, and go after them with determination and single-mindedness. – Stedman Graham 
83. Always look forward, never backward. If you live by this philosophy this year, you will always move toward your goals.  
84. Think big and don't listen to people who tell you it can't be done. Life's too short to think small. – Tim Ferriss 
85. You can develop any habit or thought or behavior that you consider desirable or necessary. -Brian Tracy 
86. We become what we think about. – Earl Nightingale 
87. A clear vision, backed by definite plans, gives you a tremendous feeling of confidence and personal power. – Brian Tracy 
89. The person who says it cannot be done should not interrupt the person who is doing it. – Chinese Proverb 
90. Everything you've ever wanted is on the other side of fear. – George Addair 
91. Success is getting what you want, happiness is wanting what you get. – W. P. Kinsella 
92. Your life only gets better when you get better. – Brian Tracy 
93. Think continually about what you want, not about the things you fear. – Brian Tracy 
94. Optimism is the one quality more associated with success and happiness than any other. – Brian Tracy 
95. Success does not consist in never making mistakes, but in never making the same one a second time. – George Bernard Shaw 
96. The only place where success comes before work is in the dictionary. – Vidal Sassoon 
97. I am thankful for all of those who said no to me. It's because of them I'm doing it myself. – Albert Einstein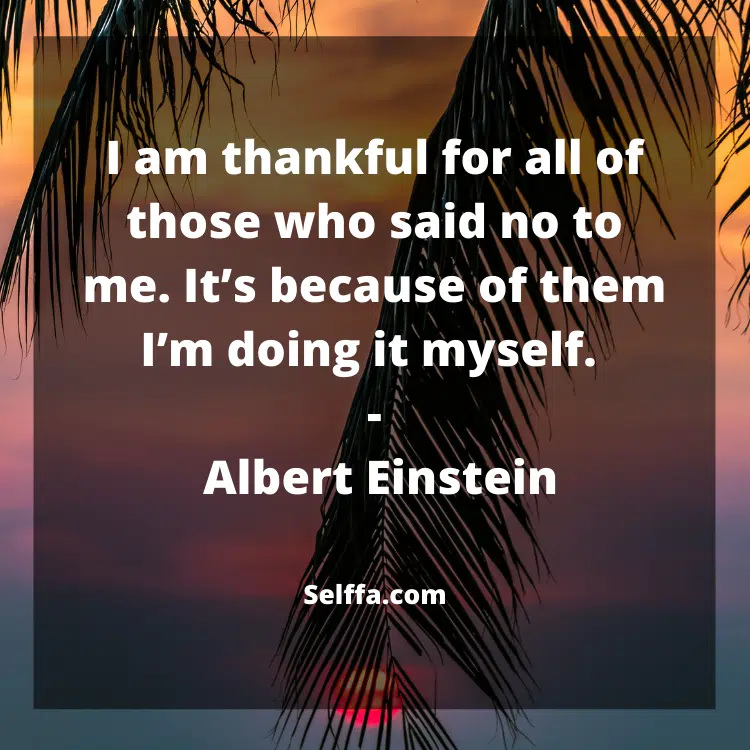 98. Don't be too timid and squeamish about your actions. all life is an experiment. the more experiments you make the better. – Ralph Waldo Emerson 
99. All our dreams can come true if we have the courage to pursue them. – Walt Disney 
100. Develop an attitude of gratitude this year, and give thanks for everything that happens to you, knowing that every step forward is a step toward achieving something bigger and better than your current situation. – Brian Tracy 
101. Keep your face always toward the sunshine and shadows will fall behind you. – Walt Whitman 
102. It is always the simple that produces the marvelous. – Amelia Barr 
103. The world is full of magical things patiently waiting for our wits to grow sharper. – Bertrand Russell 
104. Let us make our future now, and let us make our dreams tomorrow's reality. – Malala Yousafzai 
105. All you need is the plan, the road map, and the courage to press on to your destination. – Earl Nightingale 
106. The glow of one warm thought is to me worth more than money. – Thomas Jefferson 
107. Once we believe in ourselves, we can risk curiosity, wonder, spontaneous delight, or any experience that reveals the human spirit. – E. E. Cummings
108. Try to be a rainbow in someone's cloud. – Maya Angelou 
109. I believe that if one always looked at the skies, one would end up with wings. – Gustave Flaubert 
110. I dwell in possibility. – Emily Dickinson 
111. Light tomorrow with today. – Elizabeth Barrett Browning 
112. I arise full of eagerness and energy, knowing well what achievement lies ahead of me. – Zane Grey 
113. A number 2 pencil and a dream can take you anywhere. – Joyce Meyer 
114. When the sun is shining I can do anything, no mountain is too high, no trouble too difficult to overcome. – Wilma Rudolph 
115. Happiness is not something you postpone for the future, it is something you design for the present. – Jim Rohn 
116. In a gentle way, you can shake the world. – Mahatma Gandhi 
117. Let your life lightly dance on the edges of time like dew on the tip of a leaf. – Rabindranath Tagore 
118. Follow your bliss and the universe will open doors where there were only walls. – Joseph Campbell 
119. Each day provides its own gifts. – Marcus Aurelius 
120. Happiness is a butterfly, which when pursued, is always just beyond your grasp, but which, if you will sit down quietly, may alight upon you. – Nathaniel Hawthorne 
121. You know you're in love when you can't fall asleep because reality is finally better than your dreams. – Dr. Suess 
122. I'm selfish, impatient and a little insecure. I make mistakes, I am out of control and at times hard to handle. But if you can't handle me at my worst, then you sure as hell don't deserve me at my best. – Marilyn Monroe 
123. Get busy living or get busy dying. – Stephen King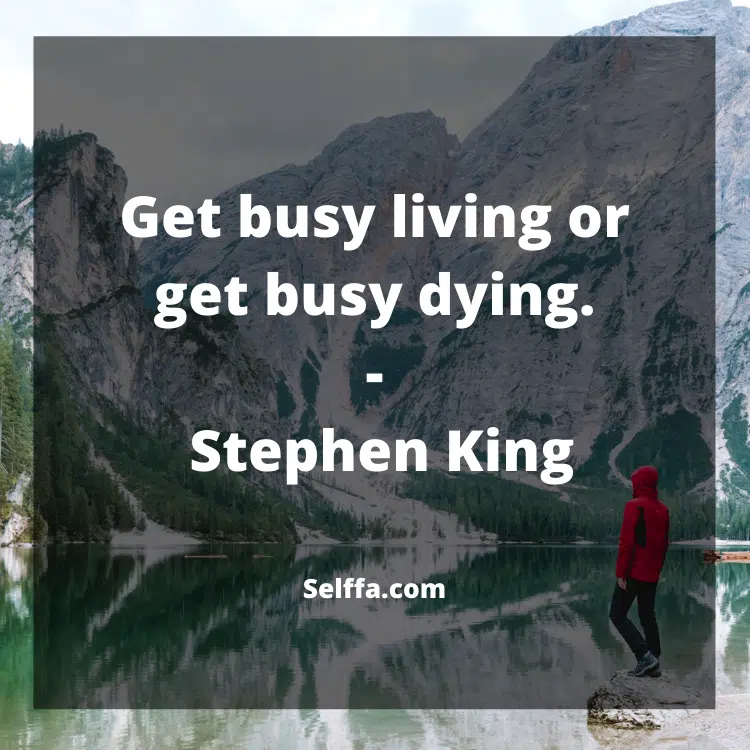 124. The first step toward success is taken when you refuse to be a captive of the environment in which you first find yourself. – Mark Caine 
125. When one door of happiness closes, another opens; but often we look so long at the closed door that we do not see the one which has been opened for us. – Helen Keller 
126. Twenty years from now you will be more disappointed by the things that you didn't do than by the ones you did do. – Mark Twain 
127. When I dare to be powerful to use my strength in the service of my vision, then it becomes less and less important whether I am afraid. – Audre Lorde
128. Great minds discuss ideas, average minds discuss events, small minds discuss people. – Eleanor Roosevelt 
129. A successful man is one who can lay a firm foundation with the bricks others have thrown at him. – David Brinkley 
130. Those who dare to fail miserably can achieve greatly. – John F. Kennedy 
131. I can't give you a sure-fire formula for success, but I can give you a formula for failure, try to please everybody all the time. – Herbert Bayard Swope 
132. Would you like me to give you a formula for success? It's quite simple, really, double your rate of failure. You are thinking of failure as the enemy of success. But it isn't at all. You can be discouraged by failure or you can learn from it, so go ahead and make mistakes. Make all you can. Because remember that's where you will find success. – Thomas J. Watson
133. It is hard to fail, but it is worse never to have tried to succeed. – Theodore Roosevelt 
134. I'm a success today because I had a friend who believed in me and I didn't have the heart to let him down. – Abraham Lincoln 
135. Love yourself first and everything else falls into line. You really have to love yourself to get anything done in this world. – Lucille Ball 
136. Let us always meet each other with smile, for the smile is the beginning of love. – Mother Theresa 
137. Curiosity about life in all of its aspects, I think, is still the secret of great creative people. – Leo Burnett 
138. Imagination is the beginning of creation. You imagine what you desire, you will what you imagine, and at last, you create what you will. – George Bernard Shaw 
139. The journey of a thousand miles begins with one step. – Lao Tzu 
140. Imagination was given to man to compensate him for what he is not, and a sense of humor was provided to console him for what he is. – Oscar Wilde 
141. What you do speaks so loudly that I cannot hear what you say. – Ralph Waldo Emerson