During the difficult times, we hold on to faith. And one form of exercising faith is through religion. So to further express your sincerity to your belief and devotion, here are 25 religious poems for you.
Religious Poems
1. The Barren Tree
Dear Saviour, I am as the "barren tree,"
Unworthy of the love Thou givest me;
And yet, oh, Lord, a little longer spare!
A little longer keep me in Thy care!
Forbear to say, "Why cumbers it the ground?"
But let Thy love continue to abound.
Let heavenly grace within mine heart take root,
Spring up, and bear, through Thee, abundant fruit.
I know that Thou for years hast sheltered me,
I feel my deep indebtedness to Thee:
So spare me yet a little longer, Lord,
To grow in grace and beauty thro' Thy Word;
Ah! then, perchance, ere long the barren tree,
The richest of Thy fruits shall render Thee.
– Mary Dow Brine
2. The Cross
Symbol of shame–mysterious sign
Of groans, and agonies and blood,
Hail, pledge of love and peace divine
From God.
Symbol of hope to those that stray,–
The pilgrim's step is led to thee;
Star of the soul thou guid'st the way
To Calvary.
Symbol of tears–I look, and mourn
His woes, whose soul for mine was riven;
Where, wanderer, is thy due return
To heaven?
Symbol of empire–thou shalt rise
And shine, where lands in darkness sit,
On Indian domes that greet the skies
And minaret.
Symbol of glory–when no more
The monarch seeks a fleeting throne,
Thy victim once, shall worlds adore
The God alone.
– William B. Tappan
3. A Hymn to God the Father
Wilt thou forgive that sin where I begun,
Which was my sin, though it were done before?
Wilt thou forgive that sin, through which I run,
And do run still, though still I do deplore?
When thou hast done, thou hast not done,
For I have more.
Wilt thou forgive that sin which I have won
Others to sin, and made my sin their door?
Wilt thou forgive that sin which I did shun
A year or two, but wallow'd in, a score?
When thou hast done, thou hast not done,
For I have more.
I have a sin of fear, that when I have spun
My last thread, I shall perish on the shore;
But swear by thyself, that at my death thy Son
Shall shine as he shines now, and heretofore;
And, having done that, thou hast done;
I fear no more.
– John Donne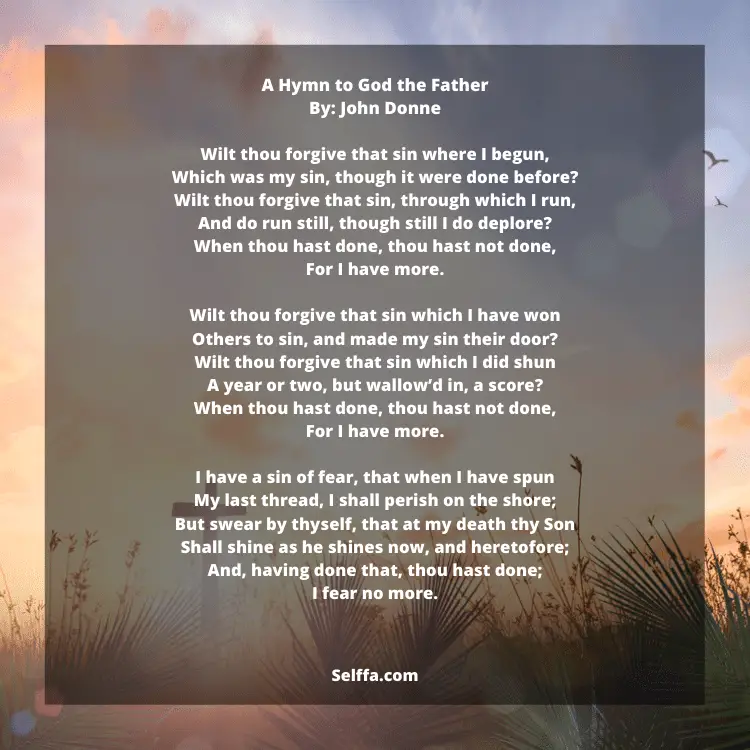 4. In a Church
Tile-roofed and low it meekly stands,
The loving work of loving hands,
And views, from out its cross-crowned tower,
Its garden plot of tree and flower.
Within, madroña trees, love-slain,
With joy renewed live once again,
To hold, in still unwearied arms,
The naked ceiling's modest charms.
A holy hush is in the air,
As though the spirit's essence there
Had been distilled and entered all
That lay within the sacred wall.
The song is sung, the prayer is said,
The Book, and sermon thence, are read,
While from the wings of Peace outspread
The balm of blessedness is shed.
– Edward Robeson Taylor
5. Worship
In the midst of the congregation,
Where the heads were bowed in prayer,
Mine own was bowed in the silence,
With the worshipers throngèd there.
The radiant, glittering splendor
Of the great dome chandeliers
Broke in a thousand lusters,
Like a passion that shook with tears.
"Amen." There stole from the organ
A whispering symphony,
With the low breathed words of the chanters,
Chanting, "Come unto me
"All ye that are heavy laden,
And I will give you rest,"
While a holy hush descended
Like balm upon every breast.
When the organ, supplanting the voices,
Uprose like a swelling tide,
And swept with resistless rapture
My heart shore far and wide,
I felt a thrill as of anguish,
And tears to my eyelids start,
While the billows of passionate music
Broke heavily on my heart.
I was carried away from the present,
Back to the vanished past,
Back to the fair hill country
Of a youth that fled so fast.
Instead of the grand cathedral,
With carven and vaulted dome,
Its gorgeous gilded fretwork,
Its sensuous, somber gloom,
I sat in the homely precincts
Of an old church far away,
That was young with its eldest tenants,
With them it was long grown gray.
Low roof that a modern steeple
Would look on with disdain;
Bare walls and small-paned windows
That knew no deeper stain
Than the shadows of firs and beeches,
With the sunlight filtered through,
And falling on saintly foreheads,
Uplift in each high old pew.
No bell rang out the summons,
On the sweet, soft summer air;
We knew by the holy stillness,
That the Sabbath peace was there,
As along each dusty highway,
All feet were wont to tend,
Toward that sacred threshold
As to a common end.
And there were friendly greetings,
With hand-clasps warm and true;
And looks of happy lovers,
Ah, happier than they knew!
Uprose the aged preacher,
With the peace of God on him;
And the fresh young men and maidens,
In the gallery raised the hymn.
The ancient viol sounded,
It seemed a heavenly lyre,
By youth and love surrounded,
With an aureole of fire.
Again I saw assembled,
The dead and living there,
As erst with their kindly faces,
Their hushed and reverent air;
While out from my heart's recesses,
Old dreams and old fancies came,
With the rapturous, turbulent trouble,
Of illusions too sweet to name.
Cold distrust was a laggard comer,
In hearts that were young and true;
And life was a long, bright summer,
And the rose with the myrtle grew.
Oh! when the last benediction,
Breathed out in that lofty fane,
I woke from my dream like a dreamer
With the pang of a sudden pain.
The radiant, glittering splendor
Of the great dome chandeliers
Broke in a thousand lusters
Through the glimmering of my tears.
I felt the sacred chrism
Of a memory most divine,
And I knew that nearer Heaven
No heart had been than mine!
– Clara Marcelle Farrar Greene
6. Spiritual Laws
The living Heaven thy prayers respect,
House at once and architect,
Quarrying man's rejected hours,
Builds therewith eternal towers;
Sole and self-commanded works,
Fears not undermining days,
Grows by decays,
And, by the famous might that lurks
In reaction and recoil,
Makes flame to freeze and ice to boil;
Forging, through swart arms of Offence,
The silver seat of Innocence.
– Ralph Waldo Emerson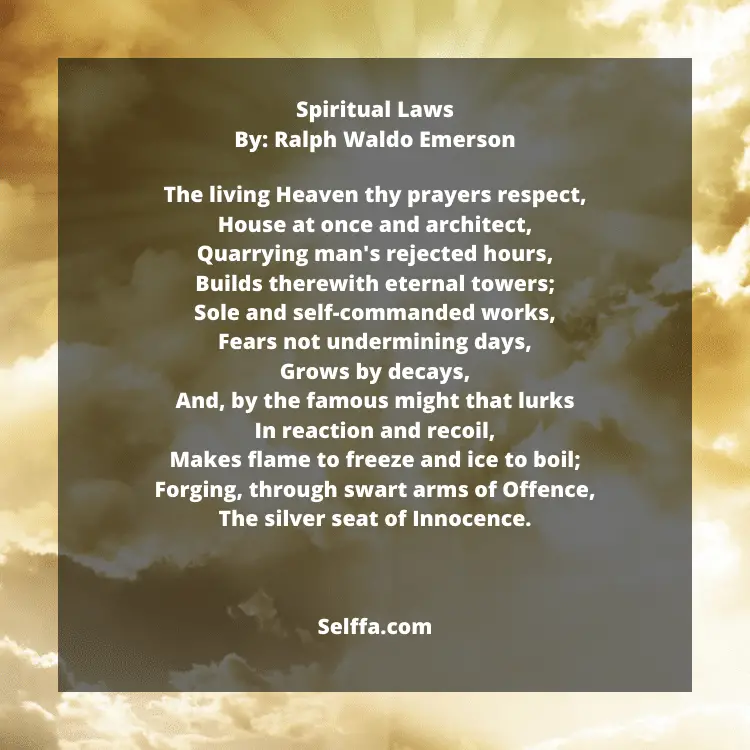 7. The Sabbath
Hail! holy, hope-inspiring day,
God's portion of the Seven,
And oldest landmark in the way
That leads from earth to heaven.
Today the wearied sons of toil
Enjoy the Sabbath's rest,
And under God's approving smile
May worship with the blest.
Today the sons of God present
Themselves before the Lord,
And feast on heav'nly nourishment
Drawn from the sacred word.
Today the social joys of home
Their choicest sweets impart,
Whilst gratitude like sweet perfume
Fills every loving heart.
Today our Resurrection Lord
Comes down his saints to greet,
Who wait according to his word
And worship at his feet.
Hail! peaceful Sabbath, ever blest,
The sign which God has given
To tell me of an endless rest
Prepared for me in Heaven.
– S. Moore
8. It's In The Valleys I Grow
Sometimes life seems hard to bear,
Full or sorrow, trouble, and woe,
It's then I have to remember,
That it's in the valleys I grow
If I always stayed on the mountain top,
And never experienced pain,
I would never appreciate God's love,
And would be living in vain
I have so much to learn,
And my growth is very slow,
Sometimes I need the mountain tops,
But it's in the valleys I grow
I do not always understand,
Why things happen as they do,
But I am very sure of one thing,
My Lord will see me through
My little valleys are nothing,
When I picture Christ on the cross,
He went through the valley of death,
His victory was Satan's loss
Forgive me Lord, for complaining,
When I'm feeling very low,
Just give me a gentle reminder,
That it's in the valley I grow
Continue to strengthen me Lord,
And use my life each day,
To share your love with others,
And help them find their way
Thank you for the valleys Lord,
For this one thing I know,
The mountain tops are glorious,
But it's in the valleys I grow!
– Tracy Mayfield
9. Everlasting Love
The greatest love story ever read or told
Happened over two thousand years ago
God gave to us His only begotten Son
His name was Jesus, and He loved everyone
His love for us was so great and true
He gave His life for me and you
He died for us so brave and bold
He died to save our very souls
Other loves are like a summer flower
They blossom for awhile, then they are not there
But His love lingers as the ages roll on
His love continues long after the others are gone
– Ellen Bailey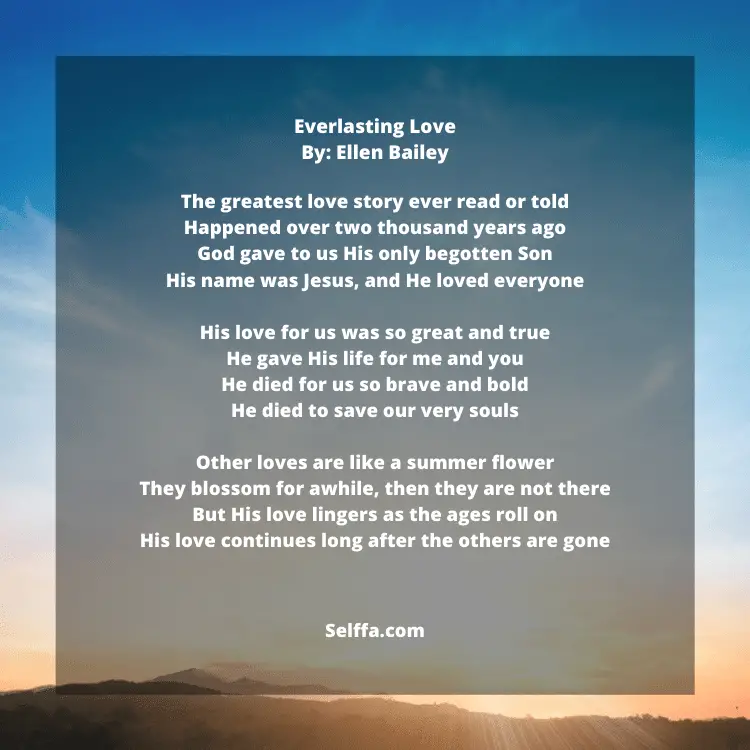 10. My Bible and I
We travel together
my Bible and I
Down the trails of rainbow
as the days go by.
I need your sweet friendship
your message of love
Painting the pathway
to the beauties above.
May the light of the spirit
your pages unfold
And daily reveal
your treasures of gold.
Oh white light of promise
to you I'll be true
And your teachings of rainbows
will carry me through.
– Sarah Alloway
11. It Came From Above
Looking around and longing for love,
The love that I want, is from the Lord up above.
He is my strength and all that I need,
The love of a lifetime, we will all surely agree.
He inspires us daily, and everyone knows,
His everlasting light, the spirit he gives us will always flow.
Look at all of the beauty that he has created,
All that we want and need, just as the Lord had stated.
His promises to us are oh so true,
As we walk in his path and wait in his view.
A place he has for us, our just reward.
Only comes from within our Savior our Holy Lord.
We must follow his word until he comes back
The enemy will tempt us, will try to attack.
Give the Lord all you have, all of your heart.
He will keep you safe and he will never part.
Do what he willed for us, his blood flowed for our sins.
We thought that was the end, but that's where he begins.
Looking about and longing for love.
I found what I needed it came from above.
– Ralph P Quinonez
12. Have Faith
When life locks its doors,
And there's no key in,
Have faith in Him who knows no sin.
Through pain and suffering
You may endure
Have faith, for on eagle's wings you may soar.
When you are giddy and rid of life's sorrow,
Believe and have faith that it will continue tomorrow.
When you are lost or your hope has run,
Come back to him like the prodigal son.
When your journey has finished,
When your life has been full,
Have faith and follow the heavenly pull.
– Katie G.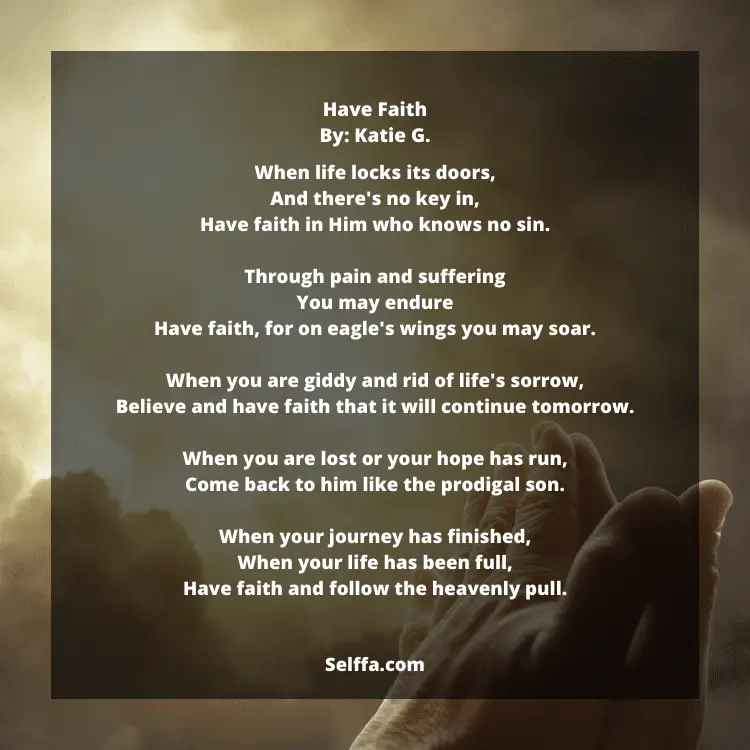 13. I'll See You When the Sun Goes Down
I'll see you when the sun goes down
And all the stars go crazy,
And Christ returns to claim His throne
Upon this erring earth.
And you and I will be amazed
At all that now seems hazy;
For now is faith, but then will be
The glory of rebirth.
Death will die, and we will sing
With angels at our ears,
And all my love for you will pour
Like rivers from my song.
And joy will never end, for we
Will be beyond the years,
And time before the end of time
Will not seem very long.
How beautiful Creation will
Then be! Much more than now,
When visible to faith alone
As we endure our pain.
How wonderful the gift of grace
From Christ that will allow
Me well to bear my grief until
I see you once again.
– Nicholas Gordon
14. Salvation Day
On a day where the reason is so connected by the constant season,
and every living soul is affected, our own Salvation, is reflected.
For within this Easter time, the gift of Atonement so sublime.
As each has their heavenly memory lost in a haze of unsung wonder,
yet, the life we live has such purpose born, and cannot be put asunder.
While some are lost in the physical world, your spiritual being is
now unfurled, within the sight of reality and it's treasure, for each
will either choose their honest path, in sweet real measure, and win
the day, or lose, in life's own willed aftermath.
The thanks that lives within our sincere hearts, should shine above
the selfish parts, and grasp the total blessings of where we are living.
Can anyone doubt the sacrifice, even once or twice, toward the unselfish
light of His pure giving?
Our Lord of all is kind and good, no absolute joy can rise within it if
we even could, for the price is more than twice, this thought of salvation day.
Sincere prayers of joy and praise, should be offered up beyond the latest
craze, and peace of mind should reach the highest pleasure story, as you
sing Hallelujah, Hallelujah, we are all witnesses and participants, in Glory!
– Ron Harris
15. A Refuge in Thee
When hopes that are brightest
Like autumn have flown,
When Hearts that we treasured
Have left us alone,
O, where from the sadness
Of grief should we flee,
If faith had no refuge,
Dear Savior, in Thee?
When dark are the storms clouds
Above us that roll,
And wild are the surges
That break o'er the soul,
O, where from the tempest
of life should we flee,
If faith had no refuge,
Dear Savior, in Thee?
though faith may be tested
And love may be tried,
How peaceful the haven
Where all may abide;
Whatever with the tempter
Our conflict may be,
We still have refuge,
Dear Savior, in Thee.
– Fannie Crosby
16. Hallelujah
Eyes open to praise
The play of light
upon the ceiling–
While still abed raise
The roof this morning
Rejoice as you please
Your Maker who made
This day while you slept,
Who gives grace and ease,
Whose promise is kept.
– Samuel Menashe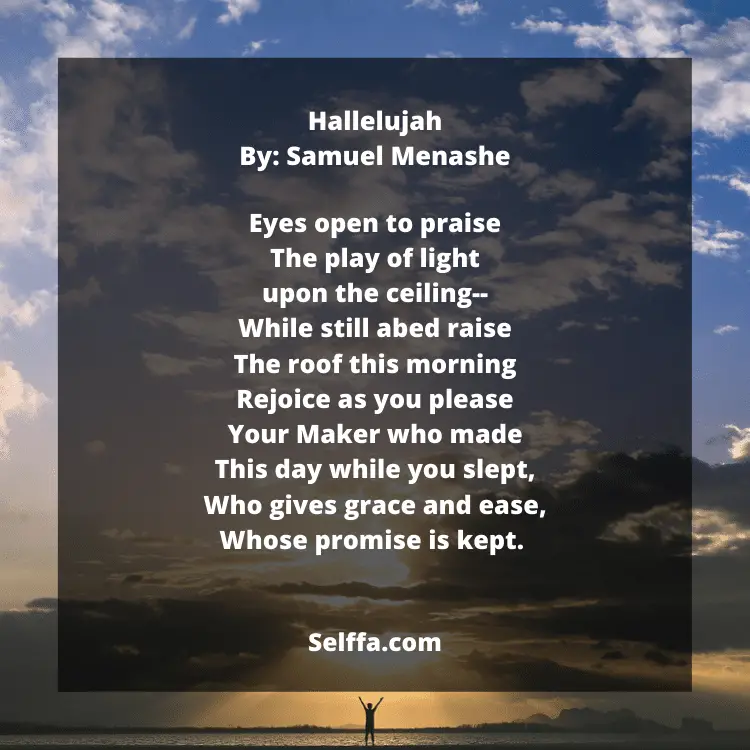 17. Be Expecting A Miracle
Miracles are all around but we must expect them first;
They come in many forms to all who hunger and thirst,
After God's righteousness believing He is the Sender,
All we have to do is to His Will surrender,
Surrendering all to the fullest of what God intends,
Broken hearts, broken dreams will all be on the mends.
God is willing to bless you with numerous surprises,
Miracles come in various ways and never disguises.
Hearing a bird sing, a friend's telephone call or letter,
These tiny but significant happenings make life better.
A compliment from a friend or a loved one fair,
Whatever tiny miracle God has placed them there.
God wants to add blessings, not take away from us,
Negative situations can end up a positive plus.
The secret lies within whether or not we believe,
Faith opens many doors for believers to receive.
We tend to overlook miracles that are sent each day,
Overlooking them not realizing God sent them our way.
God is only limited by what we believe Him for,
Have faith expecting and see what He has in-store.
When the bright morning light dawns upon our face,
It is certainly a reflection of His extending Grace;
That alone is a miracle He gives to start each day anew,
Walk in expectancy and watch miracles come to you.
– Marilyn Chandler
18. Advent Prayer
Oh, let us turn away from noise,
The clamor of the day,
To rest in solitude with Him;
Our blessings to survey.
Oh, let our inner joy release
Our carol to The King,
To worship Him, to feel the touch
Of Heavenly angel's wing.
May we escape the tinseled trees,
The gifts that soon expire,
To see the glory of God's way
That meets our soul's desire.
Oh, let us pause to contemplate
Each priceless happening;
Children's laughter, tender words…
The daily "little things."
Oh, may we feel our brother's need,
His inner plea for peace,
Promote good will, and sacrifice
God's Kingdom to increase.
Oh, let our celebration be
A tribute to The One
Who is The Father's Gift to us,
His Own Begotten Son.
– Anna Lee Edwards McAlpin
19. Hymn Of Promise
In the bulb there is a flower, in a seed, an apple tree;
In cocoons, a hidden promise: butterflies will soon be free!
In the cold and snow of winter, there's a spring that waits to be,
Unrevealed until it's season, something God alone can see.
There's a song in every silence, seeking word and melody;
There's a dawn in every darkness, bringing hope to you and me.
From the past will come the future; what it holds, a mystery.
Unrevealed until it's season, something God alone can see.
In our end is our beginning, in our time, infinity.
In our doubt there is believing; in our life, eternity.
In our death, a resurrection; at the last, a victory.
Unrevealed until it's season, something God alone can see.
– Natalie Sleeth
20. Lead Me
Lead me in Your truth and teach me
Oh Heavenly Father up high
Lead me in a level path and on level ground
Lead me to the rock that is higher than I
Lead me now for I am save; I am found
Lead me in the everlasting way
For You are my salvation and my fortress
For You I wait all the day
– Monique Nicole Fox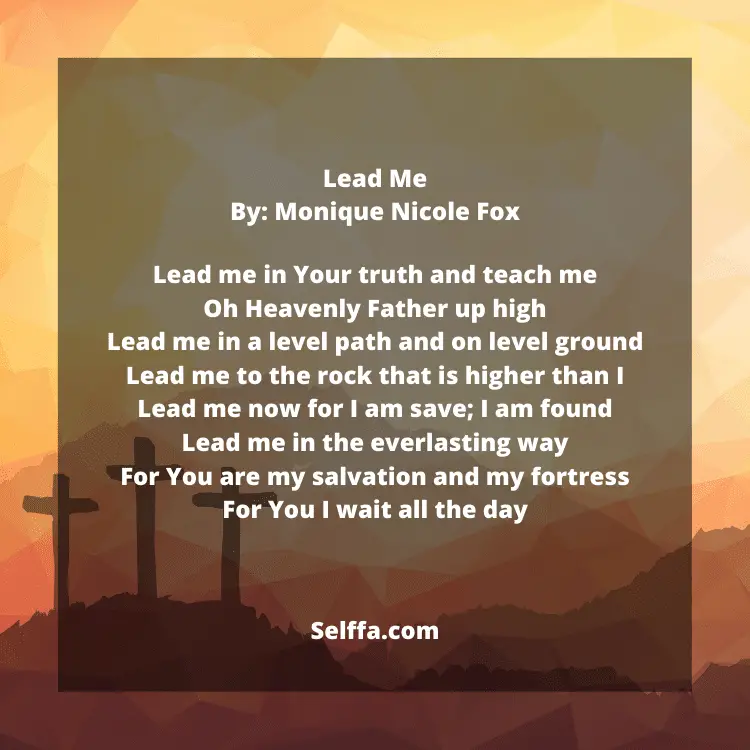 21. The End Of The Road Is But A Bend In The Road
When we feel we have nothing left to give
And we are sure that the "song has ended"–
When our day seems over and the shadows fall
And the darkness of night has descended,
Where can we go to find the strength
To valiantly keep on trying,
Where can we find the hand that will dry
The tears that the heart is crying–
There's but one place to go and that is to God
And, dropping all pretense and pride,
We can pour out our problem without restraint
And gain strength with Him at our side–
And together we stand at life's crossroads
And view what we think is the end,
But God has a much bigger vision
And he tells us it's only a bend–
For the road goes on and is smoother,
And the "pause in the song" is a "rest,"
And the part that's unsung and unfinished
Is the sweetest and richest and best–
So rest and relax and grow stronger,
Let go and let God share your load,
Your work is not finished or ended,
You've just come to "a bend in the road."
– Helen Steiner Rice
22. What God Hath Promised
God hath not promised skies always blue,
Flower-strewn pathways all our lives through;
God hath not promised sun without rain,
Joy without sorrow, peace without pain.
God hath not promised we shall not know
Toil and temptation, trouble and woe;
He hath not told us we shall not bear
many a burden, many a care.
God hath not promised smooth roads and wide,
Swift, easy travel, needing no guide;
Never a mountain rocky and steep,
Never a river turbid and deep
But God hath promised strength for the day,
Rest for the labor, light for the way,
Grace for the trials, help from above,
Unfailing sympathy, undying love
– Annie Johnson Flint
23. Happiness of the Heart
What is it that makes,
Happiness in your heart?
Is it your job or your friends,
Or maybe a fresh start.
What is it that allows,
You to find your way?
Maybe school or a trip,
Or a change of your day.
What is it that keeps,
Your faith in full light?
Is it church or a song,
Or a sense of great sight?
Too often it happens,
Truth becomes a haze,
When in reality,
It's God we should praise.
– Julie Hebert
24. Who Am I To Say
We come to God by devious ways,
and who am I to say
That the road I take is the only road,
My way, the better way?
All earnest hearts that seek for God
can find Him like a flame,
Down every road, no matter what
his creed, or what his name.
So whether we may pause to pray
where great cathedrals shine,
Or in some little weathered church,
or at some wayside shrine,
The sincere travelers will arrive
where the welcoming home lights shine,
Although the countless thousands
take a different road from mine.
– Grace N Crowell
25. Let Us With A Gladsome Mind
Let us, with a gladsome mind,
Praise the Lord, for He is kind:
For His mercies shall endure,
Ever faithful, ever sure.
He with all-commanding might,
Filled the new-made world with light;
For His mercies shall endure,
Ever faithful, ever sure.
All things living He doth feed,
His full hand supplies their need:
For His mercies shall endure,
Ever faithful, ever sure.
He His chosen race did bless
In the wasteful wilderness:
For His mercies shall endure,
Ever faithful, ever sure.
He hath, with a piteous eye,
Looked upon our misery:
For His mercies shall endure,
Ever faithful, ever sure.
Let us, then, with a gladsome mind,
Praise the Lord, for He is kind:
For His mercies shall endure,
Ever faithful, ever sure.
– John Milton