It takes blood, sweat, and tears to reach success in life. And as unique individuals, what one considers as a form of success is different to the other. So for the success that you're hoping for, here are 29 inspirational and motivational success poems.
Success Poems
1. Success
You ask me what I call Success –
It is, I wonder, Happiness?
It is not wealth, it is not fame,
Nor rank, nor power nor honoured name.
It is not triumph in the Arts –
Best-selling books or leading parts.
It is not plaudits of the crowd,
The flame of flags, processions proud.
The panegyrics of the Press
are but the mirage of Success.
You may have all of them, my friend,
Yet be a failure in the end.
I've know proud Presidents of banks
Who've fought their way up from the ranks,
And party leaders of renown
Who played as boys in Shantytown.
Strong, self-made men, yet seek to trace
Benignity in any face;
Grim purpose, mastery maybe,
Yet never sweet serenity;
Never contentment, thoughts that bless –
That mellow joy I deem Success.
The haply seek some humble hearth,
Quite poor in goods yet rich in mirth,
And see a man of common clay
Watching his little ones at play;
A laughing fellow full of cheer,
Health, strength and faith that mocks at fear;
Who for his happiness relies
On joys he lights in other eyes;
He loves his home and envies none. . . .
Who happier beneath the sun?
Aye, though he walk in lowly ways,
Shining Success has crowned his days.
– Robert William Service
2. Success Personified
To each morning the sun does shine
When all seems like a newborn time
To dwell in laughter so much
Is only the beginning for me to clutch.
I will go out to find
Intelligent people of like mind.
To suffer or endure
Of friends who but will not do.
To look upon the earth with glee
For all beauty is in me
To grasp the clouds way up high
There is more before I die.
May I go upon the street
Never ending on my feet
Seeking out the best in others
Always to find I have more brothers.
To make a part of the world
A better place you see.
For every one I must explore
To look upon them as no one before.
To seek out and help
Others is more than joy
To be valued and respected
In all my life reflected.
All of this as said before
Makes me want to reach out more
For it is a challenge for me to reach
This is success for all to preach.
– Byron Pulsifer
3. Lines Of Success
Essence holds its dream entire,
Strengthens hope true into fire
To fit in it to be higher
To the most breezed to aspire.
Its strength with a wind-lot by,
Sprouts ambition to the sky
To bloom into a smile high.
Happiness across to fly,
Its fluttering wings in flight
Spreads across the field its light.
Blossomed is success glass-bright
With glory mounting in sight.
Heart content is in sublime,
Remains diamond-worth in prime.
Victory does reign in clime,
Hailing joy bell-like to chime.
– Obinna Kenechukwu Eruchie
4. A Friend Called Success
Success is a friend to
Those who persevere
He is free and very fair
He speaks but they don't hear
So failure puts them to fear
They can't find success
But he lives near
The street of determination
Seek him in your imagination
And you will find him in your vision
You can't achieve success with force
But perseverance and endurance
For he keep changing his location
Through innovation
– Matt Starking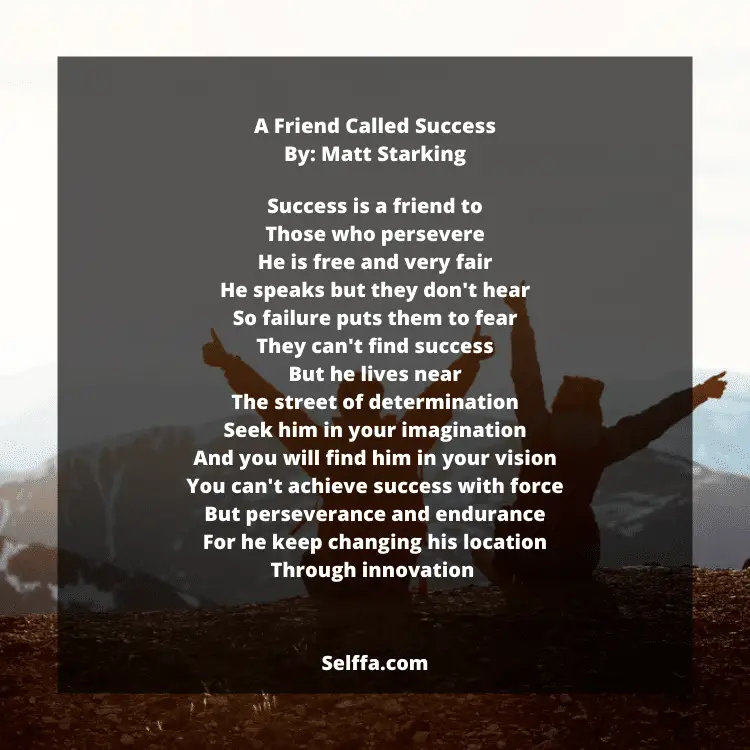 5. Worthy Success
With all my up's and down's
It doesn't mean I need to frown
My decisions may be wrong
Still it taught me how to be strong
Never let your fears
Bring you tears
Life is a story that has a beginning
And has a wonderful ending
In this world each one has a role
So never stop on reaching your goal
Always be careful
In your decisions and be hopeful
You may not be always right
Accept your failures and you'll be alright
This is the real me
I can never change my personality neither me
Learn how to love yourself
Accept yourself
Your dreams can be true
Nothing can't be true
Everything is Worth it
Soon you'll be able to gain a worthy success
– Elizha Faye S Moso
6. The Hill Of Success
Like as heaven's golden eye
In all her timeless grandeur
Doth emanate to paint the sky
In polychromatic hues all o'er
At the break of dawn, so raced I
Briskly through woods of failure,
Yonder the mighty hill of success
That shimmered in the distance.
The closer I drew, the further the hill,
But despite the task seemed sisyphean,
Winds of hope came driving me still
Right through thorny thickets of men
That unto me said I'll never get uphill,
But though girthed with such ill omen,
I bore it in mind, at the end of day,
Even the sun fades into heaven's bay.
They tried to pull me down,
But, "giving up" ain't my name;
When at last I wore a golden crown,
They tumbled into a sea of shame
And there deep they didst drown
Till so soddened every part of them:
"For now every body knows my story,
I rest not till I behold clouds of glory."
– Kikodinho Edward Alexandros
7. Success Does Not Possess
Success is not engraved
on the pieces of paper
that control our very lives.
Success is engraved
on our hearts
and is only uncovered
when we have found
true happiness.
Life's goal is not about
Possession.
Life is about learning
to accept yourself
and let things flow
in their most natural state,
To let go and drift
in the wind with a soul
as light
as a summer's breeze,
To see where life's
journey takes you,
To admire something
or someone you love
from afar,
Instead of contaminating
them with the suffocating
being of what we call
Possession.
Success
is about finding yourself
and your own meaning
of the existence of this
Very tiny,
very isolated,
and intricately plotted
Universe,
To find where you stand
and fit in the substantial
and never-ending vortex
we call Space.
Success is not
just about living
but about being alive and content
with yourself.
– Camryn Covert
8. Feel the Success in Your Own Way!
Success is something we all share
Just like oxygen in the air.
The way we live it, is up to us…
With a negative or with a plus
Success is something, we should cherish…
never know, when we'll perish.
Success is something, we've to earn
Choice is yours, Redeem your turn….
Follow your passion, and you'll be fine,
With the right attitude, you will shine.
– Ayush Gangwar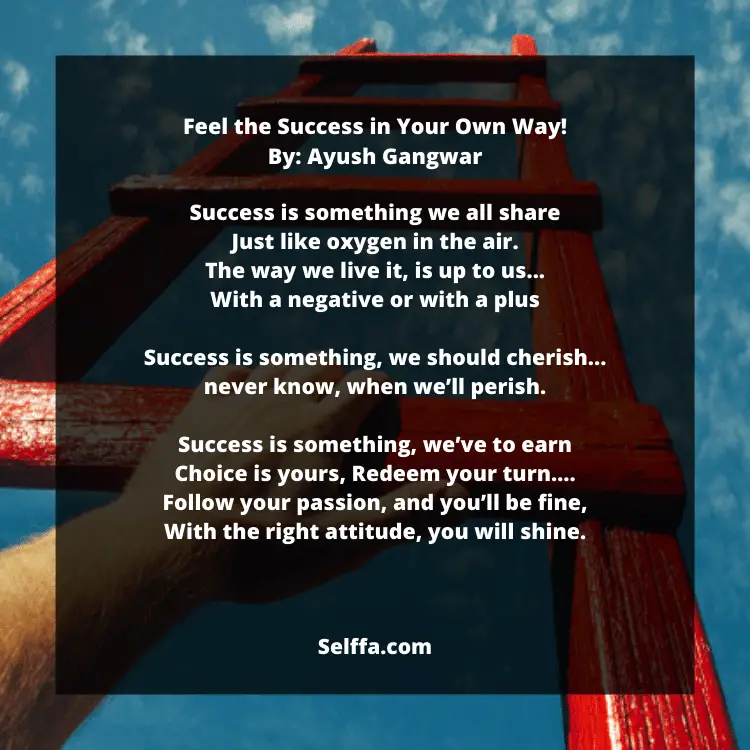 9. Believe This
You're winning. You simply cannot fail.
The only obstacle is doubt;
There's not a hill you cannot scale
Once fear is put to rout.
Don't think defeat, don't talk defeat,
The word will rob you of your strength.
"I will succeed," This phrase repeat
Throughout the journey's length.
The minute that "I can't is said –
You slam a door right in your face.
Why not exclaim, "I will" instead?
Half won then is the race.
You close the door to your success
By entertaining one small fear.
Think happiness, talk happiness,
Watch joy then coming near.
The word "impossible" is black.
"I can" is like a flame of gold.
No whining, heart! Eyes! look not back;
Be strong, O Will! and bold.
You're winning, though the journey's slow;
You're gaining steadily each day.
O Courage! what a warmth and glow
You shed along your way.
– Wilhelmina Stitch
10. Fear Inhibits Success
Fear inhibits success,
and often becomes our restraint;
the fear of that next step,
and the uncertainty of where it might lead.
But before we can avoid any pitfalls that lay before us
they first must be identified.
We try to justify the anxiety
caused by fear by making excuses,
like doubt, lack of time, or I'll do it later.
Trust God as you ascend up your ladder to success.
Remembering this,
"You can't run with the big dogs
if fear keeps you under the porch"
– Tom Wright
11. Steep Hill Of Ambition
The steep hill of ambition, is paved with those failed tasks
The intention, and the hope, and all the other asks
The things that we were wont to do, but never did get done
Just because without belief, our success rate would be none
That is where the sadness is, the why I did not do
To be honest I don't know, I don't really have a clue
I have tried the lets be diligent, would we then succeed
But was I really serious, did I actually believe
Believing is the motive, the impetus and fuel
If you don't agree with that, you are nothing but a fool
Believing in a project, is half the task complete
The other half the easy part, accomplishing the feat
So when someone tells you, of the failures that they've had
How things looked so very good, and then they turned to bad
Tell them to be positive, but still take a lot of care
Assure them that if they believe, then they are halfway there
– Warren Mbaht
12. Crown of Success
Climb the wall of blades
Walk on fiery floor
Dream whatever it takes
Unlock the shackled door
When trapped in a pit, don't cry
Mustn't let yourself rot there down
Build yourself wings, and fly
Till you finally wear the shiny crown
– Armand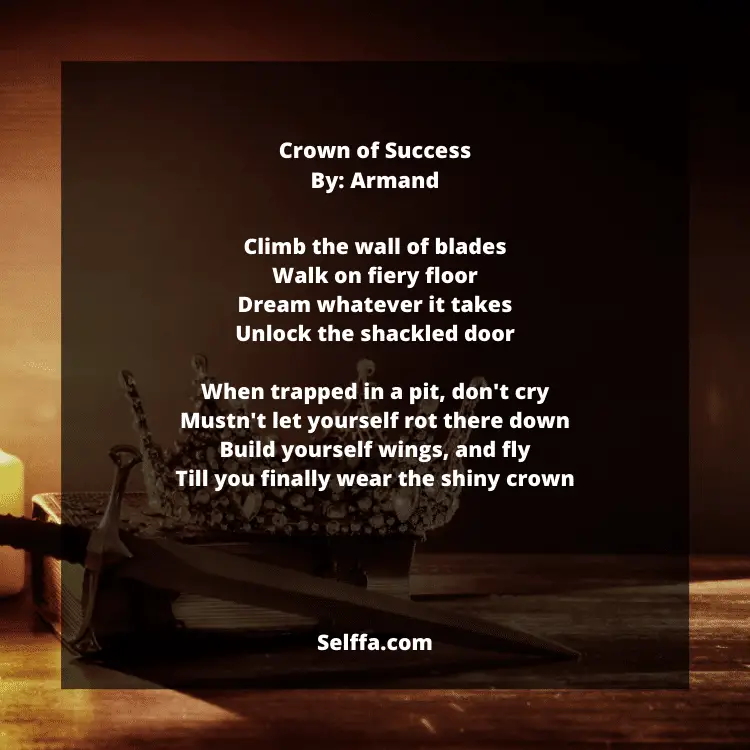 13. Sweet Success
O dear success, thou art seem sweet,
Man strives and toils, all in desire to meet.
O dear success, thou art protest,
Man falls and bows, at thine conquest.
O dear sweet success, man art in envy,
Man's life, in turmoil and in frenzy,
Aspiring and relinquishing,
…so to be at thine mercy.
O dear sweet sweet success,
Man's lot is cursed or blessed,
Living in this nest of unrest,
Hoarding more than one could ingest.
Is it a dream to be pursued?
Is it a pang of the old?
Is it Nature's grant of gold?
Or is it just…
A wish gone cold?
– Thanyarat Komolsingsakul
14. What is Success
Success is speaking words of praise,
In cheering other people's ways.
In doing just the best you can,
With every task and every plan.
It's silence when your speech would hurt,
Politeness when your neighbor's curt.
It's deafness when the spandal flows,
And sympathy with others' woes.
It's loyalty when duty calls,
It's courage when disaster falls.
It's patience when the hours are long,
It's found in laughter and in song.
It's in the silent time of prayer,
In happiness and in despair.
In all of life and nothing less,
We find the thing we call success
– Anonymous
15. That's Success
It's doing your job the best you can,
And being just to your fellow man;
It's making money – but holding friends,
And being true to your aims and ends.
It's figuring how and learning why,
And looking forward and thinking high;
And dreaming a little and doing much,
It's keeping always in closest touch.
With what is finest in word and deed,
It's being thorough, yet making speed;
It's daring blithely the field of chance,
While making labour a brave romance.
It's going onward despite defeat,
And fighting staunchly, but keeping sweet;
It's being clean and it's playing fair,
It's laughing lightly at Dame Despair.
It's looking up at the stars above ,
And drinking deeply of life and love;
It's struggling on with the will to win,
But taking loss with a cheerful grin.
It's sharing sorrow and work and mirth,
And making better this good old earth;
It's serving, striving through strain and stress,
It's doing your noblest – that's success!
– Berton Braley
16. Successful Life
Death is an inevitable fate.
Someday we have to go.
You hope you did
your best in life,
but how are you to know?
It's not the model of your car
or brand of clothes you wear.
It's not some fancy, famous name,
sewn in your underwear.
It's not the square footage of your house
or what you keep inside.
There's no material you possess
that proves success in life.
It's everything you sacrificed
and choices you made.
It's all the problems that you solved,
your lessons from mistakes.
It's bad times you've persevered.
It's all the fun you've had.
It's any time you've ever laughed
and every tear you've shed.
It's any time that you've been proud
of others or yourself.
It's every song you turned up loud,
and every friend you helped.
It's every wish you ever had.
It's all your dreams and hopes.
It's all the books you ever read,
the movies that you've seen.
It's all the stories you told,
The places you've been.
It's every sunset that you caught
and every cent you spent.
It's anyone you've ever loved
who mourns you in the end.
It's all these things
and so much more,
so don't stress.
If you lived your life
Wild-n-free,
Then it's been a success.
– Eugene Grinman
17. A Wish for Success
Don't lose your strength
That will help you to achieve your goals,
Don't lose hope,
Even if it takes a toll,
You will be able to achieve success,
If you strive hard,
But, for that you need a right start!
18. True Measure Of Success
Success is a journey
in the path of a test
Where we all hope
To always get the best
For God put us
In the test of life
And then take out
And give best to life
So don't ever count
Troubles in between
That arises in the way
For that's only the mean
Through which one can
learn to count
True measure of success
In his own account.
– Seema Chowdhury
19. On Perseverance For Success
Who says that things cannot be done?
Nothing's impossible on earth;
Most things are possible under the sun;
But perseverance should be thine friend!
The one who gives up with ease is a fool!
The wise person labors with determination;
Yet, one must choose the things that one can do,
And go full steam ahead, till comes success.
Perseverance is the secret of success;
By continual toil, failures can be avoided;
Great things were done by burning mid-night's oil!
"The toiler harvests best of fruits in life."
– Dr. A.Celestine Raj Manohar M.D.
20. Success
Happiness comes not from having much to live on
but having much to live for.
Success never resides in the world of weak wishes,
but in the palace of purposeful plans and prayerful persistence.
Pessimism achieves no success over persistence.
Temporary defeat never spells total failure;
one victory never assures permanent success.
A real success is one who makes
his mark in life without smearing others.
Excellence without effort is as futile as progress without preparation
Work can be our friend or foe, or joy or our woe.
Success, like happiness, is more than a destination –
it is a venture; more than an achievement – it is an attitude.
The greatest failure is the failure to try.
Alter your attitude and you will change your life.
Who seeks success, let him prepare.
Improvement is the son of discontent;
success is the offspring of preparation.
To emphasize the positive – the affirmative –
is to travel the high road of joy.
– William Arthur Ward
21. Success Is Counted Sweetest
By those who ne'er succeed.
To comprehend a nectar
Requires sorest need.
Not one of all the purple Host
Who took the Flag today
Can tell the definition
So clear of Victory
As he defeated — dying —
On whose forbidden ear
The distant strains of triumph
Burst agonized and clear!
– Emily Dickinson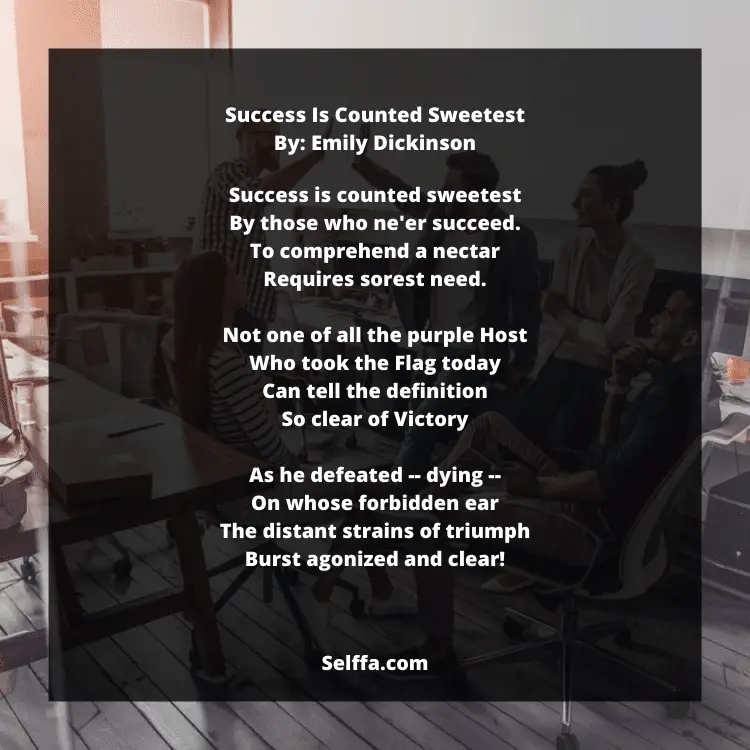 22. I Crave For Success
I dream the future without the past
Of when my success will be a blast
Intent of heart, I see the best
Hope for the future, with God I rest.
I crave for success, I hope for hope
God start the process, I crave to cope.
I see a flash, a flash of hope
I'm up the mountain, nomore the slope
Lord take me higher, Lord take me up
Mobilize the process, and do not stop.
I crave for success, I hope for hope
God start the process, I crave to cope.
Night and day, I hope in silence
The possibility of a future so dense
If I persevere, and continue hoping
Then my future will cease from joking.
I crave for success, I hope for hope
God start the process, I crave to cope.
– Vyktor Ekott
23. Success
We have not wings, we cannot soar;
But we have feet to scale and climb
By slow degrees, by more and more,
The cloudy summits of our time.
The mighty pyramids of stone
That wedge-like cleave the desert airs,
When nearer seen, and better known,
Are but gigantic flights of stairs.
The distant mountains, that uprear
Their solid bastions to the skies,
Are crossed by pathways, that appear
As we to higher levels rise.
The heights by great men reached and kept
Were not attained by sudden flight,
But they, while their companions slept,
Were toiling upward in the night.
– Henry Wadsworth Longfellow
24. Sweet Success
We all have goals we'd like achieved.
The goals we set we find endeared.
We think our folks should also care.
To see how well we do and fare.
Alas, they don't, and we are shocked.
Sometimes we feel our path is blocked.
Are these the ones so close and dear?
Are these the ones we brought so near?
We try to stand despite the pain.
We try to fight with might and main.
The goals are hard to live without.
How hard it feels to live in doubt!
We start to fear the goals we had.
We start to feel so bad and sad.
There come to play more pits and holes.
We can surmount by such big goals.
The joy we feel when we succeed,
Is hard to tell or share indeed.
So, hitch your wagon to a star!
Success is sweet and not so far.
– Omar Jabak
25. What Constitutes Success
He has achieved success who has lived well,
laughed often and loved much;
who has gained the respect of intelligent men
and the love of little children;
who has filled his niche and accomplished his task;
who has left the world better than he found it,
whether by an improved poppy, a perfect poem, or a rescued soul;
who has never lacked appreciation of earth's beauty
or failed to express it;
who has always looked for the best in others
and given them the best he had;
whose life was an inspiration;
whose memory a benediction.
– Bessie Stanley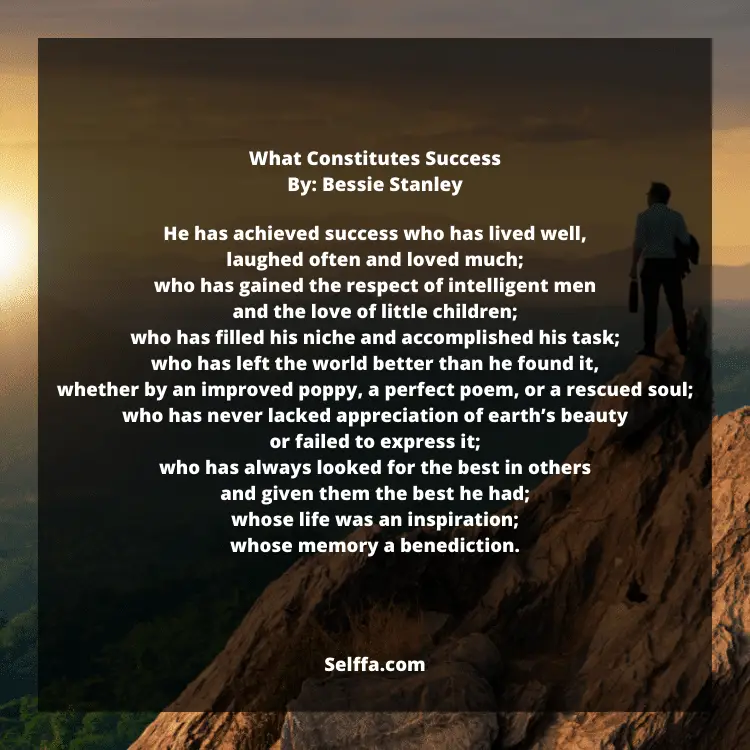 26. Success
Success knows no diminution,
For failure hovers so near,
That with trace of slight dilution,
Success must cease to appear.
We look in vain for a substitute
To take the place of success;
A proxy saps its vital cords,
It dies of paralysis.
Nothing can take the place of success,
Its measure must be complete,
If slightest imperfection is found
It suffers a deadly defeat.
The marge that divides sturdy success
From failure grim and gaunt,
Is invisible space, but separates
Abundance from woe and want.
Like pack of wolves on army's trail,
Fell failure lives on distress,
Devouring with greed th' foul refuse
That falls from th' hands of success.
Success and failure closely abide–
Success has a palace fine,
While failure dwells in a dreary hut,
Like a herding place for swine.
Success may not always achieve
The object it has in view,
But lives while its motives and acts
Are earnest, noble, and true.
True failure can only be found
In a being devoid of heart,
Whose efforts and deeds are all dead,
Or act but a sluggard's part.
Success has a heart that can sing,
A hand and a spirit to try,
A word that is fraught with good cheer,
A soul that illumines the eye.
Failure is cheerless, sullen, and glum,
His hand hanging idly by,
His voice is an echo of woe,
His face distorted, awry.
– Jared Barhite
27. Reach as high as you want to reach in life
Reach as high as you can reach
Grow taller in life as you can
Dream as wisdom shall take you high
And you will reach that sky
Success is a way where you would know
A thing to just flaunt and show
Success is something that takes the stride
Of your will and every while
In the end you will just smile
As success is sweet every while!
28. Often you will see yourself
Often you will see yourself fall
Often the path may be tough to you
Often you will cry while reaching your way
Often you will lose your only say
But, once you reach your destination in life
Forget about all your strive
Coz success is as sweet as you can see
Where you will find your happiness and glee
So sweet is the success for you
Found by only the few!
29. Success
Success is a light upon the farther shore,
That shines in dazzling splendor to the eye,
The waters leap, the surging billows roar,
And he who seeks the prize must leap and try.
A mighty host stand trembling on the brink,
With anxious eyes they yearn to reach the goal.
I see them, leap, and, ah! I see them sink-
As gazing on, dread horror fills my soul!
Yet to despair I can but droop and die,
'Tis better far to try the lashing deep.
I much prefer beneath the surge to lie,
Than dearth to find me on this bank asleep.
– James Ephraim McGirt