The world would be incomplete without beauty. And each of us sees it through our unique perspective. Regardless, we can't help but be in awe of the beautiful things that exist. So to further express our appreciation for beauty, here are 27 beauty poems.
Beauty Poems
1. She Walks in Beauty
She walks in beauty, like the night
Of cloudless climes and starry skies;
And all that's best of dark and bright
Meet in her aspect and her eyes;
Thus mellowed to that tender light
Which heaven to gaudy day denies.
One shade the more, one ray the less,
Had half impaired the nameless grace
Which waves in every raven tress,
Or softly lightens o'er her face;
Where thoughts serenely sweet express,
How pure, how dear their dwelling-place.
And on that cheek, and o'er that brow,
So soft, so calm, yet eloquent,
The smiles that win, the tints that glow,
But tell of days in goodness spent,
A mind at peace with all below,
A heart whose love is innocent.
– Lord Byron
2. Pied Beauty
Glory be to God for dappled things –
For skies of couple-colour as a brinded cow;
For rose-moles all in stipple upon trout that swim;
Fresh-firecoal chestnut-falls; finches' wings;
Landscape plotted and pieced – fold, fallow, and plough;
And all trades, their gear and tackle and trim.
All things counter, original, spare, strange;
Whatever is fickle, freckled (who knows how?)
With swift, slow; sweet, sour; adazzle, dim;
He fathers-forth whose beauty is past change:
Praise him.
– Gerard Manley Hopkins
3. Seeking Beauty
Cold winds can never freeze, nor thunder sour
The cup of cheer that Beauty draws for me
Out of those Azure heavens and this green earth —
I drink and drink, and thirst the more I see.
To see the dewdrops thrill the blades of grass,
Makes my whole body shake; for here's my choice
Of either sun or shade, and both are green —
A Chaffinch laughs in his melodious voice.
The banks are stormed by Speedwell, that blue flower
So like a little heaven with one star out;
I see an amber lake of buttercups,
And Hawthorn foams the hedges round about.
The old Oak tree looks now so green and young,
That even swallows perch awhile and sing:
This is that time of year, so sweet and warm,
When bats wait not for stars ere they take wing.
As long as I love Beauty I am young,
Am young or old as I love more or less;
When Beauty is not heeded or seems stale,
My life's a cheat, let Death end my distress.
– William Henry Davies
4. Pure Beauty
Beauty is pure.
The idea is to be pure, too,
to see it through.
Life is short, is on the move,
never does the truth grow old.
Destination du jour is one not two.
Either end up with a thorn or a rose.
Read a heart, find the truth beforehand,
when two folks both tend to hide.
It's worth looking closely, maybe
one is hiding one's true self,
one is a pearl keeping inside the shell!
– Shofi Ahmed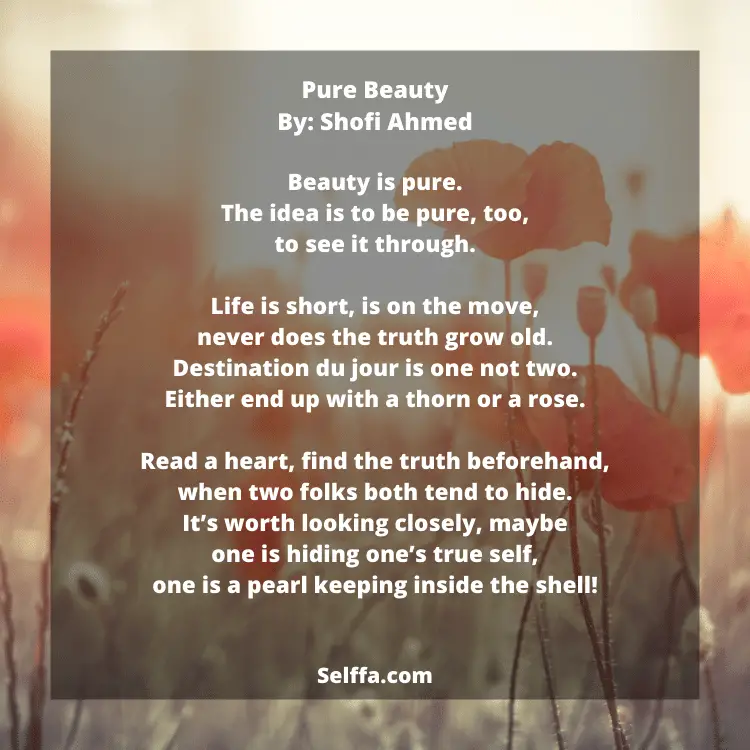 5. Beauty
I HAVE seen dawn and sunset on moors and windy hills
Coming in solemn beauty like slow old tunes of Spain:
I have seen the lady April bringing the daffodils,
Bringing the springing grass and the soft warm April rain.
I have heard the song of the blossoms and the old chant of the sea,
And seen strange lands from under the arched white sails of ships;
But the loveliest thing of beauty God ever has shown to me,
Are her voice, and her hair, and eyes, and the dear red curve of her lips.
– John Masefield
6. A Vision of Beauty
WHERE we sat at dawn together, while the star-rich heavens shifted,
We were weaving dreams in silence, suddenly the veil was lifted.
By a hand of fire awakened, in a moment caught and led
Upward to the heaven of heavens—through the star-mists overhead
Flare and flaunt the monstrous highlands; on the sapphire coast of night
Fall the ghostly froth and fringes of the ocean of the light.
Many coloured shine the vapours: to the moon-eye far away
'Tis the fairy ring of twilight, mid the spheres of night and day,
Girdling with a rainbow cincture round the planet where we go,
We and it together fleeting, poised upon the pearly glow;
We and it and all together flashing through the starry spaces
In a tempest dream of beauty lighting up the face of faces.
Half our eyes behold the glory; half within the spirit's glow
Echoes of the noiseless revels and the will of Beauty go.
By a hand of fire uplifted—to her star-strewn palace brought,
To the mystic heart of beauty and the secret of her thought:
Here of yore the ancient Mother in the fire mists sank to rest,
And she built her dreams about her, rayed from out her burning breast:
Here the wild will woke within her lighting up her flying dreams,
Round and round the planets whirling break in woods and flowers and streams,
And the winds are shaken from them as the leaves from off the rose,
And the feet of earth go dancing in the way that beauty goes,
And the souls of earth are kindled by the incense of her breath
As her light alternate lures them through the gates of birth and death.
O'er the fields of space together following her flying traces,
In a radiant tumult thronging, suns and stars and myriad races
Mount the spirit spires of beauty, reaching onward to the day
When the Shepherd of the Ages draws his misty hordes away
Through the glimmering deeps to silence, and within the awful fold
Life and joy and love forever vanish as a tale is told,
Lost within the Mother's being. So the vision flamed and fled,
And before the glory fallen every other dream lay dead.
– George William Russell
7. Simple Beauty
Starflower
little flower
elegant in your simplicity
delicate stamens
bright yellow anthers
star of the northwind
growing through the leaf litter
with the mayflowers,
lady slippers, the vole
the chipmunk, the fallen trees
the wild creatures of the wood
simple beauty of the forest
look down, pause,
and wonder
– Raymond A. Foss
8. My Idea Of Beauty
Beauty is the sensation of your heart skipping a beat,
when eyes full of mischief glance at you…
Beauty is the smile which appears on your lips,
when you think of the way he smiles at you…
Beauty is in the heart which touches another
Beauty is tender hands holding each other
Beauty is strong arms holding you warm
Beauty is in water, beauty is in weather,
beauty is in air, beauty is in life
Beauty is in love, beauty is in wind…
Beauty surrounds you days and nights
yet no one knows beauty's heights…
– Nitya Pillai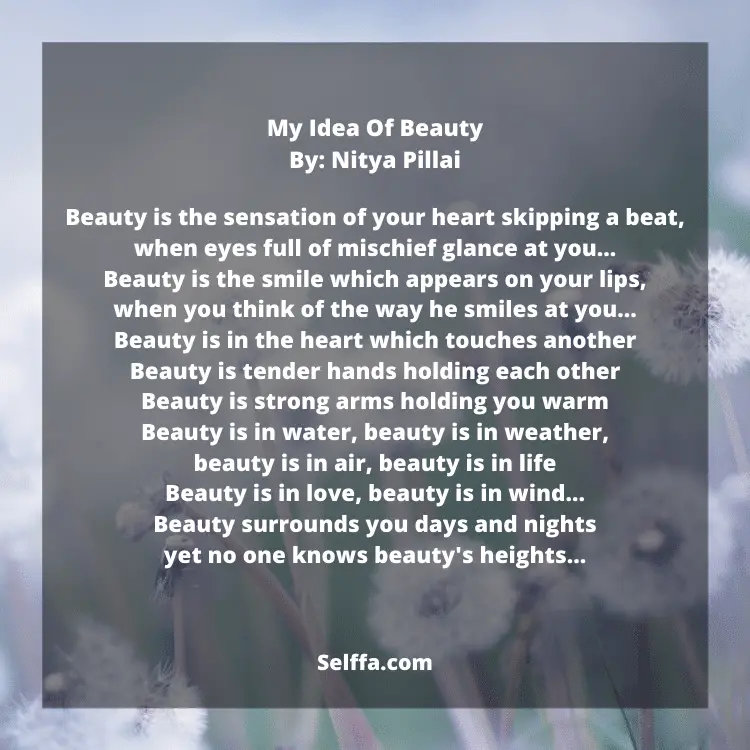 9. A Thing of Beauty (Endymion)
A thing of beauty is a joy for ever:
Its lovliness increases; it will never
Pass into nothingness; but still will keep
A bower quiet for us, and a sleep
Full of sweet dreams, and health, and quiet breathing.
Therefore, on every morrow, are we wreathing
A flowery band to bind us to the earth,
Spite of despondence, of the inhuman dearth
Of noble natures, of the gloomy days,
Of all the unhealthy and o'er-darkn'd ways
Made for our searching: yes, in spite of all,
Some shape of beauty moves away the pall
From our dark spirits. Such the sun, the moon,
Trees old and young, sprouting a shady boon
For simple sheep; and such are daffodils
With the green world they live in; and clear rills
That for themselves a cooling covert make
'Gainst the hot season; the mid-forest brake,
Rich with a sprinkling of fair musk-rose blooms:
And such too is the grandeur of the dooms
We have imagined for the mighty dead;
An endless fountain of immortal drink,
Pouring unto us from the heaven's brink.
– John Keats
10. Soul's Beauty
Under the arch of Life, where love and death,
Terror and mystery, guard her shrine, I saw
Beauty enthroned; and though her gaze struck awe,
I drew it in as simply as my breath.
Hers are the eyes which, over and beneath,
The sky and sea bend on thee,?which can draw,
By sea or sky or woman, to one law,
The allotted bondman of her palm and wreath.
This is that Lady Beauty, in whose praise
Thy voice and hand shake still,?long known to thee
By flying hair and fluttering hem,?the beat
Following her daily of thy heart and feet,
How passionately and irretrievably,
In what fond flight, how many ways and days!
– Dante Gabriel Rossetti
11. The Frailty and Hurtfulness of Beauty
Brittle beauty, that nature made so frail,
Whereof the gift is small, and short the season;
Flow'ring today, tomorrow apt to fail,
Tickle treasure, abhorrèd of reason;
Dangerous to deal with, vain, of none avail,
Costly in keeping, past not worth two peason;
Slipper in sliding, as is an eelës tail,
Hard to obtain, once gotten, not geason;
Jewel of jeopardy that peril doth assail,
False and untrue, enticèd oft to treason,
Enemy to youth; that most may I bewail.
Ah, bitter sweet, infecting as the poison,
Thou farest as fruit that with the frost is taken,
Today ready ripe, tomorrow all to-shaken.
– Henry Howard
12. Beauty Imposes
Beauty imposes reverence in the Spring,
Grave as the urge within the honeybuds,
It wounds us as we sing.
Beauty is joy that stays not overlong.
Clad in the magic of sincerities,
It rides up in a song.
Beauty imposes chastenings on the heart,
Grave as the birds in last solemnities
Assembling to depart.
– John Shaw Neilson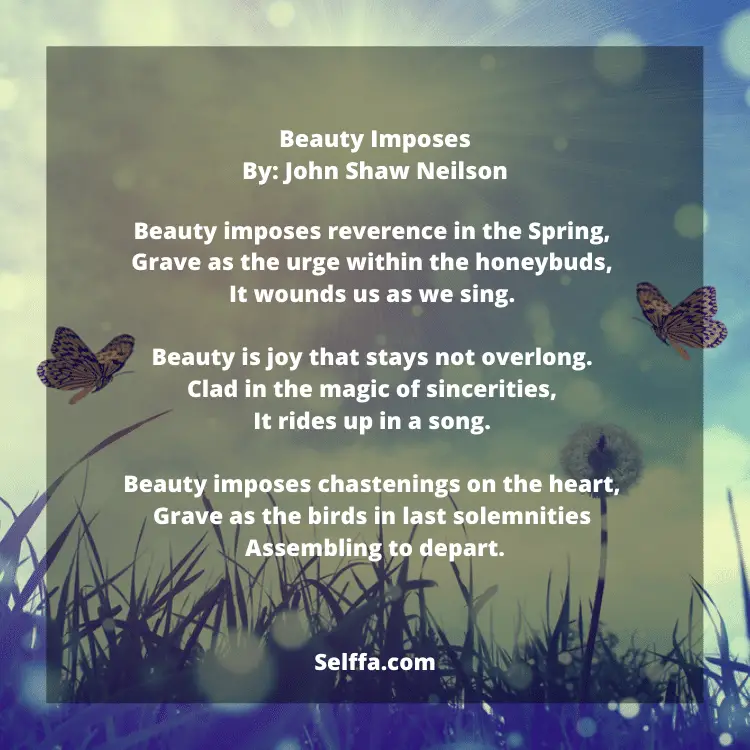 13. Clothed In Beauty
As if chiseled, a fruit-laden branch
Hangs in my garden, asleep – so low…
The trees sleep – and dream? – in moonlight;
And the mystery of their life is near, near…
Even if we cannot grasp it,
The mute language is still intelligible:
They use our beauty to express
How we are one amidst rays and spots of light.
And the tremor of any life's creation
Reveals itself in a lovely form;
And the variance of different things is sweetened
By shared beauty. Multiply it!
And the world will be like this unstirring garden,
Where everything heeds a harmonious silence:
Both stem and flower yield to the dear Earth;
Both flower and stem listen to the Moon.
– Vyacheslav Ivanovich Ivanov
14. Can Beauty Remain Beauty?
Can beauty remain beauty without light?
No beauty survives without light in sight
To endure the pangs sharp of age in flight,
For fair with folly dead plunges at night.
When beauty blooms into beauty divine,
Showered with wisdom married to light to shine,
To border of no ending on the line,
Lifted is beauty's life onto cloud nine.
Life valued more in thought than gold man eyes,
Beats thrones, castles held in esteem that dies.
Vessels with covetousness, wrath, spite, lust, pride,
Greed, sloth do sink into oblivion wide.
Life is nature, who stores light in sublime.
Such beauty saved as truth lives on with time.
– Obinna Kenechukwu Eruchie
15. Real Beauty
Some say beauty is only skin deep, and to some this may apply.
Outward appearance is not real beauty, I'll tell you the reason why.
For true beauty lies within the soul, and comes from the heart.
It comes not from what can be seen of us, but what we may impart.
True beauty is not how we may adorn ourselves, others to impress.
The true beauty of each of us, lies deep within our breast.
If we let Jesus Christ dwell in our heart, and evermore abound.
Peace, Love, and beauty that comes from the Lord, will everywhere be found.
– H. Fitzgerald Durbin
16. The Unfading Beauty
HE that loves a rosy cheek,
Or a coral lip admires,
Or from star-like eyes doth seek
Fuel to maintain his fires:
As old Time makes these decay,
So his flames must waste away.
But a smooth and steadfast mind,
Gentle thoughts and calm desires,
Hearts with equal love combined,
Kindle never-dying fires.
Where these are not, I despise
Lovely cheeks or lips or eyes.
– Thomas Carew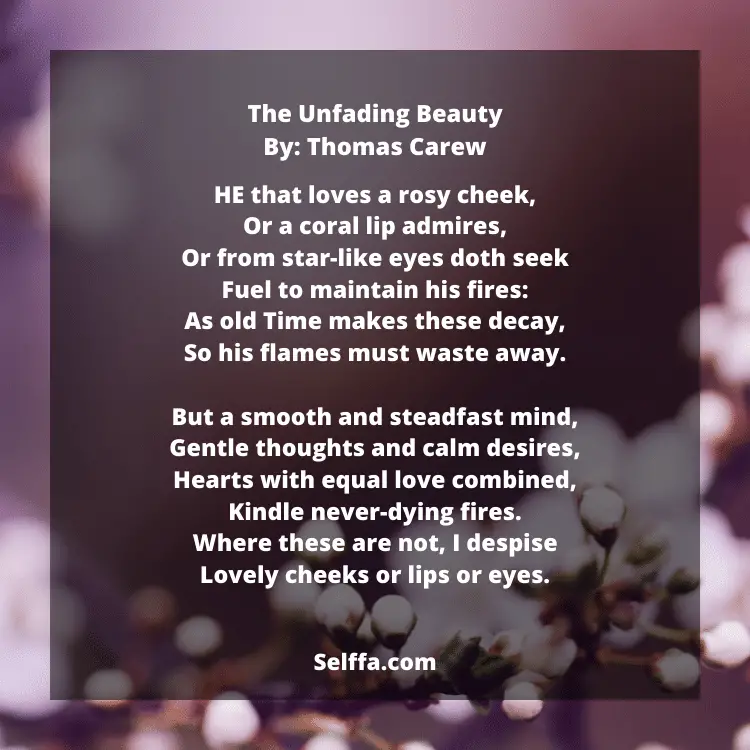 17. I Have Seen Beauty
I HAVE seen beauty where the hills of spring
Lifted against the morning's flooding gold,
Enrobed as with divine appareling,
Haloed and aureoled.
I have seen beauty where the summer slopes
In rose and flaming poppy dipped away
To valleys hung with sunset, like rich hopes,
At the decline of day.
I have seen beauty where the autumn woods
Spread their resplendent arras to the breeze,
Wherefrom the sense gained new beatitudes,
And undreamed harmonies.
I have seen beauty where the winter skies
Pulsed with the pale auroras from the pole,
Above wide fields that to the wondering eyes
Were like a stainless scroll.
I have seen beauty in the gloom and glow,
Upon the earth, in the engirdling air,
Till deep within my heart of hearts I know
Beauty dwells everywhere.
– Clinton Scollard
18. Beauty Is Upon You
Beauty is upon you like the rose without a thorn.
Beauty is upon you like the dew on grass each morn.
Beauty is upon you like the sapphire shining sea.
Beauty is upon you like the apple on the tree.
Beauty is upon you like the sunshine on the Earth.
Beauty is upon you like the day God granted birth.
Beauty is upon you like the wings on butterflies.
Beauty is upon you like the grace that God supplies.
Beauty is upon you like the diamond wedding ring.
Beauty is upon you like the season known as Spring.
Beauty is upon you like the little lambs that play.
Beauty is upon you like the snow on Christmas Day.
Beauty is upon you like the rainbows up above.
Beauty is upon you like the sentimental dove.
Beauty is upon you like the young bird new to flight.
Beauty is upon you like the shooting stars each night.
Beauty is upon you like the dolphins as they leap.
Beauty is upon you like the peace that comes with sleep.
Beauty is upon you like ten thousand whispering sighs.
Beauty is upon you like true love that never dies…
Beauty is upon you like true love that never dies…
Beauty is upon you like true love that never dies…
– Denis Martindale
19. Beauty Is Ever to the Lonely Mind
Beauty is ever to the lonely mind
A shadow fleeting; she is never plain.
She is a visitor who leaves behind
The gift of grief, the souvenir of pain.
Yes, if a trace of loveliness remain,
It is to memory alone addressed;
That spirit looks for beauty but in vain
Which is not by an inner beauty blessed.
And, as the ebbing ocean on the beach
Leaves but a trace of evanescent foam,
So beauty passes ever out of reach,
Save to the heart where happiness is home.
There beauty walks, wherever it may be,
And paints the sunset on the quiet sea.
– Robert Nathan
20. Beauty
Beauty is in the eyes of the beholder
Beauty is in all things.
Beauty is in the sky.
Beauty is in the water ever so blue.
Beauty is the winter when trees are covered with snow.
Beauty is the summer when you smell and see the flowers grow.
Beauty is all things big and little.
Beauty is in all things,
Black and white.
Beauty is in all things, you and me.
Beauty is all around us…can't you see?
– Edwina Matthews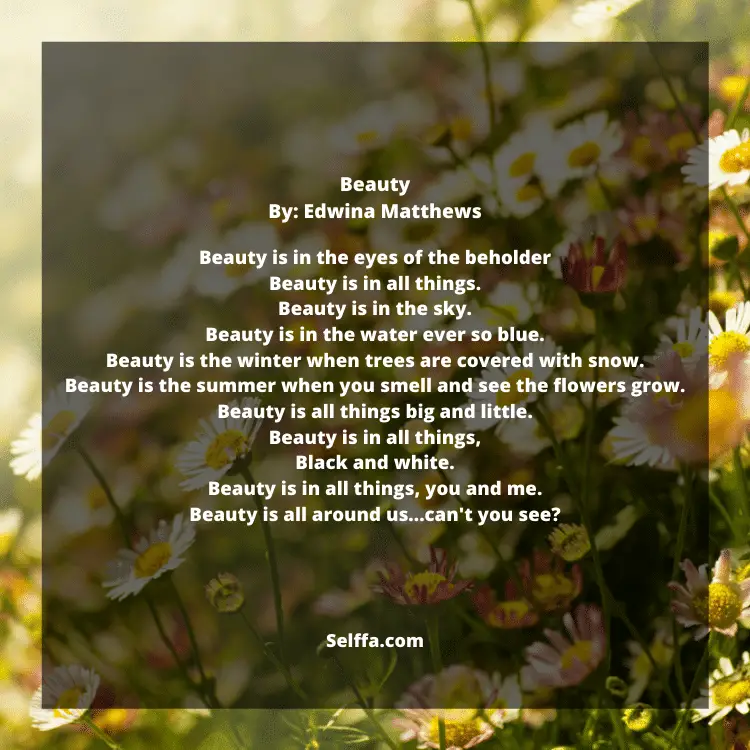 21. There is Beauty
There is beauty o'er all this delectable world,
Which wakes at the first golden touch of the light;
There is beauty when Morn hath her banner unfurled,
Or stars twinkle out from the depths of the Night;
There is beauty on Ocean's vast, verdureless plains,
Though lashed into fury, or lulled into calm;
There is beauty on Land, and its countless domains—
Its corn-fields of plenty—its meadows of balm:—
Oh, God of Creation! these sights are of Thee!
Thou surely hast made them for none but the free!
There is music when Summer is with us on earth,
Sent forth from the valley, the mountain, the sky:
There is music where fountains and rivers have birth,
Or leaves whisper soft as the wind passeth by;
There is music in voices that gladden our homes,
In the lay of the mother—the laugh of the child;
There is music wherever the wanderer roams,
In city or solitude, garden, or wild:—
Oh, God of Creation! these sounds are of Thee!
Thou surely hast made them for none but the free!
– John Critchley Prince
22. Such, O Beauty!
Such , O Beauty! the amorous strains
Sung in thy praises in happier hours;
Then the free spirit rejoiced in chains,
But only because they were framed of flowers;
When they grew strong, with flight of years,
To fetter the heart of the youthful rover,
The spirit felt troubled with many fears,
And the time for laughing in chains was over.
Beauty, yes!
The spirit felt troubled with many fears,
And the time for laughing in chains was over.
And yet, O Beauty! thy chains, though breaking,
And sterner grown in the strifes of men,
A look, or a lay of thine will waken
A rapture such as they kindled then;
And sad, in its very freedom sighing,
The spirit will turn for thy smile and say,
Ah! better far in her bondage lying,
Than cheerlessly thus waste life away;
Beauty, yes!
Better far in thy bondage lying,
Than cheerlessly thus waste life away.
– William Gilmore Simms
23. Beauty as a Shield
I WILL HOLD BEAUTY as a shield against despair.
When my heart faints I will remember sights like these:
Bronze cypresses that framed a sapphire sea,
A desert mesa wrapped in sunset flame,
An airplane that raced the Overland
Above a trail still marked with whitening bones;
A path through a dim forest, hushed and sweet,
Lit by one amber beam that fell aslant;
Foam, silver-laced, along a curving wave;
Sprawled golden hills, with shadows like spilled wine;
Tall office buildings rearing through the night
Sheer walls of alabaster pierced with gold—
And snowflakes falling on a lonely pine.
I will hold beauty as a shield against despair.
When my heart faints I will remember sights like these:
The dawning wonder in a baby's face,
The kindness in a weary wanton's smile,
The gallant challenge of a cripple's grin,
Seeing forever bodies that are straight;
The fighting courage in a mother's eyes
When she waits, braced, to meet birth's gripping pains;
The shy adoring of a boy's first love,
The eager beauty of his first crusade
Against some wrong which he alone can right—
The tolerance that sometimes comes with age.
When my heart faints I will remember sights like these,
Holding their beauty as a shield against despair:
For if I can see glory such as this
With my dim eyes, my undeveloped brain,
And if from other darkened, selfish lives
Such flashes of brave loveliness can come,
Then surely there is something more than this
Sad maze of pain, bewilderment and fear—
And if there's something, I can still hope on.
– Elsie Robinson
24. Classic Beauty
Through timeless ages immemorial
Thy radiant beauty hath shone like the sun.
In poet's books and art's pictorials
In musicals enjoyed by everyone,
Thy "face that launched a thousand ships," reborn.
The goddess Aphrodite Queen of love
A beauty to whom gallant knights had sworn,
Angelic Mercy from the heav'ns above
From legendary sagas o'er the land
Thy graceful elegance and beauteous charm
Enchanting song enslaves the hearts of man
Unspoken promise that their nights you'll warm.
A vision from ethereal worlds of dreams
An inspiration – Classic Beauty seems.
– Jason Silverthorne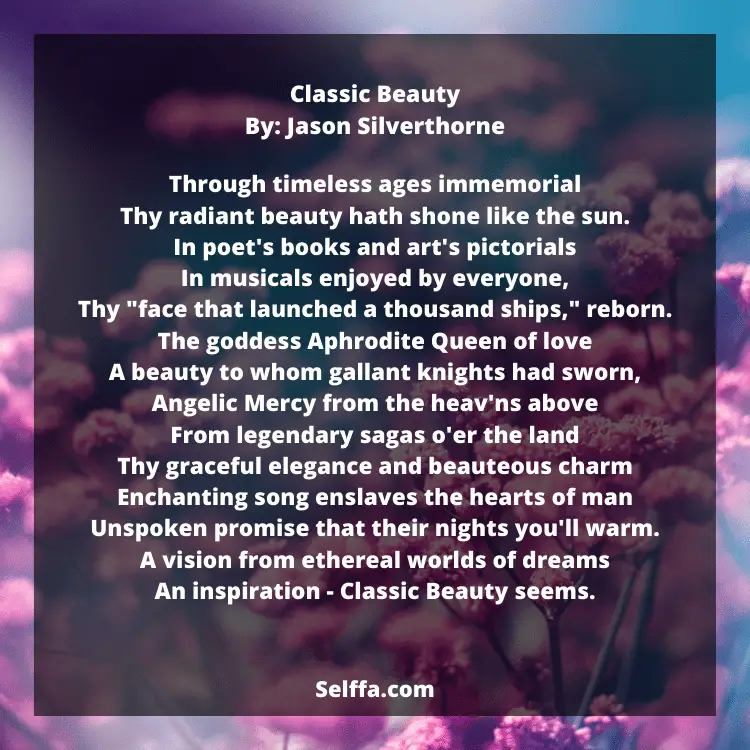 25. Beauty in Diversity
We were born in different shapes, colors, and size
Not a single embryo was able to decide their DNA or blood type
But that shouldn't make us less humans than the others
It's the diversity that makes us exquisite and beautiful
Break down the stereotype that beauty is fair skin,
that beauty is a skinny and blonde-haired lady
that beauty is wearing clothes with branded labels
that beauty is applying tons of foundation and mascara
Who are we to determine the standard of beauty, anyway?
While each of us is God's creativity,
authentically made by His hands
Who are we to judge God's taste in art, anyway?
While each of us is uniquely magnificent,
as His creations are never less than a masterpiece
Keep in mind that the real beauty lies within ourselves,
beneath our skin, between our thoughts, and inside our soul
– D Awanis
26. Beauty and Beauty
When Beauty and Beauty meet
All naked, fair to fair,
The earth is crying-sweet,
And scattering-bright the air,
Eddying, dizzying, closing round,
With soft and drunken laughter;
Veiling all that may befall
After — after —
Where Beauty and Beauty met,
Earth's still a-tremble there,
And winds are scented yet,
And memory-soft the air,
Bosoming, folding glints of light,
And shreds of shadowy laughter;
Not the tears that fill the years
After — after —
– Rupert Brooke
27. True Beauty
I don't think that they will ever fully understand how special you are.
In the darkest night you stand out like the brightest star
You are beauty described, joy defined:
You are sweet, cheerful, friendly, and kind.
I don't think that they could ever see all the beauty that is found in your eyes
They have this wondrous glow, even brighter than a perfect sunrise.
And they could never hear all the cheerfulness that is found in your laughter, know the true nature of your smile…
You, my dear, possess the kind of beauty that makes hearts stop for a while.
I don't think that they will ever know someone as lovely as you.
When you're around the sky is always splendidly blue
I believe you are the most wonderful person that they will ever meet
You are simply perfect: from your head, all the way down to your feet
– The Alchemist