Starting your Monday right is the secret to having the most awesome week. If you start your week with enthusiasm and positivity, you'll carry that vibe all throughout the week and sometimes that's all we really need. At the end of the week, you'll look back highly satisfied with what you have accomplished and you'll be looking forward to the coming days. If you need an added dose of Monday motivation, check out these Monday motivational quotes we've collected just for you.
Monday Motivational Quotes
1. You'll find that implementing small changes can have a significant impact on your life. Remember, little hinges swing on big doors. – S. J. Scott
2. As we start each day, it is up to each of us to choose joy and happiness to encompass our entire day. – Kathy Henn
3. May you be blessed by having beloved friends to walk alongside you on the road. – Joanne Kaattari
4. New beginnings are available to all of us over fifty times a year; they are called Mondays. – Byron Pulsifer
5. If you have the right mindset, you can be just as happy on Monday as you are on Friday. – Joel Osteen,
6. Think about others and your own problem appears insignificant; think only of oneself and even a small problem appears unbearable. – Dalai Lama
7. You master Monday. You start winning the day. You start winning the week. Then the month. Then the year. – Eric Thomas
8. Your past can ruin your future if you allow it. – Yoda
9. Life can seem short or life can seem long, depending on how you live it. – Paulo Coelho
10. Be nice to everyone, even though you don't want to and you may not like certain people. Be kind, friendly, and respectful even if people are not nice to you. – Elllen DeGeneres,
11. Never wait for tomorrow, what if tomorrow never comes? – Elvis Presley
12. Monday is the day to unleash the stamina built up after a relaxing weekend. – Byron Pulsifer
13. Whether you come from a council estate or a country estate, your success will be determined by your own confidence and fortitude. – Michelle Obama
14. A failure in planning is a plan for failure. – Star Wars Quote
15. I love Mondays. It is a new opportunity to embrace my colleagues with enthusiasm to move forward together. – Byron Pulsifer
16. The challenge of every Monday is to maintain the same vitality in each and every day of the week. – Byron Pulsifer
17. Every day is different, and some days are better than others, but no matter how challenging the day, I get up and live it. – Muhammad Ali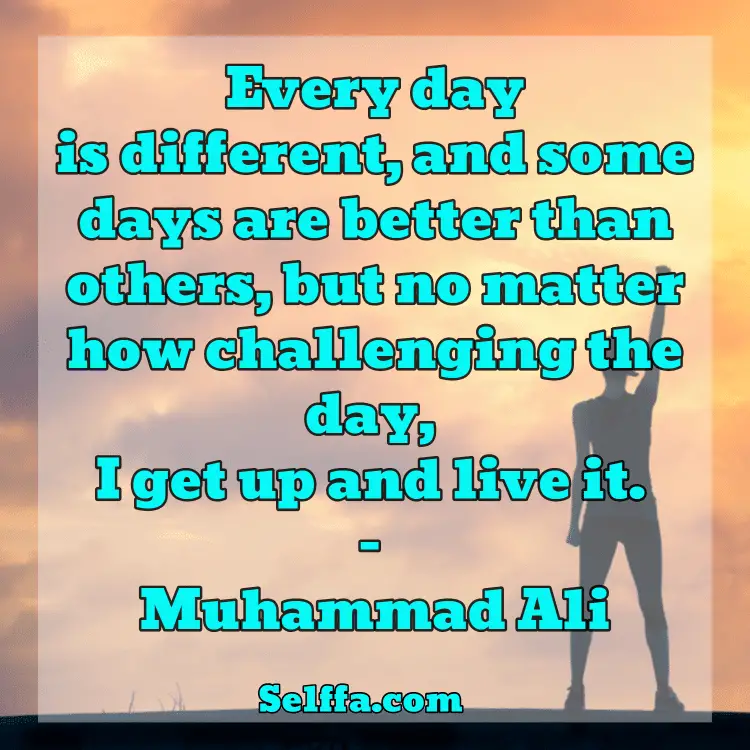 18. You miss 100% of the shots you don't take. – Wayne Gretzky
19. I have decided to cast my vote for any political candidate whose platform adds Monday to the weekend. – Byron Pulsifer
20. Maybe it's good to keep a record of what I accomplished on Monday and use its successes as my launching pad for the rest of the week. – Byron Pulsifer
21. What starts on Monday should carry through to Friday; that is, enthusiasm. – Byron Pulsifer
22. You can always tell who the most satisfied employees are because they are the very people who express joy and expectation on Monday mornings. – Byron Pulsifer
23. Turn each Monday into the same attitude of the day before leaving on vacation and you have the recipe for phenomenal productivity. – Byron Pulsifer
24. Monday is a clean slate day. A day to start afresh with the vigor, optimism, and enthusiasm transferred from a weekend of battery charging. – Byron Pulsifer
25. There is always a miracle at the dawn of Monday. I'm alive. – Byron Pulsifer
26. The ever dominate and persistent strength of a magnet is my personal desire each Monday morning. – Byron Pulsifer
27. Why are goals so important in life? They are the very reason that we are given Mondays in order to move closer to where and what we want to accomplish. – Byron Pulsifer
28. A determination is nothing without the dedication and hard work. – Eshraq Jiad
29. Negative beliefs are the cracks in character that need to be mended if any kind of long-term success is to be achieved. – Scott Allan
30. Famous gymnasts, track stars, and athletes of all types have known, practiced and sang the praises of mental rehearsals for ages. – Sandra Bell
31. Mediocre outputs may mean downfall to the business since the customers always want the best products and services. – Philip Vang
32. Being brutally honest with yourself is the best gift you can give yourself. It lets you find things out about yourself you never knew, and things you may discover make you feel good about who you are as a person. Always take time out to look inward. – Christopher Epstein
33. Steve Jobs once said this to the graduating class of Stanford during his speech, "for the past 33 years I have looked in the mirror every morning and asked myself: If today were the last day of my life, would I want to do what I am about to do today?' And whenever the answer has been 'No' for too many days in a row, I know I need to change something. – Sandeep Sharma
34. Whatever you do, never stop learning. Creativity, knowledge, and productivity are bound together. – Richard Carroll
35. If you are an influencer, even on the smallest of scales, you are a leader and I would encourage you to value your role and use it to bless those who look to you for leadership. – John Stange
36. See yourself as being successful with every interaction that you will participate in, as it will give you the courage to push through with it. Never visualize failure. – Mia Conrad
37. The minds of successful people are well organized and have the ability to focus. If you want to make the most out of your life, developing this kind of mind is essential. – John Morgan
38. You never know where a positive attitude will take you when it comes to working with people. – Matthew Oleniuk
39. The future depends on what you do today. – Mahatma Gandhi
40. Either you run the day or the day runs you. – Jim Rohn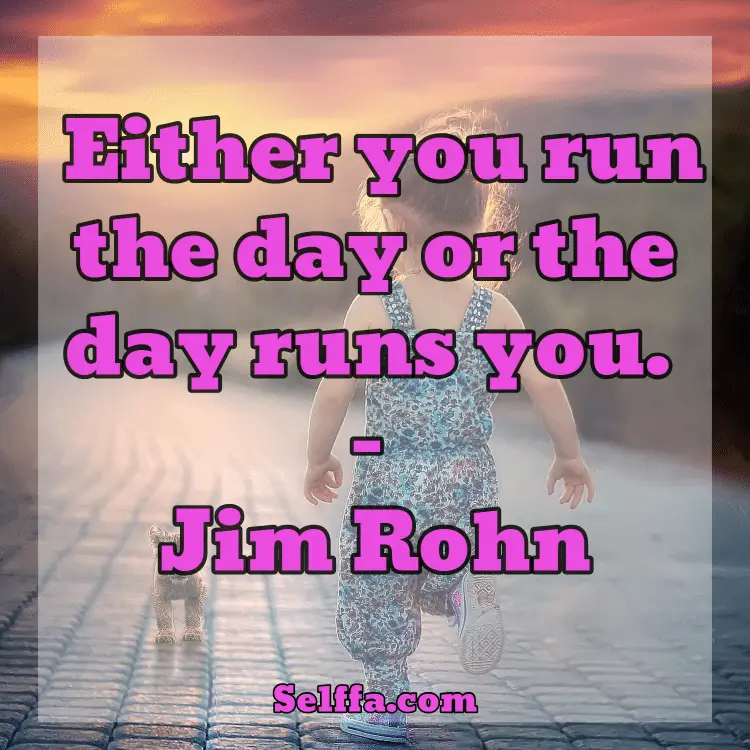 41. People often say that motivation doesn't last.  Well, neither does bathing. That's why we recommend it daily. – Zig Ziglar
42. Don't wait on perfect conditions for success to happen; just go ahead and do something. –Dan Miller
43. People will forget what you said. People will forget what you did, but they will never forget how you made them feel. – Maya Angelou
44. Complaining about a problem without posing a solution is called whining. – Teddy Roosevelt
45. If you can dream it, you can do it. – Walt Disney
46. New beginnings are often disguised as painful endings. – Lao Tzu
47. Nothing can be done without hope and confidence. – Helen Keller
48. What seems to us as bitter trials are often blessings in disguise. – Oscar Wilde
49. You're 100% responsible for your life. Stop whining and do something about it. – Mathieu Fortin
50. Be so good they can't ignore you. – Steve Martin
51. When you talk, you are only repeating what you already know. But if you listen, you may learn something new. – –Dalai Lama
52. Hope is brightest when it dawns from fears. – Walter Scott
53. To be yourself in a world that is constantly trying to make you something else is the greatest accomplishment. – Ralph Waldo Emerson
54. Your best days are still out in front of you. – Joel Osteen
55. Life offers you so many doors, it is up to you which to open and which one to close.
56. The tragedy in life doesn't lie in not reaching your goal. The tragedy lies in having no goal to reach. – Benjamin Mays
57. The man who has confidence in himself gains the confidence of others. – Hasidic Proverb
58. I've missed more than 9000 shots in my career. I've lost almost 300 games. 26 times I've been trusted to take the game winning shot and missed. I've failed over and over and over again in my life. And that is why I succeed. – Michael Jordan
59. Life offers so many great choices, all you have to do is to see them.
60. Strive not to be a success, but rather to be of value. – Albert Einstein
61. Everything you want is on the other side of fear. – Jack Canfield
62. If not us, who? If not now, when? – John F. Kennedy
63. The first step toward success is taken when you refuse to be a captive of the environment in which you first find yourself. – Mark Caine
64. Excellence is an art won by training and habituation. We do not act rightly because we have virtue or excellence, but we rather have those because we have acted rightly. We are what we repeatedly do. Excellence, then, is not an act but a habit. – Aristotle
65. The only way to do great work is to love what you do. – Steve Jobs
66. You can't use up creativity. The more you use, the more you have. – Maya Angelou
67. If you're offered a seat on a rocket ship, don't ask what seat. Just get on. –  Sheryl Sandberg
68. If opportunity doesn't knock, build a door. – Milton Berle
69. The more you talk about negative things in your life, the more you call them in. Speak victory not defeat. – Joel Osteen
70. I have learned over the years that when one's mind is made up, this diminishes fear. – Rosa Parks
71. The question isn't who is going to let me; it's who is going to stop me. – Ayn Rand
72. Do not go where the path may lead, go instead where there is no path and leave a trail. – Ralph Waldo Emerson
73. Work to become, not to acquire. – Elbert Hubbard
74. The future depends on what you do today. – Mahatma Gandhi
75. Every day we have plenty of opportunities to get angry, stressed or offended. But what you're doing when you indulge these negative emotions is giving something outside yourself power over your happiness. You can choose to not let little things upset you. – Joel Osteen
76. Opportunities don't happen, you create them. – Chris Grosser
77. As long as you're going to be thinking anyway, think big. – Donald Trump
78. The road to success is always under construction. – Lily Tomlin
79. Style is knowing who you are, what you want to say, and not giving a damn. – Gore Vidal
80. How wonderful it is that nobody need wait a single moment before starting to improve the world. – Anne Frank
81. Build your own dreams, or someone else will hire you to build theirs. – Farrah Gray
82. Do you want to know who you are? Don't ask. Act. Action will delineate and define you. – Thomas Jefferson
83. The way to get started is to quit talking and begin doing. – Walt Disney
84. Start by doing what is necessary, then what is possible, and suddenly you are doing the impossible. – Francis of Assisi
85. The future belongs to those who believe in the beauty of their dreams. – Eleanor Roosevelt
86. Monday won't be so gloomy if you believe that something good is always bound to happen.
87. Every Monday is a chance to start a new life, so use it.
88. The perfect life is when you have the second half and you are in love with your work, congratulations, you have it all. Happy Monday.
89. Forget about the traffic, stressful work and business meetings today, be happy that the sun is shining and stay positive.
90. If Monday is strong coffee, don't despair and add a few pieces of sugar to make it tasty and sweet.
91. Have a wonderful Monday and make the saying by Dennis P. Kimbro: "Life is 10% what happens to us and 90% how we react to it" your motto.
92. Attack Monday with enthusiasm, laughter, thousands of smiles and cheerfulness.
93. Make Monday the day of your triumph, stay brave, strong, and reach success.
94. Let this Monday be kind to you: be happy with what you have and accept the things which you cannot change.
95. Each Monday is a canvas and only you choose with which colors you'll paint it, you create your own mood.
96. This Monday is the beginning of your happy journey throughout the whole week, so enjoy it.
97. Life offers you so many doors, it is up to you which to open and which one to close. Make the right choice.
98. Start a new week, you are unstoppable, invincible and powerful today.
99. Have a blessed Monday. Remember that it is the first day without mistakes.
100. Your Monday gift is ready, open a box with joy, laughter, and happiness.
101. Let this Monday be the beginning of the week, full of new opportunities, and kept promises.
102. The art of being happy incorporates the ability to see beauty everywhere and to be able to enjoy simple things. Start your Monday with this art.
103. Don't waste your time, Monday is a new opportunity to change your life for the best. Have a nice Monday.
104. Meet a new Monday and remember that happiness is a choice. You are as happy as you decide to be.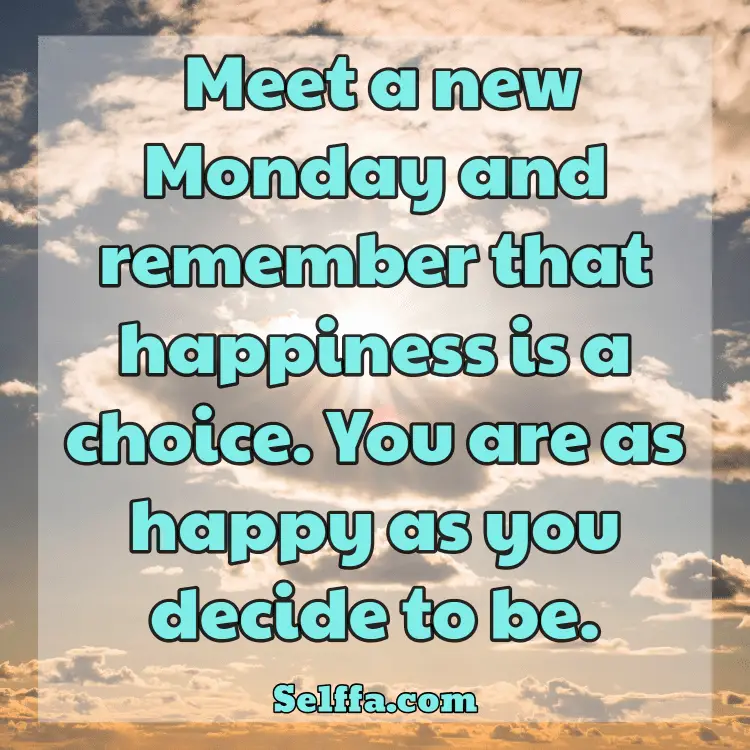 105. It is Monday, so wake up & shine. Let a disarming smile and kindness in your heart will be your armor today.
106. Let your Monday be filled with unbearable happiness and joy. Happy Monday.
107. Keep going to your aim even if it is Monday.
108. Forecast for Monday: 50% of laughter and 50% of joy. Have a wonderful Monday.
109. Life offers so many great choices, all you have to do is to see them.
110. Meet this Monday with positive thoughts and you won't face negative things throughout the week.
111. Feel good vibes today and let them guide you. Have a nice Monday.
112. Monday is a perfect day for the expansion of the boundaries and the implementation of all plans.
113. Keep your heart open for kindness and mercy, remember that God is always with you. Happy Monday.
114. Let the best accomplishments wait for you today. Good morning.
115. Good morning. Meet the first day of the week with a smile and it will respond to you the same in return.
116. Wake up, shine and smile today because it's Monday.
117. Even if today you need a double portion of coffee, use all your energy and imagination to make it a great one. Good morning.
118. Start a new day and don't forget to put a part of your heart in everything you do today. Happy Monday.
119. Mondays are tough only for those people, who don't know how to spend them cheerfully. Get up and have fun today.
120. Today is a gift from God, use it wisely. Good morning.
121. Do what you love and what makes you happy and Monday will become your favorite day. Good morning.
122. Love what you do, forget that you'll meet your boss today and Monday will be kind to you.
123. Meet this Monday with a smile. Work hard and remember that you don't have to impress anybody.
124. Don't think that Monday is another working day, consider it as a chance to show a good result.
125. Every Monday is a gift, so don't be impolite, gifts cannot be returned, so accept it and spend it with pleasure.
126. Monday is the hardest day of the week if you haven't finished your work on Friday, but if you are a hard worker then Monday will be a relaxing day for you.
127. I wish you have a good relationship with your work so that each Monday will be a holiday.
128. Sleep on Monday is the sweetest, but you have to wake up and get back to work. Have a productive week.
129. Don't let anybody mess up your day, handle your business and be successful today. Happy Monday.
130. It's hard to work after the weekend but do your best to make this day stunning. Have a great Monday.
131. Mondays are the start of the work week which offer new beginnings 52 times a year. – David Dweck
132. You've got to get up every morning with determination if you're going to go to bed with satisfaction. – George Lorimer
133. A year from now you may wish you had started today. – Karen Lamb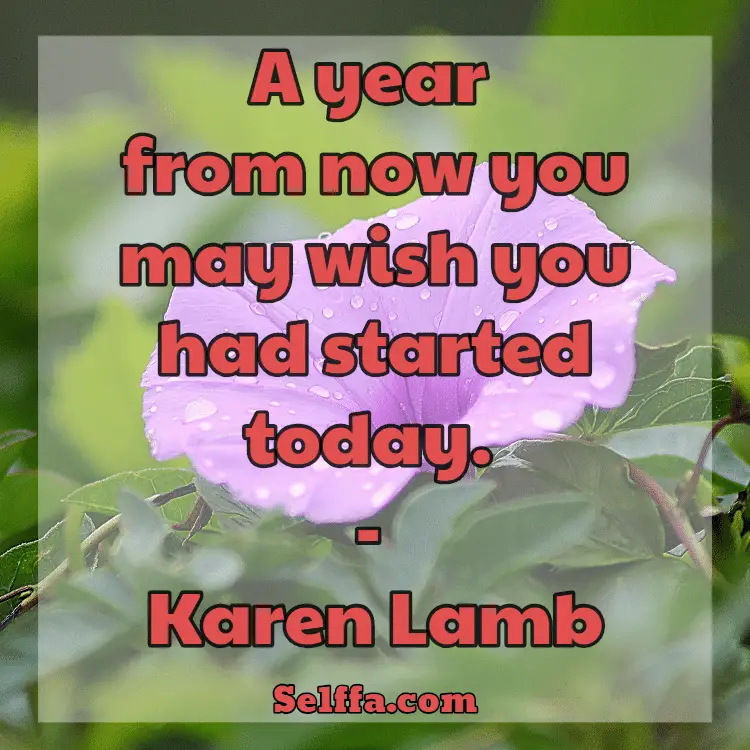 134. People who are crazy enough to think they can change the world, are the ones who do. – Steve Jobs
135. Twenty years from now you will be more disappointed by the things that you didn't do than by the ones you did do. So throw off the bowlines. Sail away from the safe harbor. Catch the trade winds in your sails. Explore. Dream. Discover. – Mark Twain
136. The sun himself is weak when he first rises and gathers strength and courage as the day gets on. – Charles Dickens
137. Old friends pass away, new friends appear. It is just like the days. An old day passes, a new day arrives. The important thing is to make it meaningful: a meaningful friend – or a meaningful day. –  Dalai Lama
138. Every morning you have two choices: continue to sleep with your dreams or wake up & chase them. – Kristin
139. You can become blind by seeing each day as a similar one. Each day is a different one, each day brings a miracle of its own. It's just a matter of paying attention to this miracle. – Paolo Coehlo
140. Your work is going to fill a large part of your life, and the only way to be truly satisfied is to do what you believe is great work. And the only way to do great work is to love what you do. If you haven't found it yet, keep looking. Don't settle. As with all matters of the heart, you'll know when you find it. – Steve Jobs
141. Monday won't be so gloomy if you believe that something good is always bound to happen.
142. This should be the spirit every Monday. Know that something good will always happen. – Gabriel Garcí­a Márquez
143. Good things don't come to those who wait. Good things come to those who pursue the goals and dreams they believe in. Happy Monday. – Venus Rivers
144. Wake up on Monday and start your day with a lot of awesomeness and you will get happiness back. – Jim Butcher
145. Mondays can be a real downer. But think of it this way. Was there anything about last week that you didn't like? Whatever you did not get to do last week, guess what? You have a chance to start over this week and this week starts with Monday. Give yourself a chance to do the things that you did not get to do.
146. Today I choose life. Every morning when I wake up I can choose joy, happiness, negativity, pain… To feel the freedom that comes from being able to continue to make mistakes and choices – today I choose to feel life, not to deny my humanity but embrace it. – Kevyn Aucoin
147. When you arise in the morning, think of what a precious privilege it is to be alive – to breathe, to think, to enjoy, to love – then make that day count. – Steve Maraboli
148. Each morning when I open my eyes I say to myself: I, not events, have the power to make me happy or unhappy today. I can choose which it shall be. Yesterday is dead, tomorrow hasn't arrived yet. I have just one day, today, and I'm going to be happy in it. – Groucho Marx
149. No matter how good or bad you have it, wake up each day thankful for your life. Someone somewhere else is desperately fighting for theirs.
150. Dear Monday, I think you should take a holiday. Trust me, no one will miss you.
151. Monday is a fresh start. It's never too late to dig in and begin a new journey of success.
152. It's Monday. Get a new perspective. Whatever obstacle you're facing, it's not permanent.
153. Monday? It's not bad. Begin this day with a grateful heart and do what you love.
154. There is no secret to success; There is always a system to success. – Deepak Bajaj
155. Opportunity is missed by most people because it's dressed in overalls and looks like work.
156. Think big, believe big, act big, and the results will be big.
157. Respect your goal and what it means to you. After this, go out and find a way to get it.
158. Who you are tomorrow begins with what you do today.
159. Oh, come on. It's Monday, not doomsday.
160. I need something that's more than coffee but less than cocaine.
161. Dear Monday, I want to break up. I'm seeing Tuesday and dreaming about Friday. Sincerely, it's not me, it's you
162. It's Monday. I'm Happy. I'm Blessed. God is going to do amazing things this week.
163. When you start to do the things that you truly love, it wouldn't matter whether it is Monday or Friday; you would be so excited to wake up each morning to work on your passions. – Edmond Mbiaka
164. I have to go to work on Mondays and yes everyone hates Mondays. But I look at it a little differently. I don't have to work, I GET to work. I am blessed to have a job while many don't have one. – Dinky Manuel
165. I never understood the glorification of Fridays and weekends. I don't want to build a life and career where I spend five days a week waiting for the weekend. I want to enjoy my life, and don't wish any weekday away. I want each day to matter to me in some way. I love my life. Every day. That's the spirit we should convey all around us. – Akilnathan Logeswaran