Each day is an opportunity to live your life to the fullest, but we so often get sidetracked trying to get through our responsibilities whether at work or at home. It's important to take some time to appreciate the surroundings, take the time to relax, and just focus on what really matters. Here is a list of quotes that will help you enjoy the day ahead and inspire you to take each day positively.
Have A Good Day Quotes
1. Some days are just bad days, that's all. You have to experience sadness to know happiness, and I remind myself that not every day is going to be a good day, that's just the way it is. – Dita Von Teese
2. At the end of the day, if I can say I had fun, it was a good day. – Simone Biles
3. Everyone has highs and lows that they have to learn from, but every morning I start off with a good head on my shoulders, saying to myself, 'It's going to be a good day.' – Lindsay Lohan
4. While you're going through this process of trying to find the satisfaction in your work, pretend you feel satisfied. Tell yourself you had a good day. Walk through the corridors with a smile rather than a scowl. Your positive energy will radiate. If you act like you're having fun, you'll find you are having fun. – Jean Chatzky
5. You have to remember that the hard days are what make you stronger. The bad days make you realize what a good day is. If you never had any bad days, you would never have that sense of accomplishment. – Aly Raisman
6. Anyone can have a good day, but you have to be able to perform on a bad day. – Jurgen Klopp
7. I hope everyone that is reading this is having a really good day. And if you are not, just know that in every new minute that passes you have an opportunity to change that. – Gillian Anderson
8. To be really in shape, it's dynamic. It's got to be a lot of different everything, always switching it up. So a good day for me would be hit the gym, do some sort of cross training in the gym and then go surfing and then maybe take a jiu-jitsu class at night or go swimming at night or go stand up paddle boarding in the evening. – Scott Eastwood
9. Animals praise a good day, a good hunt. They praise rain if they're thirsty. That's prayer. They don't live an unconscious life, they simply have no language to talk about these things. But they are grateful for the good things that come along. – Mary Oliver
10. Always look at the brighter side. That's the secret to having a good day.
11. On a day when you're tired, it's important to just say good morning to everyone so they're kind of aware that it's gonna be a good day. Jamie Lee Curtis told me that. – Lindsay Lohan
12. My advice to anybody, including myself, is if you're going through a bad period, and you just can't see the world's on your shoulders and no day is a good day, you're missing the whole point of the experience. And that's something dogs know from the moment they come bounding up to you as a puppy. – W. Bruce Cameron
13. You're going to struggle. You're going to do well. You can't really let the past or the day before, whether you had a good day or bad day, dictate the day you have that certain day. – Andrew Benintendi
14. Mondays are a good day to make statements, not Friday. – Ernie Els
15. If you don't think every day is a good day, just try missing one. – Cavett Robert
16. I wake up every day and I think, 'I'm breathing. It's a good day.' – Eve Ensler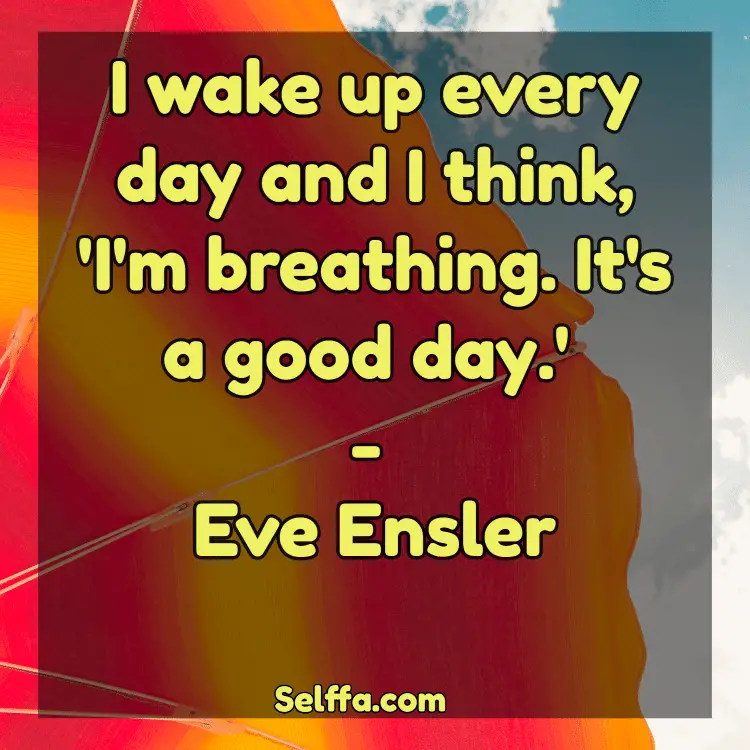 17. My goal has always been not to look forward to the next thing, but to relish and celebrate the successes I have at the moment. Whether it's landing a part in a student film or having a good day in acting class, I never discredit anything. – Dianna Agron
18. I choose to live in the present because when you suffer from chronic illness, you don't have a choice. It's day by day, one foot in front of the other. When there is a good day, you soak up that moment. Those 'good selfie' moments are captured because they're a gift. – Yolanda Hadid
19. Some people go to bed at night thinking, 'That was a good day.' I am one of those who worries and asks, 'How did I screw up today?' – Tom Hanks
20. A good day is one where I can not just read a book, but write a review of it. Maybe today I'll be able to do that. I get for some reason somewhat stronger when the sun starts to go down. Dusk is a good time for me. I'm crepuscular. – Christopher Hitchens
21. Waking up sober is a good day. I love being able to wake up and do positive things, to go to the gym. – Rodney King
22. I think it's a pretty good day if I can get through it without lifting a finger. – Jane Kaczmarek
23. Never regret in your life. Good things make you happy and the bad things give you experiences.
24. You get lessons from the worst days, and memories from the best days. Today will be a good day.
25. There is not any bad day in your life. It's just your attitude. It's a good day.
26. Remember to thank God before and after every day. You'll surely have all the best days.
27. The sun is shining on the sky so brightly, your day is also going to shine the same way. Have a good day.
28. We can just make our day a good one or a bad one so easily, it's our attitude that makes a day good or bad. So why not show a positive attitude and have a nice day.
29. Stop complaining about your worst days. Be positive and learn lessons from the bad days in life because you can learn from them too.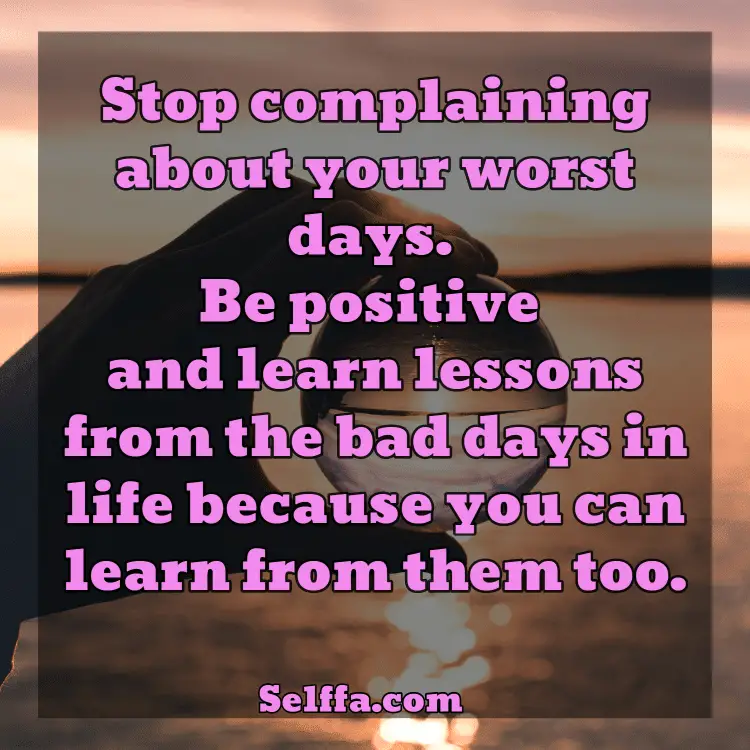 30. There are hundreds and thousands of languages in this world but there is only one language that can beat all others, and that language is "smile". This is the only language that even a baby can speak. So keep smiling and make others smile too. Have a nice day.
31. I just wanted to disturb your sleep and say Good Morning. Have a very nice day.
32. Your day may start or end without getting a good morning or a good night message from me. But surely I think of you before starting and ending my day. Have a good day today and always.
33. You will find your luck when you stop searching for it by putting all your struggles and efforts into what you are going to achieve. So have faith in yourself and step ahead to achieve your goals.
33. Another day has started. If you have not started your day with a smile, there is no issue. Start it from tomorrow and you will have a nice day undoubtedly. Hope you had a good day.
34. Living in good and bad situations is the part of life, but surviving in all the situations will smile on your face is the real art of life. Have a good day. Keep smiling.
35. Morning sun is rising. I wish you a good day ahead. Welcome every day with a smile on your face.
36. I wish you an energetic day ahead. May your every day be blessed with the best. Have a nice day.
37. I wish you all the best in your life. Keep smiling because this is the key to have a happy life.
38. May you have a very good day. Start it with all the energy you have. Have a fabulous day.
39. Wake up because another good day is waiting for you. Welcome it with a smile.
40. Luck is like an elevator while hard work is like steps. The elevator may stuck sometimes but through steps, you will get to the top for sure. So work hard for a successful life. Have a nice day.
41. Let this day be filled with the happiness and beauty all the way. Start it with positivity. Hope you have a great day.
42. Sometimes your prayers go unanswered. But don't be hopeless. This happens because God has better plans for you. Keep praying and you'll have a good day.
43. Have faith in God and begin your day with positive thoughts.
44. Smiling, loving, and praying can make your life happy so never fail to do them everyday. May you have the best day ahead.
45. It feels wonderful to wake up each day with positive thoughts and a mind free of tensions and worries. Have a good day.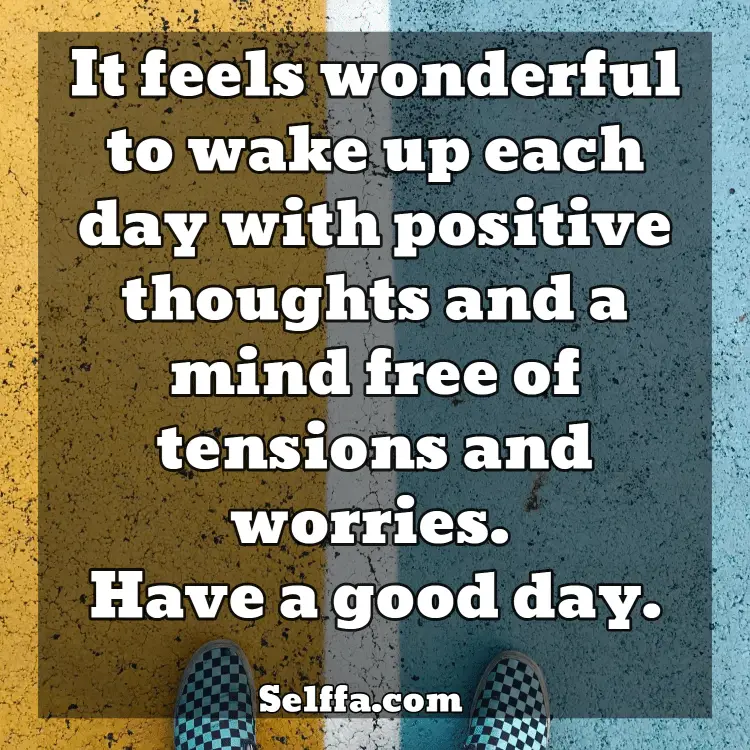 46. Ups and downs are the part of life. Sun shines in the sky and then the rain falls too. Don't worry if there is any unfavorable condition. Remember, whenever the sun and the rain meets, they can create a rainbow. Hope you are having a good day.
47. Love yourself for a peaceful and happy life. Dream big and put all your efforts to make it come true. Put your ego on the side and step ahead to make your life better. Have a very nice day. May your all days be blessed with the best.
48. Life is what we make it, always has been, always will be. – Grandma Moses
49. You may be disappointed if you fail, but you are doomed if you don't try. – Beverly Sills
50. Dream big and dare to fail. – Norman Vaughan
51. It does not matter how slowly you go as long as you do not stop. – Confucius
52. Build your own dreams, or someone else will hire you to build theirs. – Farrah Gray
53. I would rather die of passion than of boredom. – Vincent van Gogh
54. Every day is a good day, some are just a little better than others. – Jeff Garthwaite
55. On a bad day, I have mood swings – but on a good day, I have the whole mood playground. – Charles Rosenblum
56. You can't live a perfect day without doing something for someone who will never be able to repay you. – John Wooden
57. Whenever I don't' have to wear makeup, it's a good day. – Cameron Diaz
58. Every single day is a good day no matter how bright or dark it is, because it always brings an opportunity to start a positive beginning in your life. – Edmond Mbiaka
59. No matter, how is the start of the day, but end should be always good in the end of the day.  – Gaurav GRV Sharma
60. A lot of good days makes a great life. Each day is important. Plan and execute it meticulously. The good old days are now. – Tom Clancy
61. Every day above earth is a good day. – Ernest Hemingway
62. We know nothing of tomorrow; our business is to be good and happy today. – Sydney Smith
63. Take each good day and relish each moment. Take each bad day and work to make it good. – Lisa Dado
64. Joyful morning, good morning, good day. – Lailah Gifty Akita
65. Today is a happy day because I say it is. – Jonathan Lockwood Huie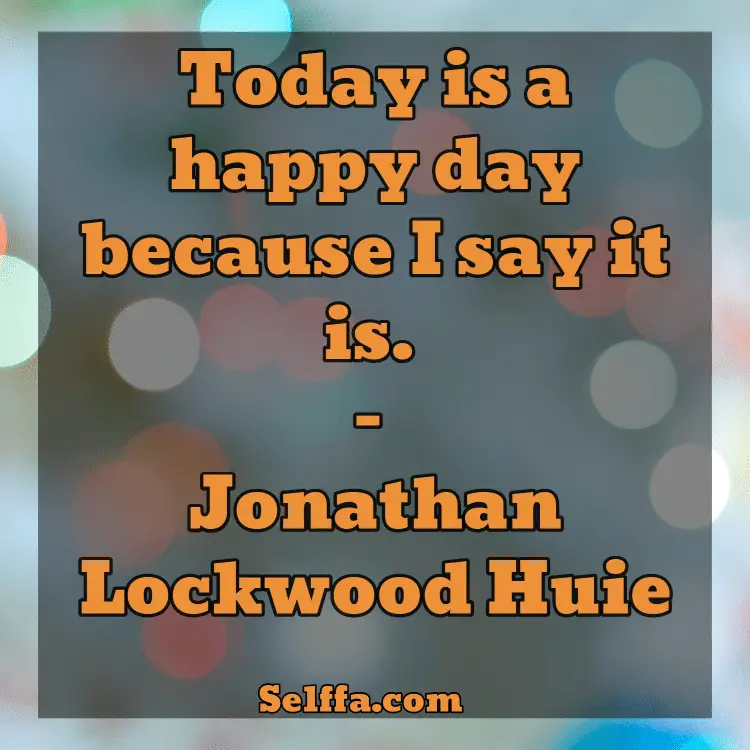 66. From the moment I woke up, I could tell that it was going to be a good day. – Aly Johnson
67. Every day is a good day when you run. – Kevin Nelson
68. Every day above ground is a good day. – Tony Montana
69. A day will be good, when you do for someone good. – Gaurav GRV Sharma
71. In the journey of life, we pass pleasures and pain. There will be sunshine and rain; there will be loss and gain but we must learn to smile again and again. Have a fulfilling day.
72. How many slams in an old screen door? Depends how loud you shut it. How many slices in a bread? Depends how thin you cut it. How much good inside a day? Depends how good you live 'em. How much love inside a friend? Depends how much you give 'em. – Shel Silverstein
73. Every day is a good day. There is something to learn, care and celebrate. – Amit Ray
74. Any day above ground is a good day. Before you complain about anything, be thankful for your life and the things that are still going well. – Germany Kent
75. A day is a day. It's just a measurement of time. Whether it's a good day or a bad day is up to you. It's all a matter of perception. – Donald L. Hicks
76. Never view obstacles in your path as the enemy. Rather, view any obstacles as detour signs to avoid pitfalls. – Donald L. Hicks
77. There is no good day or bad day, only good or bad actions. – Amit Kalantri
78. Many bad days were preceded by a bad night's sleep. – Mokokoma Mokhonoana
79. Some days it was great being a murderous cyborg given free license to cause mayhem and havoc. – Eve Langlais
80. Even the worst days have an ending, and the best days have a beginning. – Jennifer Coletta
81. What's not to love? I made friends with a pretty girl and now we get to plan a castle break in. This beats the day to day kill, eat and survive. – Emilyann Girdner
82. Oh happy day. A day to make a hay. And when it is mid-day, think about the day! And when you think about the day, don't forget the hay. Oh happy day. A day to make a hay. – Ernest Agyemang Yeboah
83. Father and Ivy used to go off on their excursions, never knowing that I was relieved when they were gone. That I'd wear my nightgowns all day and read from dawn till dusk. – Suzanne Palmieri
84. Every day is good as long as you are by my side and we are together. Have a good day.
85. It feels good to be alive even when the sun is shining bright or is hiding behind the clouds.
86. Every day is reminder that you are one step closer to all of your dreams and goals.
87. Have a good day. I wish that you would be able to accomplish all that you need today.
88. If you feel like every day is not always a good day, you should try to miss one and find out.
89. I hope that whoever is reading this is having the best day of his life.
90. It only takes a minute to change your bad day into a good one, take that leap of faith.
91. Today is another reminder of how awesome you are. So enjoy this day to the fullest.
92. Someday, you will realize why every day is a good day.
93. If you love the life you are living, every day is bound to feel like a good day.
94. It's so easy and simple, but if you can express gratitude for all the good things in your life, you are priming yourself for positive emotions throughout the entire day. – Matthew West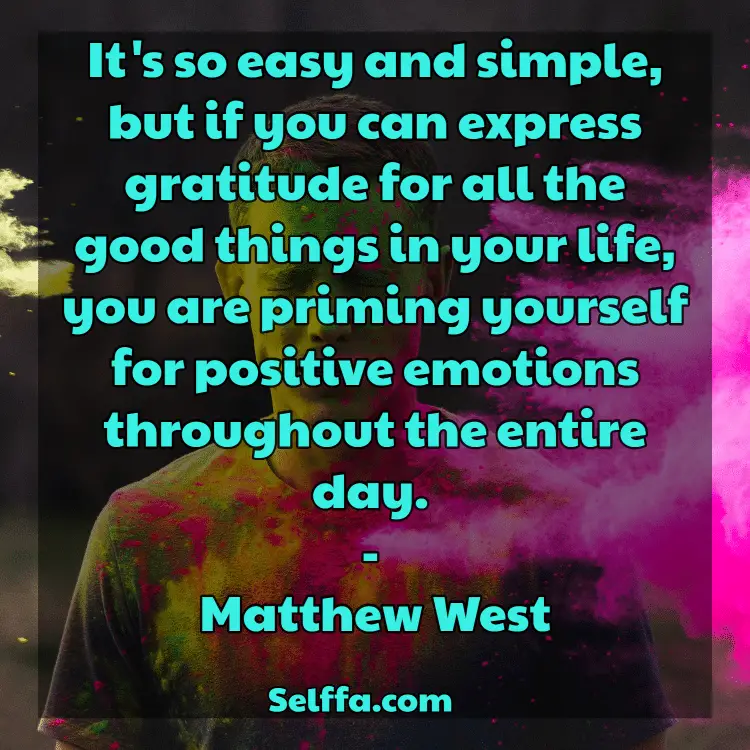 95. I make an effort to do something good for somebody every day, whether I know that person or not. – Oprah Winfrey
96. Cultivating gratitude every morning when you wake up refreshed can help your day start off on a good note. – Rocco Cozza
97. None of us can know where our journeys with God will take us even tomorrow – let alone a decade from now – so it's a good idea to spend a few moments each day to connect with God and ask, "Well, where do you want to take me today?" – Jimmy Carter
98. Every day is a good day to be alive, whether the sun's shining or not. – Marty Robbins
99. By knowing how to change what I believe about any day of my life, I have acquired a general belief that every day is a good day. – Frank Healy
100. When you start a day with a fantastic, peak emotion, you think everything will be good and it comes true, you attract good things, good people and good results to you. – Ly Nguyen
101. Don't ruin a good day today by thinking about a bad day yesterday. Let it go.
102. Every day give yourself a good mental shampoo. – Sara Jordan
103. Don't regret another birthday, the good news is that you are alive and can celebrate it. – Catherine Pulsifer
104. Make a commitment today to get up, get out, get busy and get things done. You can create the life you long to have. – Les Brown
105. Any day above ground is a good day. Before you complain about anything, be thankful for your life and the things that are still going well. – Germany Kent
106. Everyday may not be a good day but there is something good in every day.
107. Enjoy good memories. But don't spend your remaining days here looking back, wishing for "the good old days." – Randy Alcorn
108. If there is a day you have eaten until you were full; if there is a time of joy you can recall; if you have escaped even once the clutches of death; if you can remember one or all of the above, then you have something to be grateful for. – Iyanla Vanzant
109. Enjoy your life, the precious moments you have. Spend each day with some laughter and some thought, get your emotions going. Be enthusiastic every day to keep your dreams alive in spite of whatever problems you have. Work hard for your dreams to come true, to become reality. – Jimmy V
110. It seems obvious that good decisions help to create a better tomorrow, yet many people don't appear to connect their lack of success to their poor decision making. – John C. Maxwell
111. Each day is a very good day simply because God made it. – James Jason
112. The thing to try and keep in mind, no matter what the day, is there is always something good, to give thanks to God in prayer. – Julie Hebert
113. Spend the majority of your day looking for good things to happen, if you look hard enough for good things in your life, you will find them. – Rebecca Turner
114. To have a good day you need a good night's rest. Allow yourself 8 hours of rest each night, keeping you healthy and bright. – Theodore W. Higginsworth
115. There may be days when you get up in the morning and things aren't the way you had hoped they would be, that's when you have to tell yourself that things will get better.
116. Waking up this morning, I smile. Twenty-four brand new hours are before me. I vow to live fully in each moment. – Thich Nhat Hanh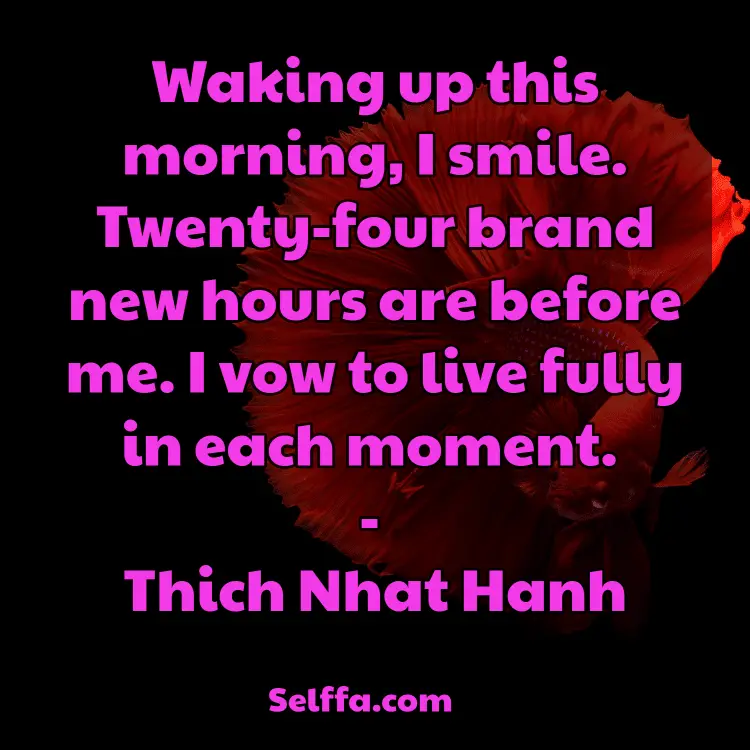 117. So from now on my attitude will change, and I will count that day. The days of good, the days of bad, will all be my days array. – Catherine Pulsifer
118. The most wasted of all days is one without laughter. – E. E. cummings
119. May there be a miracle in your life today and may you have the eyes to see it. – Veronica Hay
120. You may plan to write a book someday, but you are living a book every day. – Wilferd Peterson
121. Ask not what tomorrow may bring, but count as blessing every day that fate allows you. – Horace
122. Each day is sweet, like biting into a fresh ripe strawberry that is so juicy and delicious you can't believe how wonderful it is and how blessed you are to be the one tasting it. – Evelyn Roberts Brooks
123. Some would suggest that a day would be great if everything they did turned out well, or they got exactly what they needed. On the other hand, have you ever thought that what you may give someone else may be the best day you ever had especially when you put someone else's well-being or happiness first on your list? – Byron Pulsifer
124. Sometimes the little opportunities that fly at us each day can have the biggest impact. – Danny Wallace
125. When you start out on a positive note, it is much easier to have a good day without all those negative thoughts and emotions clouding your perceptions. – Catherine Pulsifer
126. Step away from the couch sitters who are awaiting the single perfect day to begin living their dream. You can choose to live your dream every day if you just take the first step. – T. D. Jakes,
127. What makes a day good? Being content with what you have and setting goals to move forward in the life. – Kate Summers
128. This the day which the Lord hath made; we will rejoice and be glad in it. – Psalm 118:24
129. Every day is a chance to begin again. Don't focus on the failures of yesterday, start today with positive thoughts and expectations. – Catherine Pulsifer
130. Appreciation can make a day – even change a life. Your willingness to put it into words is all that is necessary. – Margaret Cousins
131. Anyone can strive to be happy for a day and to spread happiness around. – Wilferd Peterson
132. Life is a ceaseless change. The only certainty is today. Why mar the beauty of living today by trying to solve the problems of a future that is shrouded in ceaseless change and uncertainty – a future that no one can possibly foretell? – Dale Carnegie
133. Today is therefore the most important day in your life, because it's the only day in which you are free to choose. – Alice Camille