In order to boost your productivity, it sometimes takes a little motivation and inspiration from people who are better than you. In fact, you will learn more if you surround yourself with successful people because it will inspire you to be like them. Here are some of the best productive quotes we compiled to help your days become more productive and ultimately help you achieve success.
Productive Quotes
1. Absorb what is useful, reject what is useless, add what is specifically your own. – Bruce Lee
2. Create with the heart; build with the mind. – Criss Jami
3. Do the hard jobs first. The easy jobs will take care of themselves. – Dale Carnegie
4. If passion drives you, let reason hold the reins. – Benjamin Franklin
5. It is not enough to be busy, so are the ants. The question is: What are we busy about? – Henry David Thoreau
6. It's not always that we need to do more but rather that we need to focus on less. – Nathan W. Morris
7. Make each day your masterpiece. – John Wooden
8. My goal is no longer to get more done, but rather to have less to do. – Francine Jay
9. Position yourself to succeed by doing the other things in your life that rejuvenate you. Exhaustion affects your quality and productivity. – Jeff VanderMeer
10. Productivity is being able to do things that you were never able to do before. – Franz Kafka
11. Simplicity boils down to two steps: Identify the essential. Eliminate the rest. – Leo Babauta
12. Sometimes the biggest gain in productive energy will come from cleaning the cobwebs, dealing with old business, and clearing the desks—cutting loose debris that's impeding forward motion. – David Allen
13. Strive not to be a success, but rather to be of value. – Albert Einstein
14. The best things in life make you sweaty. – Edgar Allan Poe
15. The purpose of life is not to be happy—but to matter, to be productive, to be useful, to have it make some difference that you lived at all. – Leo Rosten
16. The simple act of paying positive attention to people has a great deal to do with productivity. – Tom Peters
17. The tragedy in life doesn't lie in not reaching your goal. The tragedy lies in having no goal to reach. – Benjamin E. Mays
18. You can fool everyone else, but you can't fool your own mind. – David Allen
19. If you have time to whine then you have time to find solution. – Dee Dee Artner
20. Never give up on a dream just because of the time it will take to accomplish it. The time will pass anyway. – Earl Nightingale
21. Obstacles are those frightful things you see when you take your eyes off your goal. – Henry Ford
22. The greater the obstacle, the more glory in overcoming it. – Jean-Baptiste Poqeulin
23. You can't get much done in life if you only work on days when you feel good. – Jerry West
24. When someone tells me "no," it doesn't mean I can't do it, it simply means I can't do it with them. – Karen E. Quinones Miller
25. The individual who says it is not possible should move out of the way of those doing it. – Tricia Cunningham
26. Starve your distraction and feed your focus.
27. You miss 100% of the shots you don't take. – Wayne Gretzky
28. Go as far as you can see; when you get there, you'll be able to see further. – Thomas Carlyle
29. Greatness is sifted through the grind, therefore don't despite the hard work now for surely it will be worth it in the end. – Sanjo Jendayi
30. No great achiever – even those who made it seem easy –  ever succeeded without hard work. – Jonathan Sacks
31. Action is the foundational key to all success. – Picasso
32. The most difficult thing is the decision to act, the rest is merely tenacity. – Amelia Earhart
33. Your talent determines what you can do. Your motivation determines how much you are willing to do. Your attitude determines how well you do it. – Lou Holtz
34. Amateurs sit and wait for inspiration, the rest of us just get up and go to work. – Stephen King
35. The way to get started is to quit talking and begin doing. – Walt Disney
36. I learned this, at least, by my experiment; that if one advances confidently in the direction of his dreams, and endeavors to live the life which he has imagined, he will meet with a success unexpected in common hours. – Henry David Thoreau
37. Build your own dreams or someone else will hire you to build theirs. – Farrah Gray
38. Hard work keeps the wrinkles out of the mind and spirit. – Helena Rubinstein
39. If you spend too much time thinking about a thing, you'll never get it done. – Bruce Lee
40. It's not knowing what to do, it's doing what you know. – Tony Robbins
41. Someday is not a day of the week. – Janet Dailey
42. Great acts are made up of small deeds. – Lao Tzu
43. I have learned that real angels don't have gossamer white robes and Cherubic skin, they have calloused hands and smell of the days' sweat. – Richard Evans
44. My grandfather once told me that there were two kinds of people: those who do the work and those who take the credit. He told me to try to be in the first group; there was much less competition. – Indira Gandhi
45. Focus on being productive instead of busy. – Tim Ferriss
46. I'm a greater believer in luck, and I find the harder I work the more I have of it. – Thomas Jefferson
47. A dream doesn't become reality through magic; it takes sweat, determination and hard work. – Colin Powell
48. Never neglect details. When everyone's mind is dulled or distracted the leader must be doubly vigilant. – Colin Powell
49. To be disciplined is to follow in a good way. To be self disciplined is to follow in a better way. – Corita Kent
50. Long-range planning works best in the short term. – Doug Evelyn
51. Plans are nothing, planning is everything. – Dwight D. Eisenhower
52. You've got to get up every morning with determination if you're going to go to bed with satisfaction. – George Lorimer
53. Tomorrow is the most important thing in life. Comes into us at midnight very clean. It's perfect when it arrives and it puts itself in our hands. It hopes we've learned something from yesterday. – John Wayne
54. Productivity is never an accident. It is always the result of a commitment to excellence, intelligent planning, and focused effort. – Paul J. Meyer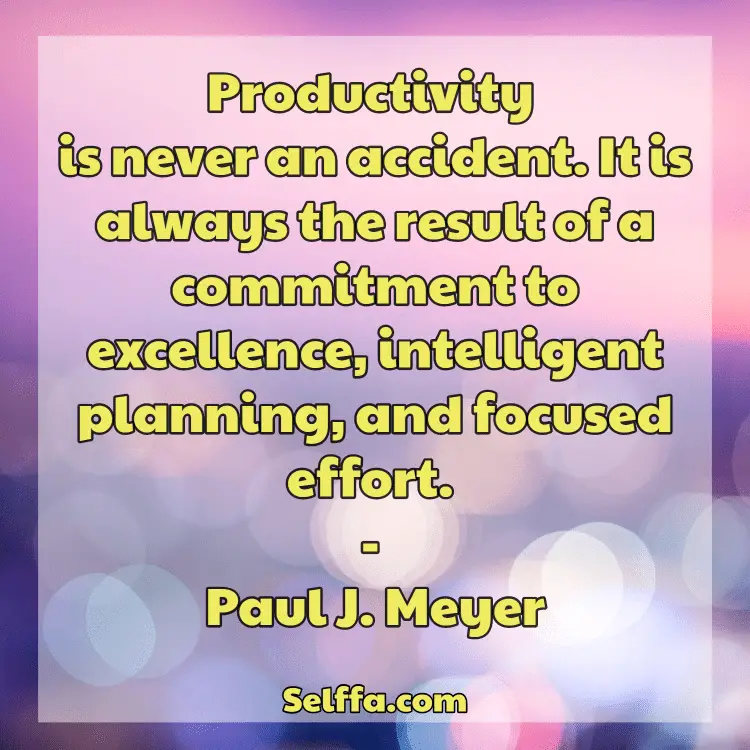 55. Where there is no vision, the people perish. – Proverbs 29:18
56. You don't need a new plan for next year. You need a commitment. – Seth Godin
57. Your daily choices and actions should be rational and productive. – Sunday Adelaja
58. Amateurs sit and wait for inspiration, the rest of us just get up and go to work. –  Stephen King
59. Whenever you are asked if you can do a job, tell 'em, 'Certainly I can!' Then get busy and find out how to do it. – Theodore Roosevelt
60. It couldn't last. Everyone was just killing time. But if all they did was kill time, time would end up killing them. – Michael Grant
61. Create with the heart; build with the mind. – Criss Jami
62. Your mind is for having ideas, not holding them. – David Allen
63. Where your attention goes, your time goes. – Idowu Koyenikan
64. Time management is about life management. – Idowu Koyenikan
65. Times of great calamity and confusion have been productive for the greatest minds. The purest ore is produced from the hottest furnace. The brightest thunderbolt is elicited from the darkest storm. – Charles Caleb Colton
66. Consider everything an experiment. – Corita Kent
67. When Alexander the Great visited the philosopher Diogenes and asked whether he could do anything for him, Diogenes is said to have replied: 'Yes, stand a little less between me and the sun.' It is what every citizen is entitled to ask of his government. – Henry Hazlitt
68. Simplicity boils down to two steps: Identify the essential. Eliminate the rest. – Leo Babauta
69. On every level of life, from housework to heights of prayer, in all judgment and efforts to get things done, hurry and impatience are sure marks of the amateur. – Evelyn Underhill
70. You don't actually do a project; you can only do action steps related to it. When enough of the right action steps have been taken, some situation will have been created that matches your initial picture of the outcome closely enough that you can call it "done. – David Allen
71. You cannot eat every tadpole and frog in the pond, but you can eat the biggest and ugliest one, and that will be enough, at least for the time being. – Brian Tracy
72. Nothing is a mistake. There's no win and no fail. There's only make. – Corita Kent
73. Find a place you trust and then try trusting it for a while. – Corita Kent
74. When we truly need to do is often what we most feel like avoiding. – David Allen
75. You are where you are and what you are because of yourself, nothing else. Nature is neutral. Nature doesn't care. If you do what other successful people do, you will enjoy the same results and rewards that they do. And if you don't, you won't. – Brian Tracy
76. I always make sure that the world will prove me right. It gives me the freedom to contradict myself. – Criss Jami
77. If we attend continually and promptly to the little that we can do, we shall ere long be surprised to find how little remains that we cannot do. – Samuel Butler
78. The elegance under pressure is the result of fearlessness. – Ashish Patel
79. It [money] doesn't have anything to do with the magnificence of a person. It doesn't. What matters is what you make. Whether it's a cake for bingo night or a costume for a saint or a wall of water–whatever you pour into this life is what makes you rich. – Adriana Trigiani
80. Youth is an unpleasant period, for then it is not possible or not prudent to be productive in any sense whatsoever. – Friedrich Nietzsche
81. It's not about getting out of your comfort zone to reach your goal. It's about widening your comfort zone so far that your goal fits comfortably inside. Once you do that, hitting your goals will be like hitting 3s for Steph Curry. – Richie Norton
82. Concentrate all your thoughts upon the work in hand. The sun's rays do not burn until brought to a focus. – Alexander Graham Bell
83. Why do anything unless it is going to be great? – Peter Block
84. There is a light at the end of the tunnel, but the way out is through. – David Allen
85. If you have time to whine then you have time to find solution. – Dee Dee Artner
86. I enjoy writing, I enjoy my house, my family and, more than anything I enjoy the feeling of seeing each day used to the full to actually produce something. The end. – Michael Palin
87. Sometimes the biggest gain in productive energy will come from cleaning the cobwebs, dealing with old business, and clearing the desks—cutting loose debris that's impeding forward motion. – David Allen
88. The simple act of paying positive attention to people has a great deal to do with productivity. – Tom peters
89. Don't interpret anything too much. This is time waster number 1. – Dee Dee Artner
90. It's 100% easier to increase your time and freedom by eliminating the dumb things you do every day than to try to be 100% more productive doing more dumb things. – Richie Norton
91. I like working among 'creative clutter'. It gives me a sense of activity and achievement. – Fennel Hudson
92. Some people would not waste any part of today if they knew that by this time tomorrow they will be dead. – Mokokoma Mokhonoana
93. You have a limited amount of time to get things done during the course of a given day. It follows that you should limit the scope of your to-do list to accommodate this constraint. If you only have four hours at your disposal, make sure the items on your to-do list can be completed within that time frame. Otherwise, you'll set yourself up for failure. – Damon Zahariades
94. So many people turn to unhealthy solutions to deal with their anxiety, fears, worries and physical, mental or emotional struggles. When you're feeling pressured or worried, either Produce, Pray, Work Out or just Breathe. Turn your Pressure into Power and Productivity. You Got This. – Jeanette Coron
95. Digital minimalism definitively does not reject the innovations of the internet age, but instead rejects the way so many people currently engage with these tools. – Cal Newport
96. The best way to finish early is to start early. – Sukant Ratnakar
97. Only human brains can think, how to do work faster, better, cheaper and safer. – Sukant Ratnakar
98. The motion does not produce results, an action does. – Sukant Ratnakar
99. Productivity means fewer efforts in returns of more output. – Sukant Ratnakar
100. Get Up, Get Out and Go Get it Done. – Jeanette Coron
101. Start with good people, lay out the rules, communicate with your employees, motivate them and reward them. If you do all those things effectively, you can't miss. – Lee Iacocca
102. Start by doing what's necessary, then do what's possible, and suddenly you are doing the impossible. – Francis Of Assisi
103. All things will be produced in superior quantity and quality, and with greater ease, when each man works at a single occupation, in accordance with his natural gifts, and at the right moment, without meddling with anything else. – Plato
104. Your work is going to fill a large part of your life, and the only way to be truly satisfied is to do what you believe is great work. And the only way to do great work is to love what you do. If you haven't found it yet, keep looking. Don't settle. As with all matters of the heart, you'll know when you find it. – Steve Jobs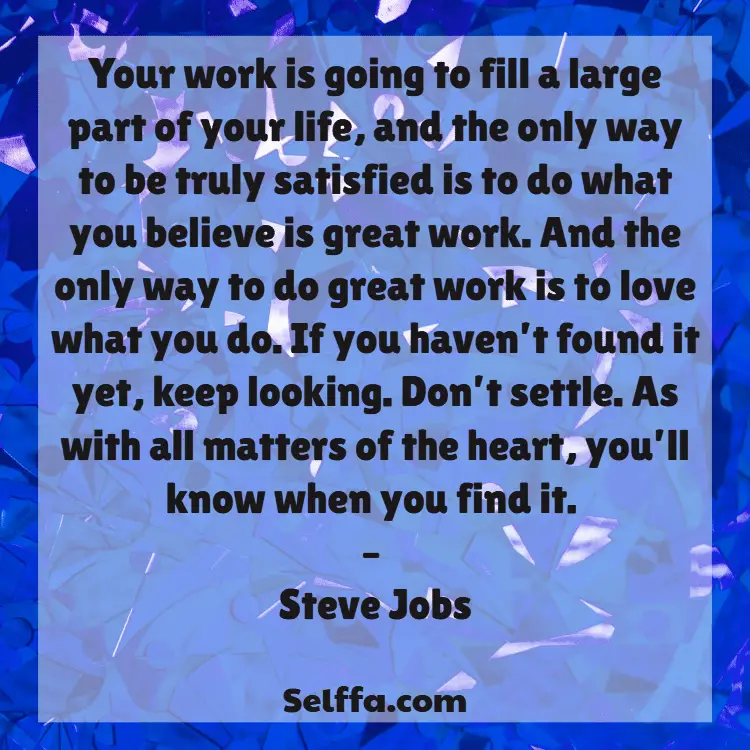 105. People often remark that I'm pretty lucky. Luck is only important in so far as getting the change to sell yourself at the right moment. After that, you've got to have talent and know how to use it. – Frank Sinatra
106. Real integrity is doing the right thing, knowing that nobody's going to know whether you did it or not. – Oprah Winfrey
107. You were born to win, but to be a winner, you must plan to win, prepare to win, and expect to win. – Zig Ziglar
108. Sometimes, things may not go your way, but the effort should be there every single night. – Michael Jordan
109. Believe in yourself. Have faith in your abilities. Without a humble but reasonable confidence in your own powers you cannot be successful or happy. – Norman Vincent Peale
110. How poor are they that have not patience. What wound did ever heal but by degrees? – William Shakespeare
111. The only thing to do with good advice is to pass it on. It is never of any use to oneself. – Oscar Wilde
112.Plans are nothing, planning is everything. – Dwight D. Eisenhower
113. There are risks and costs to action. But they are far less than the long range risks of comfortable inaction. – John F. Kennedy
114. Learning never exhausts the mind. – Leonardo da Vinci
115. Good leadership consists of showing average people how to do the work of superior people. – John D. Rockefeller
116. Our incomes are like our shoes, if too small, they gall and pinch us, but if too large, they cause us to stumble and to trip. – John Locke
117. Rule No.1: Never lose money. Rule No.2: Never forget rule No.1. – Warren Buffett
118. Obstacles are those frightful things you see when you take your eyes off your goal. – Henry Ford
119. Gentleness doesn't get work done unless you happen to be a hen laying eggs. – Coco Chanel
120. Advocates of capitalism are very apt to appeal to the sacred principles of liberty, which are embodied in one maxim: The fortunate must not be restrained in the exercise of tyranny over the unfortunate. – Bertrand Russell
121. Confidence thrives on honesty, on honor, on the sacredness of obligations, on faithful protection and on unselfish performance. Without them it cannot live. – Franklin D. Roosevelt
122. Discussion is an exchange of knowledge an argument an exchange of ignorance. – Robert Quillen
123. The best minds are not in government. If any were, business would steal them away. – Ronald Reagan
124. When you combine ignorance and leverage, you get some pretty interesting results. – Warren Buffett
125. Tomorrow is the most important thing in life. Comes into us at midnight very clean. It's perfect when it arrives and it puts itself in our hands. It hopes we've learned something from yesterday. – John Wayne
126. It is not the strongest of the species that survive, nor the most intelligent, but the ones most responsive to change. – Charles Darwin
127. I always had the uncomfortable feeling that if I wasn't sitting in front of a computer typing, I was wasting my time, but I pushed myself to take a wider view of what was 'productive.' Time spent with my family and friends was never wasted. – Gretchen Rubin
128. If we all did the things we are capable of doing, we would literally astound ourselves. – Thomas Edison
129. Life's gardeners pluck the weeds and care only for the productive plants. – Bryant McGill
130. The true price of anything you do is the amount of time you exchange for it. – Henry David Thoreau
131. Multitasking is a lie. – Gary Keller
132. Twenty years from now you will be more disappointed by the things you didn't do than by the ones you did do. So throw off the bowlines. Sail away from the safe harbor. Catch the trade winds in your sail. Explore. Dream. Discover. – H. Jackson Brown, Jr .'s Mother
133. It is not the mountain we conquer, but ourselves. – Sir Edmund Hillary
134. Part of being a winner is knowing when enough is enough. Sometimes you have to give up the fight and walk away, and move on to something that's more productive. – Donald Trump
135. The number one benefit of information technology is that it empowers people to do what they want to do. It lets people be creative. It lets people be productive. It lets people learn things they didn't think they could learn before, and so in a sense it is all about potential. – Steve Ballmer
136. As long as your intentions are solid and about growth and progression and being productive and not being idle, then you're doing good in my book. – Frank Ocean
137. The least productive people are usually the ones who are most in favor of holding meetings. – Thomas Sowell
138. I just know that I'mma do something in life. I'mma do something productive. – Kodak Black
139. That nice, soft pillow and the warm blanket, and it's all comfortable, and no one wants to leave that comfort – but if you can wake up early in the morning, get a head start on everyone else that's still sleeping, get productive time doing things that you need to do – that's a huge piece to moving your life forward. – Jocko Willink
140. A workplace that encourages self-awareness is an environment where the most productive, curious, and innovative people thrive. – Neil Blumenthal
141. The more generous we are, the more joyous we become. The more cooperative we are, the more valuable we become. The more enthusiastic we are, the more productive we become. The more serving we are, the more prosperous we become. – William Arthur Ward
142. Worrying about the past or the future isn't productive. When you start chastising yourself for past mistakes, or seeing disaster around every corner, stop and take a breath and ask yourself what you can do right now to succeed. – Harvey Mackay
143. That's just a symbol of how you should deal with a breakup. You can cry for a little bit, eat some ice cream, but I think, after that, it's like, get up, listen to some powerful music and do something that makes you happy, be productive. – Sabrina Carpenter
144. Being productive at your craft is important. Being productive in your devotion to grow as a human is essential. – Robin S. Sharma
145. Being productive gives people a sense of satisfaction and fulfillment that loafing never can. – Zig Ziglar
146. Being productive at work is rewarding, and feeling supported, challenged, and appreciated allows us to be our most efficient selves. – Julia Hartz
147. The best way to be productive is to have a great team. So I spend more time than most CEOs on human resources. That's 20 percent of my week. – Kevin P. Ryan
148. Pay attention to how your thoughts change when you're faced with negative people. The more time you spend dreading, fretting, worrying, and rehashing, the less time you'll have to devote to more productive things. Make a conscious effort to reduce the amount of mental energy you expend on negative people. Amy Morin
149. The merit in action lies in finishing it to the end. – Genghis Khan
150. There is never enough time to do it right, but there is always enough time to do it over. – John W. Bergman
151. Creativity isn't about wild talent as much as it's about productivity. To find new ideas that work, you need to try a lot that don't. It's a pure numbers game. – Robert Sutton
152. Position yourself to succeed by doing the other things in your life that rejuvenate you. Exhaustion affects your quality and productivity. – Jeff VanderMeer
153. Productivity growth, however it occurs, has a disruptive side to it. In the short term, most things that contribute to productivity growth are very painful. – Janet Yellen
154. If you want something done, give it to a busy man. – Preston Sturges
155. The key to productivity is to rotate your avoidance techniques. – Shannon Wheeler