Graduation is an exciting time in a person's life. Friends and family gather to congratulate you on finishing your studies. It can be hard to express your feelings during this special day, so we compiled some of the best graduation poems to help you share your happiness for someone who just graduated or even for yourself. Enjoy your moment!
Graduation Poems
1. Football Uniform
By: Rhonda J. Becker 
I remember watching you out upon the field.
In the Seventh grade, you were with a helmet as your shield.
The uniform just hung upon your skinny frame.
The number on the jersey was your only name.
I washed and soaked those football pants time and time again.
I often said a little prayer for our team's little men.
I hung the jersey out to dry with hopes of victory.
Watching how you were growing now for the entire world to see.
You grew in size physically, as well as character too.
I realized how the time has passed and the years they just flew.
For as I wash your uniform after this game that is your last,
I hope and pray you remember the lessons from seasons past.
Winning is very glorifying and is definitely the most fun.
Sometimes, however, you did everything there was to be done.
Yet the score didn't't reflect the hard work and preparation the team put in.
And you had to support each other with compassion without the win.
I stand here proudly staring at your number upon this shirt.
I am wishing for more days that it would be filled with dirt.
My mind will hold forever the picture of my son.
Waiting for his name to be called and on the field he'd run.
My little skinny boy has now become a man.
In life he will go now and do the best he can.
Football has taught him, teamwork and unity.
God, I pray, You help him become the best that he can be.
2. Class Reunion
By: Joel Bjorling 
Here it is, the class reunion,
Has it been so many years?
I forgot where I put my football jersey,
But I'll remember after a couple beers.
There are pictures, yearbooks,
And "do you remember when,
It's a mix of lies and memories,
But it's great to be eighteen again.
Time's been good to you,
Give or take a few pounds,
Ain't it true, there are aches and pains,
But I can still do the town,
Hair is gray, way too thin,
Yet you've still got that laugh,
Are those pictures of your grandkids?
Look! She is cuddling a giraffe.
There are those who have passed,
I still remember them;
One built houses, one fixed hair,
One had serious problems,
They were part of us,
Like birds, they have flown,
But take heart
They have found their way home.
The years have been long,
Yet tonight is 1970,
And we shout,
Look out, world, I'm ready,
Many places, many dreams,
Many hopes have crossed our way,
Let's raise a toast to us
On this class reunion day.
3. Time Flew By So Quickly
By: Judy
We can't begin to tell you
Just how loved you are
We can't believe how time has flown
And how you've come so far
Forgive us when we stop and stare
And tears fall from our eyes
Time flew by so quickly
Sure took us by surprise
We asked you to stay little
To always be our baby
You said, I'll try to if I can,
but, I'll have to grow up maybe.
Now here you stand before us
A respectful, honest man
Strong willed and determined
Who always says, I can.
We flip though all your notes and cards
And pictures that you drew
Recall your quips and humor
Unique, dear son, that's you.
There are no doubts within our minds
That you'll indeed succeed
Your future holds so much in store
But 'that smile' is all you need
You've always been so gentle,
So loving, kind and giving
Having you as our son, Jon
Is another term for living.
No matter where life leads you
No matter what you do
We'll always be your biggest fans
And we'll be here for you.
4. Dreams
By: Kym Erickson
You're the driver of your destiny,
Passenger of none,
In control and looking forward
Of things that must be done.
You're the captain of your ship,
Destination unknown,
Plans to help you get there
And freedom to bring you home.
You're the pilot of your airplane;
Fly as high as you can.
Life is what you make it,
So follow your plan.
Hopes and dreams not yet reached,
Motivation on display.
A journey full of ups and downs,
Experience gained each day.
Direction is always forward,
Backwards remains the same.
Discover your authentic self,
And have a willingness to change.
Enhance each quality given.
Develop talents you were blessed.
Transform your heart into one of gold,
And believe in more than yourself.
Mistakes are made, we move on.
We get back on our feet.
I'm here to support you always
Should you ever need me.
For every start there is a finish.
For every beginning there is an end.
Hold onto your accomplishments,
And even tighter to your friends.
5. Today Is The Day
By: Azsuradee Rancel 
Today is the day
When we have to say goodbye
To our friends and the important ones who came into our lives
Please don't be sad
Please don't cry
Our paths will cross again and you'll still be in our lives
Now i know we will be 9th graders next year 
And fall is yet to come
But for now well never forget you
And the roles you played
And the things you've done
Today is our day
When we walk across the stage
Well be remembered as great leaders and inspire the younger ones age
Now is the time
Our journey is over
So now say goodbye 
And we would like to say goodbye to our mentors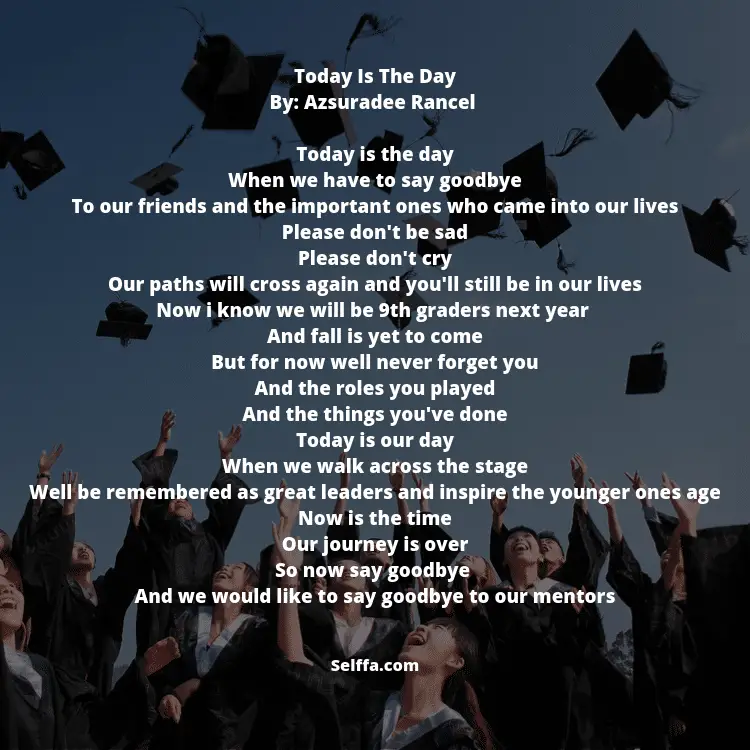 6. The After
By: Tyler J. Huggins
The mind panics as you mount the stage
Over the future of your coming age.
What to be? What to do?
As life's questions seek to bombard you
Till the shackles of a sunless sky
Cloud the path on which you always rely.
But then you remember what you did achieve
And the power of letting go to believe.
Crushing the chains of that dark confine
To illuminate a road of endless sunshine
And feel the diploma placed in your hand.
Dropping all worries like pennies in the sand
With a trust that things will be all right,
Like holding someone close on a starry night.
So that as your senior year comes to a close
You will always
Always
Embrace tomorrow.
7. What Matters Most
By: Louis 
Embrace who you are,
And love like a fool.
Try not to judge,
And never be cruel.
Hold your head high,
And never look back,
Give all you can,
And never hold back.
Laugh like a clown,
And cry like the rain.
Remember with the price of peace
There sometimes comes pain.
Always care for your family 
Because too soon they're gone.
Forgive and forget,
And try to live on.
Face all your fears,
And try to be brave.
If you remember love is the answer, 
Then you'll always be saved.
Don't compare yourself to others,
Or you'll always be vain.
Remember you're one of God's flowers,
And none of them plain.
You're the light in my life
And the love in my heart.
I knew you were special from the very first start.
When I first held you close,
And I whispered your name,
I knew that my life would never be the same.
I love you, my girl,
From the very first day,
And a team of wild horses couldn't drag me away,
So remember these words on your special day,
And daddy's girl you'll always stay. 
8. Daughter's Graduation
By: Crystal Rosas
While looking up at the stars and moon,
We realize that you grew up too soon.
We remember the day you were born,
And now look at you all big and grown.
We remember your first day of school,
You were too scared to break a rule.
You made us proud throughout 6th grade,
We told you that there was no reason to be afraid.
In junior high, you gave us a hard time,
But we stuck by you through dark and shine.
While in high school, you had your fun,
From the security guards you would run.
After a while you settled down,
You met a guy that showed you not to frown.
Today you made us proud,
Class of 2004 shouts the crowd.
Many doors open for you today,
We realize that you are going the right way.
You made us proud throughout the years,
As we think about it, we burst in tears.
Truly, no words can explain what we feel.
Just know that what we just said is real.
Congratulations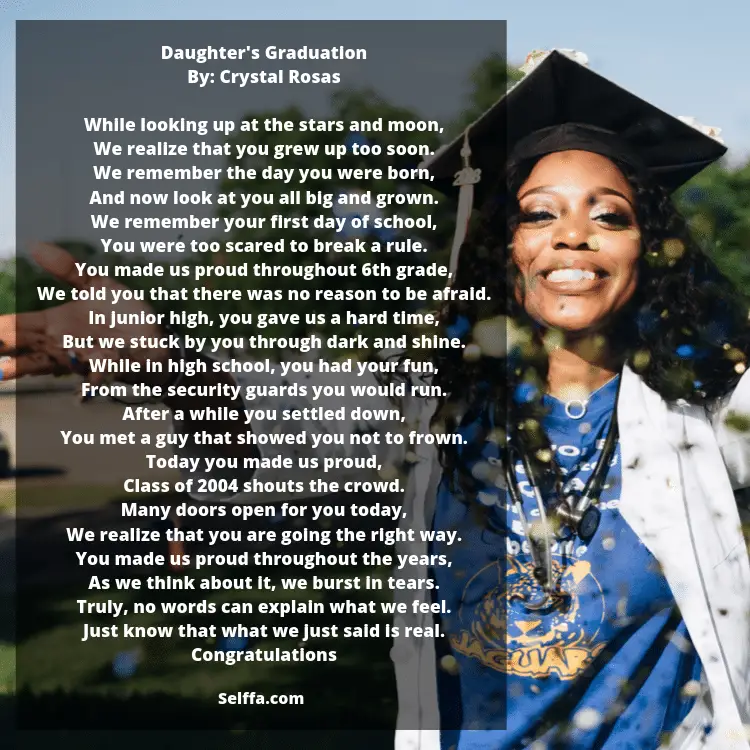 9. Paper, Paint, And Crayons
By: Margaret Alliet
Eighteen years, a thousand fears,
Yet countless joyful times.
A tiny baby smiles just once,
Her daddy's heart it binds.
A toddler cries with tearful eyes,
That only mom can dry.
The little girl so cute in pink
Decides what clothes she'll try.
Her favorite pastime soon becomes
All paper, paint, and crayons.
Some years go by, she's growing fast,
No longer holds our hands.
She struggles some along the way,
We hope she feels our love.
The strength she needs takes all she has,
She's all we're thinking of.
The sun breaks through, she finds her way,
The clouds begin to clear.
And every day that passes now,
Each one we hold so dear.
She'll leave us soon to spread her wings,
A dream or two to find.
We know her life's forever bound
To these roots she leaves behind.
We hope she knows how proud we are,
How deep our love resides.
How much we've learned along the way,
Seeing through our child's eyes.
The paper, paint, and crayons
Through graduation years,
Will always be our most precious ones,
Despite the thousand fears.
10. True Greatness 
By: A. C. Shaw 
The cap, the gown, the robe, the crown, 
The titles of today,
Like mist before the morning sun, 
Will surely pass away. 
Conceal your learning while you may, 
Nor list to emulation, 
Let others seek the road to fame, 
Strive not for reputation. 
The hill is long and hard to climb 
That leads you to success,
True greatness, after all, is just 
A test of usefulness.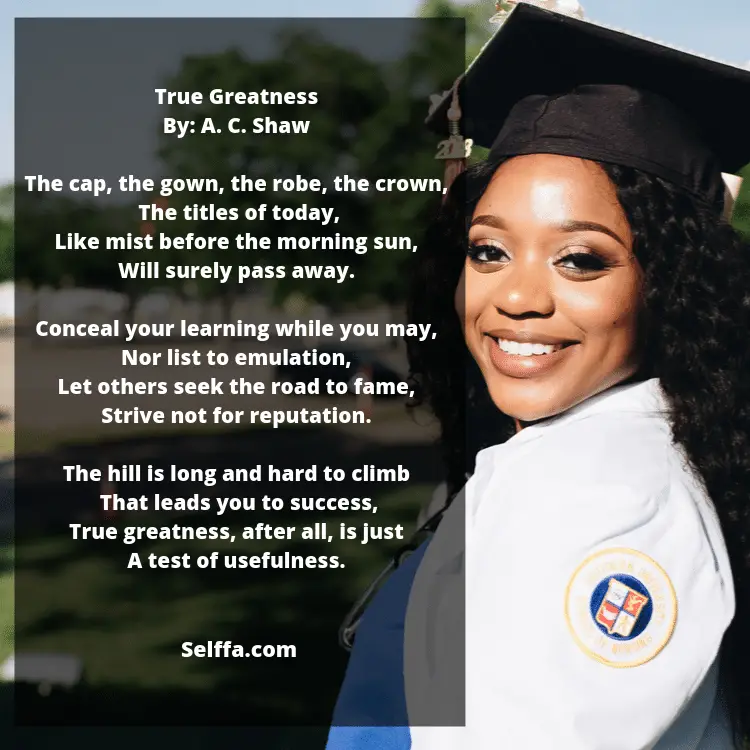 11. Believing in You 
By: Catherine Pulsifer
Never stop believing in yourself. 
When others doubt, don't you. 
Do what you love to do, 
No one knows better than you. 
Life is too short to live others' dreams 
Follow your own dream 
Push yourself to reach your goals 
And live the life you once dreamed. 
Trust your instincts. 
Be true to yourself. 
You know what is right for you. 
Never give up or give in. 
Forget the words, I don't know how. 
You can learn, 
You can research, 
You can do. 
Your mind is powerful. 
When you believe you can. 
You will find a way 
You won't waste a day. 
Persist and persevere 
Do not fear 
Because if you believe in you 
You will find dreams can come true. 
May all your dreams turn into goals, 
Believe in yourself. 
And remember, all of life is a choice. 
The decision is up to you. 
Believe in yourself, dare to be 
Whatever you want to be.
12. Always Be 
Always, 
Be understanding to your enemies.
Be loyal to your friends. 
Be strong enough to face the world each day.
Be weak enough to know you cannot do everything alone. 
Always,
Be generous to those who need your help.
Be frugal with that you need yourself. 
Be wise enough to know that you do not know everything.
Be smart enough to continue learning. 
Always,
Be willing to share your joys.
Be willing to share the sorrows of others. 
Be a leader when you see a path others have missed.
Be a follower when you are shrouded by the mists of uncertainty. 
Always,
Be first to congratulate an opponent who succeeds.
Be last to criticize a colleague who fails. 
Be sure where your next step will fall, so that you will not tumble.
Be sure of your final destination, by setting your goals along the way. 
Above all, always be yourself. 
13. Succeed 
By: Julie Hebert
Congrats, bravo, you did it.
Now on to the next chapter of your life.
It won't be all cherries and roses,
But keep thinking positive and work through that strife.
Each time we move on to something different,
We sometimes hold our expectations high,
Try not to be disappointed but see all the good,
So you will be strong and we can watch you fly.
Graduation is an amazing thing.
You stuck with it and showed you can.
Many people are excited and impressed,
Can't forget how you made me a fan.
I wish you all the best in your future,
May it be everything you want and need.
I see great things to come your way,
You have what it takes to succeed.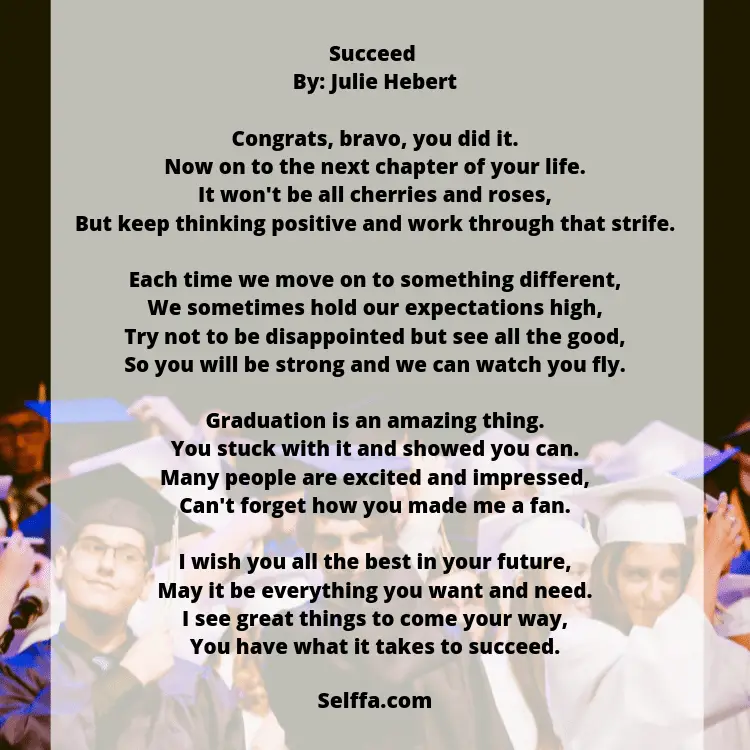 14. As You Grew 
By: Catherine Pulsifer and Byron Pulsifer 
As you grew, no matter what happened we looked at the sunny side of life. 
As you leave, take with you the wisdom to focus on the good in life. 
As you grew, we helped you avoid unnecessary worry. 
As you leave, remember that 90% of what you worry about never happens. 
As you grew, we encouraged you to be open and direct. 
As you leave, never lose your honesty with those whom you speak. 
As you grew, we helped you find solutions. 
As you leave, always remember there is a solution to every problem. 
As you grew, we encouraged individual thought and action. 
As you leave, continue to be independent and persevere when faced with life's challenges. 
As you grew, we reinforced the value of family & friends. 
As you leave, always make time for family and friends. 
As you grew, we shared many happy times. 
As you leave, always take time to laugh every day. 
As you grew, we taught you values, right from wrong. 
As you leave, always stay true to your own values, don't be influenced by others. 
As you grew, we taught you to set goals and take action. 
As you leave, may all your dreams turn into goals. 
As you grew, we emphasized money is not happiness. 
As you leave, always cherish the simple things in life! 
As you grew, we encouraged you to live each day, 
As you leave, take with you the thought that each day you are given is a present.
15. You Have Excelled 
By: Catherine Pulsifer 
Your schooling, you have done so well
You are now graduating, you have excelled.
We are so proud of you
And we wish you success in all you do.
Now you venture on the journey of life
There will be ups and downs and some strife
But always look forward, do your best
Find the good, it will eliminate the stress.
Success is found by those who do
Don't let anyone stop you from being you.
A positive attitude you do display
It will help you on your way.
Congratulations on your success
We wish you love and happiness.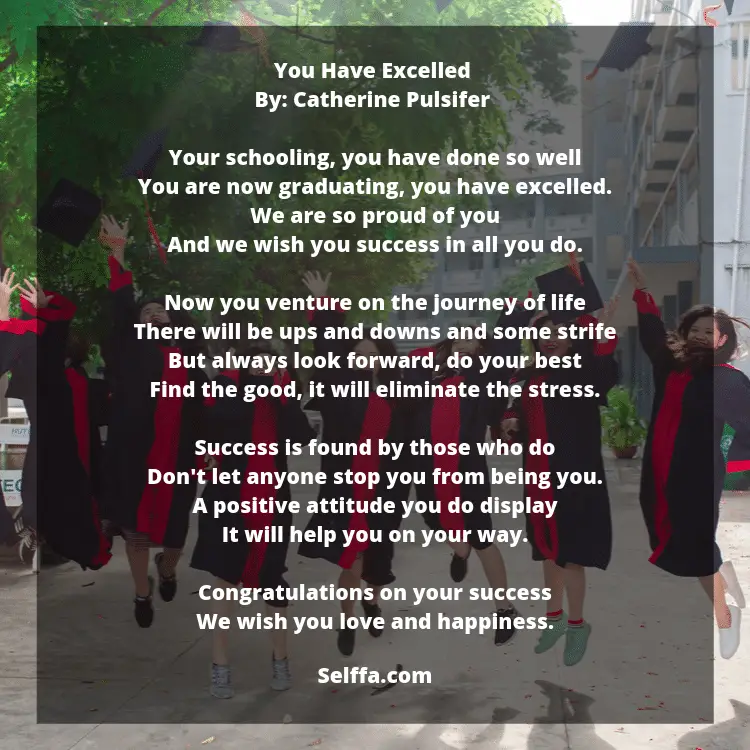 16. Don't Drift 
By: Robert Whitaker 
Live for something, have a purpose,
And that purpose keep in view;
Drifting like a helmless vessel,
Thou canst ne'er to life be true.
Half the wrecks that strew life's ocean,
If some star had been their guide,
Might have now been riding safely,
But they drifted with the tide. 
17. The Few 
The easy roads are crowded, 
And the level roads are jammed,
The pleasant little rivers 
With the drifting folks are crammed.
But off yonder where it's rocky, 
Where you get a better view, 
You will find the ranks are thinning 
And the travelers are few.
Where the going's smooth and pleasant 
You will always find the throng,
For the many, mores the pity,
Seem to like to drift along.
But the steps that call for courage, 
And the task that's hard to do,
In the end results in glory 
For the never-wavering few. 
18. Graduation Day 
By: Joseph T. Renaldi
Graduation day is the climax of a dream.
A parental dream that began when a child is born, 
And their hope come true it would seem, 
A triumph held after periods of forlorn, 
A feeling of pride and euphoria years away
For a daughter or son graduation Day.
It is a peak of success for the graduate, 
Not only for the graduate but parents too.
A joyful event after many years they had to wait, 
Realizing the glorious thrill of a dream come true, 
A genuine smile accompanied by a deep sigh, 
Often a handkerchief in hand as the class goes by.
Graduation is a deserving, hard earned goal
With mortarboard and gown as foretold, 
A gratifying service of the mind and soul
In a simple and beautiful sheepskin told
That the graduate fulfilled the educational rule. 
At last, for the mother and father, a dream come true.
Graduation day.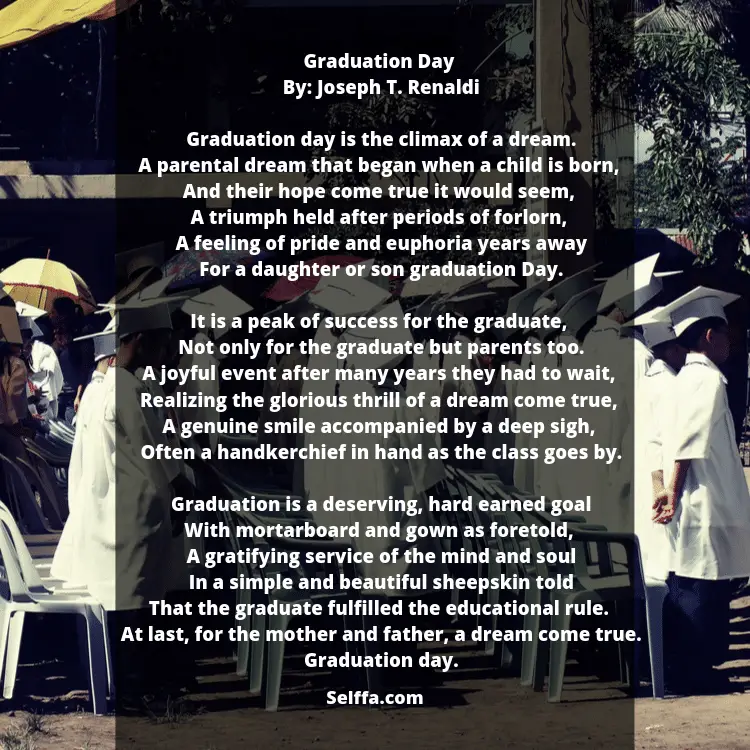 19. Graduation 
By: Jim Norausky
Finished contemplating
Cap list tassle proud
Searching
Are you kidding me
No employment found
Humor me is this real
Not what i expected
Education will get you ahead 
Unemployment lines instead
No resources only family
And government i'm sick
Luxury, the first thing i can do without
That means catfood with no cat
While titans of industry
Continue to get fat
Lucky am I
No house no foreclosure
Only a second hand trailor
On the edge of town.
I am very sad
20. Memories Of Graduation Day 
By: Joseph T. Renaldi
The heart leads back to graduation day, 
to speakers addressing the graduates below, 
to tales, excitement and joy shared.
and the face of proud parents set aglow.
A day when a graduate maybe a bit uneasy
and can't tolerate the end of an era anymore.
But, oh the merriment tucked inside
Sweet memories of educational success and more.
A day when graduates have a flickering hope
and on their face they warmly portray 
peace to the heart, an inner glow.
and faith to enlighten the unknown way.
The heart leads back to struggles conquered, 
making commencement such a memorable day.
Remembering the tears and convulsive sobs
The pleasantries of school days will forever stay. 
21. No Better Place For Graduation
By: Rita Hawkins
Happy graduation day, 
And what better nation is there than America for graduation, 
Let's celebrate in any and every way.
Mom has the cake, 
Lisa is two and wondering what wish you'll make, 
This is a great day, and thank God it is not fake, 
Although I wish that I could taste the snowflake that isn't here, 
We will need a designated driver, 
Because today is one day to drink at least a beer.
Today is a day to have no fear, 
If I believed in hunting I would eat some deer.
I wish Marla could be here, 
She was taken at a young age, 
I wish Ladonna could be here, 
She is one reason to race for every cure.
I am not going to look in the mirror, 
That would give me an image looking back, 
And I am never going to look back, that is a fact.
22. High School Graduation
By: Rose Ann V. Shawiak
Sun setting before us, blazing gently against our eyes, 
multitudes sitting, awaiting their son's and daughter's
graduation.
Excitement seeps between people, permeating the atmosphere, 
quiet murmuring floating about the evening sky.
Down below us, folding chairs timidly standing upright on
the grass, waiting emptily for the teenagers who will soon
pass another milestone in their lives.
High school band, sitting quietly, bouncing notes and tunes
about their heads.
Creeping silently into view, red and white caps and gowns
grow below us, pride sits silently in our eyes, soon to flow 
in the form of joyous tears.
Faculty filing in, taking their seats of ready achievement, 
as silence filters through the crowd, allowing the speaker
his voice of congratulations.
Watching the procession file in with their caps circling 
their heads, looking up and out, clouds can be seen circling
the heavens also.
As the sun continues to set on the far horizon, our son's 
and daughter's lives are also setting on their futures, 
gratuitous clapping for faculty and band quickly over, thank 
God. 
Hopes and dreams, tender and innocent fill the air as graduates 
speak words, not knowing they are only beginnings of volumes
yet to come.
Forever young, the theme tonight, holds a thread which wishes
to stay forever, yet tomorrow will be forgotten.
Not on purpose is it ever done, age and years just seem to cover
over the dreams of the young.
Painted colors in the sky mix and blend, beginning to match
the colors of the caps and gowns worn below us on the football
field.
Voices ringing loudly, singing the Alma Mater to all, as 
darkness swells and curls around us sitting in the bleachers, 
yet lights shine down, reflecting on the graduating class.
The lives of many children wait breathlessly on edges of their futures, clinging ever so slightly to their pasts.
Musical words blast their way to our hearts, maybe a crumb or
note or two may remain for all ages, our future sons and
daughters remaining in our minds forever young.
Happiness fills the graduates as they receive their diplomas, 
glee stands out for all of us to hear and see.
Riotous applause surrounds the sky as each diploma is handed
to a student, graduation being almost completed.
Mechanics of this graduation are over as the tassels are put
from left to right on every student's cap. 
23. Jenny's Graduation
By: Elizabeth Padillo Olesen
You will march today to mark the end
of your midnight candles before books, 
notes, bulk of papers and reminders; 
marking, too, the end of restless nights 
while facing practical tests and final exams. 
Today you will march together 
to be watched by great crowd of parents, 
relatives and friends; today you will
receive your diploma of your hope and labor.
And today I watch you with great pride
and delight as your mother, looking at you 
as a new registered nurse, who passed
your studies with incredible flying colors. 
Congratulations, dear child.