Sometimes no matter how much we try to be happy, there are still moments where we feel like giving up. Our lives aren't perfect – once we understand this, it will be much easier to deal with life's failures and disappointments. If you feel like you needed an extra boost of encouragement, these quotes we compiled will surely help you get through the worst times of your life. Enjoy!
You Got This Quotes
1. The struggle you're in today is developing the strength you need for tomorrow. Don't give up. – Robert Tew
2. Being disappointed is one thing and being discouraged is something else. I am disappointed but I am not discouraged. – Tennessee Williams
3. Fear, to a great extent, is born of a story we tell ourselves, and so I chose to tell myself a different story from the one women are told. I decided I was safe. I was strong. I was brave. Nothing could vanquish me. – Cheryl Strayed
4. Pour yourself a drink, put on some lipstick, and pull yourself together. – Elizabeth Taylor
5. Nobody looks good in their darkest hour. But it's those hours that make us what we are. – Karen Marie Moning
6. In the midst of winter, I found there was, within me, an invincible summer. And that makes me happy. For it says that no matter how hard the world pushes against me, within me, there's something stronger, something better, pushing right back. – Albert Camus
7. Our ability to destroy ourselves is the mirror image of our ability to save ourselves. – Terence McKenna
8. She wears strength and darkness equally well, the girl has always been half goddess, half hell. – Nikita Gill
9. The real man smiles in trouble, gathers strength from distress, and grows brave by reflection. – Thomas Paine
10. My strength is as the strength of ten because my heart is pure. – Alfred Lord Tennyson
11. Love many things, for therein lies the true strength, and whosoever loves much performs much and can accomplish much, and what is done in love is done well. – Vincent Van Gogh
12. The only thing I know is this: I am full of wounds and still standing on my feet. – Nikos Kazantzakis
13. Go for it now. The future is promised to no one. – Wayne Dyer
14. There is a direct correlation between an increased sphere of comfort and getting what you want. – Tim Ferriss
15. I'm a big believer that life changes as much as you want it to. – Martin Freeman
16. Not getting what you want either means you don't want it enough, or you have been dealing too long with the price you have to pay. – Rudyard Kipling
17. The most effective way to do it is to do it. – Amelia Earhart
18. To get what you want, you have to deserve what you want. The world is not yet a crazy enough place to reward a whole bunch of undeserving people. – Charles T. Munger
19. When you achieve one dream, dream another. Getting what you want is only a problem if you have nowhere to go next. Dreaming is a lifetime occupation. – Rudy Ruettiger
20. If you want to do something, go for it. You've got nothing to lose. – Louis Tomlinson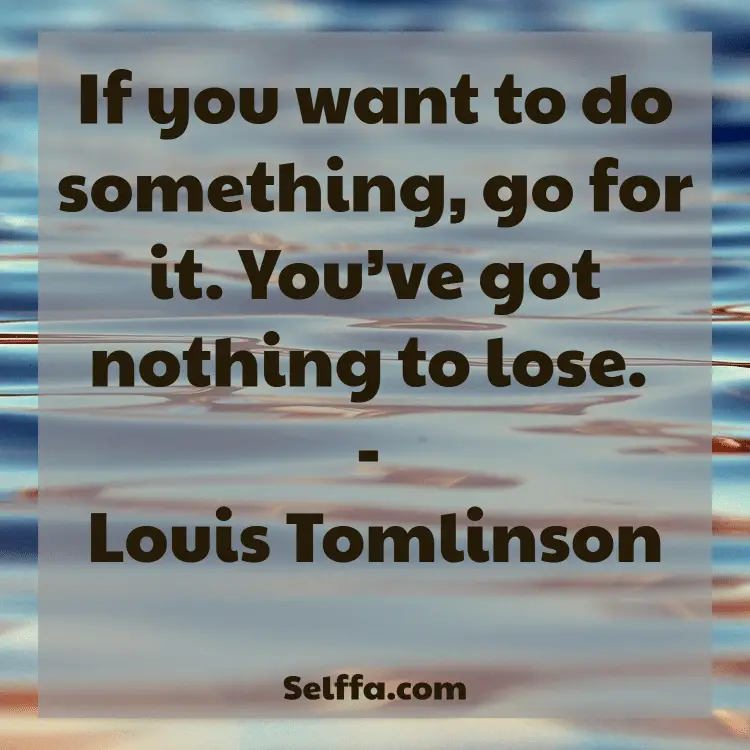 21. You can't just sit there and wait for people to give you that golden dream. You've got to get out there and make it happen for yourself. – Diana Ross
22. The world needs dreamers and the world needs doers. But above all, the world needs dreamers who do. – Sarah Ban Breathnach
23. Find something that makes you happy and go for it. – Zendaya
24. Everything you want is out there waiting for you to ask. Everything you want also wants you. But you have to take action to get it. – Jules Renard
25. I've found that luck is quite predictable. If you want more luck, take more chances. Be more active. Show up more often. – Brian Tracy
26. The great secret of getting what you want from life is to know what you want and believe you can have it. – Norman Vincent Peale
27. You've got to be one that, wherever you are, like a flower, you've got to blossom where you're planted. You cannot eliminate darkness. You cannot banish it by cursing darkness. The only way to get rid of darkness is light and to be the light yourself. – Cory Booker
28. Love is the answer, and you know that for sure; Love is a flower, you've got to let it grow. – John Lennon
29. Believe in yourself, take on your challenges, dig deep within yourself to conquer fears. Never let anyone bring you down. You gotta keep going. – Chantal Sutherland
30. If you want to be the best, you can't take the path of least resistance. Every morning, you wake up, and your mind tells you it's too early, and your body tells you you're a little too sore, but you've got to look deep within yourself and know what you want and what you're striving for. – Antonio Brown
31. You got to go down a lot of wrong roads to find the right one. – Bob Parsons
32. Success is about dedication. You may not be where you want to be or do what you want to do when you're on the journey. But you've got to be willing to have vision and foresight that leads you to an incredible end. – Usher
33. You've got to get up every morning with determination if you're going to go to bed with satisfaction. – George Horace Lorimer
34. It was character that got us out of bed, commitment that moved us into action, and discipline that enabled us to follow through. – Zig Ziglar
35. Acceptance doesn't mean resignation; it means understanding that something is what it is and that there's got to be a way through it. – Michael J. Fox
36. As long as you keep going, you'll keep getting better. And as you get better, you gain more confidence. That alone is success. – Tamara Taylor
37.The most inspiring piece of advice I've gotten is simply to persevere. My mom taught me to always keep going no matter what from an early age. When it feels too difficult to push forward, I always remind myself, 'This too shall pass,' and then I redouble my efforts. – Liya Kebede
38. Always believe in yourself and keep going. You don't have to have the most talent in the world. You don't have to be the smartest person in the world. If you persist and you persist and you persist, you will be successful. – Dean Cain
39. You simply have to put one foot in front of the other and keep going. Put blinders on and plow right ahead. – George Lucas
40. To have faith doesn't mean you get any less frustrated when you don't do your best, but you know that it's not life and death. Take what you're given, and when you continue to work hard, you will see results. That will give you the confidence you need to keep going. – Tom Lehman
41. Determination gives you the resolve to keep going in spite of the roadblocks that lay before you. – Denis Waitley
42. You are a fine and talented woman, whose potential is yet to be realized given the love and support and luck we all need. Where you lost the will to fight for what is yours, where you gave away control of your life, is the mystery you are now unraveling. When you get it all back, hold on to it. – Isabel Vincent
43. Listen to me, you've got this. Seriously, you've got this. – Scott Stabile
44. Most of the important things in the world have been accomplished by people who have kept on trying when there seemed to be no hope at all. – Dale Carnegie
45. Our greatest glory is not in never falling, but in rising every time we fall. – Confucius
46. The ultimate measure of a man is not where he stands in moments of comfort and convenience, but where he stands at times of challenge and controversy. – Martin Luther King, Jr.
47. Promise me you'll always remember: You're braver than you believe and stronger than you seem, and smarter than you think. – Christopher Robin to Pooh
48. Tough times never last, but tough people do. – Robert H. Schuller
49. When you come to the end of your rope, tie a knot and hang on. – Franklin D. Roosevelt
50. If you want to achieve greatness stop asking for permission.
51. Things work out best for those who make the best of how things work out. – John Wooden
52. To live a creative life, we must lose our fear of being wrong.
53. If you are not willing to risk the usual you will have to settle for the ordinary. – Jim Rohn
54. Trust because you are willing to accept the risk, not because it's safe or certain.
55. Take up one idea. Make that one idea your life, think of it, dream of it, live on that idea. Let the brain, muscles, nerves, every part of your body, be full of that idea, and just leave every other idea alone. This is the way to success. – Swami Vivekananda
56. All our dreams can come true if we have the courage to pursue them. – Walt Disney
57. Good things come to people who wait, but better things come to those who go out and get them.
58. If you do what you always did, you will get what you always got.
59. Success is walking from failure to failure with no loss of enthusiasm. – Winston Churchill
60. Just when the caterpillar thought the world was ending, he turned into a butterfly. – Proverb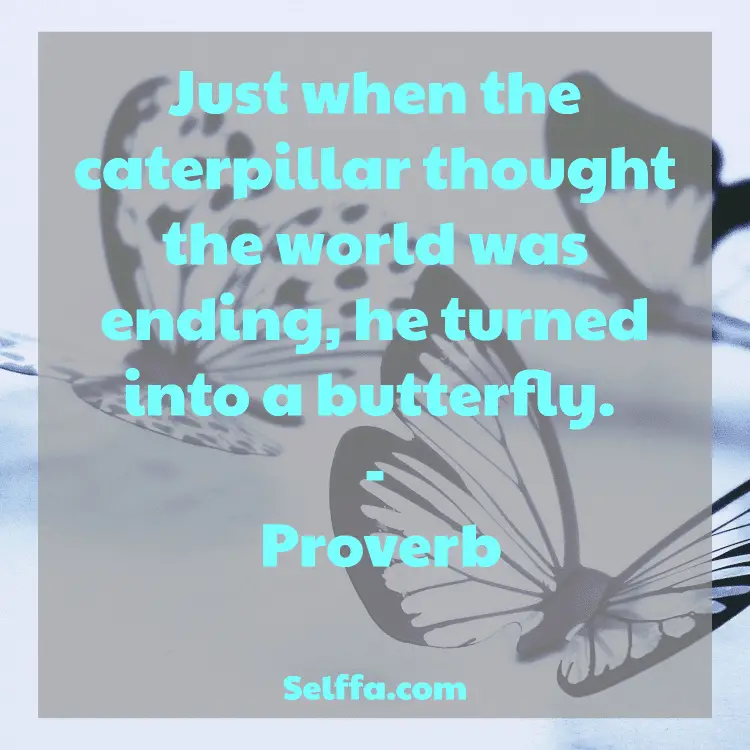 61. Successful entrepreneurs are givers and not takers of positive energy.
62. Whenever you see a successful person you only see the public glories, never the private sacrifices to reach them. – Vaibhav Shah
63. Opportunities don't happen, you create them. – Chris Grosser
64. Try not to become a person of success, but rather try to become a person of value. – Albert Einstein
65. I have not failed. I've just found 10,000 ways that won't work. – Thomas A. Edison
66. A successful man is one who can lay a firm foundation with the bricks others have thrown at him. – David Brinkley
67. The whole secret of a successful life is to find out what is one's destiny to do, and then do it. – Henry Ford
68. If you're going through hell keep going. – Winston Churchill
69. What seems to us as bitter trials are often blessings in disguise. – Oscar Wilde
70. When you stop chasing the wrong things, you give the right things a chance to catch you. – Lolly Daskal
71. I believe that the only courage anybody ever needs is the courage to follow your own dreams. – Oprah Winfrey
72. No masterpiece was ever created by a lazy artist.
73. Happiness is a butterfly, which when pursued, is always beyond your grasp, but which, if you will sit down quietly, may alight upon you. – Nathaniel Hawthorne
74. Do one thing every day that scares you.
75. What's the point of being alive if you don't at least try to do something remarkable.
76. Life is not about finding yourself. Life is about creating yourself. – Lolly Daskal
77. There are two types of people who will tell you that you cannot make a difference in this world: those who are afraid to try and those who are afraid you will succeed. – Ray Goforth
78. Thinking should become your capital asset, no matter whatever ups and downs you come across in your life. – A.P.J. Abdul Kalam
79. The starting point of all achievement is desire. – Napoleon Hill
80. Success is the sum of small efforts, repeated day-in, and day-out. – Robert Collier
81. If you want to achieve excellence, you can get there today. As of this second, quit doing less-than-excellent work. – Thomas J. Watson
82. All progress takes place outside the comfort zone. – Michael John Bobak
83. You may only succeed if you desire succeeding, you may only fail if you don't mind failing. – Philippos
84. Courage is resistance to fear, mastery of fear, not absence of fear. – Mark Twain
85. Only put off until tomorrow what you are willing to die having left undone. – Pablo Picasso
86. People often say that motivation doesn't last. Well, neither does bathing, that's why we recommend it daily. – Zig Ziglar
87. We become what we think about most of the time, and that's the strangest secret. – Earl Nightingale
88. "The only place where success comes before work is in the dictionary. – Vidal Sassoon
89. Too many of us are not living our dreams because we are living our fears. – Les Brown
90. It's not what you look at that matters, it's what you see.
91. The road to success and the road to failure are almost exactly the same. – Colin R. Davis
92. The function of leadership is to produce more leaders, not more followers. – Ralph Nader
93. Success is liking yourself, liking what you do, and liking how you do it. – Maya Angelou
94. As we look ahead into the next century, leaders will be those who empower others. – Bill Gates
95. The hardest skill to acquire in this sport is the one where you compete all out, give it all you have, and you are still getting beat no matter what you do. When you have the killer instinct to fight through that, it is very special. – Eddie Reese
96. What's done is done. What's gone is gone. One of life's lessons is always moving on. It's okay to look back to see how far you've come but keep moving forward. – Roy T. Bennett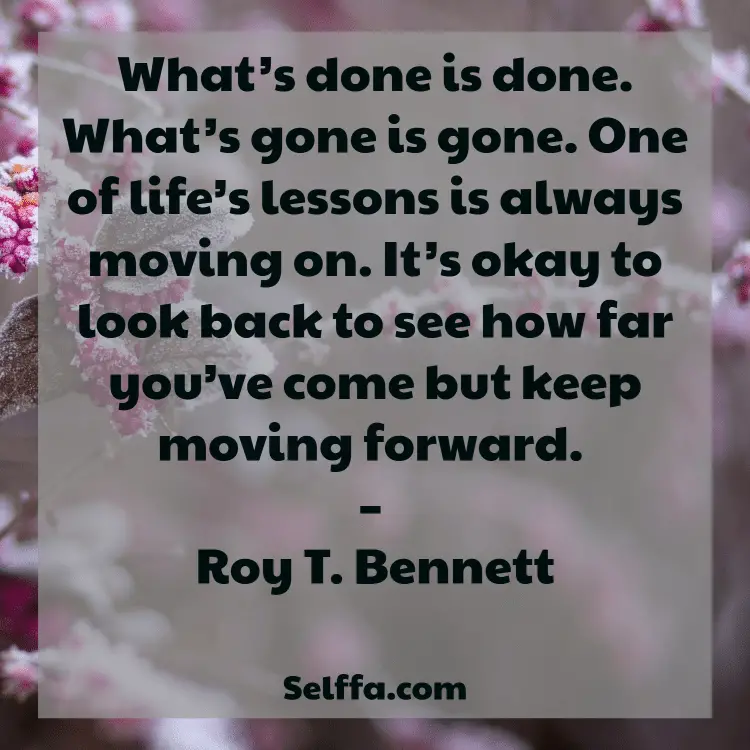 97. Courage is not having the strength to go on; it is going on when you don't have the strength. – Theodore Roosevelt
98. Do today what others won't so tomorrow you can do what others can't. – Jerry Rice
99. I always tell my kids if you lay down, people will step over you. But if you keep scrambling, if you keep going, someone will always, always give you a hand. Always. But you gotta keep dancing, you gotta keep your feet moving. – Morgan Freeman
100. Never give up hope. All things are working for your good. One day, you'll look back on everything you've been through and thank God for it. – Germany Kent
101. Believe in yourself and all that you are, know that there is something inside you that is greater than any obstacle. – Christian D Larson
102. Failure is a bend in the road, not the end of the road. Learn from failure and keep moving forward. – Roy T. Bennett
103. If what you're working for really matters, you'll give it all you've got. – Nido R Qubein
104. To give anything less than your best is to sacrifice the gift. – Steve Prefontaine
 105. If you want to make good use of your time, you've got to know what's most important and then give it all you've got. – Lee Iacocca
106. I've got a theory that if you give 100% all of the time, somehow things will work out in the end. – Larry Bird
107. Don't ever be afraid of giving. Give. Give of your time, your forgiveness, your understanding, your love. Give of your money. Give to the creation, and you'll be given by the Creator. Be generous, and the Most Generous will be generous with you. – Yasmin Mogahed
108. If you put your foot in it, be sure it's your best foot. – Mae West
109. You give but little when you give of your possessions. It is when you give of yourself that you truly give. – Khalil Gibran
110. Remember, you have only one ride through life so give it all you got and enjoy the ride. – Jon Gordon
111. It's impossible to give it all you got and fail unless you fail to give it all you got to do the impossible. – Behdad Sami
112. Most of the important things in the world have been accomplished by people who have kept on trying when there seemed to be no hope at all. – Dale Carnegie
113. Press forward. Do not stop, do not linger in your journey, but strive for the mark set before you. – George Whitefield
114. Life has got all those twists and turns. You've got to hold on tight and off you go. – Nicole Kidman
115. Those who move forward with a happy spirit will find that things always work out. – Gordon B. Hinkley
116. My attitude has always been, if you fall flat on your face, at least you're moving forward. All you have to do is get back up and try again. – Richard Branson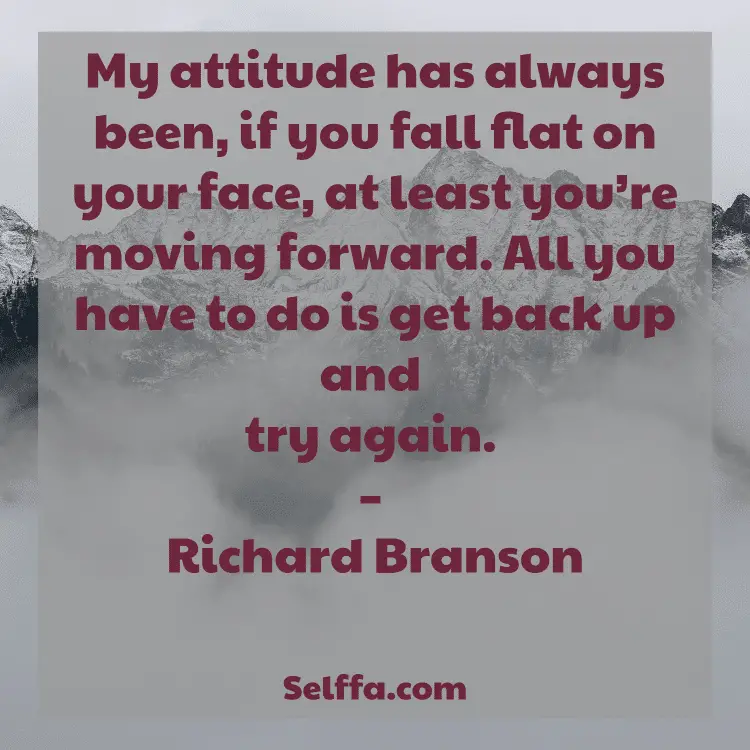 117. You just can't beat the person who never gives up. – Babe Ruth
118. Start where you are. Use what you have. Do what you can. – Arthur Ashe
119. You are never too old to set another goal or to dream a new dream. – C. S. Lewis
120. Never give up, for that is just the place and time that the tide will turn. – Harriet Beecher Stow
121. Real difficulties can be overcome; it is only the imaginary ones that are unconquerable. – Theodore N. Vail
122. It is better to fail in originality than to succeed in imitation. – Herman Melville
123. What would you do if you weren't afraid? – Spencer Johnson
124. Little minds are tamed and subdued by misfortune, but great minds rise above it. – Washington Irving
125. Failure is the condiment that gives success its flavor. – Truman Capote
126. Don't let what you cannot do interfere with what you can do. – John R. Wooden
127. You may have to fight a battle more than once to win it. – Margaret Thatcher
128. A man can be as great as he wants to be. If you believe in yourself and have the courage, the determination, the dedication, the competitive drive and if you are willing to sacrifice the little things in life and pay the price for the things that are worthwhile, it can be done. – Vince Lombardi
129. I never dreamed about success. I worked for it. – Estee Lauder
130. Don't think about making art. Just get it done. Let everyone else decide if it's good or bad, whether they love it or hate it. While they are deciding, make even more art. – Andy Warhol
131. I began to realize how important it was to be an enthusiast in life. He taught me that if you are interested in something, no matter what it is, go at it full speed ahead. Embrace it with both arms, hug it, love it, and above all become passionate about it. Lukewarm is no good. Hot is no good either. White hot and passionate is the only thing to be. – Roald Dahl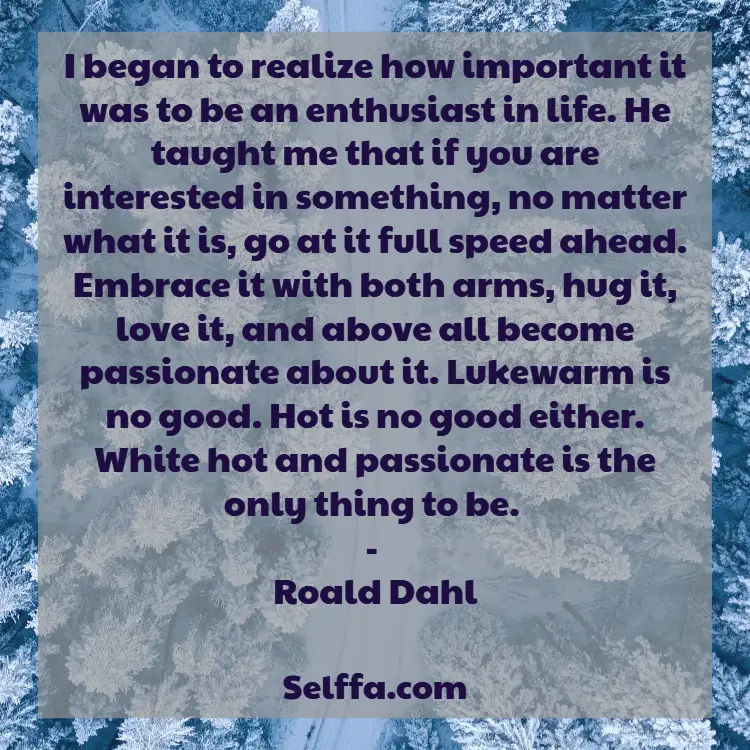 132. We have a strategic plan. It's called doing things. – Herb Kelleher
133. You can't use up creativity. The more you use, the more you have. – Maya Angelou
134. Sometimes, you've got to work a little, so you can ball a lot. – Tom Haverford
135. Go to your desire and don't hang around here. – Jack Kerouac
136. Go confidently in the direction of your dreams! Live the life you've imagined. – Thoreau
137. Now tell me, what is it you plan to do with your one wild and precious life? – Mary Oliver
138. Find out who you are and do it on purpose. – Dolly Parton
139. Some people want it to happen, some people wish it would happen, others make it happen. – Michael Jordan
140. To be contented—that's for the cows. – Diana Vreeland
141. The man on top of the mountain didn't fall there. – Vince Lombardi
142. Remembering that you are going to die is the best way I know to avoid the trap of thinking you have something to lose. You are already naked. There is no reason not to follow your heart. – Steve Jobs
143. I always did something I was a little not ready to do. I think that's how you grow. When there's that moment of, 'Wow, I'm not really sure I can do this,' and you push through those moments, that's when you have a breakthrough. – Marissa Mayer
144. Make it work. – Tim Gunn
145. Never let go of that fiery sadness called desire. – Patti Smith
146. In any moment of decision, the best thing you can do is the right thing. The next best thing is the wrong thing. The worst thing you can do is nothing. – Theodore Roosevelt
147. Live every week like it's Shark Week. – Tracy Jordan
148. Challenges are gifts that force us to search for a new center of gravity. Don't fight them. Just find a new way to stand. – Oprah Winfrey
149. It is not true that people stop pursuing dreams because they grow old. They grow old because they stop pursuing dreams. – Gabriel García Márquez
150. One, remember to look up at the stars and not down at your feet. Two, never give up work. Work gives you meaning and purpose and life is empty without it. Three, if you are lucky enough to find love, remember it is there and don't throw it away. – Stephen Hawking
151. We are what we repeatedly do. Excellence, then, is not an act, but a habit. – Aristotle
152. Time is more valuable than money. You can get more money, but you cannot get more time. – Jim Rohn
153. Expect the best. Prepare for the worst. Capitalize on what comes. – Zig Ziglar
154. All my life I knew that there was all the money you could want out there. All you have to do is go after it. – Curtis Carlson