When we're feeling hopeless or when we're going through hard times, it's sometimes helpful to read a few words of encouragement to not only give ourselves hope but to encourage others who are going through dark times as well. We've selected the best encouraging quotes to inspire and to remind you that there's always a rainbow after the rain.
Encouraging Quotes
1. The world is more malleable than you think and it's waiting for you to hammer it into shape. – Bono
2. It is by going down into the abyss that we recover the treasures of life. Where you stumble, there lies your treasure. – Joseph Campbell
3. Problems are not stop signs, they are guidelines. – Robert H. Schuller
4. I am determined to be cheerful and happy in whatever situation I may find myself. For I have learned that the greater part of our misery or unhappiness is determined not by our circumstance but by our disposition. – Martha Washington
5. There are two ways to live: you can live as if nothing is a miracle; you can live as if everything is a miracle. – Albert Einstein
6. I try to make my mood uplifting and peaceful, then watch the world around me reflect that mood. – Yaya DaCosta
7. In the middle of a difficulty lies opportunity. – Albert Einstein
8. Listening to music is such an uplifting, spiritual thing. It's far-fetched to some, I understand that. But the way dance music brings people together, it's not a big stretch from hymns. – Kaskade
9. Failure is the condiment that gives success its flavor. – Truman Capote
10. Talent is cheaper than table salt. What separates the talented individual from the successful one is a lot of hard work. – Stephen King
11. Don't be intimidated by what you don't know. That can be your greatest strength and ensure that you do things differently from everyone else. – Sara Blakely
12. Believe you can and you're halfway there. – Theodore Roosevelt
13. Only those who dare to fail greatly can ever achieve greatly. – Robert F. Kennedy
14. If more of us valued food and cheer and song above hoarded gold, it would be a merrier world. – J.R.R. Tolkien
15. Do not anticipate trouble or worry about what may never happen. Keep in the sunlight. – Benjamin Franklin
16. What can a pencil do for all of us? Amazing things. It can write transcendent poetry, uplifting music, or life-changing equations, it can sketch the future, give life to untold beauty, and communicate the full-force of our love and aspirations. – Adam Braun
17. The best way to predict the future is to create it. – Abraham Lincoln
18. An uplifting sense of purpose is more than an impetus for individual accomplishment, it is also a necessary insurance policy against expediency and impropriety. – Gary Hamel
19. Try Again. Fail again. Fail better. – Samuel Beckett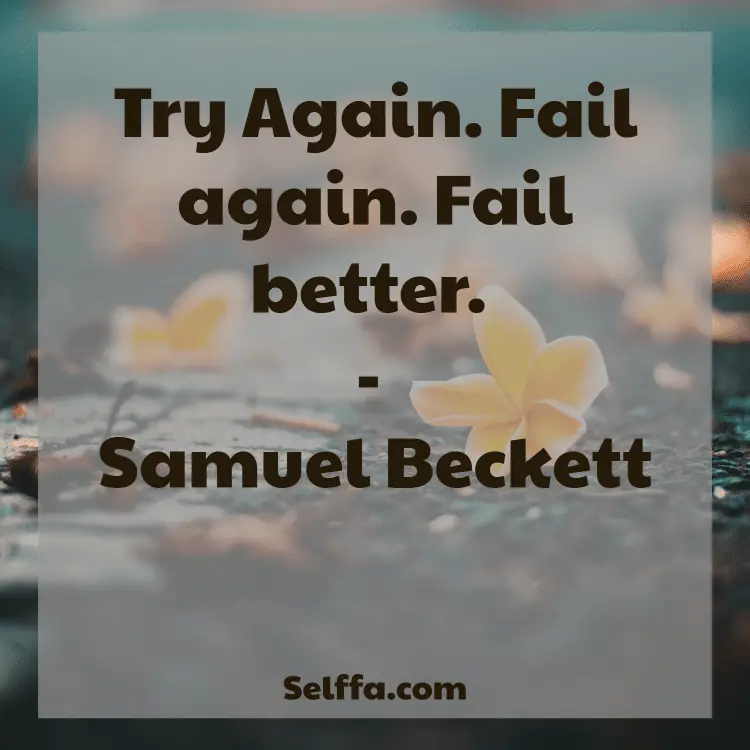 20. Big jobs usually go to the men who prove their ability to outgrow small ones. – Ralph Waldo Emerson
21. Learn to enjoy every minute of your life. Be happy now. Don't wait for something outside of yourself to make you happy in the future. Think how really precious is the time you have to spend, whether it's at work or with your family. Every minute should be enjoyed and savored. – Earl Nightingale
22. Life is 10 percent what happens to me and 90 percent how I react to it. – Charles R. Swindoll
23. The first step is you have to say that you can. – Will Smith
24. I don't believe people are looking for the meaning of life as much as they are looking for the experience of being alive. – Joseph Campbell
25. How you think about a problem is more important than the problem itself. So always think positively. – Norman Vincent Peale
26. I want people to see that the cosmic perspective is simultaneously honest about the universe we live in and uplifting when we realize how far we have come and how wonderful is this world of ours. – Neil deGrasse Tyson
27. Most great people have attained their greatest success one step beyond their greatest failure. – Napoleon Hill
28. It is not the first duty of the novelist to provide blueprints for insurrection or uplifting tales of successful resistance for the benefit of the opposition. The naming of what is there is what is important. – Ian Mcewan
29. All life is an experiment. The more experiments you make, the better. – Ralph Waldo Emerson
30. Once you choose hope, anything's possible. – Christopher Reeve
31. Never be bullied into silence. Never allow yourself to be made a victim. Accept no one's definition of your life; define yourself. – Harvey Fierstein
32. Nothing is impossible, the word itself says 'I'm possible'!" – Audrey Hepburn
33. If I persist long enough I will win. -Og Mandino
34. With all its sham, drudgery, and broken dreams, it is still a beautiful world. Be cheerful. Strive to be happy. – Max Ehrmann
35. Many men go fishing all of their lives without knowing that it is not fish they are after. – Henry David Thoreau
36. A memoir should have some uplifting quality, inspiring or illuminating, and that's what separates a life story that can influence other people. – Mitch Albom
37. In my books and in romance as a genre, there is a positive, uplifting feeling that leaves the reader with a sense of encouragement and hope for a brighter future – or a brighter present. – Debbie Macomber
38. I believe in being strong when everything seems to be going wrong. I believe that happy girls are the prettiest girls. I believe that tomorrow is another day and I believe in miracles. – Audrey Hepburn
39. Thankfully, persistence is a great substitute for talent. – Steve Martin
40. Like success, failure is many things to many people. With a positive mental attitude, failure is a learning experience, a rung on the ladder, a plateau at which to get your thoughts in order and prepare to try again. – Clement Stone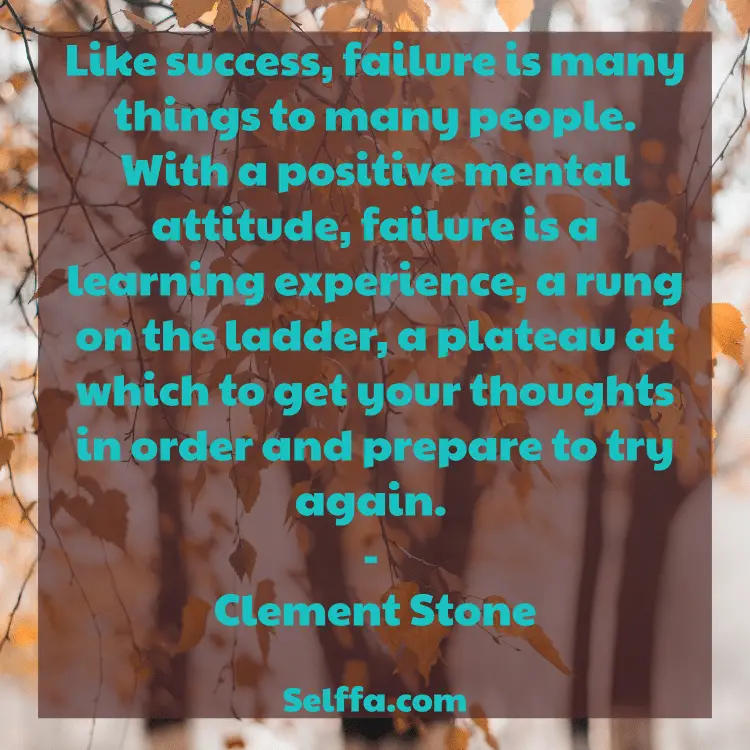 41. You cannot expect victory and plan for defeat. – Joel Osteen
42. Just be yourself. Let people see the real, imperfect, flawed, quirky, weird, beautiful, magical person you are.
43. I've never met a strong person with an easy past.
44. I am not afraid of storms, for I am learning how to sail my ship.
45. Hardships often prepare ordinary people for extraordinary destiny.
46. God changes caterpillars into butterflies, sand into pearls and coal into diamonds using time and pressure. He's working on you too.
47. God knew your life would come to this and he has a plan for you.
48. There's a reason for everything. This one may look like a setback. It doesn't mean you're failing but that God is growing you in a new way.
49. God is not punishing you, he is preparing you. Trust his plans not your pain.
50. The best revenge is a massive success. – Frank Sinatra
51. It is time for us all to stand and cheer for the doer, the achiever – the one who recognizes the challenges and does something about it. – Vince Lombardi
52. Don't think, just do. – Horace
53. Expect problems and eat them for breakfast. – Alfred A. Montapert
54. You just can't beat the person who never gives up. – Babe Ruth
55. The harder the conflict, the more glorious the triumph. – Thomas Paine
56. The first step toward success is taken when you refuse to be a captive of the environment in which you first find yourself. – Mark Caine
57. Start where you are. Use what you have. Do what you can. – Arthur Ashe
58. Set your goals high, and don't stop till you get there. – Bo Jackson
59. Either you run the day or the day runs you. – Jim Rohn
60. In order to succeed, we must first believe that we can. – Nikos Kazantzakis
61. Always do your best. What you plant now, you will harvest later. – Og Mandino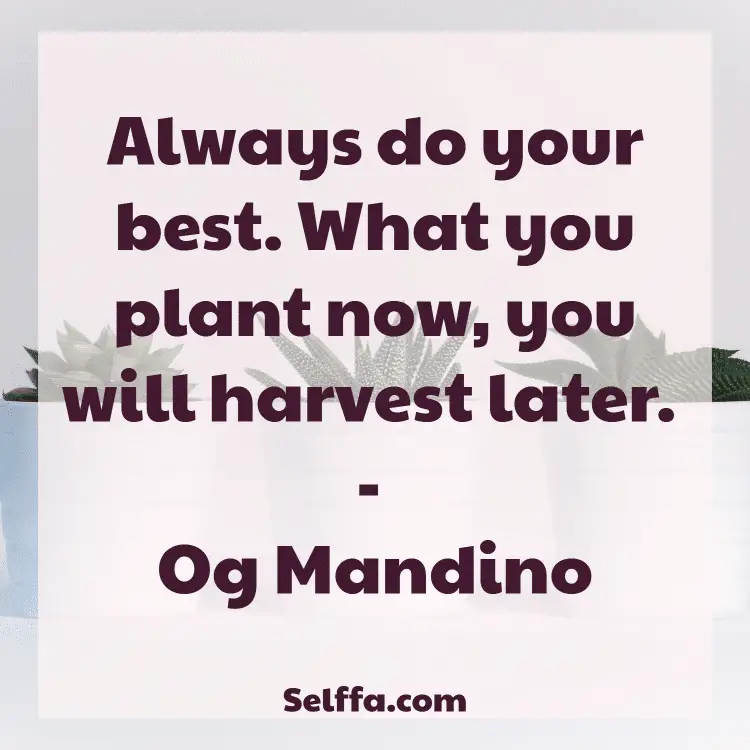 62. A man can be as great as he wants to be. If you believe in yourself and have the courage, the determination, the dedication, the competitive drive and if you are willing to sacrifice the little things in life and pay the price for the things that are worthwhile, it can be done. – Vince Lombardi
63. Do you want to know who you are? Don't ask. Act! Action will delineate and define you. – Thomas Jefferson
64. Character cannot be developed in ease and quiet. Only through experience of trial and suffering can the soul be strengthened, ambition inspired, and success achieved. – Hellen Keller
65. It is very important to know who you are. To make decisions. To show who you are. – Malala Yousafzai
66. Never complain and never explain. – Benjamin Disraeli
67. Nobody can go back and start a new beginning, but anyone can start today and make a new ending.
68. We may encounter many defeats but we must not be defeated. – Maya Angelou
69. Our greatest weakness lies in giving up. The most certain way to succeed is always to try just one more time. – Thomas A. Edison
70. You will never do anything in this world without courage. It is the greatest quality in the mind next to honor. – Aristotle
71. True happiness involves the full use of one's power and talents. – John W. Gardner
72. Even if you fall on your face, you're still moving forward. – Victor Kiam
73. Press on – nothing can take the place of persistence. Talent will not; nothing is more common than unsuccessful men with talent. Genius will not; unrewarded genius is almost a proverb. Education will not; the world is full of educated derelicts. Perseverance and determination alone are omnipotent. – Calvin Coolidge
74. Be miserable. Or motivate yourself. Whatever has to be done, it's always your choice. – Wayne Dyer
75. Often we women are risk-averse. I needed the push. Now, more than ever, young women need more seasoned women to provide that encouragement, to take a risk, to go for it. Once a glass ceiling is broken, it stays broken. – Jennifer Grahnolm
76. When one door closes another door opens; but we so often look so long and so regretfully upon the closed door, that we do not see the ones which open for us. – Alexander Graham Bell
77. Quality is not an act, it is a habit. – Aristotle
78. Get going. Move forward. Aim High. Plan a takeoff. Don't just sit on the runway and hope someone will come along and push the airplane. It simply won't happen. Change your attitude and gain some altitude. Believe me, you'll love it up here. –  Donald Trump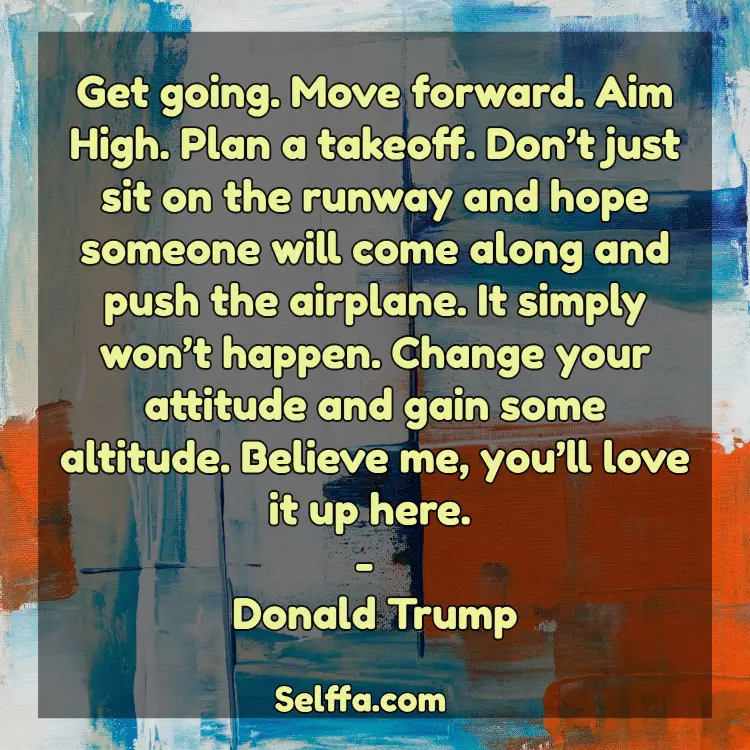 79. Life is a succession of lessons which must be lived to be understood. – Helen Keller
80. Accept the challenges so that you can feel the exhilaration of victory. – George S. Patton
81. I decided, very early on, just to accept life unconditionally; I never expected it to do anything special for me, yet I seemed to accomplish far more than I had ever hoped. Most of the time it just happened to me without my ever seeking it. – Audrey Hepburn
82. You must do the thing you think you cannot do. – Eleanor Roosevelt
83. In essence, if we want to direct our lives, we must take control of our consistent actions. It's not what we do once in a while that shapes our lives, but what we do consistently. – Tony Robbins
84. When life knocks you down, try to land on your back. Because if you can look up, you can get up. – Les Brown
85. It is not the mountain we conquer but ourselves.
86. Setting goals is the first step in turning the invisible into the visible. – Tony Robbins
87. Learning is the beginning of wealth. Learning is the beginning of health. Learning is the beginning of spirituality. Searching and learning is where the miracle process all begins. – Jim Rohn
88. Life is 10% what happens to you and 90% how you react to it. – Charles R. Swindoll
89. Our greatest weakness lies in giving up. The most certain way to succeed is always to try just one more time. – Thomas A. Edison
90. Never, never, never give up. – Winston Churchill
91. Some luck lies in not getting what you thought you wanted but getting what you have, which once you have got it you may be smart enough to see is what you would have wanted had you known. – Garrison Keillor
92. Fortune knocks but once, but misfortune has much more patience.
93. Perhaps everything terrible is in its deepest being something helpless that wants help from us. – Rainer Rilke
94. Somehow I can't believe that there are any heights that can't be scaled by a man who knows the secrets of making dreams come true. This special secret, it seems to me, can be summarized in four Cs. They are curiosity, confidence, courage, and constancy, and the greatest of all is confidence. When you believe in a thing, believe in it all the way, implicitly and unquestionable. – Walt Disney
95. It doesn't matter who you are, where you come from. The ability to triumph begins with you. Always.
96. Start where you are. Use what you have. Do what you can. – Arthur Ashe
97. Hold on to what is good, even if it's a handful of earth. – Hopi Prayer
98. He who refuses to embrace a unique opportunity loses the prize as surely as if he had failed. – William James
99. Believe in yourself. Have faith in your abilities. Without a humble but reasonable confidence in your own powers, you cannot be successful or happy. – Norman Vincent Peale
100. If you fell down yesterday, stand up today. – H. G. Wells
101. Keep your eyes on the stars, and your feet on the ground. – Theodore Roosevelt
102. When something is important enough, you do it even if the odds are not in your favor. – Elon Musk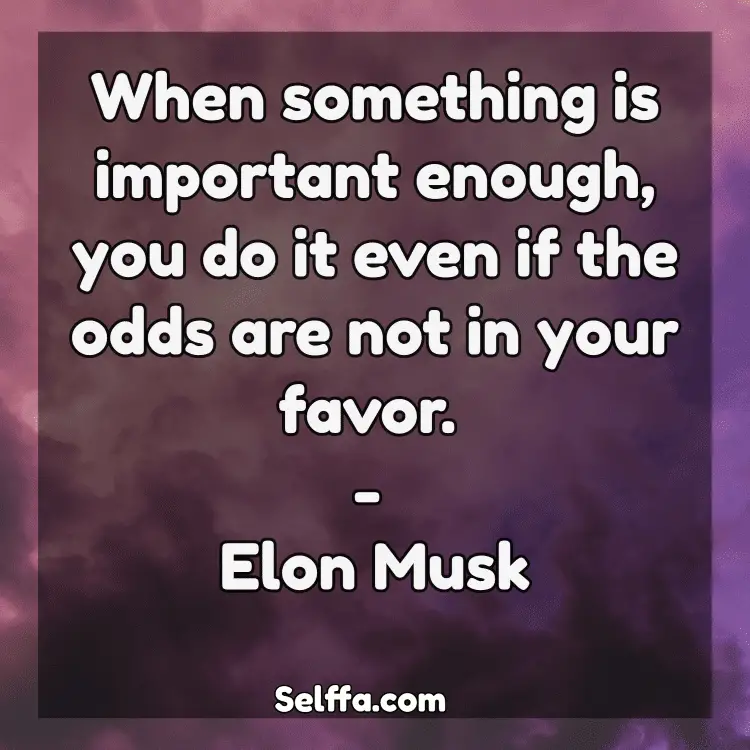 103. Do your work with your whole heart, and you will succeed – there's so little competition. – Elbert Hubbard
104. The most effective way to do it is to do it. – Amelia Earhart
105. A woman is a full circle. Within her is the power to create, nurture and transform. – Diane Mariechild
106. We can do no great things, only small things with great love. – Mother Teresa
107. If you're feeling helpless, help someone. – Aung San Suu Kyi
108. One's life has value so long as one attributes value to the life of others, by means of love, friendship, indignation, and compassion. – Simone De Beauvoir
109. People will forget what you said, people will forget what you did, but people will never forget how you made them feel. – Maya Angelou
110. If we have no peace, it is because we have forgotten that we belong to each other. – Mother Teresa
111. No one has ever become poor by giving. – Anne Frank
112. People, even more than things, have to be restored, renewed, revived, reclaimed and redeemed. Never throw out anyone. – Audrey Hepburn
113. Life shrinks or expands in proportion with one's courage. – Anaïs Nin
114. It takes a great deal of courage to stand up to your enemies, but even more to stand up to your friends. – J.K. Rowling
115. I have learned over the years that when one's mind is made up, this diminishes fear; knowing what must be done does away with fear. – Rosa Parks
116. When the whole world is silent, even one voice becomes powerful. – Malala Yousafzai
117. Nobody cares if you can't dance well. Just get up and dance. Great dancers are not great because of their technique, they are great because of their passion. – Martha Graham
118. I know for sure that what we dwell on is what we become. – Oprah Winfrey
119. If you're not making mistakes, then you're not making decisions. – Catherine Cook
120. If you obey all the rules, you miss all the fun. – Katharine Hepburn
121. You learn something out of everything, and you come to realize more than ever that we're all here for a certain space of time, and, and then it's going to be over, and you better make this count. – Nancy Reagan
122. Keep your sunny side up, keep yourself beautiful, and indulge yourself. – Betsey Johnson
123. I don't think of all the misery but of the beauty that still remains. – Anne Frank
124. If you don't have any shadows you're not in the light. – Lady Gaga
125. When you notice that you're having negative thoughts about how all of this is going to pan out, you need to remind yourself that you are not a very good fortune teller. – Donna W. Hill
126. Optimism is the faith that leads to achievement. – Helen Keller
127. Success is getting what you want, happiness is wanting what you get. – Ingrid Bergman
128. I never dreamed about success. I worked for it. – Estée Lauder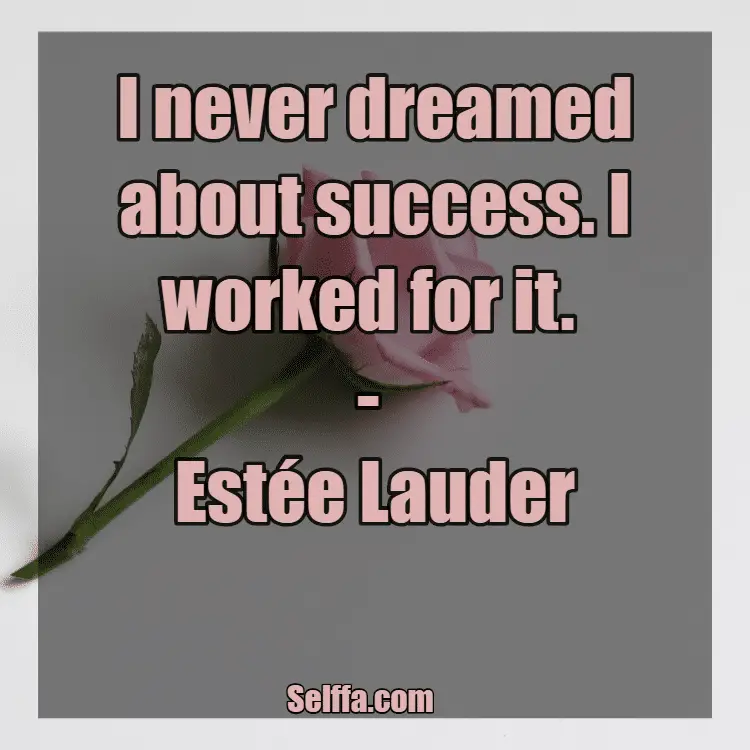 129. Doing the best at this moment puts you in the best place for the next moment. – Oprah
130. I've been absolutely terrified every moment of my life and I've never let it keep me from doing a single thing I wanted to do. – Georgia O'Keeffe
131. Don't give up. Don't lose hope. Don't sell out. – Christopher Reeve
132. The truest greatness lies in being kind, the truest wisdom in a happy mind. –  Ella Wheeler Wilcox
133. Never give up. You'll never know what tomorrow brings.
134. Music does a lot of things for a lot of people. It's transporting, for sure. It can take you right back, years back, to the very moment certain things happened in your life. It's uplifting, it's encouraging, it's strengthening. – Aretha Franklin
135. Defeat is simply a signal to press onward. – Helen Keller
136. I was recently asked about the business side of 'Biggest Loser,' but as long as we entertain people, we can keep coming back and making a difference. It's a delicate balance, but one feeds off the other. I feel so good about the show – it's uplifting and inspiring and entertaining at the same time. – Alison Sweeney
137. I can't change the direction of the wind, but I can adjust my sails to always reach my destination. – Jimmy Dean
138. Keep your thoughts positive because your thoughts become your words. Keep your words positive because your words become your behavior. Keep your behavior positive because your behavior becomes your habits. Keep your habits positive because of your habit. – Mahatma Gandhi
139. I'd rather be a failure at something I love than a success at something I hate. – George Burns
140. Insanity is doing the same thing, over and over again, but expecting different results. – Albert Einstein
141. We are shaped by our thoughts; we become what we think. When the mind is pure, joy follows like a shadow that never leaves. – Buddha
142. Forgiveness is a funny thing. It warms the heart and cools the sting. – William Arthur Ward
143. Sometimes before we make a record I go back and listen to a few. It's equally humbling and uplifting. – Michael Stipe
144. I've failed over and over and over again in my life. And that is why I succeed. – Michael Jordan
145. The more the panic grows, the more uplifting the image of a man who refuses to bow to the terror. – Ernst Junger
146. Once we accept our limits, we go beyond them. – Albert Einstein
147. Real Integrity is doing the right thing, knowing that nobody's going to know whether you did it or not. – Oprah Winfrey
148. If you always attach positive emotions to the things you want, and never attach negative emotions to the things you don't, then that which you desire most will invariably come your way. – Matt D. Miller
149. I hope you find true meaning, contentment, and passion in your life. I hope you navigate the difficult times and come out with greater strength and resolve. I hope you find whatever balance you seek with your eyes wide open. And I hope that you – yes, you – have the ambition to lean into your career and run the world. Because the world needs you to change it. – Sheryl Sandberg
150. Hope springs forever. – J.K. Rowling,
151. If you're waiting until you feel talented enough to make it, you'll never make it. – Criss Jami
152. You will and should do everything in your power to improve your actual writing skills. You'll work hard to create characters that are compelling and unforgettable. But in the end, it's the story that matters. Don't ever let the other stuff get in the way of your inherent skills as a kick-butt storyteller. Move the reader, make them happy and sad and excited and scared. Make them stare into space after they've put the book down, thinking about the tale that's become a part of them. Be unpredictable, be real, be interesting. Tell a good story. – James Dashner
153. Everything is within your power, and your power is within you. – Janice Trachtman
154. For within your flesh, deep within the center of your being, is the undaunted, waiting, longing, all-knowing. Is the ready, able, perfect. Within you, waiting its turn to emerge, piece by piece, with the dawn of every former test of trial and blackness, is the next unfolding, the great unfurling of wings, the re-forged backbone of a true Child of Light. – Jennifer DeLucy
155. Good. If you've done things you aren't proud of. It means you have a conscience. – Criss Jami
156. Don't ever be discouraged with yourself because you have not arrived at success, but instead be pleased that you are pressing toward it. – Joyce Meyer
157. Sigh like the wind, open your arms, your chest, your heart, and all creatures will hum to you. – Penelope Smith
158. God will fight your battles if you just keep still. He is able to carry you through. Trust Him. Keep standing, keep believing and keep hoping. – Germany Kent