In between all the chaos of everyday life, responsibilities, and never-ending errands, Sunday becomes the perfect opportunity to spend quality time with our loved ones. Here is a list of Sunday Quotes for family, friends, and coworkers. 
Sunday Morning Quotes
1. On this lovely Sunday, remember to take a deep breath and relax. Enjoy your family, your friends, and indulge yourself in a nice cup of coffee.
2. May your Sunday be blessed with love, joy, peace and happiness.
3. Have a blessed and beautiful Sunday.
4. It's Sunday, therefore I am 100% motivated to do nothing today.
5. If your Sunday doesn't involve wine & yoga pants you're doing it wrong.
6. Sunday clears away the rust of the whole week.
7. Sunday is the perfect day to refuel your soul and to be grateful for each and every one of your blessings.
8. Sunday checklist: do nothing & chill.
9. Sunday. Take it slow and give your soul a chance to catch up with your body.
10. There is always something new to learn and feel each Sunday.
11. Good morning. Start where you are, use what you have, do what you can. Happy Sunday.
12. It's a beautiful Sunday morning and a great opportunity to thank the Lord for reminding us of how blessed we are.
13. Cheers to Sunday. Snuggle by the fire, read a good book, have a hot cup of coffee (or two), watch an old movie, relax and enjoy the day.
14. Let's crawl under a big blanket and watch movies.
15. She swears lazy Sundays were made for her. Doing whatever it is she wants to do, even if it is, nothing at all.
16. Today, give yourself a break. Happy Sunday.
17. Happy Sunday. It's gonna be a bright, bright Sun-Shiny day.
18. Don't waste a single Sunday. If you don't waste Sundays, you will be less likely to waste Mondays, Tuesdays, and Wednesdays.
19. Saturdays are for adventure. Sundays are for cuddling.
20. Sunday is your best day. You know you had an amazing week. Time to recover and think how you gonna kill the next one.
21. Do not let your Sunday be taken from you. If your soul has no Sunday, it becomes an orphan.
22. Smile more than you cry, give more than you take and love more than you hate.
23. Today is a lazy day.
24. Wherever you go, no matter what the weather, always bring your own sunshine.
25. Sunday. Rest day. Snuggle day. Happy day.
26. Start this Sunday with a clean heart. No doubt, no tears, no fear, no worry. Thank God for his priceless gifts and miracles throughout the world.
27. Today, whatever is good for your soul, do that.
28. A Sunday well spent brings a week of content.
29. Lazy Sunday.
30. Sundays. Sleep until you're hungry. Then eat until you're sleepy.
31. Sunday is the day when I prepare for the week ahead by making improbable To Do lists and browsing Pinterest for ideas on how to decorate my imaginary mansion.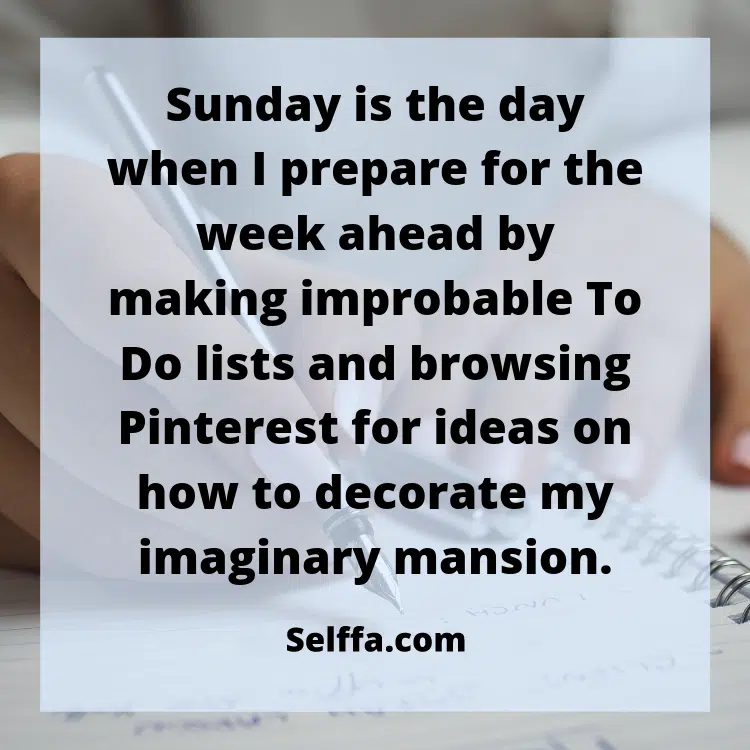 32. A girl and her bed on Sundays are an endless love affair.
33. This is your Sunday evening reminder that you can handle whatever this week throws at you.
34. Happy Sunday. Whatever you've got planned enjoy. Wishing you a restful, peaceful, beautiful day.
35. It's Sunday. I don't move on Sundays.
36. Hello, Sunday. When life give you a hundred reasons to cry, show life that you have a thousand reasons to smile.
37. Sunday blessings. May God's love fill your heart with overflowing joy.
38. Lust is Saturday night; love is Sunday morning.
39. Monday. The moment when Sunday stops feeling like a Sunday and the anxiety of Monday kicks in.
40. Sundays should come with a pause button.
41. Hello Sunday. May you be blessed with love in your heart, happiness in your home, peace in your soul, and joy in your life.
42. Let's lay in bed all day and trade sexual favors for trips to the fridge.
43. 5 steps to a productive Sunday. Wake up early. Get some fresh air. Set a schedule. Make time for yourself. Be goal-oriented.
44. Do not let the shadows of yesterday spoil your sunshine today. Have a beautiful Sunday.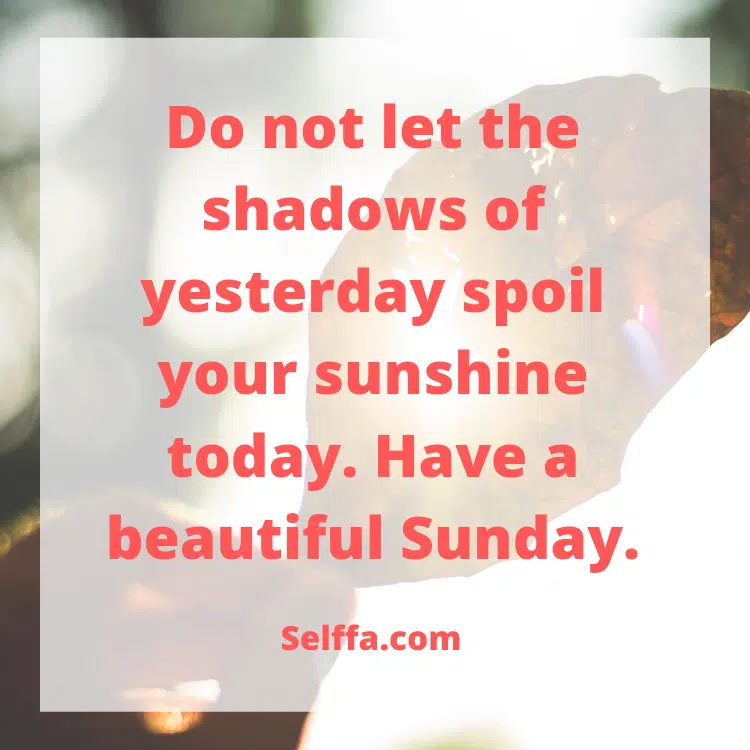 45. Each morning we are born again. What we do today is what matters most. Happy Sunday.
46. Free yourself from all prejudices and let yourself go on Sunday. Good morning.
47. Good morning. Surround yourself with positive people, who'll give you bright emotions and Sunday will be unforgettable.
48. Wake up, spread happiness and sparkle with positive vibes. Happy Sunday.
49. Let this Sunday morning bring you lots of smiles and leave all troubles behind you.
50. Sunday is a wonderful day to spend in the circle of your family and friends, make impressions for the whole week today.
51. Bathe in a sea of euphoria and bliss today, good morning!
52. Wake up, it is Sunday, which means that spontaneous and happy meetings are guaranteed.
53. Let today's atmosphere help you to conquer new heights. Good morning.
54. Enjoy your Sunday! Have faith in your heart and courage to fulfill all your dreams.
55. Let God present you laughter, happiness, mercy, and peace not only on this Sunday but on every day of your life.
56. May the Lord give you the necessary support to handle what you think is unmanageable today. Start a new life this Sunday.
57. God bless you. May you never know disappointment, sadness, grief, and trouble. Be happy.
58. Happy Sunday. If you are happy today, share this joy with the Lord, if you are sad, find strength in God, and remember that He is always in your heart.
59. Have a prosperous Sunday. Meet with your family and friends and spend each second of this day with pleasure.
60. Dance in the rhythm of life, enjoy all that this world has offered you. Happy Sunday.
61. Sunday is an excellent chance to start living your life to the fullest, do what you want and forget about consequences. Have a great Sunday.
62. It's Sunday. Let you be in harmony with yourself and with the outer world and spend this day brightly.
63. Give and accept pleasure, happiness, and laughter, because today is Sunday.
64. Let this Sunday be a rainbow for the entire upcoming week! Shine & smile.
65. Sundays are for warm evenings, cuddling and flavored tea. Happy Sunday.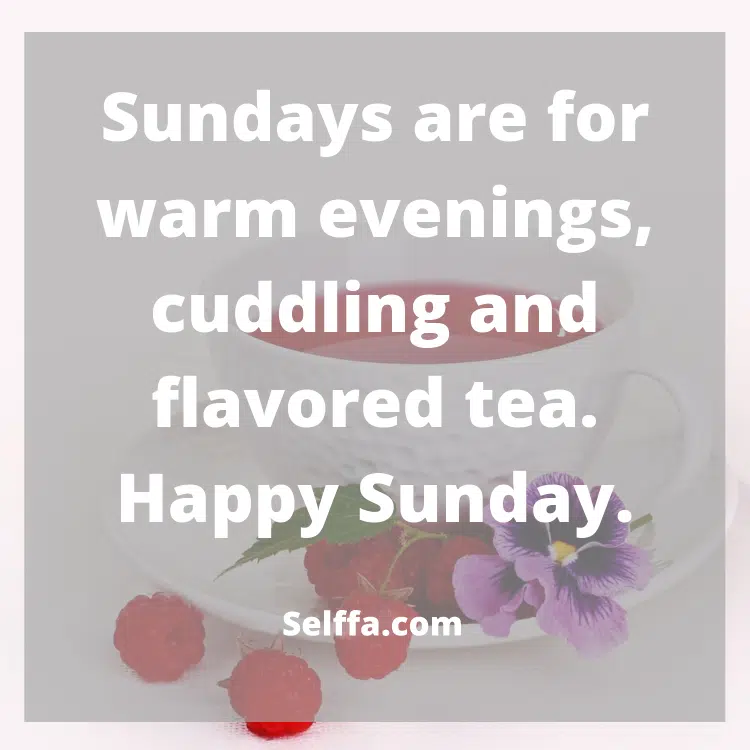 66. Indescribable bliss and delight – may they be your goal this Sunday.
67. A productive Sunday is the Sunday when you felt and learned something new. Have a marvelous Sunday.
68. Meet this happy Sunday. Remember: whatever you do and wherever you go, take always a smile and a good mood with you.
69. You are truly blessed because you meet Sunday with your close people and friends, value each precious moment.
70. Sunday is a perfect day to choose a new path in life, don't be afraid of changes, they come when they are really needed. Have a wonderful Sunday.
71. The road to success is always the hardest, remember about it when you feel down.
72. Your life is free from worries, tears, and fears, it is the best reason for happiness. Have a great Sunday.
73. Have a great Sunday. Don't forget that experience may be good or bad, but it helps you to move on.
74. Rejoice in happiness, be patient in grief and thank the Lord for all you have. Have a beautiful Sunday.
75. You were given another opportunity to live Sunday cheerfully, use it and enjoy the day.
76. Take your life into your own hands and make this Sunday awesome.
77. Tomorrow is a gift, today is a unique chance, and it's up to you what to do: whether to dream about the gift or to use the chance.
78. It's a beautiful Sunday. There are so many reasons to be happy and not to give up, look around and cheer up.
79. Don't make plans for the future, fulfill your dreams now, you are wonderful and you are capable of anything. Enjoy your Sunday.
80. Faith, hope, and a positive attitude lead to great achievements. Have a stunning Sunday.
81. Meet this gorgeous day and keep in mind that your major enemy is fear.
82. Have the courage to start a new path this Sunday and a miracle will happen.
83. Happy Sunday. It is never too late to try what you haven't done before and to go where you haven't been.
84. Don't let obstacles break you, may your future success be your main motivation. Happy Sunday.
85. I've been saying for a couple of years now that people need to let God out of the Sunday morning box, that He doesn't want to just be with you for an hour or two on Sunday morning and then put back in His box to sit there until you have an emergency, but He wants to invade your Monday, Tuesday, Wednesday, Thursday, Friday, Saturday, and Sunday. – Joyce Meyer
86. I'm a walker, whether that's a stroll on the beach at sunset or getting up at eight o'clock on a Sunday morning and doing an eight-hour hike through a canyon. It's Zen time for me. – Lara Pulver
87. When I woke up Sunday morning at the Open and stepped outside and felt the wind and rain in my face, I knew I had an excellent chance to win if I just took my time and trusted myself.  – Tom Kite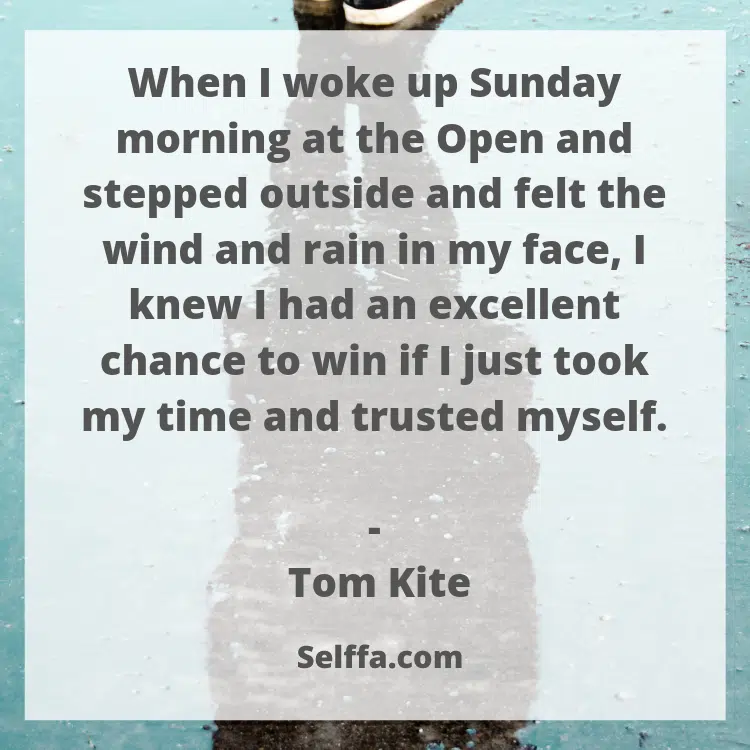 88. I'm obsessed with radio. It's a good start to Sunday morning. – R. L. Stine
89. My favorite meal would have to be good old-fashioned eggs, over easy, with bacon. Many others, but you can't beat that on a Sunday morning, especially with a cup of tea. – Gary Oldman
90. I'm not going to lie. I miss the grass and the trees. I miss home. On a Sunday morning, you could chill on the deck and listen to people mowing their lawns. It was very serene. – Taylor Louderman
91. I love waking up to Sunday morning pancakes. The whole process of making them, just out in the kitchen together making pancakes on a Sunday morning; that's an experience every girl should have. – Ronda Rousey
92. I'm going to marry a Jewish woman because I like the idea of getting up Sunday morning and going to the deli. – Michael J. Fox
93. I was an overweight kid, and my father struggled with his weight, too. We would go for a ride on his motorcycle on Sunday morning to get doughnuts, to make pizza together, or go get ice cream. I quickly learned that food equaled love and attention. – Jillian Michaels
94. I was raised in an evangelical Methodist church. Evangelical meant that though you had been baptized and made a member of the church on Sunday morning, you still had to be 'saved' on Sunday night. I wanted to be saved, but I did not think you should fake it. – Stanley Hauerwas
95. Just in terms of allocation of time resources, religion is not very efficient. There's a lot more I could be doing on a Sunday morning. – Bill Gates
96. Some people keep God in a Sunday morning box and say, 'Hey, I did my religious duty.' That's fine, but the scripture says to pray without ceasing. And I think that means all through the day you're talking to God. Even if it's in your thoughts. – Joel Osteen
97. It was not enough to come and listen to a great sermon or message every Sunday morning and be confined to those four walls and those four corners. You had to get out and do something. – John Lewis
98. You know what I like to do on a Sunday morning? Clean my house. I really enjoy it, it's my ritual. I require tidiness, actually. I have to have everything spotless before I can relax. – Jonathan Rhys Meyers
99. A Sunday morning spent reading the paper together, maybe drinking some mimosas, alone, and talking until noon. That would be pretty amazing. Married couples with kids will understand. – Dierks Bentley
100. My parents were great at making sure I got out of bed when I needed to play football on a Sunday morning and that I was ready after school to go to training on a Tuesday and Thursday. But it was never forced upon me or rammed down my throat. If it had been, I could have ended up hating sport. – Greg Rutherford
101. The more generous we are, the more joyous we become. – William Arthur
102. Lazy people are soon poor, hard workers get rich. – Proverbs 10:4
103. Starting your day in gratitude will give you the right attitude for the rest of your day. – Sumit Gautam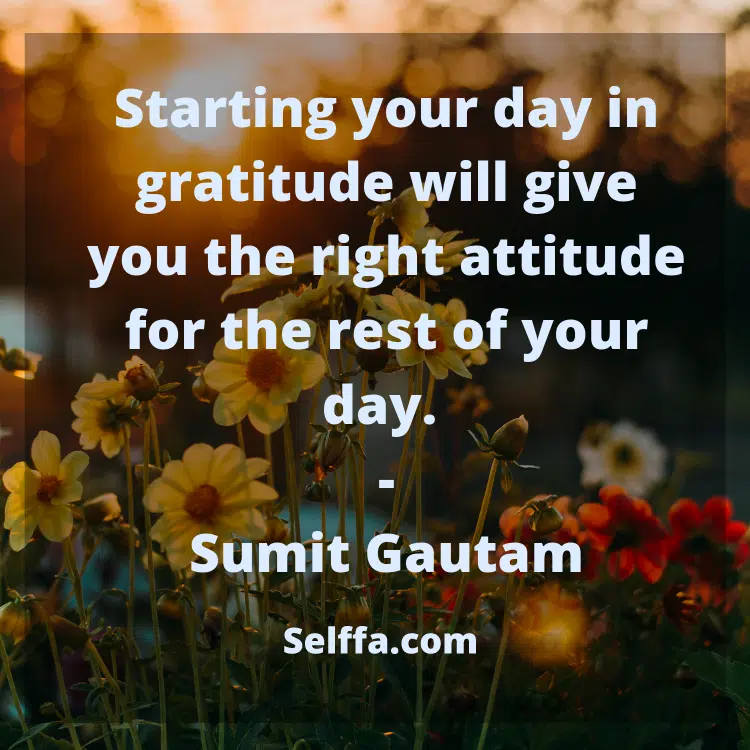 104. God provides the wind, but man must raise the sails. – Augustine of Hippo
105. We cannot save the world without God's help, but He can't save the world without ours. We need His love. He needs our hands and feet.  – Marianne Williamson
106. May happiness be with you and success follow you. May God be with you and may He bless you. – Irish Blessing
107. When you are unemployed, weekends are seven days long. – Mokokoma Mokhonoana
108. Love is poached eggs and the Sunday newspaper and slow, hard sex. – Michael Bible
109. It was one of those midsummer Sundays when everyone sits around saying, "I drank too much last night". – John Cheever
110. There's something special about Sunday mornings. They give us a fresh start and a chance to leave all the worries behind.
111. I don't want a religion that I put away with my Sunday clothes, and don't take out till the day comes around again; I want something to see and feel and live day by day. – Louisa May Alcott
112. I try to not work too many Sundays. At least on Sunday nights, I try to chill out a little bit. I call it Sunday Funday. – Miley Cyrus
113. Sunday is a day to clear the mind of all that has transpired the week before. – Byron Pulsifer
114. This week, whatever you may be facing, remember that in three short days, the disciples and family of Christ went from hopelessness to hopeful – from devastation to celebration, from defeat to victory. Because of the cross and the tomb, you have a hope in Christ. – Sheri Easter
115. Trust in God's sweet timing and don't ever, ever think that you don't have value on this earth. You are born for such a time as this. – Heather Lindsey
116. Now, every day when I wake up I am grateful. I have to be. And I have to count the things that are abundant in my life. Literally count them. – James Altucher
117. The frantic pace of life is only interrupted by the quietness of Sunday. – Byron Pulsifer
118. On Sunday, I think the most important thing for me is to just turn my brain off. The idea of not trying is the key, because that's where you're relaxed enough to let your brain make new connections. – Rebecca Stead
119. You cannot have the beginnings of a productive week without a Sunday spent in the calmness of the day. – Byron Pulsifer
120. Sunday, a day of rest declared by God for our benefit, appreciate the day and rest. – Byron Pulsifer
121. I always look forward to Sunday; a day to offer my thanks; to give glory to the one true God of the universe and the purveyor of all peace. – Byron Pulsifer
122. Easter Sunday, the resurrection of Jesus, gives absolute meaning to the hope in Christianity. – Byron Pulsifer
123. Without Sunday, I wouldn't know when to put on the brakes of a hurtling life. – Byron Pulsifer
124. Learn how to trust in yourself and also place your trust in the Lord he will never fail you. – Shareta Berry
125. Being good at everything means only that you are not great at anything. Instead, concentrate only on what you are best at. While you may seem vulnerable with such a narrow focus, everyone will know how remarkable you are in your own field. – Wuyen Hsu
126. This is Sunday, and the question arises, what'll I start tomorrow? – Kurt Vonnegut
127. Oh blessed Sunday how I long to embrace your quietude, your calmness and your command to rest. – Byron Pulsifer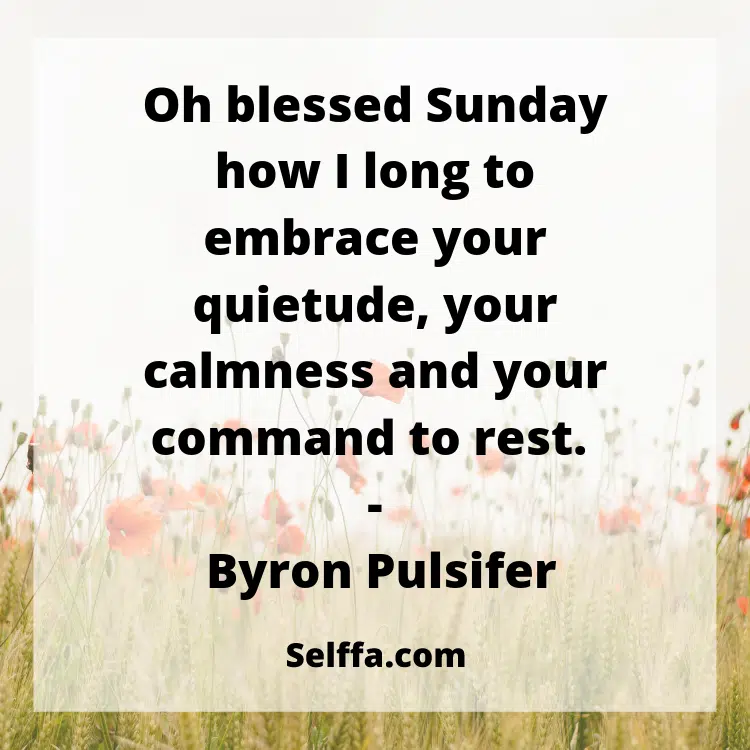 128. Sunday mornings reminds us that the Lord never left our side throughout the whole week.
129. Why doesn't Sunday ever wait until *I'm* tired? – Sarah Miller
130. Sunday that airless graveyard that the brutalized week finally stumbles into and collapses. – Chandler Brossard
131. Meet this happy Sunday. Remember: whatever you do and wherever you go, take always a smile and a good mood with you.
132. When sunlight meets rain, rainbows are born in love with the world.
133. Happy wet Sunday. – Anthony T.Hincks
134. Sunday owes its existence to the other days in the week. – Anthony T. Hincks
135. Sundays are like confetti floating in the air in slow motion, in the evening they reach the ground and you hope a bit of wind could blow on them so they could fly a bit longer. – Alain Bremond-Torrent
136. It was the kind of Sunday to make one ache for Monday morning. – Joan Didion
137. O holy Sunday, let your darkness not come along my way. Let her nurture internal and external world, as I start my personal day. – Santosh Kalwar
138. I hate Sunday, and I don't think I'll ever get over it. But I'm going to try. – Frank D. Gilroy
139. The city takes a breath on Sunday. Of all that's lost with the pursuit of what's next, I hope we don't lose that. – Hawksley Workman
140. It's not that we spend five days looking forward to just two. It's that most people do what they enjoy most on those two days. Imagine living a life where every day are your Saturdays and Sundays. Make every day your weekend. Make everyday a play-day. – James A. Murphy
141. Compassion is a lifetime business. You can't say something like, "I will have compassion on Monday, Thursdays and Fridays only. But for the rest, I will be cruel". That is hypocrisy. – Israelmore Ayivor
142. How necessary Sundays have become. I reach for them like sleeping lovers on the other side of my earth or my mattress. – Darnell Lamont Walker
143. The church is constituted as a new people who have been gathered from the nations to remind the world that we are in fact one people. Gathering, therefore, is an eschatological act as it is the foretaste of the unity of the communion of the saints. – Stanley Hauerwas
144. I still feel the need of some imperishable bliss. – Wallace Stevens
145. Well, there's nothing better than putting your feet up on a Sunday afternoon and grabbing a good book. – Chris Klein
146. But nothing beats a Woody Allen film on a Sunday night, with a glass of wine and some leftovers. – Kate Fleetwood
147. Sunday. The day I planned a lot but actually do nothing. – Lovely Goyal
148. How necessary Sundays have become. I reach for them like sleeping lovers on the other side of my earth or my mattress. – Darnell Lamont Walker
149. Sunday on the beach, having seashells in the pocket, sand in the shoes, was the day to refuel our souls and be grateful to the blessings. – ejump
150. Between Monday and Saturday men make an audience. On Sunday, they make a congregation. – Mokokoma Mokhonoana
151. You know what Sunday is, it's a day with a lot of potential for naps. – Polly Horvath
152. Sunday is a time when you sit back and reflect on all the blessings that you have received. Smile at all the good things that you are enjoying. – Sera Train
153. But it's Sunday, Mr. Bell. Clocks are slow on Sundays. – Truman Capote
154. It can be sunny everyday but not as authentic as on a Sunday.
155. What does Sunday, the day of the Lord, mean for us? It is a day for rest and for family, but first of all a day for Him. – Pope Benedict XVI
156. The feeling of Sunday is the same everywhere, heavy, melancholy, standing still. – Jean Rhys
157. On this wonderful Sunday, don't forget to be thankful for the little things in life.
158. Today is Sunday, so please conduct yourself accordingly.  Sleep in, sip tea, lay around in your pajamas, listen to good music, and indulge yourself in an afternoon nap.
159. Sunday is the Lord's Day. Let us find time to be with him. – Pope Francis
160. You cannot have the beginnings of a productive week without a Sunday spent in the calmness of the day. – Byron Pulsifer
161. On Sunday mornings, as the dawn burned into day, swarms of gulls descended on the uncollected trash, hovering and dropping in the cold clear light. – Edward Conlon.
162. Happiness is a hot bath on a Sunday afternoon. – A.D. Posey
163. It's a beautiful Sunday morning and a great opportunity to thank the Lord for reminding us of how blessed we are.
164. Oh dear Sunday, I want to sleep in your arms and have a fun day. – Santosh Kalwar
165. Weekends don't count unless you spend them doing something completely pointless. – Bill Watterson
166. Sometimes I have loved the peacefulness of an ordinary Sunday. It is like standing in a newly planted garden after a warm rain. You can feel the silent and invisible life. – Marilynne Robinson
167. Good morning. Surround yourself with positive people, who'll give you bright emotions and Sunday will be unforgettable.