The future can sometimes become scary simply because we don't really know what it's going to be. We won't know which way it will go, whether the path will be rosy or hazy, if it's going uphill or down, or whether things will fall into its right place and not the other way around. But we want to encourage you to keep on going anyway. These quotes about the future that we compiled will remind you to always be hopeful and work hard to live a better future.
Quotes About the Future
1. The future ain't what it used to be. – Yogi Berra
2. The best way to predict the future is to create it. – Abraham Lincoln
3. The future is always beginning now.  
4. Those who live in the past limit their future.
5. The future is not some place we are going, but one we are creating. The paths to it are not found but made, and the activity of making them changes both the maker and the destination. – John Schaar
6. Planning is bringing the future into the present so that you can do something about it now. – Alan Lakein
7. A wise man would ignore the future and drink and carouse while he still has an opportunity to enjoy this world. – Christopher Paolini
8. It is impossible for you to take power over the future because it isn't even real. – WM. Paul Young
9. The essence of optimism is that it takes no account of the present, but it is a source of inspiration, of vitality and hope where others have resigned; it enables a man to hold his head high, to claim the future for himself and not to abandon it to his enemy. – Dietrich Bonhoeffer
10. The greatest adventure is what lies ahead. Today and tomorrow are yet to be said. The chances, the changes are all yours to make. The mold of your life is in your hands to break. – J.R.R. Tolkien
11. In a world without future, each parting of friends is a death. In a world without future, each loneliness is final. In a world without future, each laugh is the last laugh. In a world without future, beyond the present lies nothingness, and people cling to the present as if hanging from a cliff. – Alan Lightman
12. I saw the days of the year stretching ahead like a series of bright, white boxes, and separating one box from another was sleep, like a black shade. Only for me, the long perspective of shades that set off one box from the next day had suddenly snapped up, and I could see day after day after day glaring ahead of me like a white, broad, infinitely desolate avenue. – Sylvia Plath
14. Behind the curtain's mystic fold. The glowing future lies unrolled. – Bret Harte
15. Nothing dates harder and faster and more strangely than the future. – Neil Gaiman
16. The present is the food of the future. – Edward Counsel
17. We are fond of looking to the future, because our secret wishes make us apt to turn in our favour the uncertainties which move about in it hither and thither. – Johann Wolfgang Von Goethe
18. Change is the process by which the future invades our lives. – Alvin Toffler
19. The golden age is not in the past, but in the future; not in the origin of human experience, but in its consummate flower, not opening in Eden, but out from Gethsemane. – E. H. Chapin
20. Our future will be shaped by the assumptions we make about who we are and what we can be. – Rosabeth Moss Kanter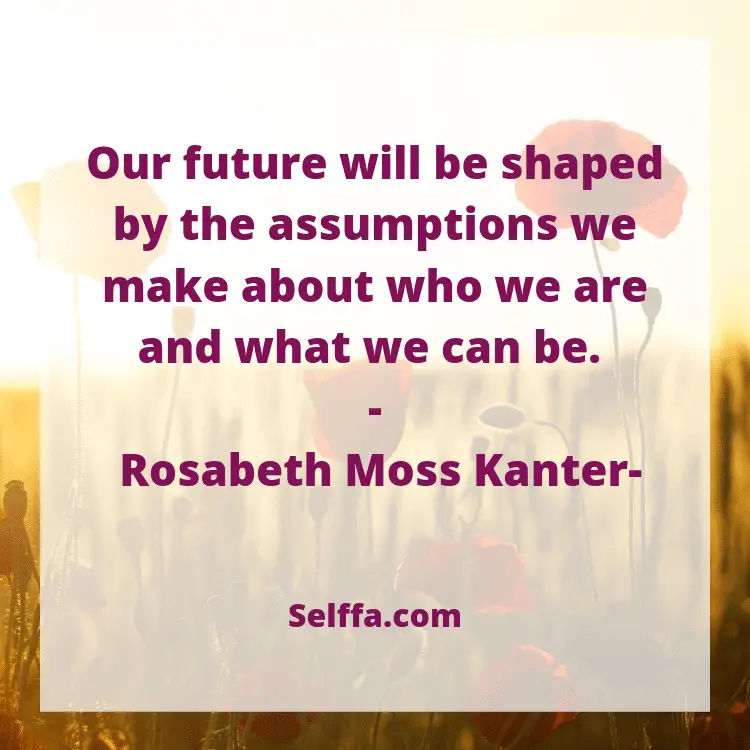 21. Total self-confidence is built through positive expectations. You can build positive expectations by knowing that you have the power within to overcome any obstacle that lies ahead. So many people have a magnetic attraction to the past. They save momentos, clippings, old letters, and trivia. There is nothing wrong with this, but if you want to succeed, your mind must focus on where you are going, not on where you have been. Instead of saving momentos, clippings, old letters, and trivia from the past, it would be more productive to make a scrapbook with pictures of where you want to go and what you want to be in the future. – Robert Anthony
22. Thank God we can't tell the future. We'd never get out of bed. – Tracy Letts
23. You should never fast-forward into the future. Because every time you do, you rob yourself of the journey, the present moment, which, in the end, is all there really is. – Alyson Noel
24. Tomorrow gives a beckoning hand, I turn my face away, I'll not invite her to my home, I only love today. – Ardelia Cotton Barton A
25. Of the future, man knows least; yet, about this, he worries most. – Ivan Panin
26. I don't live with the past, I am living for to-day and tomorrow. – Thomas Edison
27. What is past is past and it does not forebode well to relive past mistakes or transgressions. Move forward rather than being stuck in the past. No one can redo the past but everyone can create a better future. – Byron Pulsifer
28. By working with each other and discussing our visions, energy is given for all to take part in the future outcome of these visions. – Paul Keller
29. From the most complex of problems to the more creative of solutions, your mind is a place where discipline rules because that discipline helps you to maximize the potential of who you are or who you become in the future. – Marshal Lightwill
30. Savor the moment. Most people fear the future. Sometimes you see yourself worrying about what will happen. The best thing to do is to banish all your worries about the future. – John Rogers
31. The past is only an imaginary time or experience that is used to teach us lessons for the future. The future is where you apply the lessons of the past. – Dr. Lauren Cunning
32. Have a vision for yourself. You need to have foresight into your future – your goals, your dreams, what you want to achieve for yourself. – Matthew Lewis Browne
33. Kids, as cliché as it may sound, they really are the future. – Robert Young
34. Your past, present and future are moulded by your thoughts. Remember,  your thinking is your life's autobiography. – James Borg
35. Learning from failures is a wonderful skill. The trick is to have them be the springboard for future successes. – Matthew Turner
36. Technological life in the future will be a series of endless upgrades. And the rate of graduations is accelerating. – Kevin Kelly
37. Deal with the issues of today, not those that are possible in the future. – Byron Pulsifer
38. Remember, when all of your peers are going out late at night to party, they are just wasting their life and they will cause themselves much pain and sorrow in the future. – Joe Zeller
39. The future hasn't arrived yet. Do your best to try to shape it in the present moment, but always remember some things are just out of our control, and that's fine. – Robert Washington
40. Simply put, coaching bridges the gap between where someone is now and where they want to be in the future. – Christie Ruffino
41. You do have a future. There is light at the end of that inky black tunnel. – Willow Cross
42. The secret is here in the present. If you pay attention to the present, you can improve upon it. And, if you improve on the present, what comes later will also be better. – Paulo Coelho
43. Your dreams and intuitive flashes are unique. If you can dream it, you can become it. It may not happen quickly. But if you are dreaming it, then it can be your future at some point. – Vicki Morris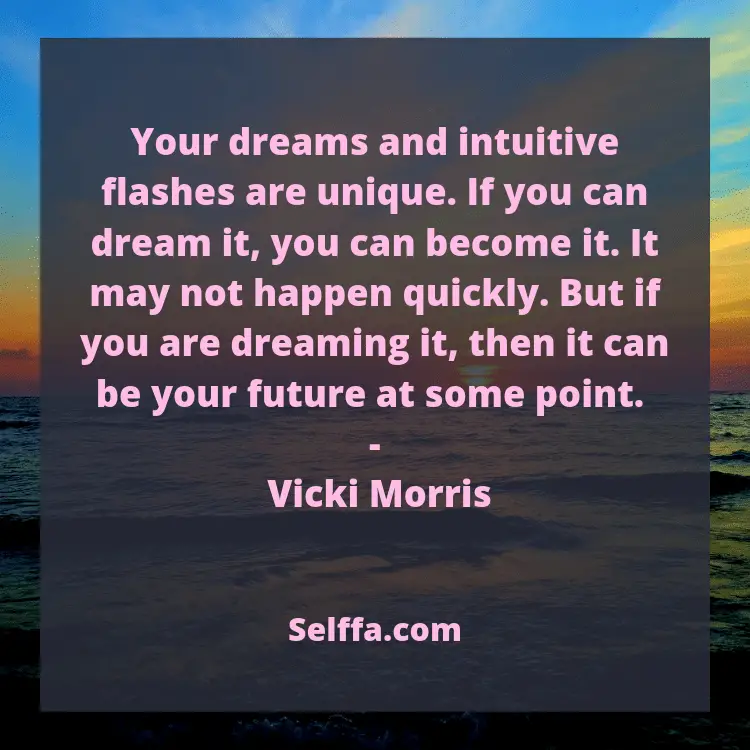 44. Letting go of the bad memories of the past can really help you have a free feeling now while you take each day into the future. – Zac Dixon
45. No matter who we are, thoughts that could become the future flash into our mind every day. It is our duty to filter the thoughts into those we don't want and those we do, and cling to the thoughts that can make us and others happy. – Chad Grills
46. When are aware of your own behaviour, strengths and weaknesses you will make better career choices that may influence your future development. – Franz Badenhorst
47. It's not the decisions you make when everything is rosy that usually shapes your future. – Akanbi Adedamola
48. Young people, from lack of experience, are often puzzled over the future. – Bill Calhoun
49. And while imagining a better future, let's also imagine a better self. Unless we give our power away, we are in charge of creating our future. – Vlad Zachary
50. The future can be defined as what will happen in the time after the present. It is what many of us plan, study, work and dream for.
51. Although we might not always know how to make it happen, we all want a better future. If you're unhappy with your life the way it is, the good news is you can begin creating your own future right now.
52. The future is important but not without a focus on the present. You can create and nurture your future in the present moment. So always have tomorrow in mind whenever you make choices and commitments, and take action.
53. Even if you fall on your face you're still moving forward. – Victor Kiam
54. No matter how dirty your past is, your future is still spotless. – Drake
55. You can't connect the dots looking forward; you can only connect them looking backwards. So you have to trust that the dots will somehow connect in your future. You have to trust in something your gut, destiny, life, karma, whatever. This approach has never let me down, and it has made all the difference in my life. – Steve Jobs
56. Welcome to the future. All our tragedies and triumphs, our lives and deaths, our shames and joys are just stuffing for your emptiness. – Iain M. Banks
57. Let the future tell the truth, and evaluate each one according to his work and accomplishments. The present is theirs, the future, for which I have really worked, is mine. – Nikola Tesla
58. The only thing we know about the future is that it will be different. – Peter Drucker
59. If we open a quarrel between past and present, we shall find that we have lost the future. – Winston Churchill
60. Always remember that the future comes one day at a time. – Dean Acheson
61. If we could unfold the future, the present would be our greatest care. – Edward Counsel
62. You cannot change your future. But you can change your habits. And surely your habits will change your future. – A.P.J. Abdul Kalam
63. There is nothing like a dream to create the future. – Victor Hugo
64. If there is hope in the future, there is literally power in the present. – Zig Ziglar
65. Go for it now. The future is promised to no one. – Wayne Dyer
66. Do not watch the clock. Do what it does. Keep going. – Sam Levenson
67. What you do today can improve all your tomorrows. – Ralph Marston
68. The future rewards those who press on. I don't have time to feel sorry for myself. I don't have time to complain. I'm going to press on. – Barack Obama
69. The future is there looking back at us. Trying to make sense of the fiction we will have become. – William Gibson
70. You cannot escape the responsibility of tomorrow by evading it today. – Abraham Lincoln
71. We are made wise not by the recollection of our past, but by the responsibility for our future. – George Bernard Shaw
72. The future starts today, not tomorrow. – Pope John Paul II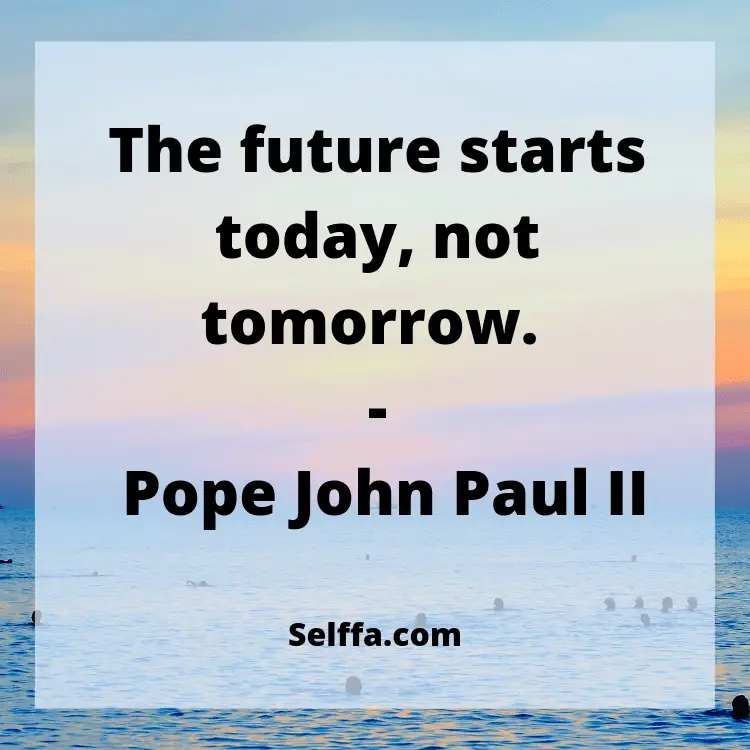 73. The future is not an inheritance, it is an opportunity and an obligation. – Bill Clinton
74. Real generosity toward the future lies in giving all to the present. – Albert Camus
75. Humanity does not know where to go because no one is waiting for it, not even God. – Antonio Porchia
76. I got a bright future ahead of me. – Justin Bieber
77. In this bright future you can't forget your past. – Bob Marley
78. Hope, belief in a bright future. – Lailah Gifty Akita
79. I guess short films have a bright future. The advantage is budget. – Anurag Kashyap
80. It always seems impossible until it is done. – Nelson Mandela
81. Look beyond the present circumstances, imagine a brighter future. – Lailah Gifty Akita
82. The past gave us experience and made us wiser so that we can create a beautiful and brighter future. – Debasish Mridha
83. Being fully present is the best guarantee for a bright future. – Guy Finley
84. Always in motion is the future. – Yoda
85. Do not dwell in the past, do not dream of the future, concentrate the mind on the present moment. – Buddha
86. To live only for some future goal is shallow. It's the sides of the mountain which sustain life, not the top. – Robert M. Pirsig
87. Every second that passes is like a door that opens to allow in what has not yet happened, what we call the future, but to challenge the contradictory nature of what we have just said, perhaps it would be more accurate to say that the future is just an immense void, that the future is just the time on which the eternal present feeds. – Jose Saramago
88. We did not come to fear the future. We came here to shape it. – Barack Obama
89. We steal if we touch tomorrow. It is God's. – Henry Ward Beecher
90. The future was always more important than the past. – Paul Park
91. I never think of the future. It comes soon enough. – Albert Einstein
92. My interest is in the future because I am going to spend the rest of my life there. – Charles F. Kettering
93. When all else is lost, the future still remains. – Christian Nevell Bovee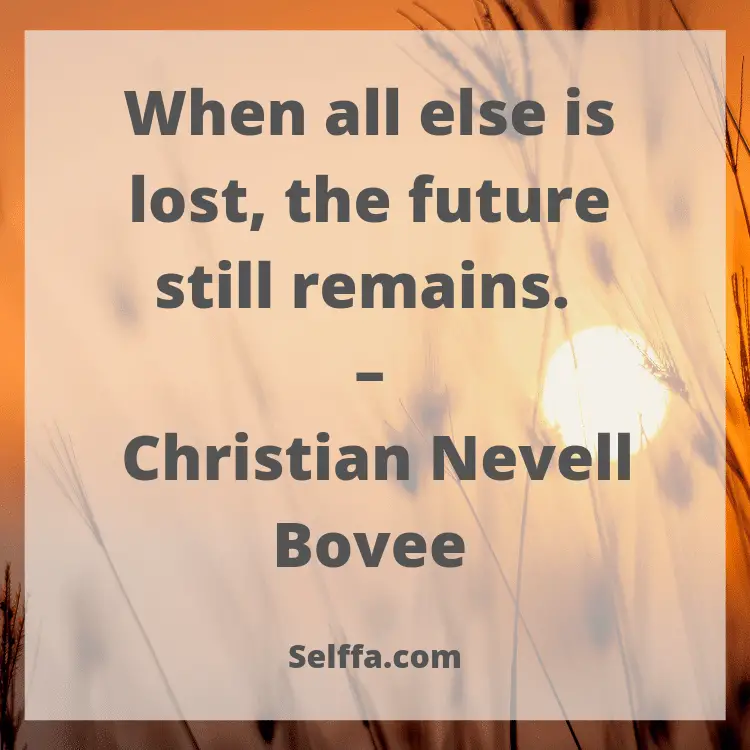 94. Just because the past didn't turn out like you wanted it to, doesn't mean your future can't be better than you've ever imagined.
95. The future belongs to those who prepare for it today. – Malcolm X
96. Dear Past, thank you for your lesson. Dear Future, I'm ready. Dear God, thank you for giving me another chance.
97. The future, according to some scientists, will be exactly like the past, only far more expensive. – John Sladek
98. We should all be concerned about the future because we will have to spend the rest of our lives there. – Charles F. Kettering
99. When I look into the future, it's so bright it burns my eyes. – Oprah Winfrey
100. Do something today that your future self will thank you for.
101. The most reliable way to forecast the future is to try to understand the present. – John Naisbitt
102. While I take inspiration from the past, like most Americans, I live for the future. – Ronald Reagan
103. The future is called perhaps, which is the only possible thing to call the future. And the only important thing is not to allow that to scare you. – Tennessee Williams
104. Something ends, because there is something better lined up in the future.
105. The secret of your future is hidden in your daily routine. – Mike Murdock
106. Just remember – when you think all is lost, the future remains. – Bob Goddard
107. If you don't take charge of shaping your own destiny, others will apply their agenda to you. – Eric Allenbaugh
108. Dear future, please have at least something that is worth the wait. I am hoping that my memories will be less scarier than now. Thank you for giving me the reason to move forward hoping that you will be good to me. Forgive me for being stupid this time, but I'll make sure that I'll be better when I finally meet you. Love, me.
109. May the dreams of your past be the reality of your future. Choose your friends with caution, plan your future with purpose, and frame your life with faith. – Thomas S. Monson
110. Trying to predict the future is like trying to drive down a country road at night with no lights while looking out the back window. – Peter Drucker
111. You can't stop the future You can't rewind the past The only way to learn the secret is to press play. – Jay Asher
112. The best way to predict the future is to invent it. – Alan Kay
113. Do your duty and a little more and the future will take care of itself. – Andrew Carnegie
114. Change is the law of life. And those who look only to the past or present are certain to miss the future.
115. The future is inevitable and precise, but it may not occur. God lurks in the gaps. – Jorge Luis Borges
116. Teaching is a very noble profession that shapes the character, caliber, and future of an individual. If the people remember me as a good teacher, that will be the biggest honour for me. – Malcolm X
117. Nobody can predict the future. You just have to give your all to the relationship you're in and do your best to take care of your partner, communicate and give them every last drop of love you have. I think one of the most important things in a relationship is caring for your significant other through good times and bad. – A. P. J. Abdul Kalam
118. No matter what has happened to you in the past or what is going on in your life right now, it has no power to keep you from having an amazingly good future if you will walk by faith in God. God loves you! He wants you to live with victory over sin so you can possess His promises for your life today. – Nick Cannon
119. Learn to enjoy every minute of your life. Be happy now. Don't wait for something outside of yourself to make you happy in the future. Think how really precious is the time you have to spend, whether it's at work or with your family. Every minute should be enjoyed and savored. – Simone de Beauvoir
120. Infuse your life with action. Don't wait for it to happen. Make it happen. Make your own future. Make your own hope. Make your own love. And whatever your beliefs, honor your creator, not by passively waiting for grace to come down from upon high, but by doing what you can to make grace happen yourself, right now, right down here on Earth. – Bradley Whitford
121. I know not with what weapons World War III will be fought, but World War IV will be fought with sticks and stones. – Albert Einstein
122. Why didn't I learn to treat everything like it was the last time. My greatest regret was how much I believed in the future. – Jonathan Safran Foer
123. Never be afraid to trust an unknown future to a known God. – Corrie ten Boom
124. If you want to be happy, do not dwell in the past, do not worry about the future, focus on living fully in the present. – Roy T. Bennett
125. You realize that our mistrust of the future makes it hard to give up the past. – Chuck Palahniuk, Survivor
126. It's amazing how a little tomorrow can make up for a whole lot of yesterday. – John Guare
127. You can't stop the future, you can't rewind the past. The only way to learn the secret is to press play. – Jay Asher
128. Knowing too much of your future is never a good thing. – Rick Riordan
129. The past is always tense, the future perfect. – Zadie Smith
130. The future depends on what you do today. – Mahatma Gandhi
131. Do not let the memories of your past limit the potential of your future. There are no limits to what you can achieve on your journey through life, except in your mind. – Roy T. Bennett
132. Real generosity towards the future lies in giving all to the present. – Albert Camus
133. Unfortunately, the clock is ticking, the hours are going by. The past increases, the future recedes. Possibilities decreasing, regrets mounting.  – Haruki Murakami
134. If you want a picture of the future, imagine a boot stamping on a human face forever. – George Orwell
135. The Present only has a being in Nature; things Past have a being in the Memory only, but things to come have no being at all; the Future but a fiction of the mind. – Thomas Hobbes
136. Listen to the people who love you. Believe that they are worth living for even when you don't believe it. Seek out the memories depression takes away and project them into the future. Be brave; be strong; take your pills. Exercise because it's good for you even if every step weighs a thousand pounds. Eat when food itself disgusts you. Reason with yourself when you have lost your reason. – Andrew Solomon
137. When I pronounce the word future, the first syllable already belongs to the past.
138. When I pronounce the word silence,I destroy it. – Wisława Szymborska
139. I have learned that if you must leave a place that you have lived in and loved and where all your yesteryears are buried deep, leave it any way except a slow way, leave it the fastest way you can. Never turn back and never believe that an hour you remember is a better hour because it is dead. Passed years seem safe ones, vanquished ones, while the future lives in a cloud, formidable from a distance. – Beryl Markham
140. It's being here now that's important. There's no past and there's no future. Time is a very misleading thing. All there is ever, is the now. We can gain experience from the past, but we can't relive it and we can hope for the future, but we don't know if there is one. – George Harrison
141. No one saves us but ourselves. No one can and no one may. We ourselves must walk the path. – Gautama Buddha
142. Ester asked why people are sad. That's simple, says the old man. They are the prisoners of their personal history. Everyone believes that the main aim in life is to follow a plan. They never ask if that plan is theirs or if it was created by another person. They accumulate experiences, memories, things, other people's ideas, and it is more than they can possibly cope with. And that is why they forget their dreams. – Paulo Coelho