Home is where the heart, mind, and comfort are. And time and time again, it is proven that there is no other place like home. So whether you are currently relaxing at your house or missing your place of comfort, here are 30 poems about home for you to read and think about.
Poems About Home
1. My Home
This is the place that I love the best,
A little brown house, like a ground-bird's nest,
Hid among grasses, and vines, and trees,
Summer retreat of the birds and bees.
The tenderest light that ever was seen
Sifts through the vine-made window screen–
Sifts and quivers, and flits and falls
On home-made carpets and gray-hung walls.
All through June the west wind free
The breath of clover brings to me.
All through the languid July day
I catch the scent of new-mown hay.
The morning-glories and scarlet vine
Over the doorway twist and twine;
And every day, when the house is still,
The humming-bird comes to the window-sill.
In the cunningest chamber under the sun
I sink to sleep when the day is done;
And am waked at morn, in my snow-white bed,
By a singing bird on the roof o'erhead.
Better than treasures brought from Rome,
Are the living pictures I see at home–
My aged father, with frosted hair,
And mother's face, like a painting rare.
Far from the city's dust and heat,
I get but sounds and odors sweet.
Who can wonder I love to stay,
Week after week, here hidden away,
In this sly nook that I love the best–
This little brown house like a ground-bird's nest?
– Ella Wheeler Wilcox
2. Home, Sweet Home
Sharers of a common country,
They had met in deadly strife;
Men who should have been as brothers
Madly sought each other's life.
In the silence of the even,
When the cannon's lips were dumb,
Thoughts of home and all its loved ones
To the soldier's heart would come.
On the margin of a river,
'Mid the evening's dews and damps,
Could be heard the sounds of music
Rising from two hostile camps.
One was singing of its section
Down in Dixie, Dixie's land,
And the other of the banner
Waved so long from strand to strand.
In the land where Dixie's ensign
Floated o'er the hopeful slave,
Rose the song that freedom's banner,
Starry-lighted, long might wave.
From the fields of strife and carnage,
Gentle thoughts began to roam,
And a tender strain of music
Rose with words of "Home, Sweet Home."
Then the hearts of strong men melted,
For amid our grief and sin
Still remains that "touch of nature,"
Telling us we all are kin.
In one grand but gentle chorus,
Floating to the starry dome,
Came the words that brought them nearer,
Words that told of "Home, Sweet Home."
For awhile, all strife forgotten,
They were only brothers then,
Joining in the sweet old chorus,
Not as soldiers, but as men.
Men whose hearts would flow together,
Though apart their feet might roam,
Found a tie they could not sever,
In the mem'ry of each home.
Never may the steps of carnage
Shake our land from shore to shore,
But may mother, home and Heaven,
Be our watchwords evermore.
– Frances Ellen Watkins
3. Down Home
Down home to-night the moonshine falls
Across a hill with daisies pied,
The pear tree by the garden gate
Beckons with white arms like a bride.
A savor as of trampled fern
Along the whispering meadow stirs,
And, beacon of immortal love,
A light is shining through the firs.
To my old gable window creeps
The night wind with a sigh and song,
And, weaving ancient sorceries,
Thereto the gleeful moonbeams throng
Beside the open kitchen door
My mother stands all lovingly,
And o'er the pathways of the dark
She sends a yearning thought to me.
It seeks and finds my answering heart
Which shall no more be peace-possessed
Until I reach her empty arms
And lay my head upon her breast.
– Lucy Maud Montgomery
4. At Home
You may seek for the end of the rainbow
Over mountains and valleys afar,
You may wend weary miles in your questing
Until evening blossoms a star—
When homeward you turn, disappointed,
Heartsick at the end of your dream—
You see from your small cottage window
A bright, broad ruddy beam
That beckons you in "O come hither,
Too long from the fireside you roam,
The goal of real joy that you seek for
Is found nowhere else but at home!"
– Mary Tarver Carroll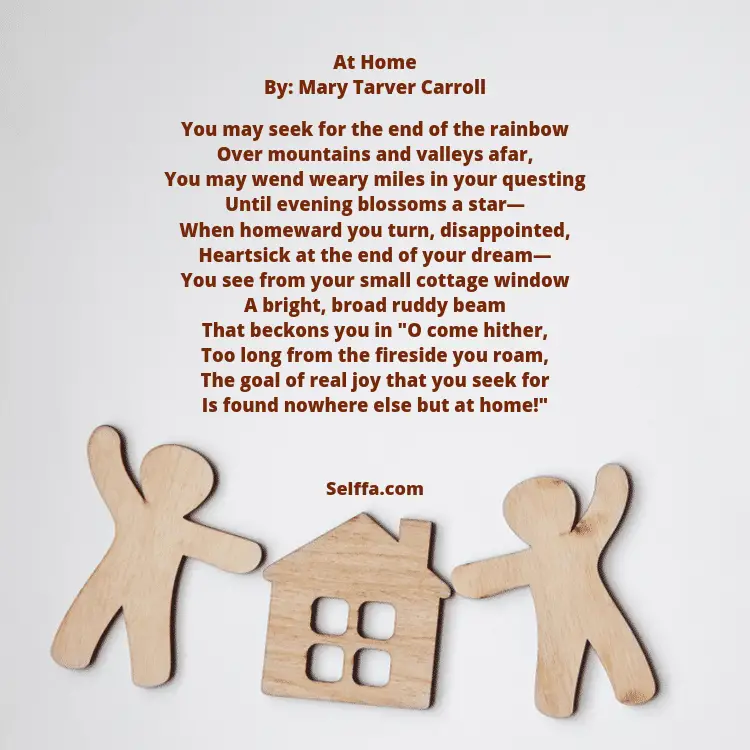 5. Home
Home has a thousand pleasing bands,
A thousand charms are there;
At home we form our wisest plans,
And all our schemes prepare.
Home is a safe, a calm retreat,
To rest the weary soul;
Home makes one's happiness complete,
Where love commands the whole.
At home, congenial souls we find,
We breathe in native air;
At home our thoughts are unconfin'd,—
Security is there.
Deception finds no place at home,
No false or vain applause;
Thrice blessed home! ah, who would roam
Without a powerful cause.
Some lose their sympathies abroad,
By fashion's changing laws;
Some lose their Bible, and their God,
And never know the cause.
But some remember home at last,
Where first they lisp'd a prayer;
And beg for pardon for the past,
And now the promise share.
– Eliza and Sarah Wolcott
6. A Prayer for a Little Home
God send us a little home
To come back to when we roam—
Low walls and fluted tiles,
Wide windows, a view for miles;
Red firelight and deep chairs;
Small white beds upstairs;
Great talk in little nooks;
Dim colors, rows of books;
One picture on each wall;
Not many things at all.
God send us a little ground—
Tall trees standing round,
Homely flowers in brown sod,
Overhead, Thy stars, O God!
God bless, when winds blow,
Our home and all we know.
– Anonymous
7. My Old Prairie Home
Dear old home of my youth in the long, long ago,
Where the sunshine each morn filled the air,
Where the meadow lark rose from the tall prairie grass
As it warbled its sweet carols there.
Oh I think of that home dear old home far away
That was then on the wild prairie wide,
Where each night I was tucked in the old trundle bed
On the floor by the old fireside.
In my fancy I see once again the old home,
Dear log house father built long ago,
Its steep roof made of slabs and its chimney of stone,
With my name roughly carved below.
There it stood many years ere another was built
On the prairie around anywhere,
And its light was a guide to the traveler lone,
And its doors ever welcomed him there.
There at night music sweet from the old violin
Floated out on the sweet, balmy air,
While I drifted to sleep in the old trundle bed—
Peaceful sleep without ever a care.
Oh bring back again the old home of my youth
Where the grass rolled like waves of the sea,
Where the dear wild flowers bloomed, where the lark sang so sweet,
Oh my old prairie home let me see!
There the low muffled tone of the prairie hen's mate
Floated in from the prairie around,
And away in the distance the wild deer roamed free,
Then unknown the fierce bay of the hound,
And at noon dear Bob White from the hedge piped his strain,
Coming night brought the dove's mournful lay,
And the song of the cricket and Katy-did rang
From the grass till the breaking of day.
– Ed Blair
8. Home Defined
Home's not merely four square walls,
Though with pictures hung and gilded:
Home is where affection calls,
Filled with shrines the heart hath builded!
Home! go watch the faithful dove,
Sailing 'neath the heaven above us;
Home is where there's one to love!
Home is where there's one to love us!
Home's not merely roof and room,
It needs something to endear it;
Home is where the heart can bloom,
Where there's some kind lip to cheer it!
What is home with none to meet,
None to welcome, none to greet us?
Home is sweet, -and only sweet-
When there's one we love to meet us!
– Charles Swain
9. Home Thoughts
I love to think of the dear old home–
For my thoughts keep lingering there–
And to think of the haunts where I used to roam
With a heart unknown to care.
And I love to think of the days long gone,
And the friends of my early youth,
Who taught me to trust in the Holy One,
And to walk in the ways of truth.
And I think of the flowery-selvedged lanes,
Where I ran in my childish glee–
And I sportively roam o'er the verdant plains,
And I climb the old ash tree.
And I visit again in my waking dreams
The old familiar spring,
And the grassy slopes by the crystal streams,
And the grove where the warblers sing.
And I join my brothers and cousins at play,
With our hoops, tops, balls and kites,
And time too rapidly glides away,
Curtailing our loved delights.
And we cheerfully go to the village school,
And again pore over our books,
And we reckon our sums by the same old rule,
And–we watch the master's looks.
And I think of the days of healthy toil
And pure industrial mirth,
When I covered the seeds in the fertile soil,
Or gathered the fruits of the earth.
And I sigh while I think of that joyless day
When I left the dear old home,
And lonely and tearfully came away
Thro' this cold, vain world to roam.
And I oft survey in my pensive thought
The graves of my kindred dead,
And I sigh while I gaze on that hallowed spot,
And a tear to their memory shed.
And I hopefully think of the joys to come,
When my heart shall no more be riven–
When I'll meet the beloved of my childhood's home
In our Father's house in heaven.
– S. Moore
10. The Old Home
The sunlight steals in through the pane
And lies aslant the floor;
The vine climbs up toward the roof
Just as it did of yore.
Upon the lawn the stately elms
Point still unto the skies,
The graceful willow bendeth yet
Beneath its weight of sighs.
Beside the path the roses grow,
As in the past they grew;
The violets still look a prayer
From out their eyes of blue.
The same old spot–yet not the same–
The walls are browner grown,
And moss has covered all the roof
Since I was last at home.
Change has been busy all these years,
And here I stand once more,
And only list to echoes where
Were voices sweet before.
Upon the shores of memory,
The waves of long ago
Are breaking ever ceaselessly,
And murmuring ever low.
There murmurs with the shadows drift
In through the open door,
And each are hymning what has been
But will be, nevermore.
– Mary T. Lathrap
11. Thoughts of Home
Amid the jade-green willow trees two golden orioles sing.
Across the clear blue sky a flight of soaring egrets wing.
The sighs of chilly Autumn, that breathe eternal snow
From Ormei's lofty mountain, about the casement flow.
Ah! would that they could take me back the thousand miles and more
From hence to home–those goodly ships that anchor at my door.
– Du Fu
12. The Home I Love
Some homes are quiet, polished, neat
But one I know is far more sweet
Where tiny smudges on the wall
Tell of fingers dear and small.
Where toys are sometimes strewn about
And doors are banging in and out.
Where little children play and sing,
And laughter's often heard to ring…
The home I love is filled with noise
Of happy little girls and boys!
– Kay Hoffman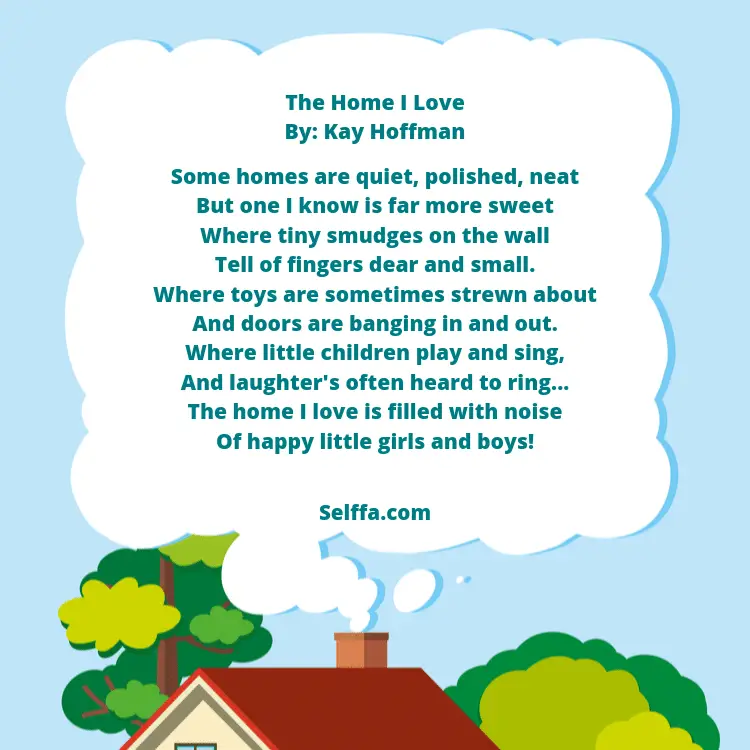 13. Home is so Sad
Home is so sad. It stays as it was left,
Shaped to the comfort of the last to go
As if to win them back. Instead, bereft
Of anyone to please, it withers so,
Having no heart to put aside the theft
And turn again to what it started as,
A joyous shot at how things ought to be,
Long fallen wide. You can see how it was:
Look at the pictures and the cutlery.
The music in the piano stool. That vase.
– Philip Larkin
14. Home And Love
Just Home and Love! the words are small
Four little letters unto each;
And yet you will not find in all
The wide and gracious range of speech
Two more so tenderly complete:
When angels talk in Heaven above,
I'm sure they have no words more sweet
Than Home and Love.
Just Home and Love! it's hard to guess
Which of the two were best to gain;
Home without Love is bitterness;
Love without Home is often pain.
No! each alone will seldom do;
Somehow they travel hand and glove:
If you win one you must have two,
Both Home and Love.
And if you've both, well then I'm sure
You ought to sing the whole day long;
It doesn't matter if you're poor
With these to make divine your song.
And so I praisefully repeat,
When angels talk in Heaven above,
There are no words more simply sweet
Than Home and Love.
– Robert William Service
15. A Home Song
I read within a poet's book
A word that starred the page:
'Stone walls do not a prison make,
Nor iron bars a cage!'
Yes, that is true; and something more
You'll find, where'er you roam
That marble floors and gilded walls
Can never make a home.
But every house where Love abides,
And Friendship is a guest,
Is surely home, and home-sweet-home:
For there the heart can rest.
– Henry Van Dyke
16. I Love My Home
My home is where I like to be
Especially with my family
I love my home and all things in it
My special place where I sit and knit
Some people like to wander
Some people like to roam
But always for me there is no place
Like home.
– Ruth Turner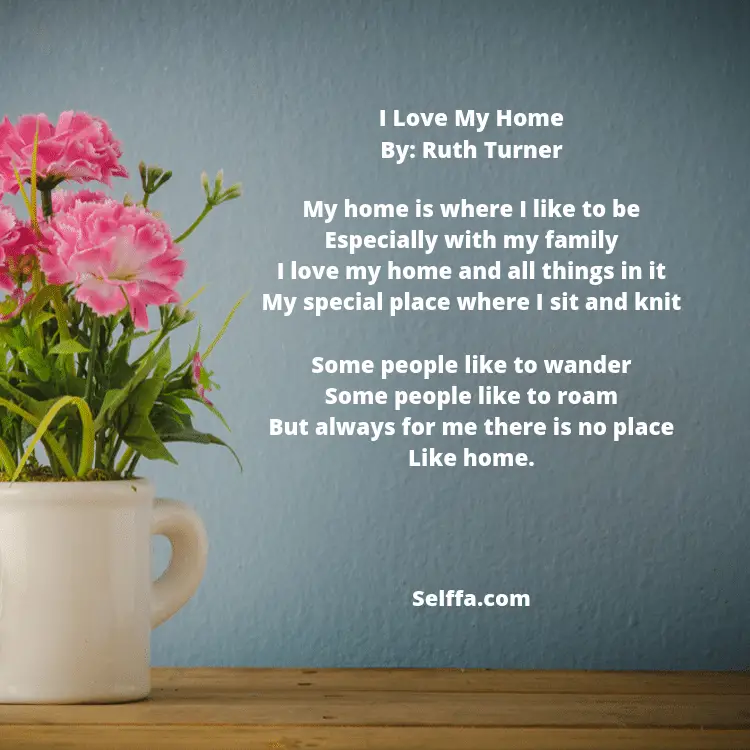 17. Home
Each morning I awake,
And always I am glad,
so gladness I ought not fake,
for there's no reason to be sad,
as far as I'm at home.
Each term when I return,
my joy I can't contain,
all my worries I burn,
and easy is peace to obtain,
the reason is I'm at home.
When I recall the trouble,
and my most stupid mistake,
I hardly ever fumble,
and my shame doesn't wake,
just because I'm at home.
If elsewhere I will fear,
but here I feel secure,
here illness is so rare,
and I know here lies my cure,
for here is none other but home.
– Tonia
18. Visiting the Home Place
I went back to see the old home place this year
For no location on earth is, to me, nearly so dear
My grandfather built the house with his own hands
Despite the passing years, I have heard it still stands
Its grounds he tended and trimmed with loving care
I hope that his shrubbery and flowers are still there
That it wasn't the finest around I now understand
But in my memory, it was roomy and quite grand
The wide front porch where the family sat at night
The day's work done, all seemed calm and right
Parlor with stuffed chairs, piano against the wall
How fondly, and with such detail, I recall them all
Baking prizes my grandmother won at the state fair
Now in my house and preserved with greatest care
My mother's bedroom when she was a child
It's where she slept, played, read and smiled
Master bedroom where my grandparents slept
All these years, their carved bed I have kept
Then the dining room with its massive table
To seat family and many friends it was able
Its shiny marigold carnival glass bowl
Was by my mother trusted to my control
I protect it on display in my house still
And, if possible, hope that we always will
The country kitchen, of treats a treasure trove
I can vaguely remember a black wood stove
The people I so loved are no longer alive
By my visit, to honor them, I will strive
The once-familiar road I drive with care
Knowing that very soon we will be there
Perhaps the ones who reside there now
Will allow us to tour the house somehow
Then, in the distance, its outline I can see
Coming closer I cry, "This surely cannot be."
For the place that I once had loved so well
Is now an abandoned, collapsing empty shell
Where are all the flowers and shrubbery gone?
A massive oak, slowing dying, stands alone
The fine old barn where, as a child, I'd play
Has, long ago, fallen into ruin & rotted away
An old adage springs into my mind right then
One now seen true, "You can't go home again."
So I drive slowly on by with the greatest regret
Yet, for the memories, I remain forever in debt
– Elton Camp
19. Heartfelt Home
Heartfelt home..
Evergreen trees..
A rose garden..
Joyous pink roses..
Roses of yellow spreading sunshine..
On an overcast day..
Red roses of pure love..
Where the heart sings a soulful song
Heartfelt home..
A woodsy crackling fireplace..
Fragrant scents of musk.
Stirring emotions..
Nostalgia catches waves of memories..
Heartfelt home..
Cozy filled with love..
Tucked away in a serene haven ..
Our magical gateway to home sweet home..
Entwined hearts know..
Home is where the heart is..
– Robertina B.
20. Persuade To Have Beautiful Home Made
What we wanted to do was persuade,
To have beautiful home being made;
Not ignored,
And adored
In succulent shade near a pretty glade.
– Jim Horn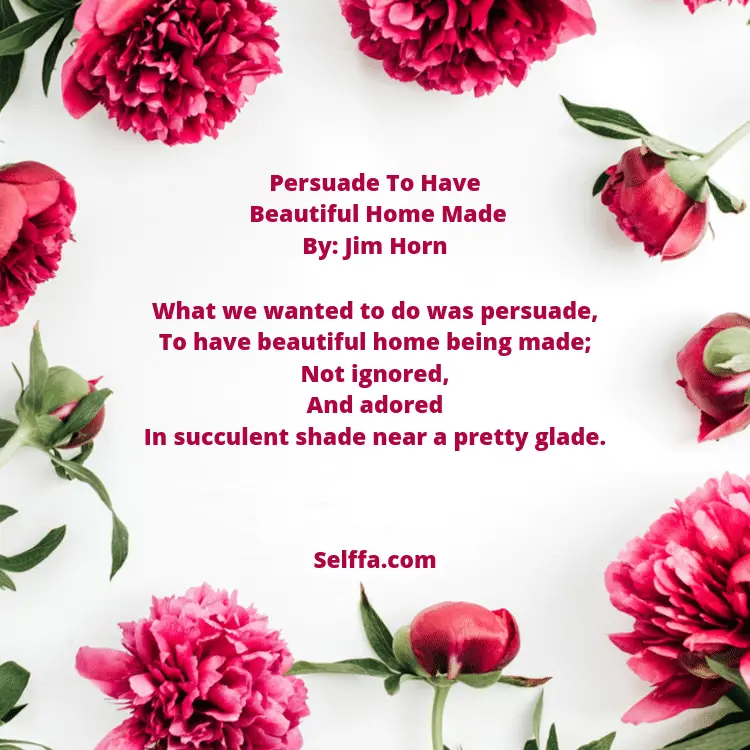 21. Our Home Beyond the Tide
Our home is beyond the tide, friend,—
Our home is beyond the tide,
Where the glorious city of light is seen
Whose gates are open wide.
Through the golden streets of that city fair
We soon shall pass along;
And a holy joy shall fill our hearts
As we greet the shining throng
Who walk those streets through the endless day,
Earth's dear ones side by side.
Oh, the bliss that awaits us when we reach
Our home beyond the tide!
Our home is beyond the tide, friend,—
Our home is beyond the tide,
Where the river of life, with its water bright,
Is rolling deep and wide.
There the tree of life, with its fruit so fair,
O'er the sparkling waters bends;
And beneath its shade, with unmeasured bliss,
We shall meet our cherished friends.
Oh, we soon shall rest in those sacred bowers,
Where no cynic our love shall chide,
And the saints' communion unhindered share,
In our home beyond the tide!
Our home is beyond the tide, friend,—
Our home is beyond the tide;
And though between us and that blissful shore
The river of death may glide,
Yet its waters rough surging around our barks
Can never our souls o'erwhelm:
We've hope for the anchor, and love for the breeze,
And our Saviour at the helm.
We shall safely pass o'er the Jordan of death,
To the land where the saints abide,—
To the home of the angels, the mansions of joy,
To our home beyond the tide.
Our home is beyond the tide, friend,—
Our home is beyond the tide;
And many a loved one, speeding there,
Has vanished from our side.
For us will the voiceless Charon soon
With his muffled oar draw nigh,
And bear us to meet the welcome sweet
Of loved ones now on high.
How thrills the heart with the thought of tones
Which ne'er from our hearts have died,—
Of the faces dear which we hope to greet
In our home beyond the tide!
Our home is beyond the tide, friend,—
Our home is beyond the tide;
And we must not sigh with a vain regret
For the ills which here betide.
But oft, from the heights of faith sublime,
Gaze far o'er the darksome wave,
And bless our God for the rest from care
In the land beyond the grave.
The waves of sin surge no more round the Rock
In the cleft of which we hide:
Oh, with longing hearts we wait the call
To our home beyond the tide!
Our home is beyond the tide, friend,—
Our home is beyond the tide;
And we must not sigh for those earthly joys
"Best Wisdom" hath denied.
For the thorns of earth, there are flowers in heaven;
For its cares, there is long repose;
For the vale of tears, there's the mount of joy
Where the heart with rapture glows.
Then with loving hearts we will do His will
In whose promise our hearts confide,
And patiently wait for our turn to reach
Our home beyond the tide.
– Phoebe A. Hanaford
22. A House, A Home
What is a house?
It's brick and stone
and wood that's hard.
Some window glass
and perhaps a yard.
It's eaves and chimneys
and tile floors
and stucco and roof
and lots of doors.
What is a home?
It's loving and family
and doing for others.
It's brothers and sisters
and fathers and mothers.
It's unselfish acts
and kindly sharing
and knowing your loved ones
you're always caring.
– Lorraine M. Halli
23. Home
Home is the place where the family resides
Which makes them feel more secure besides.
Home is the place you are at your best
Annoying everybody like a pest.
Home is where the wives rule
And where everything turns into a tool.
Brothers' sisters, parents and the rest
Difficult to manage during a test.
Home is where the fights are like hell
But stops instantly when rings the calling bell.
Home is personification of liberty
Where there are no boundaries for alacrity.
Home gives the desirable pleasure…
The place for the perfect leisure…
Home is the residence of love.
I hope do not wonders how.
Home is a beautiful shell
Where our memeories dwell.
Fighting to have the TV remote
Quarelling no less than a wild goats…
At home all requirements are met.
No matter whatever you set.
Home gives the most peaceful sleep.
An assurance of happiness and hope that all keep…
Home is the most lovable place on the earth
From the cradle to the end…
For everyone loves and shares – and where
Parents bestow everything with care.
– Santhoshi Harish
24. A Home Where I Belong
The nights that I spend with my friends
Are the ones I wish would never end;
Driving around in cars, sky scattered with stars,
Oh I wish it would never end.
Pictures taken on my phone,
They let me know I'm not alone.
And when I'm laying in my bed,
I know I belong and I know I'm home.
The scrapes I'd collect on my skin
From falling and failing and giving in
Only seem paper thin.
I know I'm home when I'm with them.
– Nathanial Calypso
25. My House – My Home
I live in a house, God's gift to me,
So I dedicate it to Him as his own.
A place where quiet spaces be;
A table, a chair, a couch and a lamp,
A cross on the wall with pictures,
Cozy rooms for sleeping,
A sunshine deck for reading,
This kitchen of worship and radio music.
And even a million meals;
A tiny dog curled in sleep and peace.
Once this house was filled with strife, and then
Once this house sheltered a healing family;
Now it is a home, a house no more
A welcome place of God's forgiveness
And grace.
– Sunlite Wanter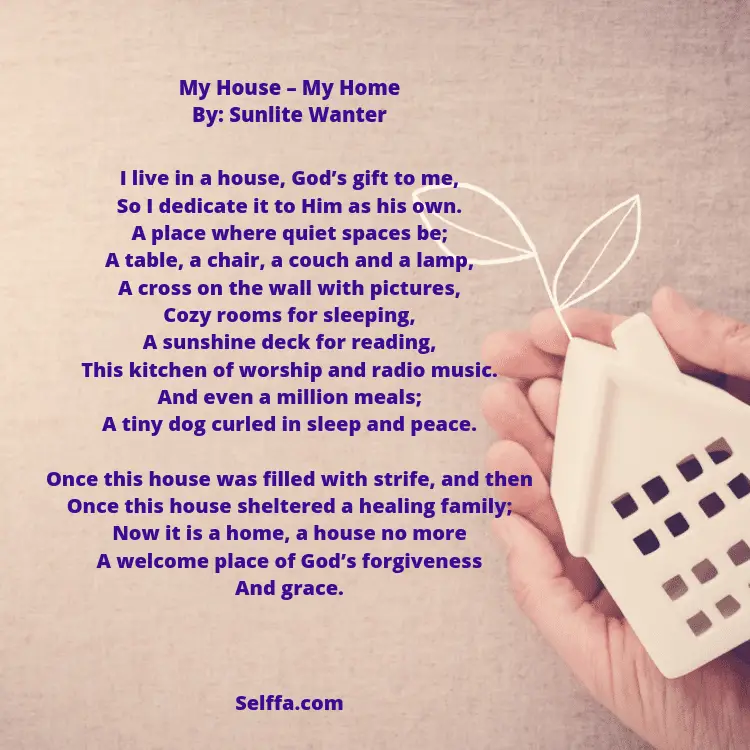 26. The Little Home
The little house is not too small
To shelter friends who come to call.
Though low the roof and small its space
It holds the Lord's abounding grace,
And every simple room may be
Endowed with happy memory.
The little house, severly plain,
A wealth of beauty may contain.
Within it those who dwell may find
High faith which makes for peace of mind,
And that sweet understanding which
Can make the poorest cottage rich.
The little house can hold all things
From which the soul's contentment springs.
'Tis not too small for love to grow,
For all the joys that mortals know,
For mirth and song and that delight
Which make the humblest dwelling bright.
– Edgar Albert Guest
27. When A House Becomes A Home
A house becomes a Home
When its walls are filled
With the happy ring of children's laughter
With all the chaos, noise and mess
Which add to the joys of daily life and love
A house becomes a Home
When our door offers the warmth of welcome
And our windows project the light within
When with a friendly nod
We greet neighbours and those who pass us by
So a house becomes a Home
When we can add our personal touches of magic
Which makes it especially our very own
Palace
28. A Place Called Home
A house becomes a home
When the central essence of life, love
And commitment abide therein
A home becomes our space
Our little part of the world
Where simple needs are met
And where family rights are respected
There is no love sweeter
No joys or blessings deeper or richer
Than in the heart
Of that place called home
29. There's No Place Like Home
I've been gone from home so long,
Forgotten where I belong.
I left with dreams to chase,
But now they've been misplaced.
Lost in the chaos surrounding me,
This isn't how it should be.
I thought I'd have success,
Have love and happiness.
But the color in my life has gone,
Will I ever see the dawn?
The answer becomes quite clear,
I know I can't stay here.
I find the box I'd put away,
When I'd been so sure I'd stay.
With my key I undo the locks,
And take my ruby slippers from the box.
It is no longer time to roam,
Because there is no place like home.
– lilymay87
30. Home
Home doesn't have to be found
In the familiar four walls that shelter you
A door that closes
And local faces
Small grocery stores
And a one story mall
No
The familiar can be traded for the new
That can be home too
The bright sun twinkling off of the lake
Castles and hotels
And car rides with strangers
Your childhood bedroom will always be there
The creaking floors and carpeted steps of your family home will always be there too
A comfort zone shouldn't be your final destination
So go
Embrace the familiar newness of it all
Take in the shocking cold of the water as you dive deep into the unknown
You've been lukewarm for too long
– Dominique R