Money cannot buy everything, but it can certainly help us live better lives. However, many of us misunderstand the importance of money because we may really not know how to use it or earn it the right way. Take a look at these money quotes for a different and more meaningful perspective definition of money. Don't forget to share these quotes with your friends and family!
Money Quotes
1. Too many people spend money they earned to buy things they don't want to impress people that they don't like. – Will Rogers
2. A wise person should have money in their head, but not in their heart. – Jonathan Swift
3. Wealth consists not in having great possessions, but in having few wants. – Epictetus
4. Money often costs too much. – Ralph Waldo Emerson
5. Everyday is a bank account, and time is our currency. No one is rich, no one is poor, we've got 24 hours each. – Christopher Rice
6. It's how you deal with failure that determines how you achieve success. – David Feherty
7. Frugality includes all the other virtues. – Cicero
8. I love money. I love everything about it. I bought some pretty good stuff. Got me a $300 pair of socks. Got a fur sink. An electric dog polisher. A gasoline powered turtleneck sweater. And, of course, I bought some dumb stuff, too. – Steve Martin
9. An investment in knowledge pays the best interest. – Benjamin Franklin
10. I will tell you the secret to getting rich on Wall Street. You try to be greedy when others are fearful. And you try to be fearful when others are greedy. – Warren Buffett
11. Annual income twenty pounds, annual expenditure nineteen six, result happiness. Annual income twenty pounds, annual expenditure twenty pound ought and six, result misery. – Charles Dickens
12. Opportunity is missed by most people because it is dressed in overalls and looks like work. – Thomas Edison
13. What we really want to do is what we are really meant to do. When we do what we are meant to do, money comes to us, doors open for us, we feel useful, and the work we do feels like play to us. – Julia Cameron
14. I never attempt to make money on the stock market. I buy on the assumption that they could close the market the next day and not reopen it for ten years. – Warren Buffett
15. A nickel ain't worth a dime anymore. – Yogi Berra
16. Money never made a man happy yet, nor will it. The more a man has, the more he wants. Instead of filling a vacuum, it makes one. – Benjamin Franklin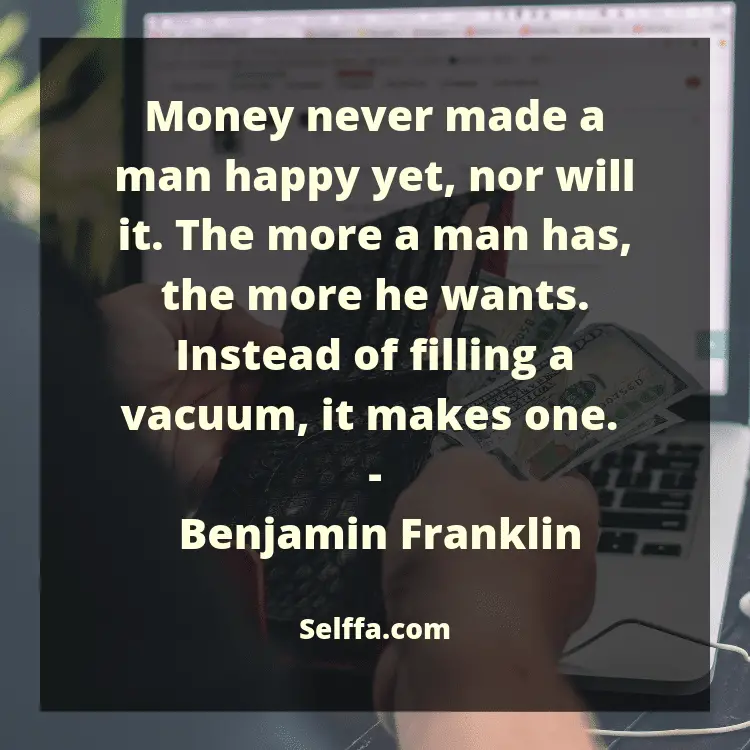 17. Many people take no care of their money till they come nearly to the end of it, and others do just the same with their time. – Johann Wolfgang von Goethe
18. If all the economists were laid end to end, they'd never reach a conclusion. – George Bernard Shaw
19. What would you do if you weren't afraid. – Sheryl Sandberg
20. It is the ultimate luxury to combine passion and contribution. It's also a very clear path to happiness. – Sheryl Sandberg
21. Done is better than perfect. – Sheryl Sandberg
22. A sustainable world means working together to create prosperity for all. – Jacqueline Mars
23. We are each other's destiny. – Jacqueline Mars
24. My relationship with money is that it's a tool to be self-sufficient, but it's not something that is a part of who I am. – Laurene Powell Jobs
25. To do what you wanna do, to leave a mark  in a way that you think is important and lasting, that's a life well-lived. – Laurene Powell Jobs
26. Become one of those people who work hard, invest and build, and at the same time create employment and opportunities for others. – Gina Rinehart
27. There is no monopoly on becoming a millionaire. If you're jealous of those with more money, don't just sit there and complain, do something to make more money yourself. – Gina Rinehart
28. Every day, you have to get up with new energy and new ideas to contribute to pushing the organization forward. – Abigail Johnson
29. Independent thinking is one of the things most valued in an investment professional. – Abigail Johnson
30. Whether it's salary or a promotion or a job, I think it's important for women to ask for what they think they deserve. – Susan Wojcicki
31. Things are always changing. Part of being successful here is being comfortable with not knowing what's going to happen. – Susan Wojcicki
32. If you do every job like you're going to do it for the rest of your life, that's when you get noticed. – Mary Barra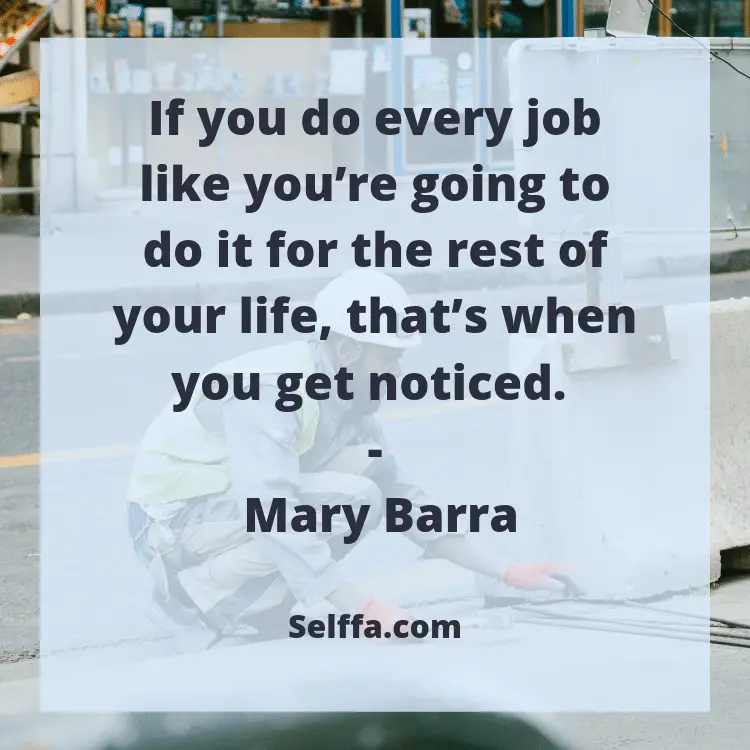 33. My definition of innovative is providing value to the customer. – Mary Barra
34. I learned to always take on things I'd never done before. Growth and comfort do not coexist. – Ginni Rometty
35. Your value will be not what you know, it will be what you share. – Ginni Rometty
36. Do all the good you can, for all the people you can, in all the ways you can, as long as you can. – Hillary Clinton
37. I suppose I could have stayed home and baked cookies and had teas. – Hillary Clinton
38. I say always follow your passion, no matter what, because even if it's not the same financial success, it'll lead you to the money that'll make you the happiest. – Ellen DeGeneres
39. A lot of money with the wrong career is not going to make you happy. If you have money without happiness, it doesn't mean anything. It's all about happiness. – Ellen DeGeneres
40. I wanted to have money. I wanted to be special. I wanted people to like me. I wanted to be famous. – Ellen DeGeneres
41. I truly believe that women should be financially independent from their men. And let's face it, money gives men the power to run the show. – Beyoncé Knowles
42. I don't flaunt my money. I like to stay at nice hotels but I'm not a flashy chick. I haven't got much jewellery or anything. – Beyoncé Knowles
43. The reason I've been able to be so financially successful is my focus has never, ever for one minute been money. – Oprah Winfrey
44. I hope the way you spend your money is in line with the truth of who you are and what you care about. I hope that your money brings joy to you and the ones you love. And I hope you use it as a powerful force for good to fulfill your best intentions. – Oprah Winfrey
45. Be thankful for what you have, you'll end up having more. If you concentrate on what you don't have, you will never, ever have enough. – Oprah Winfrey
46. Do what you love and success will follow. Passion is the fuel behind a successful career. – Meg Whitman
47. 'Perfect' is the enemy of 'good enough'. – Meg Whitman
48. The price of inaction is far greater than the cost of a mistake. – Meg Whitman
49. Barack and I were both raised by families who didn't have much in the way of money or material possessions but who had given us something far more valuable, their unconditional love, their unflinching sacrifice, and the chance to go places they had never imagined for themselves. – Michelle Obama
50. If your family doesn't have much money, I want you to remember that in this country, plenty of folks, including me and my husband, we started out with very little. – Michelle Obama
51. Success isn't about how much money you make, it's about the difference you make in people's lives. – Michelle Obama
52. Find people who will make you better. – Michelle Obama
53. Money has never made man happy, nor will it, there is nothing in its nature to produce happiness. The more of it one has the more one wants. – Benjamin Franklin
54. When I was young I thought that money was the most important thing in life, now that I am old I know that it is. – Oscar Wilde
55. Money cannot buy peace of mind. It cannot heal ruptured relationships, or build meaning into a life that has none. – Richard M. DeVos
56. Money won't create success, the freedom to make it will. – Nelson Mandella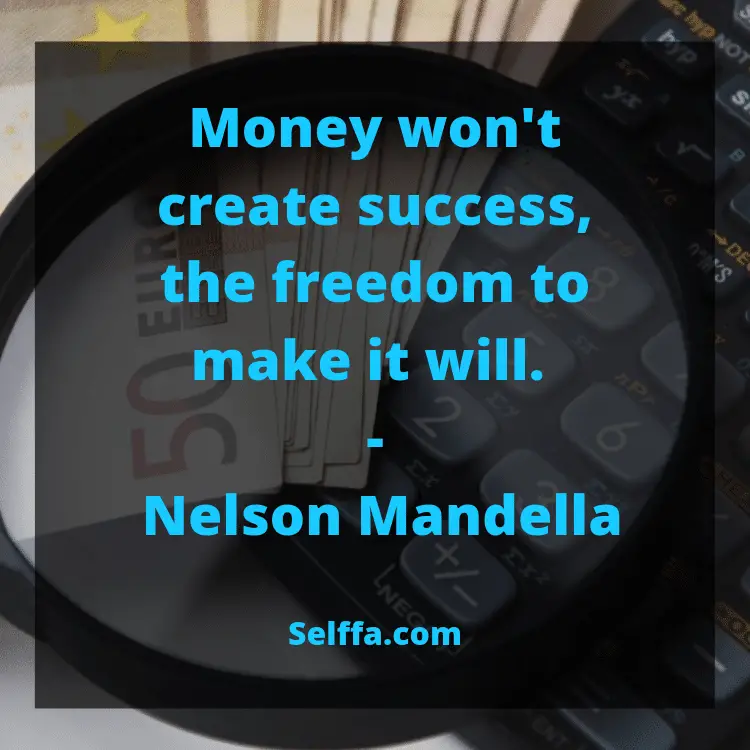 57. The lack of money is the root of all evil. – Mark Twain
58. A wise man should have money in his head, but not in his heart. – Jonathan Swift
59. Do what you love and the money will follow. – Marsha Sinetar
60. Money is only a tool. It will take you wherever you wish, but it will not replace you as the driver. – Ayn Rand
61. If you want to know what God thinks of money, just look at the people he gave it to. – Dorothy Parker
62. Too many people spend money they haven't earned, to buy things they don't want, to impress people that they don't like. – Will Rogers
63. You can be young without money, but you can't be old without it. – Tennesse Williams
64. Don't think money does everything or you are going to end up doing everything for money. – Voltaire
65. It's good to have money and the things that money can buy, but it's good, too, to check up once in a while and make sure that you haven't lost the things that money can't buy. – George Lorimer
66. If money is your hope for independence you will never have it. The only real security that a man will have in this world is a reserve of knowledge, experience, and ability. – Henry Ford
67. I made my money the old-fashioned way. I was very nice to a wealthy relative right before he died. – Malcolm Forbes
68. The real measure of your wealth is how much you'd be worth if you lost all your money.
Money can't buy friends, but you can get a better class of enemy. – Spike Milligan
69. Money was never a big motivation for me, except as a way to keep score. The real excitement is playing the game. – Donald Trump
70. You can only become truly accomplished at something you love. Don't make money your goal. Instead, pursue the things you love doing, and then do them so well that people can't take their eyes off you. – Maya Angelou
71. Money is usually attracted, not pursued. – Jim Rohn
72. When it is a question of money, everybody is of the same religion. – Voltaire
73. Money is power, freedom, a cushion, the root of all evil, the sum of blessings. – Carl Sandburg
74. It doesn't matter about money; having it, not having it. Or having clothes, or not having them. You're still left alone with yourself in the end. – Billy Idol
75. The safe way to double your money is to fold it over once and put it in your pocket. – Frank Hubbard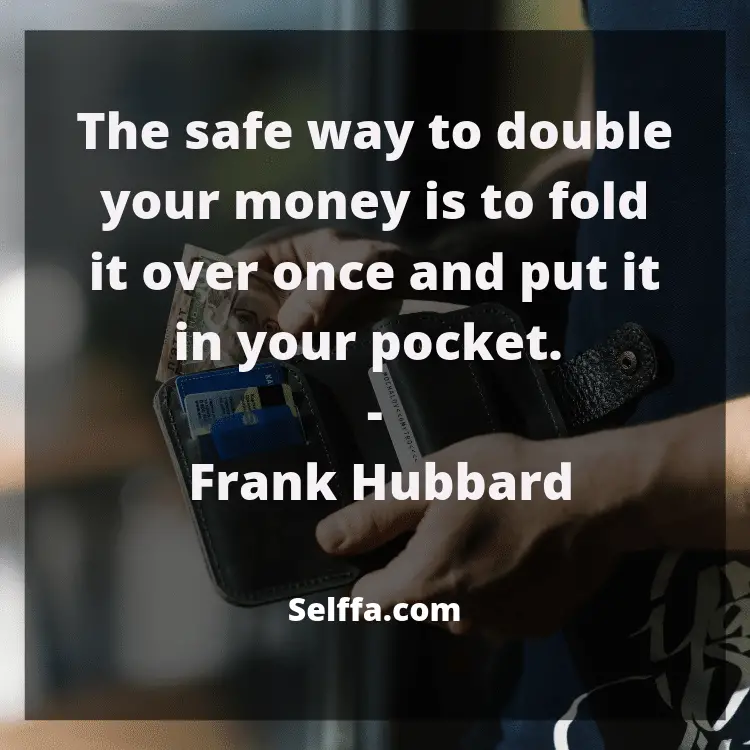 76. Never spend your money before you have it. – Thomas Jefferson
77. They who are of the opinion that Money will do everything, may very well be suspected to do everything for Money. – George Savile
78. When I have money, I get rid of it quickly, lest it find a way into my heart. – John Wesley
79. Waste your money and you're only out of money, but waste your time and you've lost a part of your life. – Michael Leboeuf
80. The person who doesn't know where his next dollar is coming from usually doesn't know where his last dollar went.
81. Motherhood is a great honor and privilege, yet it is also synonymous with servanthood. Every day women are called upon to selflessly meet the needs of their families. Whether they are awake at night nursing a baby, spending their time and money on less-than-grateful teenagers, or preparing meals, moms continuously put others before themselves. – Charles Stanley
82. The most beautiful things are not associated with money; they are memories and moments. If you don't celebrate those, they can pass you by. – Alek Wek
83. All the money in the world can't buy you back good health. – Reba McEntire
84. Success isn't measured by money or power or social rank. Success is measured by your discipline and inner peace. – Mike Ditka
85. Success comes to those who dedicate everything to their passion in life. To be successful, it is also very important to be humble and never let fame or money travel to your head. – A. R. Rahman
86. To give real service you must add something which cannot be bought or measured with money, and that is sincerity and integrity. – Douglas Adams
87. The greatest legacy one can pass on to one's children and grandchildren is not money or other material things accumulated in one's life, but rather a legacy of character and faith. – Billy Graham
88. Attitude is more important than the past, than education, than money, than circumstances, than what people do or say. It is more important than appearance, giftedness, or skill. – Charles R. Swindoll
89. A successful man is one who makes more money than his wife can spend. A successful woman is one who can find such a man. – Lana Turner
90. Finance is not merely about making money. It's about achieving our deep goals and protecting the fruits of our labor. It's about stewardship and, therefore, about achieving the good society. – Robert J. Shiller
91. Allah says in the Qur'an not to despise one another. So the criterion in Islam is not color or social status. It's who is most righteous. If I go to a mosque and I'm a basketball player with money and prestige if I go to a mosque and see an imam, I feel inferior. He's better than me. It's about knowledge. – Hakeem Olajuwon
92. There are some things that you can fulfil with money, but at the end of the day these are not the things that make you happy. It is the small things that make life good. – Sebastian Vettel
93. It's good to be happy and tell us how cool your life is and how awesome you are on social media. That's great because it inspires other people to be happy, too. But a lot of times, people are trying to be happy in the wrong ways with money or with different things that are not true happiness. – Jaden Smith
94. There is only one boss, the customer. And he can fire everybody in the company from the chairman on down, simply by spending his money somewhere else. – Sam Walton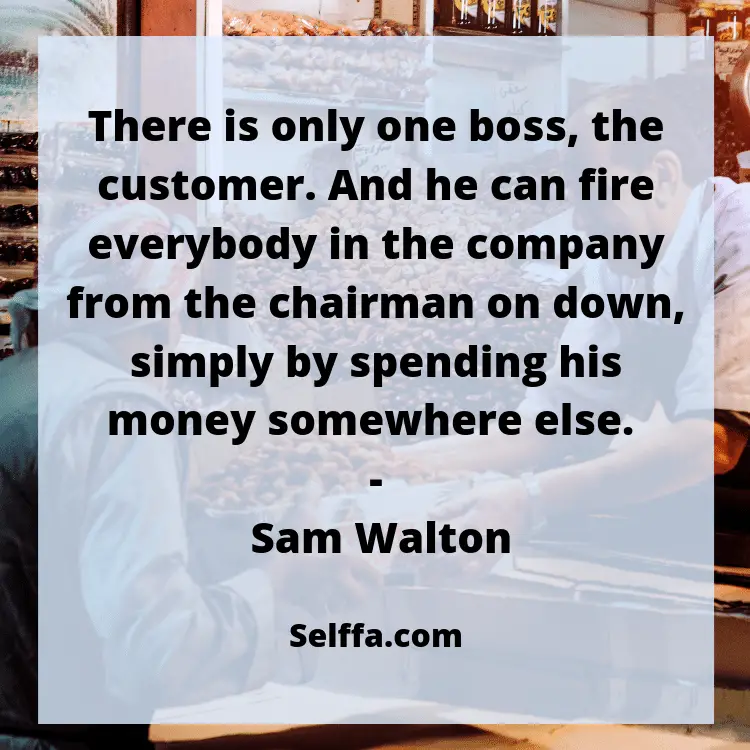 95. For me, money is not my definition of success. Inspiring people is a definition of success. – Kanye West
96. Money doesn't mean anything to me. I've made a lot of money, but I want to enjoy life and not stress myself building my bank account. I give lots away and live simply, mostly out of a suitcase in hotels. We all know that good health is much more important. – Keanu Reeves
97. We learned many years ago that the rich may have money, but the poor have time. – Cesar Chavez
98. I like that Brita makes tap water taste good, so you don't need to spend money or waste plastic with bottled water. – Stephen Curry
99. Encouragement to others is something everyone can give. Somebody needs what you have to give. It may not be your money, it may be your time. It may be your listening ear. It may be your arms to encourage. It may be your smile to uplift. Who knows? – Joel Osteen
100. My favorite things in life don't cost any money. It's really clear that the most precious resource we all have is time. – Steve Jobs
101. We need money. We need hits. Hits bring money, money bring power, power bring fame, fame change the game. – Young Thug
102. To make an embarrassing admission, I like video games. That's what got me into software engineering when I was a kid. I wanted to make money so I could buy a better computer to play better video games, nothing like saving the world. – Elon Musk
103. I felt unhappy and trapped. If I left baseball, where could I go, what could I do to earn enough money to help my mother and to marry Rachel? The solution to my problem was only days away in the hands of a tough, shrewd, courageous man called Branch Rickey, the president of the Brooklyn Dodgers. – Jackie Robinson
104. If money is your hope for independence you will never have it. The only real security that a man will have in this world is a reserve of knowledge, experience, and ability. – Henry Ford
105. It is not the style of clothes one wears, neither the kind of automobile one drives, nor the amount of money one has in the bank, that counts. These mean nothing. It is simply service that measures success. – George Washington Carver
106. You are your greatest asset. Put your time, effort and money into training, grooming, and encouraging your greatest asset. – Tom Hopkins
107. Money and corruption are ruining the land, crooked politicians betray the working man, pocketing the profits and treating us like sheep, and we're tired of hearing promises that we know they'll never keep. – Ray Davies
108. A real gentleman, even if he loses everything he owns, must show no emotion. Money must be so far beneath a gentleman that it is hardly worth troubling about. – Fyodor Dostoevsky
109. Business is all about the customer: what the customer wants and what they get. Generally, every customer wants a product or service that solves their problem, worth their money, and is delivered with amazing customer service. – Fabrizio Moreira
110. If we pollute the air, water and soil that keep us alive and well, and destroy the biodiversity that allows natural systems to function, no amount of money will save us. – David Suzuki
111. I'm a good son, a good father, a good husband – I've been married to the same woman for 30 years. I'm a good friend. I finished college, I have my education, I donate money anonymously. So when people criticize the kind of characters that I play on screen, I go, 'You know, that's part of history.' – Samuel L. Jackson
112. Anyone who lives within their means suffers from a lack of imagination. – Oscar Wilde
113. If you want to know what God thinks of money, just look at the people he gave it to. – Dorothy Parker
114. Top 15 things money can't buy. Time. Happiness. Inner Peace. Integrity. Love. Character. Manners. Health. Respect. Morals. Trust. Patience. Class. Common sense. Dignity. – Roy T. Bennett
115. A penny saved is a penny earned. – Benjamin Franklin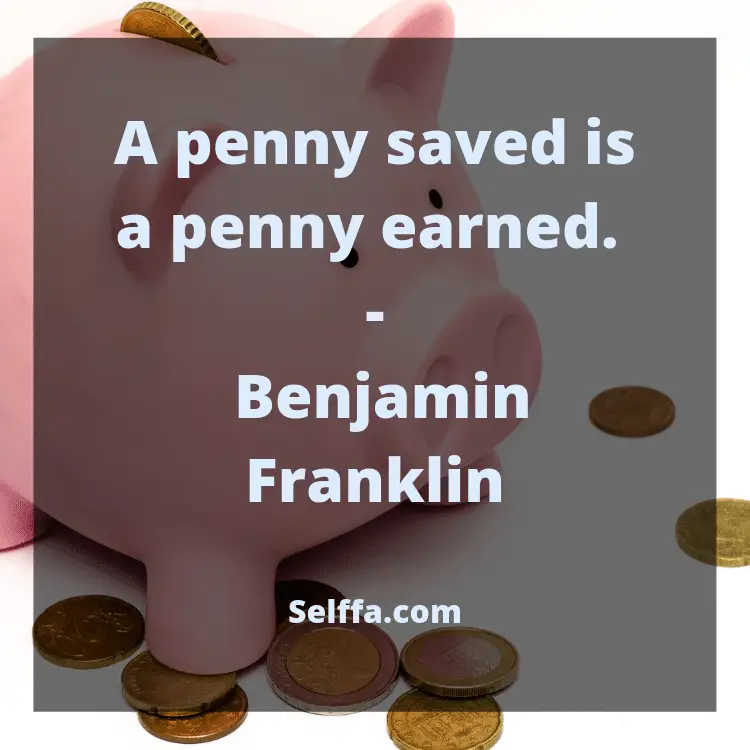 116. As much money and life as you could want! The two things most human beings would choose above all – the trouble is, humans do have a knack of choosing precisely those things that are worst for them. – J.K. Rowling
117. This planet has – or rather had – a problem, which was this: most of the people living on it were unhappy for pretty much of the time. Many solutions were suggested for this problem, but most of these were largely concerned with the movement of small green pieces of paper, which was odd because on the whole it wasn't the small green pieces of paper that were unhappy. – Douglas Adams
118. Keep your best wishes, close to your heart and watch what happens. – Tony DeLiso
119. A woman must have money and a room of her own if she is to write fiction. – Virginia Woolf
120. Libraries will get you through times of no money better than money will get you through times of no libraries. – Anne Herbert
121. While money can't buy happiness, it certainly lets you choose your own form of misery. – Groucho Marx
122. Wealth consists not in having great possessions, but in having few wants. – Epictetus
123. It does not matter how long you are spending on the earth, how much money you have gathered or how much attention you have received. It is the amount of positive vibration you have radiated in life that matters. – Amit Ray
124. Too many people spend money they haven't earned, to buy things they don't want, to impress people that they don't like. – Will Rogers
125. Making money isn't hard in itself. What's hard is to earn it doing something worth devoting one's life to. – Carlos Ruiz Zafón
126. There's no way that Michael Jackson or whoever Jackson should have a million thousand droople billion dollars and then there's people starving. There's no way. There's no way that these people should own planes and there people don't have houses. Apartments. Shacks. Drawers. Pants. I know you're rich. I know you got 40 billion dollars, but can you just keep it to one house? You only need ONE house. And if you only got two kids, can you just keep it to two rooms? I mean why have 52 rooms and you know there's somebody with no room?! It just don't make sense to me. It don't. – Tupac Shakur
127. When defeat comes, accept it as a signal that your plans are not sound, rebuild those plans, and set sail once more toward your coveted goal. –  Napoleon Hill
128. Minds are like flowers, they only open when the time is right. – Stephen Richards
129. The test of our progress is not whether we add more to the abundance of those who have much; it is whether we provide enough for those who have too little. – Franklin D. Roosevelt