Remember that you are enough and that you shall receive the kind of love that you deserve. And who ultimately knows what's best for you? No other than yourself, for sure. So to fully embrace self-love, here are 139 love yourself quotes.
Love Yourself Quotes
1. Love yourself. Forgive yourself. Be true to yourself. How you treat yourself sets the standard for how others will treat you. – Steve Maraboli
2. Encourage yourself, believe in yourself, and love yourself. Never doubt who you are. – Stephanie Lahart
3. Accept yourself, love yourself, and keep moving forward. – Roy Bennett
4. Who will you love if not yourself? Other people? How can you love someone for anything but their raw, naked humanity? How can you say you love someone if it is not for their flaws and quirks, snorts and hurts, triggers and tears? Anything else is not love. It is idealization. And, as long as you do it to yourself, you will do it to everyone. You will not love anyone or anything until those eyes in the mirror soften up and embrace the beauty that is already within. – Vironika Tugaleva
5. People think that what's important is that the world sees them, understands them, values them. That's not what's important. What's important is that you see yourself, you understand yourself, and that you value yourself. A rainbow would still be a rainbow even if nobody looked up into the sky. Same goes for the stars, the Moon, and Saturn too far away for any of us to see still wears her rings! Be Saturn, be Moon, be stars, be rainbow. See yourself. – C. JoyBell C.
6. Go back and take care of yourself. Your body needs you, your perceptions need you, your feeling needs you. The wounded child in you needs you. Your suffering needs you to acknowledge it. – Thich Nhat Hanh
7. I liked me, I knew me, I knew I didn't have to be beautiful to be worthy and it was much more valuable and interesting to have thoughts, dreams and plans to heal the world. – Scarlett Curtis
8. You have to find yourself, before someone else can find you. Love yourself, before you can be loved. Believe in your future, to be in someone's future. – Jason Micheal Ratliff
9. You are responsible to yourself, to love yourself, to care for yourself, and to help yourself. – Akiroq Brost
10. Never Give Up on YOU: Each day you wake up you choose the reality you're going to live in based on your thoughts. Today choose to love yourself fully and embrace all that you are. There is no one on the planet exactly like you, embrace what sets you apart and find beauty within yourself. – Victoria L. White
11. It takes a deep and abiding love for yourself to have the patience to wait for the companion who is mentally healthy enough to see the beauty in your heart. No filters required. – J. Autherine
12. You don't need to live to fulfill other's expectations. Live for yourself, love yourself and do not let them tell you that it is selfish. – Mridula Singh
13. It is not the frame which matters but the picture. Make sure that the picture is beautiful. The frame is only there to draw the eyes to the picture. – Donna Goddard
14. I just felt like . . . me. And whatever "me" meant, that was perfectly fine and absolutely enough. Everyone should feel that kind of peace and self-acceptance far more often than I think most of us do. – David Clawson
15. Find company within yourself and you'll never spend a day alone. Find love within yourself and you'll never have a lonely day. – Connor Chalfant
16. Allow someone to love you, be that someone. – Gift Gugu Mona
17. Let yourself be the love that you are seeking. – Debasish Mridha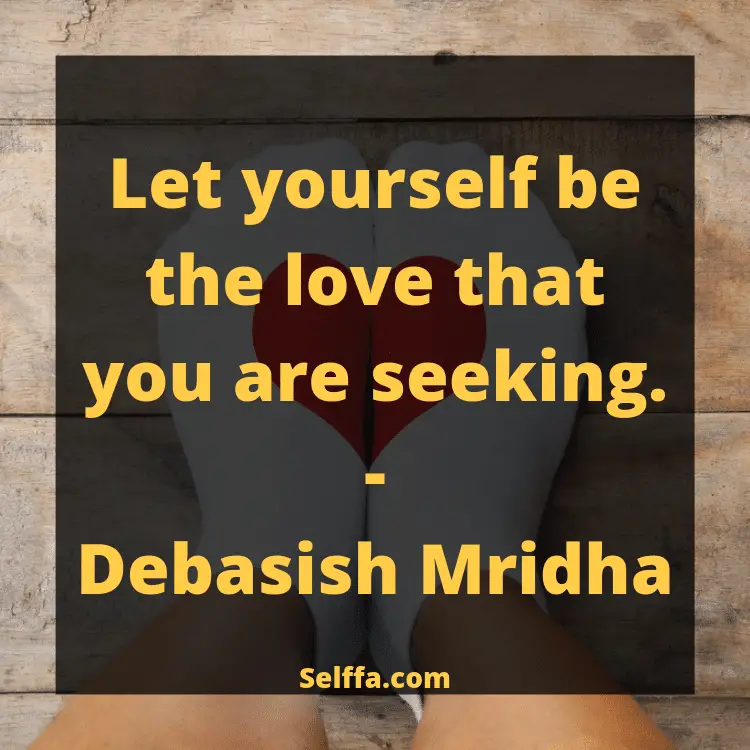 18. Love yourself. That kind of love can get you through anything. – Alfa H
19. I'll walk as fast as I want, and I will take breaks whenever I feel like it. There is no one to follow, no one to keep up with. There's just me and this one beautiful day, this one moment, right here, now. – Elana K. Arnold
20. Love yourself enough to set boundaries. Your time and energy are precious. You get to choose how you use it. You teach people how to treat you by deciding what you will and won't accept. – Anna Taylor
21. What do you see when you look in the mirror? I hope it goes beyond beauty. I hope what you see is that person who's worth it and deserves nothing less than the best, I hope that you see beyond the pain, I hope that you see the glory ahead of you, I hope that you see the strong woman who doesn't break to fail, but breaks to stand the tallest and I hope that you'll always remember that you need to love the person in the mirror first to make a change. – Temitayo Olami
22. There is no downside to taking care of yourself. – Scott Stabile
23. "I love you…", I said to myself and believed it. Finally. – Karen A. Baquiran
24. Forgiving yourself, believing in yourself and choosing to love yourself are the best gifts one could receive. – Brittany Burgunder
25. Loving yourself may seem like a really hard thing to do. But it's the greatest gift you'll ever give yourself. If you're waiting for someone to do it for you, you're really only wasting your time. – Rosa Livingstone
26. True love is healthy, respectful, and nurturing, whether it's for ourselves or for another person. It's positive, uplifting, constructive, and healing to those in our sphere of influence, including the person we look at in the mirror every single morning—ourselves. – Laurie Buchanan
27. In order for us to learn to love, first ourselves and the others, we must accept Jesus' love for us in the deepest parts of our hearts. – Sara Dormon
28. When admiring other people's gardens, don't forget to tend to your own flowers. – Sanober Khan
29. Our soul is like a soft and gentle flower, it needs to be nurtured, cared for, tended to, with sufficient sunlight, fresh air and freedom to bloom into its most precious and beautiful form. This, my friend, is self-love. – Miya Yamanouchi
30. You have to grow. You have to be. You have to love yourself unconditionally. – Dominic Riccitello
31. Find the love you seek, by first finding the love within yourself. Learn to rest in that place within you that is your true home. – Sri Sri Ravi Shankar
32. Don't let hollow heroes distract you from saving yourself. – Nikki Rowe
33. I celebrate myself, and sing myself. – Walt Whitman
34. Love yourself and dream bigger. – Teresa Collins
35. I love myself for I am a beloved child of the universe and the universe lovingly takes care of me now. – Louise Hay
36. To love yourself right now, just as you are, is to give yourself heaven. Don't wait until you die. If you wait, you die now. If you love, you live now. – Alan Cohen
37. We are each gifted in a unique and important way. It is our privilege and our adventure to discover our own special light. – Mary Dunbar
38. Whatever you are doing, love yourself for doing it. Whatever you are feeling, love yourself for feeling it. – Thaddeus Golas
39. Our entire life … consists ultimately in accepting ourselves as we are. – Jean Anouih
40. Love yourself enough to have a meaningful life. – Millen Livis
41. You say you need to love others, but do you love yourself – Bangambiki Habyarimana
42. Loving yourself…does not mean being self-absorbed or narcissistic, or disregarding others. Rather it means welcoming yourself as the most honored guest in your own heart, a guest worthy of respect, a lovable companion. – Margo Anand
43. Becoming acquainted with yourself is a price well worth paying for the love that will really address your needs. – Daphne Rose Kingma
44. The greatest love that you could ever experience on earth is the one that only comes from you to you. – Edmond Mbiaka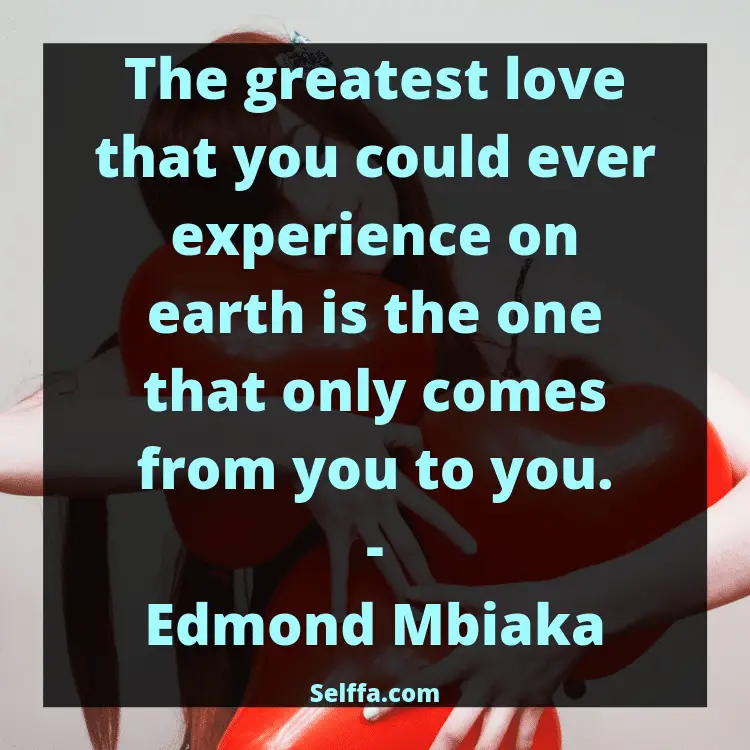 45. When you recover or discover something that nourishes your soul and brings joy, care enough about yourself to make room for it in your life. – Jean Shinoda Bolen
46. When you establish peace, when you establish love, when you establish kindness here [inside], you cannot act any other way to the outside world. – Mimi Ikonn
47. You are responsible for who you become… Love yourself, like your speed; Leave your scars; live your skills! – Israelmore Ayivor
48. Love yourself not in some egocentric, self-serving sense but love yourself the way you would love your friend in the sense of taking care of yourself, nourishing yourself, trying to understand, comfort, and strengthen yourself. – Frederick Buechner
49. You yourself, as much as anybody in the entire universe, deserve your love & affection. – Buddha
50. Love is a battle with yourself. Be kind and love yourself before you love anyone else. – Karen Quan
51. Even when it seems that there is no one else, always remember there's one person who never ceased to love you – yourself. – Sanhita Baruah
52. You've got to love yourself first. You've got to be okay on your own before you can be okay with somebody else. – Jennifer Lopez
53. You don't have to stop fighting for others, you just have to remember to fight for yourself too. – Liz Newman
54. Love yourself first, and you will always be in love. – AVA
55. Love yourself first and everything else falls into line. You really have to love yourself to get anything done in this world. – Lucille Ball
56. You have to be able to love yourself because that's when things fall into place. – Vanessa Hudgens
57. Daring to set boundaries is about having the courage to love ourselves, even when we risk disappointing others. – Brené Brown
58. Love yourself. It is important to stay positive because beauty comes from the inside out. – Jenn Proske
59. To fall in love with yourself is the first secret to happiness. – Robert Morley
60. If you can learn to love yourself and all the flaws, you can love other people so much better. And that makes you so happy. – Kristin Chenoweth
61. Love yourself unconditionally, just as you love those closest to you despite their faults. – Les Brown
62. Love yourself for who you are, and trust me, if you are happy from within, you are the most beautiful person, and your smile is your best asset. – Ileana D'Cruz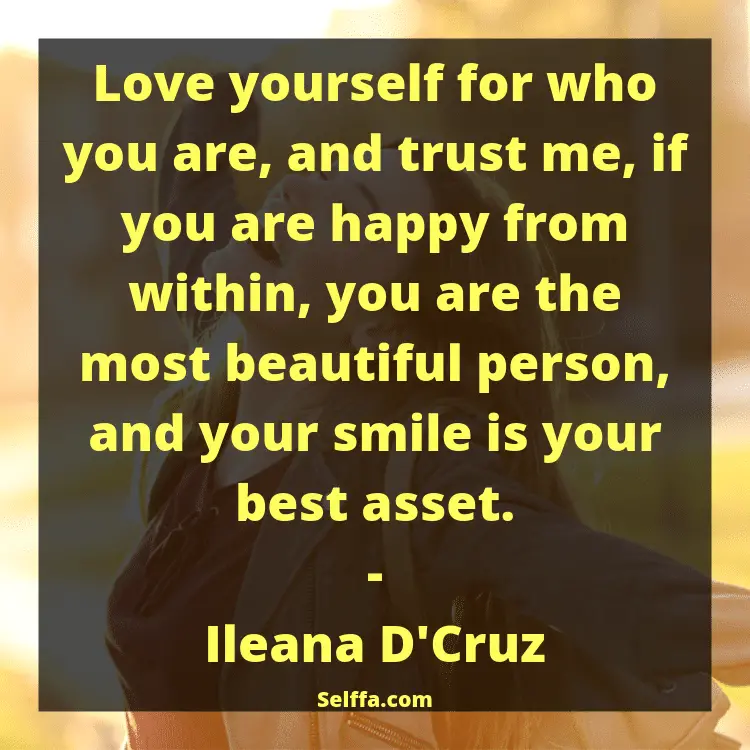 63. Don't forget to tell yourself positive things daily! You must love yourself internally to glow externally. – Hannah Bronfman
64. Beauty is when you can appreciate yourself. When you love yourself, that's when you're most beautiful. – Zoe Kravitz
65. All we have is today. Just live it. We don't know about tomorrow. So, enjoy the day. Love yourself, and spread love around. – Charlotte Rae
66. Love who you are, embrace who you are. Love yourself. When you love yourself, people can kind of pick up on that: they can see confidence, they can see self-esteem, and naturally, people gravitate towards you. – Lilly Singh
67. Learn yourself and love yourself. – Khoudia Diop
68. Love yourself no matter who you are or where you come from. – Diane Guerrero
69. People think, 'Oh, I'm loving myself by sitting on this sofa for four hours.' Love yourself enough to get up! – Alison Sweeney
70. First of all, you need to love yourself, 'cause that's the only way you're going to get by and be O.K. as an individual. But it's important to make other people feel loved because you never know what they're going through. – Sofia Richie
71. We should go after our dreams and not be apologetic about it, but it's scary. Whether you want to work or not, you have to do what makes you a fuller person. You have to love yourself. – Catherine Reitman
72. Society sets us up to be everything but ourselves, but I want to take a moment and say to people, love yourself. Find your purpose. You are unique, and that makes you great. I pursued my dreams. You can do it, too. – Karen Civil
73. You've gotta learn to love yourself and live your own life. Then you can go out in the world and try and figure everything else out. – Rob Halford
74. If only you could sense how important you are to the lives of those you meet; how important you can be to people you may never even dream of. There is something of yourself that you leave at every meeting with another person. – Fred Rogers
75. So then, the relationship of self to other is the complete realization that loving yourself is impossible without loving everything defined as other than yourself. – Alan Watts
76. To accept ourselves as we are means to value our imperfections as much as our perfections. – Sandra Bierig
77. A healthy self-love means we have no compulsion to justify to ourselves or others why we take vacations, why we sleep late, why we buy new shoes, why we spoil ourselves from time to time. We feel comfortable doing things which add quality and beauty to life. – Andrew Matthews
78. Don't ask yourself what the world needs, ask yourself what makes you come alive. And then go and do that. Because what the world needs is people who have come alive. – Howard Washington Thurman
79. If you don't love yourself, nobody will. Not only that, you won't be good at loving anyone else. Loving starts with the self. – Wayne Dyer
80. Loving yourself isn't vanity. It's sanity. – Katrina Mayer
81. It's all about falling in love with yourself and sharing that love with someone who appreciates you, rather than looking for love to compensate for a self-love deficit. – Eartha Kitt
82. To love oneself is the beginning of a life-long romance. – Oscar Wilde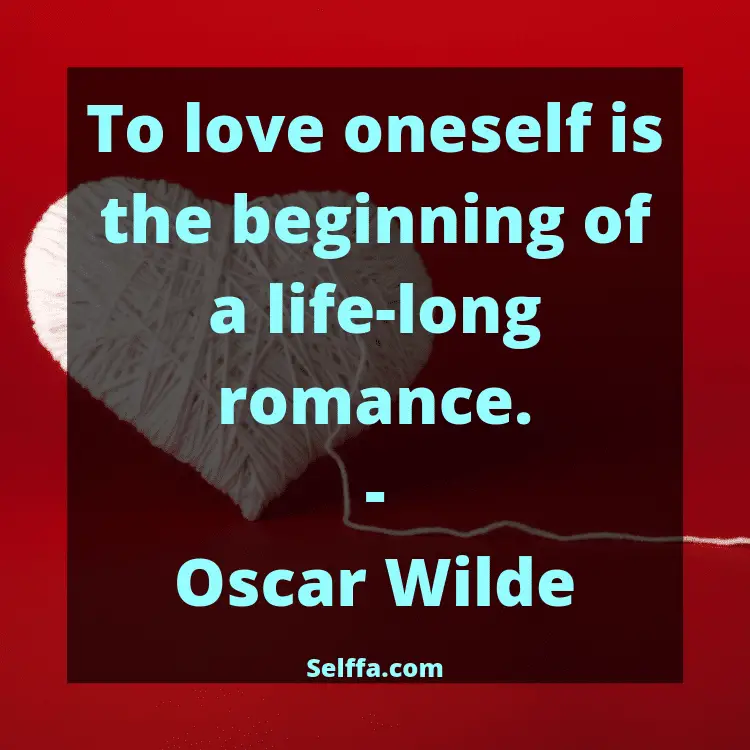 83. If you have the ability to love, love yourself first. – Charles Bukowski
84. You're always with yourself, so you might as well enjoy the company. – Diane Von Furstenberg
85. When we fulfill our function, which is to truly love ourselves and share love with others, then true happiness sets in. – Gabrielle Bernstein
86. Self-love is an ocean and your heart is a vessel. Make it full, and any excess will spill over into the lives of the people you hold dear. But you must come first. – Beau Taplin
87. People are like stained-glass windows. They sparkle and shine when the sun is out, but when the darkness sets in their true beauty is revealed only if there is light from within. – Elisabeth Kübler-Ross
88. If you aren't good at loving yourself, you will have a difficult time loving anyone, since you'll resent the time and energy you give another person that you aren't even giving to yourself. – Barbara De Angelis
89. It's surprising how many persons go through life without ever recognizing that their feelings toward other people are largely determined by their feelings toward themselves, and if you're not comfortable within yourself, you can't be comfortable with others. – Sidney J. Harris
90. There came a time when the risk to remain tight in the bud was more painful than the risk it took to blossom. – Anaïs Nin
91. When I loved myself enough, I began leaving whatever wasn't healthy. This meant people, jobs, my own beliefs and habits – anything that kept me small. My judgement called it disloyal. Now I see it as self-loving. – Kim McMillen
92. Plant your own garden and decorate your own soul, instead of waiting for someone to bring you flowers. – Veronica A. Shoffstall
93. I am perfect, I love and accept myself as I am. – Avis Williams
94. Loving yourself doesn't make you selfish. When done correctly, the exact opposite occurs, because you know that selfish behaviors are negative for your mind, body and spirit. – Donald L. Hicks
95. Loving yourself starts with liking yourself, which starts with respecting yourself, which starts with thinking of yourself in positive ways. – Jerry Corsten
96. A man who loves himself takes the first step towards real love. – Osho
97. Happiness means loving yourself and being less concerned with the approval of others. – Owen Campbell Jr.
98. Ever loved someone so much, you would do anything for them? Yeah, well, make that someone yourself and do whatever the hell you want. – Harvey Specter
99. One way to feel good about yourself is to love yourself, to take care of yourself. – Goldie Hawn
100. If you don't love yourself, you cannot love others. You will not be able to love others. If you have no compassion for yourself then you are not able of developing compassion for others. – Dalai Lama
101. Turns out that loving yourself is the greatest way to improve yourself, and as you improve yourself, you improve your world. – Joe Vitale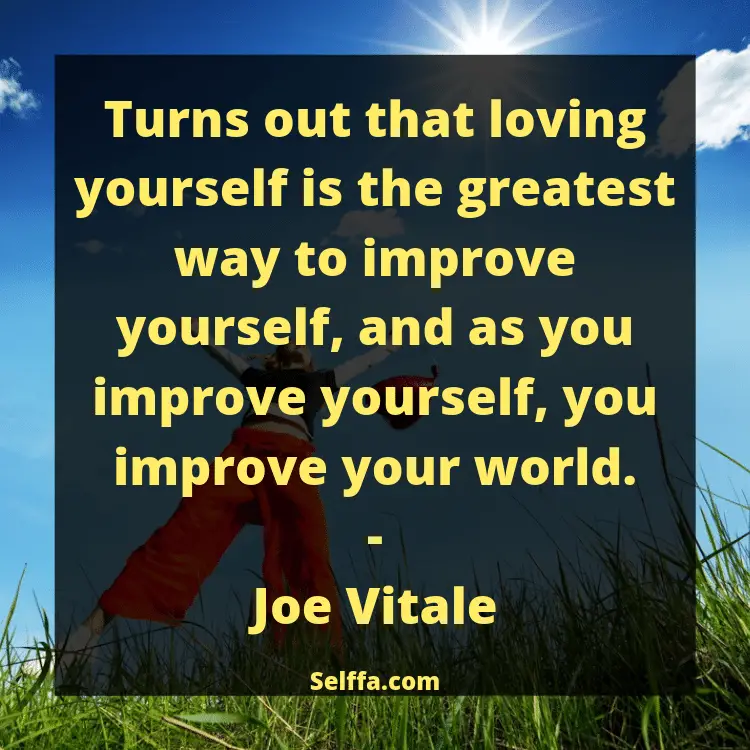 102. Loving yourself means accepting your weaknesses as parts of yourself you are still working to improve and celebrating your strengths. Do that for those around you, and you'll find that life is filled with joy. – Yee Shun-Jian
103. It's not selfish to love yourself, take care of yourself, and to make your happiness a priority. It's necessary. – Mandy Hale
104. Love brings you face to face with yourself. It's impossible to love others if you don't love yourself. – John Pierrkos
105. Self-love does not lessen our ability to love others; it increases it. The more love we have within the more love we have to give out. – Randi G. Fine
106. If your compassion does not include yourself, it is incomplete. – Jack Kornfield
107. The journey isn't about becoming a different person. It's about loving who you are right now. – Suzanne Heyn
108. How you love yourself is how you teach others to love you. – Rupi Kaur
109. Once the shadow is embraced, it is healed. And when it is healed, it becomes love. – Debbie Ford
110. Be the very love that you crave. – Christine Kane
111. I decide the most subversive revolutionary thing I could do was to show up for my life and not be ashamed. – Anne Lamott
112. Document the moments you feel most in love with yourself – what you're wearing, who you're around, what you're doing. Recreate and repeat. – Warsan Shire
113. Be very very very gentle with yourself. The world is very very very hard on you. – Srividya Srinivasan
114. Love life and life will love you, love yourself and you shall feel loved. – Siân Lavinia Anaïs Valeriana
115. Believing in yourself is one of the greatest things that you could ever do for yourself. But the greatest is loving yourself unconditionally. – Edmond Mbiaka
116. When you truly love yourself, you are enough. Your happiness and well-being become a top priority. – Annette Vaillancourt
117. It doesn't matter what anyone else thinks. What matters is you can look in the mirror, and love who you see. – B. Dave Walters
118. Wildflower, pick up your pretty little head, it will get easier; your dreams are not dead. – Nikki Rowe
119. I am lovable and each day it becomes easier for me to love myself. – Vikrant Parsai
120. First love yourself, then respect shall follow. Next don't worry so much on who will love you now but concentrate on the fact that as long as you uphold the love and respect that whoever does will be worth the wait. – Nicole Hill
121. A person learns how to love himself through the simple acts of loving and being loved by someone else. – Haruki Murakami
122. Be your own best friend. Have your own back, fight for yourself, love yourself. Be willing to do everything you can to make yourself happy. – Sonya Parker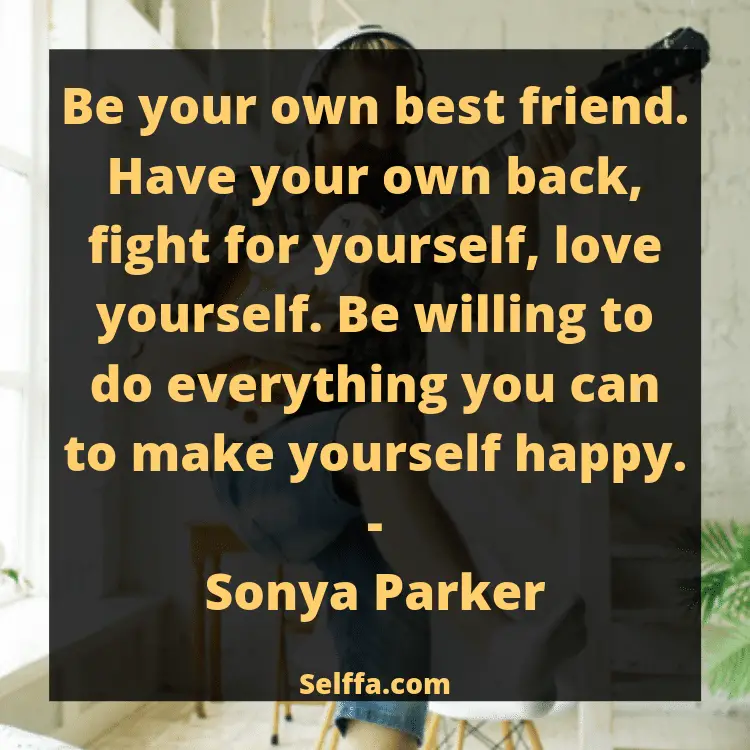 123. Use the opportunity of being single to love yourself and focus on making you a better person. – London Mond
124. Unreturned love is like trying to make a sandwich with one slice of bread. Don't stress — fold it in half and love yourself. – Jarod Kintz
125. We spend our lives trying to please people and in the end they don't care about you. Love yourself and pay attention to the ones who make life worth living! – Abhishek Tiwari
126. Dare to love yourself as if you were a rainbow with gold at both ends. – Aberjhani
127. Something inside you emerges….an innate, indwelling peace, stillness, aliveness. It is the unconditioned, who you are in your essence. It is what you had been looking for in the love object. It is yourself. – Eckhart Tolle
128. If you must love your neighbor as yourself, it is at least as fair to love yourself as your neighbor. – Nicholas de Chamfort
129. Let today be the day you love yourself enough to no longer just dream of a better life; let it be the day you act upon it. – Steve Maraboli
130. Love holds no expectation on what you will be, it simply values who you are. – E'yen A. Gardne
131. Most of the shadows of this life are caused by standing in one's own sunshine. – Ralph Waldo Emerson
132. Eat like you love yourself. Move like you love yourself. Speak like you love yourself. Act like you love yourself. – Unknown
133. Loving ourselves works miracles in our lives. – Louise Hay
134. Don't rely on someone else for your happiness and self-worth. Only you can be responsible for that. If you can't love and respect yourself – no one else will be able to make that happen. Accept who you are – completely. The good and the bad – and make changes as you see fit – not because you think someone else wants you to be different. – Stacey Charter
135. The fact that someone else loves you doesn't rescue you from the project of loving yourself. – Sahaj Kohli
136. Love yourself-accept yourself-forgive yourself-and be good to yourself, because without you the rest of us are without a source of many wonderful things. – Leo Buscaglia
137. Never dull your shine for somebody else. – Tyra Banks
138. There are two basic motivating forces: fear and love. When we are afraid, we pull back from life. When we are in love, we open to all that life has to offer with passion, excitement, and acceptance. We need to learn to love ourselves first, in all our glory and our imperfections. If we cannot love ourselves, we cannot fully open to our ability to love others or our potential to create. Evolution and all hopes for a better world rest in the fearlessness and open-hearted vision of people who embrace life. – John Lennon
139. Go on and love yourself, cause everything's gonna be alright. – India.Arie