You can be who you want to be in the world that you've always dreamed of through your imagination. The possibilities are endless, and your mind is the limit. So to further fuel up your imaginative mind, here are 150 imagination quotes.
Imagination Quotes
1. I imagine, therefore I belong and am free. – Lawrence Durrell
2. Imagination does not become great until human beings, given the courage and the strength, use it to create. – Maria Montessori
3. Perhaps imagination is only intelligence having fun. – George Scialabba
4. I believe in the imagination. What I cannot see is infinitely more important than what I can see. – Duane Michals
5. Imagination was given to man to compensate him for what he is not; a sense of humor to console him for what he is. – Sir Francis Bacon
6. The imagination is man's power over nature. – Wallace Stevens
7. My imagination makes me human and makes me a fool; it gives me all the world and exiles me from it. – Ursula K. Le Guin
8. The imagination, give it the least license, dives deeper and soars higher than Nature goes. – Henry David Thoreau
9. Imagination is an inner resource. That's why it takes stopping, slowing, silencing, reassuring, embracing to allow it to speak. – Suzanne Beth Stinnett
10. Imagination is the voice of daring. If there is anything godlike about God, it is that. He dared to imagine everything. – Henry Miller
11. Fantasy was always only a reality waiting to be switched on. – Joe Hill
12. All the works of man have their origin in creative fantasy. What right have we then to depreciate imagination. – Carl Gustav Jung
13. The quality of the imagination is to flow and not to freeze. – Ralph Waldo Emerson
14. Imagination is a poor matter when it has to part company with understanding. – Thomas Carlyle
15. Only in men's imagination does every truth find an effective and undeniable existence. Imagination, not invention, is the supreme master of art as of life. – Joseph Conrad
16. Imagination is always the fabric of social life and the dynamic of history. The influence of real needs and compulsions, of real interests and materials, is indirect because the crowd is never conscious of it. – Simone Weil
17. A strong imagination begetteth opportunity. – Michel de Montaigne
18. Imagination allows you to see things in a non-traditional, non-restrictive manner. Your imagination is your picture of what tomorrow may bring. – Catherine Pulsifer
19. Imagination is the only key to the future. Without it none exists – with it all things are possible. – Ida Tarbell
20. Imagination will often carry us to worlds that never were. But without it we go nowhere. – Carl Sagan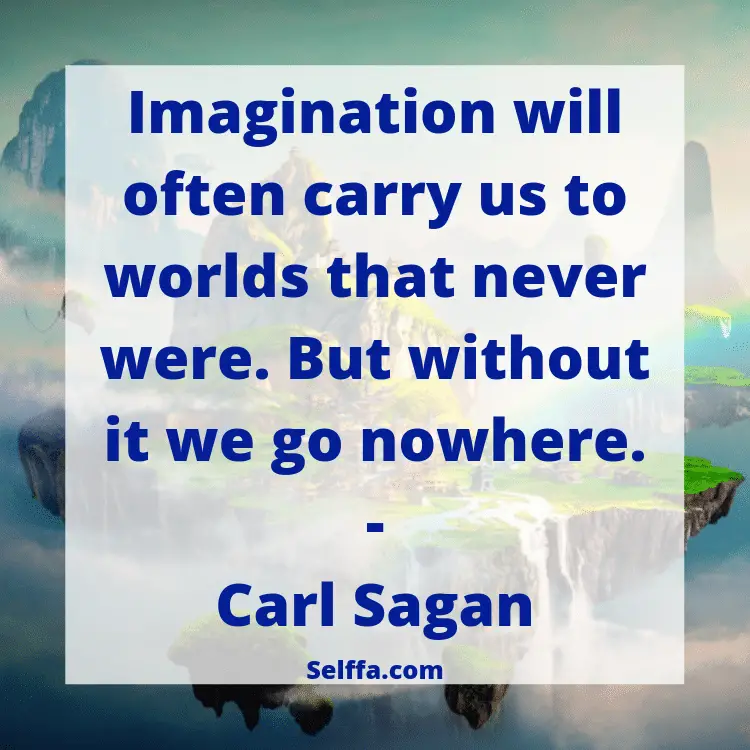 21. Logic will get you from A to Z; imagination will get you everywhere. – Albert Einstein
22. An idea is salvation by imagination. – Frank Lloyd Wright
23. Imagination is the true magic carpet. – Norman Vincent Peale
24. Imagination is the soil that brings dreams to life. – Anonymous
25. True change takes place in the imagination. – Thomas Moore
26. Limitations live only in our minds. But if we use our imaginations, our possibilities become limitless. – Jamie Paolinetti
27. Imagination means nothing without doing. – Charlie Chaplin
28. Imagination is like a muscle. I found out that the more I wrote, the bigger it got. – Philip José Farmer
29. Without leaps of imagination or dreaming, we lose the excitement of possibilities. Dreaming, after all is a form of planning. – Gloria Steinem
30. The world of reality has its limits; the world of imagination is boundless. – Jean-Jacques Rousseau
31. Because when you are imagining, you might as well imagine something worthwhile. – L.M. Montgomery
32. Love what you do and do what you love. Don't listen to anyone else who tells you not to do it. You do what you want, what you love. Imagination should be the center of your life. – Ray Bradbury
33. What is now proved was once only imagined. – William Blake
34. Imagination is a place where all the important answers live. – Joe Meno
35. To know is nothing at all; to imagine is everything. – Anatole France
36. If you can imagine it, you can achieve it. If you can dream it, you can become it. – William Arthur Ward
37. Those who fear the imagination condemn it: something childish, they say, something monsterish, misbegotten. Not all of us dream awake. But those of us who do have no choice. – Patricia A. McKillip
38. When you become the image of your own imagination, it's the most powerful thing you could ever do. – RuPaul
39. Imagination is a gift given to us from God and each one of us use it differently. – Brian Jacques
40. Imagination is the highest kite one can fly. – Lauren Bacall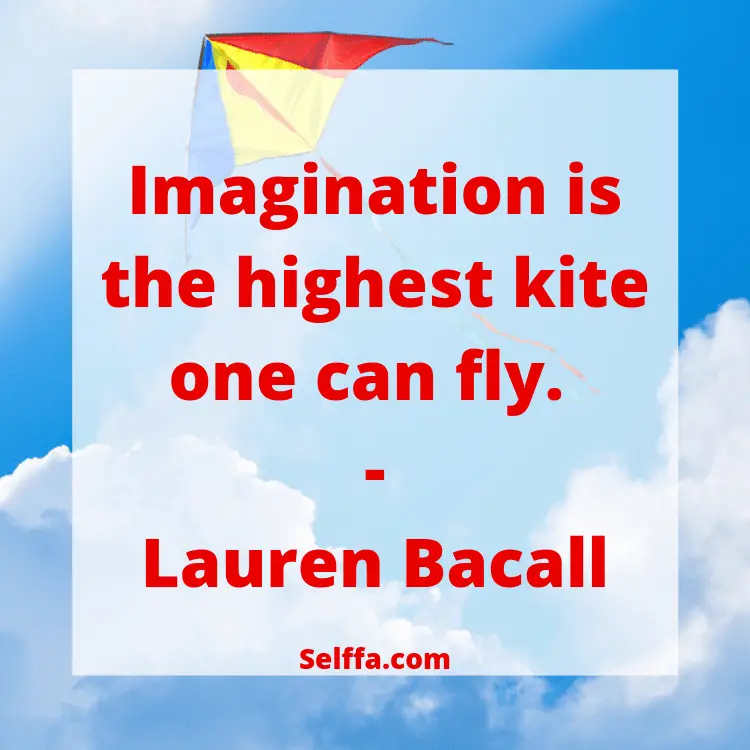 41. Imagination should be used, not to escape reality, but to create it. – Colin Wilson
42. Some might think that the creativity, imagination, and flights of fancy that give my life meaning are insanity. – Vladimir Nabokov
43. Imagination is the power of the mind over the possibilities of things. – William Stevens
44. Stories of imagination tend to upset those without one. – Terry Pratchett
45. Imagination is the beginning of creation. You imagine what you desire, you will what you imagine, and at last, you create what you will. – George Bernard Shaw
46. I believe in the power of the imagination to remake the world, to release the truth within us, to hold back the night, to transcend death, to charm motorways, to ingratiate ourselves with birds, to enlist the confidences of madmen. – J.G. Ballard
47. Imagination is not only the uniquely human capacity to envision that which is not, and, therefore, the foundation of all invention and innovation. In its arguably most transformative and revelatory capacity, it is the power that enables us to empathize with humans whose experiences we have never shared. – J.K. Rowling
48. If something is there, you can only see it with your eyes open, but if it isn't there, you can see it just as well with your eyes closed. That's why imaginary things are often easier to see than real ones. – Norton Juster
49. When I read a book, I put in all the imagination I can, so that it is almost like writing the book as well as reading it – or rather, it is like living it. It makes reading so much more exciting, but I don't suppose many people try to do it. – Dodie Smith
50. Bring ideas in and entertain them royally, for one of them may be the king. – Mark Van Doren
51. The possible's slow fuse is lit by the Imagination. – Emily Dickinson
52. Closed in a room, my imagination becomes the universe, and the rest of the world is missing out. – Criss Jami
53. You may think I'm small, but I have a universe inside my mind. – Yoko Ono
54. So rapid is the flight of dreams upon the wings of imagination. – Alexandre Dumas
55. And I must say the imagination also a very powerful tool. It helps you to achieve your need very quickly. It inspires you more when you think about it. – Sampath Bandara
56. Our imagination is the workshop of the mind. This is the place where dreams are born, ideas are nourished, and plans are made. – David DeNotaris
57. As crazy and weird as the imagination of children can be, we need to encourage that type of thinking. Even participate in imaginary events with our kids. – Jason Hall
58. Change begins with fresh eyes, in other words. It begins with an awakened imagination. – Mark Buchanan
59. Since it doesn't cost a dime to dream, you'll never shortchange yourself when you stretch your imagination. – Robert Schuller
60. True imagination is not fanciful daydreaming; it is fire from heaven. – Ernest Holmes
61. Imagination is the possibility maker. It is the home of hope and regret. – Stephen T. Asma
62. Imagination enlarges vision, stretches the mind, challenges the impossible. Without imagination, thought comes to a halt. – Wilfred Peterson
63. Be free like a child. Let your imagination fly high. You must make it a point to surround yourself with the people who are like that. – Domenico Mazza
64. Use your imagination not as an escape from reality but as an aid to making your reality the best it could possibly be. – Amy Pendergrass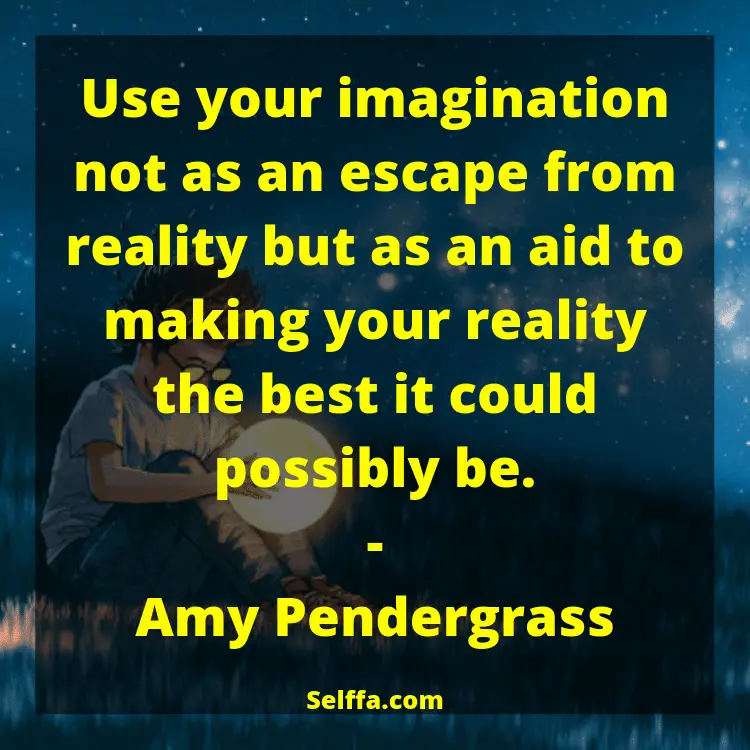 65. Management is the power of imagination in action. – Christian H. Godefroy
66. If you change your imagination, you can change your mood. – Stephanie Conkle
67. Our imagination is the only limit to what we can hope to have in the future. – Charles F. Kettering
68. If the winds of fortune are temporarily blowing against you, remember that you can harness them and make them carry you toward your definite purpose, through the use of your imagination. – Napoleon Hill
69. You have an imagination for a reason. Use it! – Melissa Eshleman
70. I believe that imagination is stronger than knowledge. That myth is more potent than history. That dreams are more powerful than facts. That hope always triumphs over experience. That laughter is the only cure for grief. And I believe that love is stronger than death. – Robert Fulghum
71. Every human has four endowments – self awareness, conscience, independent will and creative imagination. These give us the ultimate human freedom… The power to choose, to respond, to change. – Stephen Covey
72. The courage to imagine the otherwise is our greatest resource, adding color and suspense to all our life. – Daniel J. Boorstin
73. Hope lies in dreams, in imagination, and in the courage of those who dare to make dreams into reality. – Jonas Salk
74. The level of our success is limited only by our imagination and no act of kindness, however small, is ever wasted. – Aesop
75. Our thoughts and imagination are the only real limits to our possibilities. – Orison Swett Marden
76. The man who has no imagination has no wings. – Muhammad Ali
77. My imagination completely controls me, and forever feeds the fire that burns with dark red light in my heart by bringing me the best dreams. I've always had a wild imagination, a big heart and a tortured soul so I feel that dark fantasy, love and horror are in my blood. – Kim Elizabeth
78. You're only given a little spark of madness. You mustn't lose it. – Robin Williams
79. Every block of stone has a statue inside it and it is the task of the sculptor to discover it. – Michelangelo
80. Imagination is the eye of the soul. – Joseph Joubert
81. Visualize this thing that you want, see it, feel it, believe in it. Make your mental blue print, and begin to build. – Robert Collier
82. I have fallen in love with the imagination. And if you fall in love with the imagination, you understand that it is a free spirit. It will go anywhere, and it can do anything. – Alice Walker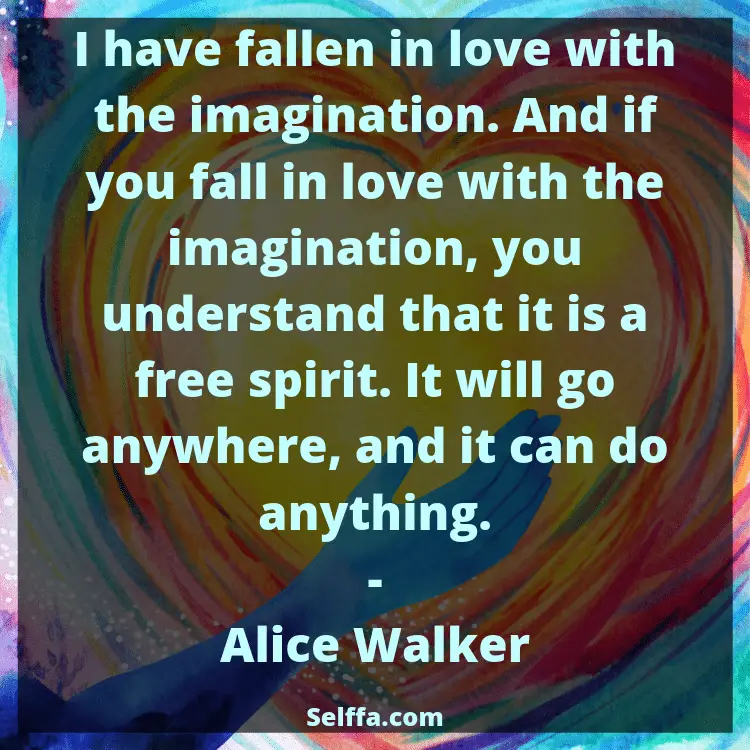 83. Think left and think right and think low and think high. Oh, the thinks you can think up if only you try! – Dr. Seuss
84. There are no rules of architecture for a castle in the clouds. – Gilbert K. Chesterton
85. Encourage children to write their own stories, and then don't rain on their parade. Don't say, 'That's not true.' Applaud flights of fantasy. Help with spelling and grammar, but stand up and cheer the use of imagination. – Gail Carson Levine
86. Reason is the natural order of truth; but imagination is the organ of meaning. – C. S. Lewis
87. I had a very happy childhood, but I wasn't that happy a child. I liked being alone and creating characters and voices. I think that's when your creativity is developed, when you're young. I liked the world of the imagination because it was an easy place to go to. – David Walliams
88. My reality needs imagination like a bulb needs a socket. My imagination needs reality like a blind man needs a cane. – Tom Waits
89. Obviously the imagination is fueled by emotions beyond the control of the conscious mind. – Joyce Carol Oates
90. Fantasy has a dark side to it. It also has a light hemisphere – the power of the human imagination to keep going, to imagine a better tomorrow. – Tim O'Brien
91. One of the virtues of being very young is that you don't let the facts get in the way of your imagination. – Sam Levenson
92. There are many ways to be free. One of them is to transcend reality by imagination, as I try to do. – Anais Nin
93. I always wanted to ride a dragon myself, so I decided to do this for a year in my imagination. – Cornelia Funke
94. And by the way, everything in life is writable about if you have the outgoing guts to do it, and the imagination to improvise. The worst enemy to creativity is self-doubt. – Sylvia Plath
95. Be bored and see where it takes you, because the imagination's dusty wilderness is worth crossing if you want to sculpt your soul. – Nancy Gibbs
96. See that the imagination of nature is far, far greater than the imagination of man. – Richard P. Feynman
97. Those who have learned to walk on the threshold of the unknown worlds, by means of what are commonly termed par excellence the exact sciences, may then, with the fair white wings of imagination, hope to soar further into the unexplored amidst which we live. – Ada Lovelace
98. I love to create, and to me, the ultimate freedom of expression is a blank canvas or a block of clay to capture whatever emotions your imagination gives it. – Daniel Boulud
99. Imagination is a very potent thing, and in the uneducated often usurps the place of genuine experience. – H. P. Lovecraft
100. Imagination is like the drunk man who lost his watch and must get drunk again to find it. – Guy Davenport
101. I try to decorate my imagination as much as I can. – Franz Schubert
102. Like all novelists, I'm interested in the filters between reality and the imagination. – Hisham Matar
103. A discerning eye needs only a hint, and understatement leaves the imagination free to build its own elaborations. – Russell Page
104. Trust that little voice in your head that says 'Wouldn't it be interesting if…'; And then do it. – Duane Michals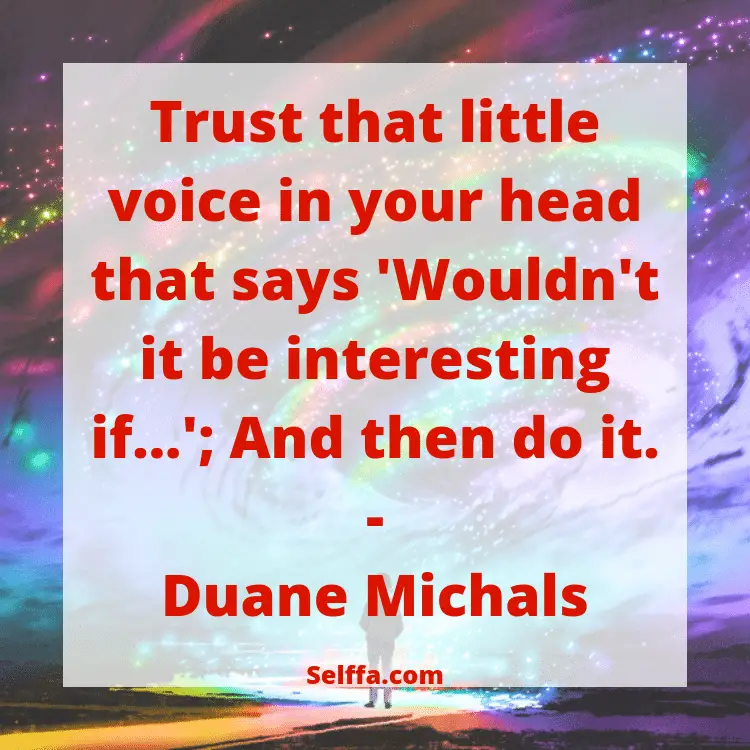 105. When you believe in what you're doing and use your imagination and initiative, you can make a difference. – Samuel Dash
106. Imagination gallops; judgment merely walks. – Proverb
107. When I say the world is a figment of your imagination, I'm not suggesting we're in the Matrix. What I mean is that your mind creates your own view of the world. – Jason Travis
108. When the mind is quieted and emotions are passive, concentrated creative imagination enables us to transcend thoughts and feelings of limitation. – Roy Eugene Davis
109. You need imagination and vision, you need to believe in yourself and your abilities, and you need the determination to succeed despite the obstacles you will inevitably encounter. – Sullins Stuart
110. The greatest things in life – truth, creativity, imagination, love, kindness, compassion – are already inside us, and they're all free. – Yanni
111. Everything that exists is created first in the imagination, and secondly in reality, through activity. – Paul McCabe
112. When one paints an ideal, one does not need to limit one's imagination. – Ellen Key
113. You need imagination in order to imagine a future that doesn't exist. – Azar Nafisi
114. Anyone who lives within their means suffers from a lack of imagination. – Oscar Wilde
115. The moment you doubt whether you can fly, you cease for ever to be able to do it. – J. M. Barrie
116. A well-composed book is a magic carpet on which we are wafted to a world that we cannot enter in any other way. – Caroline Gordon
117. Our imagination flies — we are its shadow on the earth. – Vladimir Nabokov
118. We lay there and looked up at the night sky and she told me about stars called blue squares and red swirls and I told her I'd never heard of them. Of course not, she said, the really important stuff they never tell you. You have to imagine it on your own. – Brian Andreas
119. I spin worlds where we could be together. I dream you. For me, imagination and desire are very close. – Jeanette Winterson
120. Adventure is not outside man; it is within. – George Eliot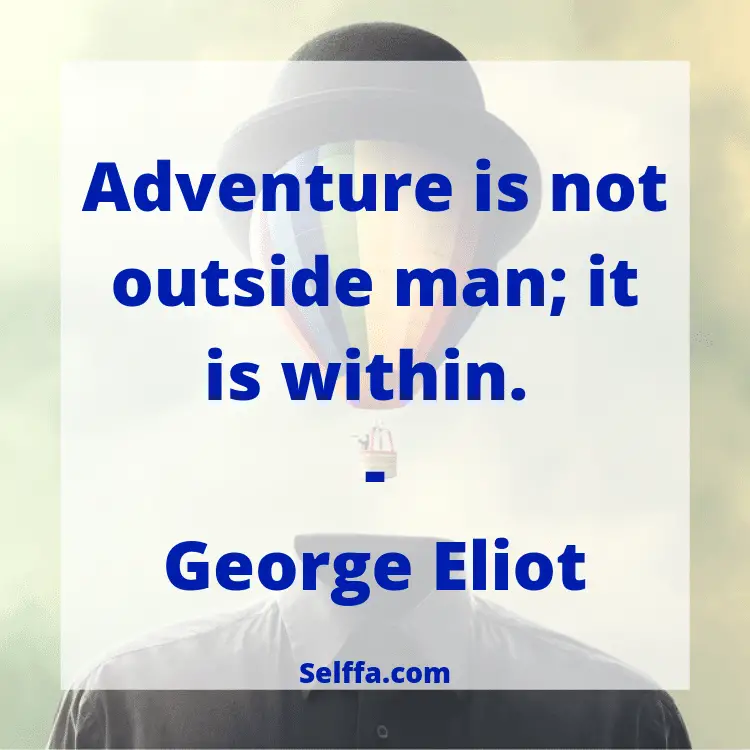 121. A daily dose of daydreaming heals the heart, soothes the soul, and strengthens the imagination. – Richelle E. Goodrich
122. A man, to be greatly good, must imagine intensely and comprehensively; he must put himself in the place of another and many others; the pains and pleasures of his species must become his own. The great instrument of moral good is the imagination. – Percy Bysshe Shelley
123. In imagination she sailed over storied seas that wash the distant shining shores of "faëry lands forlorn," where lost Atlantis and Elysium lie, with the evening star for pilot, to the land of Heart's Desire. And she was richer in those dreams than in realities; for things seen pass away, but the things that are unseen are eternal. – L.M. Montgomery
124. The whole terrible fight occurred in the area of imagination. That is the precise location of our battlefield. It is there, that we experience our victories and defeats. – Haruki Murakami
125. The interior of our skulls contains a portal to infinity. – Grant Morrison
126. My imagination persisted in sticking horrors into the dark- so I stuck my imagination into the dark instead, and let it look out at me. – F. Scott Fitzgerald
127. The possibilities were endless. Battles would be fought. Wonders revealed. Many journeys. Many lands. Many joys. Many sorrows.
But stories all… – William Joyce
128. The most wonderful and the strongest things in the world, you know, are just the things which no one can see. – Charles Kingsley
129. Anything seems possible at night when the rest of the world has gone to sleep. – David Almond
130. Let your creative and imaginative mind run freely; it will take you places you never dreamed of and provide breakthroughs that others once thought were impossible. – Idowu Koyenikan
131. When you're feeling lonely
and no one is around
Remember to look inside yourself
and a best friend will be found
– Stephen Cosgrove
132. The thinking mind is best controlled by the imagination. – Carson McCullers
133. All human accomplishment has this same origin, identically. Imagination is a force of nature. Is this not enough to make a person full of ecstasy? Imagination, imagination, imagination! It converts to actual. It sustains, it alters, it redeems! – Saul Bellow
134. It is wonderful what tricks our dreams play us, and how conveniently we can imagine. – Bram Stoker
135. As we walk through life, fleeting emotional episodes may keep on twinkling, curl up in the hive of our recollection and enrich our imagination. In the same vein, esthetic allurement and poetic gracefulness may possess us, besiege our mind, light up our thinking and shape our future. – Erik Pevernagie
136. A human being always acts and feels and performs in accordance with what he imagines to be true about himself and his environment…For imagination sets the goal 'picture' which our automatic mechanism works on. We act, or fail to act, not because of 'will,' as is so commonly believed, but because of imagination. – Maxwell Maltz
137. The imaginary is not formed in opposition to reality as its denial or compensation; it grows among signs, from book to book, in the interstice of repetitions and commentaries; it is born and takes shape in the interval between books. It is the phenomena of the library. – Michel Foucault
138. We can only know what we can truly imagine. Finally what we see comes from ourselves. – Marge Piercy
139. Every production of an artist should be the expression of an adventure of his soul. – W. Somerset Maugham
140. Just close your eyes and keep your mind wide open. – Katherine Paterson
141. I like the immaterial world. I like to live among thoughts and images of the past and the possible, and even of the impossible, now and then. – Thomas Love Peacock
142. An imagination is a powerful tool. It can tint memories of the past, shade perceptions of the present, or paint a future so vivid that it can entice… or terrify, all depending upon how we conduct ourselves today. – Jim Davis
143. Because the child must have a valuable thing which is called imagination. The child must have a secret world in which live things that never were. It is necessary that she believe. She must start out believing in things not of this world. Then when the world becomes too ugly for living in, the child can reach back and live in her imagination. – Betty Smith
144. Imagination has brought mankind through the Dark Ages to its present state of civilization. Imagination led Columbus to discover America. Imagination led Franklin to discover electricity. Imagination has given us the steam engine, the telephone, the talking-machine and the automobile, for these things had to be dreamed of before they became realities. So I believe that dreams – day dreams, you know, with your eyes wide open and your brain-machinery whizzing – are likely to lead to the betterment of the world. The imaginative child will become the imaginative man or woman most apt to create, to invent, and therefore to foster civilization. – L. Frank Baum
145. You know, they ask me if I were on a desert island and I knew nobody would ever see what I wrote, would I go on writing. My answer is most emphatically yes. I would go on writing for company. Because I'm creating an imaginary — it's always imaginary — world in which I would like to live. – William S. Burroughs
146. Bow down, I am the emperor of dreams. – Clark Ashton Smith
147. Non fiction? Non fiction?! Listen, reality is what got me into this mess in the first place. – Justin Alcala
148. In the absence of sleep, my restless nights have been fueled by my overactive imagination, weaving waking dreams onto the canvas of conception. Filling my head with lots of ideas waiting to be born into reality. I am eager to return to my beautiful mistress, Creation! – Jaeda DeWalt
149. The writer must have a good imagination to begin with, but the imagination has to be muscular, which means it must be exercised in a disciplined way, day in and day out, by writing, failing, succeeding and revising. – Stephen King
150. Of course imagination is the beginning of creation. Without imagination there can be no creation. – Pearl S. Buck