There are so many reasons why we love Christmas! If you're a Christian, celebrating the birth of Jesus Christ is something you'll always look forward to every year. But not only that, listening to Christmas carols, putting up fairy lights and pretty decorations, buying gifts for your loved ones, and spending time with your family are some of the reasons why Christmas is so special to most of us as well. Here are some inspirational Christmas quotes you'd surely love on this special day!
Inspirational Christmas Quotes
1. Christmas is the day that holds all time together. – Alexander Smith
2. Bloody Christmas, here again, let us raise a loving cup, peace on earth, goodwill to men, and make them do the washing up. – Wendy Cope
3. It's beginning to look a lot like Christmas, soon the bells will start, and the thing that will make them ring is the carol that you sing right within your heart. – Meredith Wilson
4. It is Christmas in the heart that puts Christmas in the air. –  W.T. Ellis
5. Christmas now surrounds us, happiness is everywhere our hands are busy with many tasks as carols fill the air. – Shirley Sallay
6. Each sight, each sound of Christmas and fragrances sublime make hearts and faces happy this glorious Christmas time. – Carice Williams
7. Christmas is not as much about opening our presents as opening our hearts. – Janice Maeditere
8. I wish we could put up some of the Christmas spirits in jars and open a jar of it every month. – Harlan Miller
9. Good news from heaven the angels bring, glad tidings to the earth they sing to us this day a child is given, to crown us with the joy of heaven. – Martin Luther
10. The magic of Christmas never ends and its greatest of gifts are family and friends.
11. The only people whose soul can truly magnify the Lord are people who acknowledge their lowly estate and are overwhelmed by the condescension of the magnificent God. -John Piper
12. The very purpose of Christ's coming into the world was that he might offer up his life as a sacrifice for the sins of men. He came to die. This is the heart of Christmas. – Rev. Billy Graham
13. For centuries, men have kept an appointment with Christmas. Christmas means fellowship, feasting, giving and receiving, a time of good cheer, home. – W. J. Tucker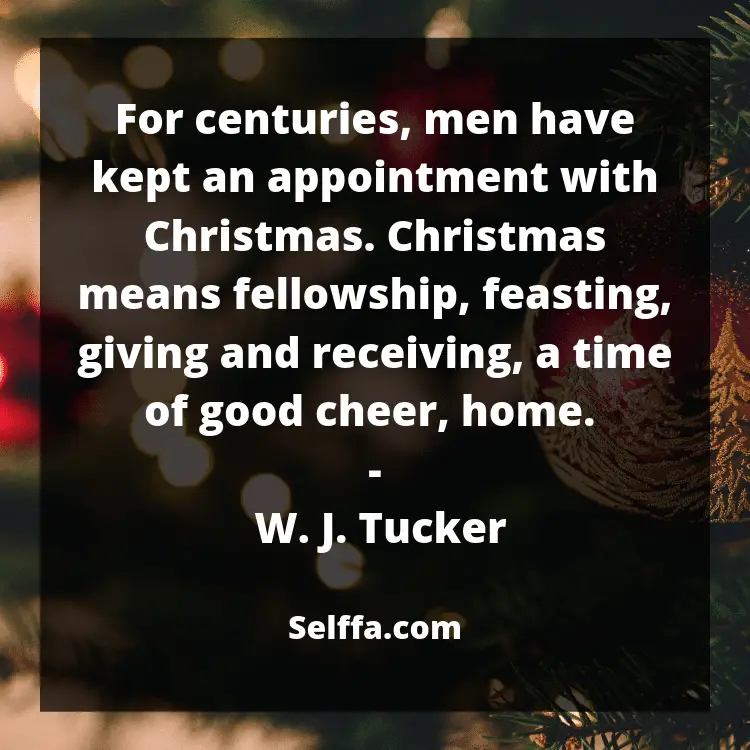 14. Christmas is not just a time for festivity and merrymaking. It is more than that. It is time for the contemplation of eternal things. The Christmas spirit is a spirit of giving and forgiving. – J. C. Penney
15. Christmas is like candy, it slowly melts in your mouth sweetening every taste bud, making you wish it could last forever. – Richelle E. Goodrich
16. Christmas is forever, not for just one day. For loving, sharing, giving, are not to put away. – Norman Wesley Brooks
17. Unless we make Christmas an occasion to share our blessings, all the snow in Alaska won't make it white. – Bing Crosby
18. The world has grown weary through the years, but at Christmas, it is young. – Phillips Brooks
19. Christmas is a piece of one's home that one carries in one's heart. – Freya Stark
20. Remember this December, that love weighs more than gold. – Josephine Daskam Bacon
21. Christmas is the season of joy, of gift-giving, and of families united. – Norman Vincent Peale
22. Peace on earth will come to stay when we live Christmas every day. – Helen Steiner Rice
23. Like snowflakes, my Christmas memories gather and dance each beautiful, unique, and gone too soon. – Deborah Whipp
24. When we recall Christmas past, we usually find that the simplest things, not the great occasions give off the greatest glow of happiness. – Bob Hope
25. Christmas, the only time of year you can sit in front of a dead tree eating candy out of socks.
26. Christmas is a time when everybody wants his past forgotten and his present remembered. – Phyllis Diller
27. One of the most glorious messes in the world is the mess created in the living room on Christmas day. Don't clean it up too quickly. – Andy Rooney
28. Never worry about the size of your Christmas tree. In the eyes of children, they are all 30 feet tall. – Larry Wilde
29. Let's be naughty and save Santa the trip. – Gary Allan
30. Santa Claus has the right idea to visit people only once a year. – Victor Borge
31. Nothing's as mean as giving a little child something useful for Christmas. – Kin Hubbard
32. Do give books religious or otherwise for Christmas. They're never fattening, seldom sinful, and permanently personal. – Lenore Hershey
33. A lovely thing about Christmas is that it's compulsory, like a thunderstorm, and we all go through it together. – Garrison Keillor
34. I'm dreaming of a white Christmas. But if the white runs out I'll drink the red.
35. Three wise women would have asked directions, arrived on time, helped deliver the baby, bought practical gifts, cleaned the stable, made a casserole, and there would be peace on earth.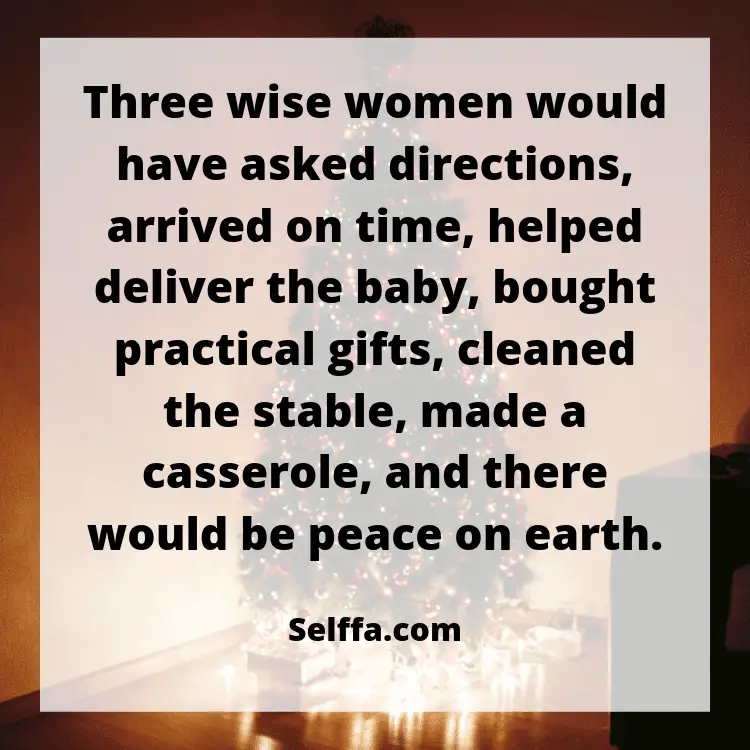 36. Once again, we come to the holiday season, a deeply religious time that each of us observes in his own way, by going to the mall of his choice. – Dave Barry
37. Some people are born for Halloween, and some are just counting the days until Christmas. – Stephen Graham Jones
38. Christmas Eve, a perfect night to express affection for your family, to forgive those who failed you, and to forget past mistakes.
39. The best of all gifts around any Christmas tree, the presence of a happy family all wrapped up in each other. – Burton Hillis
40. From home to home, and heart to heart, from one place to another. The warmth and joy of Christmas brings us closer to each other. – Emily Matthews
41. Probably the reason we all go so haywire at Christmas time with the endless unrestrained and often silly buying of gifts is that we don't quite know how to put our love into words. – Harlan Miller
42. At Christmas, all roads lead home. – Marjorie Holmes
43. Christmas is a time when you get homesick even when you're home. – Carol Nelson
44. The best way to spread Christmas cheer is singing loud for all to hear. – Will Ferrell
45. May you never be too grown up to search the skies on Christmas Eve.
46. It's not what's under the Christmas tree that matters, it's who is around it.
47. Christmas prayer guardian angel pure and bright, please lead Santa here tonight.
48. Christmas is like candy; it slowly melts in your mouth sweetening every taste bud, making you wish it could last forever. – Richelle Goodrich
49. I am dreaming of white Christmas, with every Christmas card I write. May your days be Merry and bright, and may all your Christmases be white. – Bing Crosby
50. Christmas magic is silent. You don't hear it, you feel it, you know it, you believe it. – Kevin Alan Milne
51. Christmas isn't about candy canes or lights all aglow, it's the hearts that we touch, and the care that we show.
52. Peace on earth will come to stay when we live Christmas every day. – Helen Steiner Rice
53. Jesus is God's perfect, indescribable gift. The amazing thing is that not only are we able to receive this gift, but we are able to share it with others on Christmas and every other day of the year. – Joel Osteen
54. We send out Christmas greetings to friends and family near and far, we put up the tree in hopes Santa will arrive, but most of all we take the time to thank God for His Son. – Kate Summers
55. And so, seven hundred years before the wise men gave, before the angels sang, and before the shepherds arrived, Isaiah explains for us in wonderful detail what Christmas is all about. – Daniel Akin
56. Christmas is for everyone, adults and children alike. Allow this season to fill your heart, and let go of the things you dislike. – Julie Hebert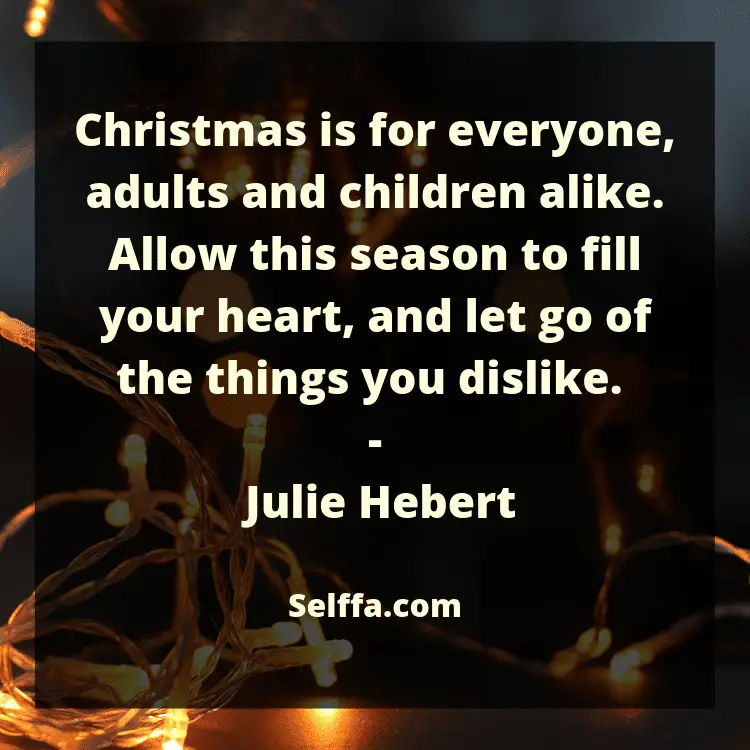 57. When we remember a special Christmas, it is not the presents that made it special, but the laughter, the feeling of love, and the togetherness of friends and family that made that Christmas special. – Catherine Pulsifer
58. Some countries don't celebrate Christmas, but everyone welcomes in the New Year, even if it's on different dates. – Paul K Stevens
59. Christmas can't be bought from a store. Maybe Christmas means a little bit more. – Dr.Seuss
60. Christmas just wouldn't be Christmas without mince pies. – Rosanne Hewitt-Cromwell
61. What a wonderful story it is, the Christmas story. Only God could have thought of it. Here the greatest storytellers of the ages have found their art out marched. – Norman Vincent Peale
62. The spirit of Christmas is in every shared joy and in every act of kindness during this wondrous time of year. – Editors Of Adams Media
63. During the holiday season, I watch as people scurry about swiping those plastic cards through the credit card machines faster than a speeding bullet. And yet, God has already shown us that the most precious gift cannot be bought or sold.- Sharon Jaynes
64. Let us wrap each gift we give with kind, loving thoughts about all those who have helped to make the gift possible and the person who will receive the gift. – Barbara Benson
65. The angels visit the shepherds became the first Christmas celebration. It's as though heaven and earth were celebrating it together, as though a portal to glory had been opened up. – Greg Laurie
66. In God's sight, it's beginning to look a lot like Christmas whenever we rediscover the simplicity of His love and bow down in thankfulness and worship, where we are and whatever our circumstances. – David Jeremiah
67. Wonderful counselor and heavenly father, guide us to see the true meaning of the gifts we have and that we share this Christmas. – D. Duane Engler
68. May your hearth be warm, your holidays grand, and your heart held gently in the good Lord's hand. – Irish Saying
69. Christmas holds its place in the hearts of men because they know that love is the greatest thing in the world. Christmas is celebrated in its true spirit only by those who make some sacrifice for the benefit of their fellow men. – Calvin Coolidge
70. Christmas is the celebration of the event that set heaven to singing, an event that gave the stars of the night sky a new brilliance. – Billy Graham
71. From home to home, and heart to heart, from one place to another the warmth and joy of Christmas bring us closer to each other. – Emily Matthews
72. Christmas is a time to celebrate family and friends so this is my chance to tell you how much you mean to me and forever will be.
73. People say there are no more miracles, that God does not exist. But just look at Christmas a time when people expess kindness, a time when the world stops and actually has peace, a time when people share with others a miracle, part of God's plan. – Catherine Pulsifer
74. God made no mistake, then, he gave us a no small and common gift, but he did his best and gave the world the greatest possible Christmas gift when this Child was born. – James H. Snowden
75. Once a year, each Christmas, for a few days at least, we and millions of our neighbors turn aside from our preoccupations with life reduced to biology or economics or psychology and join together in a community of wonder. – Eugene Peterson
76. It's not how much we give but how much love we put into giving. – Mother Theresa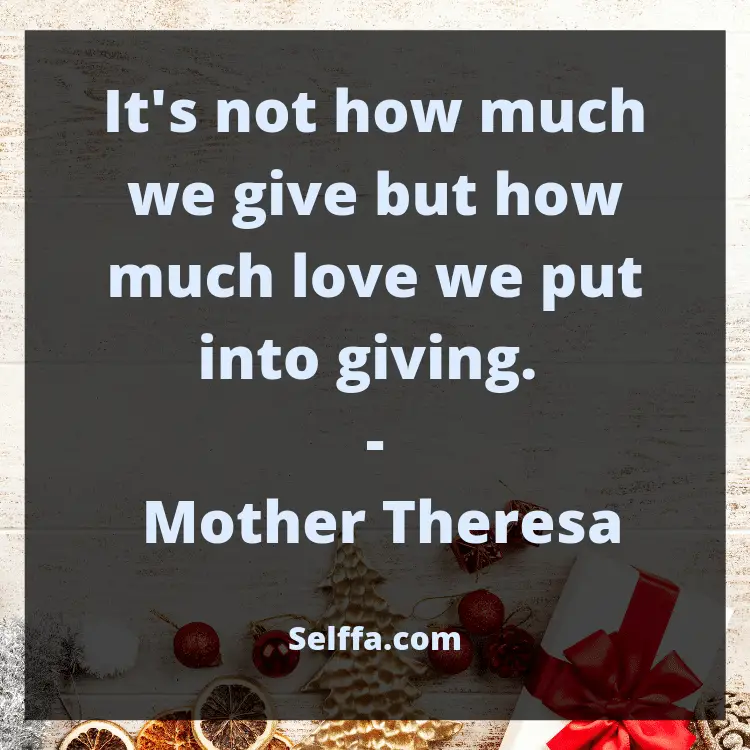 77. Seeing is believing, but sometimes the most real things in the world are the things we can't see. -The Conductor
78. As we struggle with shopping lists and invitations, compounded by December's bad weather, it is good to be reminded that there are people in our lives who are worth this aggravation, and people to whom we are worth the same. – Donald E. Westlake
79. If you haven't got any charity in your heart, you have the worst kind of heart trouble. – Bob Hope
80. We are better throughout the year for having, in spirit, become a child again at Christmastime. – Laura Ingalls Wilder
81. Unless we make Christmas an occasion to share our blessings, all the snow in Alaska won't make it 'white. – Bing Crosby
82. Christmas will always be as long as we stand heart to heart and hand in hand. – Dr. Seuss
83. Christmas, children, is not a date. It is a state of mind. – Mary Ellen Chase
84. God never gives someone a gift they are not capable of receiving. If He gives us the gift of Christmas, it is because we all have the ability to understand and receive it. – Pope Francis
85. Christmas always rustled. It rustled every time, mysteriously, with silver and gold paper, tissue paper and a rich abundance of shiny paper, decorating and hiding everything and giving a feeling reckless extravagance. – Tove Jansson
86. When we recall Christmas past, we usually find that the simplest things, not the great occasions give off the greatest glow of happiness. – Bob Hope
87. Christmas is doing a little something extra for someone. – Charles M. Schultz
88. The joy of brightening other lives becomes for us the magic of the holidays. – W.C. Jones
89. Let us remember that the Christmas heart is a giving heart, a wide open heart that thinks of others first. The birth of the baby Jesus stands as the most significant event in all history because it has meant the pouring into a sick world the healing medicine of love which has transformed all manner of hearts for almost two thousand years underneath all the bulging bundles is this beating Christmas heart. – George Matthew Adams
90. I am not alone at all, I thought. I was never alone at all. And that, of course, is the message of Christmas. We are never alone. Not when the night is darkest, the wind coldest, the world seemingly most indifferent. For this is still the time God chooses. – Taylor Caldwell
91. Let us keep Christmas beautiful without a thought of greed, that it might live forevermore to fill our every need, that it shall not be just a day, but last a lifetime through, the miracle of Christmas time that brings God close to you. – Ann Schultz
92. The only real blind person at Christmas time is he who has not Christmas in his heart. – Helen Keller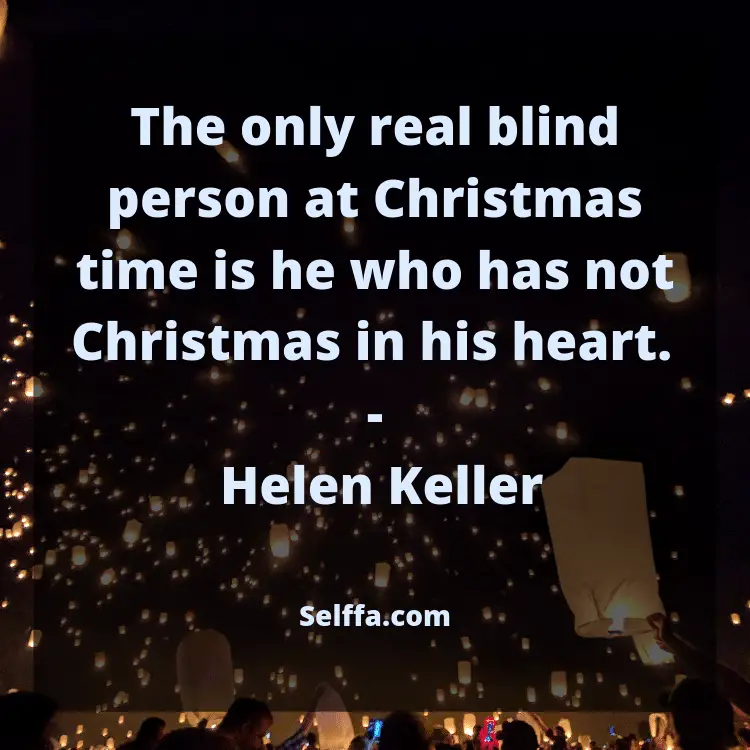 93. It was always said of him, that he knew how to keep Christmas well if any man alive possessed the knowledge. May that is truly said of us, and all of us. And so, as Tiny Tim observed, God Bless us, everyone. – Charles Dickens
94. Christmas, my child, is love in action. Every time we love, every time we give, it's Christmas. – Dale Evans Rogers
95. Christmas Eve was a night of song that wrapped itself about you like a shawl. But it warmed more than your body. It warmed your heart filled it, too, with a melody that would last forever. – Bess Steeter Aldrich
96. The rooms were very still while the pages were softly turned and the winter sunshine crept in to touch the bright heads and serious faces with a Christmas greeting. – Louisa May Alcott
97. The time draws near the birth of Christ, the moon is hidden, the night is still, the Christmas bells from hill to hill answer each other in the mist. – Alfred, Lord Tennyson
98. It is Christmas every time you let God love others through you, yes, it is Christmas every time you smile at your brother and offer him your hand. – Mother Teresa
99. Now I'm an old Christmas tree, the roots of which have died. They just come along and while the little needles fall off me replace them with medallions. – Orson Welles
100. Christmas is most truly Christmas when we celebrate it by giving the light of love to those who need it most. – Ruth Carter Stapleton
101. The joy of brightening other lives, bearing each others' burdens, easing other's loads and supplanting empty hearts and lives with generous gifts becomes for us the magic of Christmas. – W. C. Jones
102. My idea of Christmas, whether old fashioned or modern, is very simple, loving others. Come to think of it, why do we have to wait for Christmas to do that. – Bob Hope
103. Off to one side sits a group of shepherds. They sit silently on the floor, perhaps perplexed, perhaps in awe, no doubt in amazement. Their night watch had been interrupted by an explosion of light from heaven and a symphony of angels. God goes to those who have time to hear him and so on this cloudless night, he went to simple shepherds. – Max Lucado
104. Once in our world, a stable had something in it that was bigger than our whole world. – C.S. Lewis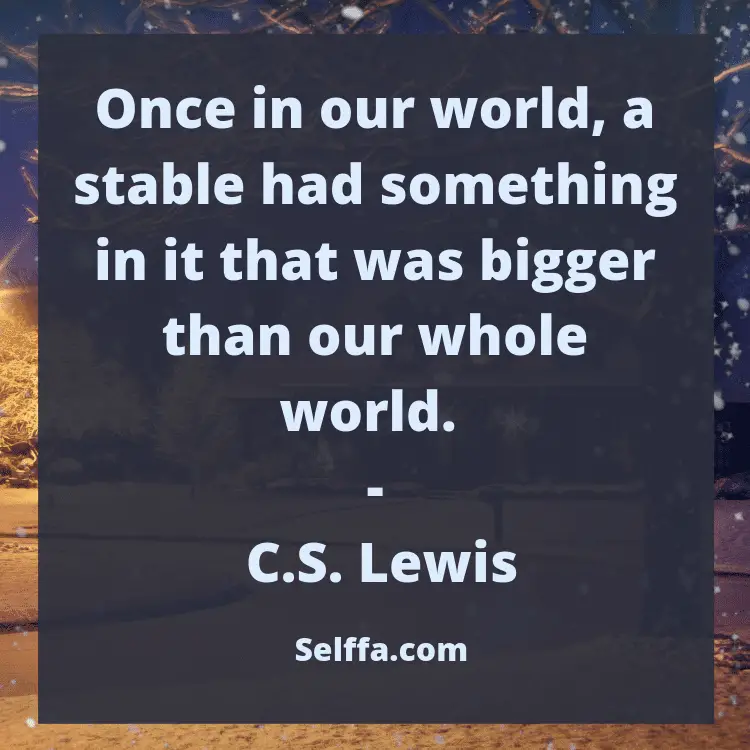 105. At this Christmas when Christ comes, will He find a warm heart? Mark the season of Advent by loving and serving the others with God's own love and concern. – Mother Teresa
106. And then, just when everything is bearing down on us to such an extent that we can scarcely withstand it, the Christmas message comes to tell us that all our ideas are wrong and that what we take to be evil and dark is really good and light because it comes from God. Our eyes are at fault, that is all. God is in the manger, wealth in poverty, light in the darkness, succor in abandonment. No evil can befall us, whatever men may do to us, they cannot but serve the God who is secretly revealed as love and rules the world and our lives. – Dietrich Bonhoeffer
107. We consider Christmas as the encounter, the great encounter, the historical encounter, the decisive encounter, between God and mankind. He who has faith knows this truly, let him rejoice. – Pope Paul VI
108. And when the Lord Jesus has become your peace, remember, there is another thing, good will towards men. Do not try to keep Christmas without goodwill towards men. – Charles Spurgeon
109. Peace with God, peace with others, and peace in your own heart. – Rick Warren
110. Anyone thinking of the Holy Child as born in December would mean by it exactly what we mean by it; that Christ is not merely a summer sun of the prosperous but a winter fire for the unfortunate. – G.K. Chesterton
111. All the Christmas presents in the world are worth nothing without the presence of Christ. – David Jeremiah
112. Faith is salted and peppered through everything at Christmas. And I love at least one night by the Christmas tree to sing and feel the quiet holiness of that time that's set apart to celebrate love, friendship, and God's gift of the Christ child. – Amy Grant
113. Who can add to Christmas the perfect motive is that God so loved the world. The perfect gift is that He gave His only Son. The only requirement is to believe in Him. The reward of faith is that you shall have everlasting life. – Corrie Ten Boom
114. I truly believe that if we keep telling the Christmas story, singing the Christmas songs, and living the Christmas spirit, we can bring joy and happiness and peace to this world. – Norman Vincent Peale
115. Best of all, Christmas means a spirit of love, a time when the love of God and the love of our fellow men should prevail over all hatred and bitterness, a time when our thoughts and deeds and the spirit of our lives manifest the presence of God. – George F. McDougall
116. It is impossible to conceive how different things would have turned out if that birth had not happened whenever, wherever, however it did for millions of people who have lived since, the birth of Jesus made possible not just a new way of understanding life but a new way of living it. It is a truth that, for twenty centuries, there have been untold numbers of men and women who, in untold numbers of ways, have been so grasped by the child who was born, so caught up in the message he taught and the life he lived, that they have found themselves profoundly changed by their relationship with him. – Frederick Buechner
117. The Almighty appeared on earth as a helpless human baby, needing to be fed and changed and taught to talk like any other child. The more you think about it, the more staggering it gets. Nothing in fiction is so fantastic as this truth of the Incarnation. – J.I. Packer
118. Jesus was God and man in one person, that God and man might be happy together again. – George Whitefield
119. The only people whose soul can truly magnify the Lord are people who acknowledge their lowly estate and are overwhelmed by the condescension of the magnificent God. – John Piper
120. Moreover, the fact that the Son of God became man through being conceived by the Holy Spirit and being born of the Virgin Mary, that is, not of the will of the flesh nor of the will of a human father, but of God (John 1:13), means that at this decisive point in the incarnation the distinctive place and function of man as male human being was set aside. – Thomas F. Torrance