Birthday signifies your beginning, the joy of life and a chance for you to fulfill your own unique mission. It's an important occasion that must be celebrated with your loved ones to show that your existence, matters to everyone. Here is a list of birthday quotes to help make your birthday celebration even more special.
Birthday Quotes
1. The more you praise and celebrate your life, the more there is in life to celebrate. – Oprah Winfrey
2. Don't regret another birthday, the good news is that you are alive and can celebrate it. – Catherine Pulsifer
3. A birthday is like a new year and my wish for you is a great year full of happiness and sunshine. – Catherine Pulsifer
4. Don't just count your years, make your years count. – George Meredith
5. Our hope this year, for you my dear, is a year of happiness and joy. May the coming year bring all you dream of and more. – Catherine Pulsifer
6. Life isn't about your age. Life is about living. So when your birthday comes to be thankful for the year that has just past and anticipates with a happy heart what the coming year will bring. – Catherine Pulsifer
7. I believe that no matter what condition you are in when someone close to your heart remembers your birthday and wishes you a happy birthday, you feel happy. – A. Singla
8. Wisdom doesn't necessarily come with age. Sometimes age just shows up all by itself. – Tom Wilson
9. I am long on ideas, but short on time. I expect to live to be only about a hundred. – Thomas Edison
10. To me, a birthday means celebrating the presence of an individual in our lives. – Meena Bajaj
11. Today is the oldest you have been, and the youngest you will ever be. Make the most of it. – Nicky Gumbel
12. In other words, live vicariously, beautifully, and excitingly, discover, love, dare and act as there is nothing to lose. – Andy Hertz
13. You can live to be a hundred if you give up all the things that make you want to live to be a hundred. – Woody Allen
14. The great thing about getting older is that you don't lose all the other ages you've been. – Madeleine L'engle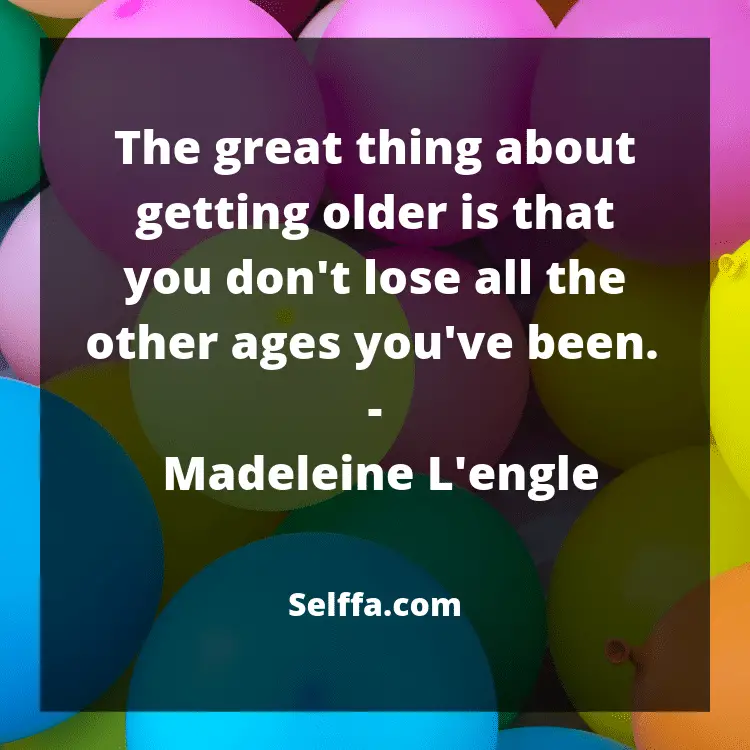 15. Birthdays, birthdays, birthdays, everybody's got one. Most kids wish they had more. Older people wish they had fewer and find them a bore. – Sally Huss
16. Candle of knowledge and wisdom to your life. May it give you the power to enlighten the whole world. On your birthday, I wish you joy and happiness. – Debasish Mridha
17. You were born and with you endless possibilities, very few ever to be realized. It's okay. Life was never about what you could do, but what you would do. – Richelle E. Goodrich
18. There are two great days in a person's life the day we are born and the day we discover why. – William Barclay
19. I was brought up to respect my elders, so now I don't have to respect anybody. – George Burns
20. You were born an original. Don't die a copy. – John Mason
21. You know you're getting old when you get that one candle on the cake. It's like, 'See if you can blow this out. – Jerry Seinfeld
22. You make each day special just by being yourself. May your day be as special as you are.
23. Happy birthday to the most generous and fun-loving person I know. I hope your day is full of good things and sweetness just like those you have brought to me.
24. You are such a gentle and kind mentor to me. I am happy to celebrate another year enjoying your love and kindness.
25. As you grow older and traverse down the path called life, I want you to remember that you are amazing and capable of achieving greatness, and let nobody convince you otherwise, happy birthday.
26. You touch so many lives with joy. May your deepest wishes and dreams come true on your special day. Happy birthday and the best of my love to you.
27. Birthday wishes to a faithful friend. I always know that you will stand by me no matter what happens to us.
28. Your shining example spurs me to greater heights. I am wishing a wonderful birthday to the one who goes before me and blazes a trail to success.
29. Our lives are full of change, but our friendship has never changed. Thanks for enduring with me through the seasons. I am wishing you the best birthday ever.
30. You are a wonderful reminder of all that makes life enjoyable. Happy birthday to the brightest light in all our lives.
31. Your joy and zest for life are contagious and inspire me to be a better person. May your birthday be as joyful as ever.
32. I am a very blessed parent to have a son like you. You have accomplished amazing things, and I stand in awe of all your talents.
33. On your birthday, I want to encourage you to make this year your best ever. Nothing can stop you from achieving your dreams.
34. Happy birthday to a mother who has sacrificed much to make a wonderful life for her family. Your commitment and devotion to us have not gone unnoticed. We hope to give back a little of the love you have shown us today.
35. Talking about special days, isn't it yours today. Well, it couldn't happen to a greater person so happy birthday and have a great day.
36. I am so happy to celebrate another year with a very special person. You bring light to all the dark places in my world. I have a brighter outlook because of your presence in my life.
37. I wish you a very happy birthday as you reach another milestone. You are a unique individual, and I have great hope for your future. May you reach your fullest potential in the year to come.
38. We live in a culture that is so focused on staying young forever, that it instills a certain degree of fear and anxiety about the aging process. What we should be doing instead, is celebrating the wisdom that comes with age. The following quotes can help your loved one see that aging is something to enjoy, not something to worry about.
39. Age is an issue of mind over matter. If you don't mind, it doesn't matter. – Mark Twain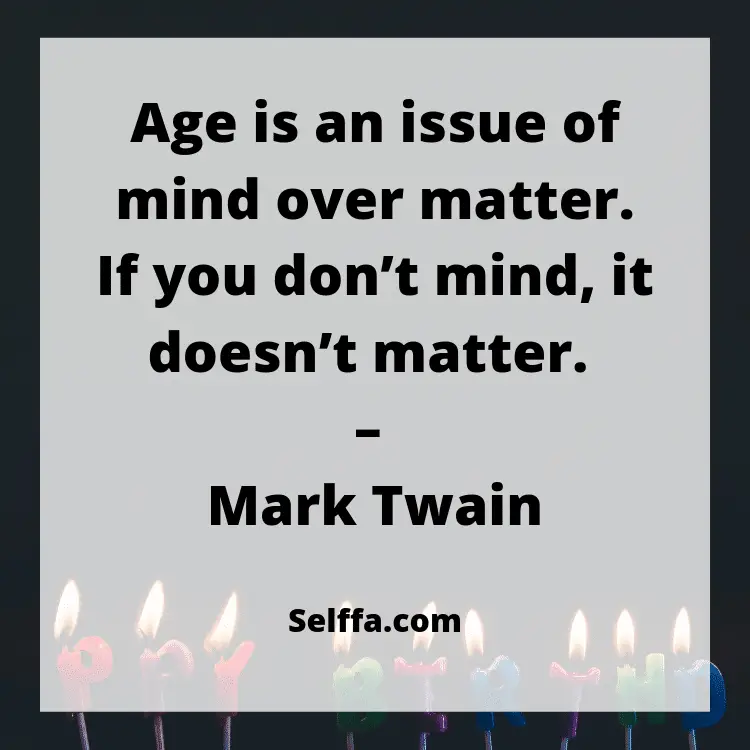 40. If you are pining for youth I think it produces a stereotypical old man because you only live in memory, you live in a place that doesn't exist. Aging is an extraordinary process where you become the person you always should have been. – David Bowie
41. We live in a youth-obsessed culture that is constantly trying to tell us that if we are not young, and we're not glowing, and we're not hot, that we don't matter. I refuse to let a system or a culture or a distorted view of reality tell me that I don't matter. I know that only by owning who and what you are can you start to step into the fullness of life. Every year should be teaching us all something valuable. Whether you get the lesson is really up to you. – Oprah Winfrey
42. Youth is happy because it has the ability to see beauty. Anyone who keeps the ability to see beauty never grows old. – Franz Kafka
43. Those who love deeply never grow old, they may die of old age, but they die young. – Dorothy Canfield Fisher
44. One of the best parts of growing older. You can flirt all you like since you've become harmless. – Liz Smith
45. We have to be able to grow up. Our wrinkles are our medals of the passage of life. They are what we have been through and who we want to be. – Lauren Hutton
46. Wrinkles should merely indicate where the smiles have been. – Mark Twain
47. Birthdate is a reminder to celebrate life as well as to update life. – Amit Kalantri
48. A friend like you is more priceless than the most beautiful diamond. You are not only strong and wise but kind and thoughtful as well. Your birthday is the perfect opportunity to show you how much I care, and how grateful I am to have you in my life.
49. A birthday is just another day where you go to work and people give you love. Age is just a state of mind, and you are as old as you think you are. You have to count your blessings and be happy. – Abhishek Bachchan
50. Rather than see aging as a reason to contract, we should view it as an opportunity to expand. We should make sure each year of our lives is more interesting than the one before. – Srinivas Rao
51. There are two great days in a person's life the day we are born and the day we discover why. – William Barclay
52. May the love in your heart overshadow any sorrows, and may you always know with a deep inner certainty, how loved you truly are. – Jodi Livon
53. A friend is someone who understands your past, believes in your future, and accepts you just the way you are even if you are getting older. Thank you for being that friend, and happy birthday.
54. The secret of staying young is to live honestly, eat slowly, and lie about your age. – Lucille Ball
55. You know you're old when the candles cost more than the cake. – Bob Hope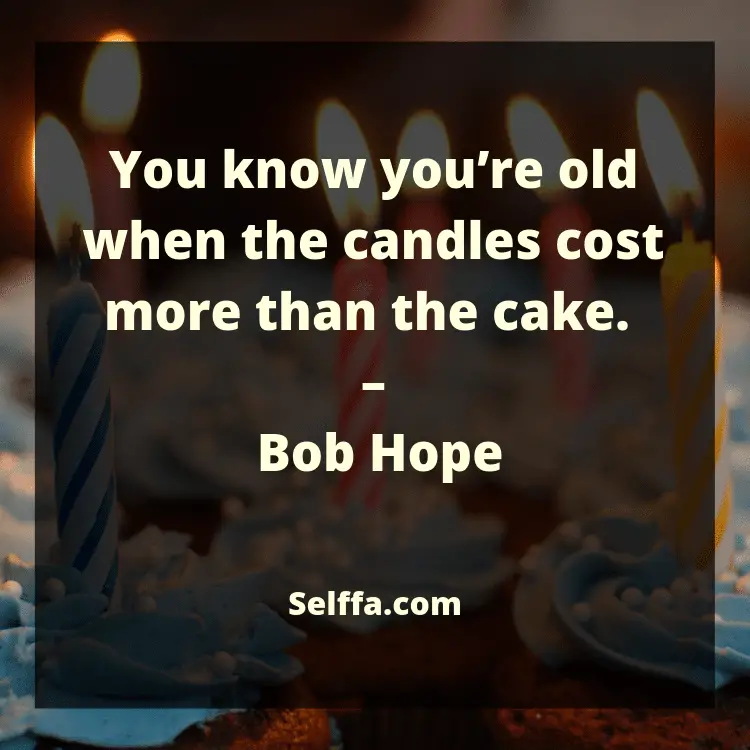 56. Today you are you. That is truer than true. There is no one alive who is you-other than you. – Dr. Seuss
57. Happy birthday to one of the few people whose birthday I can remember without a Facebook reminder.
58. Birthdays are a new start, a fresh beginning and a time to pursue new endeavors with new goals. Move forward with confidence and courage. You are a very special person. May today and all of your days be amazing.
59. With mirth and laughter let old wrinkles come. – William Shakespeare
60. I don't mind getting older; it's a privilege denied to so many. – Chris Geiger
61. Your age is not just information about you. It is a testimonial of how much life you have enjoyed, and how much is still left to explore. I wish this exploration never ends. Happy birthday, friend.
62. People will get jealous of your achievements and amused at your failures. But in the end, people don't matter. Only you and your journey in life are all that there is. Happy journey and very happy birthday.
63. The path of the future is uncertain and blurred. The walk is long and tiring. But in the end, you will realize that it was all worth it. Happy birthday, young friend.
64. There came a gift from God called life. Some chose to preserve it as a treasure, some chose to live in leisure, while the smarter ones chose to risk this treasure, and abandon this leisure to gain eternal pleasure. Have a happy birthday, dear friend.
65. Birthdays are nothing but milestones of what you have achieved in life. Your future is full of many more milestones, each marking a bigger achievement.
66. Every year when I see you on your birthday, I find a person who is wiser and more mature than before. Hope this trend even in the future. Wish you a very happy birthday.
67. No matter how young you feel, no matter how inexperienced you may be, you deserve all of the great things life has to offer. Happy birthday to my dear friend whose life is soaring high.
68. Set your goals high and your achievements even higher. Happy birthday to my determined friend.
69. God made you unique. God gave you talents and gifts. And, most importantly, He gave you His love and salvation. May you be blessed this day and throughout your life. Happy birthday, young soul.
70. At your age, you have already learned so many valuable things. But, trust me, the life lessons coming will astound you. Praying for your success and continued skill as you become a teenager.
71. Happy birthday to the best and coolest friend I have in school. Here's wishing you a fun day, great presents, and dear friends to help you celebrate.
72. Happy birthday, dear friend. I know you will have a great day and an even better year.
73. We have not been friends for long, but I promise you this we will be friends for years to come.
74. Of all the good friends I have ever made, nobody compares to you. You are truly kind, generous, and fun to be around. Let's plan on celebrating together every year.
75. Happy birthday to someone who is not only a dear friend but a wonderful example for those around him! You motivate, inspire, and drive people to be their best. Have a blessed day.
76. Young friends make the best lifelong friends. Happy birthday to you.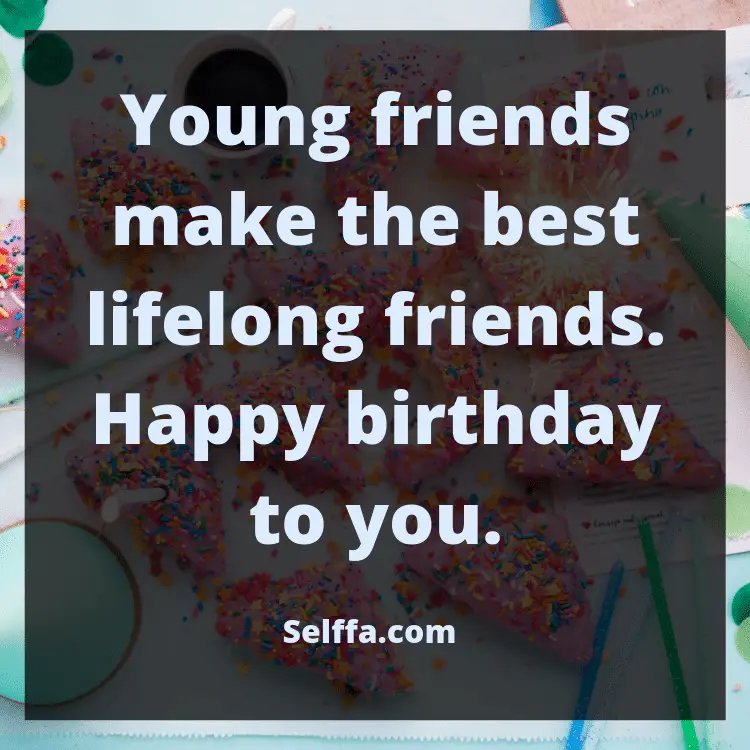 77. Dreams seen with eyes closed can be forgotten. Real dreams are those that come when the eyes are wide open and the heart is ready to follow them. Happy Birthday with a life full of dreams.
78. A coward loses dreams because of fragility, a cautious person loses dreams thinking of possibility, but a brave heart like you shows the courage to turn them into reality. Wishing you the best.
79. Every milestone is a miniature victory on the road to achieving your goals. May you achieve everything you dreamt about. Wishing you good luck and a bright future on this special day.
80. Dreams are like tender plants. Hardships and troubles might try to wither them, but if you nurture them well, they would one day become a tree that could provide you with the best fruits. From the lands where sweetness breeds, may God fulfills all your needs.
81. Dream to touch the skies. So what if you fail, you still land among the clouds. The sky is the limit for you. May God give you the wings of valor to soar high and spread your colors.
82. Dreams are the only things that give you reasons to push yourself ahead. Dream big and make them true, so that one-day people get inspired by your sheer guts.
83. When you were young, you dreamed big dreams. With each passing year, those dreams might fade. You are the one, though, who can definitely bring them to fulfillment. Never stop dreaming, dear friend. Wishing you the best of birthdays today and the achievement of all your dreams in the years to come.
84. With youth comes dreaming. With age comes responsibility. Be responsible and never let go of your dreams. Happy birthday to the friend who I know will make things happen.
85. Dreams and success go hand in hand. On your birthday, I wish you all of the successes and dream fulfillment life has to offer. Happy birthday.
86. Some dreams seem almost impossible to achieve. Seeing you achieve yours, though, I know you are destined for success. Please never stop dreaming. You are on your way to greatness. Happy birthday, dear friend.
87. Happy birthday to the one I know will achieve not only her dreams but also help others achieve theirs. You are on your way to change the world. Never stop dreaming. Enjoy your day.
88. Here's to you, sweet friend. Thank you for showing me how to achieve our goals in life, one step at a time. You are amazing. Happy birthday, buddy.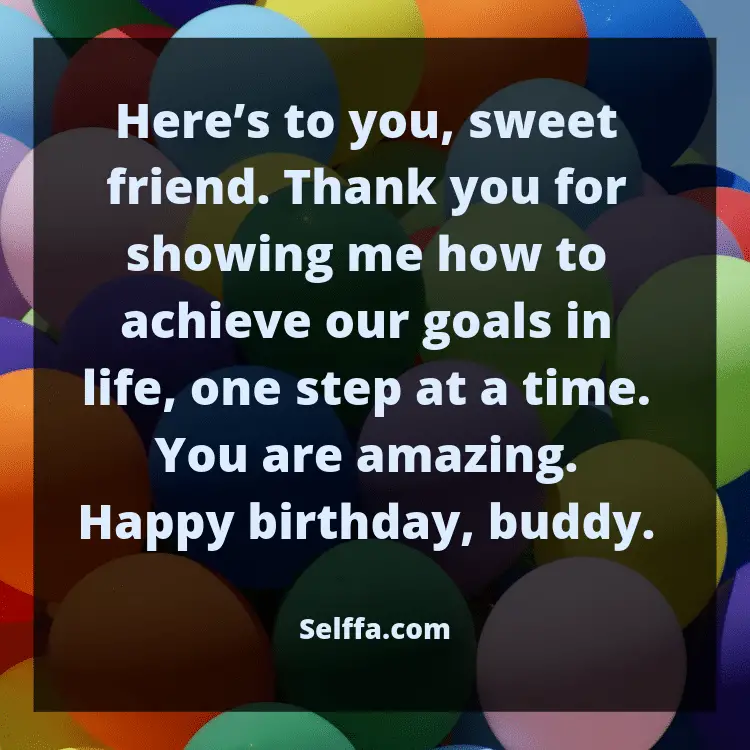 89. Being your friend has certainly taught me to live with the motto, never stop dreaming. You have informed my choices, inspired my direction and taught me to be thankful along the way. Happy birthday to such a dear friend.
90. It was destiny that got us together, but only you that brought us so far ahead. I can only thank you for always being there for me in the darkest times. On this Birthday I wish we never fall apart.
91. When people bitched, you praised. When people left, you stayed. When my back was against the wall you were the cushion. Thank you for strengthening my every emotion.
92. Even in the darkest nights, you were my ray of hope. When the whole world seemed bleak, you showed me the bright path. On your special day, all I can offer you is my immense gratitude for being there for me. Wish you a very happy birthday.
93. You have been the shoulder on which I could cry, the arms in which I could feel safe and the ears that could listen to my deepest secrets. Thank you, my friend, for everything.
94. All the gratitude in this world would fall short to express how thankful I am to you. You have made me a better person I could have ever hoped to become; a person I could actually be proud to be. Thank you, my dear, and wish you a very happy birthday.
95. You came in my life as a stranger but became my friend, my mentor, my guide and my sculptor. Words fail to express my gratitude to you, so I have to content myself with a simple thank you. Happy birthday, my dearest friend.
96. Happy birthday, sweet friend! Having you in my life has opened my eyes to love, mercy, and forgiveness. I am so thankful for your friendship. Enjoy your day.
97. No matter how far I've come or how far I have yet to go, I'm never too far away from home. – Kevin Nishmas
98. Wherever I go, it's where I want to be, even when it isn't. – Kevin Nishmas
99. Understand life backwards. Live life forward. – Kevin Nishmas
100. It's not all about a lucky roll of the dice. A losing roll may just be the beginning of your next winning streak. – Kevin Nishmas
101. Failure is just another signpost that keeps you centered on whatever road you choose. – Kevin Nishmas
102. Every once and awhile, you have to take a thought risk to think boldly and act decisively through all the noise. – Kevin Nishmas
103. From the moment I met my son and daughter, they've embodied every part of me, all my greatest joys for now and all my greatest hopes from now on. – Kevin Nishmas
104. Love, in its purest form, is more than an affair of the heart. It's unconditional joy and beauty rolled up into a mother's ever forgiving hug. – Kevin Nishmas
105. Seeking your bliss is not a quest you take alone. You take your whole world with you. We're all fellow seekers. – Kevin Nishmas
106. If it's a passion that drives you, let the open road take you where you need to be. – Kevin Nishmas
107. If love is staring you in the face, don't look away or blink. You might miss it. – Kevin Nishmas
108. You don't need a map to get home if you trust your inner compass to lead the way. – Kevin Nishmas
109. In the school of life, joy often comes at a premium, but it's well worth the price of admission. – Kevin Nishmas
110. You need to swallow your pride before you can stomach your pain and taste joy. – Kevin Nishmas
111. Dream as if you will live forever. Live as if you will die today. – James Dean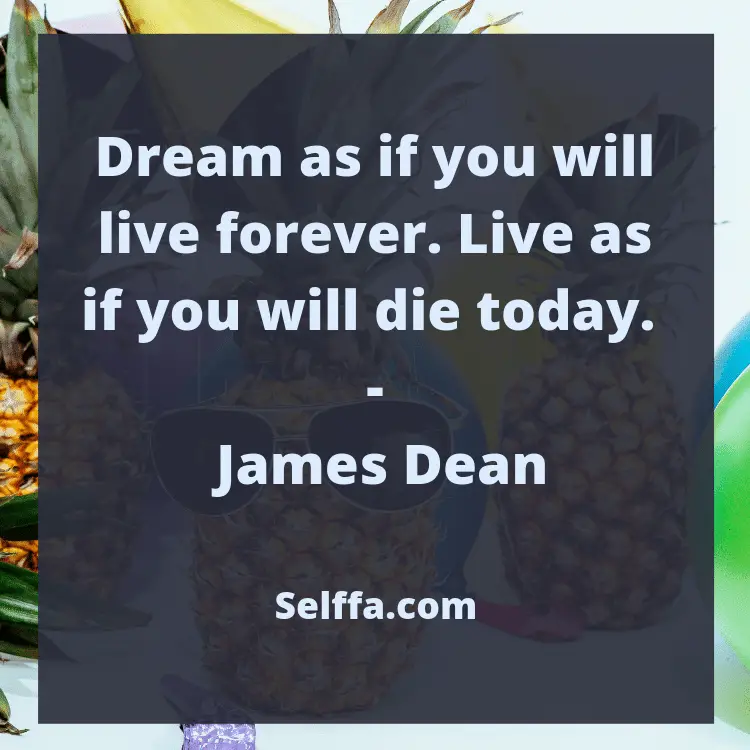 112. Love is life. And if you miss love, you miss life. – Leo Buscaglia
113. Choose a job you love, and you will never have to work a day in your life. – Confucius
114. Family is not an important thing. It's everything. – Michael J. Fox
115. You miss 100 percent of the shots you never take. – Wayne Gretzky
116. Join the company of lions rather than assume the lead among foxes. – The Talmud
117. The only way to have a friend is to be one. – Ralph Waldo Emerson
118. To love and win is the best thing. To love and lose, the next best. – William M. Thackeray
119. People will forget what you said, people will forget what you did, but people will never forget how you made them feel. – Maya Angelou
120. To love oneself is the beginning of a lifelong romance. – Oscar Wilde
121. Today is a special day because my best friend was born. I wish you to conquer all heights and be happy.
122. Happy birthday to the kindest person I know. Let your birthday be filled with thousands of smiles and hours of laughter.
123. I am proud to have such a faithful friend like you happy birthday.
124. The whole world changes except our friendship! Stay always persistent and optimistic, happy birthday.
125. I am wishing you the best birthday ever. Thank you for being always there for me.
126. Today is another perfect reason for the enjoyment of life. Rock this world, happy birthday.
127. A simple celebration, a gathering of friends, here wishing you great happiness and a joy that never ends.
128. Finally, the long-awaited day has come. It's your birthday dear. May God always keep you happy and healthy and fulfill all your dreams. Enjoy the day with your loved one and make a lot of good memories. Wish you a very happy birthday.
129. Happy birthday, be open to all those amazing changes, which are waiting for you.
130. The world is full of adventure, excitement, and happiness, explore them with every second of your life, happy birthday.
131. When you were born, this world became better. And since then you have made it even kinder and brighter. Keep it up, happy birthday.
132. I feel sorry for those people, who don't know you because your endless optimism and generosity are one in a million. Happy birthday, my dear friend.
133. Happy birthday, don't celebrate how old you are, celebrate the years you survived.
134. You are a light in everybody's life. I hope all your wildest dreams come true as you deserve a birthday wish that grand.