It's important to have someone to look up to whenever you feel that self-doubt creeping in. Someone who's strong, independent, and inspirational to help you look at the brighter side of life when you can't seem to find it yourself. This collection of quotes from some of the most empowering women in the world will surely help you see that inner beauty within you.
Independent Woman Quotes
1. Do not judge a woman on her knees, you never know how tall she is when she stands. – Mie Hansson
2. How wrong is it for a woman to expect the man to build the world she wants, rather than to create it herself? – Anaïs Nin
3. Just watch, all of you men. I'll show you what a woman can do. I'll go across the country, I'll race to the Moon. I'll never look back. – Edna Gardner Whyte
4. It's important to be driven and has goals. You want an independent woman who knows what she wants and isn't afraid to go after it. It's attractive to me when a woman is doing what she loves. It makes me want to know more. – Apolo Ohno
5. A strong woman stands up for herself. A stronger woman stands up for everyone else.
6. If you want something said, ask a man, if you want something done, ask a woman. – Margaret Thatcher
7. The best protection any woman can have is courage. – Elizabeth Cady Stanton
8. A woman is a full circle. Within her is the power to create, nurture and transform. – Diane Mariechild
9. I wanted to be an independent woman, a woman who could pay for her bills, a woman who could run her own life and I became that woman. – Diane Von Furstenberg
10. The day will come when men will recognize woman as his peer, not only at the fireside but in councils of the nation. Then, and not until then, will there be the perfect comradeship, the ideal union between the sexes that shall result in the highest development of the race. – Susan B.Anthony
11. Women have been trained to speak softly and carry a lipstick. Those days are over. – Bella Abzug
12. The woman who follows the crowd will usually go no further than the crowd. The woman who walks alone is likely to find herself in places no one has ever been before. – Albert Einstein
13. I just love bossy women. I could be around all day. To me, bossy is not a pejorative term at all. It means somebody's passionate and engaged and ambitious and doesn't mind leading. – Amy Poehler
14. A common misconception about strong women is that we don't need the hand-holding, the flowers, and the nice gestures, and what I've found to be true is that it's the strong women who want it the most. – Nicole Curtis
15. Because I am a woman, I must make unusual efforts to succeed. If I fail, no one will say, she doesn't have what it takes. They will say, women don't have what it takes. – Clare Boothe Luce
16. I believe in strong women. I believe in the woman who is able to stand up for herself. I believe in the woman who doesn't need to hide behind her husband's back. I believe that if you have problems, as a woman you deal with them, you don't play victim, you don't make yourself look pitiful, you don't point fingers. You stand and you deal. You face the world with a head held high and you carry the universe in your heart. – C. JoyBell C.
17. A strong woman builds her own world. She is one who is wise enough to know that it will attract the man she will gladly share it with. – Ellen J.Barrier
18. I was raised to be an independent woman, not the victim of anything. – Kamala Harris
19. A woman is like a tea bag you never know how strong she is until she gets in hot water. – Eleanor Roosevelt
20. I am a strong woman with or without this other person, with or without this job, and with or without these tight pants. – Queen Latifah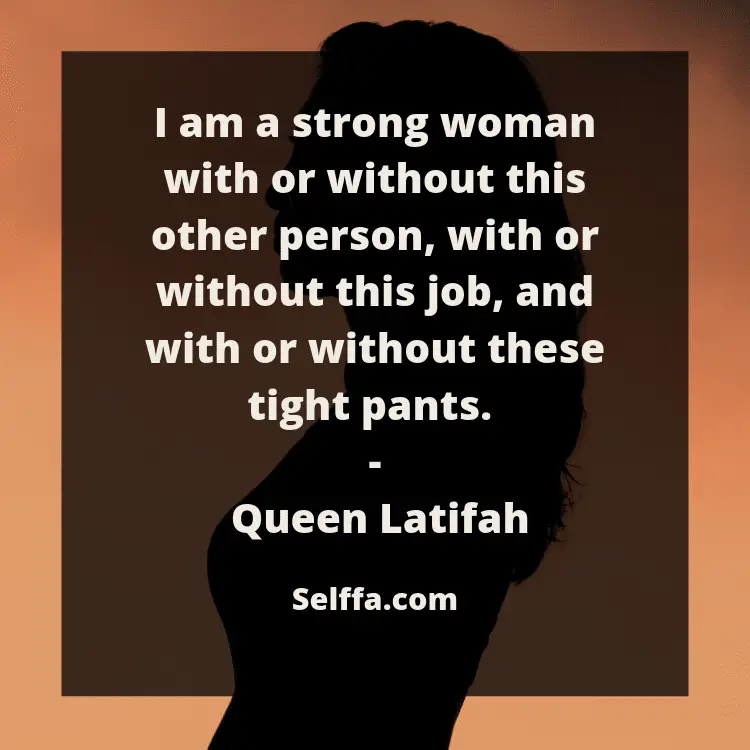 21. A bond girl must be a strong and independent woman, but at the same time charming and sensual. Those opposite qualities combined together make her interesting. She must be strong but at the same time feminine. – Olga Kurylenko
22. I believe in being strong when everything seems to be going wrong. I believe that happy girls are the prettiest girls. I believe that tomorrow is another day, and I believe in miracles. – Audrey Hepburn
23. I like being a strong, independent woman, and to be honest, I was never afraid to be on my own. – Dido Armstrong
24. It's the good girls who keep diaries, the bad girls never have the time. – Talullah Bankhead
25. A strong woman understands that gifts such as logic, decisiveness, and strength are just as feminine as intuition and emotional connection. She values and uses all of her gifts. – Nancy Rathburn
26. Any woman who understands the problems of running a home will be nearer to understanding the problems of running a country. – Margaret Thatcher
27. I have a lot of sides to my personality and what you see on The Hills is a strong, independent woman, which I am. But I also have a sensitive side that I don't show too much. – Kristin Cavallari
28. I have an independent streak. You know, it's kind of hard to tell an independent woman what to do. – Betty Ford
29. The thing women have got to learn is that nobody gives you power, you just take it. – Roseanne Barr
30. I can't think of any better representation of beauty than someone who is unafraid to be herself. – Emma Stone
31. If you want to learn how to run the world, start with your family. After understanding all the moments of running your home, you'll manage to run the country.
32. When you want to hear something pleasant and promising, ask a man; when you want to get great results, ask a woman.
33. Strong women are bossy women! Bossy women are passionate, engaged, ambitious, and don't mind learning. Be a bossy woman.
34. If you want to be a champion, don't forget about self-awareness. Self-awareness is the most important thing on your way to success.
35. Near a strong woman, you`ll find only a strong man, who was strengthened thanks to her character.
36. It`s difficult for strong women to live in the common world: strong women build their own worlds, attracting worthy people to share worlds with.
37. As a rule, strong independent women grow out strong-willed little girls. Train your will-power as early as you can.
38. Strong women make the world safer for men, while strong men make it unsafe for women.
39. You must love a pretty woman correctly, cause she has the fire inside. This fire can warm you if you do everything right and burn you down when you're wrong.
40. Pretty women always choose to follow the career, not a man. The career is not able to tell you the love is over.
41. A pretty woman can make other people wonder how she is able to smile in spite of all difficulties. Because she isn't only pretty, she is strong.
42. Pretty women prefer to build one another up instead of tearing each other down.
43. It always takes a lot of balls to be a pretty woman.
44. Remember, pretty women are not those who can be controlled. They don't need authoritarian people, they only need those who can watch things they are doing admiringly.
45. Your daughter will become a strong and pretty woman later if a strong and pretty woman raises her now.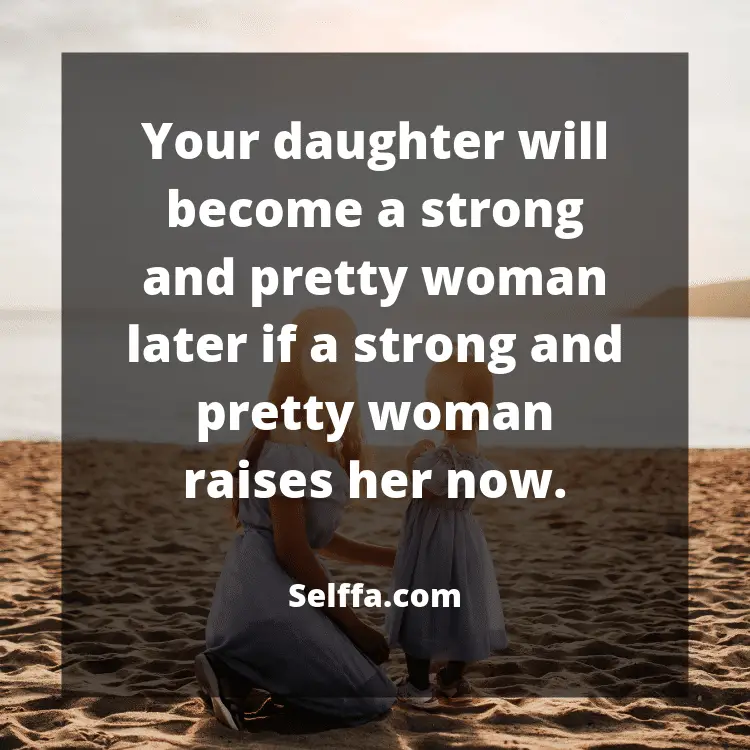 46. Strong and pretty women can`t be just born. Only the challenges of the life can make them grow mentally and emotionally.
47. Strong and pretty women can make even the devil say, oh crap, this is her again.
48. A strong woman is always different, fierce and delicate, simple and complicated, crazy and calm. But she is always a unique.
49. All strong women are impressive, cause they`re secure in the unique way they were made.
50. There is not any person, who is able to dim the light that shines from a strong woman.
51. If you want to be a strong woman, be fearless, and nobody will dare to do anything, be independent and never back down.
52. Strong women become strong not by wishing it or by hoping for it, they become strong by working on themselves hard.
53. The marriage for a strong woman is like a business, which she doesn't want to let fail.
54. Even when people or circumstances try to pull a strong woman down, she holds her head and standards high.
55. Normal things cannot inspire a strong woman. They always get away from normal things.
56. Strong women always choose to make their life the best thing in their life.
57. Strong women know that she cannot live long to make mistakes herself, they learn from mistakes of other people.
58. A strong woman is able to it`s the grates gift she can give herself and others.
59. Strong women don't give up when they cannot go straight ahead. They go around the corner.
60. Always dance instead of looking at your feet to see if you're doing it right.
61. A strong woman doesn't need magic to change the world. She carries all the power inside herself.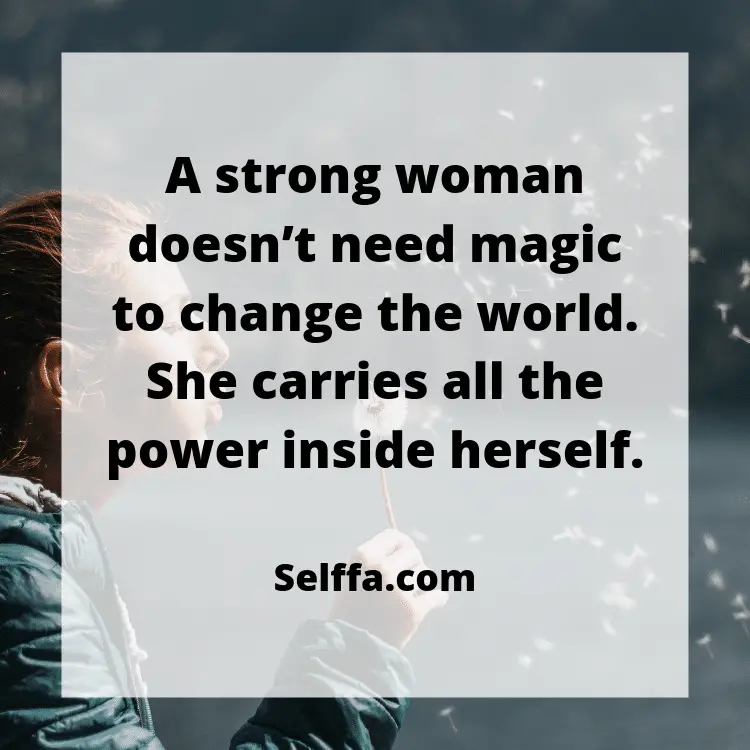 62. A strong woman can say who she is without having to speak.
63. When a strong woman falls, she rises up even stronger.
64. Most of the strong women have ever been damaged. That`s why they`re strong, they know, that they can survive!
65. A strong woman is powerful, she has a voice, even when the whole world is silent.
66. Women are strong enough to step out of the history that holds them back. They`re powerful to create a new story.
67. A strong woman never let people mistreat her, she doesn't respond to people who dictate to her or try to bring her down.
68. A strong woman is always in control of her life. There are no goals a strong woman cannot achieve.
69. A strong woman is the mixture of the power and softness, practicality and spirituality. She feels deeply and loves fiercely.
70. Being a strong woman is hard, you're a role model for your daughter and the ideal woman for a son
71. The happy woman is the prettiest woman.
72. Amazing women are proud of they are today, all of them went through hell to become a personality.
73. A really strong woman has the power to fight many wars, not outer, but internal.
74. Strong women have the power to get up in spite of different sadness and failures.
75. The power of a strong woman is the ability to forgive those, who hurt her. Moreover, a strong woman can forgive herself for letting people hurt her.
76. A woman, who has the power to believe in herself, is a strong woman. She knows that she can do everything. A strong woman just believes in herself in all circumstances.
77. The only thing you have to know about strong women, nobody has given them their power, they just have taken it.
78. It`s a great gift and real power to have an ability to keep the life in line. A strong woman can do this in spite of all tears in her eyes. A strong woman is always fine.
79. When we do the best we can, we never know what miracle is wrought in our life, or in the life of another. – Helen Keller
80. Any woman who understands the problems of running a home will be nearer to understanding the problems of running a country. – Margaret Thatcher
81. If you obey all the rules, you miss all the fun. – Katharine Hepburn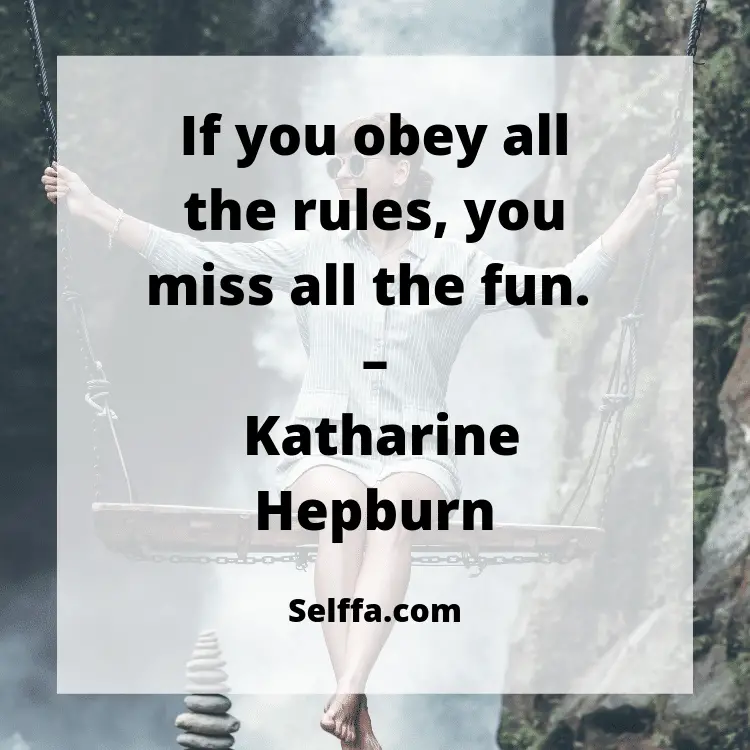 82. Life is not measured by the number of breaths we take, but by the moments that take our breath away. – Maya Angelou
83. Being an intellectual creates a lot of questions and no answers. You can fill your life up with ideas and still go home lonely. All you really have that really matters are feelings. That's what music is to me. – Janis Joplin
84. Life shrinks or expands in proportion to one's courage. – Anais Nin
85. If you don't like being a doormat then get off the floor. – Al Anon
86. Whatever you do, be different that was the advice my mother gave me, and I can't think of better advice for an entrepreneur. If you're different, you will stand out. – Anita Roddick
87. A lot of people are afraid to say what they want. That's why they don't get what they want. – Madonna
88. A woman is like a tea bag you never know how strong she is until she gets in hot water. – Eleanor Roosevelt
89. Destiny is a name often given in retrospect to choices that had dramatic consequences. – J.K.Rowling
90. I could not, at any age, be content to take my place by the fireside and simply look on. Life was meant to be lived. Curiosity must be kept alive. One must never, for whatever reason, turn his back on life. – Eleanor Roosevelt
91. A girl should be two things, who and what she wants. – Coco Chanel
92. We ask justice, we ask equality, we ask that all the civil and political rights that belong to citizens of the United States, be guaranteed to us and our daughters forever. – Susan B.Anthony
93. I've come to believe that each of us has a personal calling that's as unique as a fingerprint and that the best way to succeed is to discover what you love and then find a way to offer it to others in the form of service, working hard, and also allowing the energy of the universe to lead you. – Oprah Winfrey
94. It was we, the people, not we, the white male citizens, nor yet we, the male citizens, but we, the whole people, who formed the union. Men, their rights and nothing more, women, their rights and nothing less. – Susan B.Anthony
95. I want to do is because I want to do it. Women must try to do things as men have tried. When they fail, their failure must be but a challenge to others. – Amelia Earhart
96. Just watch, all of you men. I'll show you what a woman can do. I'll go across the country, I'll race to the moon, I'll never look back. – Edna Gardner Whyte
97. The best protection any woman can have is courage. – Elizabeth Cady Stanton
98. We must believe that we are gifted for something and that this thing, at whatever cost, must be attained. – Marie Curie
99. Success breeds confidence. – Beryl Markham
100. Because I am a woman, I must make unusual efforts to succeed. If I fail, no one will say, she doesn't have what it takes. They will say, women don't have what it takes. – Clare Boothe Luce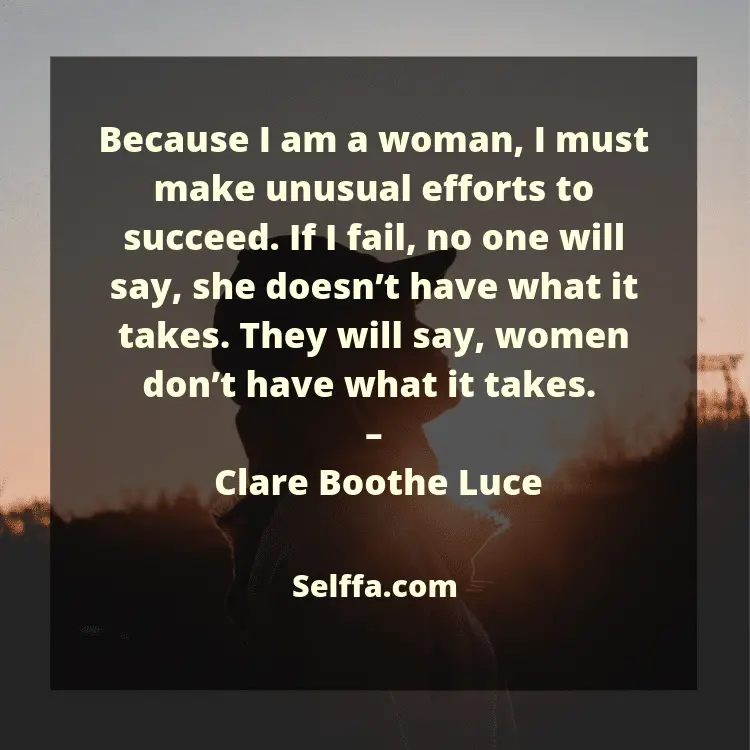 101. The way in which we think of ourselves has everything to do with how our world sees us and how we see ourselves successfully acknowledged by the world. – Arlene Rankin
102. Love is anterior to life, posterior to death, initial of creation, and the exponent of earth. – Emily Dickinson
103. The question isn't who's going to let me, it's who is going to stop me. – Ayn Rand
105. Most people who meet my wife quickly conclude that she is remarkable. They are right about this. She is smart, funny and thoroughly charming. Often, after hearing her speak at some function or working with her on a project, people will approach me and say something to the effect of, you know, I think the world of you, Barack, but your wife, wow. – Barack Obama

106. People think at the end of the day that a man is the only answer. Actually, a job is better for me. – Princess Diana
107. We still live in a world in which a significant fraction of people, including women, believe that a woman belongs and wants to belong exclusively in the home. – Rosalyn Sussman
108. You have to have confidence in your ability, and then be tough enough to follow through. – Rosalynn Carter
109. One is not born, but rather becomes, a woman. – Simone de Beauvoir
110. I like being a strong, independent woman, and to be honest, I was never afraid to be on my own. – Dido Armstrong
111. I was raised to be an independent woman, not the victim of anything. – Kamala Harris
112. It's important to be driven and has goals. You want an independent woman who knows what she wants and isn't afraid to go after it. It's attractive to me when a woman is doing what she loves. It makes me want to know more. – Apolo Ohno
113. I wanted to be an independent woman, a woman who could pay for her bills, a woman who could run her own life and I became that woman. – Diane von Furstenberg
114. Be sure of yourself, don't let anyone bully you, be a strong and independent woman or boy. – Nicole Polizzi
115. I'm a strong, independent woman. – Cressida Bonas
116. I love Rihanna. She represents that strong, independent woman that you cannot keep down. – Tamron Hall
117. Sometimes in the black culture, being raised as an independent woman is misconstrued as someone who doesn't need a man. I think that's wrong. I think we all need someone. – Boris Kodjoe
118. I like to go out there looking like a strong woman because I am strong. But I am also a woman who goes through all kinds of problems and highs and lows. – Katy Perry
119. A strong woman is a woman determined to do something others are determined not be done. – Marge Piercy
120. Rule number one in negotiating anything with Missy is never trying and run me over. Never push me, because I am a very strong woman. I'm nice, but I'm very strong. When it gets down gritty, I can get grittier. Never, ever underestimate me. – Missy Elliott
121. You know, there's nothing damnable about being a strong woman. The world needs strong women. There are a lot of strong women you do not see who are guiding, helping, mothering strong men. They want to remain unseen. It's kind of nice to be able to play a strong woman who is seen. – Ginger Rogers
122. Being a strong woman is very important to me. But doing it all on my own is not. – Reba McEntire
123. If you want something said, ask a man, if you want something done, ask a woman. – Margaret Thatcher
124. The woman who follows the crowd will usually go no further than the crowd. The woman who walks alone is likely to find herself in places no one has ever been before. – Albert Einstein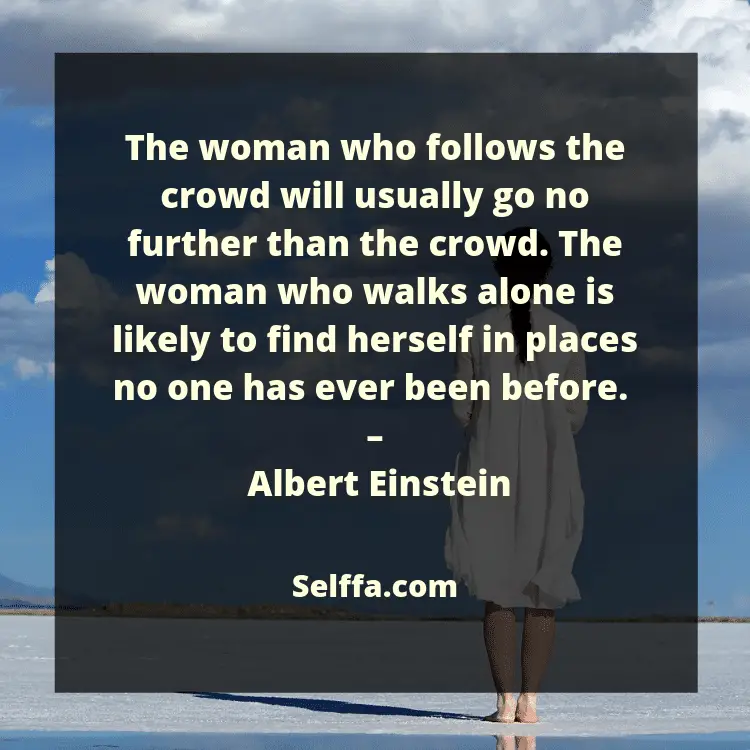 125. We all look up to these strong women who we see in magazines and on tv, but it's even more empowering to realize that change comes at the smallest level. It starts with us. It starts with me and my best friend, who I'm out on a walk with today, hearing about the amazing things she's doing for her kid's school. It can be everyday heroes and everyday women who work from 9:00 to 5:00 and have kids and still balance a healthy social life. – Rachel Platten
126. We need to reshape our own perception of how we view ourselves. We have to step up as women and take the lead. – Beyoncé Knowles
127. I am thankful for all the hard times I've been through and all the tears I've cried because that has put me as close to God and made me the strong woman I am today. – Angela Merkel
128. I might bend, but I will never break because it's in my nature as a strong woman. – Angela Merkel
129. Strong women never put their safety or their self-esteem aside to please someone else or to keep a man. If someone acts inappropriately or abusively in any way, strong women stand up for themselves and make it abundantly clear that they will not tolerate the abuse. If this doesn't work, they walk away. – Beverly Engel
130. Call me a slag. If it means being a strong woman, I'll gladly be that. – Christina Aguilera
131. If strength is measured by intelligence, honesty, and depth of character, then yes, strong women are hot as hell. – Paget Brewster
132. As a strong woman, there are things I would never put up with. – Sophia Bush
133. A strong woman who recklessly throws away her strength, she is worse than a weak woman who has never had any strength to throw away. – Thomas Hardy
134. If the first woman God ever made was strong enough to turn the world upside down all alone, these women together ought to be able to turn it back, and get it right side up again, and now they is asking to do it, the men better let them. – Sojourner Truth
135. Women need real moments of solitude and self-reflection to balance out how much of ourselves we give away. – Barbara De Angelis
136. Women have always been the strong ones of the world. – Coco Chanel
137. It's difficult to exist as a woman, especially I think like a powerful woman. You want to stand strong and you want to be considered an equal. – Misty Copeland
138. The emerging woman will be strong-minded, strong-hearted, strong souled, and strong-bodies strength and beauty must go together. – Louisa May Alcott
139. I can't think of any better representation of beauty than someone who is unafraid to be herself. – Emma Stone
140. Some women choose to follow men, and some women choose to follow their dreams. – Lady Gaga
141. Independent women must expect more of themselves since neither men nor other more conventionally domesticated women will hope for anything, or expect any result other than utter failure. – A S Byatt