Haters are everywhere, and haters will hate on anyone they don't approve of. So whatever they say and how they perceive you, don't let them bother your progress to success. You have to keep on going to make it to the top with these 166 haters quotes that will hopefully remind you to press forward.
Haters Quotes
1. There will always be haters. And the more you grow the more they hate; the more they hate the more you grow. – Anthony Liccione
2. There will be haters, there will be doubters, there will be non-believers, and then there will be you proving them wrong. – Jennifer Van Allen
3. Hatred imprisons the haters; love opens doors. – Debasish Mridha
4. A haters job is to hate you, and they stay on their job 24/7. So, if you're expecting them to clock out, and leave you alone think again. – Sonya Parker
5. Haters never win. I just think that's true about life, because negative energy always costs in the end. – Tom Hiddleston
6. Haters teach you to be grateful for the people you love, hard times teach to you be grateful for the times that are good, and God, well God teaches you everything you need to know. – Carniel Dunlop
7. The haters always scream the loudest. – Tucker Max
8. The best way to torture haters is with your happiness. There's nothing people hate more than seeing you be successful. – Anurag Prakash Ray
9. Haters only hate things they can't have and the people they can't be. It's just a little thing called jealousy. – Lil Wayne
10. Haters are just confused admirers because they can't figure out the reason why everyone loves you. – Jeffree Star
11. Don't give to anyone the power to put you down. Haters are losers pretending to be winners. – Paulo Coelho
12. When you're blessed, the haters come out. When you wear God's blessings well, don't be surprised if it draws jealousy out on people. – Joel Osteen
13. Behind every successful person lies a pack of haters – Eminem
14. Of course there are certain things that get to me, but I try and lead by example and show people that, especially with haters, that you should just ignore them. – Kesha
15. Haters are like crickets. Crickets make a lot of noise, you hear it but you can't see them, then right when you walk by them, they're quiet. – Israel Houghton
16. If the wolf is to survive, the wolf haters must be outnumbered. They must be outshouted, out financed, and out voted. Their narrow and biased attitude must be outweighed by an attitude based on an understanding of natural processes. – L. David Mech
17. Believe in yourself and don't care about haters. – Perrie Edwards
18. There will always be jealous people and haters: people who assume that if they were in your shoes, they could do what you're doing. That's just the world we live in. – Lance Stroll
19. There's always haters, no matter what you're doing – whether they're complaining that everything you do sounds the same, or it's too different. – Avicii
20. Sometimes your haters are your biggest motivators. – Brooks Koepka
21. Haters are our ammunition. They motivate us to continue fighting for our rights. That's why I continue to share my story. – Jazz Jennings
22. You have haters from all walks of life. I could care less who wants me to fail. They inspire me. – Stephen A. Smith
23. When you have haters, you're doing something right. – Kylie Bunbury
24. Having haters is just a part of the business, and the more haters you have, the more people like you – that's how I view it, because I try to see the positive in things. – Nick Jonas
25. Even going back to the haters, it's messed up what they say, but that's made me stronger, and it's built me into who I am today, and I am completely fine with that. – Karrueche Tran
26. You will find it will almost always be more comfortable to sit on the sidelines and critique the builders from afar. But at the end of the day, the people who make a difference, the people who shape history, are not the haters. – Wendy Kopp
27. I always tell young girls, surround yourself with goodness. I learned early on how to get the haters out of my life. – Michelle Obama
28. Haters gonna be haters, and there's nothing we can do about that. – Tina Knowles
29. You're going to have haters no matter what you do. – Eric Bischoff
30. There will always be haters. Small heroes can change society every day. It just takes time. – Michael Sam
31. These haters are too less in number when compared to the millions who support me. I look at all those beautiful people who always stand by me. I respect them, and they equally respect me. – Divyanka Tripathi
32. I always joke about letting the haters motivate you. Everybody has that in their life, people who doubt them or make them feel less than they are. It just takes faith and belief in yourself, and you've got to dig deep into that. That has to come from you – nobody's going to give you that. – Jennifer Lopez
33. Honestly, it's hard to deal with the haters, but something that has helped me is not to focus on the haters and to focus on the nice people! – JoJo Siwa
34. I've learned this, that haters wanna hate. You could sing a song perfectly, you could write the songs perfectly, and some people are absolutely going to hate you. – Carrie Underwood
35. I'm always my toughest critic. I'm setting the expectations for myself, and that's enough pressure. I don't need to worry about the haters or the Twitter trolls or what everybody else thinks. – Molly Qerim
36. Give me a celebrity, I'll give you your haters. Some people shine, and some people don't like when they shine. Ask Barack Obama – he'll tell you. – Rob Liefeld
37. Everybody is always going to have haters. It comes with the job. You have to have a tough skin and not let it affect you. – Dana Brunetti
38. Most haters are stuck in a poisonous mental prison of jealousy and self-doubt that blinds them to their own potentiality. – Steve Maraboli
39. Always remember… Rumors are carried by haters, spread by fools, and accepted by idiots. – Ziad K. Abdelnour
40. Remember that only God can judge us; forget the haters, because Somebody loves you. – Miley Cyrus
41. Learn to forgive 'haters' and people who think less of you. Don't bring yourself down to their level, because you know who you are. Be humble and shower them with unexpected love. – Henry Johnson Jr.
42. Our critics make us strong! Our fears make us bold! Our haters make us wise! – Israelmore Ayivor
43. Haters may push you but determination will give you the keys to drive. – Gee Linder
44. I love my haters, They actually help me to grow faster. – Soham Mondal
45. Haters and bullies are always cowards, you know. They like to pick on little guys. – Scylar Tyberius
46. May my haters live long to see my success. – Moosa Rahat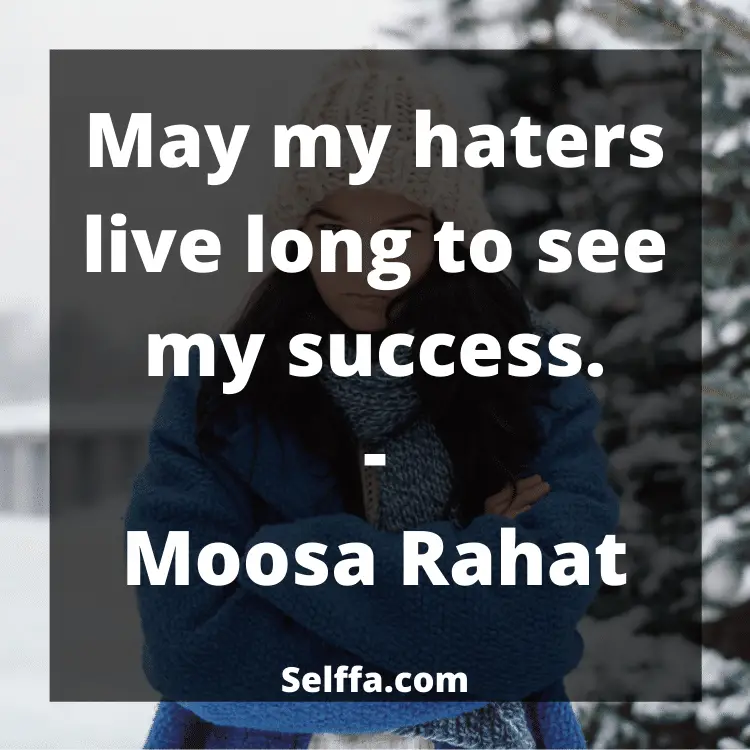 47. Don't doubt yourself, that's what haters are for. – Turcois Ominek
48. Haters don't really hate you. They hate seeing your potential and not their own. Love them anyways and someday they'll become your biggest fans. – Farshad Asl
49. Your haters gather the most at the sidelines. – Johnnie Dent Jr.
50. Your success increases your haters. – M.Rehan Behleem
51. Do not allow haters to ruin your happiness. – Gift Gugu Mona
52. Trolls and haters are only distractions from your greater purpose. When you achieve your goals and success, not only will the trolls and haters be forgotten, but they will definitely be looked upon as the biggest fools. – Kailin Gow
53. Haters will unwittingly give you the inspiration you need to conquer your great obstacle of destiny if you did not give up – Sunday Adelaja
54. If you see something dynamic in another person, speak up. It's time to stop letting haters set the precedent, while negativity becomes the default setting. – Andrena Sawyer
55. Don't try to win over the haters; you are not a jackass whisperer. – Brene Brown
56. Haters and doubters got me here, but supporters keep me here. – Behdad Sami
57. Haters are a drop in the ocean. Theres that much more love – Aishwarya Rai Bachchan
58. Haters are the people who will broadcast your failures and whisper your success. – Will Smith
59. Haters will say what they want, but their hate will never stop you from chasing your dream – Justin Bieber
60. We cannot let the haters of this world define us. Or frighten us into no longer being ourselves. – Mary E. DeMuth
61. The haters can just keep hating but I'm certainly not stopping because of them. But I can't say it doesn't hurt. It hurts a great deal. It hurts very much. – Nancy Grace
62. Silence your critics. Ignore your haters. Delete your cynics. – Robin Sharma
63. Never let haters 'still' your flow. They can only do so with your permission. – T.F. Hodge
64. If people say you shouldn't pursue business around your passion they are haters. Don't believe them. – Gary Vaynerchuk
65. The problem I have with haters is that they see my glory, but they don't know my story… – Maya Angelou
66. There's gonna be haters, but don't let them affect you, don't let them take away a part of you. – Demi Lovato
67. Grind until you get it no matter what the haters say and never look back, keep striving cause its your life. – Jonathan Anthony Burkett
68. Don't see haters as a reason to give up; instead see them as a sign that you are starting to become successful. – Mastin Kipp
69. You can't let haters stop you. – Quinton Jackson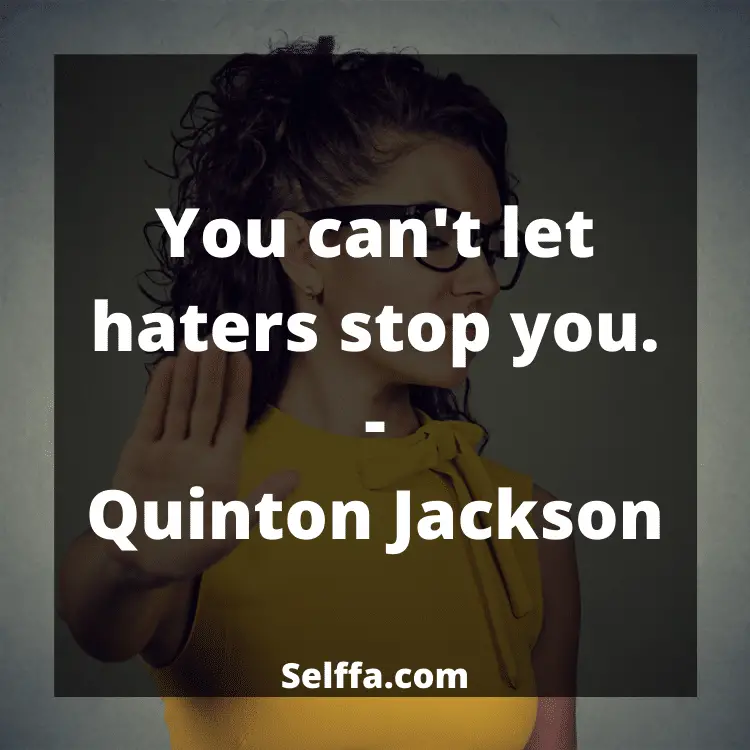 70. Sometimes I just think people are haters. And if they're haters, you can listen to what they have to say but you have to take it with a grain of salt. – John Legend
71. When I perform, I don't think about the haters, the Internet trolls, or anyone else. I care about giving the person in front of me something they won't forget. And that's why I bring the cake and raft out. – Steve Aoki
72. Hate your haters, then you are no different from them. – Racine Bamwanya
73. Haters need to see you go down to lift themselves up. – Oscar Auliq-Ice
74. The haters are the ones that must investigate what is wrong with themselves and why they spread negative vibes instead of encouraging people to follow their dreams and be better in what they do. – Maria Karvouni
75. If people are hating on you it's often because they are: 1. Threatened by you, 2. Jealous of you or 3. Feeling like you're above them so they put you down to feel better about themselves. The greatest people have haters for a reason, so take it as a compliment. Haters gonna hate. – Jeanette Coron
76. There's one antidote for haters: show them how golden HEARTS should be.
"Hearts" is a word that happens to be an anagram of haters.
– Angelica Hopes
77. Your haters may stage fake games that they know you cannot win so that you may fail and put that blame on you and in turn doubt yourself. – Assegid Habtewold
78. Haters are my favorite. I've built an empire with the bricks they've thrown at me. Keep on hating. – C.M. Punk
79. My haters are my motivators. – Nicki Minaj
80. There will always be haters out there, but my haters motivate me to push harder and kick more ass. – Andy Lally
81. The Internet is for haters. Everyone wants to knock somebody down, but it's cool. – Andy Cohen
82. Behind every successful person lies a pack of Haters! I love my haters! – Gloria Tesch
83. I think people are just haters. When they see people doing well, some people, if there's something wrong, they'll pick at that. – Alana Blanchard
84. Haters don't hate you… The reality is, they fear that they will never be able to get to where you are right now. – Leah Remillet
85. Haters are important because they show you you're doing something right. – Nuno Roque
86. These haters pretending that it's all good. Say that sh-t in person man, I wish y'all would. – Drake
87. Haters keep on hating, cause somebody's gotta do it. – Chris Brown
88. Now my haters are very high-class people, so I feel like I've moved up. – GloZell
89. Don't trip over haters, step over them. – Darrin Lowery
90. Mindset matters… always. The difference found between the victorious and the envious, the successful and the haters; is mindset. – Steve Maraboli
91. Haters will see you walk on water and say it's because you can't swim.
92. Don't let the haters get to your head. They are just so insecure they need to take it out on you.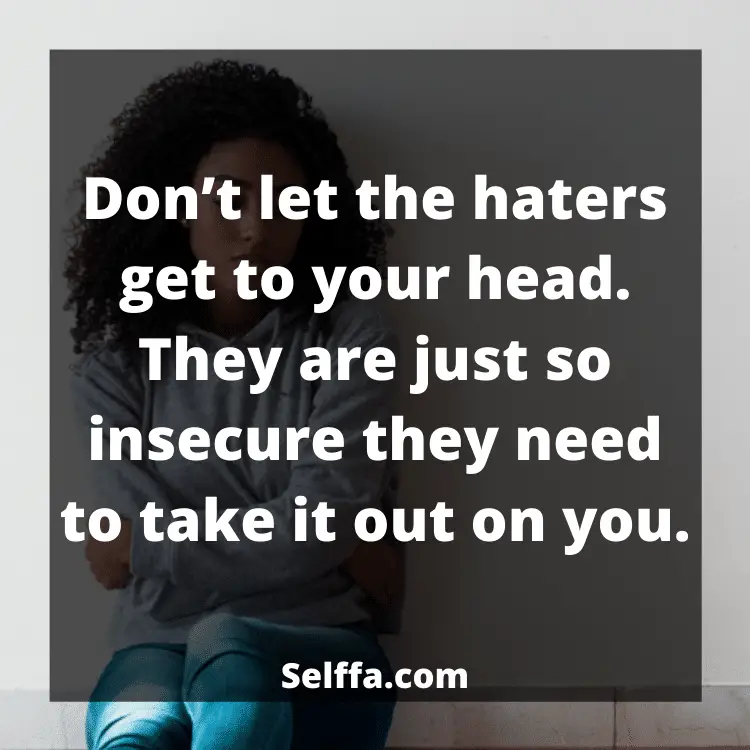 93. Use your haters as stepping stones to get to the top.
94. Believe in yourself and all that you are. And don't forget to love your haters. They keep you motivated.
95. Don't get disgruntled when haters smear you. Be joyous. It only means those unpleasant people see something extraordinary in you that they do not see in themselves. Cause no one throws stones on a fruitless tree.
96. Haters are so quick at spotting people's imperfections turning a blind eye to theirs.
97. Never stoop to your haters level, stay right above it.
98. I don't hate my haters, but I won't ever surround myself with such negativity. I'm better than that.
99. My haters taught me dedication by their dedicated hatred for me.
100. Haters, like parrots, talk much but cannot fly. Dreamers, like eagles, say nothing but conquer the skies.
101. All your haters need is your attention; so they are meant to be ignored.
102. Haters will continue to make fuss and you continue to ignore them.
103. Don't waste your time in thinking what haters will say about you, because they are wasting their time in thinking what to say bad about you.
104. Haters can't hurt you unless you let them.
105. People are entitled to their opinions and should be free to do so as long as they articulate their feelings with respect for others. But when people decide to share their opinions in a way that is meant to hurt another person's feelings, that is when they become haters.
106. Never back down. Always keep your head up to show haters what you're capable of.
107. How many haters does it take to change a light bulb? None. They fear change, even if it can make the world a brighter place.
108. Always do you. Haters will try to stop you, failing to be you. Lovers will follow you, knowing that you are unique. But better to be loved by others doing something you love, rather than loved by others doing something you hate.
109. Don't worry about the haters. Don't let them get to you. They're just upset because the truth you know contradicts the lies they live.
110. Life's to short to deal with drama. So ignore the haters, and live life to the fullest.
111. Your haters are just sitting and waiting for you to fail, make sure you disappoint them every chance you get.
112. Stop trying to prove your haters wrong and prove your supporters right! The more you focus on your support the less you'll see the hate.
113. Haters hate because they hate seeing you do better than they will ever.
114. Haters try to expose what's wrong with you, because they're are jealous of everything that's right about you.
115. Never explain yourself when haters have already made up their mind.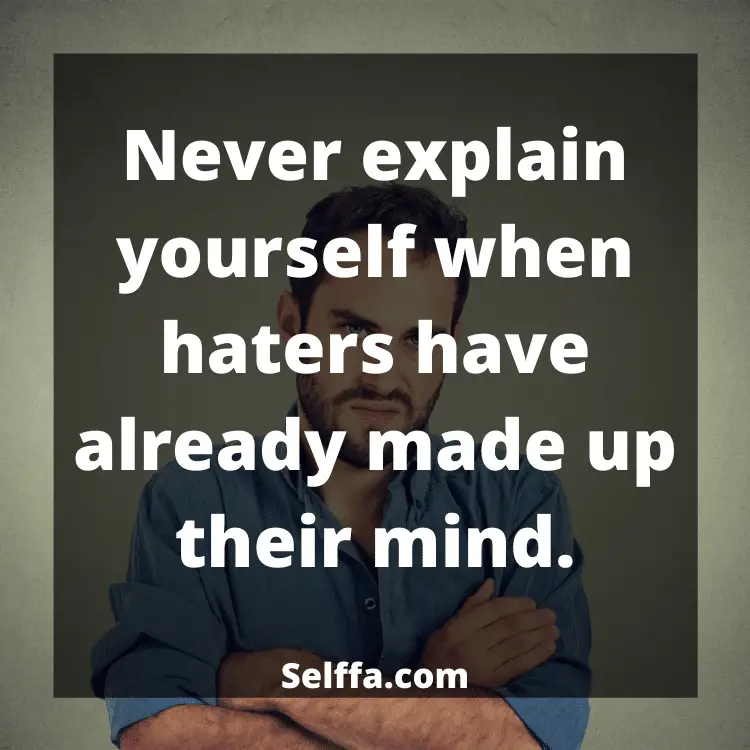 116. I don't dislike my haters, they dislike me. I'm doing nothing wrong, I'm just being me.
117. The strong-minded rise to the challenge of their goals and dreams. The weak-minded become haters.
118. I would like to thank all my haters, demotivators and frenemies for their valuable demotivations and criticisms that made me strong enough to achieve what I desired of.
119. My haters are making me more patient towards my life, by saying I will definitely flunk.
120. Keep going haters your hatred will make me a headstrong person.
121. I don't have time, energy, or interest in hating the haters; I'm too busy loving the lovers.
122. Haters would want to kill your dreams just because theirs fell asleep.
123. Dealing with haters is all about mind over matter. I don't mind cuz you don't matter.
124. Haters are either unhappy or not contented with their own life.
125. I am too busy in making a fresh topic for my haters; no time to count them.
126. A genuine smile is the best gift you could give your haters.
127. When you failed, your haters celebrate. Do not give them a chance to be happy about it; always give your best to succeed.
128. Don't give your haters what they want; give them what they do not want. And that is "success".
129. Be that someone who never sees their haters as an enemy but a motivation.
130. Be not among your haters, for the haters will never be happy with their life.
131. You mostly do not have haters of you, but mostly you have haters of your success.
132. I'm sure there are some haters out there, but I just put my blinders on.
133. I try not to read the negative comments, and when I do, I let it roll off my back. I remind myself that there will always be haters.
134. Sometimes I just want to thank my haters cause they are my unpaid motivators.
135. I treat my haters like AM radio, I just don't listen to them.
136. Haters; kill them with success and bury them with a smile
137. Haters stay mad because they can't have the attention you have!
138. Do not let your haters define who you are. Remember, it is you who knows who you really are.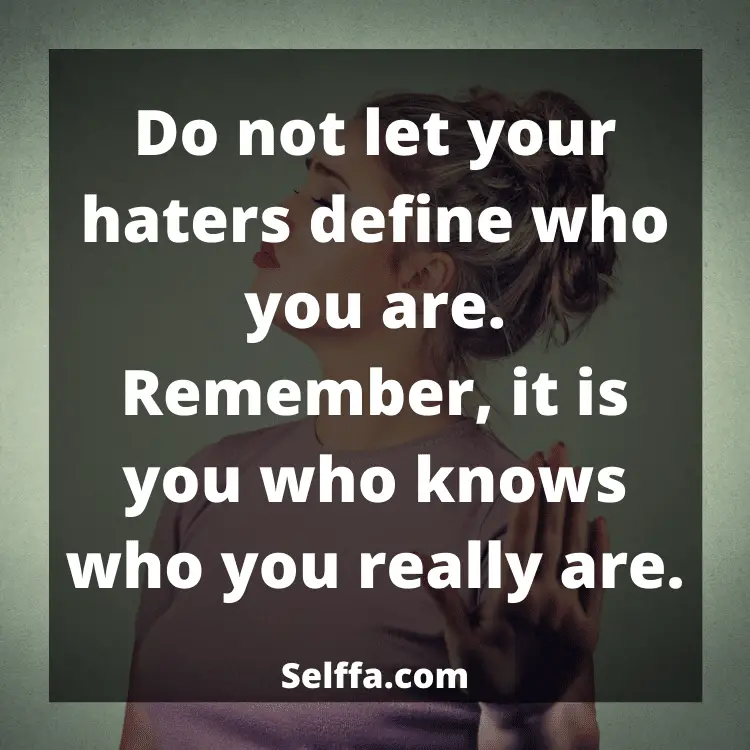 139. Whenever I get to know some new rumors about me, I feel proud to see my haters working hard.
140. I have to nail it! Otherwise my haters gonna succeed.
141. If your haters try to pull you down then they are trying to show you from where they belong.
142. If hating someone is an art, then my haters have mastered it.
143. All my haters keep demotivating me and I will continue to prove you wrong at every point of your lives.
144. Don't let your pains or people's opinions dictate your life. Only God's opinion counts in this world full of haters and fakes.
145. Haters H: Having A: Anger T: Towards E: Everyone R: Reaching S: Success
146. My name is what haters love to mention, keep on talking because I love the attention.
147. Think of the haters in your life as sandpaper. They'll scratch you up time and time again but in the end, you're polished and spotless while they end up useless.
148. Never ever let anyone put you down, because you're beautiful, no matter what anyone says you're worth it and you know you're cared about. So for now laugh at the haters and cry with the lovers, and be who you are.
149. Smile, because you're beautiful. Laugh, because you're living life to the fullest. Stand strong, because haters can't bring you down.
150. Don't cave in! Haters gonna hate lovers gonna love and you most certainly live life!
151. Make your lovers proud and your haters jealous.
152. Haters only hate when they can't participate.
153. Dear haters, don't criticize me for my flaws and mistakes when you can't even see your own.
154. Lovers bring motivation to you, haters bring power in you.
155. Hate is the easiest thing to do besides live. You have to work on love and haters are just too lazy to do that.
156. When you think you don't have nothing. Haters remind you of everything you are and really have.
157. Haters don't hate without a reason and jealousy on last for a season, if people are despising you don't let it faze you, they are the one committing treason.
158. Don't worry about gossipers, move on. You are better than letting haters and naysayers hinder you. You are capable of so much and they know it. Why let anything or anyone stop you from being the best you that you can be.
159. The funny thing about Haters is that they don't even know you know who they are. The majority of your haters is in your circle. You make yourself look bad when you're downing someone that's being blessed and its called jealousy. Your blessings will continue to be placed on the back burner when you don't celebrate others who are being blessed.
160. The attitude should not focus on how to keep the haters to hate but to continue to focus on what has them hating in the first place.
161. Fake people can keep being fake, haters can hate. I'm still going to shine.
162. As much as I would like to wrong those who have wronged me, I am better than that. Haters are going to keep hating, and they can continue as they watch from the sidelines as I keep smiling.
163. I take a chance when I have no chances. I will never run out off options. The table will turn and haters going to hate, I will surely see a light at the end of the tunnel.
164. People will wish you all the success in the world, but they going to hate you when you get it. You actually don't have haters of you, but you have haters of your success, so keep making.
165. Haters are going to hate regardless what I do; I don't do it to please anyone but my damn self. I love my hair and I'll love it more when I finish it. Everyone needs some kind of change once in a while, so kick rocks.
166. Not giving a word what haters think, it doesn't mean I am brave or smart, it means I know they are haters who are going to hate anyway. Let's be 100% honest, haters don't hate based on anything rational, so better just to laugh at them.