You can't help but feel down when the struggles in your life seem to have no end. So choose to be encouraged during discouraging times with these 33 encouraging poems.
Encouraging Poems
1. Encouraging Words
Just a few encouraging words, that's all,
Will ease a troubled mind,
Will touch the very root of a problem,
And help one to unwind.
Just a few encouraging words, that's all,
It doesn't require much of your time,
But after saying them, you'll be amazed
How things will work out just fine.
– Joseph T. Renaldi
2. Given That We Are
Given that we are so often guided
Let not your heart be sad when cares pile pelf
The road you tread was long ago decided
The hurdles corssed placed surely by yourself
A course of obstacles to test the spirit
Refine the soul and cause the need to strive
Towards the light of God that shines so brightly
From which we came, and where we shall arrive
At journey's end, and after Life's full growing
The bread we cast shall be as was foretold
A measure of the Love we gave in sowing
Returning to enrich ten thousandfold!
– John McLeod
3. Get Your Groove On
When life is getting you down,
And you feel as if you might drown.
Hold on tight, and start to fight,
And eventually you won't want to frown.
Life is not always easy,
It can sometimes make us feel queasy.
We can change that, but it'll take a strong hat,
It's up to you to make your life dreamy.
So take your life in your hands,
And make a new set of plans.
Life can be great, if you stop with the hate,
And make changes every way you can.
So now that you're ready to move,
It's time to get on your groove.
Work hard for your wants, don't allow peers to haunt,
You have only yourself to prove.
– Julie Hebert
4. See It Through
When you're up against a trouble,
Meet it squarely, face to face;
Lift your chin and set your shoulders,
Plant your feet and take a brace.
When it's vain to try to dodge it,
Do the best that you can do;
You may fail, but you may conquer,
See it through!
Black may be the clouds about you
And your future may seem grim,
But don't let your nerve desert you;
Keep yourself in fighting trim.
If the worst is bound to happen,
Spite of all that you can do,
Running from it will not save you,
See it through!
Even hope may seem but futile,
When with troubles you're beset,
But remember you are facing
Just what other men have met.
You may fail, but fall still fighting;
Don't give up, whate'er you do;
Eyes front, head high to the finish.
See it through!
– Edgar A. Guest
5. The Bend in the Road
Sometimes we come to life's crossroads
And we view what we think is the end.
But God has a much wider vision
And He knows it's only a bend –
The road will go on and get smoother
And after we've stopped for a rest,
The path that lies hidden beyond us
Is often the path that is best.
So rest and relax and grow stronger,
Let go and let God share your load
And have faith in a brighter tomorrow
You've just come to a bend in the road.
– Helen Steiner Rice
6. Keep Moving
I scanned wise words in a book to-day;
this was the message, they seemed to say:
Keep moving ahead!
You can't stand still unless you really are very ill;
for if you stop, like an unwound clock,
you're bound to suffer a fearful shock,
for something will happen to give you a shake,
and say to your conscience, "Move on, awake."
Keep moving ahead, or your soul will die,
and beauty evade your heart and eye.
No matter at all that your pace be slow
so long as you upward, upward go,
into a finer atmosphere, where ideals live and visions clear,
and Goodness and Truth have taken firm stand,
and folks to folks stretch a loving hand.
For this be the measure of our success,
the measure of all life's happiness:
just how well we have moved ahead;
or just how early our soul was dead!
– Wilhelmina Stitch
7. It Don't Take Long
It don't take long to listen to another fellow's grief,
It don't take long to sympathize and help him find relief;
You will make his life much happier to give him this boost,
And your soul will be contented when you come home to roost.
It don't take long to smile and say a pleasant "How are you"?
It means so much when someone feels down-hearted, sad and blue;
'Twill make the day turn sunny on a very rainy day,
And you will feel much happier, as you go on your way.
It don't take long to sit a while when someone's sick in bed,
A cheery word will often soothe a tired, aching head;
And they will think you quite a guy, and find the day is bright,
So sit a while, and chat a while, your heart will glow with light.
– Eldred Herbert
8. Your Problems
There are times in our lives
When we are filled with strife
When the world seems against us
And we feel anything but blessed.
But when we stop and look
Or when we read about others in a book
We soon come to realize
That our problems can paralyze.
Problems can stop us from seeing the good
We look at the world and feel so misunderstood.
We need to back up and think
about a solution and the link.
We need to focus our thoughts and energy on
a solution we can implement before the next dawn.
Taking action and doing something
Is always better than just feeling the sting.
So don't let your problems stop you
Don't let your problems make you feel blue
Get up and get going
You will soon find your smile showing through!
– Kate Summers
9. It Is Easy
It is easy to be pleasant
When life flows by like a song,
But the man worth while is the one who will smile,
When everything goes dead wrong.
For the test of the heart is trouble,
And it always comes with years,
And the smile that is worth the praises of earth
Is the smile that shines through the tears.
– Ella Wheeler Wilcox
10. Today Be Determined
Today be determined to be the best you can be
Today be determined to help others that you see
Today be determined to persevere in all you do
Today be determined to only speak what's true
Today be determined not to let things get you blue
Today be determined to learn one thing new
Today be determined to have a positive view
and, today be determined to encourage others too!
– Catherine Pulsifer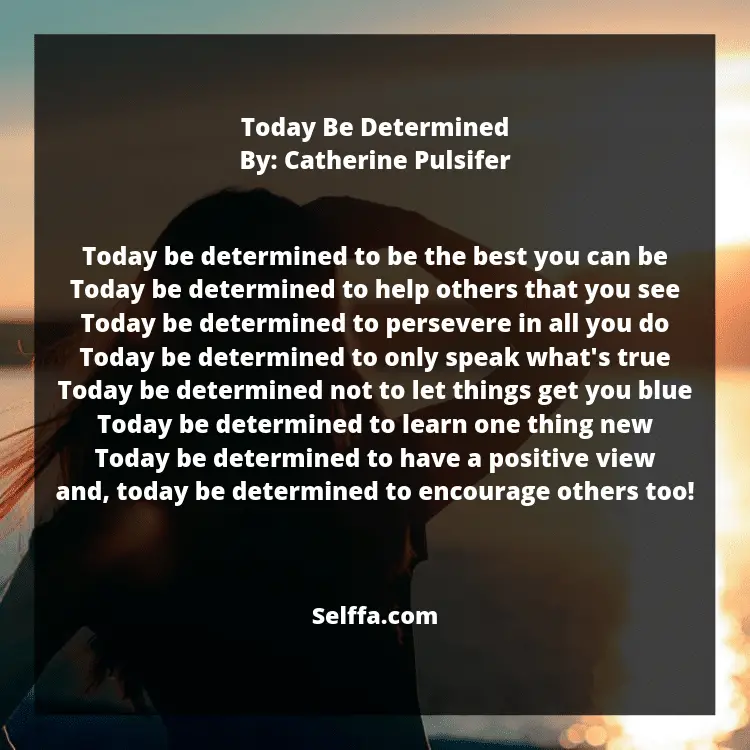 11. Charge the Hill
At the base of the mountain I raise my eyes
To the climb that looms ahead.
And though I tremble at the road before
It is the path that I must tread.
My heart beats wildly and my legs feel weak
but my comfort comes in knowing
There's a power greater than all of me
So my faith just keeps on growing.
Though the world may try to tell me
Faith is simple and quite naive,
I've felt His presence in the blackest of times
And I shall continue to believe.
There may be days to come where I feel alone
During the pain and hardest trials.
But there's an unseen world holding me up
And protecting me all the while.
I know prayers and love will come to Him
From those who share my suffering.
Whose hearts and souls are tied with mine
In this journey laid out for me.
So I take the first step and begin the climb
and I know love will gently lead.
Each hand firmly held by family and friends
We charge the hill to victory.
– Kristen Feighery
12. Coloured Rainbows
Dare to dream of coloured rainbows
and fine "castles in the air" –
and a Sun that shines so brightly
making cloudy days seem rare!
When you aim to find a purpose
then your life becomes worthwhile.
You will dazzle those about you –
when you show your own true style!
Our dreams are not for keeping –
simply borrowed for a while;
to console us in adversity
and teach us how to smile!
Dream again of coloured rainbows
and of bluebirds flying high.
You will overcome the obstacles
once you decide to try!
– Roslyn Mansell
13. Opportunity
With doubt and dismay you are smitten
You think there's no chance for you, son?
Why, the best books haven't been written
The best race hasn't been run,
The best score hasn't been made yet,
The best song hasn't been sung,
The best tune hasn't been played yet,
Cheer up, for the world is young!
No chance? Why the world is just eager
For things that you ought to create
Its store of true wealth is still meagre
Its needs are incessant and great,
It yearns for more power and beauty
More laughter and love and romance,
More loyalty, labor and duty,
No chance–why there's nothing but chance!
For the best verse hasn't been rhymed yet,
The best house hasn't been planned,
The highest peak hasn't been climbed yet,
The mightiest rivers aren't spanned,
Don't worry and fret, faint hearted,
The chances have just begun,
For the Best jobs haven't been started,
The Best work hasn't been done.
– Berton Braley
14. Life Is Now
Time flies and memories fade.
People change and new friendships are made.
Only the true remain forever at our side.
Eventually the disappointment and pain will subside.
It is all about the journey and what has yet to come.
Life is what you make of it; you are what you've become.
Life is too short to hold onto regrets.
Forgiveness is key even though you may never forget.
Cherish the good and remove the bad.
Some people don't realize till it's gone what they've had.
Moving on is a way of life.
There will always be obstacles, pain, and strife.
You must believe that you are strong enough to fight.
You have to believe in yourself to do what is right.
Always do for YOU no matter what you do,
Because in the end the only one who has your back is you.
Never be afraid to take a stand,
And always be willing to lend a helping hand.
A little bit goes a long way.
All it takes is a smile to brighten someone's day.
Your chance to live is now, so what are you waiting for?
The world is yours for the taking and so much more.
Endless possibilities are forever at your disposal.
The chance to live another day is life's golden proposal.
Never let anyone tear you down,
And never let anyone steal your shine and make you frown.
So will you sit in the shadows and let darkness win again?
Or will you rise up and make the light your friend?
Here is your chance, so what will you do?
You've got this because I believe in you!
– Hollianne Boucher
15. The Road Not Taken
Two roads diverged in a yellow wood,
And sorry I could not travel both
And be one traveler, long I stood
And looked down one as far as I could
To where it bent in the undergrowth;
Then took the other, as just as fair,
And having perhaps the better claim,
Because it was grassy and wanted wear;
Though as for that the passing there
Had worn them really about the same,
And both that morning equally lay
In leaves no step had trodden black.
Oh, I kept the first for another day!
Yet knowing how way leads on to way,
I doubted if I should ever come back.
I shall be telling this with a sigh
Somewhere ages and ages hence:
Two roads diverged in a wood, and I-
I took the one less traveled by,
And that has made all the difference.
– Robert Frost
16. Be the Best Whatever You Are
If you can't be a pine on the top of the hill
be a scrub in the valley- but be the best little scrub
by the side of the rill;
Be a bush if you can't be a tree.
If you can't be a bush be a bit of the grass,
and some highway some happier make;
if you can't be a muskie then just be a bass-
but the liveliest bass in the lake!
We can't all be captains, we've got to be crew,
there's something for all of us here.
There's big work to do and there's lesser to do,
and the task we must do is the near.
If you can't be a highway then just be a trail,
if you can't be the sun be a star;
it isn't by size that you win or you fail-
Be the best of whatever you are!
– Douglas Malloch
17. Green Grass Under The Snow
The work of the sun is slow,
But as sure as heaven, we know;
So we'll not forget,
When the skies are wet,
There's green grass under the snow.
When the winds of winter blow,
Wailing like voices of woe,
There are April showers,
And buds and flowers,
And green grass under the snow.
We find that it's ever so
In this life's uneven flow;
We've only to wait,
In the face of fate,
For the green grass under the snow.
– Annie A. Preston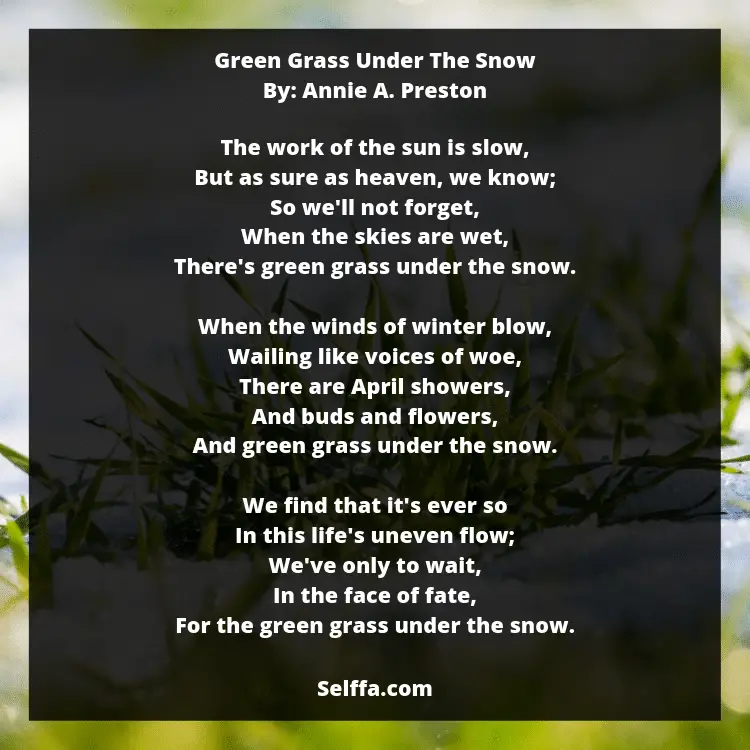 18. Say Not the Struggle Nought Availeth
Say not the struggle nought availeth,
The labor and the wounds are vain,
The enemy faints not, nor faileth,
And as things have been they remain.
If hopes were dupes, fears may be liars;
It may be, in yon smoke conceal'd,
Your comrades chase e'en now the fliers,
And, but for you, posess the field.
For, while the tired waves, vainly breaking,
Seem here no painful inch to gain,
Far back, through creeks and inlets making,
Comes silent, flooding in, the main.
And not by eastern windows only,
When daylight comes, comes in the light,
In front, the sun climbs slow, how slowly,
But westward, look, the land is bright.
– Arthur Hugh Clough
19. A New Day
Draw back the curtain,
Roll up the blind,
Look through the window,
What do you find?
A new day is dawning,
All nature's at play.
Flowers are blooming,
In a colorful array
Open the window,
What do you hear?
Birds that are singing,
Bringing you cheer.
Leaves on the trees,
Are slightly swaying,
To the tune of a breeze;
They seem to be praying.
While nature rejoices,
You behold such a sight,
Thank God for blessings,
And start the day right.
– Vivien Wade
20. Count Your Blessings
Count your blessings instead of your crosses;
Count your gains instead of your losses.
Count your joys instead of your woes;
Count your friends instead of your foes.
Count your smiles instead of your tears;
Count your courage instead of your fears.
Count your full years instead of your lean;
Count your kind deeds instead of your mean.
Count your health instead of your wealth;
Love your neighbor as much as yourself.
– Kelly Johnston
21. I Wish You…
I wish you bright mornings and warm, sunny days,
Soft shade to cool you from sweltering rays,
Raindrops, a few, from some cloud floating by,
Rainbows thereafter to color your sky.
Rambling rivers and great shining seas,
Mountains and forests with towering trees,
Hillsides and valleys, all flower-festooned,
Nature that nurtures whomever's attuned.
A faithful companion who'll stay by your side,
Children to care for, to love and to guide,
Enough work to do with enough time for play
Then restful sleep at the close of the day.
Friends when you need them and when they need you,
Something to spend, just as much as will do
A heart full of laughter; perhaps a few tears,
A faith you can follow through all of your years.
Then, fearlessly facing your last setting sun,
As you contemplate all the deeds you have done,
Recalling a life that's been more than worthwhile,
Perhaps you will pause and give thanks with a smile.
– Anonymous
22. It's Your Time
Dry your tears
Heal your heart,
It had to end
So you can start
Down your path
You need to go
The world awaits
It's time to show
Your grace and style
Your own way
It's your life
Start living today.
– Sheri Hundley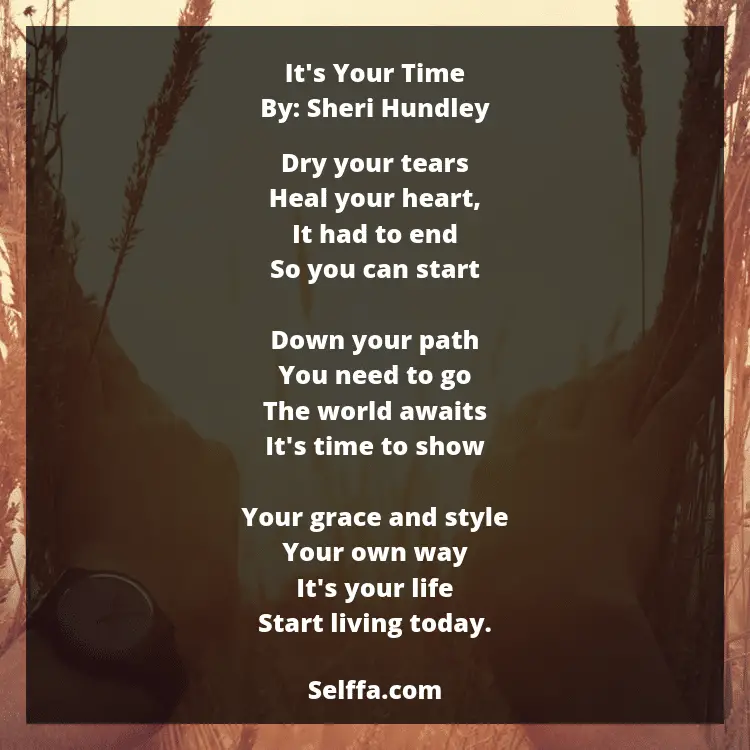 23. New Beginnings
It's only the beginning now
…a pathway yet unknown,
At times the sound of other steps
…sometimes we walk alone.
The best beginnings of our lives
May sometimes end in sorrow,
But even on our darkest days
…the sun will shine tomorrow.
So we must do our very best
Whatever life may bring,
And look beyond the winter chill
…to smell the breath of spring.
Into each life will always come
A time to start anew,
A new beginning for each heart
…As fresh as morning dew.
Although the cares of life are great
And heads are bowed so low,
The storms of life will leave behind
…the wonder of a rainbow.
The years will never take away
Our chance to start anew,
It's only the beginning now
So dreams can still come true.
– Gertrude B. McClain
24. Sometimes
Sometimes we just need to be told
That all will be okay
Sometimes open arms extended
Can soothe the fears away
Sometimes dark days surface
With no end in sight
Sometimes just a tender word
Seem to make it right
Sometimes we do hurt
Where it cannot be seen
Sometimes we must read
Of the lines, things between
Sometimes it looks to us
That nothing is in place
Sometimes we cannot stand
Except for saving grace
Sometimes we seem to think
This is our lot in life
Sometimes we crave for peace
When all we have is strife
Sometimes it seems to be
Just us against the odds
Sometimes we crave for covering
Like peas in a pod
Sometimes the truth
Will never be revealed
Sometimes the wounds
Doesn't find time to heal
Sometimes the greatest battle
Happens in the mind
Sometimes victor, sometimes victim
Yes, it happens sometimes
– Rhoan Matheson
25. When Things Go Wrong
When things go wrong, as they sometimes will,
When the road you're trudging seems all uphill,
When the funds are low and the debts are high,
And you want to smile, but you have to sigh,
When care is pressing you down a bit-
Rest if you must, but don't you quit.
Life is queer with its twists and turns,
As every one of us sometimes learns,
And many a fellow turns about
When he might have won had he stuck it out.
Don't give up though the pace seems slow –
You may succeed with another blow.
Often the goal is nearer than
It seems to a faint and faltering man;
Often the struggler has given up
When he might have captured the victor's cup;
And he learned too late when the night came down,
How close he was to the golden crown.
Success is failure turned inside out –
The silver tint in the clouds of doubt,
And you never can tell how close you are,
It might be near when it seems afar;
So stick to the fight when you're hardest hit –
It's when things seem worst that you must not quit.
– Anonymous
26. Always Remember
Always remember to forget
The things that made you sad
But never forget to remember
The things that made you glad.
Always remember to forget
The friends that proved untrue
But never forget to remember
Those that have stuck by you.
Always remember to forget
The troubles that have passed away
But never forget to remember
The blessings that come each day.
– Albashir Adam Alhassan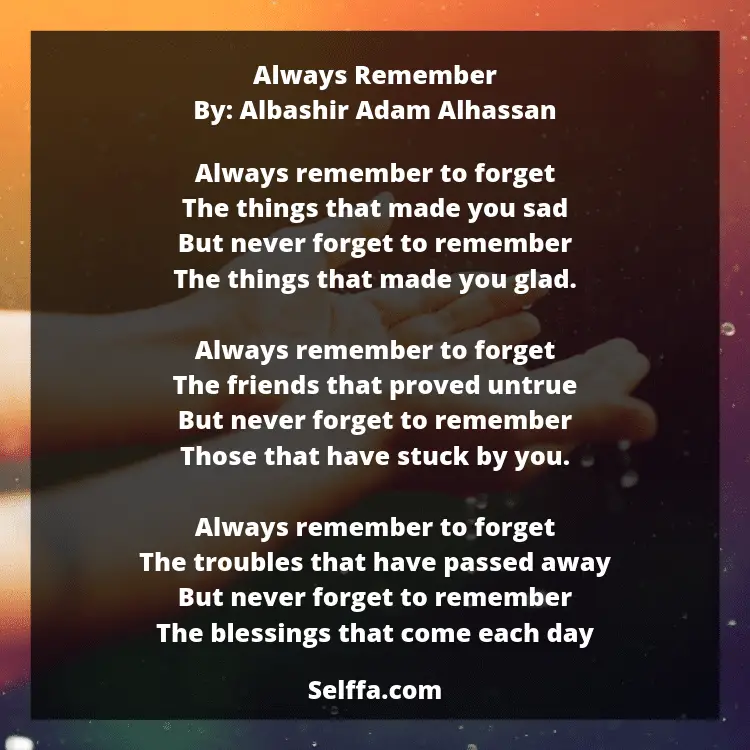 27. Don't Give Up
If you've tried and have not won,
Never stop for trying;
All that's good and great is done
Just by patient trying.
Though young birds, in flying, fall,
Still their wings grow stronger,
And the next time they can keep
Up a little longer.
Though the sturdy oak has known
Many a wind that bowed her,
She has risen again and grown
Loftier and prouder.
If by easy work you beat,
Who the more will prize you?
Gaining victory from defeat,
That's the test that tries you.
– Phoebe Gary
28. Friendly Obstacles
For every hill I've tried to climb,
For every stone that bruised my feet,
For all the blood and sweat and grime,
For blinding storms and burning heat,
My heart sings but a grateful song
These are the things that made me strong!
For all the heartache and the tears,
For all the anguish and the pain,
For gloomy days and fruitless years,
And for the hopes that lived in vain,
I do give thanks, for now I know
These were the things that helped me grow!
'Tis not the softer things in life
Which stimulate man's will to strive;
But bleak adversity and strife
Do most to keep man's will alive.
O'er rose-strewn paths the weaklings creep,
But brave hearts dare to climb the steep
– Ernest Lawrence Thayer
29. I'd Rather Be…
I'd rather be the ship that sails
and rides the billows wild and free;
Than be the ship that always fails
to leave its port and go to sea.
I'd rather feel the sting of strife,
where gales are born and tempests roar;
Than settle down to a useless life
and rot in dry dock on the shore.
I'd rather fight some mighty wave
with honour in supreme command;
And fill a last well earned grave,
than die at ease upon the sand.
I'd rather drive where storm winds blow
and be the ship that always failed
To make the ports where it would go,
than be the ship that never sails.
– Page Belnap
30. Keep Trying
When you're feeling blue as ink
And your spirits begin to sink,
Don't be weak and take a drink
Keep Trying.
There are times when all of us
Get riled up and start a muss,
But there ain't no use to cuss,
Just Keep Trying.
When things seem to go awry,
And the sun deserts your sky,
Don't sit down somewhere and cry,
Keep Trying.
Everybody honors grit,
Men who never whine a bit–
Men who tell the world, "I'm IT"
And Keep Trying.
Get a hustle on you NOW,
Make a great, big solemn vow
That you'll win out anyhow,
And Keep Trying.
All the world's a battlefield
Where the true man is revealed,
But the ones who never yield
Just Keep Trying.
– Edwin C. Ranck
31. Year to Year
Let me but live my life from year to year,
With forward face and unreluctant soul,
Not hastening to, nor turning from the goal;
Nor mourning things that disappear
In the dim past, nor holding back in fear
From what the future veils; but with a whole
And happy heart, that pays its toll
To youth and age, and travels on with cheer.
So let the way wind up the hill or down,
Through rough or smooth, the journey will be joy,
Still seeking what I sought when but a boy —
New friendship, high adventure, and a crown,
I shall grow old, but never lose life's zest,
Because the road's last turn will be the best.
– Henry van Dyke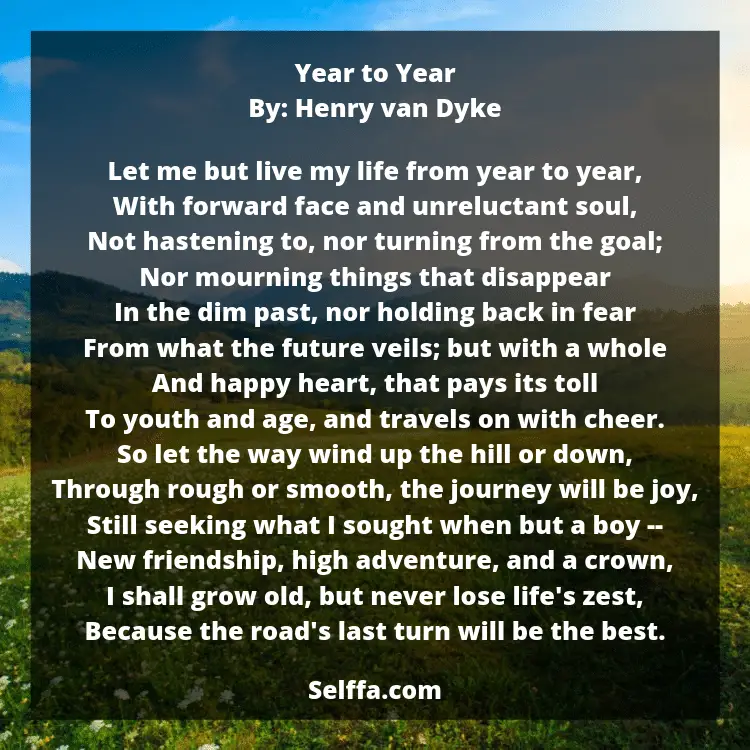 32. When You Can
When you can turn from life's temptations
choosing the right from wrong
When you can dream high expectations
and not just simply go along
When you can respect the advice of others
yet make decisions for yourself
When you can cheer as others pass you
and put disappointment on the shelf
When you can smile at the impossible
and try even harder still
By ignoring those who say "YOU CAN'T"
buckle down and say "I WILL"
When you can seek your goals determined
to do your best each day
And yet unselfishly be willing
to help all others along the way
When you can look up to God each morning
trusting him to see you through
Then you have attained that place in life
when other will look up to you
– Brenda Lee Gaddy
33. You Are Loved
When the road seems too long
When darkness sets in
When everything turns out wrong
And you can't find a friend
Remember ~ you are loved
When smiles are hard to come by
And you're feeling down
When you spread your wings to fly
And can't get off the ground
Remember ~ you are loved.
When time runs out before you're through
And it's over before you begin
When little things get to you
And you just can't win
Remember ~ you are loved.
When your loved ones are far away
And you are on your own
When you don't know what to say
When you're afraid of being alone
Remember ~ you are loved.
When your sadness comes to an end
And everything is going right
May you think of your family and friends
And keep their love in sight
A thank-you for being loved.
May you see the love around you
In everything you do
And when troubles seem to surround you
May all the love shine through
You are blessed ~ you are loved.
– Roger Pinches