Conquering fear is one of the most difficult challenges we all go through. But whatever it is you're trying to conquer today, never give up! You can only succeed if you persist and give it all you've got. If you need a little more encouragement, these conquer quotes we compiled might just be what you need. Enjoy!
Conquer Quotes
1. Fear is the main source of superstition, and one of the main sources of cruelty. To conquer fear is the beginning of wisdom. – Bertrand Russell
2. I learned that courage was not the absence of fear, but the triumph over it. The brave man is not he who does not feel afraid, but he who conquers that fear. – Nelson Mandela
 3.  Energy and persistence conquer all things. – Benjamin Franklin
4. Success comes after you conquer your biggest obstacles and hurdles. – Stephen Curry
5. He who angers you conquers you. – Elizabeth Kenny
6. For they can conquer who believe they can. – John Dryden
7. Doubts and mistrust are the mere panic of timid imagination, which the steadfast heart will conquer, and the large mind transcend. – Helen Keller
8. In order to succeed, your desire for success should be greater than your fear of failure. – Bill Cosby
9. Sure I am of this, that you only have to endure to conquer. – Winston Churchill
10. Books were my pass to personal freedom. I learned to read at age three, and soon discovered there was a whole world to conquer that went beyond our farm in Mississippi. – Oprah Winfrey
11. Happiness is like those palaces in fairy tales whose gates are guarded by dragons: we must fight in order to conquer it. – Alexandre Dumas
12. We are built to conquer environment, solve problems, achieve goals, and we find no real satisfaction or happiness in life without obstacles to conquer and goals to achieve. – Maxwell Maltz
13. Courage consists not in blindly overlooking danger, but in seeing it, and conquering it. – Jean Paul
14. Patience and fortitude conquer all things. – Ralph Waldo Emerson
15. Affirm, I now willingly release all negative beliefs about myself, my life and all other people. I now forgive myself for thinking I ever did anything wrong. I am now filled with the love and the Power that I am. For this I am so grateful and so it is. – Iyanla Vanzant
16. You must be the change you wish to see in the world. – Gandhi
17. Everybody is a genius. But if you judge a fish by its ability to climb a tree, it will live its whole life believing that it is stupid. – Albert Einstein
18. A life spent making mistakes is not only more honorable, but more useful than a life spent doing nothing. – George Bernhard Shaw
19. He who fears he will suffer, already suffers because he fears. – Michel De Montaigne
20. We think sometimes that poverty is only being hungry, naked and homeless. The poverty of being unwanted, unloved and uncared for is the greatest poverty. – Mother Theresa
21. Love is a verb. Love the feeling is a fruit of love, the verb. – Stephen Covey
22. Life is really simple, but we insist on making it complicated. – Confucius
23. If you don't like something, change it. If you can't change it, change the way you think about it. – Mary Engelbreit
24. In seeking happiness for others, you will find it in yourself.
25. God, grant me the serenity to accept the things I cannot change, the courage to change the things I can, and the wisdom to know the difference. – Reinhold Niebuhr
26. Yesterday is history, tomorrow is a mystery, today is a gift of God, which is why we call it the present. – Bill Keane
27. Life is never made unbearable by circumstances, but only by lack of meaning and purpose. – Viktor Frankl
28. If you want happiness for an hour, take a nap. If you want happiness for a day go fishing. If you want happiness for a year inherit a fortune. If you want happiness for a lifetime help someone else. – Chinese proverb
29. When one door of happiness closes, another opens, but often we look so long at the closed door that we do not see the one that has been opened for us. – Helen Keller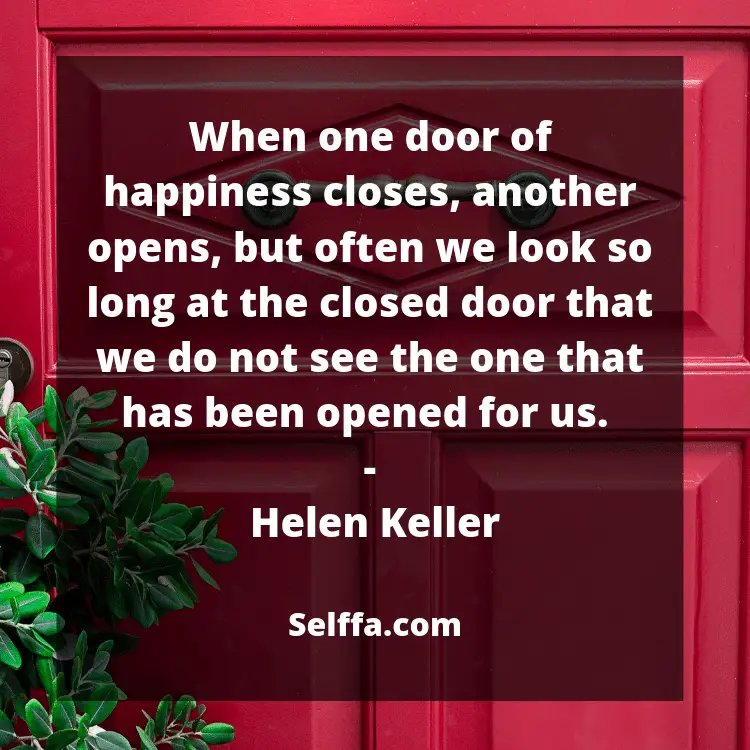 30. Most people do not listen with the intent to understand. They listen with the intent to reply. – Stephen Covey
31. Before you diagnose yourself with depression or low self-esteem, first make sure that you are not, in fact, just surrounded by assholes.-Sigmund Freud
32. Challenges are what make life interesting and overcoming them is what makes life meaningful. – Joshua J. Marine"
33. A mind that is stretched by a new experience can never go back to its old dimensions. – Oliver Wendell Holmes
34. The only way that we can live, is if we grow. The only way we can grow is if we change. The only way we can change is if we learn. The only way we can learn is if we are exposed. And the only way that we are exposed is if we throw ourselves into the open. – C. Joybell
35. Time is too slow for those who wait, too swift for those who fear, too long for those who grieve, too short for those who rejoice, but for those who love, time is eternity. – Henry van Dyke
36. I would rather die a meaningful death than to live a meaningless life. – Corazon Aquino
37. Good things come to those who wait greater things come to those who get off their ass and do anything to make it happen.
38. Forget all the reasons it won't work and believe the one reason that it will.
39. The only way to do great work is to love what you do. If you haven't found it yet, keep looking. Don't settle. – Steve Jobs
40. Reach perfection. – Baltasar Gracián
41. Don't be afraid to fail, be afraid not to try.
42. Nobody ever wrote down a plan to be broke, fat, lazy, or stupid. Those things are what happen when you don't have a plan. – Larry Winget
43. In order to succeed, your desire for success should be greater than your fear of failure. – Bill Cosby
44. Go where you are celebrated – not tolerated. If they can't see the real value of you, it's time for a new start.
45. Rule number 1 of life. Do what makes you happy.
46. Keep going, no matter what.
47. Life is like riding a bicycle. To keep your balance you must keep moving. – Albert Einstein
48. The purpose of life is a life of purpose. – Robert Byrne
49. Work is love made visible. – Kahlil Gibran
50. Never continue in a job you don't enjoy. If you're happy in what you're doing, you'll like yourself, you'll have inner peace. And if you have that, along with physical health, you will have had more success than you could possibly have imagined. – Johnny Carson
51. When spider webs unite, they can tie up a lion. – Ethiopian Proverb
52. Fortune favors the brave. – Publius Terence
53. Many hands make light work. – English Proverb
54. Divide the fire and you will soon put it out. – Greek Proverb
55. Nothing is ever lost by courtesy. It is the cheapest of pleasures, costs nothing, and conveys much. – Erastus Wiman
56. Arguing with a fool proves there are two. – Doris M. Smith
57. Great spirits have always encountered violent opposition from mediocre minds. – Albert Einstein
58. Do not wait to strike until the iron is hot; but make it hot by striking. – William B. Sprague
59. For every sale you miss because you're too enthusiastic, you will miss a hundred because you're not enthusiastic enough. – Zig Ziglar
60. Constant dripping hollows out a stone. – Lucretius
61. If you don't see yourself as a winner, then you cannot perform as a winner. – Zig Ziglar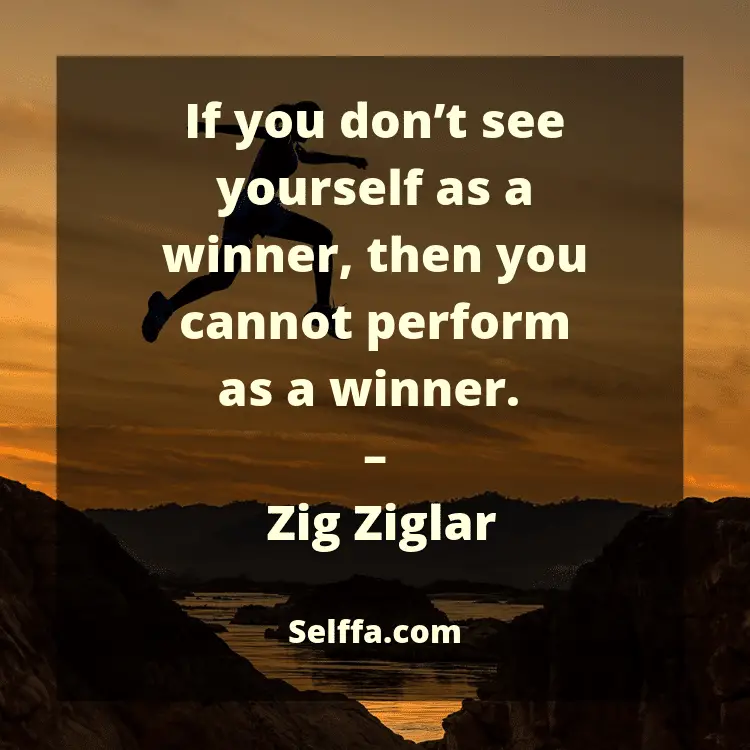 62. Every sale has five basic obstacles: no need, no money, no hurry, no desire, no trust. – Zig Ziglar
63. Timid salesmen have skinny kids. – Zig Ziglar
64. Stop selling. Start helping. – Zig Ziglar
65. Take care of your body. It's the only place you have to live. – Jim Rohn
66. A person who never made a mistake never tried anything new. – Albert Einstein
67. I can't change the direction of the wind, but I can adjust my sails to always reach my destination. – Jimmy Dean
68. Twenty years from now you will be more disappointed by the things that you didn't do than by the ones you did do, so throw off the bowlines, sail away from safe harbor, catch the trade winds in your sails. Explore, dream, discover. – Mark Twain
69. I've missed more than 9000 shots in my career. I've lost almost 300 games. 26 times I've been trusted to take the game winning shot and missed. I've failed over and over and over again in my life. And that is why I succeed. – Michael Jordan
70. A winner is a dreamer who never gives up. – Nelson Mandela
71. Nothing is impossible, the word itself says I'm possible. – Audrey Hepburn
72. No one can make you feel inferior without your consent. – Eleanor Roosevelt
73. Whether you think you can or you think you can't, you're right. – Henry Ford
74. The most common way people give up their power is by thinking they don't have any. – Alice Walker
75. Be thankful for what you have, you'll end up having more. If you concentrate on what you don't have, you will never, ever have enough. – Oprah Winfrey
76. When one door of happiness closes, another opens, but often we look so long at the closed door that we do not see the one that has been opened for us. – Helen Keller
77. Everything you've ever wanted is on the other side of fear. – George Addair
78. Believe in yourself. Have faith in your abilities. Without a humble but reasonable confidence in your own powers you cannot be successful or happy. – Norman Vincent Peale
79. Do not wait, the time will never be just right. Start where you stand, and work with whatever tools you may have at your command, and better tools will be found as you go along. – George Herbert
80. The most difficult thing is the decision to act, the rest is merely tenacity. – Amelia Earhart
81. Press forward. Do not stop, do not linger in your journey, but strive for the mark set before you. – George Whitefield
82. Life is 10% what happens to me and 90% of how I react to it. – Charles Swindoll
83. There will be obstacles. There will be doubters. There will be mistakes. But with hard work, there are no limits. – Michael Phelps
84. You just can't beat the person who never gives up. – Babe Ruth
85. Many of life's failures are people who did not realize how close they were to success when they gave up. – Thomas A. Edison
86. It is during our darkest moments that we must focus to see the light. – Aristotle Onassis
87. With the new day comes new strength and new thoughts. – Eleanor Roosevelt
88. Failure will never overtake me if my determination to succeed is strong enough. – Og Mandino
89. It's not whether you get knocked down, it's whether you get up. – Vince Lombardi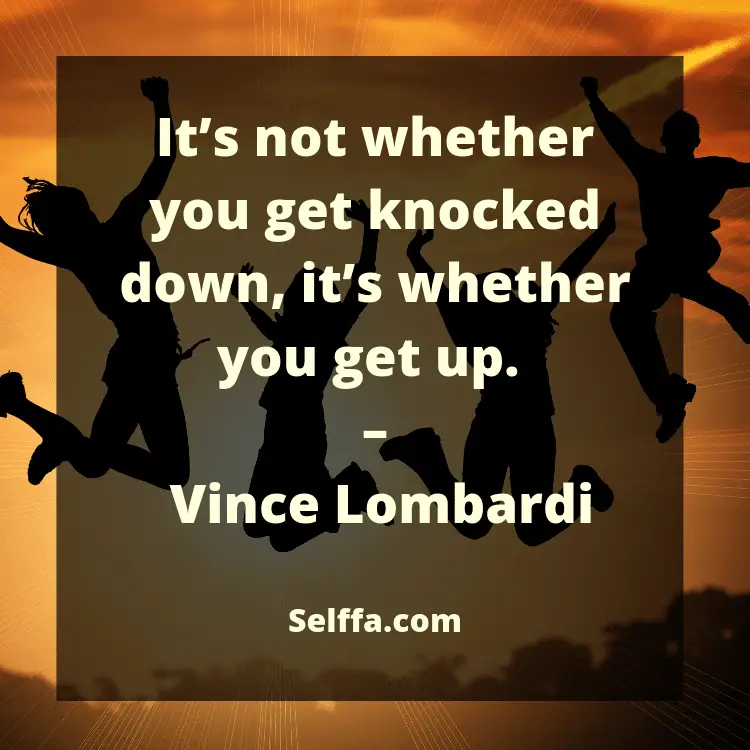 90. The pessimist sees difficulty in every opportunity. The optimist sees opportunity in every difficulty. – Winston Churchill
91. Don't judge each day by the harvest you reap but by the seeds that you plant. – Robert Louis Stevenson
92. If you hear a voice within you say 'you cannot paint,' then by all means paint and that voice will be silenced. – Vincent Van Gogh
93. Remember that not getting what you want is sometimes a wonderful stroke of luck. – Dalai Lama
94. When everything seems to be going against you, remember that the airplane takes off against the wind, not with it. – Henry Ford
95. We may encounter many defeats but we must not be defeated. – Maya Angelou
96. Our greatest glory is not in never falling, but in rising every time we fall. – Confucius
97. All our dreams can come true, if we have the courage to pursue them. – Walt Disney
98. Don't be pushed around by the fears in your mind. Be led by the dreams in your heart. – Roy T. Bennett
99. Always wake up with a smile knowing that today you are going to have fun accomplishing what others are too afraid to do. – Mark Cuban
100. It always seems impossible until it's done. – Nelson Mandela
101. When you know what you want, and want it bad enough, you'll find a way to get it. – Jim Rohn
102. Start by doing what's necessary, then do what's possible, and suddenly you are doing the impossible. – Francis of Assisi
103. You're going to go through tough times that's life. But I say, nothing happens to you, it happens for you.' See the positive in negative events. – Joel Osteen
104. Optimism is the faith that leads to achievement. Nothing can be done without hope and confidence. – Helen Keller
105. Every problem is a gift without problems we would not grow. – Tony Robbins
106. It does not matter how slowly you go as long as you do not stop. – Confucius
107. Without passion, you don't have energy. Without energy, you have nothing. – Warren Buffett
108. You don't have to be great to start, but you have to start to be great. – Zig Ziglar
109. We define ourselves far too often by our past failures. That's not you.  You are this person right now. You're the person who has learned from those failures. – Joe Rogan
110. Success is not final, failure is not fatal, it is the courage to continue that counts. – Winston Churchill
111. Work like there is someone working 24 hours a day to take it all away from you. – Mark Cuban
112. As soon as something stops being fun, I think it's time to move on. Life is too short to be unhappy. Waking up stressed and miserable is not a good way to live. – Richard Branson
113. Everything is either an opportunity to grow or an obstacle to keep you from growing. You get to choose. – Wayne Dyer
115. Hardships often prepare ordinary people for an extraordinary destiny. – C.S. Lewis
116. There is only one thing that makes a dream impossible to achieve: the fear of failure. – Paulo Coelho
117. Most of the important things in the world have been accomplished by people who have kept on trying when there seemed to be no hope at all. – Dale Carnegie
118. If you can tune into your purpose and really align with it, setting goals so that your vision is an expression of that purpose, then life flows much more easily. – Jack Canfield
119. Believe you can and you're halfway there. – Theodore Roosevelt
120. Believe in yourself, take on your challenges, dig deep within yourself to conquer fears. Never let anyone bring you down. You got to keep going. – Chantal Sutherland
121. If you can't, you must. If you must, you can. – Tony Robbins
122. It's not about perfect. It's about effort. And when you bring that effort every single day, that's where transformation happens. That's how change occurs. – Jillian Michaels
123. Success is no accident. It is hard work, perseverance, learning, studying, sacrifice and most of all, love of what you are doing or learning to do. – Pele
124. Whatever the mind can conceive and believe, it can achieve. – Napoleon Hill
125. Don't wish it were easier. Wish you were better. – Jim Rohn
126. When obstacles arise, you change your direction to reach your goal, you do not change your decision to get there. – Zig Ziglar
127. Hard times don't create heroes. It is during the hard times when the hero within us is revealed. – Bob Riley
128. Character cannot be developed in ease and quiet. Only through experience of trial and suffering can the soul be strengthened, ambition inspired, and success achieved. – Helen Keller
129. It takes 20 years to build a reputation and five minutes to ruin it. If you think about that, you'll do things differently. – Warren Buffett
130. If you set goals and go after them with all the determination you can muster, your gifts will take you places that will amaze you. – Les Brown
131. I don't like to gamble. But if there is one thing I'm willing to bet on, it's myself. – Beyoncé
132. It is impossible to live without failing at something, unless you live so cautiously that you might as well not have lived at all in which case, you fail by default. – JK Rowling
133. Do what you feel in your heart to be right for you'll be criticized anyway. – Eleanor Roosevelt
134. A rose can never be a sunflower, and a sunflower can never be a rose. All flowers are beautiful in their own way, and that's like women too. – Miranda Kerr
135. I say, dress to please yourself. Listen to your inner muse and take a chance. Wear something that says, here I am today. – Iris Apfel
136. In order to be irreplaceable, one must always be different. – Coco Chanel
137. The question isn't who's going to let me; it's who is going to stop me. – Ayn Rand
138. If you don't make the time to work on creating the life that you want, you're going to spend a lot of time dealing with a life you don't want. – Kevin Ngo
139. Never compare your beginning to someone else's middle. – Jon Acuff
140. You gain strength, courage, and confidence by every experience in which you really stop to look fear in the face. You must do the thing which you think you cannot do. – Eleanor Roosevelt
141. She woke up every morning with the option of being anyone she wished. How beautiful it was that she always chose herself. – Tyler Kent White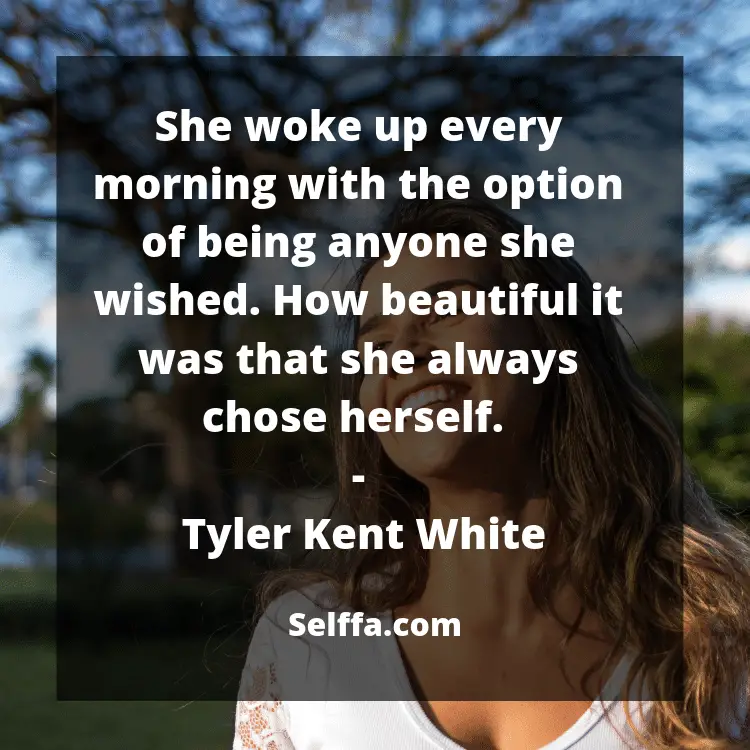 142. You wouldn't worry so much about what others think if you realized how seldom they do. – Eleanor Roosevelt
143. Seek to be worth knowing rather than be well known. – Sandra Turley
144. Sometimes you have to step outside of the person you've been, and remember the person you were meant to be, the person you wanted to be, and the person you are. – One Tree Hill
145. You miss 100 percent of the shots you don't take. – Wayne Gretsky
146. Beauty begins the moment you decide to be yourself. – Coco Chanel
147. Discipline is the bridge between goals and accomplishment. – Jim Rohn
148. The most alluring thing a woman can have is confidence. – Beyoncé
149. I think the sexiest thing on anybody is intelligence. I respect someone who has a brain and wants to use it more than a pretty face and status. – Sophia Bush
150. The woman who does not require validation from anyone is the most feared individual on the planet. – Mohadesa Najumi
151. Every great dream begins with a dreamer. Always remember, you have within you the strength, patience, and the passion to reach for the stars to change the world. – Harriet Tubman
152. Passion is energy. Feel the power that comes from focusing on what excites you. – Oprah Winfrey
153. Don't quit your day dream.
154. You have enemies, good. That means you've stood up for something, sometime in your life. – Winston Churchill
155. Creativity is the way I share my soul with the world. – Brené Brown
156. You can choose courage or you can choose comfort. But you cannot choose both. – Brené Brown
157. Goals are dreams with deadlines. – Diana Scharf
158. If you don't have big dreams and goals, you'll end up working really hard for someone that does.
159. You just do it. You force yourself to get up. You force yourself to put one foot in front of the other, and God dammit, you refuse to let it get to you. You fight. You cry. You curse. Then you go about the business of living. That's how I've done it. There's no other way. – Elizabeth Taylor
160. Set a goal that makes you want to jump out of bed every morning.
161. Everything you want is on the other side of fear. – Jack Canfield
162. The fears we don't face become our limits. – Robin Sharma
163. Owning our story can be hard but not nearly as difficult as spending our lives running from it. Embracing our vulnerabilities is risky but not nearly as dangerous as giving up on love and belonging and joy the experiences that make us the most vulnerable. Only when we are brave enough to explore the darkness will we discover the infinite power of our light. – Brené Brown
164. Be the change you wish to see in the world. – Mahatma Gandhi
165. Whatever you are, be a good one. – Abraham Lincoln
166. To conquer frustration, one must remain intensely focused on the outcome, not the obstacles. – T.F. Hodge
167. No one knows what you have been through or what your pretty little eyes have seen, but I can reassure you whatever you have conquered, it shines through your mind. – Nikki Rowe
168. Why is it when you yield, I feel like the one who has been conquered. – Royce Westmoreland
169. Life throws challenges and every challenge comes with rainbows and lights to conquer it. – Amit Ray
170. I'll affect you slowly as if you were having a picnic in a dream. There will be no ants. It won't rain. – Richard Brautigan
171. This man has conquered the world. What have you done. The philosopher replied without an instant's hesitation, "I have conquered the need to conquer the world. – Steven Pressfield
172. There is a strange comfort in knowing that no matter what happens today, the Sun will rise again tomorrow. – Aaron Lauritsen
173. Never believe for a second that your weak, within all of us we have a reserve of inner hidden strength. – Victoria Addino
174. The struggles we endure today will be the 'good old days' we laugh about tomorrow. – Aaron Lauritsen
175. Man conquers the world by conquering himself. – Zeno of Citium
176. The ego lusts for satisfaction. It has a prideful ferocious appetite for its version of truth. It is the most challenging aspect to conquer, the cause for most spiritual turmoil. – T.F. Hodge
177. Intelligence entails a strong mind, but genius entails a heart of a lion in tune with a strong mind. – Criss Jami
178. When two brothers are busy fighting, an evil man can easily attack and rob their poor mother. Mankind should always stay united, standing shoulder to shoulder so evil can never cheat and divide them. – Suzy Kassem
179. Life's trials will test you, and shape you, but don't let them change who you are. – Aaron Lauritsen
180. The chains that break you, are the chains that make you. And the chains that make you, are the chains you break. – Anthony Liccione
181. It's in those quiet little towns, at the edge of the world, that you will find the salt of the earth people who make you feel right at home. – Aaron Lauritsen
182. Do not hate the player, nor the game rule it. – T.F. Hodge