This goes to all the women in the world. Their laughter is priceless, and their character is admirable. And if you are a woman reading this, continue to be wonderfully you. So for the ladies in our lives, here are 105 women quotes.
Women Quotes
1. The thing women have yet to learn is nobody gives you power. You just take it. – Roseanne Barr
2. You see, women are like fires, like flames. Some women are like candles, bright and friendly. Some are like single sparks, or embers, like fireflies for chasing on summer nights. Some are like campfires, all light and heat for a night and willing to be left after. Some women are like hearthfires, not much to look at but underneath they are all warm red coal that burns a long, long while. – Patrick Rothfuss
3. The truth is, I often like women. I like their unconventionality. I like their completeness. I like their anonymity. – Virginia Woolf
4. Women were different, no doubt about it. Men broke so much more quickly. Grief didn't break women. Instead it wore them down, it hollowed them out very slowly. – Cornelia Funke
5. She was sensible and clever, but eager in everything; her sorrows, her joys, could have no moderation. – Jane Austen
6. Women may be the one group that grows more radical with age. – Gloria Steinem
7. I've always loved strong women, which is lucky for me because once you're over about twenty-five there is no other kind. Women blow my mind. The stuff that routinely gets done to them would make most men curl up and die, but women turn to steel and keep on coming. Any man who claims he's not into strong women is fooling himself mindless; he's into strong women who know how to pout prettily and put on baby voices, and who will end up keeping his balls in her makeup bags. – Tana French
8. I'd much rather be a woman than a man. Women can cry, they can wear cute clothes, and they are the first to be rescued off of sinking ships. – Gilda Radner
9. Women are naturally secretive, and they like to do their own secreting. – Arthur Conan Doyle
10. Tampon commercial, detergent commercial, maxi pad commercial, windex commercial – you'd think all women do is clean and bleed. – Gillian Flynn
11. Did it never strike your mind that what every woman says, some women may feel? – Thomas Hardy
12. Women are never so strong as after their defeat. – Alexandre Dumas
13. A state that does not educate and train women is like a man who only trains his right arm. – Jostein Gaarder
14. There are women who make things better… simply by showing up. There are women who make things happen. There are women who make their way. There are women who make a difference. And women who make us smile. There are women of wit and wisdom who- through strength and courage- make it through. There are women who change the world everyday… Women like you. – Ashley Rice
15. I want to do it because I want to do it. Women must try to do things as men have tried. When they fail, their failure must be but a challenge to others. – Amelia Earhart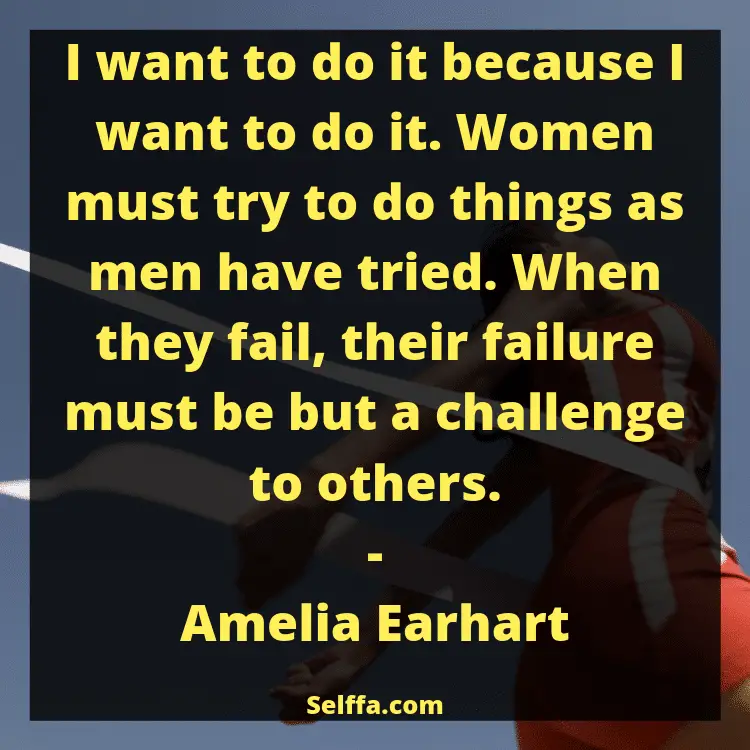 16. Women are always true, even in the midst of their greatest falsities, because they are always influenced by some natural feeling. – Honoré de Balzac
17. Yet what keeps me from dissolving right now into a complete fairy-tale shimmer is this solid truth, a truth which has veritably built my bones over the last few years–I was not rescued by a prince; I was the administrator of my own rescue. – Elizabeth Gilbert
18. There are two powers in the world; one is the sword and the other is the pen. There is a great competition and rivalry between the two. There is a third power stronger than both, that of the women. – Muhammad Ali Jinnah
19. We are women, and my plea is Let me be a woman, holy through and through, asking for nothing but what God wants to give me, receiving with both hands and with all my heart whatever that is. – Elisabeth Elliot
20. Some women are meant to change the world, while others are meant to hold it together. And then there are those of us who simply don't want to be in it, because we know no matter how much we struggle, we can't comfortably fit. – Jodi Picoult
21. Of all the nasty outcomes predicted for women's liberation…none was more alarming than the suggestion that women would eventually become just like men. – Barbara Ehrenreich
22. We're connected, as women. It's like a spiderweb. If one part of that web vibrates, if there's trouble, we all know it, but most of the time we're just too scared, or selfish, or insecure to help. But if we don't help each other, who will? – Sarah Addison Allen
23. Oh, what strange wonderful clocks women are. They nest in Time. They make the flesh that holds fast and binds eternity. They live inside the gift, know power, accept, and need not mention it. Why speak of time when you are Time, and shape the universal moments, as they pass, into warmth and action? How men envy and often hate these warm clocks, these wives, who know they will live forever. – Ray Bradbury
24. She was a free bird one minute: queen of the world and laughing. The next minute she would be in tears like a porcelain angel, about to teeter, fall and break. She never cried because she was afraid that something 'would' happen; she would cry because she feared something that could render the world more beautiful, 'would not' happen. – Roman Payne
25. You see, women have been essential to every great move of God. Yes, Moses led the Israelites out of Egypt, but only after his mother risked her life to save him! Closer to our time, Clara Barton was instrumental in starting the Red Cross. Harriet Beecher Stowe's Uncle Tom's Cabin put fire into people's heart to end slavery in the United States. Rosa Parks kicked the Civil Rights movement into gear with her quiet act of courage. Eunice Kennedy Shriver created the Special Olympics. Mother Teresa inspired the world by bringing love to countless thought unlovable. And millions of other women quietly change the world every day by bringing the love of God to those around them. – Stasi Eldredge
26. Nobody knows much about women, not even Freud, not even women themselves.
But it's like electricity: you don't need to know how it works to get a shock on the fingers. – Carlos Ruiz Zafón
27. Word by word, the language of women so often begins with a whisper. – Terry Tempest Williams
28. Women need to remember that if nature has made them plain, grace can make them beautiful, and if nature has made them beautiful, good deeds can add to their beauty. Grace will make you beautiful and will attract truly godly men to you. Make godliness and inward beauty your priority. – Joshua Harris
29. Women are supposed to be very calm generally: but women feel just as men feel; they need exercise for their faculties, and a field for their efforts as much as their brothers do; they suffer from too rigid a restraint, too absolute a stagnation, precisely as men would suffer, and it is narrow-minded in their more privileged fellow-creatures to say that they ought to confine themselves to making puddings and knitting stockings, to playing on the piano and embroidering bags. It is thoughtless to condemn them, or laugh at them, if they seek to do more or learn more than custom has pronounced necessary for their sex. – Charlotte Bronte
30. Some leaders are born women. – Geraldine Ferraro
31. Who are your favorite heroines in real life? The women of Afghanistan, Iraq, and Iran who risk their lives and their beauty to defy the foulness of theocracy. Ayaan Hirsi Ali and Azar Nafisi as their ideal feminine model. – Christopher Hitchens
32. I think the best role models for women are people who are fruitfully and confidently themselves, who bring light into the world. – Meryl Streep
33. In the company of women like this— sharp-edged as raw diamonds but with soft hands and hearts, not strong in spite of anything but powerful because of everything— I feel invincible. Every chink and rut and battering wind has made us tough and brave and impossible to strike down. We are mountains— or perhaps temples, with foundations that could outlast time itself. – Mackenzi Lee
34. I never could understand why some writers treat women as helpless. Every woman I know is strong in her own unique way. – Terry Goodkind
35. And in the act of making things, just by living their daily lives, they also make history.
Knitting is clothing made in spare moments, or round the fire, whenever women gathered together… It's something to celebrate-clothes made in love and service, something women have always done. – Anne Bartlett
36. Women are the nourishing power of the Universe. Whoever has deep respect for women of the world, will remain free from diseases. – Amit Ray
37. There are plenty of images of women in science fiction. There are hardly any women. – Joanna Russ
38. What I condemn are our system of values and the men who don't acknowledge how great, difficult, but ultimately beautiful women's share in society is. – Anne Frank
39. Real women don't love the richest guy in the world they love the guy who can make their world the richest. – Jazz Feylynn
40. I think it's important as a women to know who you are and what you deserve. We, ourselves set the boundaries of what we choose to accept.
Instead of complaining about the men who's actions don't fit your own & move on and find one that does. – Nikki Rowe
41. Yes, I'm a feminist, because I see all women as smart, gifted, and tough. – Zaha Hadid
42. In our society, the women who break down barriers are those who ignore limits. – Arnold Schwarzenegger
43. Women are incredible in groups together. Terrifying. Men have nothing on them. – Michael Hutchence
44. I can hear the roar of women's silence. – Thomas Sankara
45. The fastest way to change society is to mobilize the women of the world. – Charles Malik
46. Feminism isn't about making women stronger. Women are already strong. It's about changing the way the world perceives that strength. – G.D. Anderson
47. Little girls with dreams become women with a vision. – Unknown
48. It's always wonderful to get to know women, with the mystery and the joy and the depth. If you can make a woman laugh, you're seeing the most beautiful thing on God's Earth. – Keanu Reeves
49. I want to encourage women to embrace their own uniqueness. Because just like a rose is beautiful, so is a sunflower, so is a peony. I mean, all flowers are beautiful in their own way, and that's like women too. – Miranda Kerr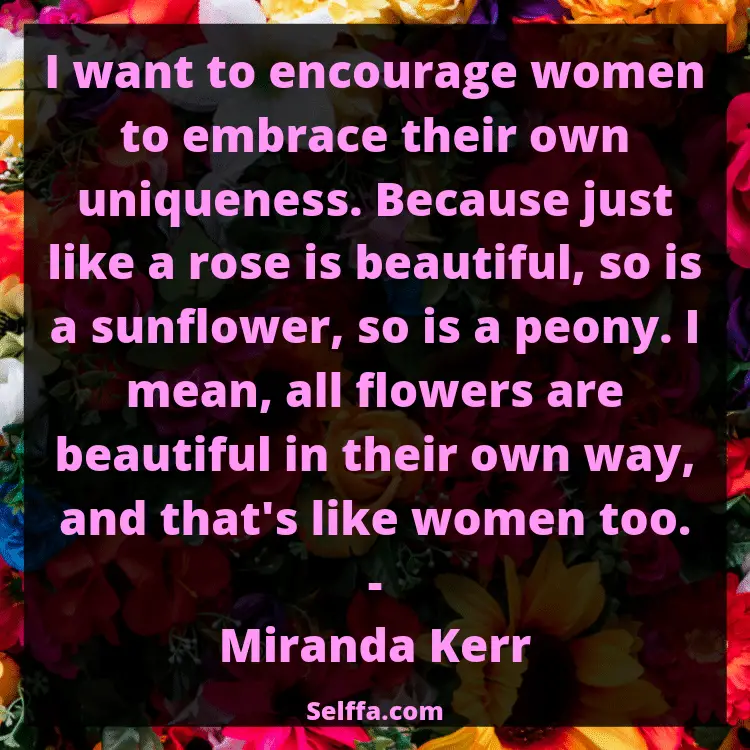 50. As women, we have super powers. We are sisters. We are healers. We are mothers. We are goddess warriors. – Merle Dandridge
51. Being natural is incredibly empowering for women because it's just who you are. You're embracing all the beautiful things about you from your head to your toes. Because when you mask so much of your natural beauty, people don't get to see that. – Rozonda Thomas
52. Any time women come together with a collective intention, it's a powerful thing. Whether it's sitting down making a quilt, in a kitchen preparing a meal, in a club reading the same book, or around the table playing cards, or planning a birthday party, when women come together with a collective intention, magic happens. – Phylicia Rashad
53. Really, every woman is an example to me, because as women we go through so much pain. We have to live this perfect life when we are messed up inside. We all go through trials and tribulations. – Mary J. Blige
54. You know, there's nothing damnable about being a strong woman. The world needs strong women. There are a lot of strong women you do not see who are guiding, helping, mothering strong men. They want to remain unseen. It's kind of nice to be able to play a strong woman who is seen. – Ginger Rogers
55. I want to tell women that you need to love yourself and make yourself a priority. It's only when you are happy yourself, can you make everyone else around you happy. I am still a dreamer and still believe in fairy tales, but there is only that much one should give another person. You need to keep something for yourself. – Bipasha Basu
56. Nowadays, women are looked at as equal to the men when it comes to competing, and I think that's a really cool message to send to little girls and show them that whatever they want to do, they can set their mind to it and make it happen. – Carmella
57. I've always been attracted to women who are assertive and have confidence – qualities older women possess. They've been on the Earth a little longer. They're more seasoned. They don't play games. They know what they want, and they're not afraid to tell you. – Taye Diggs
58. It's not vanity to feel you have a right to be beautiful. Women are taught to feel we're not good enough, that we must live up to someone else's standards. But my aim is to cherish myself as I am. – Elle Macpherson
59. Women are our most miraculous muse, an enchanted intangibility that encourages all art. – CeeLo Green
60. Women are considered deep – why? Because one can never discover any bottom to them. Women are not even shallow. – Friedrich Nietzsche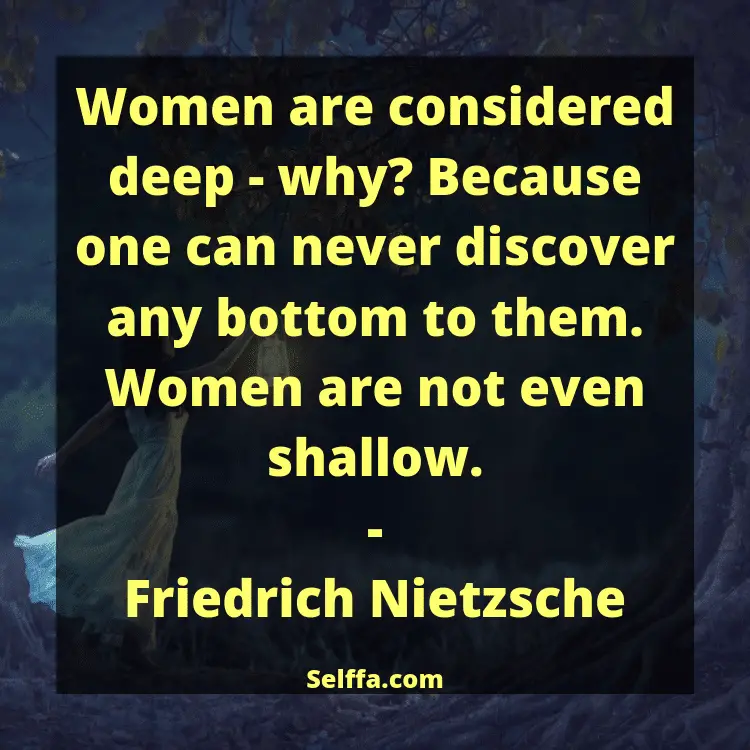 61. I can promise you that women working together – linked, informed and educated – can bring peace and prosperity to this forsaken planet. – Isabel Allende
62. The women that inspire me to be honest are the women that struggle. – Cardi B
63. Women too often say to themselves, 'It's too difficult. I'm not going to get there.' I tell them: 'Listen: do not question your abilities. Dare to do what you want to do and realize that you can do it.' – Isabelle Kocher
64. It's really important that young women be reminded that their involvement matters and that their voice is heard. Even if it feels like it's small, it really can make an impact. – Meghan Markle
65. Because sorry to say, women run the house. They run the family. They hold things up. I mean, it's like you don't ever see your mom get sick because she handles everything. And it's kind of amazing I think to show people just how strong women are. – Sophia Bush
66. My advice to women in general: Even if you're doing a nine-to-five job, treat yourself like a boss. Not arrogant, but be sure of what you want – and don't allow people to run anything for you without your knowledge. – Nicki Minaj
67. I have always been a great believer that women should support women, and my admiration goes out to mothers everywhere, as they constantly put their own needs behind those of their children, embracing daily uncertainties and entering the new uncharted territories that each day brings, to be, in return, rewarded with joy and unending love. – Victoria Beckham
68. I want to convey to women across the globe that they aren't weak. They can fight for themselves and get justice. – Urvashi Rautela
69. Never let anybody get you down. Never give in to people who say nasty things on the Internet. Work to represent women in the best way possible because, even though respect and equality for women has progressed over time, it's still not in the place that it should be. – Harley Quinn Smith
70. There are women who make things better, there are women who change things, there are women who make things happen, who make a difference. I want to be one of those women. – Vera Farmiga
71. Women love always: when earth slips from them, they take refuge in heaven. – George Sand
72. I write for those women who do not speak, for those who do not have a voice because they were so terrified, because we are taught to respect fear more than ourselves. We've been taught that silence would save us, but it won't. – Audre Lorde
73. I really want women to know their power, to value their experience. To understand that nothing has been more wholesome in the political process than the increased involvement of women. – Nancy Pelosi
74. Women are, in my view, natural peacemakers. As givers and nurturers of life, through their focus on human relationships and their engagement with the demanding work of raising children and protecting family life, they develop a deep sense of empathy that cuts through to underlying human realities. – Daisaku Ikeda
75. Women hold up half the sky. – Mao Zedong
76. Whether it's salary or a promotion or a job, I think it's important for women to ask for what they think they deserve. – Susan Wojcicki
77. Women are the key to successful development and ongoing progress. In the workforce, their ingenuity, determination, and hard work help our economies thrive. In the government, they offer valuable perspective that can inform policy and remove barriers. – Tedros Adhanom
78. We have to work harder to develop a profound theology of women within the church. The feminine genius is needed wherever we make important decisions. – Pope Francis
79. You've gotta do things that make you happy. As women, we tend to give away a lot. We take care of a lot of people, and we can't forget to take care of ourselves. – Jennifer Lopez
80. We are volcanoes. When we women offer our experience as our truth, as human truth, all the maps change. There are new mountains. – Ursula K. Le Guin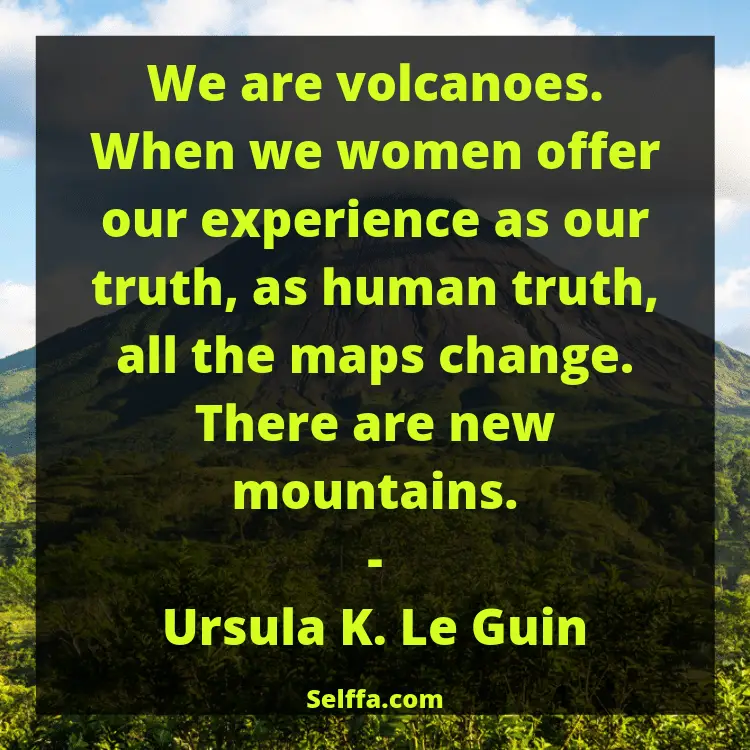 81. When our world is telling girls and women who they should be or what they should look like, it is critical that we empower those girls and young women to be confident with who they are. – Hilary Knight
82. Too often, women are waiting for someone to recognise their great work and tap them on the shoulder and say, 'Here – this is the next thing we want you to do,' and that may happen. But I feel you need to take more ownership of telling your story, advocating for yourself. You can do it in a way that's positive and that your leaders will appreciate. – Lynne Doughtie
83. Honestly, at the end of the day, what I want women to know is that beauty comes in all shapes and sizes. And that it should not define who you are. – Ashley Graham
84. I demanded more rights for women because I know what women had to put up with. – Evita Peron
85. The education of women is the best way to save the environment. – E. O. Wilson
86. Women have been called queens for a long time, but the kingdom given them isn't worth ruling. – Louisa May Alcott
87. I do not wish women to have power over men; but over themselves. – Mary Shelley
88. Women hold up more than half the sky and represent much of the world's unrealized potential. They are the educators. They raise the children. They hold families together and increasingly drive economies. They are natural leaders. We need their full engagement… in government, business and civil society. – Ban Ki-moon
89. That's all I could ever hope for, to have a positive effect on women. 'Cos women are powerful, powerful beings. But they're also the most doubtful beings. They'll never know – we'll never know – how powerful we are. – Rihanna
90. I guess at the end of the day, all women like to be appreciated and treated with respect and kindness. – Sofia Vergara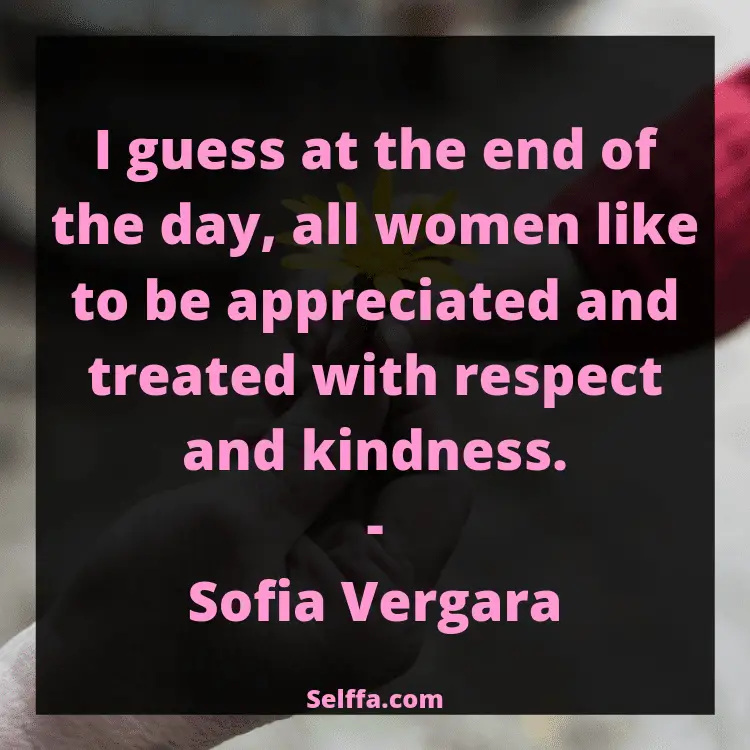 91. After women, flowers are the most lovely thing God has given the world. – Christian Dior
92. Above all, be the heroine of your life, not the victim. – Nora Ephron
93. In the same way, the women are to be worthy of respect, not malicious talkers but temperate and trustworthy in everything. – 1 Timothy 3:11
94. We need women at all levels, including the top, to change the dynamic, reshape the conversation, to make sure women's voices are heard and heeded, not overlooked and ignored. – Sheryl Sandberg
95. Women have to harness their power—it's absolutely true. It's just learning not to take the first no. And if you can't go straight ahead, you go around the corner. – Cher
96. As women, we have to start appreciating our own worth and each other's worth. Seek out strong women to befriend, to align yourself with, to learn from, to collaborate with, to be inspired by, to support, and enlightened by. – Madonna
97. With each generation, women's ability to live the lives they choose reaches a place their grandmothers never thought possible. But that doesn't mean everything is perfect or that our work is finished. – Cathy McMorris Rodgers
98. Man may have discovered fire, but women discovered how to play with it. – Candace Bushnell
99. Women are like tricks by sleight of hand,
Which, to admire, we should not understand. – William Congreve
100. The affected modesty of most women is a decoy for the generous, the delicate, and unsuspecting; while the artful, the bold, and unfeeling either see or break through its slender disguises. – William Hazlitt
101. Let men be men — and let women be women — Women competing with men- does not help us — We have better things to do — like being mothers. – Pamela Anderson
102. Women are not just waiting to be filled up with resources-they're waiting to put their resources on the table to be able to lead towards a different world. – Kavita Ramdya
103. It is important for women to do something about what they see. – Roma Tearne
104. She carried a thousand lights inside her heart, and a thousand lights carried her. – Vatsal Surti
105. At the end when you cut to the bone,we're all essentially the same; we are women of great expectations. – Inji Amr