To all the strong women around the world fighting for equality and women rights, we present you this long list of women empowerment quotes from all the unapologetic and courageous authors today and in the past. Wherever you are right now, may these quotes uplift you and inspire you to be the best version of yourself no matter what.
Women Empowerment Quotes
1. Women, like men, should try to do the impossible. And when they fail, their failure should be a challenge to others. – Amelia Earhart
2. A woman must not accept, she must challenge. She must not be awed by that which has been built up around her, she must reverence that woman in her which struggles for expression. – Margaret Sanger
3. There is no tool for development more effective than the empowerment of women. – Kofi Annan
4. Women's empowerment is intertwined with respect for human rights. – Mahnaz Afkhami
5. Educate a man and you educate an individual. Educate a woman and you educate a family. – A.Cripps
6. The empowered woman is powerful beyond measure and beautiful beyond description. – Steve Maraboli
7. If women understood and exercised their power they could remake the world. – Emily Taft Douglas
8. When women participate in the economy, everyone benefits. – Hillary Clinton
9. If you want something said, ask a man, if you want something done, ask a woman. – Margaret Thatcher
10. A woman is like a tea bag you never know how strong she is until she gets in hot water. – Eleanor Roosevelt
11. If women are expected to do the same work as men, we must teach them the same things. – Plato
12. I think women are foolish to pretend they are equal to men, they are far superior and always have been. – William Golding
13. I do not wish women to have power over men, but over themselves. – Mary Wollstonecraft
14. Women are the largest untapped reservoir of talent in the world. – Hillary Clinton
15. Whether women are better than men I cannot say but I can say they are certainly no worse. – Golda Meir
16. Women are leaders everywhere you look from the CEO who runs a Fortune 500 company to the housewife who raises her children and heads her household. Our country was built by strong women, and we will continue to break down walls and defy stereotypes. – Nancy Pelosi
17. Women have served all these centuries as looking-glasses possessing the magic and delicious power of reflecting the figure of a man at twice its natural size. – Virginia Woolf
18. Women have always been the strong ones of the world. The men are always seeking from women a little pillow to put their heads down on. They are always longing for the mother who held them as infants. – Coco Chanel
19. I hope the fathers and mothers of little girls will look at them and say yes, women can. – Dilma Roussete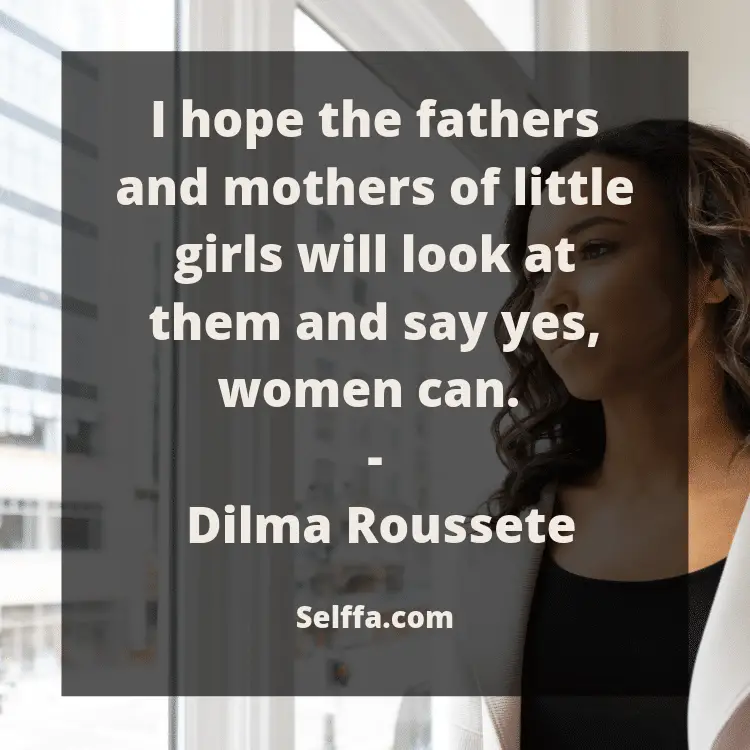 20. The education and empowerment of women throughout the world cannot fail to result in a more caring, tolerant, just and peaceful life for all. – Aung San Suu Kyi
21. Women are not the problem. They're the solution. – Sheryl Wudunn
22. Women sleep on the right side of the bed because even while sleeping they have to be right.
23. Men, their rights, and nothing more, women, their rights, and nothing less. – Susan B. Anthony
24. Don't just stand for the success of other women insist on it. – Gail Blanke
25. Gender equality will only be reached if we are able to empower women. – Michelle Bachelet
26. The higher the better. It's more about an attitude. High heels empower women in a way. – Christian Louboutin
27. To all the little girls who are watching, never doubt that you are valuable and powerful and deserving of every chance and opportunity in the world to pursue and achieve your own dreams. – Hillary Clinton
28. I raise up my voice not so I can shout, but so that those without a voice can be heard we cannot succeed when half of us are held back. – Malala Yousafzai
29. If you want something said, ask a man, if you want something done, ask a woman. – Margaret Thatcher
30. I'm tough, I'm ambitious, and I know exactly what I want. If that makes me a bitch, okay. – Madonna
31. It took me quite a long time to develop a voice, and now that I have it, I am not going to be silent. – Madeleine Albright
32. Of course, I am not worried about intimidating men. The type of man who will be intimidated by me is exactly the type of man I have no interest in. – Chimamanda Ngozi Adichie
33. Feminism isn't about making women strong. Women are already strong. It's about changing the way the world perceives that strength. – G.D. Anderson
34. Women are always saying, we can do anything that men can do' but men should be saying, we can do anything that women can do. – Gloria Steinem
35. I love to see a young girl go out and grab the world by the lapels. Life's a bitch. You've got to go out and kick ass. – Maya Angelou
36. I am a woman phenomenally. Phenomenal woman, that's me. – Maya Angelou
37. Women belong in all places where decisions are being made. It shouldn't be that women are the exception. – Ruth Bader Ginsburg
38. You don't have to be pretty. You don't owe prettiness to anyone. Not to your boyfriend, spouse, partner, not to your co-workers, especially not to random men on the street. You don't owe it to your mother, you don't owe it to your children, you don't owe it to civilization in general. Prettiness is not a rent you pay for occupying a space marked female. – Erin McKean
39. A feminist is anyone who recognizes the equality and full humanity of women and men. – Gloria Steinem
40. There's something so special about a woman who dominates in a man's world. It takes a certain grace, strength, intelligence, fearlessness, and the nerve to never take no for an answer. – Rihanna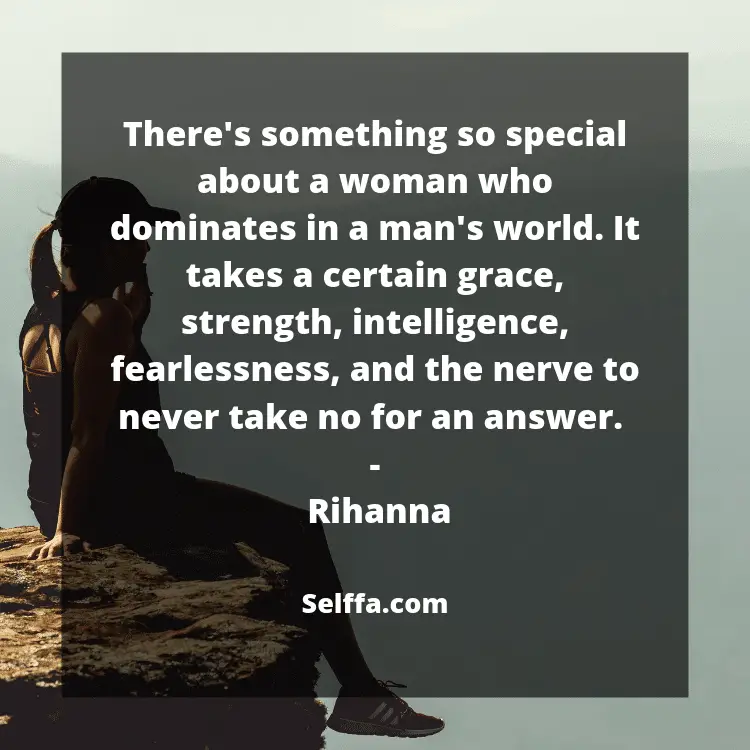 41. There is no limit to what we, as women, can accomplish. – Michelle Obama
42. When a man gives his opinion, he's a man. When a woman gives her opinion, she's a bitch. – Bette Davis
43. I always wanted to be a femme fatale. Even when I was a young girl, I never really wanted to be a girl. I wanted to be a woman. – Diane von Furstenberg
44. I am not free while any woman is unfree, even when her shackles are very different from my own. – Audre Lorde
45. When there are no ceilings, the sky's the limit. So let's keep going  let's keep going until every one of the 161 million women and girls across America has the opportunity she deserves to have. – Hillary Clinton
46. Feminism is for everybody. – Bell Hooks
47. The more I have spoken about feminism, the more I have realized that fighting for women's rights has too often become synonymous with man-hating. If there is one thing I know for certain, it is that this has to stop. – Emma Watson
48. Words have power. TV has power. My pen has power. – Shonda Rhimes
49. Whether I am meant to or not, I challenge assumptions about women. I do make some people uncomfortable, which I'm well aware of, but that's just part of coming to grips with what I believe is still one of the most important pieces of unfinished business in human history empowering women to be able to stand up for themselves. – Hillary Clinton
50. We need to reshape our own perception of how we view ourselves. We have to step up as women and take the lead. – Beyoncé
51. A woman is like a tea bagyou never know how strong she is until she gets in hot water. – Eleanor Roosevelt
52. I think the best role models for women are people who are fruitfully and confidently themselves, who bring light into the world. – Meryl Streep
53. No woman should be told she can't make decisions about her own body. When women's rights are under attack, we fight back. – Kamala Harris
54. Women will be hidden no more. We will not remain hidden figures. We have names. It was woman that gave you Dr. Martin Luther King, Jr. It was woman that gave you Malcolm X. And according to the Bible, it was a woman that gave you Jesus. Don't you ever forget it. – Janelle Monáe
55. I am a woman with thoughts and questions and shit to say. I say if I'm beautiful. I say if I'm strong. You will not determine my story I will. – Amy Schumer
56. For I conclude that the enemy is not lipstick, but guilt itself, we deserve lipstick, if we want it, and free speech, we deserve to be sexual and serious  or whatever we please. We are entitled to wear cowboy boots to our own revolution. – Naomi Wolf
57. Women are the real architects of society. – Harriet Beecher Stowe
58. In the future, there will be no female leaders. There will just be leaders. – Sheryl Sandberg
59. Human rights are women's rights and women's rights are human rights, once and for all. – Hillary Clinton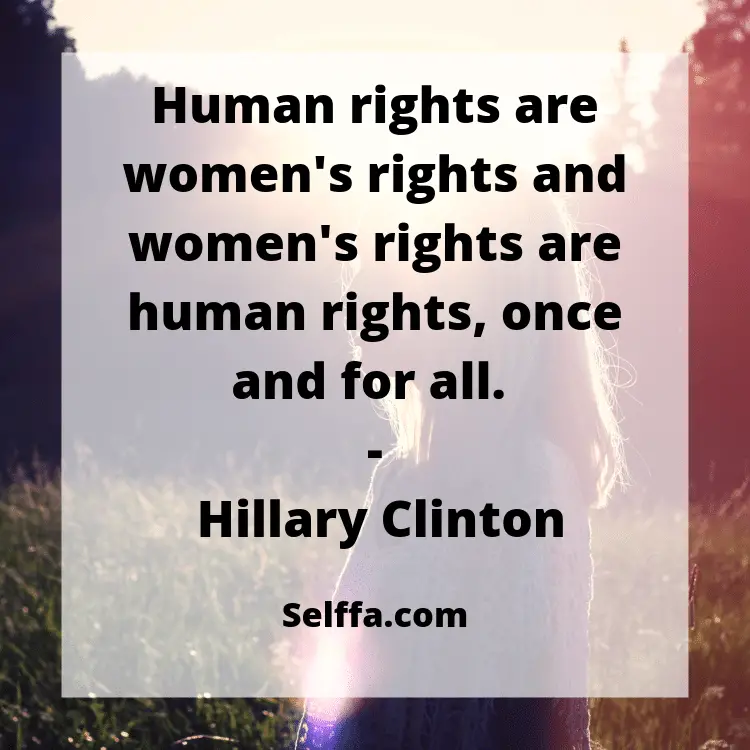 60. I never dreamed about success. I worked for it. – Estée Lauder
61. Drama is very important in life. You have to come on with a bang. You never want to go out with a whimper. – Julia Child
62. We need women at all levels, including the top, to change the dynamic, reshape the conversation, to make sure women's voices are heard and heeded, not overlooked and ignored. – Sheryl Sandberg
63. Fearlessness is like a muscle. I know from my own life that the more I exercise it the more natural it becomes to not let my fears run me. – Arianna Huffington
64. I always did something I was a little not ready to do. I think that's how you grow. When there's that moment of wow, I'm not really sure I can do this, and you push through those moments, that's when you have a breakthrough. – Marissa Mayer
65. No one ever became a success without taking chances. One must be able to recognize the moment and seize it without delay. – Estée Lauder
66. Find something you're passionate about and keep tremendously interested in it. – Julia Child
67. Think like a queen. A queen is not afraid to fail. Failure is another stepping stone to greatness. – Oprah Winfrey
68. Good girls go to heaven, bad girls go everywhere. – Mae West
69. If you're one of those people who has that little voice in the back of her mind saying, 'Maybe I could do, don't tell it to be quiet. Give it a little room to grow, and try to find an environment it can grow in. – Reese Witherspoon
70. The thing women have yet to learn is nobody gives you power. You just take it. – Roseanne Barr
71. Just because you are blind, and unable to see my beauty doesn't mean it does not exist. – Margaret Cho
72. I've interviewed and portrayed people who've withstood some of the ugliest things life can throw at you, but the one quality all of them seem to share is an ability to maintain hope for a brighter morning, even during our darkest nights. – Oprah Winfrey
73. I found that ultimately if you truly pour your heart into what you believe in even if it makes you vulnerable amazing things can and will happen. – Emma Watson
74. If you want to run for Prime Minister, you can. If you don't, that's wonderful, too. Shave your armpits, don't shave them, wear flats one day, heels the next. These things are so irrelevant and surface to what it is all really about, and I wish people wouldn't get caught up in that. We want to empower women to do exactly what they want, to be true to themselves, to have the opportunities to develop. Women should feel free. – Emma Watson
75. The way I see it, if you want the rainbow, you gotta put up with the rain. – Dolly Parton
76. In life, there is no real safety except for self-belief. – Madonna
77. Never be ashamed of what you feel. You have the right to feel any emotion that you want, and to do what makes you happy. That's my life motto. – Demi Lovato
78. I'm learning how to drown out the constant noise that is such an inseparable part of my life. I don't have to prove anything to anyone. I only have to follow my heart and concentrate on what I want to say to the world. I run my world. – Beyoncé
79. And one day she discovered that she was fierce and strong, and full of fire and that not even she could hold herself back because her passion burned brighter than her fears. – Mark Anthony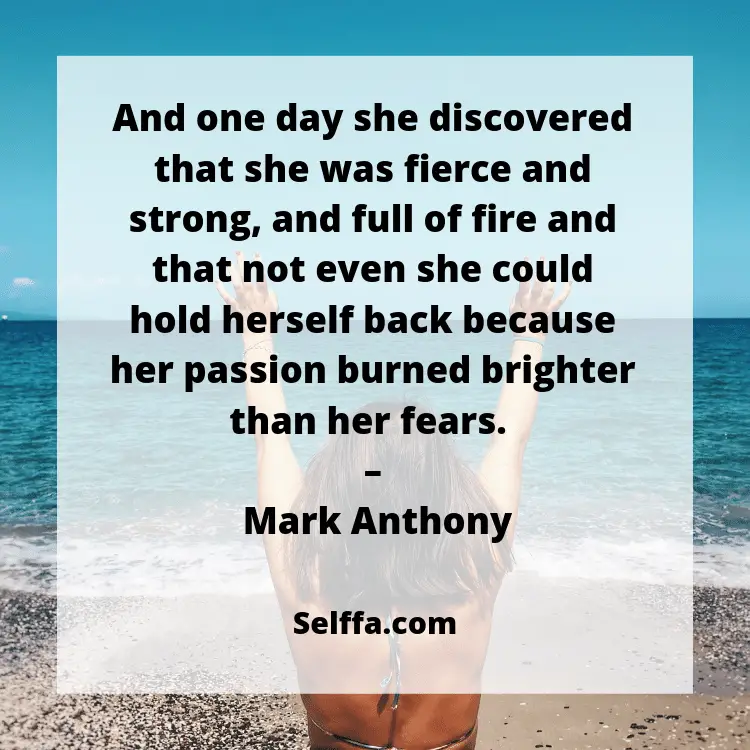 80. The world needs strong women. Women who will lift and build others, who will love and be loved. Women who live bravely, both tender and fierce. Women of indomitable will. – Amy Tenney
81. Beautiful people are not always good but good people are always beautiful. – Imam Ali
82. Imperfections are beauty, madness is genius, and it's better to be absolutely ridiculous than absolutely boring. – Marilyn Monroe
83. I am too intelligent, too demanding, and too resourceful for anyone to be able to take charge of me entirely. No one knows me or loves me completely. I have only myself. – Simone de Beauvoir
84. Be a first rate version of yourself, not a second rate version of someone else. – Judy Garland
85. No one can make you feel inferior without your consent. – Eleanor Roosevelt
86. We cannot all succeed when half of us are held back. We call upon our sisters around the world to be brave to embrace the strength within themselves and realize their full potential. – Malala Yousafzai
87. If you are always trying to be normal, you'll never know how amazing you can be. – Maya Angelou
88. Words can be worrisome, people complex, motives and manners unclear, grant her the wisdom to choose her path right, free from unkindness and fear. – Neil Gaiman
89. Courage, sacrifice, determination, commitment, toughness, heart, talent, guts. That's what little girls are made of, the heck with sugar and spice. – Bethany Hamilton
90. Be that strong girl that everyone knew would make it through the worst, be that fearless girl, the one who would dare to do anything, be that independent girl who didn't need a man, be that girl who never backed down. – Taylor Swift
91. I believe in being strong when everything seems to be going wrong. I believe that happy girls are the prettiest girls. I believe that tomorrow is another day, and I believe in miracles. – Audrey Hepburn
92. We need women who are so strong they can be gentle, so educated they can be humble, so fierce they can be compassionate, so passionate they can be rational, and so disciplined they can be free. – Kavita Ramdas
93. Each time a woman stands up for herself, without knowing it possibly, without claiming it, she stands up for all women. – Maya Angelou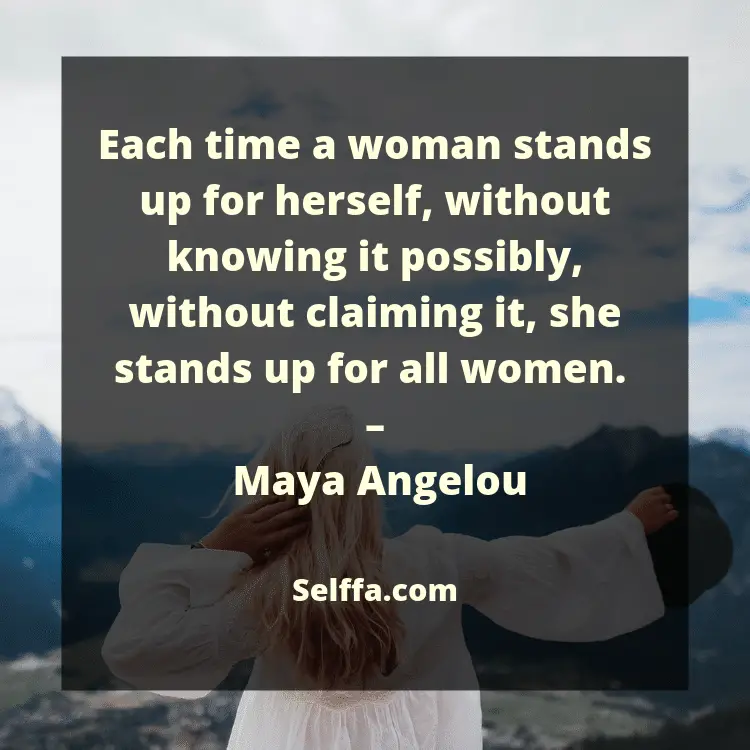 94. One of the lessons that I grew up with was to always stay true to yourself and never let what somebody else says distract you from your goals. – Michelle Obama
95. You get in life what you have the courage to ask for. – Oprah Winfrey
96. I've got two daughters who will have to make their way in this skinny-obsessed world, and it worries me because I don't want them to be empty-headed, self-obsessed, emaciated clones, I'd rather they were independent, interesting, idealistic, kind, opinionated, original, funny a thousand things, before thin. – J.K. Rowling
97. I stand for honesty, equality, kindness, compassion, treating people the way you want to be treated, and helping those in need. To me, those are traditional values. – Ellen DeGeneres
98. I didn't get there by wishing for it or hoping for it, but by working for it. – Estée Lauder
99. Every woman's success should be an inspiration to another. We're strongest when we cheer each other on. – Serena Williams
100. How wrong is it for a woman to expect the man to build the world she wants, rather than to create it herself. – Anaïs Nin
101. The most courageous act is still to think for yourself. Aloud. – Coco Chanel
102. The most common way people give up their power is by thinking they don't have any. – Alice Walker
103. You can waste your lives drawing lines. Or you can live your life crossing them. – Shonda Rhimes
104. It is so liberating to really know what I want, what truly makes me happy, what I will not tolerate. I have learned that it is no one else's job to take care of me but me. – Beyoncé
105. I can't think of any better representation of beauty than someone who is unafraid to be herself. – Emma Stone
106. Women don't need to find a voice, they have a voice, and they need to feel empowered to use it, and people need to be encouraged to listen. – Meghan Markle
107. Caring for myself is not self-indulgence, it is self-preservation, and that is an act of political warfare. – Audre Lorde
108. I believe the rights of women and girls is the unfinished business of the 21st century. – Hillary Clinton
109. We need to live in a culture that values and respects and looks up to and idolizes women as much as men. – Emma Watson
110. Do not live someone else's life and someone else's idea of what womanhood is. Womanhood is you. – Viola Davis
111. A woman is like a tea bag you can't tell how strong she is until you put her in hot water. – Eleanor Roosevelt
112. If we understood the power of our thoughts, we would guard them more closely. If we understood the awesome power of our words, we would prefer silence to almost anything negative. In our thoughts and words, we create our own weaknesses and our own strengths. Our limitations and joys begin in our hearts. We can always replace negative with positive. – Betty Eadie
113. My coach said I run like a girl. And I said if he ran a little faster, he could too. – Mia Hamm
114. Whatever the problem, be part of the solution. Don't just sit around raising questions and pointing out obstacles. – Tina Fey
115. I know what I want, I have a goal, an opinion. Let me be myself and then I am satisfied. I know that I'm a woman, a woman with inward strength and plenty of courage. – Anne Frank
116. I hate to hear you talk about women as if they were fine ladies instead of rational creatures. None of us want to be in calm water all our lives. – Jane Austen
117. Above all, be the heroine of your life, not the victim. – Nora Ephron
118. Love who you are, embrace who you are. Love yourself. When you love yourself, people can kind of pick up on that, they can see confidence, they can see self-esteem, and naturally, people gravitate towards you. – Lilly Singh
119. I never want to be called the funniest Indian female comedian that exists. I feel like I can go head-to-head with the best white male comedy writers that are out there. Why would I want to self-categorize myself into a smaller group than I'm able to compete in. – Mindy Kaling
120. A woman is a full circle. Within her is the power to create, nurture and transform. – Diane Mariechild
121. Courage is like a muscle. We strengthen it by use. – Ruth Gordon
122. You educate a man, you educate a man. You educate a woman, you educate a generation. – Brigham Young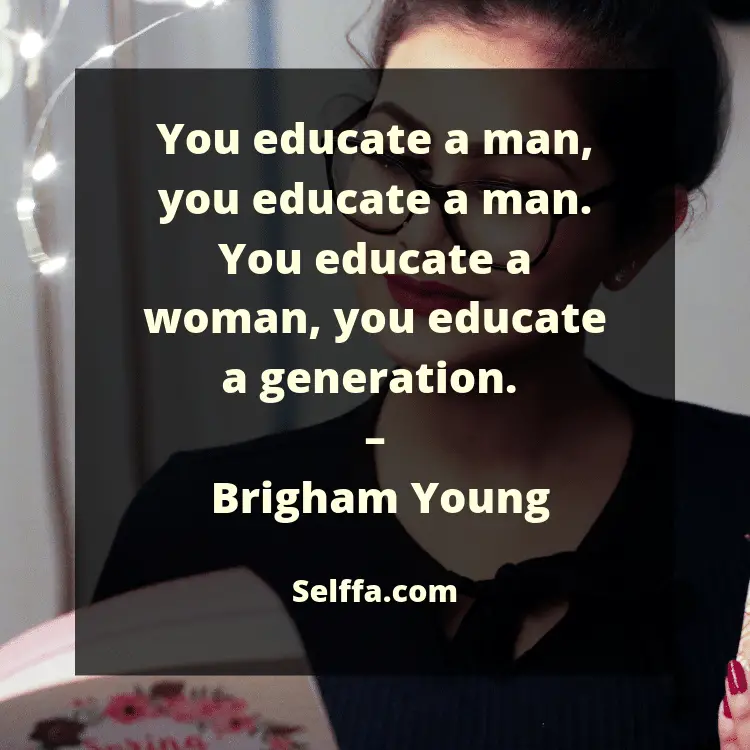 123. Feminism is not a dirty word. It does not mean you hate men. It does not mean you hate girls that have nice legs and a tan, and it does not mean you are a bitch or a dyke, it means you believe in equality. – Kate Nash
124. We need to encourage girls that their voice matters. I think there are hundreds and thousands of Malalas out there. – Malala Yousafzai
125. Though we have the courage to raise our daughters more like our sons, we've rarely had the courage to raise our sons like our daughters. – Gloria Steinem 
126. Feminism is hated because women are hated. Anti-feminism is a direct expression of misogyny, it is the political defense of women hating. – Andrea Dworkin
127. Feminism is about giving women choice. Feminism is not a stick with which to beat other women with. – Emma Watson 
128. You may not control all the events that happen to you, but you can decide not to be reduced by them. – Maya Angelou 
129. Unlikeable women accept the consequences of their choices, and those consequences become stories worth reading. – Rozane Gay 
130. There is a special place in hell for women who don't help other women. – Madeleine Albright 
131. My idea of feminism is self-determination, and it's very open-ended every woman has the right to become herself, and do whatever she needs to do. – Ani DiFranco 
132. Women, we endure those cuts in so many ways that we don't even notice we're cut. We are living with small tiny cuts, and we are bleeding every single day. And we're still getting up. – Michelle Obama 
133. A huge part of being a feminist is giving other women the freedom to make choices you might not necessarily make yourself. – Lena Dunham 
134. Feminism is not just about women, it's about letting all people lead fuller lives. – Jane Fonda
135. Feminism isn't a cloak that I put on in the morning and take off at certain times. It's who I am. I look at the world through eyes that are very alert to gender injustice, and I always will. – Chimanda Ngozi Adichie 
136. I myself have never been able to find out precisely what feminisn is, only know that people call me a feminist whenever I express sentiments that distinguish me from a doormat. – Rebecca West 
137. There's just as many different kinds of feminism as there are women in the world. – Kathleen Hanna
138. Feminism is not dead, by no means. It has evolved. If you don't like the term, change it for goddess sake. Call it Aphrodite, or Venus, or bimbo, or whatever you want, the name doesn't matter, as long as we understand what it is about, and we support it. – Isabel Allende 
139. More than ever, I am aware of the need to support and celebrate each other. I like to believe I am part of a global support group network of 3.4 billion. Imagine, if you can fall back on the 3.5 billion sisters, and the many good men who are with us, what could we possibly not achieve. – Nicole Kidman
140. They tried to bury us, they did not know we were the seeds. – Mexican Proverb