If we don't reflect about ourselves, then who else would? Know that it is perfectly fine to take a step back to focus on yourself through self-reflection. Be sure to take your time to process and think deeply about all your concerns from within, and may you find comfort with these 124 self-reflection quotes.
Self-Reflection Quotes
1. Self-reflection is the gateway to freedom. – Dzigar Kongtrul Rinpoche
2. The cosmos is evolving toward greater self-reflection, allowing us to open the eye of Spirit and see our source. – Alex Grey
3. Examining your thoughts is an important part of the practice of self-reflections – Ryuho Okawa
4. People who have had little self-reflection live life in a huge reality blind-spot. – Bryant McGill
5. Let go of rejections and focus on self-reflection. For it is within that you will find the light you seek. – Amy Leigh Mercree
6. You cannot have a meaningful life without having self-reflection. – Oprah Winfrey
7. Honest self-reflection opens your mind to reprogramming, change, success and freedom. – Unknown
8. Self-reflection is an important stage to diagnose, develop and strengthen your creativity. – Pearl Zhu
9. After a disappointment analyze your actions, get feedback from friends, and take inventory of what you could do better next time. This type of self-reflection and improvement will ultimately make success inevitable. – Jillian Michaels
10. Self-reflection entails asking yourself questions about your values, assessing your strengths and failures, thinking about your perceptions and interactions with others, and imagining where you want to take your life in the future. – Robert L. Rosen
11. We picked the dimension according to our self-reflection. – Frederick Lenz
12. Self-reflection is a kind of self-judgment. The difference is just this – the former is positive and the latter is negative. – Balroop Singh
13. Time spent in self-reflection is never wasted – it is an intimate date to yourself. – Paul TP Wong
14. I remind myself that too much self-reflection can make even a toadstool fall into a deep slumber. – Susan Ornbratt
15. Until you take the journey of self-reflection, it is almost impossible to grow or learn in life. – Iyanla Vanzant
16. Self-reflection is a desire felt by the body, as well as the soul. – Susan Griffin
17. Difficulty creates the opportunity for self-reflection and compassion. – Suzan-Lori Parks
18. The same organizational principles which called us forth into self-reflection have called forth self-reflection out of the planet itself. And the problem then is for us to suspect this, act on our suspicion, and be good detectives, and track down the spirit in its lair. And this is what shamans are doing. They are hunters of spirit. – Terence McKenna
19. Self-reflection is the process of bringing your attention to what's happening in your life in a mindful and open-minded way. – Catherine Beard
20. Self-reflection is the school of wisdom. – Baltasar Gracian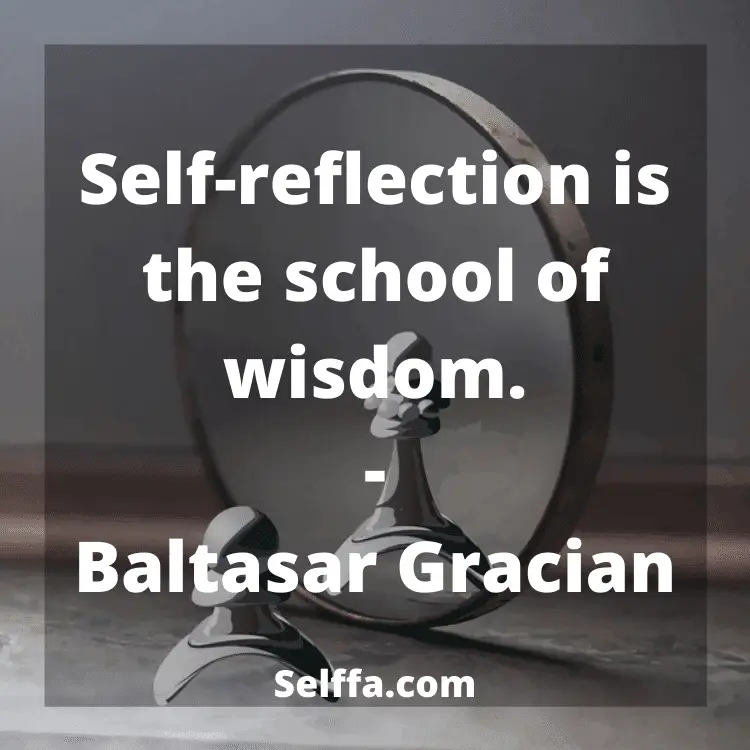 21. Follow effective action with quiet reflection. – Peter Drucker
22. Self-reflection, or – what comes to the same thing – the urge to individuation, gathers together what is scattered and multifarious and exalts it to the original of the One, the Primordial Man. In this way our existence as separate beings, our former ego nature, is abolished, the circle of consciousness is widened, and because the paradoxes have been made conscious, the sources of conflict are dried up. – Carl Jung
23. Less and less is life animated through personal discovery, intimacy with others, or self-reflection. While life has become more manageable for many people, it has become commensurately less engaged. – Kirk J. Schneider
24. No one seriously doubts Socrates' maxim: The unexamined life isn't worth living. Self-assessment and attempts at self-improvement are essential aspects of "the good life." Yes, we should engage in ruthless self-reflection and harsh scrutiny, but we should simultaneously acknowledge that such introspection will, at best, only result in a partial view of our minds at work. Complete objectivity is not an option. – Robert A. Burton
25. I learned capacity for self-reflection very early, finding it through interior monologues that books are so good at and that visual media is so bad at because it's so boring – nothing's happening. In a book, you can be inside the narrator's head for 50 pages, and nothing needs to happen. Then you learn to be inside your own head without something needing to happen. It's a very good antidote to a crazy, restless, "what's next?" culture – that you can just be in your own head and nothing is happening except that this is a rich place. I love that. – Jeanette Winterson
26. We have so committed ourselves in different ways that we have hardly any time for self-reflection, to observe, to study. – Jiddu Krishnamurti
27. You turn inward. There's nothing to distract you, so you begin to look at yourself. – Joseph Frank Bianco
28. When you hit 30, it's that time of self-reflection. Some people are a success. Some people feel like they haven't achieved what they wanted to. Some people are married, some have kids, some are still single. – Hayden Schlossberg
29. Without reflection, we go blindly on our way, creating more unintended consequences, and failing to achieve anything useful. – Margaret J. Wheatley
30. Reflective thinking turns experience into insight. – John. C. Maxwell
31. A moment of self-reflection will indeed awaken the greatness inside of you and inspire confidence and action in your life. – Yvonne I. Wilson
32. Doubt everything or believe everything: these are two equally convenient strategies. With either we dispense with the need for reflection. – Henri Poincare
33. A battle lost or won is easily described, understood, and appreciated, but the moral growth of a great nation requires reflection, as well as observation, to appreciate it. – Frederick Douglas
34. Strength of character lies in performing the drama of life with courage and confidence, practicing self-reflection and self-control under any circumstances. – Senora Roy
35. It is when you lose sight of yourself, that you lose your way. To keep your truth in sight you must keep yourself in sight and the world to you should be a mirror to reflect to you your image; the world should be a mirror that you reflect upon. – C JoyBell C
36. Keep in mind that self-reflection is an intensely personal process. – Courtney E. Ackerman, MSc.
37. Appreciation, affection, focus and intention fill up the space of self-reflection, and one loses oneself in the engagement. And what a relief it is when you get there. – Darrell Calkins
38. Self-reflection is so healthy. Journaling works for me – when I record the details of what I'm going through, whether it's a relationship issue or negative thoughts, I can look back and see how far I've come. It makes me proud to see my progress and how I got through a bad situation. – Kelly Rowland
39. Self-reflection is a powerful improvement tool. Reflection is the ability to think back, observe ourselves in action, and to learn from it. – Dr. Keith E. Webb
40. Taking time for self-reflection about life leads to greater self-awareness which in turn leads to self-improvement. – Tracy Kennedy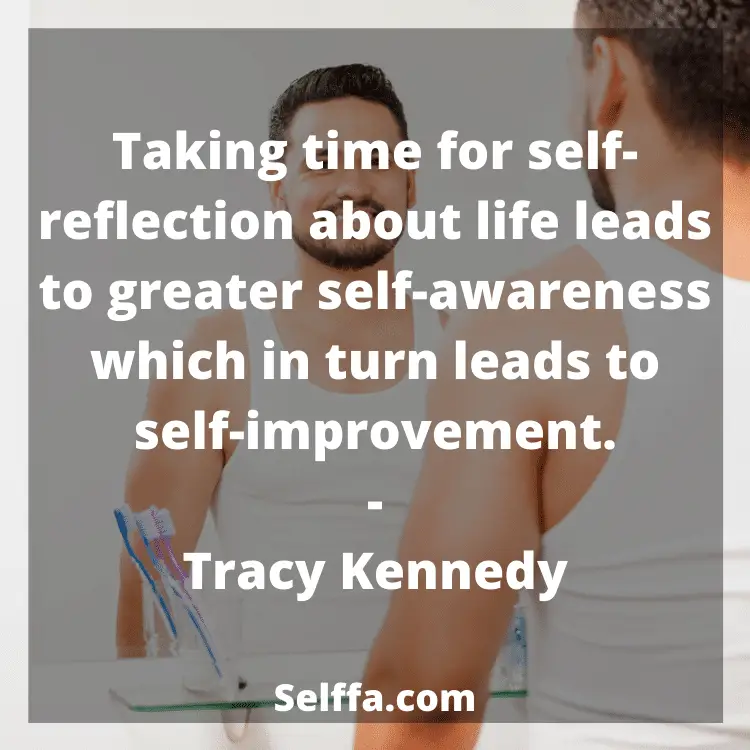 41. Self reflection is like looking into a mirror and describing what you see. It is a way of assessing yourself, your ways of working and how you study. – The Open University
42. Self-reflection is important because it allows a person to learn from his or her own mistakes and past situations. Ideally, it is a structured way to think positively and make better decisions.
43. Self reflection helps to build emotional self-awareness. By taking the time to ask yourself the important questions, you gain a better understanding of your emotions, strengths, weaknesses and driving factors. Once you understand important aspects of the self, you become better able to adapt to changing situations and tough circumstances. – The Center For The Healing Arts & Sciences
44. Self-reflection helps us to ask ourselves what we really want out of life and what it is that gives us happiness.
45. When taking time to self-reflect you are looking inwards. This helps to build two components to emotional intelligence: self-awareness and self-regulation. – Beth Armknecht Miller
46. Through self-reflection we can learn from our mistakes, release attachments, increase our enlightenment and allow our divine nature to shine brilliantly once again.
47. Self-reflection is a simple way to dig deeper into your feelings and find out why you were doing something or feeling a certain way. – Janelle Cox
48. A man must find time for himself. Time is what we spend our lives with. If we are not careful we find others spending it for us. It is necessary now and then for a man to go away by himself and experience loneliness; to sit on a rock in the forest and to ask of himself, "Who am I, and where have I been, and where am I going?" If one is not careful, one allows diversions to take up one's time – the stuff of life. – Carl Sandburg
49. Self-reflection is an important part of learning. We need to stop and think, "Am I happy being like this? Is what I am doing working? Are people interacting with me in the way I like?" – Naomi Richards
50. The act of self-reflection is an advanced form of mental gymnastics where you analyze yourself: your thoughts and what drives them, your position in life, your aspirations, your wants, your needs, your flaws and fears, your skills and achievements, and so on. – Sinem Günel
51. Personal reflection enables us to process and make meaning of all of the great (and not so great) learning and working experiences we've had. Everyone stands to gain from engaging in some type of reflection. – Victor Yocco
52. Self-reflection is not about looking at ourselves in the mirror. But it is about taking the time in our day for introspection so that the image we see looking back is a better reflection of who we are. – Naomi Boshari
53. This process of self reflection helps us maintain a conscious awareness of where we've been and where we intend to go. It is pertinent to the organization and preservation of our dreams, goals and desires. – Marc Chernoff
54. With self-reflection, you become more aware of your inner voice and all that it's trying to tell you. – Barrie Davenport
55. Another word to describe self-reflection is introspection, which not only implies a self-examination but a willingness to learn about oneself. It's an openness to learn about how one might change in order to experience a healthier and happier lifestyle. – The Lakehouse Recovery Center
56. Self-reflection in this capacity won't only help you keep track of what is going right or wrong, it will also provide you with a deeper understanding of your own thoughts and actions, as well as of your environment. – Alexandra Kimbo
57. These years in silence and reflection made me stronger and reminded me that acceptance has to come from within and that this kind of truth gives me the power to conquer emotions I didn't even know existed. – Ricky Martin
58. Self-reflection is necessary for the creation of the best version of yourself. It is absolutely necessary to find a spare moment in the day to take a pause from life to ground yourself, to remember where you are, what you are doing and why you are doing it, and to insure that you are not too caught up in the world of those around you as opposed to being concerned with your own. – Katrina Gick
59. Realize that your world is only a reflection of yourself and stop finding fault with the reflection. Attend to yourself, set yourself right; mentally and emotionally. The physical self will follow automatically. – Sri Nisargadatta Maharaj
60. Taking care of yourself doesn't mean me first, it means me too. – L.R. Knost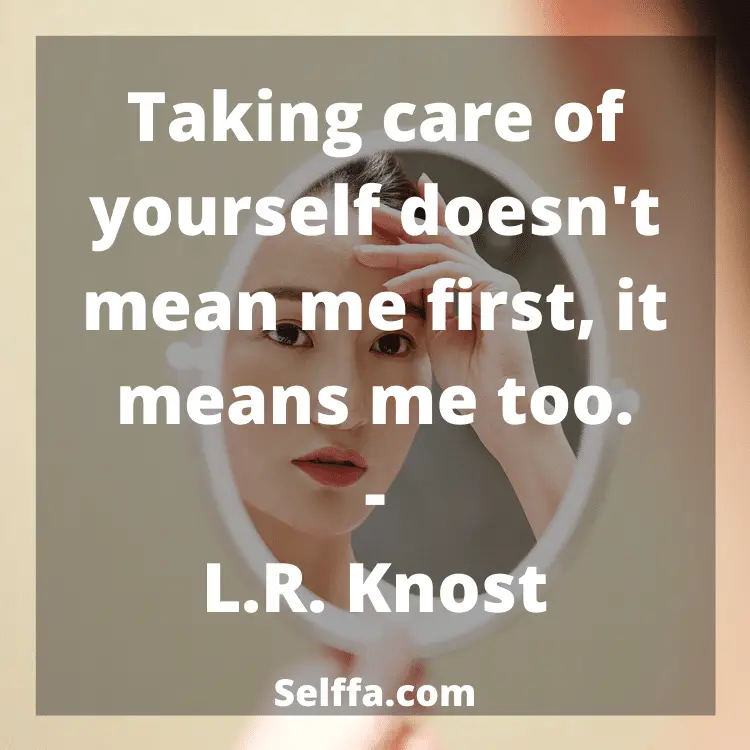 61. Even if you think you're doing well and have it all figured out, there is a voice you will always inevitably hear at some point which nags at you and says "but wait…" Don't ever dismiss it, listen to what it has to say. Life will never be close enough to perfect, and listening to that voice means stepping outside of yourself and considering your own wrongdoings and flaws. – Ashly Lorenzana
62. Self-transformation commences with a period of self-questioning. Questions lead to more questions, bewilderment leads to new discoveries, and growing personal awareness leads to transformation in how a person lives. Purposeful modification of the self only commences with revising our mind's internal functions. Revamped internal functions eventually alter how we view our external environment. – Kilroy J. Oldster
63. What distinguishes normal people is that we share a metaphorical dagger; the concerns of our self – reflection. With this dagger, we cut ourselves and bleed; and the job of our chains of self – reflection is to give us the feeling that we are bleeding together, that we are sharing something wonderful; our humanity. But if we were to examine it, we would discover that we are bleeding alone; that we are not sharing anything; that all we are doing is toying with our manageable, unreal, man-made reflection. Sorcerers are no longer in the world of daily affairs, because they are no longer prey to their self – reflection. – Carlos Castaneda
64. Look outside and you will see yourself. Look inside and you will find yourself. – Drew Gerald
65. Through self-reflection, people come to realize that their lives are filled with uncertainty about their own identities, their relationships with others, and their environmental circumstances. Because living involves adaptation to irregular changes and perturbations from the environment, the process of self-reflection reveals the indefinite nature of life. – Todd Kashdan
66. See what's in front of you as a reflection of yourself. This is not narcissisme. It's called self-reflection – Ana Claudia Antunes
67. If you find yourself trapped inside a dimming world, remember it was always this dark inside the body. Where the heart, like any law, stops only for the living.
If you find yourself, then congratulations, your hands are yours to keep. – Ocean Vuong
68. Self-reflection is a much kinder teacher than regret is. Prioritize yourself by making a habit of it. – Andrena Sawyer
69. To separate yourself from your weakness and look at it objectively is a very powerful thing. – Russell Simmons
70. By gazing inward the true reflection of the self is revealed. – Miranda J. Barrett
71. We are chained by our own control. Life is nothing more than finding the key that unlocks every part of our soul. – Shannon L. Alder
72. Knowledge of the self is the mother of all knowledge. So it is incumbent on me to know myself, to know it completely. – Kahlil Gibran
73. It is always our own self that we find at the end of the journey. The sooner we face that self, the better. – Ella Maillart
74. Remind yourself that you cannot fail at being yourself. – Wayne Dyer
75. Knowing yourself is the beginning of all wisdom. – Aristotle
76. The soul usually knows what to do to heal itself. The challenge is to silence the mind. – Caroline Myss
77. Your greatest self has been waiting your whole life; don't make it wait any longer. – Dr. Steve Maraboli
78. The deepest secret is that life is not a process of discovery, but a process of creation. You are not discovering yourself but creating yourself anew. Seek, therefore, not to find out who you are, seek to determine what you want to be. – Neal Donald Walsch
79. Before I ask you to sit with me, I must be able to sit with myself. Before I ask you to accept my pain, I have to accept the pain myself. Before I ask you to love me, I have to be madly in love with myself. – C. Thoth
80. During self-reflection, the realization came that revolution begins within. – Amanda Mosher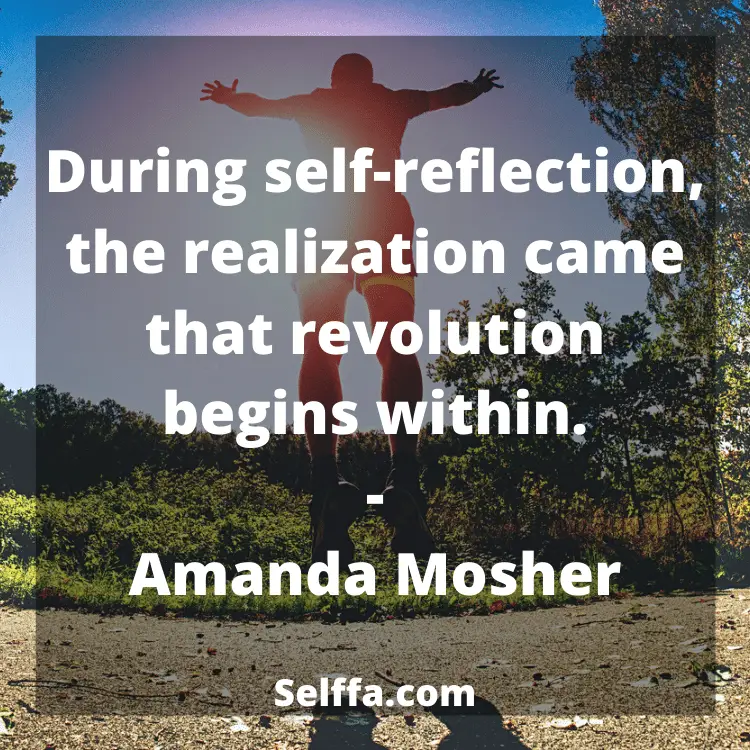 81. The key to happiness is really progress and growth and constantly working on yourself and developing something. – Lewis Howes
82. The real man smiles in trouble, gathers strength from distress, and grows brave by reflection. – Thomas Paine
83. Reflect upon your present blessings — of which every man has many — not on your past misfortunes, of which all men have some. – Charles Dickens
84. If I speak of myself in different ways, that is because I look at myself in different ways. – Michel de Montaigne
85. No, thank you,' he will think. 'Instead of possibilities, I have realities in my past, not only the reality of work done and of love loved, but of sufferings bravely suffered. These sufferings are even the things of which I am most proud, although these are things which cannot inspire envy. – Viktor E. Frankl
86. Sometimes, you have to look back in order to understand the things that lie ahead. – Yvonne Woon
87. Today I choose life. Every morning when I wake up I can choose joy, happiness, negativity, pain… To feel the freedom that comes from being able to continue to make mistakes and choices – today I choose to feel life, not to deny my humanity but embrace it. – Kevyn Aucoin
88. As water reflects the face, so one's life reflects the heart. – Proverb
89. Self-reflection is a humbling process. It's essential to find out why you think, say, and do certain things – then better yourself. – Sonya Teclai
90. Whenever you find yourself on the side of the majority, it's time to pause and reflect. – Mark Twain
91. Living in a way that reflects ones values is not just about what you do, it is also about how you do things. – Deborah Day
92. The beauty you see in me is a reflection of you. – Rumi
93. Your soul needs time for solitude and self-reflection. In order to love, lead, heal, and create, you must nourish yourself first. – Louise Hay
94. Self-reflection is necessary to dig beneath our own layers and visit the inner crevices of our heart and mind to develop an understanding of life.
95. What we perceive about ourselves is greatly a reflection of how we will end up living our lives. – Stephen Richards
96. The world is a looking glass and gives back to every man the reflection of his own face. – William Makepeace Thackeray
97. One of the greatest tragedies in life is to lose your own sense of self and accept the version of you that is expected by everyone else. – K.L. Toth
98. The promises of this world are, for the most part, vain phantoms; and to confide in one's self, and become something of worth and value is the best and safest course. – Michel Angelo
99. It is great to be introspective, self-analysis can be useful, but only if it results in action. – Joe Sacco
100. Self-reflection is only useful when followed by thoughtful action. – Dan Rockwell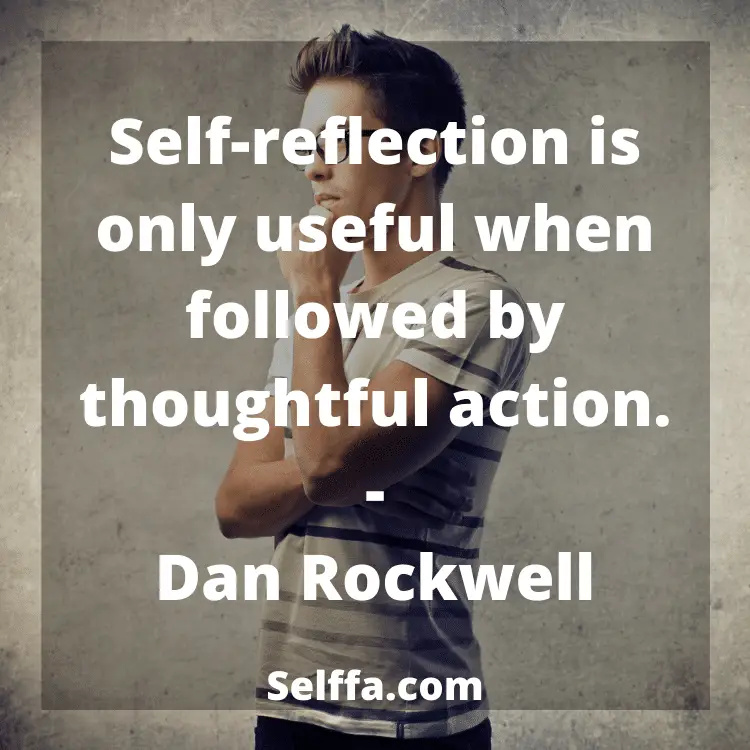 101. Everyone and everything that shows up in our life is a reflection of something that is happening inside of us. – Alan Cohen
102. Reflection is the lamp of the heart. If it departs, the heart will have no light. – Abdullah ibn Alawi al-Haddad
103. We do not learn from experience… we learn from reflecting on experience. – John Dewey
104. To achieve happiness I advocate four major principles, the principles of love, wisdom, self-reflection, and progress. – Ryuho Okawa
105. The journey into self-love and self-acceptance must begin with self-examination. … until you take the journey of self-reflection, it is almost impossible to grow or learn in life. – Iyanla Vanzant
106. When the mind is still, the beauty of the self is seen reflected in it. – B.K.S Iyengar
107. Failure is all a matter of perspective. Think of all the people you admire. I guarantee you they all failed at one time or another. The key is to recognize setbacks for what they really are-entry points for learning, not validation that you aren't good enough. After a disappointment analyze your actions, get feedback from friends, and take inventory of what you could do better next time. This type of self-reflection and improvement will ultimately make success inevitable. – Jillian Michaels
108. Two things fill the heart with renewed and increasing awe and reverence the more often and the more steadily that they are meditated on: the starry skies above me and the moral law inside me. – Immanuel Kant
109. Your outer world is a reflection of your inner world. – T. Harv Eker
110. Engaging in meditative self-reflection and gaining increased control of inner experiences provides a person with a sense of control over fear and trembling and the chaos of life. – Kilroy J. Oldster
111. Make sure the outside of you is a good reflection of the inside of you. – Jim Rohn
112. You are a mirror of yourself in others. Whatever you want, give. Be the best reflection of yourself. – Karen A. Baquiran
113. Everyone thinks of changing the world, but no one thinks of changing himself. – Leo Tolstoy
114. The unexamined life is not worth living. – Socrates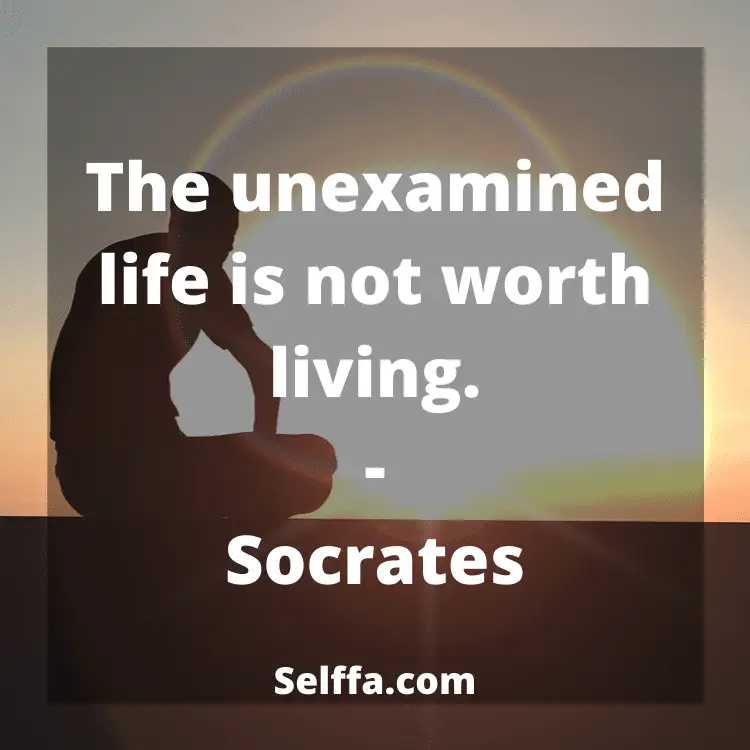 115. Did you ever wonder if the person in the puddle is real, and you're just a reflection of him? – Bill Watterson
116. Everything that happens to us is a reflection of who we are. – Deepak Chopra
117. Emotions are there to enjoy life; but they are not used in self-reflection because they inhibit a proper reflection. They gunk us up. – Frederick Lenz
118. The purpose of our spiritual journey is not to replace the darkness with light, rather it's to integrate and honor all the parts of ourselves… all of life's energies. – Deb Blum
119. There is no greater journey than the one that you must take to discover all of the mysteries that lie within you. – Michelle Sandlin
120. Know thyself means this, that you get acquainted with what you know, and what you can do. – Menander
121. Information is just simply bootstrapping itself to higher and higher levels of self-reflection and self-coordination using whatever means are necessary. – Terence McKenna
122. As the sculptor devotes himself to wood and stone, I would devote myself to my soul. – Toyohiko Kagawa
123. In learning to know other things, and other minds, we become more intimately acquainted with ourselves, and are to ourselves better worth knowing. – Philip Gilbert Hamilton
124. Make it thy business to know thyself, which is the most difficult lesson in the world. – Miguel de Cervantes