Not very many of us understand the importance of self-care simply because we're too busy doing so many things every day. We no longer have time to even think about ourselves. Working on achieving your goals is important but so is self-care. It may be hard to take care of yourself when you're so used to moving around and making things happen all day, but we're still human, we still have limitations. These self-care quotes we compiled are meant to energize and inspire you to always think about your physical, emotional, and spiritual health at all times.
Self-Care Quotes
1. Allow yourself to enjoy each happy moment in your life. – Steve Maraboli
2. And now that you don't have to be perfect, you can be good. – John Steinbeck
3. Lighten up on yourself. No one is perfect. Gently accept your humanness. – Deborah Day
4. No more martyring myself. – Sharon E. Rainey
5. Of all the judgments we pass in life, none is more important than the judgment we pass on ourselves. – Nathaniel Branden
6. Self-care is how you take your power back. – Lalah Delia
7. Take time to do what makes your soul happy.
8. The only person who can pull me down is myself, and I'm not going to let myself pull me down anymore. – C. JoyBell C.
9. Time you enjoy wasting is not wasted time.
10. When we self-regulate well, we are better able to control the trajectory of our emotional lives and resulting actions based on our values and sense of purpose. – Amy Leigh Mercree
11. When you recover or discover something that nourishes your soul and brings joy, care enough about yourself to make room for it in your life. – Jean Shinoda Bolen
12. When the well's dry, we know the worth of water. – Benjamin Franklin
13. Those who think they have no time for bodily exercise will sooner or later have to find time for illness. – Edward Stanley
14. It's good to do uncomfortable things. It's weight training for life. – Anne LaMott
15. An empty lantern provides no light. Self-care is the fuel that allows your light to shine brightly.
16. Everybody is different, and every body is different. – Beverly Diehl
17. How do you define 'taking care of yourself'? Create a new self-care practice today. Observe your comfort level when it comes to being good to yourself. Discomfort is a wise teacher. – Caroline Myss and Peter Occhiogrosso
18. Your breathing is your greatest friend. Return to it in all your troubles and you will find comfort and guidance.
19. Almost everything will work again if you unplug it for a few minutes, including you. – Anne Lamott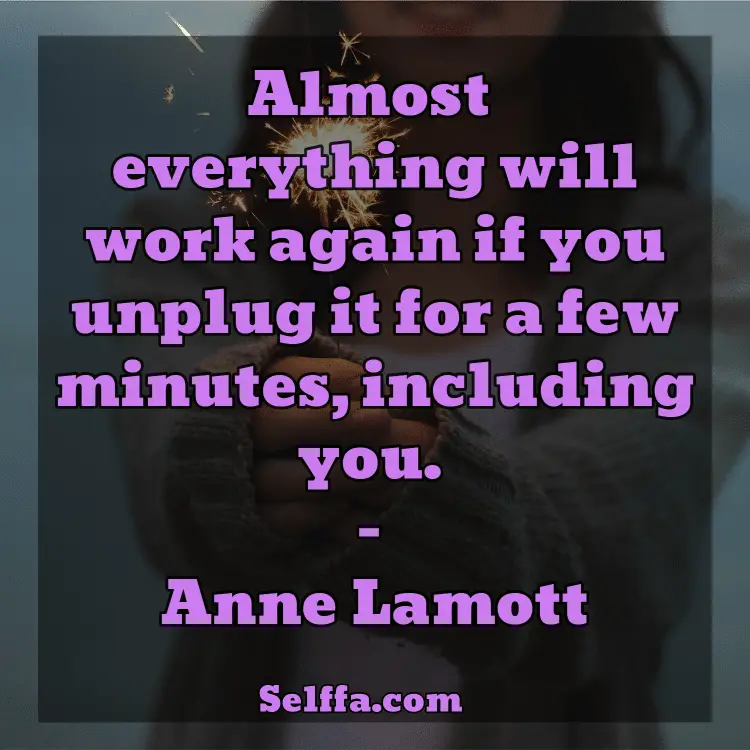 20. Sometimes the most important thing in a whole day is the rest we take between two deep breaths. – Etty Hillesum
21. Nourishing yourself in a way that helps you blossom in the direction you want to go is attainable, and you are worth the effort. – Deborah Day
22. Self-compassion is simply giving the same kindness to ourselves that we would give to others. – Christopher Germer
23. Learning to love yourself is like learning to walk—essential, life-changing, and the only way to stand tall. – Vironika Tugaleva
24. When you are compassionate with yourself, you trust in your soul, which you let guide your life. Your soul knows the geography of your destiny better than you do. – John O'Donohue
25. If your compassion does not include yourself, it is incomplete. – Jack Kornfield
26. People who love themselves come across as very loving, generous and kind; they express their self-confidence through humility, forgiveness and inclusiveness. – Sanaya Roman
27. Love yourself enough to set boundaries. Your time and energy are precious. You get to choose how you use it. You teach people how to treat you by deciding what you will and won't accept. – Anna Taylor
28. Accept yourself. Love yourself as you are. Your finest work, your best movements, your joy, peace, and healing comes when you love yourself. You give a great gift to the world when you do that. You give others permission to do the same: to love themselves. Revel in self-love. Roll in it. Bask in it as you would sunshine. – Melodie Beattie
29. Knowing how to be solitary is central to the art of loving. When we can be alone, we can be with others without using them as a means of escape. – Bell Hooks
30. You must love yourself before you love another. By accepting yourself and fully being what you are, your simple presence can make others happy.
31. Self-love is asking yourself what you need – every day – and then making sure you receive it.
32. Acknowledge, accept, and honor that you deserve your own deepest compassion and love. – Nanette Mathews
33. There are days I drop words of comfort on myself like falling leaves and remember that it is enough to be taken care of by myself. – Brian Andreas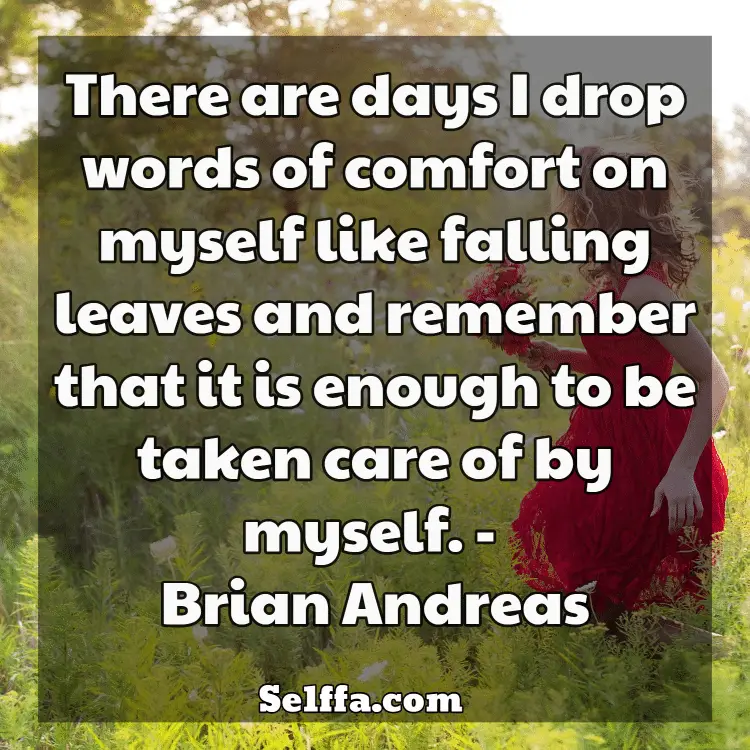 34. The most powerful relationship you will ever have is the relationship with yourself. – Steve Maraboli
35. Whatever you are doing, love yourself for doing it. Whatever you are feeling, love yourself for feeling it. – Thaddeus Golas
36. Learning to treat ourselves lovingly may at first feel like a dangerous experiment. – Sharon Salzberg
37. I have come to believe that caring for myself is not self-indulgent. Caring for myself is an act of survival. – Audre Lorde
38. As you grow older, you will discover that you have two hands, one for helping yourself, the other for helping others. – Maya Angelou
39. It's not selfish to love yourself, take care of yourself, and to make your happiness a priority. It's necessary. – Mandy Hale
40. Be you, love you. All ways, always. – Alexandra Elle
41. To love oneself is the beginning of a lifelong romance. – Oscar Wilde
42. Learning to love yourself is like learning to walk—essential, life-changing, and the only way to stand tall. – Vironika Tugaleva
43. Do something nice for yourself today. Find some quiet, sit in stillness, breathe. Put your problems on pause. You deserve a break. – Akiroq Brost
44. If you look into your own heart, and you find nothing wrong there, what is there to worry about? What is there to fear. – Confucius
45. Self-compassion is simply giving the same kindness to ourselves that we would give to others. – Christopher Germer
46. Knowing how to be solitary is central to the art of loving. When we can be alone, we can be with others without using them as a means of escape. – Bell Hooks
47. If you celebrate your differentness, the world will, too. It believes exactly what you tell it—through the words you use to describe yourself, the actions you take to care for yourself, and the choices you make to express yourself. Tell the world you are one-of-a-kind creation who came here to experience wonder and spread joy. Expect to be accommodated. – Victoria Moran
48. Wildflower; pick up your pretty little head. It will get easier, your dreams are not dead. – Nikki Rowe
49. It's common to reject or punish yourself when you've been rejected by others. When you experience disappointment from the way your family or others treat you, that's the time to take special care of yourself. What are you doing to nurture yourself? What are you doing to protect yourself? Find a healthy way to express your pain. – Christina Enevoldsen
50. Self-care is never a selfish act. It is simply good stewardship of the only gift I have, the gift I was put on earth to offer others. Anytime we can listen to true self and give the care it requires, we do it not only for ourselves, but for the many others whose lives we touch. – Parker Palmer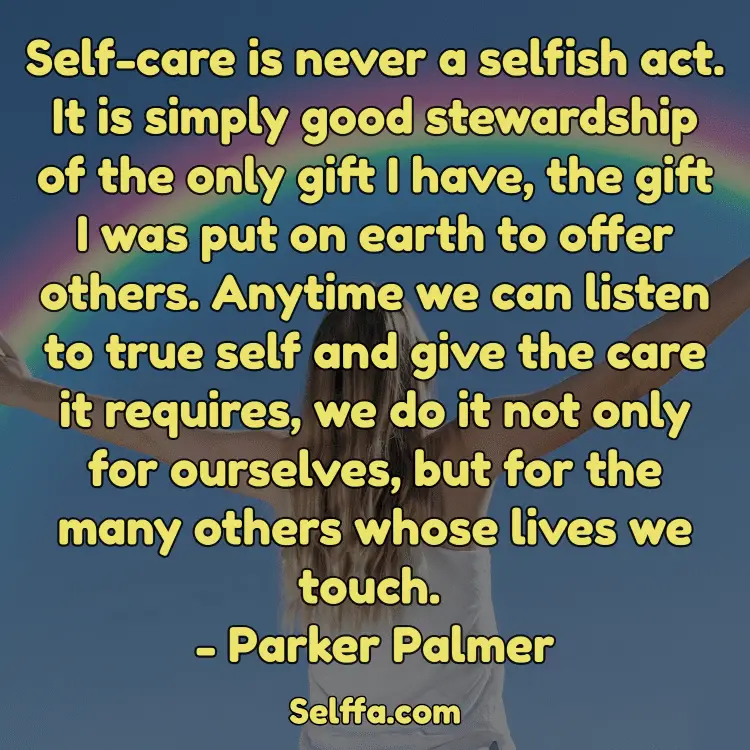 51. Solitude is where I place my chaos to rest and awaken my inner peace. – Nikki Rowe
52. My mother always says people should be able to take care of themselves, even if they're rich and important. – Frances Hodgson Burnett,
53. Affirmations are our mental vitamins, providing the supplementary positive thoughts we need to balance the barrage of negative events and thoughts we experience daily. – Tia Walker
54. Today and onwards, I stand proud, for the bridges I've climbed, for the battles I've won, and for the examples I've set, but most importantly, for the person I have become. I like who I am now, finally, at peace with me. – Heather Jame
55. If you want to live an authentic, meaningful life, you need to master the art of disappointing and upsetting others, hurting feelings, and living with the reality that some people just won't like you. It may not be easy, but it's essential if you want your life to reflect your deepest desires, values, and needs. – Cheryl Richardson
56. Lineage, personality, and environment may shape you, but they do not define your full potential. – Mollie Marti
57. Peace is not always easy to grasp or keep close. In the process of attaining and protecting it, you may find yourself tired, weary, and uncertain on how to keep your peace safe. While being uncertain is normal, continue to commit yourself to peacefulness. You are worthy of every drop of sweetness and ease that you encounter. Being tested is a part of the journey. Giving up, and letting go, is not. – Alex Elle
58. You are here, alive and awake and for whatever reasons you have fought your battles, it's time to start focusing on what strengths pulled you up when the entire world had knocked you down. That's where the virtue in self grows. – Nikki Rowe
59. You can do this, and if you can't do it today, you'll do it tomorrow. You are not a failure. – Alisha Rai
60. The reality is that there are plenty of trustworthy people in the world rebuilding their lives. It was a very gradual process for me to open up and talk about what was really going on in my recovery. The more I started to take risks by talking to others, however, the more I had an opportunity to exercise boundaries. As I asserted new boundaries, I started to gravitate towards people with integrity, warmheartedness and decency. – Christopher Dines
61. Always make decisions that prioritize your inner peace. – Izey Victoria Odiase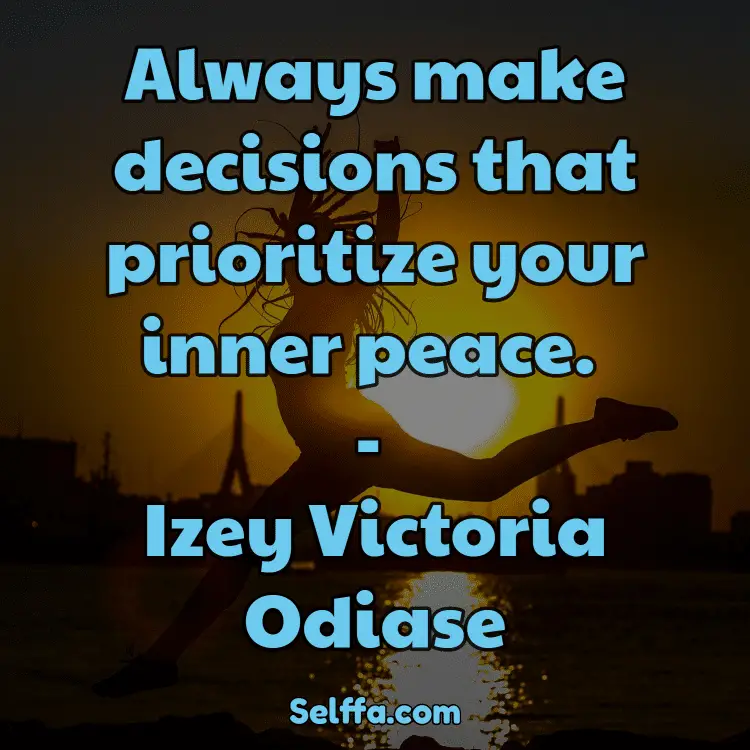 62. People pleasing and putting others first literally diminished my mental, emotional, spiritual and physical well-being. Overwhelmingly, most emotionally wounded people demonstrate this trait. Many of us have been programmed to put others first; to be of service to others before we serve ourselves. – Christopher Dines
63. To truly love ourselves, we must open to our wholeness, rather than clinging to the shivers of ourselves represented by old stories. Living in a story of a limited self – to any degree – is not love. – Sharon Salzberg
64. The value of self-care and self-love is often underestimated. It starts with you. You can't give what you don't have. – Izey Victoria Odiase
65. Harmony begins within. If we are to influence the world around us, even in minor ways, the real work begins inside and emanates outwards. – Gudjon Bergmann
66. While excellence is a wonderful ideal, perfectionism is a dysfunctional belief system. Many people openly admit that they are perfectionists, which is really an unconscious cry for help. Being a perfectionist is really stating that whatever we attempt to do will never be good enough. This is due to a mistaken belief that we are flawed and unlovable. – Christopher Dines
67. If you want to help her, you need to help yourself first. No one serves their friends by grinding themselves into dust on the altar of compassion. – Seanan McGuire
68. When you are recovering from something, don't be in such a hurry to jump back into it full-throttle. Ease up. Hold yourself back a little. Pace yourself. It's OK to do what you can, but there is no need to go crazy with it. Don't let your enthusiasm be the very thing that hurts you! Grace and Ease. – Akiroq Brost
69. Practice self-rescue first before you 'help' someone else. – Maureen Joyce Connolly
70. Be as kind to the person in the mirror as you are to others. – Marilyn Suttle
71. Only you can allow yourself to explore the person in the mirror. Only you can coax yourself into a daring adventure to find your untapped potential. – Vironika Tugaleva
72. You are responsible to yourself, to love yourself, to care for yourself, and to help yourself. – Akiroq Brost
73. What they don't tell you about self-care, that it can make you feel like you are the coach, the captain, & every.other.player. oh, & the mascot. it can make you feel especially like the mascot. – Sabrina Benaim,
74. Emergence emphasizes critical connections over critical mass, building authentic relationships, listening with all the senses of the body and the mind. – Adrienne Marie Brown
75. Don't lose yourself in a man, that'll make you lose your pizzazz indefinitely. Instead, lose yourself in your own sensuality and you'll forever enchant him. – Lebo Grand
76. Rest and self-care are so important. When you take time to replenish your spirit, it allows you to serve others from the overflow. You cannot serve from an empty vessel. – Eleanor Brown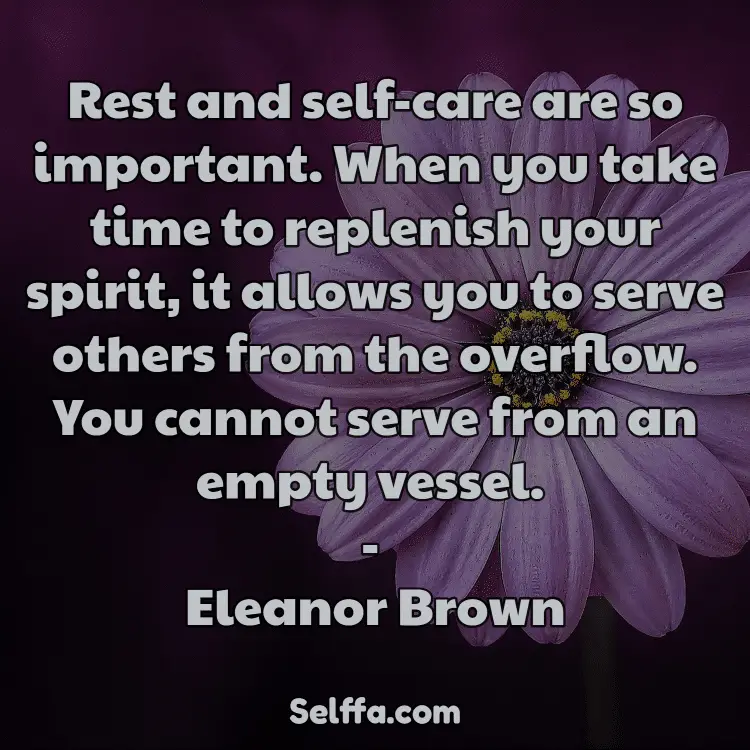 77. When you recover or discover something that nourishes your soul and brings you joy, care enough about yourself to make room for it in your life. – Jean Shinoda Bolen
78. If you get tired, learn to rest, not to quit. – Banksy
79. Document the moments you feel most in love with yourself—what you're wearing, who you're around, what you're doing. Recreate and repeat. – Warsan Shire
80. Continually swimming an endless sea of sensation can at times be exhausting, regardless if it is beautifully terrible or terribly beautiful, and this is why your deep-rooted need for peace and self-care is essential to support your superb sensitivity. – Victoria Erickson
81. There is enough time for self-care. There is not enough time to make up for the life you'll miss by not filling yourself up. – Jennifer Williamson
82. Choose, everyday, to forgive yourself. You are human, flawed, and most of all worthy of love. – Alison Malee
83. Close your eyes and imagine the best version of you possible. That's who you really are, let go of any part of you that doesn't believe it. – C. Assaad
84. With every act of self-care your authentic self gets stronger, and the fearful, critical mind gets weaker. Every act of self-care is a powerful declaration: I am on my side. I am on my side, each day I am more and more on my own side. – Susan Weiss Berry
85. Instead of indulging in 'comfort food,' indulge in comfort meditation, comfort journaling, comfort walking, comfort talking, comfort manicures, comfort reading, comfort yoga, comfort hugging. – Karen Salmansohn
86. The best day of your life is the one on which you decide your life is your own. No apologies or excuses. No one to lean on, rely on, or blame. The gift is yours — it is an amazing journey — and you alone are responsible for the quality of it. This is the day your life really begins. – Bob Moawad
87. It really is ok for there to be times when you stop putting everyone else first, and just do what's best for you. – Tracey Leech
88. By taking care of myself I have so much more to offer the world than I do when I am running on empty. – Ali Washington
89. Unless you fill yourself up first, you have nothing to give anybody. Therefore it is imperative that you tend to your joy first. People are responsible for their own joy. When you tend to your joy and do what makes you feel good, you are a joy to be around and you are a shining example to every child and every person in your life. When you are feeling joy you don't even have to think about giving. It is a natural overflow. – Rhonda Byrne
90. It's not selfish to do what is best for you. – Mark Sutton
91. There are days I drop words of comfort on myself like falling leaves and remember that it is enough to be taken care of by myself. – Brian Andreas
92. Don't ask yourself what the world needs, ask yourself what makes you come alive. And then go and do that. Because what the world needs is people who have come alive. – Howard Washington Thurman
94. Caring for your body, mind, and spirit is your greatest and grandest responsibility. It's about listening to the needs of your soul and then honoring them. – Kristi Ling
94. For me, recovery and self-care are inextricably connected. My recovery from abuse, addiction, and a suicide attempt required dump truck loads of self-care. – Steve Austin
95. The relationship you have with yourself will determine what your relationships with others will be like. – Akiroq Brost
96. When ill health shows up in your body, it is a wake-up call to change your thinking, speaking, feelings or actions. Wellness – think and speak well, feel and do good for others and yourself. Wellness is created from being well within. – Hazel Butterworth
97. I'd rather discover my sensuality before I find love because it is through understanding my own sensuality that I can be able to love someone else with the same authenticity, passion and depth as I love myself. – Lebo Grand
98. Emergency notices the way small actions and connections create complex systems, patterns that become ecosystems and societies. Emergence is our inheritance as a part of this universe; it is how we change. Emergent strategy is how we intentionally change in ways that grow our capacity to embody the just and liberated worlds we long for. – Adrienne Marie Brown
99. Learn to love yourself sensual deep. – Lebo Grand
100. Be kinder to yourself. And then let your kindness flood the world. – Pema Chodron
101. Taking care of myself doesn't mean 'me first.' It means 'me, too. – L.R. Knost
102. I took a step toward her. 'It is my right to reside in my own mind. It is my right,' I said. – Carmen Maria Machado
103. Never take life for granted. Savor every sunrise, because no one is promised tomorrow, or even the rest of today. – Eleanor Brownn
104. We were taught to share at the expense of our own well-being. We came to associate self-care and self-love with selfishness. – Elizabeth Esther
105. Do something every day that is loving toward your body and gives you the opportunity to enjoy the sensations of your body. – Golda Poretsky
106. Don't sacrifice yourself too much, because if you sacrifice too much there's nothing else you can give and nobody will care for you. – Karl Lagerfeld
107. The more you know yourself the more clarity there is. Self-knowledge has no end – you don't come to an achievement, you don't come to a conclusion. It is an endless river.
108. Your time is limited, so don't waste it living someone else's life. Don't be trapped by dogma — which is living with the results of other people's thinking. Don't let the noise of others' opinions drown out your own inner voice. And most importantly, have the courage to follow your heart and intuition. They somehow already know what you truly want to become. Everything else is secondary. – Steve Jobs
109. Let your heart guide you.  It whispers, so listen carefully.
110. When I loved myself enough, I began leaving whatever wasn't healthy. This meant people, jobs, my own beliefs and habits – anything that kept me small.  My judgement called it disloyal. Now I see it as self-loving. – Kim McMilllen
111. I am my own experiment. I am my own work of art. – Madonna
112. Self-compassion is simply giving the same kindness to ourselves that we would give to others. – Christopher Germer
113. Each time a woman stands up for herself, without knowing it possibly, without claiming it, she stands up for all women. – Maya Angelou
114. We all have the tendency to believe self-doubt and self-criticism, but listening to this voice never gets us closer to our goals. Instead, try on the point of view of a mentor or good friend who believes in you, wants the best for your, and will encourage you when you feel discouraged. – Kelly McGonigal
115. And now that you don't have to be perfect, you can be good. – John Steinbeck
116. I sometimes sit on my roof. Not to be closer to God. To be further from y'all. – Darnell Lamont Walker
117. Your time is way too valuable to be wasting on people that can't accept who you are. – Turcois Ominek
118. You are not broken. You are not a problem to be solved. Solving your "problem", whatever you perceive your problem or problems to be, is not the key to happiness. – Golda Poretsky
119. If you don't love yourself, you won't be happy with yourself. If you can't love yourself, you can't love anyone else. You can't give the love you do not have. You can't make anyone love you without loving yourself first. – Kemi Sogunle
120. Looking back you realize that a very special person passed briefly through your life and that person was you. It is not too late to become that person again. – Robert Brault
121. It took many years of vomiting up all the filth I'd been taught about myself, and half-believed, before I was able to walk on the earth as though I had a right to be here. – James Baldwin
122. We can't be so desperate for love that we forget where we can always find it; within. – Alexandra Elle
123. What is a Wanderess? Bound by no boundaries, contained by no countries, tamed by no time, she is the force of nature's course. – Roman Payne