All the work accomplished in the present will bear fruit to a joyful and fulfilling future. Therefore, may you have no regrets when you retire by giving your all today. And may you enjoy the well-deserved peaceful years earned through your hard work with these 25 retirement poems.
Retirement Poems
1. On Retirement
Retirement?
Retire man, so what!
'Tis just a natural thing
That many tend to do.
'Tis not the end;
'Tis a beginning, dear friend;
'Tis a Godsend;
And He will fend.
So, keep your calm;
Retirement's a balm,
For wearied body, mind!
A new happiness, you'll find.
And God will take you,
In a newer direction;
With Heaven as goal,
Why then worry, pal?
Cheer up man!
And pray as fervently as you can;
Life will be fine,
Once again.
God will provide;
God will decide;
Just rest awhile
And wear a smile.
Today will be gone;
The morrow will be born;
God will your life adorn
When comes a new morn!
A new door opens, right today;
Despair not brother, ne'er, nay!
This is your great DAY!
You'll soon be in your new way!
God bless you!
– Dr. A.Celestine Raj Manohar M.D.
2. Varied Visions Of Retirement
RETIREMENT: An acquired belief that failure is impossible.
Investments made early-on, makes dividends more profitable.
Beneath it all, the pride of your labors will show.
Like a harvest moon or a brightly colored rainbow.
RETIREMENT: An emotional calmness, filled with tranquillity.
Extraordinary comforts – turn dreams into reality…
Holding this thought: Retirement is not a career ending…
New attractions, plus foresight – makes it a career beginning.
RETIREMENT: An intriguingly different lifestyle.
Imagine vividly your ego at peace for a while.
Without sacrifice your future has become a realness.
Custom designed an made valid by your own success.
RETIREMENT: An optional transitional symbol in careers.
Labors disgraces no one- no side effects- no fears.
Whenever questions of your success is in debate…
With pride convey your past reactions to any twist in fate.
RETIREMENT: An unconditional career for any season.
Great benefits, with unlimited freedoms for every reason.
This Era of unstoppable individual freedom is supreme.
A time to reflect on your momentum of pend- up dreams.
– Juanita Farrar
3. Retirement
After thirty years the day of decision has come
It is time to consider quitting and reducing stress
You fear you will be bored and have the doldrums
Time to slow the rapid pace and go out for recess.
It's a good idea to take time for some relaxation
Working overtime results in multi-digit taxation
Take a boat and paddle to a quiet fishing spot
Retirement is your reward for that stomach knot
Lift the years of pleasing the boss and immobility
Place them on the table next to responsibility
Let someone else be at the controls; take a cruise
It's time to put away those heavy work shoes
– Theresa Ann Moore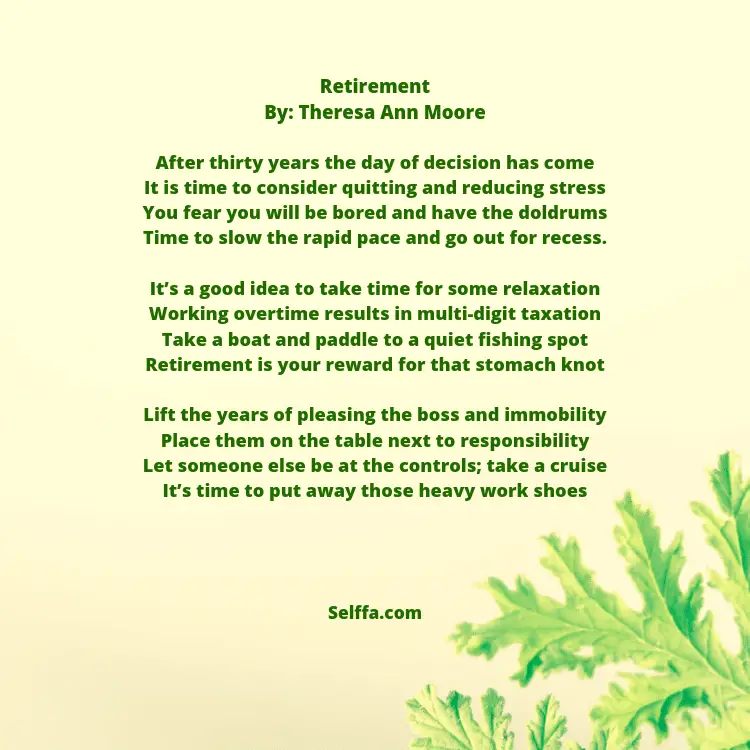 4. Retirement Eulogy
I retire with honour leaving my post to other.
Settling all the public affairs, I am happier.
Like a fairy, I take naps leisurely.
Things which I like to do freely: –
To read books and newspaper;
To write articles and poems better;
To participate activities as they come;
Website couplets, I appreciate some;
To invite friends to talk about Buddhism;
Organ music, I play with enthusiasm;
To enjoy my inner tranquility with melody;
Content with what I am is my living strategy;
To tour around the world by ocean liner;
To explore the nature with my bosom partner;
To enjoy the free and unfettered mood;
Health better than wealth, the rule is good.
– Charles Wu
5. Retirement
I'm having the time of my life
With Jeanne, my lovely young wife
Retired and happy
I'm a happy grand-pappy
With good times abundantly rife
I wake up each day about noon
Perhaps noon's a little too soon
With no mountains to climb
There is plenty of time
To lounge around in my room
I check to see if it's raining
That's not too energy draining
Raining or not
In Vegas it's hot
But what's the sense in complaining
After checking the state of the weather
I sit around wondering whether
To eat breakfast or lunch
Or settle on brunch
They're kind of birds of a feather
When I'm done with all of that food
With nothing on the telly that's good
When the screen beckons
I usually reckon
To lie down and watch it, I should
There's no show I see to the end
But sleeping for me seems to rend
The joy I attain
When resting my brain
Dozing's become my best friend
I've shown you how my day goes
It's a twenty-four hourly doze
I'm sure you'll agree
Retirement for me
Is an enjoyable daily repose
– Stanley Cooper
6. Honorable Retirement
For years you've held the light,
Through the storm and rain.
Pressing. Pushing. Going—
Even when in pain.
And now it is time
To put it all aside—
That grinding protocol
On which you've relied.
As a faithful employee
Of sobriety,
You have paid your debt
To society.
You're a trail blazer—
One to be admired.
And now it is your time
To honorably retire.
– Walterrean Salley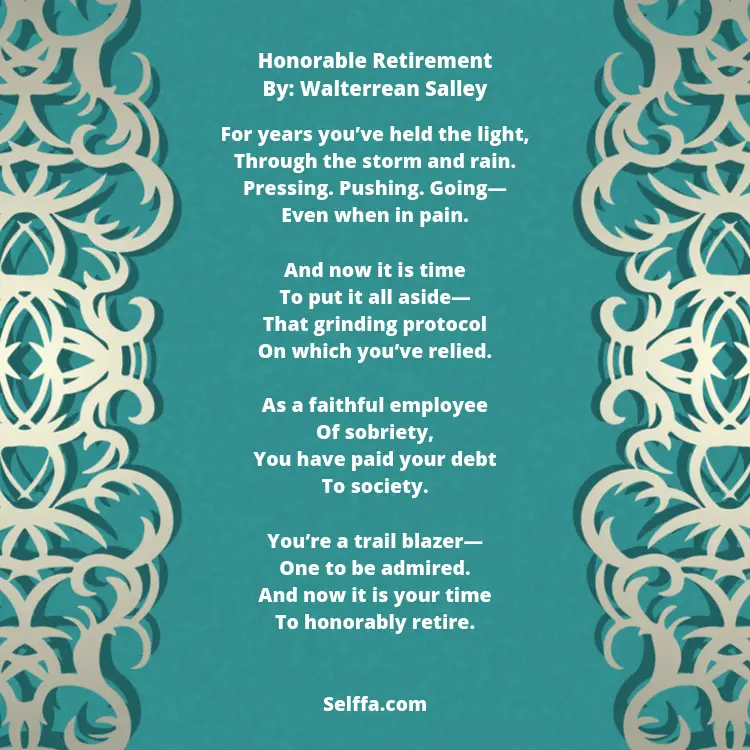 7. 'My Retirement Years' (For Everyone Over 62!)
Has anyone else noticed
the new working standards and means?
for those of retirement years, is this what it seems?
That if your able bodied to still work
your employer makes your job harder and act like jerks?
They take you aside and tell you your doing bad
this makes for your day, to be unproductive, quite empty and sad!
You've given them, some of the best years of your life!
So you could have two and a half children, a home and a wife.
But now the environment, your working in cause
walking through your humble abode
with your hands, in outstretching of claws!
I'm over the hill they say, not wanted anymore!
they'd like to have me get so upset
That I would walk out their door!
I thought at the end, retirement, would be my choice to make?
and not that done by some hired henchman
doing companies, pain in the butt heart breaks!
I didn't give all my best years
so I would be treated like crap!
I'll stand my ground, if I have to take it to the TOP!
And then they'll all see, just where
this so called old bucks going to stop!
No company is so big, that they can treat me like this!
I am an American who fought, so this company could even exist!
If they have a profit to make, don't take it out of me!
I fought for this country, so all people could have choices and be FREE!
Don't mess with me, I'm an American retirement age man!
And when I'm darn good and ready!
I'LL CHOSE, when I blow this pop stand!
– Linda Winchell
8. Retirement Blues
After thirty years of working –
I thought I had it made –
I said to myself-
I'll lie in the shade-
I'll read half the day-
And sleep the rest-
My wife had the notion-
That she alone knew best-
She said mow the lawn-
And go and walk the dog-
You're lying around here-
Getting far as a hog-
My dreams of relaxation-
Went right up in smoke-
I found that retirement-
Was only a joke-
I'm really still working-
For the rest of my life-
The only difference now-
The boss is my wife.
– Joy Thacker
9. Retirement At Last
Oh to live in a comfortable home
Able to cope all alone.
Difficult sometimes I agree
But savour the peace and serenity.
You helped friends and family in the past
Each one now with the kindest heart
To cheer your way when skies are grey
Then you will hear the music play.
– Joyce Hemsley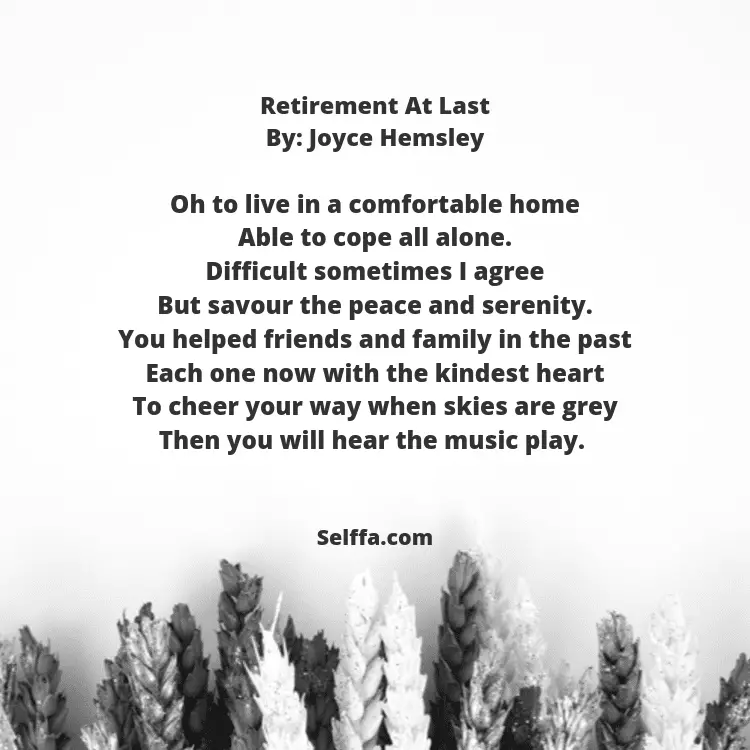 10. Looking At Retirement
Each day since I retired seems like each other
Just like when I spent time in work
I sit thinking 'Why should I bother? '
When everyone seems like a jerk
Each day seems to drift into nothing
And I dither and dally through hours
Making something of nothing, and nothing at all
Boy, I wish I had some hidden powers
I people watch when I am lost and alone
To be honest, I hate what I see
Everyone seems to be stuck to a phone
But none of them are calling me
I can see why our health is disturbing
When three in five people are fat
Our eating needs updating and learning
Why we think it's okay to eat THAT…..
So retirement has made me look at myself
And decide what to do with my age
For years I've been stuck, with my head in a book
And my life has now reached the last page
So I need to get out and be peaceful
See the joy that old age can bring on
And I need to be happy and helpful
As I cannot be that when I'm Gone
– Phil Soar
11. The Joys of Retirement
The joys of retirement are simple
you can lie around all day in bed
when the daytime soap operas get boring
pull the covers right over your head
You can watch all the re-runs of Oprah
with a coffee and snack in each hand
if the weather turns crap, head off for a nap
who said that retirement was bland
You can hibernate all through the winter
no more sloshing around in the snow
you don't even need to put clothes on
what's the point – there's nowhere to go
You can thumb your nose at the alarm clock
no more early rising for you
no more dragging your ass on a Monday
leave that for us workers to do
The joys of retirement are simple
and I'm just a bit peeved at such luck
so until I retire from employment
working Monday to Friday can suck
– Evelyn Macdonald
12. Retirement Daze!
You scurry through life Amid happiness and strife
Looking forward to the wonderful day
When you can stay home and collect PAY!
Looking ahead, the time seemed so long
Even when working with the friendliest throng!
Clean out your desk and prepare for the cheers!
But, alas, what is this rolling down the cheek?
Who would expect to become a crying freak!!
To see so many well wishers gather tonight
Has been for me the happiest delight.
I'm afraid it may seem to be a little dull
When we come to the end of this fol de rol…
Now, to all of you, my love, and a big thanks
And good fortune to the greatest of banks!
– Helen Kotila-Kolehmainen
13. Congratulations on Your Retirement
Congratulations on your retirement!
One makes a virtue of necessity.
Nor can one argue with reality,
Given its regard for sentiment.
Remember that one cannot judge one's fortune,
As what else might have been, one cannot know.
To choose what is remains the only option,
Unless one would be strangled by one's woe.
Let there be ironic celebration!
A moment of nostalgia and release,
The swift goodbye to long-sustained relation,
In which there is an element of peace.
Open doors await, to who knows where?
Now is ever, ever wholly there,
Singing with a grace that does not cease.
– Nicholas Gordon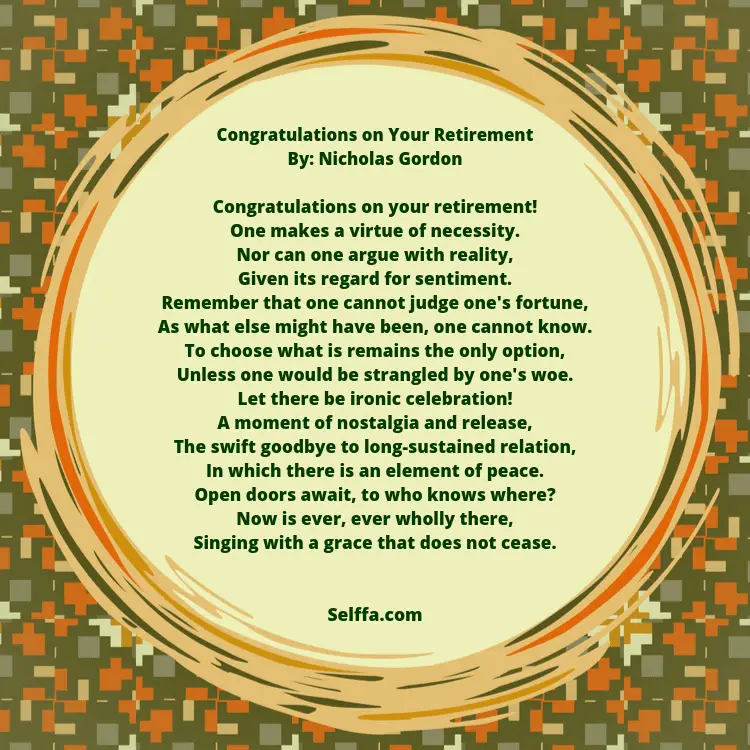 14. A Retirement Blessing
You started on this journey, so many years ago,
and now it's time to leave behind dear friends you've come to know!
You sought Divine direction and a heart to do His will.
Your work became your passion, as you used your gifts and skills.
You set the highest standards for yourself and others too,
showing honor, pride and dignity-they saw the best in you!
A "rags to riches" story need not be your bottom line.
The priceless things we gain in life, often come from the Divine.
So don't waste one more minute "wishing" for things that might have been,
rather watch the seeds you planted grow, and feel His peace within.
I pray God keeps you safe and well, wherever you may turn,
surrounded by your loved ones, living out the dreams you've earned.
And in the quiet of your heart, may you hear God softly say…
"My good and faithful servant, I'm so proud of you today!"
– Barbara D. MacAdam
15. Now That You're Retiring
Now that you're retiring
We can tell you how we feel;
Our heartfelt admiration
Is deeply felt and real.
You've been a great role model
For teachers and each kid;
You showed us how to be
In everything you did.
We'll miss your fine example;
We'll miss the things you gave;
Our pleasant memories of you
We'll recall and carefully save.
We wish for your retirement
The best of all your days;
May you discover sweet fulfillment
In new and rewarding ways.
– Joanna Fuchs
16. Retirement Plan
When I am ancient – in a year or two,
and they figure I'm only fit for glue,
I'll have had the time to think it through
and I'll do some things I've been waiting to do.
I'll be finicky, crotchety and crabby
and I'll sit in the sun with an old grey tabby
and a chubby chihuahua on my lap
and I'll give no quarter and take no crap.
And I'll pull no punches and I won't be kind
if it dulls the edge of the yataghan mind
which I'll subdivide with my rapier wit
and I'll give everybody a piece of it
tactless and indiscreet, albeit –
the truth according to how I see it,
with instructions on how the world should run
and almost everything ought to be done.
And no one will ever dare talk back
for fear it might give me a heart attack.
But I'll be a wise and tough old bird
with a stubborn insistence on being heard
and I'll stay around until I'm finished
with all my faculties undiminished
and my eyes will be clear and my hands will be steady
and I'll die when I'm damn good and ready
– Linda Stitt
17. Enjoy Your Retirement
A milestone has come and now you can leave,
(No more working from nine until five),
To live out your dreams and do as you please.
Not needing this job to survive.
You can sleep until noon: stay up until dawn,
No need to 'be here' or 'be there',
Not needing this job to survive.
Go out on the town and really get down,
Or relax in your old underwear.
Whatever you do, it's all up to you,
the time is now yours; go enjoy it.
Take time for yourself and kick up your heels,
The world's at your feet; go explore it.
This is not a "goodbye", it's a "see you next time",
And I wish you God's blessings each day,
May you always be happy and never regret.
this day as you go on your way.
– David Ronald Bruce Pekrul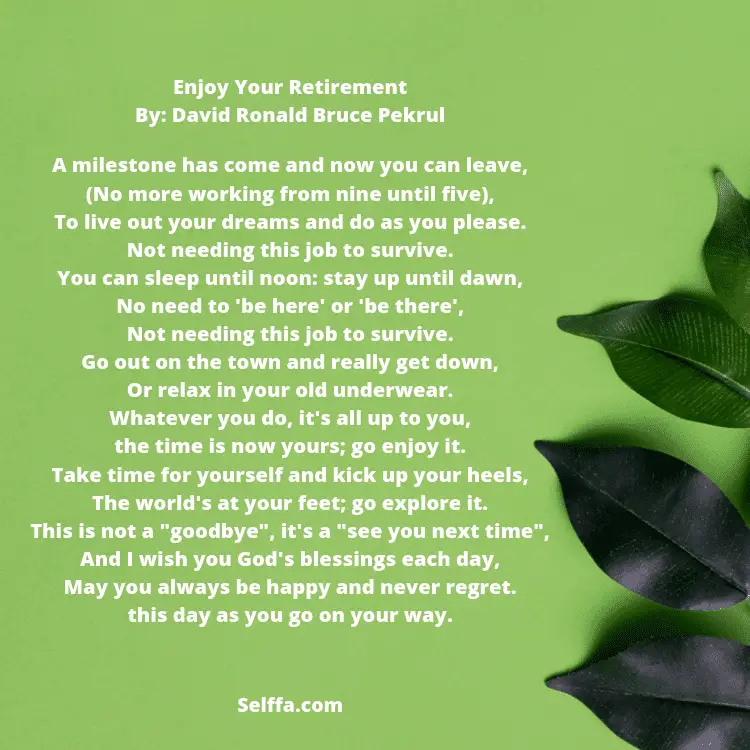 18. Time of Retirement
Retirement's a time we all hope to find,
With no clock to watch except in our mind.
The daily demands of the job that you choose,
Take its toll, and you worry, afraid you will lose
The thing you worked for all of the years
To leave only heartaches misery and tears
You are most fortunate to achieve your goal
And retire with health and family still whole.
With carefree days to spend as you will
If you like you can go and just sit on a hill
To take time to look and study the ground
And enjoy the beauty that's spread all around
A happy time of your life it should be
For there are a great many wonders to see
Free time to do the things in your dreams
To camp, hurt, or fish the crystal clear streams
To get close to nature on intimate terms
It's a good way to live as a person soon learns
– Mahfooz Ali
19. Retirement
Working for our future
putting our money away
ready and waiting for our retirement day
Businesses closing
banks shutting
The world in recession
Pensions cutting
Working all our life
Never living free
I'll end up working until the day I die
you wait and see
No more money
It's all gone
Giving up our futures one by one
putting our money away
ready and waiting for our retirement day
– Craig Harrison
20. Taking It Easy In Retirement
So much for my ideas of slowing down,
Taking it easy just sitting watching TV.
I moved to a peaceful seaside town,
Since then I have found a few things occupy me.
I play bridge at least three times every week,
Read poems with a group on Thursday afternoons,
For extra fun I can find anything I seek
And I can write about it and put it to tunes.
On Tuesday mornings I see my four men
In the U3A song writing group that I run.
They compose their music on my key board and then
I write some words and another song has begun.
The women visit Fridays. We have fun,
Writing rhymes, banging bongos, blow didgeridoos,
Each week there are many things waiting to be done
Bells to shake, guitars to play, so much to choose.
Hairdressers, library, lots of jigsaws to do,
Trips to town, trips to do weekly shopping,
Mah-jong, Scrabble, flower arranging, cooking too,
Tea dances, line dancing from foot to foot hopping.
Each week at the local coffee morning
I get to hear about all that is being planned,
There's knitting, card making, keep fit and it's dawning
NO TIME FOR TV I'm too busy, understand!
– Mavis Ellen Jackson
21. Retirement
Retirement is time to consider with pride
the achievements you've worked for and earned,
To realize all of the ways you have grown
and to treasure the lessons you've learned.
Retirement is time to remember so fondly
the good times you've had in the past,
A time to appreciate people you've known
and feel certain those friendships will last.
Retirement is time to be fully aware
of the promise that life brings your way,
To believe in your dreams, to follow your rainbow,
to celebrate every new day.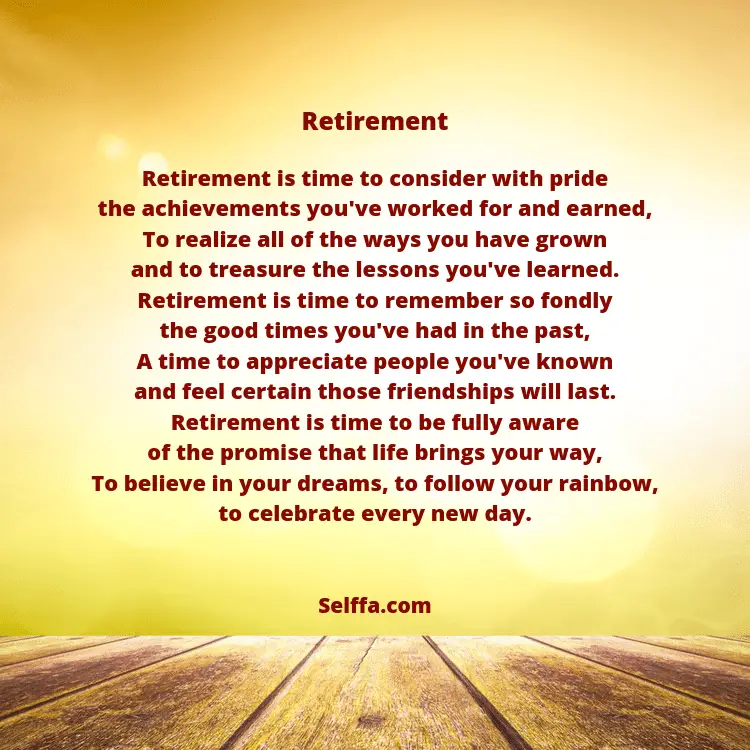 22. The Day Has Arrived
The day you thought you'd never see,
Has finally arrived.
And despite whatever you once believed,
Gosh darn it, you're still alive.
You managed to survive your working years
And retirement shines before you.
Your spouse can nag you full time now,
And your kids will still annoy you.
Yes, these will be your golden years
To live life as you please.
You can play golf and power walk at the mall,
At least until you give out at the knees.
You can take up painting if you like,
And spend all day painting flowers,
That is until your hand cramps up
After holding the brush for hours.
Don't worry about getting dressed every day,
You've earned the right to stay in your pajamas.
All you have to do is turn on the TV,
And watch your afternoon dramas.
Sometimes life may get a little boring,
Especially when you've no place to be.
You can take up exciting hobbies,
Like doing puzzles or watching birds sit in a tree.
Yes, retirement has its highs and lows,
But there's one thing not to be forgot.
As long as you're above ground and not below,
Retirement's the better of the lot.
– Kelly Roper
23. I'm Retired
I'm retired.
No more getting up at zero dark thirty
to fumble around while getting ready
for the crowded drive to work.
I'm retired.
Now I piddle with this 'n that
get on the internet, have a chat.
I don't have leave home for work
I'm retired.
Now I look forward to every Monday
breakfast out, then again on Friday
I get to feast and that's not work.
I'm retired.
Now I have the energy and plenty of time
to formulate and post many a poem.
I get to create and not stagnate at work.
I'm retired.
But, I'm grateful that I had a career.
It provided food and shelter for many a year
and I clothed my kids because I had work.
– Linda L Johnson
24. Retirement Checklist
Although a man of leisure, now,
Essential items you may need
to fulfill your retirement creed,
A cooler packed with beer, for starts,
A few things from your local mart,
A set of tools, called fishing gear,
Enjoy them now and around the year,
Appropriate attire you now require,
A floppy hat that's worn to fit,
Comfy shorts and shoes, a hit,
A shirt or two, a size too big
to give you room to grow,
And last, yet certainly not the very least,
A symbol's needed to commemorate
this momentous joyous date,
So, add a wristwatch to your list,
One that you can afford to miss,
Now, toss it far into the lake,
And, in this way, claim your stake,
A life unencumbered by time
as you cast your retiree line.
25. Retirement Perks
When you retire from work,
You soon discover the many perks,
In this new world, you're a novice,
Some of the rules are less obvious.
Work clothes need to be replaced
to fit a lifestyle absent of haste,
Discount drinks and meals are great,
As are other senior rates.
But the best perk isn't something bought,
It's doing those things you thought
impossible due to time and career,
So now, you have time free
to make your dreams come true.