The struggles you face shape the promising future that awaits you. Undeniably, enduring each struggle has never been easy, but the priceless rewards are definitely worth it. So keep moving forward, one step at a time, as you struggle and be inspired with the following 136 quotes about struggles.
Quotes About Struggles
1. We all have struggles in life but we have to continue to fight. – Mike Tyson
2. Sometimes, struggles are exactly what we need in our life. If we were to go through our life without any obstacles, we would be crippled. We would not be as strong as what we could have been. Give every opportunity a chance, leave no room for regrets. – Friedrich Nietzsche
3. Don't compare your struggles to anyone else's. Don't get discouraged by the success of others. Make your own path and never give up. – MJ Korvan
4. The difficulties and struggles of today are but the price we must pay for the accomplishments and victories of tomorrow. – William Boetcker
5. In order to appreciate your successes you must first appreciate your struggles. – Nishan Panwar
6. Strength does not come from winning. Your struggles develop your strengths. When you go through hardships and decide not to surrender, that is strength. – Arnold Schwarzenegger
7. In a storm of struggles, I have tried to control the elements, clasp the fist tight so as to protect self and happiness. But stress can be an addiction, and worry can be our lunge for control, and we forget the answer to this moment is always yes because of Christ. – Ann Voskamp
8. Many great actions are committed in small struggles. – Victor Hugo
9. We must see others' struggles as our own, and their success as our success, so we can speak to our common humanity. – Ilhan Omar
10. The battles that count aren't the ones for gold medals. The struggles within yourself – the invisible, inevitable battles inside all of us – that's where it's at. – Jesse Owens
11. No matter how devastating our struggles, disappointments, and troubles are, they are only temporary. No matter what happens to you, no matter the depth of tragedy or pain you face, no matter how death stalks you and your loved ones, the Resurrection promises you a future of immeasurable good. – Josh McDowell
12. I think, as people, we deal with struggles. – Nick Foles
13. Everyone will have struggles, but I am willing to learn, and I am coachable. – Saquon Barkley
14. Most people would identify with the fact that we tend to be defined by the struggles we came through than by the successes. And certainly for me that's true. – Wendy Davis
15. It is wrong to expect a reward for your struggles. The reward is the act of struggle itself, not what you win. – Phil Ochs
16. To gain strength in our struggles, we must have a positive perspective of the principles in the plan of salvation. We must realize that we have a personal Savior whom we can trust and turn to in our times of need. – L. Lionel Kendrick
17. No matter where you come from, we all share the same struggles as human beings, and my beginning is no different. – Shelly-Ann Fraser-Pryce
18. The truth is, we all face hardships of some kind, and you never know the struggles a person is going through. Behind every smile, there's a story of a personal struggle. – Adrienne C. Moore
19. The struggles don't define you. It's how you handle them that determines who you are. – Jon Jones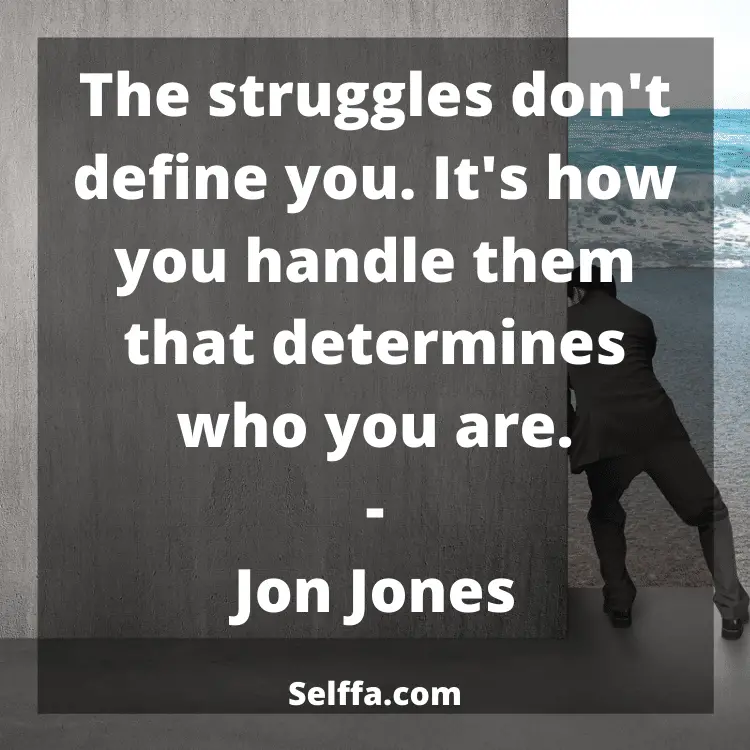 20. If you go about trying to please everyone, there's going to be endless struggles. – Sonny Bill Williams
21. I feel like dreams are always a little tricky, you know? But if you just push through the struggles and the hard times, it'll be so worth it in the end because you will be able to get to your dreams. – Chloe Kim
22. Understand that everybody has their own struggles, regardless of whether you can see it or not. Just surround yourself with the people who love you, and know you're not really alone. – Molly Tarlov
23. We all make mistakes, have struggles, and even regret things in our past. But you are not your mistakes, you are not your struggles, and you are here NOW with the power to shape your day and your future. – Steve Maraboli
24. You are not alone in the struggles of life. Entire cosmos is with you. It evolves through the way you face and overcome challenges of life. Use everything in your advantage. – Amit Ray
25. The struggles, challenges, and obstacles that it takes to succeed in life is what makes success more valuable. Nothing great comes easy, and nothing easy can ever equate to greatness. – Edmond Mbiaka
26. Friends, your struggles don't mean that you're weak; they mean you're human. Your inexperience doesn't mean you won't succeed; it means you haven't yet. – Rachel Hollis
27. It takes an enormous amount of self-confidence to tell others about your struggles while you are still struggling. – Mokokoma Mokhonoana
28. In the midst of your struggles, you WILL find a reason to keep going. Don't give up! – Robert Tew
29. Great struggles have always preceded greater opportunities. Look! – Richie Norton
30. Get this; without a continuous struggle, your previous struggles will become a waste. Stay on and hold on until the success become evident. – Israelmore Ayivor
31. Appreciate the struggles as opportunities to wake up. – Jeff Bridges
32. I think no matter how successful our lives may seem to the outside world, we all have our personal struggles. – Jane Badler
33. I know the struggles. I know the pain. I know the life because I live it too. – Boniface Sagini
34. Whether you choose to move on from your struggles and enjoy life or waddle in your misery, life will continue. – Germany Kent
35. There is strength in every struggle. Struggles create opportunities for you to become stronger, wiser and better. The moment you shift your thinking from "I cannot" to "I must," you will begin to see 'Beyond the Pain' and draw strength from within. Learn to see each obstacle as a stepping stone and watch your life change significantly. – Kemi Sogunle
36. There are struggles you cannot win, but a man can meet his own heart if value is found in loss. Give yourself permission to cry. – Dan Groat
37. Struggles are part of everyday life.
May you have grace to overcome any struggle.
– Lailah Gifty Akita
38. Our struggles build us up! – Avijeet Das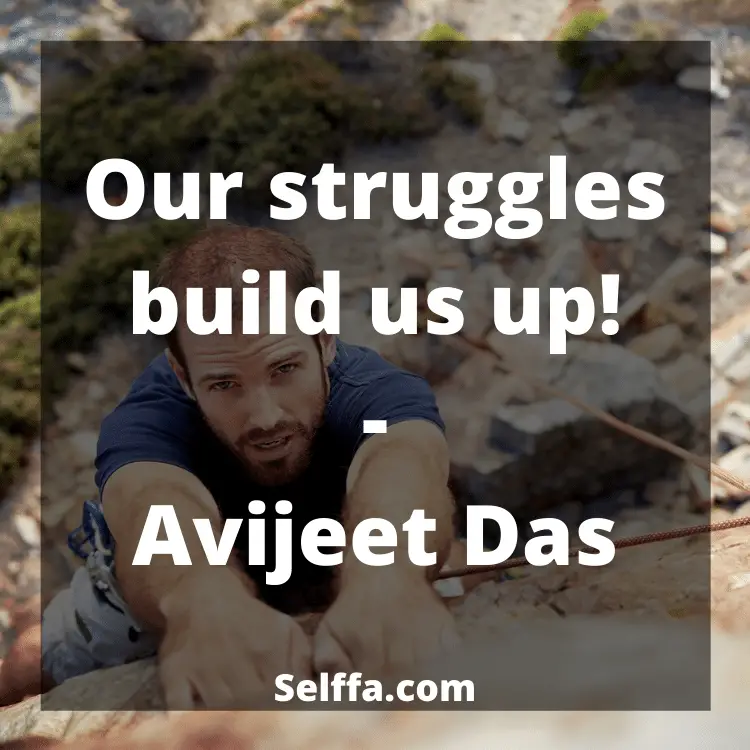 39. Struggles put you in a position to make better decisions. You'll survive and should take the lessons learned especially in order to move forward in life. It may have been raining in your life for a moment, but the sun will shine again – Amaka Imani Nkosazana
40. Let your struggles shape you! – Anuranjita Kumar
41. Without struggles, success would be meaningless. – Peprah Boasiako
42. Strength comes from struggle. When you learn to see your struggles as opportunities to become stronger, better, wiser, then your thinking shifts from 'I can't do this' to 'I must do this.' – Toni Sorenson
43. We realize all the struggles we have and all the things that catch our attention and our hearts – if we're not ready for it, it will take control of us. – Sonny Sandoval
44. I would say that we all – in whatever world we're in, whatever your occupation is, we all have a path to walk. We all have struggles. – Benjamin Watson
45. You have to remind people of their own struggles. It's a responsibility. – Elia Kazan
46. Certain struggles never end. – Tatum O'Neal
47. Every family struggles with different things, and everybody struggles with different things. – Mark Shriver
48. Struggles are what made everything worth while. – John Stockton
49. I think we all strive to push ourselves, to overcome our struggles. And when we do, we get to know ourselves better. – Ann Bancroft
50. I think when anyone struggles, they think they are being short changed. – Smriti Irani
51. I always find power in struggles. You end up a lot happier that way. – Alessia Cara
52. I feel like I am a better person because of my struggles, because of my challenges and persevering through them and realizing the mistakes that I've made, correcting them. – Doug Baldwin
53. Had I not gone through the struggles and the obstacles I had, I would not be as strong as I am today. I believe those impediments have forged, shaped, and strengthened my character. – Nadya Suleman
54. Every rookie, every player, is going to go through their struggles throughout the season. – Kevin Knox
55. I've seen the struggles and the heartache and the pain that goes along with being in the fight game. – Samoa Joe
56. Gospel talks about life's struggles, but you always feel like it recognizes these struggles and that you can overcome them. – Natalie Prass
57. Everyone struggles. Each life comes with a long catalog of pain. – Gary Shteyngart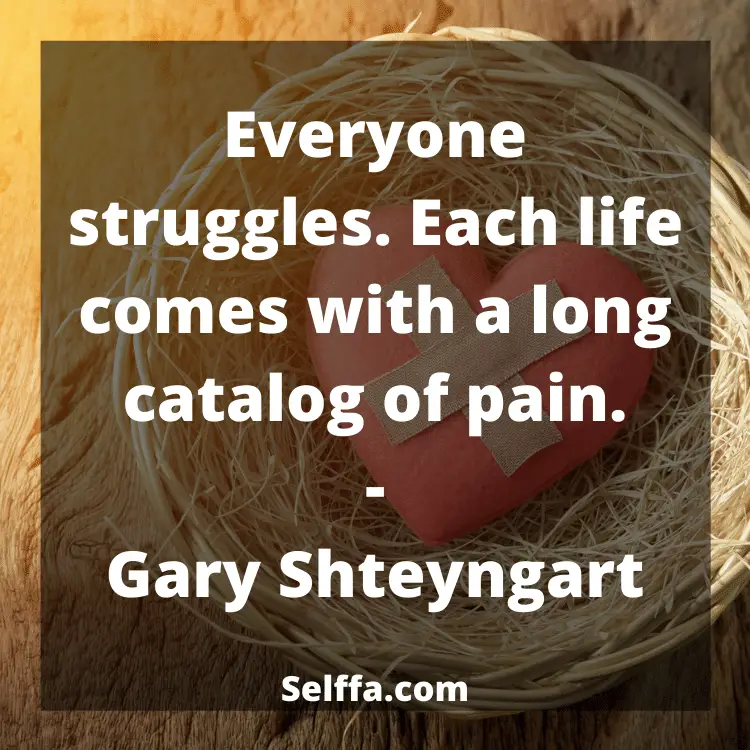 58. I learned that sometimes our struggles are a little bit bigger than us and talking about them and coming through and having the courage to get out of them. I learned how many I touched and inspired through the journey of 'Idol' because I was just singing on the show. I wasn't really being an advocate for anything. – La'Porsha Renae
59. Over and over again, I'm trying to express or communicate these big and small struggles to the world, and really to myself. – Mike Mills
60. Everyone has faced something; some struggles are more heroic than others. – Megan Shull
61. Through my own struggles with depression, I discovered that knowledge, therapy, medication and education can provide the strength to get through it in one piece. – Susan Polis Schutz
62. Mankind has grown strong in eternal struggles and it will only perish through eternal peace. – Adolf Hitler
63. Out of our suffering we emerge. Our struggles are really our only hope. – Bryant McGill
64. When we confuse the needs with the desires; all the struggles we take lead to failure and disappointment. – M.F. Moonzajer
65. When you can see the love of God through your struggles and you don't need another person to fill a void, you're in a pretty good place. – Jen Stephens
66. We must learn from our struggles. – Roger Thurow
67. Character is forged in the smallest of struggles. Then, when the big challenges come, we're ready. – Waiter Rant
68. Language exists only on the surface of our consciousness. The great human struggles are played out in silence and in the ability to express oneself. – Franz Xavier Kroetz
69. As struggles go, being an artist isn't that much of one. – Brian Eno
70. We have long struggles with ourself, of which the outcome is one of our actions; they are, as it were, the inner side of human nature. This inner side is God's; the outer side belongs to men. – Honoré De Balzac
71. Play your part creatively in all the struggles Of men of your time, thereby Helping, with the seriousness of study and the cheerfulness of knowledge To turn the struggle into common experience and Justice into a passion. – Bertolt Brecht
72. Changes and progress very rarely are gifts from above. They come out of struggles from below. – Noam Chomsky
73. Struggles make you stronger and the changes make you wiser and happiness has its own way of taking its sweet time. Life isn't always lovely, but it's a beautiful ride. – Gary Allan
74. Victory comes only after many struggles and countless defeats. – Og Mandino
75. No smile is as beautiful as the one that struggles through tears. – Helen Keller
76. God never promises to remove us from our struggles. He does promise, however, to change the way we look at them. – Max Lucado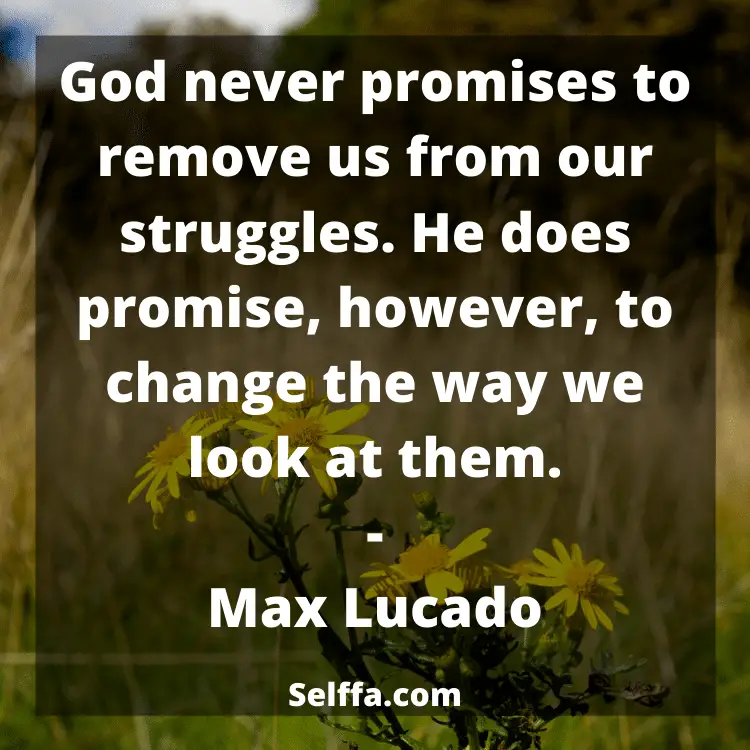 77. I thank the Lord that, even though things were so wrong in my life here, I finally was brought to the realization of what all those struggles were about. There are some wonderful things from your painful past, things with a beauty you may not have realized at the time. – Ravi Zacharias
78. When we have struggles in this life, just knowing that God has a plan that is for our good can give us hope for the future. – Crystal McDowell
79. Those who overcome great challenges will be changed, and often in unexpected ways. For our struggles enter our lives as unwelcome guests, but they bring valuable gifts. – Steve Goodier
80. One day, in retrospect, the years of struggle will strike you as the most beautiful. – Sigmund Freud
81. If there is no struggle, there is no progress. Those who profess to favor freedom, and yet depreciate agitation, are men who want crops without plowing up the ground. They want rain without thunder and lightning. They want the ocean without the awful roar of its many waters. This struggle may be a moral one; or it may be a physical one; or it may be both moral and physical; but it must be a struggle. Power concedes nothing without a demand. It never did and it never will. – Frederick Douglas
82. …having nothing to struggle against they have nothing to struggle for. – Charles Bukowski
83. All life demands struggle. Those who have everything given to them become lazy, selfish, and insensitive to the real values of life. The very striving and hard work that we try so hard to avoid is the major building block in the person we are today. – Pope Paul VI
84. The harder the struggle the more glorious the triumph. – Unknown
85. Struggle isn't fun but it's an opportunity to be brave. – Rae Smith
86. Whatever the struggle, continue the climb. It may be only one step to the summit. – Diane Westlake
87. Sometimes struggles are exactly what we need in order to become truly alive. – Michael Michalko
88. Struggle is the food from which change is made, and the best time to make the most of a struggle is when it's right in front of your face. Now, I know that might sound a bit simplistic. But, too often we're led to believe that struggling is a bad thing, or that we struggle because we're doing something wrong. I disagree. I look at struggle as an opportunity to grow. True struggle happens when you can sense what is not working for you and you're willing to take the appropriate action to correct the situation. Those who accomplish change are willing to engage the struggle. – Danny Dreyer
89. The battle of life is, in most cases, fought uphill; and to win it without a struggle were perhaps to win it without honor. If there were no difficulties there would be no success; if there were nothing to struggle for, there would be nothing to be achieved. – Samuel Smiles
90. All struggle, all resistance is — must be — concrete. And all struggle has a global resonance. If not here, then there. If not now, then soon. Elsewhere as well as here. – Susan Sontag
91. Success is sweet and sweeter if long delayed and gotten through many struggles and defeats. – Amos Bronson Alcott
92. Everyday is a struggle but it's how you deal with your struggles that make you stronger or weaker. – Alcurtis Turner
93. The struggle itself towards the heights is enough to fill a man's heart. One must imagine Sisyphus happy. – Albert Camus
94. The way I see things, the way I see life, I see it as a struggle. And there's a great deal of reward I have gained coming to that understanding — that existence is a struggle. – Harvey Keitel
95. The struggles we endure today will be the 'good old days' we laugh about tomorrow. – Aaron Lauritsen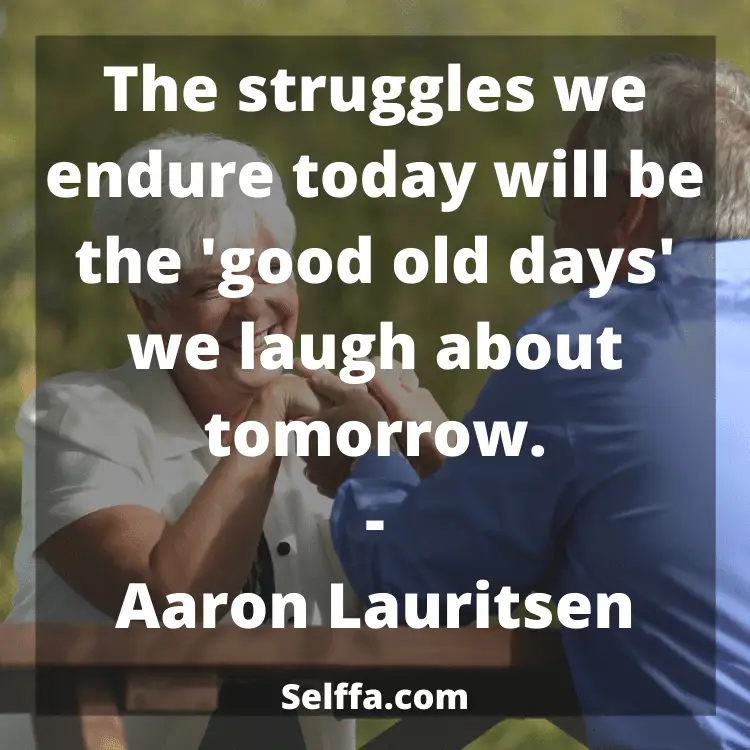 96. Life is a song, sing it. Life is a struggle, accept it. – Mother Teresa
97. There is no thing as a single-issue struggle because we do not live single-issue lives. – Audre Lorde
98. Struggle is nature's way of strengthening it – John Locke
99. There is no life without struggle. – Santosh Kalwar
100. We all struggle with something, and need help. Whatever it is that you can't conquer on your own, I encourage you to give it to the Lord; He can fix anything! Your struggle is no more because VICTORY has taken it's place!! Have a VICTORIOUS day! – Anita R. Sneed-Carter
101. You only struggle because you're ready to grow but aren't willing to let go. – Drew Gerald
102. A relentless struggle leads to unrelenting fatigue. – Vincent Okay Nwachukwu
103. In a life full of struggles, I want to live a lot of moments where we are infinite and happy in each other's arms. – Nitya Prakash
104. Let us accept our struggles, embrace them, and forge ahead. – Avijeet Das
105. I do not struggle against the world, I struggle against a greater force, against my weariness of the world. – Emil M. Cioran
106. To struggle with the world, – that is a proud thing; to struggle alone, – there lies the doubt! – Ik Marvel
107. People who find the meaning behind their struggle are always the happy ones. They know what it is that their struggle is for. They know their struggle doesn't stand alone but it is a piece of a whole. – Nesta Jojoe Erskine
108. Embrace and be thankful for the struggle you're in today. That struggle is developing within you, the strength you're going to need tomorrow. – Clyde Lee Dennis
109. You can look at your struggles as a life-ruining problem or you can see your struggles as a challenge to make you better. – Avina Celeste
110. Sometimes you feel alone because, like you, others aren't so ready to confess their shortcomings and struggles. – Darnell Lamont Walker
111. Our core addiction is to struggle. All of the other addictions are an attempt to numb out from the heartache and stress that come hand and hand with struggle. – Mary O'Malley
112. When we regularly struggle to achieve the goals, either we get used to the struggle or we find a way to avoid the struggle. If we get used to the struggle than every new task will increase the distance between our struggle & goals, but if we find a way to avoid the struggle the goals will be as close as the shortcut to any destination. – Shahenshah Hafeez Khan
113. Whatever you want is behind the mountain of struggles. Nothing great comes with ease. – Israelmore Ayivor
114. Struggles test the strength of our faith. – Lailah Gifty Akita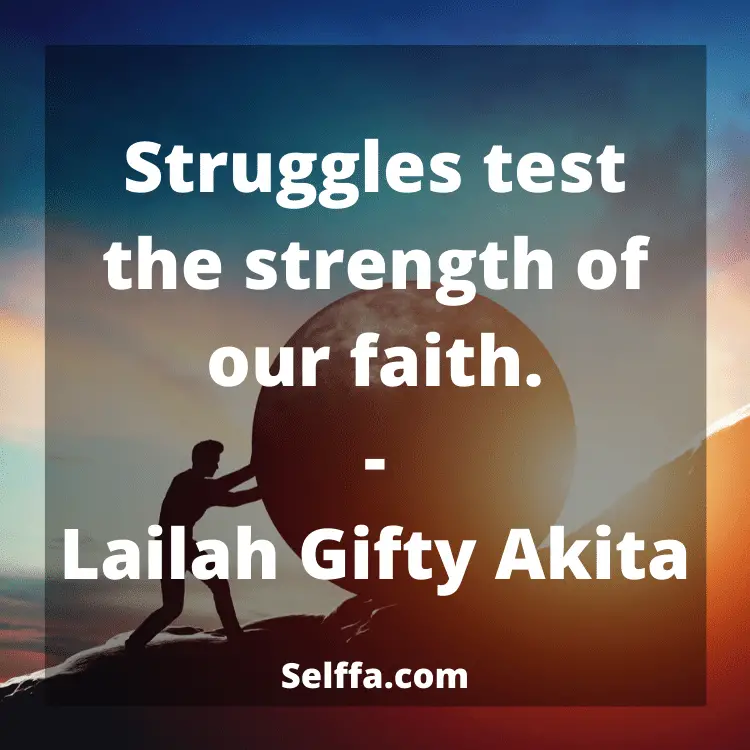 115. Believe in yourself, keep a can-do approach, struggle hard and watch success follow. – Mustafa Saifuddin
116. Personal struggles, mistakes, and perseverance are part of every person's life story. A proper mindset can turn failure into a gift. Specific human qualities such as intelligence and adaptive skills can be cultivated through applied effort to assist a person overcome a resounding failure. Each person would be wise to ask how does a person cope – grapple – with failure? We derive strength from our struggles. – Kilroy J. Oldster
117. The more you've struggled, the more inspiring your story will be when you come out the other side. Do not give up. Today's struggle brings tomorrow's wisdom. – Vironika Tugaleva
118. Why does he strive to reach for that star? It's the very star he lives upon! He works. He reaches. He struggles. He seeks. He finds! …Never knowing he possessed it all along. – Kate McGahan
119. The integrity of the upright provides guiding principles that help him to achieve his vision. Hard work without integrity will lead to struggles and frustration – Prince Akwarandu
120. Great struggles make for great stories. – Sanober Khan
121. Imagine all the wondrous things your arms might embrace if they weren't wrapped so tightly around your struggles. – Sheila M. Burke
122. Struggle only when if its absolute necessity, if you will struggle on every step you can never reach up to the goal. – Bijendra Kumar
123. The Bible teaches that the human struggle happens within a single entity — the human heart. The main human struggle is not between the heart and something else, but between forces that tear it in different directions. The great battle is deciding to what your heart's greatest love, hope, and trust will be directed – Timothy Keller
124. Humanity is defined by its struggles, not doomed by them. It is in the way we endure those struggles that we transcend our lower nature and enter a higher realm. – D.J. Niko
125. Don't take it as a struggle. Consider it as your pursuit for the unseen rewards. – Steven Chopade
126. The pain that every struggle brings, is the beginning stage of your future strength. – Edmond Mbiaka
127. We're not strong because we struggle, we struggle because we're strong. – Kenn Bivins
128. Unmet desires are the source of most of the conflict and many of the struggles in our lives. When we don't get what we want, or when and how we want it, life can get pretty ugly. – Kurt W. Bubna
129. The raw elements of gold and silver are refined and purified by intense heat. The same is true for you and me. To attain the purest beauty of who we truly are…we all must be forged by fire. The struggles and trials we suffer and learn from are all part of the refining process towards the priceless beauty that's within us all. God knows that at your soul's enduring core lies the truest of all treasures. – Jason Versey
130. In the midst of our struggle to find out who we are, there are infinite possibilities for beauty, and hope, and wonder, and love. – Mandy Hale
131. One can't be on the topmost rung of a ladder from before, it takes time to reach it, to climb it, one at a time. We struggle so that in this process of climbing we can learn, so that we can limit our impatience and grow stronger than we ever imagined to be.
We struggle so that once we learn, we can preach about it to others who consider this act of struggling, spiteful. – Chirag Tulsiani
132. Struggle strengthens the human bond and lightens the burden of the human condition. – Lorii Myers
133. Life's struggles are the seasons of change. – Charlena Jackson
134. Remember,too,that all who succeed in life get off to a bad start, and pass through many heartbreaking struggles before they "arrive". The turning point in the lives of those who succeed usually comes at some moment of crisis, through which they are introduced to their "other selves". – Napoleon Hill
135. The point is, Jenna, no one is normal or perfect like that house you see across the street. Everyone suffers from their own struggles, whether they're big or small. – E.L. Montes
136. Seeds strive to become plants by forcing their way through the soil. We can learn from this and push through the struggles we face in life. If they can survive, we can do much more. Keep pushing and pressing forward. Your best is yet to come! – Kemi Sogunle