As the night grows darker, the stars shine brighter. And without these twinkling lights, our evening wishes will be left behind. So let your admiration for stars be known with the following 28 poems about stars.
Poems About Stars
1. To the Stars
Fair stars! upon the brow of night
Ye look, from yonder fields of blue,
Where ye, 'mid melody of light,
Bright wheeling worlds! your way pursue.
Ye never tire,–pure diadems,
The marshalled sentinels on high,
Ye shine, and ever shine, the gems
That fringe the curtain of the sky.
Minstrels are ye–your early song
Followed the Voice Ompnipotent,
When light and music flowed along
Over the spangled firmament.
Ye stars! if aught 'tis yours to know,
Beyond your own returnless bourne,
With pity have ye not below
Glanced on these vales where mortals mourn?
O, as I scan your nightly march,
Your anthems steal upon mine ears;
As sprinkled o'er yon glittering arch,
Ye wake the music of the spheres.
'Tis fancy!–yet the empyrean strains
Impart kind gilead to my breast;
They tell of brighter, fairer plains,
Where troubles cease, where pilgrims rest.
– William B. Tappan
2. Constellation of Stars
In the dark sky so vast,
The constellation of stars shines in contrast.
Around the glimmering moon,
Shaped like a squirrel, dragon or raccoon.
In the breezy silver night,
Their sparks spread light.
Above the earth and the land,
Over the sea's foam and the desert's sand.
The embroidered sky's silver reflects in lakes.
Sparkling like snow flakes.
Why do stars hide under the grey lining of the clouds?
Why don't they reach the ground.
– Zala Ejaz
3. The Stars Above the Sea
Far, far away one mystery greets
Another vast and high,
The infinite of waters meets
The infinite of sky.
The stars are singing hymns of calm
Above the sea's unrest;
Can ever that majestic psalm
Dwell in the ocean's breast?
What far horizon dim and low
The sweet solution finds,
Where earth's tumultuous yearnings know
The peace of heavenly minds?
And still the sky's imperial grace
The tossing ocean mars;
We cannot see the meeting place,
But we can see the stars.
– Amos Russel Wells
4. Stars, I Have Seen Them Fall
Stars, I have seen them fall,
But when they drop and die
No star is lost at all
From all the star-sown sky.
The toil of all that be
Helps not the primal fault;
It rains into the sea,
And still the sea is salt.
– A. E. Housman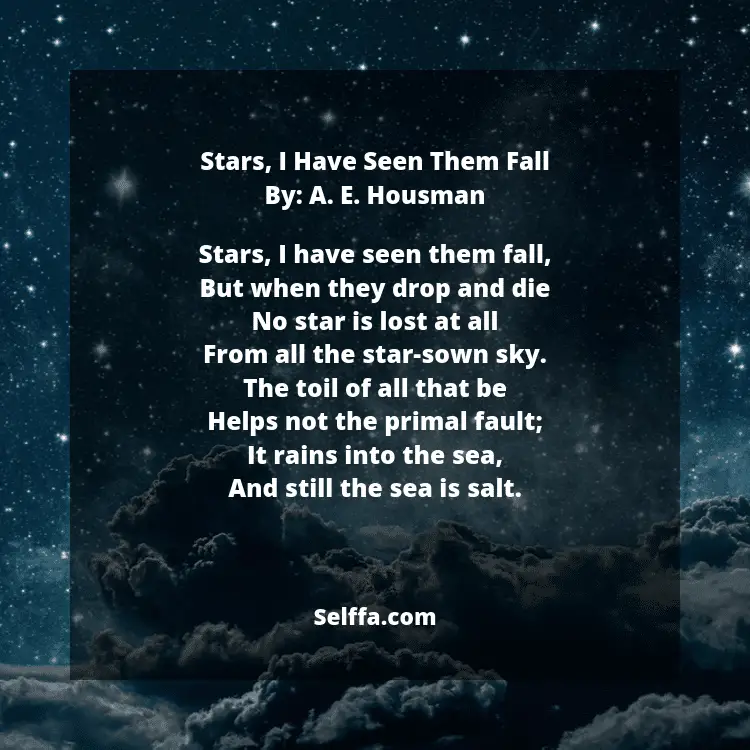 5. The Light of Stars
The night is come, but not too soon;
And sinking silently,
All silently, the little moon
Drops down behind the sky.
There is no light in earth or heaven
But the cold light of stars;
And the first watch of night is given
To the red planet Mars.
Is it the tender star of love?
The star of love and dreams?
Oh no! from that blue tent above,
A hero's armour gleams.
And earnest thoughts within me rise,
When I behold afar,
Suspended in the evening skies,
The shield of that red star.
Oh star of strength! I see thee stand
And smile upon my pain;
Thou beckonest with thy mailed hand,
And I am strong again.
Within my breast there is no light
But the cold light of stars:
I give the first watch of the night
To the red planet Mars.
The star of the unconquer'd will,
He rises in my breast,
Serene, and resolute, and still,
And calm, and self-possess'd.
And thou, too, whosoe'er thou art,
That readest this brief psalm,
As one by one thy hopes depart,
Be resolute and calm.
Oh, fear not in a world like this,
And thou shalt know ere long,
Know how sublime a thing it is
To suffer and be strong.
– Henry Wadsworth Longfellow
6. Stars
Alone in the night
On a dark hill
With pines around me
Spicy and still,
And a heaven full of stars
Over my head,
White and topaz
And misty red;
Myriads with beating
Hearts of fire
That aeons
Cannot vex or tire;
Up the dome of heaven
Like a great hill,
I watch them marching
Stately and still,
And I know that I
Am honored to be
Witness
Of so much majesty.
– Sara Teasdale
7. Song of the Stars
When the radiant morn of creation broke,
And the world in the smile of God awoke,
And the empty realms of darkness and death
Were moved through their depths by his mighty breath,
And orbs of beauty and spheres of flame
From the void abyss by myriads came,—
In the joy of youth as they darted away,
Through the widening wastes of space to play,
Their silver voices in chorus rung,
And this was the song the bright ones sung.
"Away, away, through the wide, wide sky,—
The fair blue fields that before us lie,—
Each sun, with the worlds that round him roll,
Each planet, poised on her turning pole;
With her isles of green, and her clouds of white,
And her waters that lie like fluid light.
"For the source of glory uncovers his face,
And the brightness o'erflows unbounded space;
And we drink, as we go, the luminous tides
In our ruddy air and our blooming sides:
Lo, yonder the living splendours play;
Away, on our joyous path, away!
"Look, look, through our glittering ranks afar,
In the infinite azure, star after star,
How they brighten and bloom as they swiftly pass!
How the verdure runs o'er each rolling mass!
And the path of the gentle winds is seen,
Where the small waves dance, and the young woods lean.
"And see, where the brighter day-beams pour,
How the rainbows hang in the sunny shower;
And the morn and eve, with their pomp of hues,
Shift o'er the bright planets and shed their dews;
And 'twixt them both, o'er the teeming ground,
With her shadowy cone the night goes round!
"Away, away! in our blossoming bowers,
In the soft air wrapping these spheres of ours,
In the seas and fountains that shine with morn,
See, Love is brooding, and Life is born,
And breathing myriads are breaking from night,
To rejoice like us, in motion and light.
"Glide on in your beauty, ye youthful spheres,
To weave the dance that measures the years;
Glide on, in the glory and gladness sent,
To the farthest wall of the firmament,—
The boundless visible smile of Him,
To the veil of whose brow your lamps are dim."
– William Cullen Bryant
8. The Stars
These—the bright symbols of man's hope and fame,
In which he reads his blessing or his curse—
Are syllables with which God speaks his name
In the vast utterance of the universe.
– Madison Cawein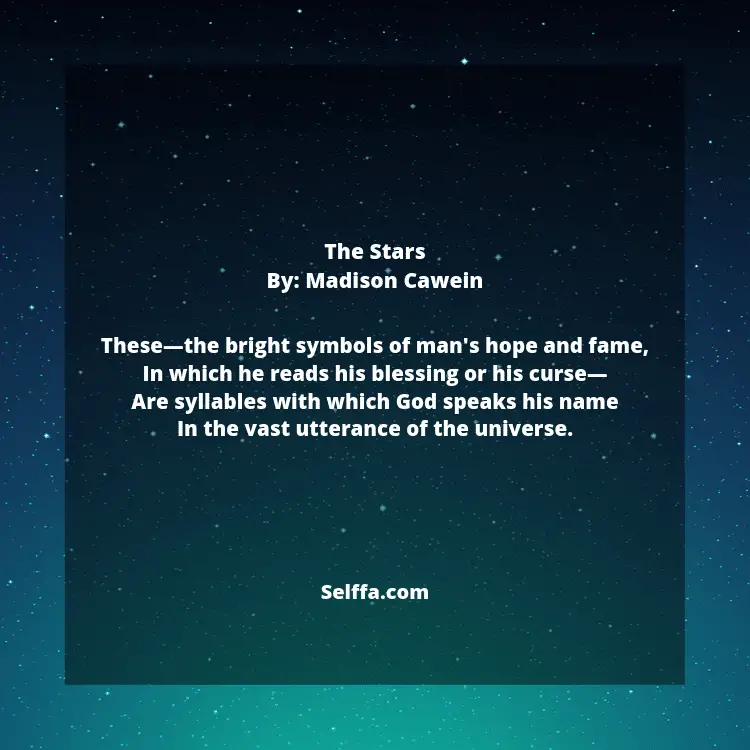 9. The Stars and the Falling Dew
The sun, like a hero, whose chariot rolled
In glory, has reached the west;
And wrapped in his mantle of crimson and gold,
Has sunken away to rest.
The stars from the skies
Look forth like the eyes
Of Angels, the earth to view;
While timid and soft,
Their light form aloft,
Comes down with the falling dew.
The flowers, that, oppressed by the monarch of day,
Have bowing confessed his power,
Are lifting their foreheads, relieved of his ray,
To the cool of the evening hour.
And each holding up
Her emerald cup,
Her delicate draught to renew,
Their trust is repaid,
While their thirst is allayed
By the drops of the falling dew.
The birds are at rest in their own little homes,
Their songs are forgotten in sleep;
And low and uncertain the murmuring comes
From over the slumbering deep.
The breezes that sighed
Have fainted and died
In the boughs they were quivering through,
And motion and sound
Have ceased from around
To yield to the falling dew.
And gently it comes, as the shadowy wing
Of night o'er the earth is unfurled;
A silent, refreshing and spirit-like thing,
To brighten and solace the world!
As the face of a friend.
When in sorrow we bend—
Like a heart ever tender and true,
When darkness is ours,
To the earth and the flowers,
Are the stars and the falling dew.
– Hannah Flagg Gould
10. The Stars are Mansions Built by Nature's Hand
The stars are mansions built by Nature's hand,
And, haply, there the spirits of the blest
Dwell, clothed in radiance, their immortal vest;
Huge Ocean shows, within his yellow strand,
A habitation marvellously planned,
For life to occupy in love and rest;
All that we see – is dome, or vault, or nest,
Or fortress, reared at Nature's sage command.
Glad thought for every season! but the Spring
Gave it while cares were weighing on my heart,
'Mid song of birds, and insects murmuring;
And while the youthful year's prolific art –
Of bud, leaf, blade, and flower – was fashioning
Abodes where self-disturbance hath no part.
– William Wordsworth
11. The Language of the Stars
Ye brilliant orbs that deck the sky,
Shrouded in deepest mystery,
To thee my song I sing!
I long to know of what thou art,
Of this great universe a part,
I feel thy glory in my heart
While to the earth I cling!
I long to traverse thy bright spheres,
To stand above the flight of years
Remembering earth's dark sod;
The terrors of the world defy
And tread the palace of the sky,
Singing of immortality,
And tell the world of God!
How wondrous is thy silent speech!
Unto my soul thy knowledge teach
And tell me more of One,
Who formed thy glittering, gilded gems,
Who framed thy starry diadems,
Who all the golden glory bends
Of the resplendent sun!
What numerous questions to me rise
Whene'er I view the dazzling skies
Or muse on heaven's dome!
O distant worlds, so far, so near,
What beings breathe thy upper air
And live within thine atmosphere,
And make thy realms their homes!
Tell me thou glittering evening star,
Tinting the western sky afar,
On heaven's blue curtain traced;
Hast thou green fields and nodding flowers,
Rivers and hills and city towers?
Art thou a living world like ours
Or but a barren waste?
Mysterious questions, answered not,
With deepest meaning ever fraught,
Flooding this life below,
When rolling years no more shall be,
When man shall find his destiny,
When time unveils eternity;
Perhaps, we then shall know.
The gracious Ruler over all
Who formed this changing earthly ball
And spake a world from naught,
All of thy gems so rich and rare,
All of thy glories, dazzling fair,
With wondrous skill and loving care,
With His own hand hath wrought.
Earth, all thy myriad voices raise
To sing of all God's wondrous ways
'Till heaven's high arches ring.
Lo, from the clouds Thy voice is heard,
The mountains tremble at Thy word,
The heavens declare Thy glory, Lord;
The stars Thy praises sing!
– Martha Lavinia Hoffman
12. Summer Stars
BEND low again, night of summer stars.
So near you are, sky of summer stars,
So near, a long arm man can pick off stars,
Pick off what he wants in the sky bowl,
So near you are, summer stars,
So near, strumming, strumming,
So lazy and hum-strumming.
– Carl Sandburg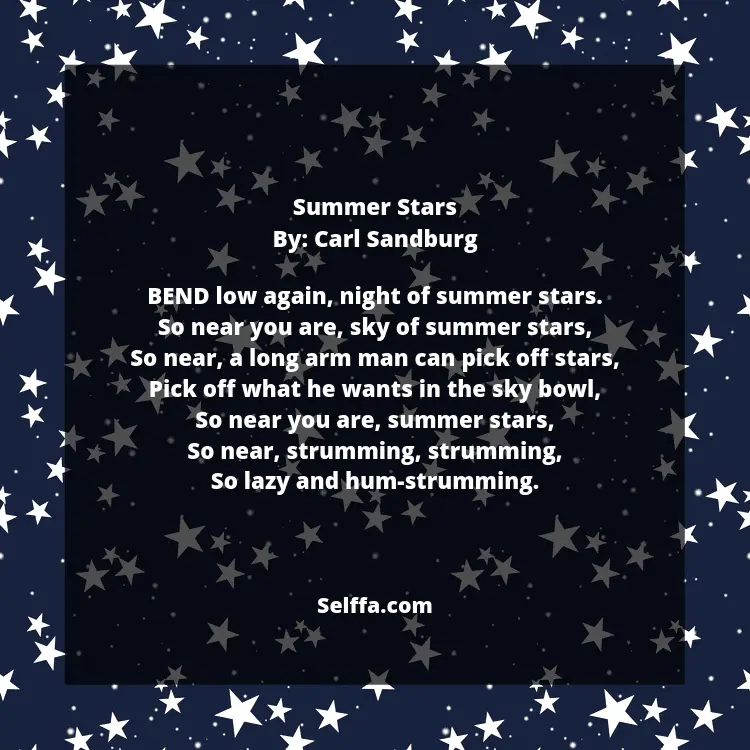 13. Save Stars
The shiny little stars that, our sky holds
Witness of every mystery which so far unfold
Stays awake and vigilant when even can't be seen
Record the most dreadful but still looks so clean
No vacations ain't travel, stands still until dawn
Guide our ways daily, when moon is even gone
See sins all the time, Can't even close their eyes
May break in smaller pieces, May all the time cries
Only one who LOVES can make a little difference
Because Star shines only, that very instance
You love and let star twinkle with joy in the night
Else world comes to an end if you ain't hold this tight
– Deepak Manchanda
14. O Radiant Stars That Shine Above
O radiant stars that shine above
And fill the evening sky,
Please offer me a sign of love
Or else just fade and die.
Cast down on me a beam of hope
To which I may now cling,
For lost am I and cannot cope
Glad tidings may you bring.
Shine on for me until the dawn
When sunlight shall appear,
I long to greet the rising morn
And see her standing here.
Within the stars my fortune told,
But as for now the night grows cold.
– Andrew Blakemore
15. Stars And Starry Hearts
Hubble, bubble, distant stars
looking into darkness ohh so far.
Because that light takes time to travel
into cosmic history it dimly sees
when the universe was forming
the very first stars to be.
The beginning of lights first dawning
in those distant galaxies.
We only see what was there
in the time that meets our stare.
What is there right now?
No one knows for sure
until time unlocks the door.
Thinking time is fixed
and all we see is real
when it is history, that we see and feel.
Passing thoughts in starry dreams
with such wondrous diverse themes.
Peering into darkness
the only light that dispels the blackness
deep inside our hearts.
The essence of all that ever was
and will be in the all pervading black
on which He writes our lifelong track.
– David Taylor
16. The Stars Do Not Know That They Are Stars
The stars do not know that they are stars
They do not know how violent they are-
They do not know they inspire human dreams
They do not know that they are more distant than they seem-
The stars do not know that they are stars
They do not know we do not see them as they are-
They do not know that trillions of transformations from now
They will not even be gaseous clouds.
– Shalom Freedman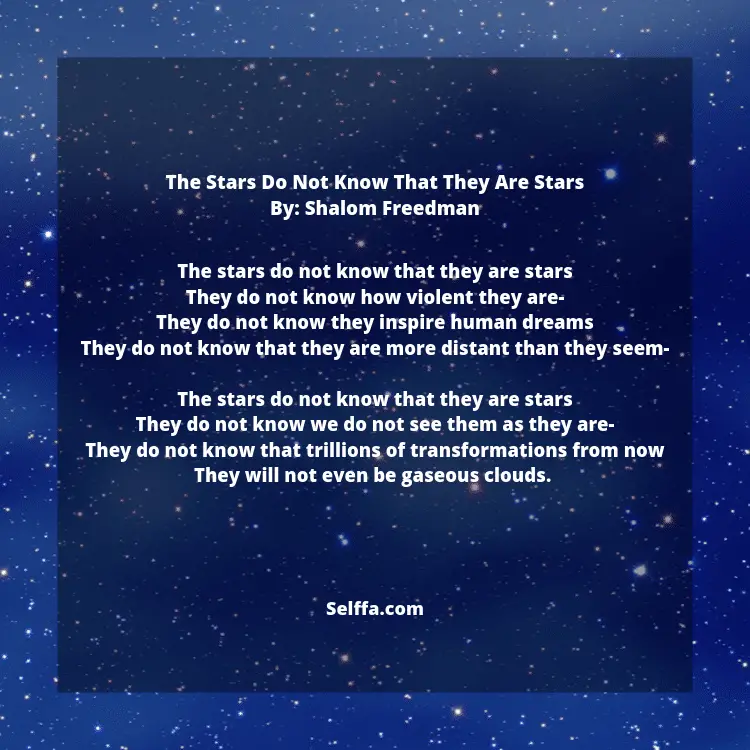 17. Stars
Ah! why, because the dazzling sun
Restored our Earth to joy,
Have you departed, every one,
And left a desert sky?
All through the night, your glorious eyes
Were gazing down in mine,
And, with a full heart's thankful sighs,
I blessed that watch divine.
I was at peace, and drank your beams
As they were life to me;
And revelled in my changeful dreams,
Like petrel on the sea.
Thought followed thought, star followed star
Through boundless regions on;
While one sweet influence, near and far,
Thrilled through, and proved us one!
Why did the morning dawn to break
So great, so pure a spell;
And scorch with fire the tranquil cheek,
Where your cool radiance fell?
Blood-red, he rose, and arrow-straight,
His fierce beams struck my brow;
The soul of nature sprang, elate,
But mine sank sad and low.
My lids closed down, yet through their veil
I saw him, blazinig, still,
And steep in gold the misty dale,
And flash upon the hill.
I turned me to the pillow, then,
To call back night, and see
Your words of solemn light, again,
Throb with my heart, and me!
It would not do – the pillow glowed,
And glowed both roof and floor;
And birds sang loudly in the wood,
And fresh winds shook the door;
The curtains waved, the wakened flies
Were murmuring round my room,
Imprisoned there, till I should rise,
And give them leave to roam.
O stars, and dreams, and gentle night;
O night and stars, return!
And hide me from the hostile light
That does not warm, but burn;
That drains the blood of suffering men;
Drinks tears, instead of dew;
Let me sleep through his blinding reign,
And only wake with you!
– Emily Jane Brontë
18. Stars Wheel in Purple
Stars wheel in purple, yours is not so rare
as Hesperus, nor yet so great a star
as bright Aldeboran or Sirius,
nor yet the stained and brilliant one of War;
stars turn in purple, glorious to the sight;
yours is not gracious as the Pleiads are
nor as Orion's sapphires, luminous;
yet disenchanted, cold, imperious face,
when all the others blighted, reel and fall,
your star, steel-set, keeps lone and frigid tryst
to freighted ships, baffled in wind and blast.
– Hilda Doolittle
19. The Stars Are With The Voyager
The stars are with the voyager
Wherever he may sail;
The moon is constant to her time;
The sun will never fail;
But follow, follow round the world,
The green earth and the sea,
So love is with the lover's heart,
Wherever he may be.
Wherever he may be, the stars
Must daily lose their light;
The moon will veil her in the shade;
The sun will set at night.
The sun may set, but constant love
Will shine when he's away;
So that dull night is never night,
And day is brighter day.
– Thomas Hood
20. If Stars Dropped Out Of Heaven
If stars dropped out of heaven,
And if flowers took their place,
The sky would still look very fair,
And fair earth's face.
Winged angels might fly down to us
To pluck the stars,
Be we could only long for flowers
Beyond the cloudy bars.
– Christina Georgina Rossetti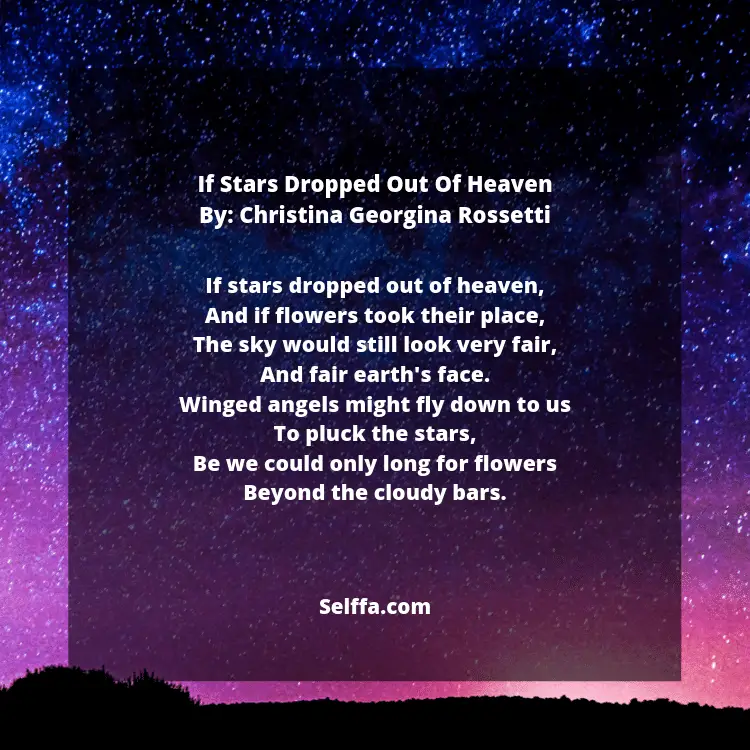 21. Stars
The luminosity of their sparkle
Blind with devotion, concealed with adoration.
The innocence of their angelic light,
Shine with the boundless uncertainty
Of where they are to glisten next.
The purity of their bleached glow
Fill with the endless possibilities of beauty beyond our belief.
The simplicity of their navigation
Guide us through anguish we often begin to feel.
The delicacy of their gentle awakening
Enliven our sky with slight promises and the fascination of confusion.
The aspiration the beam lets off
Shows us the path to our capacious imagination full of desires.
The gleam of their twinkle
Darken with perfection, align
With daydream, and are matched flawlessly
With the unreality of our everlasting fantasies.
– Jasmine Sanchez
22. When I Wish Upon Stars
Stars glisten like diamonds,
in the blackness of a sky canvas.
in blue moonlight, little almonds
midnight eyes between the planets.
Constellations glimmer from pitch black,
ever wakeful among sky's velvet curtains.
Ecstatic stars, of joy they've no lack,
they know not, misery or sorrow for certain.
I make my wishes upon those stars,
I know they hear my petitions of hope.
Perhaps my wishes will go quite far,
into the universe, they will float.
When answers arrive, in my joyous glee,
I'll thank those stars with, abundant gratitude.
With bated breath I wait to see,
and elation, I'll exude.
– M.L. Kiser
23. To The Stars
Stars in the distant heavens!
You who with rays from a better world
brighten the dimness of earth,
are not spiritual eyes looking
earthward from you,
breathing peace
into my beclouded heart?
Stars in the distant heavens!
Is also in your realm
a life's fleeting dream being dreamed?
Are delight, joy,
mourning, melancholy, pain
rising out beyond our sun
within a heart full of feeling?
Stars in the distant heavens!
Are you not already sending me a sign
of heavenly peace from your remoteness?
Will not soon the weary one
in golden meadows
feel untroubled peace
falling like dew into his soul?
Stars in the distant heavens!
Until my spirit lifts its wings
and soars upward to your peace,
may my longing be set on you,
hoping, full of faith!
Oh, you lovely ones, beautiful ones,
could you ever disappoint me?
– Friedrich Rückert
24. Stars
Now in the West the slender moon lies low,
And now Orion glimmers through the trees,
Clearing the earth with even pace and slow,
And now the stately-moving Pleiades,
In that soft infinite darkness overhead
Hang jewel-wise upon a silver thread.
And all the lonelier stars that have their place,
Calm lamps within the distant southern sky,
And planet-dust upon the edge of space,
Look down upon the fretful world, and I
Look up to outer vastness unafraid
And see the stars which sang when earth was made.
– Marjorie Lowry Christie Pickthall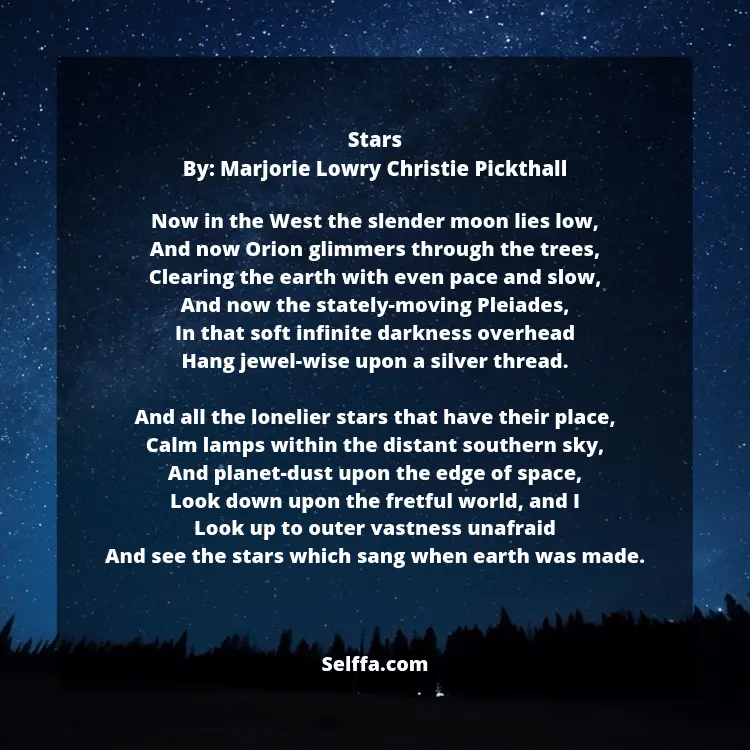 25. Heaven And The Stars
Brilliant heavens of evening,
Distant stars clearly shining,
Bright as the rapture of childhood,
O why dare I send you nevermore greeting–
Stars, who are shining as clear as my joy?
What is thy sorrow?
Mortals make question.
This is my sorrow;
The heavens and the stars are–heaven and stars ever,
I am alas! but a perishing man!
Forever mortal
Envies his neighbor;
I envy rather
Ye in your freedom, ye stars ever radiant,
And only would be in your places!
– Mikhail Yuryevich Lermontov
26. Shining Stars
Shine, ye stars of heaven,
On a world of pain!
See old Time destroying
All our hoarded gain;
All our sweetest flowers,
Every stately shrine,
All our hard-earned glory,
Every dream divine!
Shine, ye stars of heaven,
On the rolling years!
See how Time, consoling,
Dries the saddest tears,
Bids the darkest storm-clouds
Pass in gentle rain,
While upspring in glory
Flowers and dreams again!
Shine, ye stars of heaven,
On a world of fear!
See how Time, avenging,
Bringeth judgment here:
Weaving ill-won honors
To a fiery crown;
Bidding hard hearts perish;
Casting proud hearts down.
Shine, ye stars of heaven,
On the hour's slow flight!
See how Time, rewarding,
Gilds good deeds with light;
Pays with kingly measure;
Brings earth's dearest prize;
Or, crowned with rays diviner,
Bids the end arise!
– Adelaide Anne Procter
27. When Stars Are In The Quiet Skies
When stars are in the quiet skies,
Then most I pine for thee;
Bend on me then thy tender eyes,
As stars look on the sea.
For thoughts, like waves that glide by night,
Are stillest when they shine;
Mine earthly love lies hushed in light
Beneath the heaven of thine.
There is an hour when angels keep
Familiar watch o'er men,
When coarser souls are wrapped in sleep;
Sweet spirit, meet me then!
There is an hour when holy dreams
Through slumber fairest glide,
And in that mystic hour it seems
Thou shouldst be by my side.
My thoughts of thee too sacred are
For daylight's common beam;
I can but know thee as my star,
My angel and my dream!
When stars are in the quiet skies,
Then most I pine for thee;
Bend on me then thy tender eyes,
As stars look on the sea.
– Edward Robert Bulwer-Lytton
28. Sometimes It Is Good To Gaze Upon The Stars
Cold winter night
Stars glitter
Like crystals of ice
High up above.
So far away they are,
So bleak their distant
Loneliness in all that vastness
Of the heavens' emptiness
We find our minds recoil
As though we tried
To comprehend eternity;
It hurts, yet there they are,
The stars for all to see
Who will and though we may
Not care to dwell
Too long upon them
Yet we thrill
To know that they with us are there
And like the sun and moon
Are not a dream but real.
– Pete Crowther