What is happiness and how can you truly experience it? Often times, the only way for us to describe happiness is to compare it with a range of positive emotions such as joy, contentment, and gratitude. But this collection of poems we prepared for you perfectly describe happiness in words. They are from some of the most famous and brightest poets in the world. Enjoy reading them and we hope you love them as much as we do!
Poems About Happiness
1. A Birthday 
by: Christina Rossetti
My heart is like a singing bird
Whose nest is in a water'd shoot,
My heart is like an apple-tree
Whose boughs are bent with thickset fruit,
My heart is like a rainbow shell
That paddles in a halcyon sea,
My heart is gladder than all these
Because my love is come to me.
Raise me a dais of silk and down,
Hang it with vair and purple dyes,
Carve it in doves and pomegranates,
And peacocks with a hundred eyes,
Work it in gold and silver grapes,
In leaves and silver fleurs-de-lys,
Because the birthday of my life
Is come, my love is come to me.
2. Strawberries 
by: Edwin Morgan
There were never strawberries
like the ones we had
that sultry afternoon
sitting on the step
of the open french window
facing each other
your knees held in mine
the blue plates in our laps
the strawberries glistening
in the hot sunlight
we dipped them in sugar
looking at each other
not hurrying the feast
for one to come
the empty plates
laid on the stone together
with the two forks crossed
and I bent towards you
sweet in that air
in my arms
abandoned like a child
from your eager mouth
the taste of strawberries
in my memory
lean back again
let me love you
let the sun beat
on our forgetfulness
one hour of all
the heat intense
and summer lightning
on the Kilpatrick hills
let the storm wash the plates
3. Ah, Ah
by: Joy Harjo
Ah, ah cries the crow arching toward the heavy sky over the marina.
Lands on the crown of the palm tree.
Ah, ah slaps the urgent cove of ocean swimming through the slips.
We carry canoes to the edge of the salt.
Ah, ah groans the crew with the weight, the winds cutting skin.
We claim our seats. Pelicans perch in the draft for fish.
Ah, ah beats our lungs and we are racing into the waves.
Though there are worlds below us and above us, we are straight ahead.
Ah, ah tattoos the engines of your plane against the sky—away from these waters.
Each paddle stroke follows the curve from reach to loss.
Ah, ah calls the sun from a fishing boat with a pale, yellow sail. We fly by
on our return, over the net of eternity thrown out for stars.
Ah, ah scrapes the hull of my soul. Ah, ah.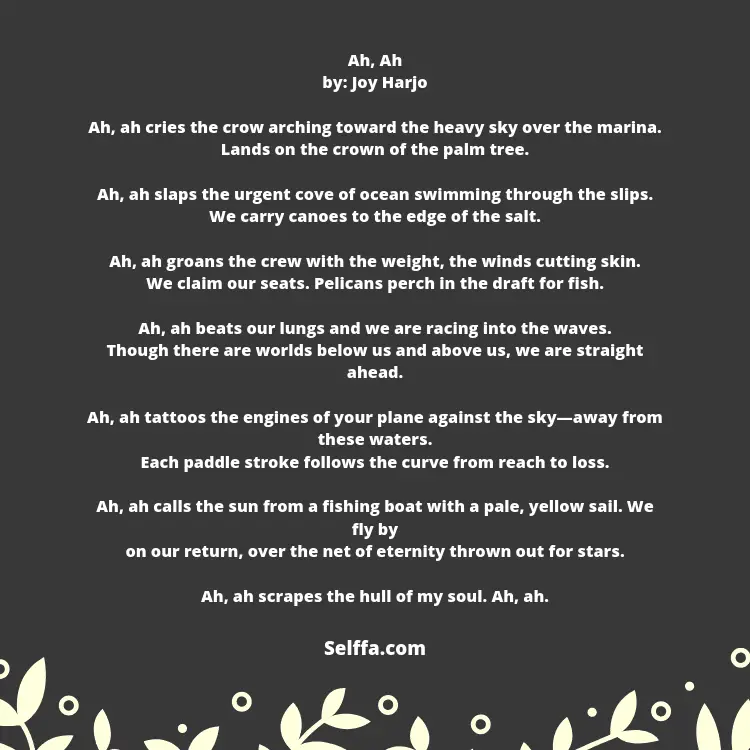 4. Happiness
by: Judith Viorst
Happiness
Is a clean bill of health from the doctor,
And the kids shouldn't move back home for
more than a year,
And not being audited, overdrawn, in Wilkes-Barre,
in a lawsuit or in traction.
Happiness
Is falling asleep without Valium,
And having two breasts to put in my brassiere,
And not (yet) needing to get my blood pressure lowered,
my eyelids raised or a second opinion.
And on Saturday nights
When my husband and I have rented
Something with Fred Astaire for the VCR,
And we're sitting around in our robes discussing,
The state of the world, back exercises, our Keoghs,
And whether to fix the transmission or buy a new car,
And we're eating a pint of rum-raisin ice cream
on the grounds that
Tomorrow we're starting a diet of fish, fruit and grain,
And my dad's in Miami dating a very nice widow,
And no one we love is in serious trouble or pain,
And our bringing-up-baby days are far behind us,
But our senior-citizen days have not begun,
It's not what I called happiness
When I was twenty-one,
But it's turning out to be
What happiness is.
5. Happiness
by: A Sad Alex 
Happiness
can not be found in the flesh
For as warm it may be
As soft to your fingers it is
It will lay soft and cold eventually
can not be found in gold
Yes, it never loses its luster
But many coins you need to muster
And no number will fill the gap in your soul
can not be found in others
For the laughs may distract
The facade will crack
And still you will be empty inside
ilusive as it may be
It follows you around
It never left
For within you she rest
Waiting to be awoken
And while the rest might feel great
They serve as nothing but crutches
On your own you must stand
If you are to revel
On the pleasures life offers…
To improve one's self
To look on path troded
It's essence
To know there is more
With hunger jump forth
It's rushes
To balance the mind
With the desire of the heart
It ́s key
And once held in hand
You will understand
That happiness flies like a bird
But behind she left
Tranquility
And the knowledge
That you can get it again.
6. Happiness
by: Luz Hanaii 
Many think, I used to think this as well, that to be happy you must fill exalted and exited. When good things happen to us we naturally feel good and elated, it's a natural human response. Good things make us feel good and what we consider not good, make us feel bad.  A natural child and human response.
The sense of  happiness I'm describing here is not the mere result of a reaction to some happy event but is rather the state of being of our spirit, the acceptance that there will always be things that we have not control of, which we feel are bad and make us angry or sad.  True happiness in my estimation is being at peace, not letting our emotions, either good or bad determine our inner balance.
How many times those things I considered  bad, latter where the very things which help me learn and grow.  Experiences such as, illnesses, poverty, abuse, ignorance, depression, anxiety, fear… on and on, are nothing more than teachers, though we may see them as tormentors, when they first strike at us.
We are taught to live in this world using our five senses.  Therefore we estimate that happiness must be having good things and good feelings. We are thought to judge in order to survive in this world.  And that is fine up to a point, if we don't look before crossing the street, we take our chances at getting hit by a car.
We are taught that happiness is outside of us, we look for entertainment, material things,  and people to make us happy. We look for support and words from others to value who we are, it is the normal thing a child does. It is the normal process of the primitive survival geared mind.
Some of us have not have the blessing of having parents that were happy within themselves, we've been verbally and physically abused, publicly ridiculed,  beaten, not validated/ignored, minimized and made to feel sick and disconnected etc. we've come from broken homes and broken people trying to raise us as best they knew how.  We are trying to heal and grow. We are all seeking to be happy. We are all seeking support from an exterior world and from people, it's natural. But as we mature and awake, we realize that no person, entertainment or thing can ever truly give you the happiness you need. We need to stop comparing ourselves with others or taking to heart their estimation of us. We need to revise and update the old programing in our minds given to us by our parents, school, the world. We have to learn to forgive others, love and accept our selves to find true happiness.  
7. Journey to Happiness
by: Carina 
Sometimes you have no reason to stay,
and realize that's a perfect reason to go.
And that taking an entirely new way,
is the only method to grow.
If you're washed-on abeyance's bight,
and you feel decision's heavy heft:
To go to the left where nothing's right,
or the right where nothing's left.
Remember it doesn't matter where you proceed,
or which mountain you want to ascend.
It does not matter whether you succeed,
it is the journey that matters in the end.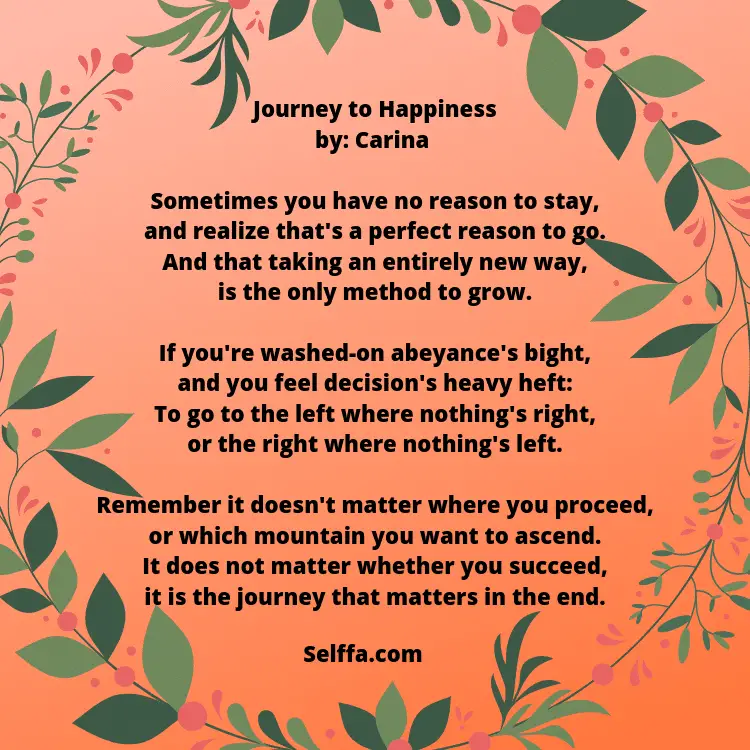 8. The World Is A Beautiful Place and I Am No Longer Afraid To Die
by: Morgan Mercury 
You lay in a field of flowers counting each bird that passes overhead.
You've erased concern and decided to live for the moment because you always would say, "we might be dead by tomorrow."
Flowers grew from your heart and bloomed across your lungs,
creating a garden that sang the most beautiful hymns,
while my garden was withering.
Each breath you took was never wasted,
but I couldn't help but count mine like they were birds passing overhead.
Every night you would view the stars and moon with pure amazement as if it was your first time seeing them.
You gave all your love to me and each kiss was coined in my pocket.
You fell in love with me every night and I fell for all your hymns.
Soon enough the world would pass us by but I wouldn't blink because I could live off your touch for the rest of my time.
You showed me there is more in life than just one color,
but instead, the world is a whole painting with colors that can't be described.
You showed me just how beautiful the world was.
You taught me how to grow beauty from my eyes but lately, I've been dreaming and falling for stars.
Imagining what it'd be like slow dancing with the planets, getting lost in constellations.
But I'm just not ready to go yet however I do not control time.
You showed me that dying can be beautiful.
That we'll be okay because when we leave we all become one with the earth and one with nature.
So love, love me until time runs out,
until I become one with nature.
And many years later as time starts to fly by and you slowly start to watch your clock tick down, you'll know where to find me, my love.
I'll be up with stars.
Somewhere lost in the cosmos.
I'll be spinning with the planets dreaming about what it would feel like to be able to walk on flowers again.
9. Happiest Days
by: Edward H. Donnelly
I said to the little children,
"You are living your happiest days,"
And their bright eyes opened wider In innocent amaze.
For their happiness was so perfect,
They did not know it then.
"Oh, no," they said, "there'll be happier days
When we are women and men."
I said to the youth and maiden,
"You are living your happiest days,"
And into their sparkling eyes there crept
A dreamy, far-off gaze.
And their hands sought one another,
And their cheeks flushed rosy red.
" Oh, no," they said, " there'll be happier days
For us when we are wed."
I said to the man and woman,
"You are living your happiest days,"
As they laughingly watched together
Their baby's cunning ways.
"These days are days of labor.
They can hardly be our best.
There'll be happier days when the children are grown,
And we have earned our rest."
I said to the aged couple,
"You are living your happiest days,"
Your children do you honor,
You have won success and praise.
" With a peaceful look they answered,
"God is good to us, that's true: But we think there are happier days for us
In the life we're going to."
10. A Rule For Happiness
Live right! Be pure! With conscience clear,
Have nought to fear from year to year.
Be quick to lend a helping hand
To suffering ones throughout the land.
Take this old world as it is.
Make the best of it you can.
Love not riches, honor, fame,
But love the more your fellowman.
Seek joy in every path you tread,
Be sure of love before you wed.
Trust everything to love divine,
True happiness will then be thine.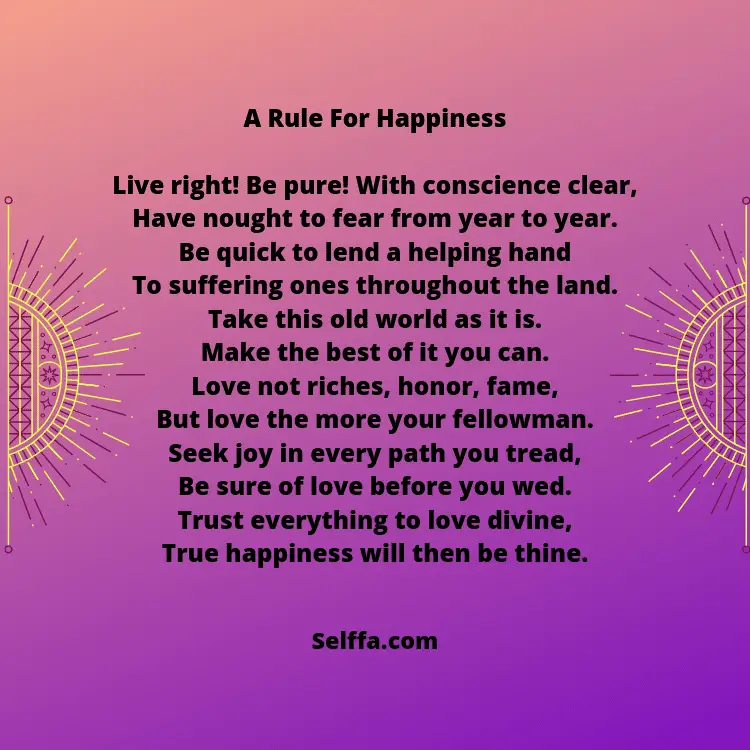 11. Thinking Happiness
by: Robert E Farley
Think of the things that make you happy,
Not the things that make you sad,
Think of the kind and true in mankind,
Not its sordid side and bad,
Think of the blessings that surround you,
Not the ones that are denied,
Think of the virtues of your friendships,
Not the weak and faulty side.
Think of the gains you've made in business,
Not the losses you've incurred.
Think of the good of you that's spoken,
Not some cruel, hostile word.
Think of the days of health and pleasure,
Not the days of woe and pain.
Think of the days alive with sunshine,
Not the dismal days of rain.
Think of the hopes that lie before you,
Not the waste that lies behind you.
Think of the treasures you have gathered,
Not the ones you've failed to find.
Think of the service you may render,
Not of serving self alone.
Think of the happiness of others
And in this you'll find your own.
12. Poems on Happiness 
by: Sri Chinmoy
I am happy because I always choose the right moment.
I am happy because I am a good listener.
I am happy because I keep my voice down.
I am happy because I do not try to convince others.
I am happy because I do not complain.
I am happy because I have realised that the most important thing in my life is,
Self-improvement.
I am happy because I unreservedly accentuate the good in others.
I am happy because I have considerably cut down on my desiring needs.
I am happy because I follow my thought-control program every day.
I am happy because I never quit.
I am happy because every day I offer my heart of gratitude to the Supreme.
I am happy because a daily prayer of mine is:
"O my Beloved Supreme,
Do transform the world
Starting with me, my life, my all."
13. I am Happy
I believe everybody.
Therefore
I am happy.
I love everybody.
Therefore
I am happy.
I think of God every day, everywhere.
Therefore I am happy.
I am happy, I am always happy
Because
Heaven lives for the cries of my heart
And Earth lives for the smiles of my soul.
14. You Will Be Happy
Minimise your wants,
You will be happy.
Fulfil your needs,
You will be happy.
Divinise your thoughts,
You will be happy.
Immortalise your faith,
You will be happy.
Rectify your mistakes,
You will be happy.
Intensify your cry,
You will be happy.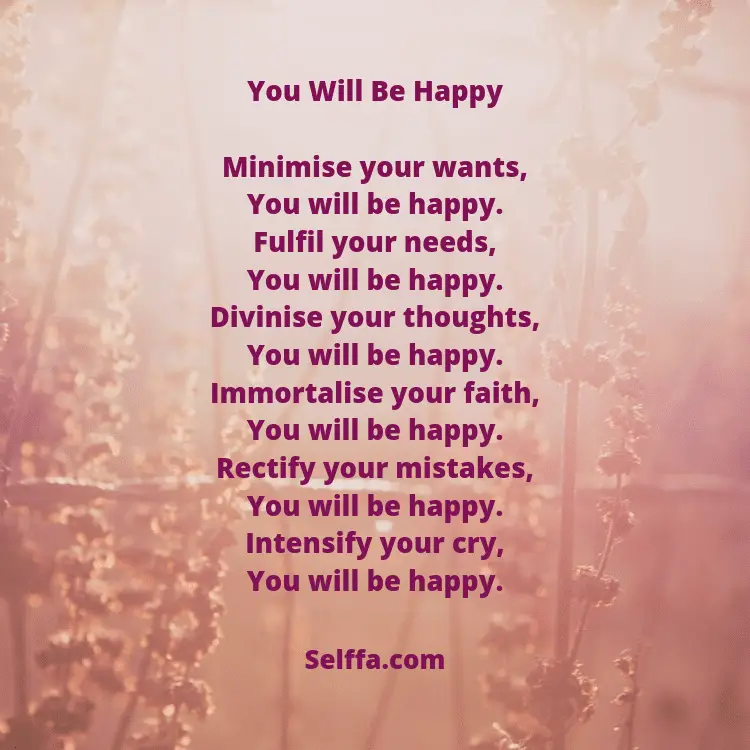 15. Happiness
Happiness, happiness.
My dear friend, happiness,
My unparalleled friend, happiness.
You help me to defy death's existence.
You help me to purify sorrow's presence.
You help me to strengthen my weakness.
You help me to enlighten my strength.
You help me to see the face
Of promise-dawn.
You help me to feel the heart
Of satisfaction-moon.
You help me to lead
The human in me.
You help me to feed
The divine in me.
You help me to fulfil
The Supreme in me.
My Eternity's friend, happiness,
You were, you are
And you shall forever remain
My Eternity's only true friend.
16. Happiness
by: Louise Gluck
A man and a woman lie on a white bed.
It is morning. I think
Soon they will waken.
On the bedside table is a vase
of lilies; sunlight
pools in their throats.
I watch him turn to her
as though to speak her name
but silently, deep in her mouth
At the window ledge,
once, twice,
a bird calls.
And then she stirs, her body
fills with his breath.
I open my eyes, you are watching me.
Almost over this room
the sun is gliding.
Look at your face, you say,
holding your own close to me
to make a mirror.
How calm you are. And the burning wheel
passes gently over us.
17. Innermost Happiness
by: Ernestine Northover
Let's go find that great blue yonder,
Far away from noise and rush,
A place where one can sit and ponder,
Silently, in a cocoon of hush.
With solitude, to rest one's senses,
Some time to grasp what life's about,
To knock down all those rigid fences,
And let your wildest thoughts fly out.
Allow for all your hopes to wander,
Into dreams that calm the mind,
And use the time in that great blue yonder,
Your innermost happiness to find.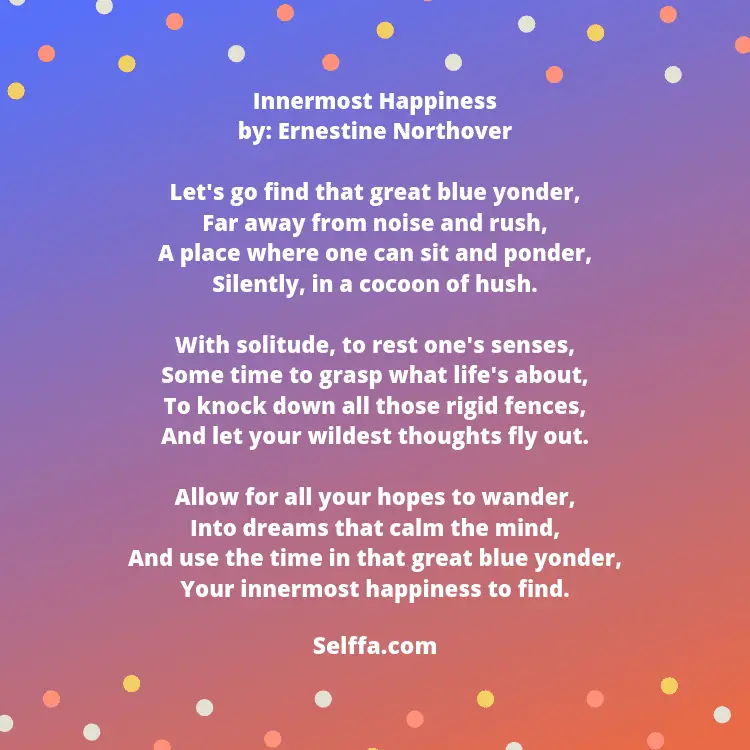 18. After All This Happiness 
by: Lonnie Hicks
There is a drunk boy in my bed and he smells.
I want him to leave so I can wash the sheets,
clean up,
arrange things, erase this episode
in my singlehood.
Scandal, scandal, scandal, boys boys boys:
woke up this morning, no love in the bed.
You and I should meet for lunch. You can give me
advice. I sometimes feel judged. But that is from my
friends who aren't getting any.
Right now I guess I am wrapped up in the excitedness of it all.
But it is getting lonely here because most of my friends are getting
married.
One day, after all of this I will be married and happy and all that
Love, Anita.
19. Happiness
by: Tree.Cards
We often wonder,
where happiness starts.
The journey usually begins,
in our individual hearts.
Each of us possesses,
our happiness view.
We must stick to our values,
in the mirror we must be true.
Spending time with others,
who we love and deeply care.
It's these simple moments in time,
every day we'd love to share.
All the fortunes in this world,
shall not make our spirits sing.
It's amazing how much joy,
a baby's laughter seems to bring.
Happiness is processed,
a million times inside each mind.
The secret is no secret,
just be positive and kind.
This feeling that we seek,
does not depend on age.
We truly hope it follows us,
as we turn another page.
20. Pursuit of Happiness
by: Tree.Cards
To a sunshine morning,
she woke up with a grin.
Another gloomy day,
she felt inside her skin.
Summer Saturday,
this meant she was free.
Maybe all she needed,
was a little shopping spree.
A couple hours later,
it was total bags galore.
The stuff did not erase her grin,
yet she wanted plenty more.
She stared at the thief of time,
on the couch she seemed so tired.
Nothing on the millionth channel,
she noticed that inspired.
Her anxiety and gloom,
grin openly confessed.
She dreamed of buying a life,
with happiness and zest.
But then she heard the doorbell,
a loving, dear, old friend.
Happiness arrived,
for that grin, it was the end.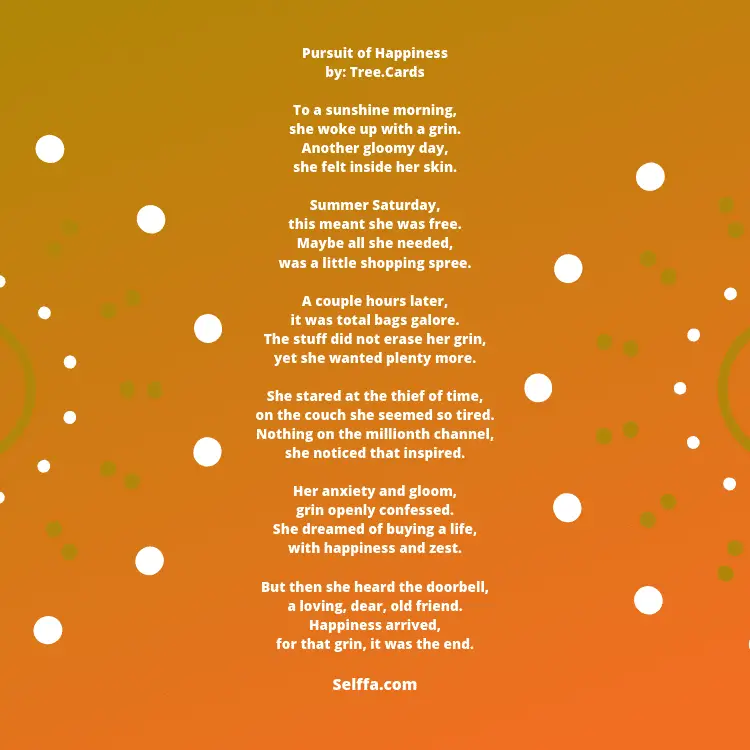 21. Always Happy
by: Tree.Cards
It's important to be happy,
every single day.
When at home or at school,
and especially when you play.
Always being happy,
is a very cool style.
Don't be shy to show us all,
your big old shiny smile.
Make sure you smell those flowers,
exactly when they bloom.
Every time you're happy,
you will light up every room.
Don't hide happiness in a box,
make sure you freely share.
Now go and jump around,
and spread it in the air.
22. Search For Happiness
by: Tree.Cards
A masterpiece,
of art,
Is what happiness,
is to the heart.
It's much more,
than a state of mind.
When we seek it,
we're often blind.
Into the future or past,
we often search and stare,
Yet happiness sits,
next to our chair.
We must stop,
looking right through,
What it's made of
we've always knew.
Originates,
deep inside,
To our very being,
it's closely tied.
Let's take a deep look,
and openly embrace,
Happiness
into our space.
23. You Need Not Leave Your Room 
by: Franz Kafka
You need not leave your room.
Remain seated at your table
and listen. You need not even listen.
simply wait, just be quiet, still, solitary.
The world will freely offer
itself to you to be unmasked.
It has no choice, it will roll
in ecstasy at your feet.
24. Happiness 
by: Jayne Kenyon
There's just no accounting for happiness,
or the way it turns up like a prodigal
who comes back to the dust at your feet
having squandered a fortune far away.
And how can you not forgive?
You make a feast in honor of what
was lost, and take from its place the finest
garment, which you saved for an occasion
you could not imagine, and you weep night and day
to know that you were not abandoned,
that happiness saved its most extreme form for you alone.
No, happiness is the uncle you never
knew about, who flies a single-engine plane
onto the grassy landing strip, hitchhikes
into town, and inquires at every door
until he finds you asleep midafternoon
as you so often are during the unmerciful
hours of your despair.
It comes to the monk in his cell.
It comes to the woman sweeping the street
with a birch broom, to the child
whose mother has passed out from drink.
It comes to the lover, to the dog chewing
a sock, to the pusher, to the basket maker,
and to the clerk stacking cans of carrots in the night.
It even comes to the boulder
in the perpetual shade of pine barrens,
to rain falling on the open sea,
to the wineglass, weary of holding wine.
25. Help Yourself To Happiness 
by: Helen Steiner Rice
Everybody everywhere seeks happiness, it's true,
But finding it and keeping it seems difficult to do.
Difficult because we think that happiness is found
Only in the places where wealth and fame abound. And so we go on searching in palaces of pleasure
Seeking recognition and monetary treasure,
Unaware that happiness is just a state of mind
Within the reach of everyone who takes time to be kind.
For in making others happy we will be happy, too.
For the happiness you give away returns to shine on you.