In every day that the morning sun greets us, we are able to see the beauty of life. The flowers, the stars, the rain, and even the pain give immeasurable delight to our existence. So let us continue to appreciate life despite its ups and downs with the following 139 life is beautiful quotes.
Life Is Beautiful Quotes
1. Struggles make you stronger and the changes make you wiser and happiness has its own way of taking its sweet time. Life isn't always lovely, but it's a beautiful ride. – Gary Allan
2. Life is beautiful. Look around. Don't take anything for granted. – Martha Williamson
3. Life is beautiful in all it's colors, even the darker ones, they're here for a reason. – Chris Martin
4. Life is beautiful. Cherish every moment even if you're stressed or hurt or whatnot. There's always tomorrow and it always gets better. – Ariana Grande
5. My theory on life is that life is beautiful. Life doesn't change. You have a day, and a night, and a month, and a year. We people change – we can be miserable or we can be happy. It's what you make of your life. – Mohammed bin Rashid Al Maktoum
6. Keep your head high, keep your chin up, and most importantly, keep smiling, because life's a beautiful thing and there's so much to smile about. – Marilyn Monroe
7. Life is beautiful. It's about giving. It's about family. – Walt Disney
8. I was poor but I knew that life is beautiful. And I had no other ambition than to discover with the help of new means those deep inner ties that linked me to the very soil. – Maurice de Vlaminck
9. That which reminds us of nature and thus stimulates a feeling for the infinite abundance of life is beautiful. Nature is organic,and therefore the highest beauty is forever vegetative; and the same is true for morality and love. – Karl Wilhelm Friedrich Schlegel
10. Life is abundant, and life is beautiful. And it's a good place that we're all in, you know, on this earth, if we take care of it. – Alice Walker
11. I suppose there are a lot of reasons to be jaded or sarcastic or bitter in life, but I hang on to the reasons why life is beautiful. – Kelli O'Hara
12. Life is beautiful. He who reads that
As in the window of some distant, speeding train
Knows what he wants, and what will befall.
– John Ashbery
13. Life is beautiful, and terrible, and strange. – Johnette Napolitano
14. Hope rises and dreams flicker and die. Love plans for tomorrow and loneliness thinks of yesterday. Life is beautiful and living is pain. – Hunter S. Thompson
15. Life is beautiful. Let the future generations cleanse it of all evil, oppression, and violence, and enjoy it to the full. – Leon Trotsky
16. Life is beautiful for those who take the risk to love and take the adventure to enjoy life. – Debasish Mridha
17. Life is beautiful. Live every day in the present. Be grateful for who you are and appreciate the world around you. – Independent Zen
18. Life is beautiful, you are beautiful, no excuses. – Miya Yamanouchi
19. Love yourself, life will be fine and happy.
Life is beautiful live it to the full,
Love is abundance share it with your friends.
– Vanessa Nanthakumaran
20. Life is beautiful. You have to be thankful that we are living. Wherever you look is beauty. I know about the bad things, but I look for the good things. – Alice Herz-Sommer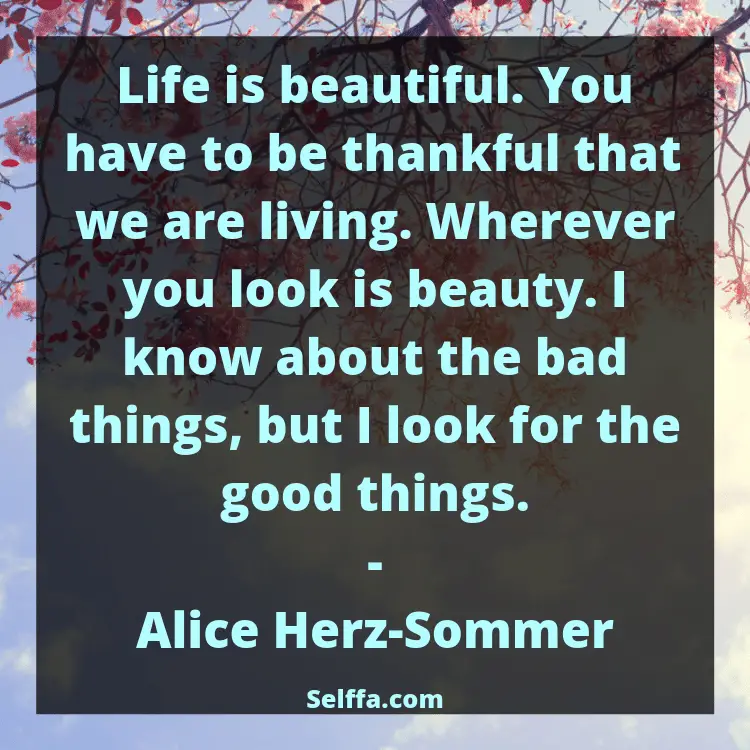 21. Life is beautiful. It has many amazing surprises in store up for you. – A C Aseh
22. Give every day the chance to become the most beautiful day of your life. – Mark Twain
23. Life is a mysterious mix of beautiful, challenging, and painful experiences. No one can predict how it will unfold and we don't always understand why it unfolds the way it does. – Akirah Robinson
24. There are many little pleasures that we do not notice in our everyday life. We need all these little treasures; they represent the doorway to a lot more satisfaction and happiness. – Francoise White
25. Turn the page, your heroine is still there, breathe, relax, life is beautiful: you're in a book! – Gabrielle Dubois
26. Dwell on the beauty of life. Watch the stars, and see yourself running with them. – Marcus Aurelius
27. You're only here for a short visit. Don't hurry, don't worry. And be sure to smell the flowers along the way. – Walter Hagen
28. Watch the sunrise at least once a year, put a lot of marshmallows in your hot chocolate, lie on your back and look at the stars, never buy a coffee table you can't put your feet on, never pass up a chance to jump on a trampoline, don't overlook life's small joys while searching for the big ones. – H. Jackson Brown Jr.
29. Keep your face to the sunshine and you cannot see a shadow. – Helen Keller
30. The one law that does not change is that everything changes, and the hardship I was bearing today was only a breath away from the pleasures I would have tomorrow, and those pleasures would be all the richer because of the memories of this I was enduring. – Louis L'Amour
31. If you're reading this … Congratulations, you're alive. If that's not something to smile about, then I don't know what is. – Chad Sugg
32. Every single day is a good day no matter how bright or dark it is, because it always brings an opportunity to start a positive beginning in your life. – Edmond Mbiaka
33. Love your life. Believe in your own power, your own potential, and your own innate goodness. – Rose Michiko B. Suzuki
34. Surround yourself with beautiful things. Life has a lot of grey and sadness, look for the rainbow and frame it. There is beauty in everything, sometimes you just have to look a little harder to see it. – Charlotte Kitley
35. Life is creative fun and adventure. – Carrie Mortleman
36. Life is beautiful not because of the things we see or do. Life is beautiful because of the people we meet. – Simon Sinek
37. Show the world there's something to fight for. Your life is the proof that beauty can still be attained. – Lana M. H. Wilder
38. Find ecstasy in life; the mere sense of living is joy enough. – Emily Dickinson
39. The more you praise and celebrate your life, the more there is in life to celebrate. – Oprah Winfrey
40. Life is beautiful, as long as it consumes you. When it is rushing through you, destroying you, life is gorgeous, glorious. It's when you burn a slow fire and save fuel, that life's not worth having. – D. H. Lawrence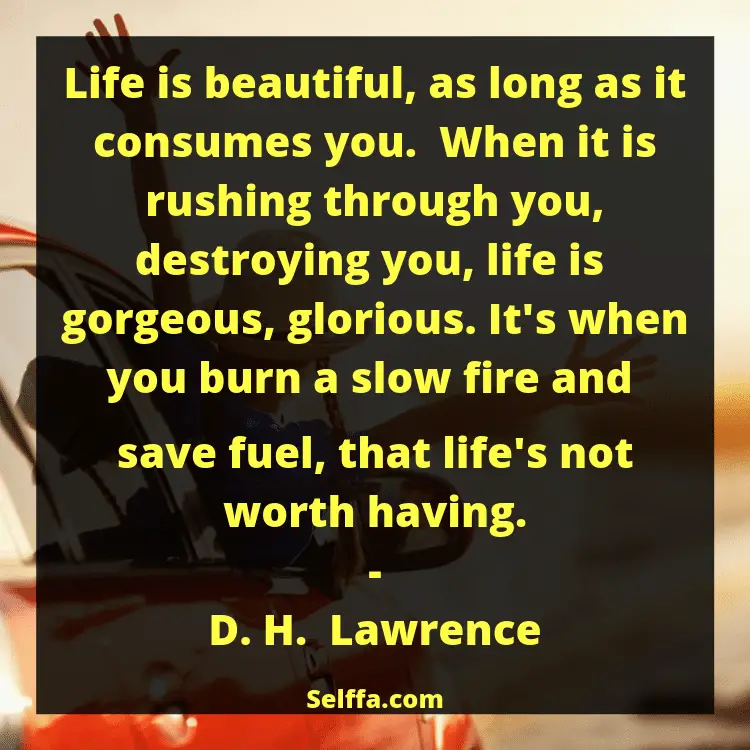 41. Life is a gift. Never take it for granted. – Sasha Avevedo
42. Be glad of life because it gives you the chance to love and to work and to play and look up at the stars. – Henry Van Dyke
43. Learn to enjoy every minute of your life. Be happy now. Don't wait for something outside of yourself to make you happy in the future. Think how really precious is the time you have to spend, whether it's at work or with your family. Every minute should be enjoyed and savored. – Earl Nightingale
44. Peace is the beauty of life. It is sunshine. It is the smile of a child, the love of a mother, the joy of a father, the togetherness of a family. It is the advancement of man, the victory of a just cause, the triumph of truth. – Menachem Begin
45. Life is full of beauty. Notice it. Notice the bumble bee, the small child, and the smiling faces. Smell the rain, and feel the wind. Live your life to the fullest potential, and fight for your dreams. – Ashley Smith
46. Clouds come floating into my life, no longer to carry rain or usher storm, but to add color to my sunset sky. – Rabindranath Tagore
47. Life was meant to be lived, and curiosity must be kept alive. One must never, for whatever reason, turn his back on life. – Eleanor Roosevelt
48. Once you become accustomed to life you will see its full meaning and its incredible beauty. – Jon Krakauer
49. Unexpected intrusions of beauty. This is what life is. – Saul Bellow
50. Our lives are not as limited as we think they are; the world is a wonderfully weird place. – Tom Robbins
51. Nature didn't need an operation to be beautiful. It just was. – Scott Westerfeld
52. God gave us the gift of life; it is up to us to give ourselves the gift of living well. – Voltaire
53. Sometimes beautiful things come into our lives out of nowhere. We can't always understand them, but we have to trust them. I know you want to question everything, but sometimes it pays to just have a little faith. – Lauren Kate
54. Relax! Life is beautiful! – David L. Wolper
55. If a man cannot understand the beauty of life, it is probably because life never understood the beauty in him. – Criss Jami
56. Today I choose life. Every morning when I wake up I can choose joy, happiness, negativity, pain… To feel the freedom that comes from being able to continue to make mistakes and choices – today I choose to feel life, not to deny my humanity but embrace it. – Kevyn Aucoin
57. Each life is made up of mistakes and learning, waiting and growing, practicing patience and being persistent. – Billy Graham
58. If we had no winter, the spring would not be so pleasant: if we did not sometimes taste of adversity, prosperity would not be so welcome. – Anne Bradstreet
59. I wonder if the snow loves the trees and fields, that it kisses them so gently? And then it covers them up snug, you know, with a white quilt; and perhaps it says, "Go to sleep, darlings, till the summer comes again." – Lewis Carroll
60. Even in a world with much sadness, at its essence, life is beautiful. – Dianne Reeves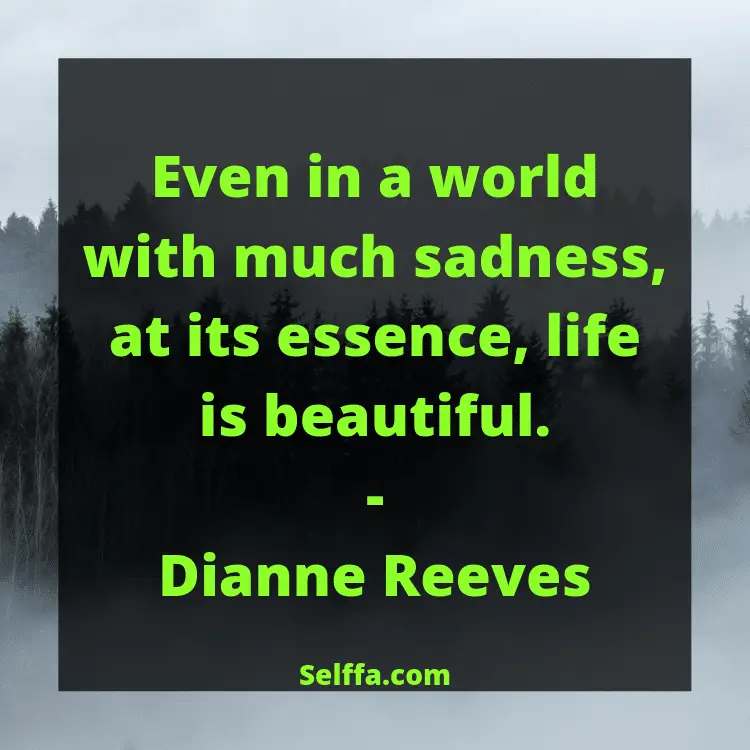 61. I enjoy being happy every day, and hopefully, you can hear my happiness in my music. Life is beautiful. – Christina Milian
62. Life is so beautiful that death has fallen in love with it, a jealous, possessive love that grabs at what it can. But life leaps over oblivion lightly, losing only a thing or two of no importance, and gloom is but the passing shadow of a cloud… – Yann Martel
63. Too often we underestimate the power of a touch, a smile, a kind word, a listening ear, an honest compliment, or the smallest act of caring, all of which have the potential to turn a life around. – Leo Buscaglia
64. There's a sunrise and a sunset every single day, and they're absolutely free. Don't miss so many of them. – Jo Walton
65. Wherever you may go; Life is a beautiful thing. Life is like a passing season. It comes and goes. Whatever may come, it's better to enjoy the changing seasons. – Happy Positivity
66. Because of your smile, you make life more beautiful. – Thich Nhat Hanh
67. Lighten up, just enjoy life, smile more, laugh more, and don't get so worked up about things. – Kenneth Branagh
68. Life is beautiful because it doesn't last. – Brit Marling
69. Life is the art of drawing without an eraser. – John W. Gardner
70. Slow down and enjoy life. It's not only the scenery you miss by going to fast – you also miss the sense of where you are going and why. – Eddie Cantor
71. The family only represents one aspect, however important an aspect, of a human being's functions and activities. A life is beautiful and ideal or the reverse, only when we have taken into our consideration the social as well as the family relationship. – Havelock Ellis
72. When you rise in the morning, give thanks for the light, for your life, for your strength. Give thanks for your food and for the joy of living. If you see no reason to give thanks, the fault lies in yourself. – Tecumseh
73. Instead of trying to make your life perfect, give yourself the freedom to make it an adventure, and go ever upward. – Drew Houston
74. Loneliness adds beauty to life. It puts a special burn on sunsets and makes night air smell better. – Henry Rollins
75. Life is short, and if we enjoy every moment of every day, then we will be happy no matter what happens or what changes along the way. – Gretchen Bleiler
76. You were given life; it is your duty (and also your entitlement as a human being) to find something beautiful within life, no matter how slight. – Elizabeth Gilbert
77. Blessed are they who see beautiful things in humble places where others see nothing. – Camille Pissaro
78. Life is very interesting. In the end, some of your greatest pains become your greatest strengths. – Drew Barrymore
79. Life is not about waiting for the storm to pass, it's about learning to dance in the rain. – Vivian Greene
80. I realize life is a beautiful mess. You can make it more beautiful by accepting the way it is. If you don't accept, you'll mess it up. – Manasa Rao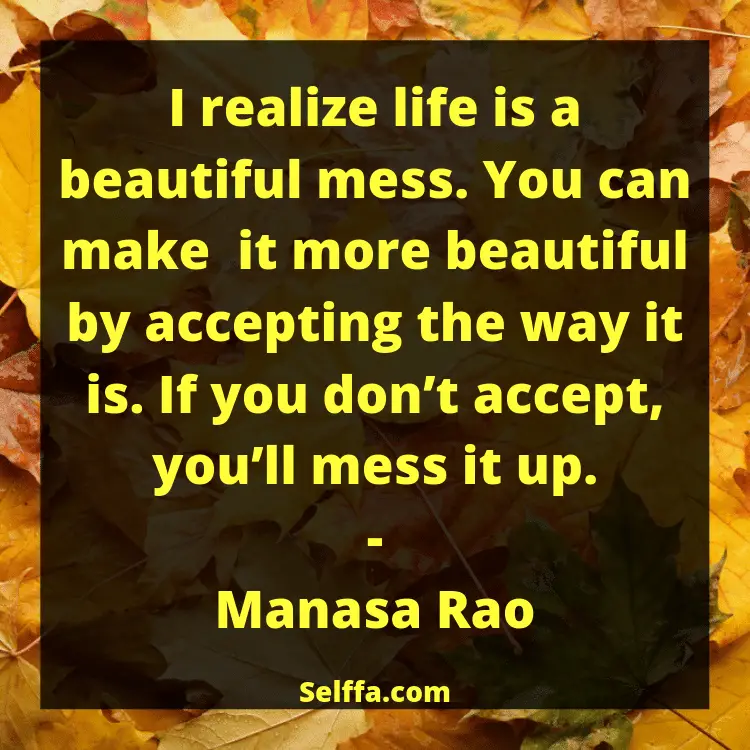 81. The very center of your heart is where life begins — the most beautiful place on earth. – Rumi
82. Just living is not enough. One must have sunshine, freedom, and a little flower. – Hans Christian Andersen
83. Darkness must pass. A new day will come. And when the sun shines, it will shine out the clearer. – J.R.R. Tolkien
84. We're all given circumstances in life to overcome. And, that's really the beauty of life, isn't it? If it weren't for the obstacles we are given to beat, there'd be no thrill of victory when we've conquered them and the ride would be as dull as unbuttered toast. – Sandra Bell
85. Many of us like to dream big about the day when we will have the perfect job, the most beautiful home, and a healthy body. But the only way to get to that dream life is to make small, positive steps in the right direction every day. – Colleen Archer
86. Life just becomes more pleasant when you have a positive point of view. – Rohen Phoenix
87. The mad rush of living and the mad crush of places to go and people to see can make you forget there's a world around you that's teeming with wonders. But these wonders won't come to you; you have to take the time to notice them. – Amy E. Dean
88. For just one second, look at your life and see how perfect it is. Stop looking for the next secret door that is going to lead you to your real life. This is it: there's nothing else. It's here and you'd better decide to enjoy it or you are going to miss everything beautiful happening right now. – Anne Champagne
89. All the diversity, all the charm, and all the beauty of life are made up of light and shade. – Leo Tolstoy
90. The longer I live, the more beautiful life becomes. – Frank Lloyd Wright
91. Live quietly in the moment and see the beauty of all before you. The future will take care of itself. – Paramahansa Yogananda
92. Life is not always easy to live, but the opportunity to do so is a blessing beyond comprehension. – L. Lionel Kendrick
93. To be creative means to be in love with life. You can be creative only if you love life enough that you want to enhance its beauty, you want to bring a little more music to it, a little more poetry to it, a little more dance to it. – Osho
94. You've gotta dance like there's nobody watching,
Love like you'll never be hurt,
Sing like there's nobody listening,
And live like it's heaven on earth.
– William W. Purkey
95. Life is an opportunity, benefit from it. Life is beauty, admire it. Life is a dream, realize it. Life is a challenge, meet it. Life is a duty, complete it. Life is a game, play it. Life is a promise, fulfill it. Life is sorrow, overcome it. Life is a song, sing it. Life is a struggle, accept it. Life is a tragedy, confront it. Life is an adventure, dare it. Life is luck, make it. Life is too precious, do not destroy it. Life is life, fight for it. – Mother Teresa
96. Soon the child's clear eye is clouded over by ideas and opinions, preconceptions, and abstractions. Simple free being becomes encrusted with the burdensome armor of the ego. Not until years later does an instinct come that a vital sense of mystery has been withdrawn. The sun glints through the pines and the heart is pierced in a moment of beauty and strange pain, like a memory of paradise. After that day, we become seekers. – Peter Matthiessen
97. Live now, believe me, wait not till tomorrow; Gather the roses of life today. – Pierre de Ronsard
98. Life is hard. Life is beautiful. Life is difficult. Life is wonderful. – Kate DiCamillo
99. There is nothing like a trail of blood to find your way back home. When you've lost it all, that's when you finally realize that life is beautiful. – Nikki Sixx
100. When one has a grateful heart, life is so beautiful. – Roy T. Bennett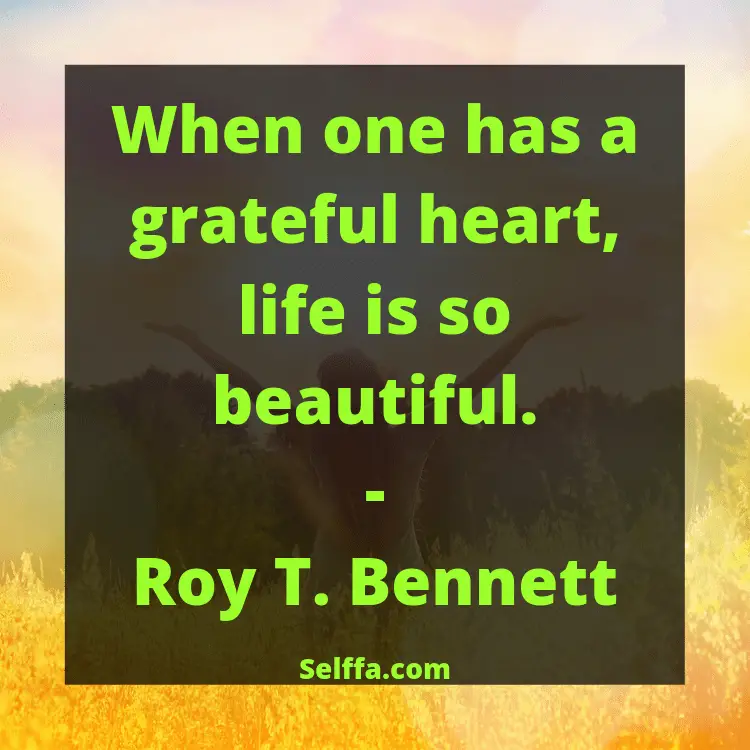 101. Learn to appreciate the things you have in the life you're living. It is your present. – Adem Spahic
102. The most beautiful thing about life is this; regardless of how ugly life might seem be, once there is breath, life is beautiful! – Ernest Agyemang Yeboah
103. Life is not measured by the number of breaths we take, but by the moments that take our breath away. – Maya Angelou
104. Keep looking up… that's the secret of life. – Snoopy
105. Believe that life is worth living and your belief will help create the fact. – William James
106. I have found that if you love life, life will love you back. – Arthur Rubinstein
107. Love the life you live. Live the life you love. – Bob Marley
108. It's better to dance than to march through life. – Yoko Ono
109. To do the useful thing, to say the courageous thing, to contemplate the beautiful thing: that is enough for one man's life. – T.S. Eliot
110. The purpose of life is to believe, to hope, and to strive. – Indira Gandhi
111. Everything has beauty, but not everyone sees it. – Confucius
112. Remember: the more you expect things to be a certain way, the more disappointed you'll be. Accept life as it is. You'll be free. – Maxime Lagacé
113. In the midst of winter, I found there was within me an invincible summer. – Albert Camus
114. Life always waits for some crisis to occur before revealing itself at its most brilliant. – Paulo Coelho
115. Kid, you'll move mountains! Today is your day! Your mountain is waiting, so get on your way! – Dr. Seuss
116. My life is about ups and downs, great joys and great losses. – Isabel Allende
117. I think being in love with life is a key to eternal youth. – Doug Hutchison
118. I enjoy life when things are happening. I don't care if it's good things or bad things. That means you're alive. – Joan Rivers
119. Live each day as if your life had just begun. – Johann Wolfgang Von Goethe
120. Sing the song that only you can sing, write the book that only you can write, build the product that only you can build… live the life that only you can live. – Naval Ravikant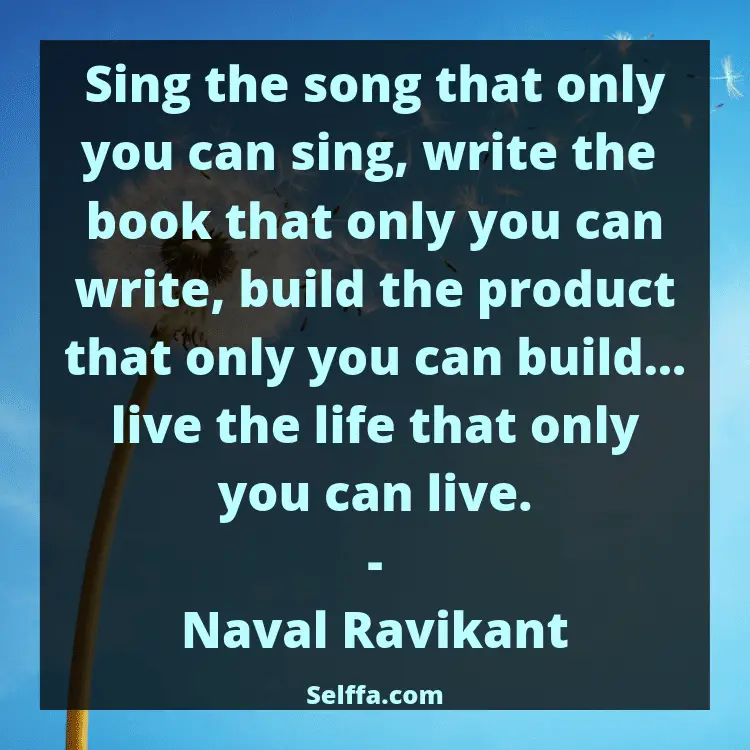 121. The purpose of our lives is to be happy. – Dalai Lama
122. Let life be an adventure. Live your life to the fullest, unfettered by fear of the ghosts and goblins of what might occur. Calamity and death happen as well to those who hide from life as to those who squeeze every drop of zest from it. – Jonathan Lockwood Huie
123. There are only two ways to live your life. One is as though nothing is a miracle. The other is as though everything is a miracle. – Albert Einstein
124. Go confidently in the direction of your dreams. Live the life you have imagined. – Henry David Thoreau
125. Life is not a problem to be solved, but a reality to be experienced. – Soren Kierkegaard
126. Variety's the very spice of life that gives it all its flavour. – William Cowper
127. The trick is to enjoy life. Don't wish away your days, waiting for better ones ahead. – Marjorie Pay Hinckley
128. I urge you to please notice when you are happy, and exclaim or murmur or think at some point, 'if this isn't nice, I don't know what is.' – Kurt Vonnegut
129. I would rather be ashes than dust! I would rather that my spark should burn out in a brilliant blaze than it should be stifled by dry-rot. I would rather be a superb meteor, every atom of me in magnificent glow, than a sleepy and permanent planet. The function of man is to live, not to exist. I shall not waste my days trying to prolong them. I shall use my time. – Jack London
130. Let everything happen to you
Beauty and terror
Just keep going
No feeling is final.
– Rainer Maria Rilke
131. Let us toast to animal pleasures, to escapism, to rain on the roof and instant coffee, to unemployment insurance and library cards, to absinthe and good hearted landlords, to music and warm bodies and contraceptives and to the 'good life' whatever it is & wherever it happens to be. – Hunter S. Thompson
132. And the strongest emotion was that life was as precious as it was puzzling. It was an ecstasy because it was an adventure; it was an adventure because it was an opportunity. – G. K. Chesterton
133. Existence rightly considered is a fair compromise between two instincts — the instinct of hoping one day to live, and the instinct to live here and now. – Arnold Bennett
134. Every day has a little bit of beauty and a little bit of chaos. – Tanisha
135. [A]ll life budding like a rose and sparkling like its dew. – Edgar Fawcett
136. Who will tell whether one happy moment of love or the joy of breathing or walking on a bright morning and smelling the fresh air, is not worth all the suffering and effort which life implies. – Erich Fromm
137. Here is the world. Beautiful and terrible things will happen. Don't be afraid. – Frederick Buechner
138. Life is all too wondrous sweet, and the world is so beautifully bewildered; it is the dream of an intoxicated divinity… – Heinrich Heine
139. Life is the only way
to get covered in leaves,
catch your breath on the sand,
rise on wings…
– Wislawa Szymborska