Students go to school in order to study and learn about new things. And it is a reality that students encounter a lot of hardships during their educational years. But don't give up just yet, because learning is a continuous process for everyone beyond school. So to all the struggling and hard-working students out there, here are 193 inspirational quotes for students to read and share.
Inspirational Quotes for Students
1. Reading is to the mind, as exercise is to the body. – Brian Tracy
2. Who questions much, shall learn much, and retain much. – Francis Bacon
3. Success is no accident. It is hard work, perseverance, learning, studying, sacrifice, and most of all, love of what you are doing or learning to do. – Pele
4. Live as if you were to die tomorrow. Learn as if you were to live forever. – Mahatma Gandhi
5. Genius is 1% inspiration and 99% perspiration. Accordingly a genius is often merely a talented person who has done all of his or her homework. – Thomas Edison
6. The beautiful thing about learning is that no one can take it away from you. – B.B. King
7. We learn more by looking for the answer to a question and not finding it than we do from learning the answer itself. – Lloyd Alexander
8. The expert in anything was once a beginner. – Helen Hayes
9. You've got to get up every morning with determination if you're going to go to bed with satisfaction. – George Lorimer
10. Thinking should become your capital asset, no matter whatever ups and downs you come across in your life. – Dr. APJ Kalam
11. Education is the most powerful weapon which you can use to change the world. – Nelson Mandela
12. The mind is not a vessel to be filled but a fire to be ignited. – Plutarch
13. Don't limit yourself. Many people limit themselves to what they think they can do. You can go as far as your mind lets you. What you believe, you can achieve. – Mary Kay Ash
14. Don't let what you cannot do interfere with what you can do. – John Wooden
15. However difficult life may seem, there is always something you can do and succeed at. – Stephen Hawking
16. I find that the harder I work, the more luck I seem to have. – Thomas Jefferson
17. Believe in yourself, take on your challenges, dig deep within yourself to conquer fears. Never let anyone bring you down. You have to keep going. – Chantal Sutherland
18. Perseverance is the hard work you do after you get tired of doing the hard work you already did. – Newt Gingrich
19. Work as hard as you can and then be happy in the knowledge you couldn't have done any more. – Unknown
20. Knowing is not enough; we must apply. Wishing is not enough; we must do. – Johann Wolfgang Von Goethe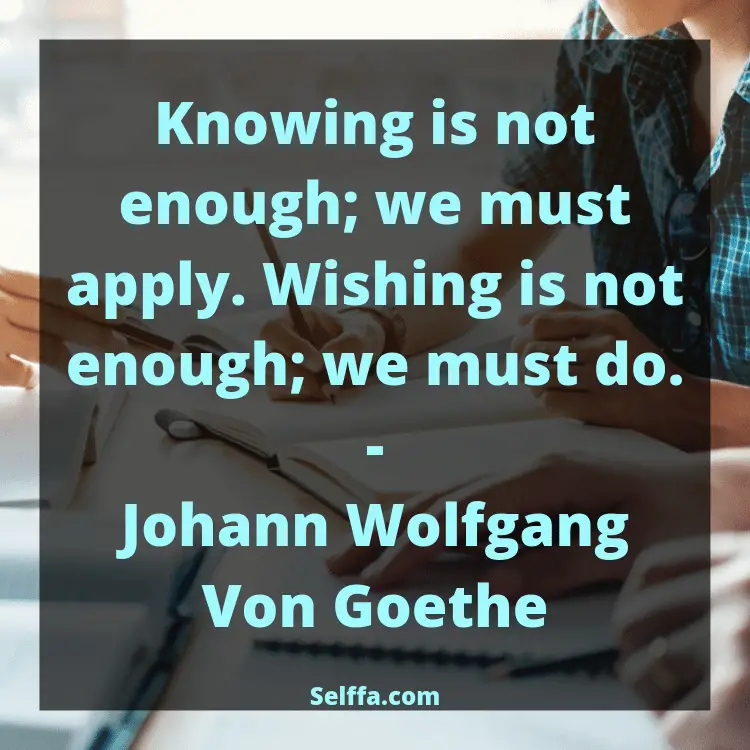 21. Education is the passport to the future, for tomorrow belongs to those who prepare for it today. – Malcolm X
22. Take up one idea. Make that one idea your life — think of it, dream of it, live on that idea. Let the brain, muscles, nerves, every part of your body be full of that idea, and just leave every other idea alone. This is the way to success. – Swami Vivekananda
23. Don't be afraid to give up the good to go for the great. – John D. Rockefeller
24. There are no secrets to success. It is the result of preparation, hard work, and learning from failure. – Colin Powell
25. Your positive action combined with positive thinking results in success. – Shiv Khera
26. Learn from yesterday. Live for today. Hope for tomorrow. – Albert Einstein
27. Develop success from failures. Discouragement and failure are two of the surest stepping stones to success. – Dale Carnegie
28. To be successful you must accept all challenges that come your way. You can't just accept the ones you like. – Mike Gafka
29. Believe in yourself and all that you are. Know that there is something inside you that is greater than any obstacle. – Christian D. Larson
30. Optimism is the faith that leads to achievement. Nothing can be done without hope and confidence. – Helen Keller
31. There are two kinds of people in this world: those who want to get things done and those who don't want to make mistakes. – John Maxwell
32. I've failed over and over and over again in my life. And that is why I succeed. – Michael Jordan
33. Don't wish it were easier; wish you were better. – Jim Rohn
34. The best way to predict your future is to create it. – Abraham Lincoln
35. It does not matter where you go and what you study, what matters most is what you share with yourself and the world. – Santosh Kalwar
36. When it's finals week and you've been studying for five hours straight, you need three things to get you through the night. The biggest Slurpee you can find, half cherry half Coke. Pajama pants, the kind that have been washed so many times they are tissue-paper thin. And finally, dance breaks. Lots of dance breaks. – Jenny Han
37. The purpose of learning is growth, and our minds, unlike our bodies, can continue growing as long as we live. – Mortimer Adler
38. The study of mathematics, like the Nile, begins in minuteness but ends in magnificence. – Charles Caleb Colton
39. Do not wait to strike till the iron is hot; but make it hot by striking. – William Butler Yeats
40. Be a student as long as you still have something to learn, and this will mean all your life. – Henry L. Doherty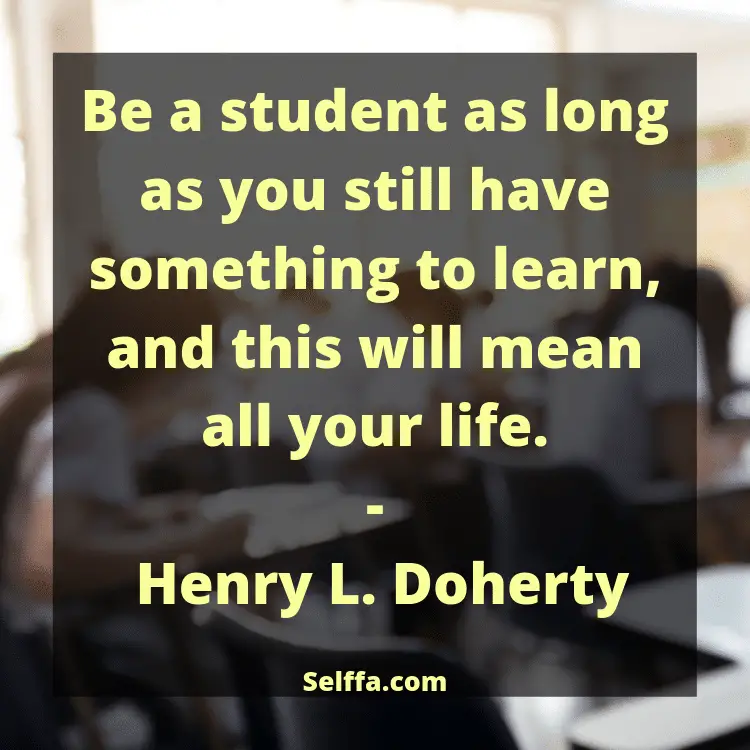 41. The point is, education in its truest form, is the foundation of all human endeavors. It is the most noble of all the civilized elements of human consciousness. Education enables the humans to achieve their fullest mental and physical potential in both personal and social life. The ability of being educated is what distinguishes humans from animals. You can teach a cockatoo to repeat a bunch of vocabularies, but you cannot teach it to construct a space shuttle and go to the moon. – Abhijit Naskar
42. Our greatest fear should not be of failure but of succeeding at things in life that don't really matter. – Francis Chan
43. It is wiser to find out than to suppose. – Mark Twain
44. Acquiring knowledge is the most fruitful effort. – Eraldo Banovac
45. Every act of conscious learning requires the willingness to suffer an injury to one's self-esteem. That is why young children, before they are aware of their own self-importance, learn so easily. – Thomas Szasz
46. You will either step forward into growth, or you will step backward into safety. – Abraham Maslow
47. Seeing much, suffering much, and studying much, are the three pillars of learning. – Benjamin Disraeli
48. Learning starts with failure; the first failure is the beginning of education. – John Hersey
49. Take the attitude of a student, never be too big to ask questions, never know too much to learn something new. – Og Mandino
50.  A smart man makes a mistake, learns from it, and never makes that mistake again. But a wise man finds a smart man and learns from him how to avoid the mistake altogether. – Roy H. Williams
51. Remember that failure is an event, not a person. – Zig Ziglar
52. What we learn with pleasure we never forget. – Alfred Mercier
53. Learning is not attained by chance; it must be sought for with ardour and diligence. – Abigail Adams
54. The years teach much which the days never know. – Ralph Waldo Emerson
55. This world is your best teacher. There is a lesson in everything. There is a lesson in each experience. Learn it and become wise. Every failure is a stepping stone to success. Every difficulty or disappointment is a trial of your faith. Every unpleasant incident or temptation is a test of your inner strength. Therefore nil desperandum. March forward hero! – Swami Sivananda
56. A mind that is stretched by a new experience can never go back to its old dimensions. – Oliver Wendell Holmes Jr.
57. But I look at failure as education. In that respect, I am so well-educated. – Kathy Ireland
58. Wisdom is the daughter of experience. – Leonardo da Vinci
59. Your best teacher is your last mistake. – Ralph Nader
60. You have learned something. That always feels at first as if you had lost something. – H.G. Wells
61. Striving for success without hard work is like trying to harvest where you haven't planted. – David Bly
62. Excellence is not a skill. It is an attitude. – Ralph Marston
63. It is not the mountain we conquer, but ourselves. – Edmund Hillary
64. The difference between ordinary and extraordinary is that little extra. – Jimmy Johnson
65. Quality is not an act, but a habit. – Aristotle
66. All progress takes place outside of your comfort zone. – Michael John Bobak
67. Every accomplishment starts with the decision to try. – Gail Devers
68. A journey of a thousand miles begins with a single step. – Lao Tzu
69. An obstacle is often a stepping stone. – PRESCOTT
70. Setting goals is the first step in turning the invisible into the visible. – Tony Robbins
71. Perseverance is failing 19 times and succeeding the 20th. – Julie Andrews
72. Work alone is noble. – Thomas Carlyle
73. Take passion and determination anywhere you go and we promise you, you'll go far. – Dorothea Jackson
74. We may look at successful people and think 'that will never be me'. It doesn't have to be that way. You can be disciplined. You can be successful. – Peter Jenner
75. The winner doesn't lose hope, he perseveres . . . he keeps going until he works things out . . . he finds other viable solutions. – Dr. Irene Kassorla
76. Do it again and again. Consistency makes the rain drops to create holes in the rock. Whatever is difficult can be done easily with regular attendance, attention and action. – Israelmore Ayivor
77. You don't get results by focusing on results. You get results by focusing on the actions that produce results. – Mike Hawkins
78. Chance favors the prepared mind. – Anoon Bondara
79. Gold medals aren't really made of gold. They're made of sweat, determination, and a hard-to-find alloy called guts. – Dan Gable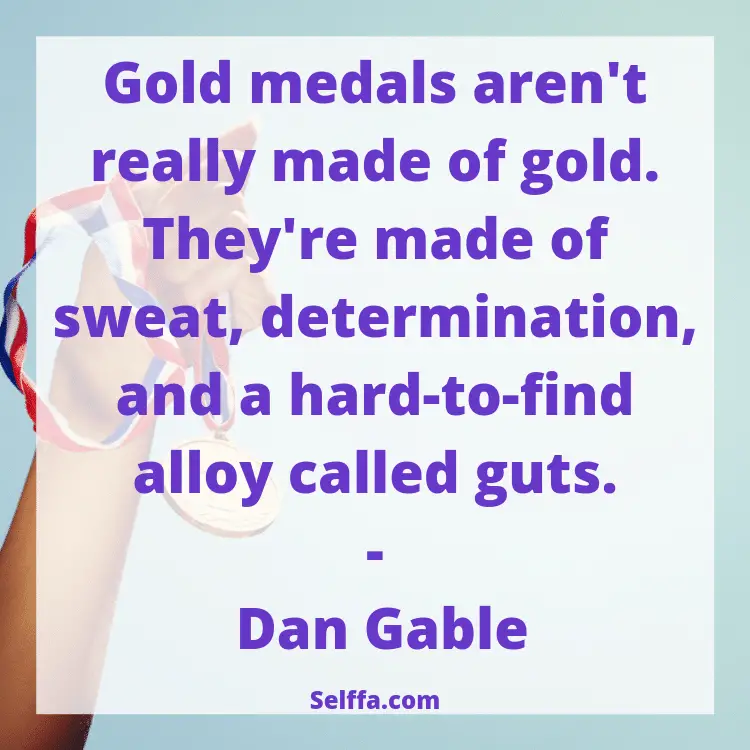 80. It is your determination and persistence that will make you a successful person. – Kenneth J. Hutchins
81. A problem is a chance for you to do your best. – Duke Ellington
82. Anything is possible once you believe you are worthy of achieving it. – Jason Pockrandt
83. If you are committed to doing what it takes, anything is possible. It's up to you. – Michelle Obama
84. In high school, I have learned that anything can be accomplished with hard work and determination. – Tricia Van Wagner
85. Never doubt you were born to do great things! – Catherine Pulsifer
86. You must believe you can. If anyone else can do this, you can do this as well. Yes, you can! – Tamara Tilleman
87. Never let your head hang down. Never give up and sit down and grieve. Find another way. – Satchel Paige
88. No matter what happens, or how bad it seems today, life does go on, and it will be better tomorrow. – Maya Angelou
89. A quitter never wins and a winner never quits. – Napoleon Hill
90. If you don't give up, you still have a chance. Giving up is the greatest failure. – Jack Ma
91. You're allowed to scream, you're allowed to cry, but do not give up. – Author Unknown
92. Setbacks are inevitable; misery is a choice. – Stephen Covey
93. We all face similar setbacks and problems in life. How we decide to react to what is thrown at us is what determines our level or happiness or frustration. – Folorunsho Mejabi
94. The most successful people are those who are willing to keep moving forward after making mistakes. – Coach Flanagan
95. Never give up. When your heart becomes tired, just walk with your legs – but move on. – Paulo Coelho
96. Luck is a dividend of sweat. The more you sweat, the luckier you get. – Ray Kroc
97. Doing nothing is very hard to do…you never know when you're finished. – Leslie Nielsen
98. Shoot for the moon! Even if you miss…you'll land among the stars. – Les Brown
99. Life is a grindstone, but whether it grinds us down or polishes us up depends on what we are made of. – Allen Sypher
100. Well done, is better than well said. – Benjamin Franklin
101. Life is your teacher, and you are in a state of constant learning. – Bruce Lee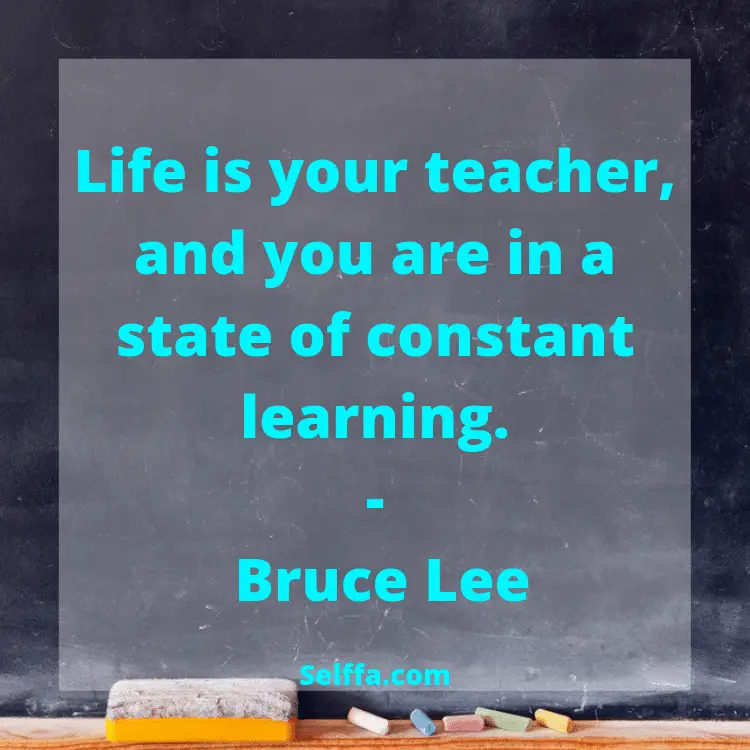 102. The adventure of life is to learn. The purpose of life is to grow. The nature of life is to change. The challenge of life is to overcome. The essence of life is to care. The opportunity of life is to serve. – William Arthur Ward
103. It's more important to know where you are going than to get there quickly. Do not mistake activity for achievement. – Mabel Newcomer
104. Don't dwell on what went wrong. Instead, focus on what to do next. Spend your energies on moving forward toward finding the answer. – Denis Waitley
105. Remember, always give your best. Never get discouraged. Never be petty. – Richard Nixon
106. For any problem, no matter how big or complex it may be, there is a solution. – Earl Nightingale
107. No matter how dark things seem to be or actually are, raise your sights and see possibilities-always see them for they're always there. – Norman Vincent Peale
108. You can do things you never thought you could do. there are no limitations in what you can do except the limitations of your own mind. – Darwin P. Kingsley
109. Everybody has problems, but everybody also has blessings in life. – Robert W. Bly
110. God put you on this earth because He loves you and He has a plan for you. – Nick Vujicic
111. Nothing is impossible, the word itself says 'I'm possible'! – Audrey Hepburn
112. Learning is not a spectator sport. – D. Blocher
113. Success consists of going from failure to failure without loss of enthusiasm. – Winston Churchill
114. If you don't go after what you want, you'll never have it. If you don't ask, the answer is always no. If you don't step forward, you're always in the same place. – Nora Roberts
115. Failure defeats losers, failure inspires winners. – Robert T. Kiyosaki
116. You must be the change you wish to see in the world. – Mahatma Gandhi
117. Today a reader, tomorrow a leader. – Margaret Fuller
118. Always desire to learn something useful. – Sophocles
119. Focus on making yourself better, not on thinking that you are better. – Bohdi Sanders
120. Challenges are what make life interesting and overcoming them is what makes life meaningful. – Joshua J. Marine
121. One day, you're 17 and you're planning for someday. And then quietly, without you ever really noticing, someday is today. And then someday is yesterday. And this is your life. – John Green
122. Be yourself, everyone else is taken! – Oscar Wilde
123. Success is the sum of small efforts, repeated day in and day out. – Robert Collier
124. I don't measure a man's success by how high he climbs, but how high he bounces when he hits the bottom. – George S. Patton
125. You don't drown by falling in the water; you drown by staying there. – Ed Cole
126. When you want to succeed as bad as you want to breathe, then you'll be successful. – Eric Thomas
127. Procrastination is the thief of time. – Edward Young
128. The way get started is to quit talking and begin doing. – Walt Disney
129. A university is just a group of buildings gathered around a library. – Shelby Foote
130. Read! read! read! And never stop until you discover the knowledge of the Universe. – Marcus Garvey
131. Education is learning what you didn't even know you didn't know. – Daniel J. Boorstin
132. Knowledge will bring you the opportunity to make a difference. – Claire Fagin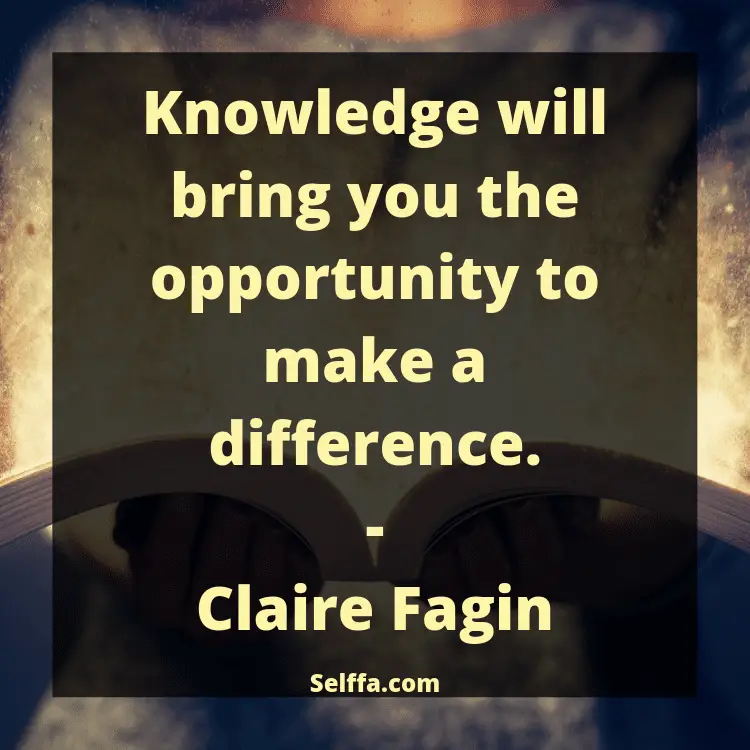 133. I am not afraid of storms for I am learning how to sail my ship. – Louisa May Alcott
134. If you change the way you look at things, the things you look at change. – Dr. Wayne Dyer
135. Forget mistakes, remember lessons. – Unknown
136. Courage doesn't always roar. Sometimes courage is the quiet voice at the end of the day saying 'I will try again tomorrow'. – Mary Anne Radmacher
137. Motivation is what gets you started. Habit is what keeps you going. – Jim Ryun
138. You miss 100% of the shots you don't take. – Wayne Gretzky
139. So many of our dreams at first seem impossible, then they seem improbable, and then, when we summon the will, they soon become inevitable. – Christopher Reeve
140. You can't have a better tomorrow if you're still thinking about yesterday. – Charles F. Kettering
141. Ninety-nine percent of the failures come from people who have the habit of making excuses. – George Washington Carver
142. I always say that practice gets you to the top, most of the time. – David Beckham
143. Nobody can go back and start a new beginning, but anyone can start today and make a new ending. – Maria Robinson
144. The people who are crazy enough to believe they can change the world are the ones who do. – Steve Jobs
145. You don't learn to walk by following rules. You learn by doing, and by falling over. – Richard Branson
146. I gave myself permission to make mistakes. I wouldn't ever give myself permission not to try. – Steve Pavlina
147. Mistakes are the portals of discovery. – James Joyce
148. It's not because things are difficult that we do not dare. It is because we do not dare that they are difficult. – Seneca
149. Our greatest glory is not in never failing, but in rising every time we fail. – Confucius
150. Discovery consists of seeing what everybody has seen and thinking what nobody has thought. – Albert Szent-Gyorgyi
151. When you talk, you are only repeating what you already know. But if you listen, you may learn something new. – Dalai Lama
152. It is always possible for an ordinary person to choose to be extraordinary. – Elon Musk
153. Success involves making the people who believe in you look smart. – Dharmesh Shah
154. Every day in your life, you have a choice of fitting in or embarking the lonely pursuit of success. – Ray Allen
155. You do not need to choose between doing good and doing something well. – Tim Cook
156. You have to be different and odd to be number one. – Dr. Seuss
157. A dull mind gets bored easily. A curious mind expands forever. – Maxime Lagacé
158. Children must be taught how to think, not what to think. – Margaret Mead
159. A mind is a terrible thing to waste. – United Negro College Fund
160. Teachers open the door, but you must enter by yourself. – Chinese proverb
161. If you have a garden and a library, you have everything you need. – Cicero
162. Free education is abundant, all over the Internet. It's the desire to learn that's scarce. – Naval Ravikant
163. No one has yet realized the wealth of sympathy, the kindness and generosity hidden in the soul of a child. The effort of every true education should be to unlock that treasure. – Emma Goldman
164. Learning is not compulsory… neither is survival. – W. Edwards Deming
165. Everyone you will ever meet knows something you don't. – Bill Nye
166. The learned man knows that he is ignorant. – Victor Hugo
167. The world is a book and those who do not travel read only one page. – Augustine of Hippo
168. Failure is success if we learn from it. – Malcolm Forbes
169. Minds are like parachutes, they only function when they are open. – James Dewar
170. Nine tenths of education is encouragement. – Anatole France
171. Responsibility educates. – Wendell Phillips
172. There is no failure. Only feedback. – Robert Allen
173. Every child deserves a champion: an adult who will never give up on them, who understands the power of connection and insists they become the best they can possibly be. – Rita Pierson
174. Apply yourself. Get all the education you can, but then, by God, do something. Don't just stand there, make it happen. – Lee Iacocca
175. Act as if what you do makes a difference. It does. – William James
176. If people did not do silly things, nothing intelligent would ever get done. – Ludwig Wittgenstein
177. When the student is ready, the master appears. – Buddhist proverb
178. All things good to know are difficult to learn. – Greek proverb
179. Knowledge is learning something new every day. Wisdom is letting go of something every day. – Zen proverb
180. Man can learn nothing except by going from the known to the unknown. – Claude Bernard
181. The best teacher is experience and not through someone's distorted point of view. – Jack Kerouac
182. There are some things you learn best in calm, and some in storm. – Willa Cather
183. Real learning comes about when the competitive spirit has ceased. – Jiddu Krishnamurti
184. I learned from watching and I learned from doing. – Claire Bloom
185. There's no learning without trying lots of ideas and failing lots of times. – Jonathan Ive
186. Learning is acquired by reading books, but the much more necessary learning, the knowledge of the world, is only to be acquired by reading men, and studying all the various facets of them. – Lord Chesterfield
187. There is a huge value in learning with instant feedback. – Anant Agarwal
188. At the very core of my relationship to learning is the idea that we should be as organic as possible. We need to cultivate a deeply refined introspective sense, and build our relationship to learning around our nuance of character. – Joshua Waitzkin
189. The important thing is to learn a lesson every time you lose. Life is a learning process and you have to try to learn what's best for you. Let me tell you, life is not fun when you're banging your head against a brick wall all the time. – John McEnroe
190. The first lesson I've learned is that no matter what you do in your life, you have to figure out your own internal rhythms – I mean, what works for you doesn't necessarily work for your friend. – Hillary Clinton
191. All things are lessons that God would have us learn. – Iyanla Vanzant
192. I learned to focus and work hard and not give up. I learned that every obstacle is really an opportunity. – Jenna Ushkowitz
193. Going to school is not only learning about different subjects, it teaches you communication, it teaches you how to live a life, it teaches you about history, it teaches you about how science is working. – Malala Yousafzai