Within each girl is a powerful soul that could take the world by surprise. She must be guided to pursue her dreams and be whatever she aspires to be. For more encouragement and support, here are 135 inspirational quotes for girls.
Inspirational Quotes for Girls
1. I believe in being strong when everything seems to be going wrong. I believe that happy girls are the prettiest girls. I believe that tomorrow is another day, and I believe in miracles. – Audrey Hepburn
2. Be that strong girl that everyone knew would make it through the worst, be that fearless girl, the one who would dare to do anything, be that independent girl who didn't need a man; be that girl who never backed down. – Taylor Swift
3. The girls who were unanimously considered beautiful often rested on their beauty alone. I felt I had to do things, to be intelligent and develop a personality in order to be seen as attractive. By the time I realized maybe I wasn't plain and might even possibly be pretty, I had already trained myself to be a little more interesting and informed. – Diane Von Furstenberg
4. She was powerful not because she wasn't scared but because she went on so strongly, despite the fear. – Atticus
5. And one day she discovered that she was fierce and strong, and full of fire and that not even she could hold herself back because her passion burned brighter than her fears. – Mark Anthony
6. I love to see a young girl go out and grab the world by the lapels. Life's a bitch. You've got to go out and kick ass. – Maya Angelou
7. The best protection any woman can have … is courage. – Elizabeth Cady Stanton
8. Don't compromise yourself. You are all you've got. There is no yesterday, no tomorrow, it's all the same day. – Janis Joplin
9. The most common way people give up their power is by thinking they don't have any. – Alice Walker
10. One of the most courageous things you can do is identify yourself, know who you are, what you believe in and where you want to go. – Sheila Murray Bethel
11. Everyone has inside of her a piece of good news. The good news is that you don't know how great you can be, how much you can love, what you can accomplish, and what your potential is. – Anne Frank
12. Doubt is a killer. You just have to know who you are and what you stand for. – Jennifer Lopez
13. No one can make you feel inferior without your consent. – Eleanor Roosevelt
14. You are more powerful than you know; you are beautiful just as you are. – Melissa Etheridge
15. The way in which we think of ourselves has everything to do with how our world sees us and how we see ourselves successfully acknowledged by the world. – Arlene Rankin
16. You have to have confidence in your ability, and then be tough enough to follow through. – Rosalynn Carter
17. If it's a good idea, go ahead and do it. It's much easier to apologize than it is to get permission. – Grace Hopper
18. Don't be afraid to speak up for yourself. Keep fighting for your dreams! – Gabby Douglas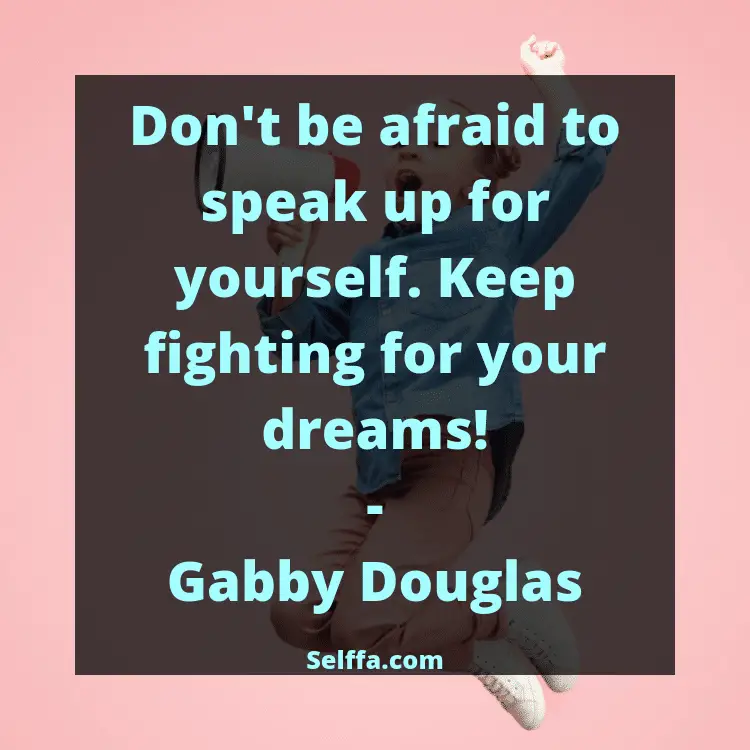 19. It took me quite a long time to develop a voice, and now that I have it, I am not going to be silent. – Madeleine Albright
20. A woman with a voice is, by definition, a strong woman. – Melinda Gates
21. Power is not given to you. You have to take it. – Beyoncé Knowles
22. A witty woman is a treasure; a witty beauty is a power. – George Meredith
23. I used to think- There must be thousands of girls sitting alone like me. Dreaming of becoming a movie star. But I'm not going to worry about them. I'm dreaming the hardest. – Marilyn Monroe
24. Never apologize for being sensitive or emotional. Let this be a sign that you've got a big heart and aren't afraid to let others see it. Showing your emotions is a sign of strength. – Brigitte Nicole
25. Above all, be the heroine of your life, not the victim. – Nora Ephron
26. Be a girl with a mind, a woman with attitude and a lady with class. – Anonymous
27. A girl should be two things: who and what she wants. – Coco Chanel
28. I'm beautiful. I'm open to all possibilities. I'm unique and gifted. I'm free to be me. I'm full of love. I'm happy with who I'm and who I'm yet to become. – Trudy Vesotsky
29. She is clothed with strength and dignity and laughs without fear of the future. – Proverbs 31:25
30. You've always had the power my dear, you just had to learn it for yourself. – Glinda, Wizard of Oz
31. Hey Little Fighter, soon things will be BRIGHTER!
32. I felt like, for so many years – and I still even feel it – as a girl, you can't really expect to go on stage and dress like a boy and jump around and scream with the audience and mosh and stuff, and every time that happens, I feel really proud. – Billie Eilish
33. She believed she could, so she did. – R.S. Grey
34. Don't let anyone ever dull your sparkle. – Nicole Angela Galvez
35. Clothes aren't going to change the world. The women who wear them will. – Anne Klein
36. If you obey all the rules you miss all the fun. – Katharine Hepburn
37. I would rather regret the things I have done than the things I have not. – Lucille Ball
38. The question isn't who is going to let me; it's who is going to stop me. – Ayn Rand
39. Be a first rate version of yourself, not a second rate version of someone else. – Judy Garland
40. You must know that you can do this. You are strong. You will make it. Just hang on and keep believing in yourself, always. – Heather Stillufsen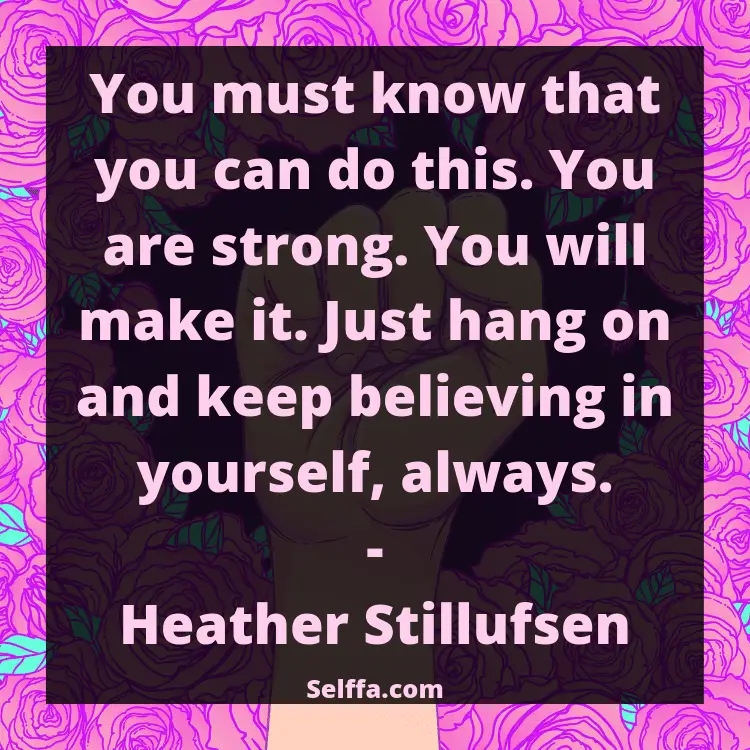 41. She was a wild one; always stomping on eggshells that everyone else tip-toed on. – Kaitlin Foster
42. Think like a queen. A queen is not afraid to fail. Failure is another stepping stone to greatness. – Oprah Winfrey
43. Be strong enough to stand alone, smart enough to know when you need help, and brave enough to ask for it. – Ziad K. Abdelnour
44. Life is not easy for any of us. But what of that? We must have perseverance and, above all, confidence in ourselves. We must believe we are gifted for something and that this thing must be attained. – Marie Curie
45. Courage, sacrifice, determination, commitment, toughness, heart, talent, guts. That's what little girls are made of; the heck with sugar and spice. – Bethany Hamilton
46. I think every girl needs to love herself, regardless of anything. Like if you're having a bad day, if you don't like your hair, if you don't have the best family situation, whatever, you have to love yourself and you can't do anything until you love yourself first. – Julianne Hough
47. I wasn't the prettiest girl in the room, but I learned to carry myself with confidence – that's how you make the best impression on people. – Priyanka Chopra
48. Girls shouldn't be afraid to look messy. They shouldn't have to always fit in with the pretty girls. Our goal as women is not to impress guys. – Daya
49. Girl power to me means being brave enough to take that first step and to speak out and be yourself. – Katherine McNamara
50. I think it's so important for girls to love themselves and to treat their bodies respectfully. – Ariana Grande
51. I don't look at her like she's a bad girl. She just misunderstood sometime, she's a little troubled, she's a little dysfunctional. She's a survivor. – Aida Turturro
52. I love fairy tales because of their haunting beauty and magical strangeness. They are set in worlds where anything can happen. Frogs can be kings, a thicket of brambles can hide a castle where a royal court has lain asleep for a hundred years, a boy can outwit a giant, and a girl can break a curse with nothing but her courage and steadfastness. – Kate Forsyth
53. For whatever reason, I didn't succumb to the stereotype that science wasn't for girls. I got encouragement from my parents. I never ran into a teacher or a counselor who told me that science was for boys. A lot of my friends did. – Sally Ride
54. I don't ever want to be a person that I'm not. A lot of girls fall into the trap where they are trying to impress other people, and that's the time when they lose themselves. – Kate Upton
55. I am looking for strong characters rather than being just a pretty girl. Actresses can do so much more than looking good. – Disha Patani
56. I hope the fathers and mothers of little girls will look at them and say 'yes, women can.' – Dilma Rousseff
57. Somehow I kept my head above water. I relied on the discipline, character, and strength that I had started to develop as that little girl in her first swimming pool. – Esther Williams
58. I can't feel bad about being who I am, just like the girl next to me can't feel bad about being who she is. Because a rose can never be a sunflower, and a sunflower can never be a rose. – Miranda Kerr
59. Girls are capable of doing everything men are capable of doing. Sometimes they have more imagination than men. – Katherine Johnson
60. Since I don't look like every other girl, it takes a while to be okay with that. To be different. But different is good. – Serena Williams
61. I think the girl who is able to earn her own living and pay her own way should be as happy as anybody on earth. The sense of independence and security is very sweet. – Susan B. Anthony
62. I want young girls to dream about being professional soccer players instead of just watching the boys go out and play. – Alex Morgan
63. I figure if a girl wants to be a legend, she should go ahead and be one. – Calamity Jane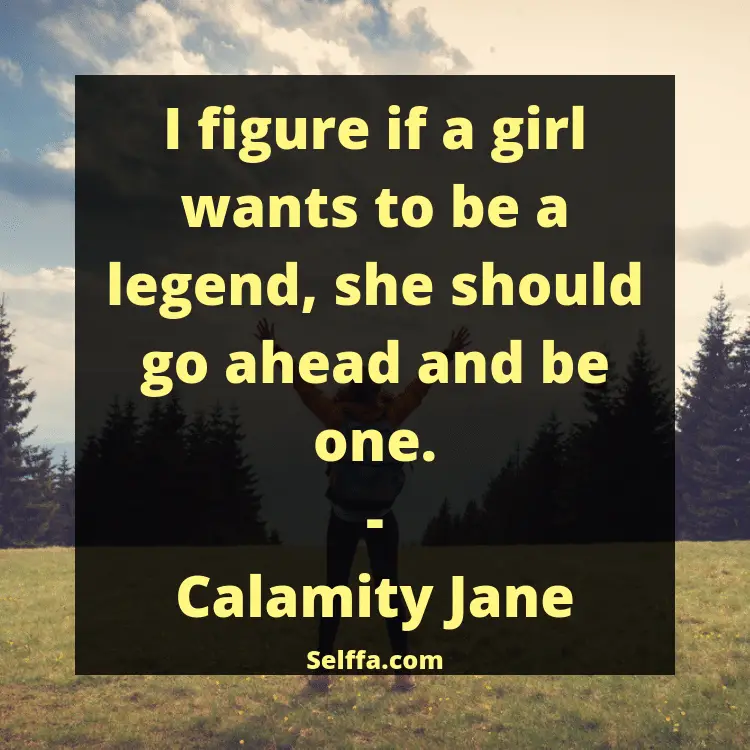 64. Give a girl an education and introduce her properly into the world, and ten to one but she has the means of settling well, without further expense to anybody. – Jane Austen
65. I just want girls to realize, everybody's born a way for a reason, and you are who you are. You should just be yourself at all times. The only way you're going to get through life, happily, is being yourself. – Nikki Blonsky
66. When our world is telling girls and women who they should be or what they should look like, it is critical that we empower those girls and young women to be confident with who they are. – Hilary Knight
67. I am an example of what is possible when girls from the very beginning of their lives are loved and nurtured by people around them. I was surrounded by extraordinary women in my life who taught me about quiet strength and dignity. – Michelle Obama
68. When I was a little girl, I did not listen to music much. I did not think that one day I would become a rapper. I was born in a very traditional and religious family. Being a female was destroying my dreams. Slowly, first through poetry and then music, I began to find ways to share my thoughts and feelings, talk to my family and to the world. – Sonita Alizadeh
69. As a girl, you're supposed to love Sleeping Beauty. I mean, who wants to love Sleeping Beauty when you can be Aladdin? – Ellen Page
70. Growing up with three older brothers and being the youngest and the only girl, my mom always made me tough. She's taught me over the years how to be a strong, independent woman, how to carry yourself in a positive way and anything that my brothers can do, I can do. – Diana Lopez
71. I've reached a point where I'm comfortable in my own skin, and I do what I need to do, to feel good, but I'm built the way I am. The dancer's feet, the bruises on my legs, they're not going to go away. I think real girls have bruises. Tough chicks get bruised. They get dirty. And they have fun. – Nina Dobrev
72. Nowadays, women are looked at as equal to the men when it comes to competing, and I think that's a really cool message to send to little girls and show them that whatever they want to do, they can set their mind to it and make it happen. – Carmella
73. I want to be a role model. I want to be able to know that I inspired girls to work hard and go for their dreams and to never give up. – Laurie Hernandez
74. I like to tell little girls that not every day is going to be your best day and that you won't look pretty every day either and that that's OK. But it is important to take care of yourself. – Eiza Gonzalez
75. With yourself, I think you have to decide the kind of person that you really want to be, and for me, it's just a sweet girl. – Miley Cyrus
76. My mission is to give girls the tools to be able to blossom into their best selves. – Elizabeth Berkley
77. I hope all you young girls see yourself up there… we were just like you. – Mia Hamm
78. I believe I've always been a big believer in equality. No one has ever been able to tell me I couldn't do something because I was a girl. – Anne Hathaway
79. I have a different kind of experience than other girls had. I've had to face a lot of different styles and adjust to them. I had to face a lot of bad situations and come back. I've had to fight with my eyes swollen shut and my nose broken and bloody. – Holly Holm
80. She's the kind of girl who climbed the ladder of success wrong by wrong. – Mae West
81. The fun part of being a girl is that there are little beauty things you can do to make yourself feel special. – Jennifer Love Hewitt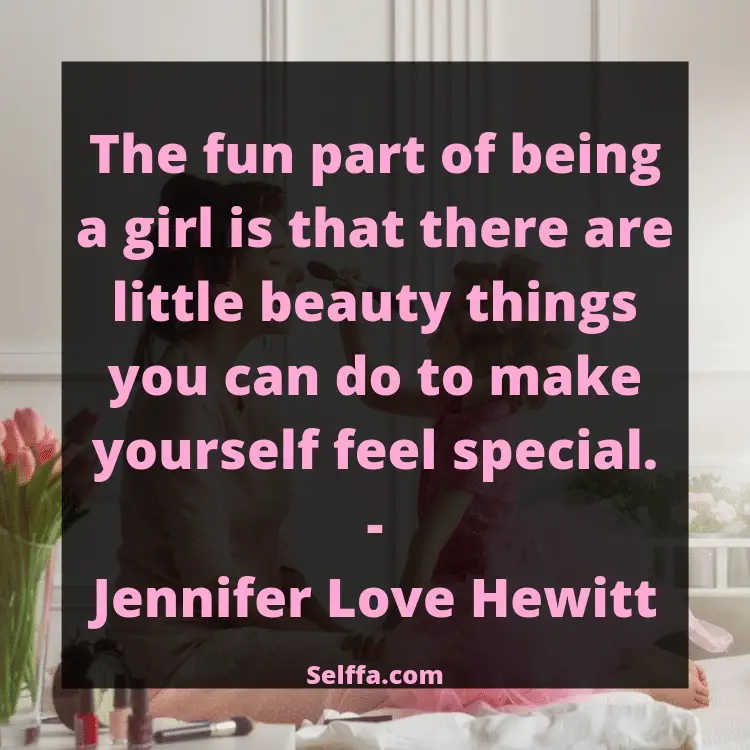 82. I think for a girl to be strong, it doesn't have to involve being physically strong. – Alia Shawkat
83. Jobs in technology have the rapidest rate of growth. The need for computer science is so incredibly large, and it's important that girls of all colors have the opportunity to move into that field. – Kimberly Bryant
84. That power of the individual person – just the girl – is infinite. – Emily Weiss
85. The more time a girl spends in the classroom, the higher the return on investment for her time, and the beneficiaries are stronger families and communities. – Tae Yoo
86. If you tell me I can't do something, that's the worst thing to tell me. And that's what I tell girls, and what Beckham's about: you can do it, you can do it better, and you can do it in the way you want. – Gurinder Chadha
87. When you educate a girl, you kick-start a cycle of success. It makes economic sense. It makes social sense. It makes moral sense. But, it seems, it's not common sense yet. – Queen Rania of Jordan
88. We don't want to tell young girls and boys that the odds are stacked against them from the start. Instead, we could tell them that with passion, conviction, and determination we can build a better future. This future is possible by redesigning our economy to truly reward hard work rather than wealth. – Winnie Byanyima
89. The independent girl is truly of quite modern origin, and usually is a most bewitching little piece of humanity. – Lou Henry Hoover
90. Looking in a mirror and telling yourself to feel better doesn't work when you're a girl, but finding something that you love to do, something that makes you a better person like volunteering to help others, will definitely make a difference. – Su-chin Pak
91. Not knowing you can't do something, is sometimes all it takes to do it. – Ally Carter
92. Don't worry if people think you're crazy. You are crazy. You have that kind of intoxicating insanity that lets other people dream outside of the lines and become who they're destined to be. – Jennifer Elisabeth
93. What we ask is to be human individuals, however peculiar and unexpected. It is no good saying: "You are a little girl and therefore you ought to like dolls"; if the answer is, "But I don't," there is no more to be said. – Dorothy L. Sayers
94. We girls, we're tough, darling. Soft on the outside but, deep down, we're tough. – Kristen Ashley
95. What is a Wanderess? Bound by no boundaries, contained by no countries, tamed by no time, she is the force of nature's course. – Roman Payne
96. There was something familiar but strange about her – Snow White with a suntan. Cinderella in biker boots. Tough and delicate and magical and real all at once. – Allyse Near
97. What about the nobodies and the nothings, the invisible girls? We learn to hold our heads as if we wear crowns. We learn to wring magic from the ordinary. – Leigh Bardugo
98. We must teach our girls that if they speak their mind, they can create the world they want to see. – Robyn Silverman
99. All really interesting girls invent themselves. – Anna Godbersen
100. Someday there will be girls and women whose name will no longer mean the mere opposite of the male, but something in itself, something that makes one think not of any complement and limit, but only life and reality: the female human being. – Rainer Maria Rilke
101. Always aim high, work hard, and care deeply about what you believe in. And, when you stumble, keep faith. And, when you're knocked down, get right back up and never listen to anyone who says you can't or shouldn't go on. – Hillary Rodham Clinton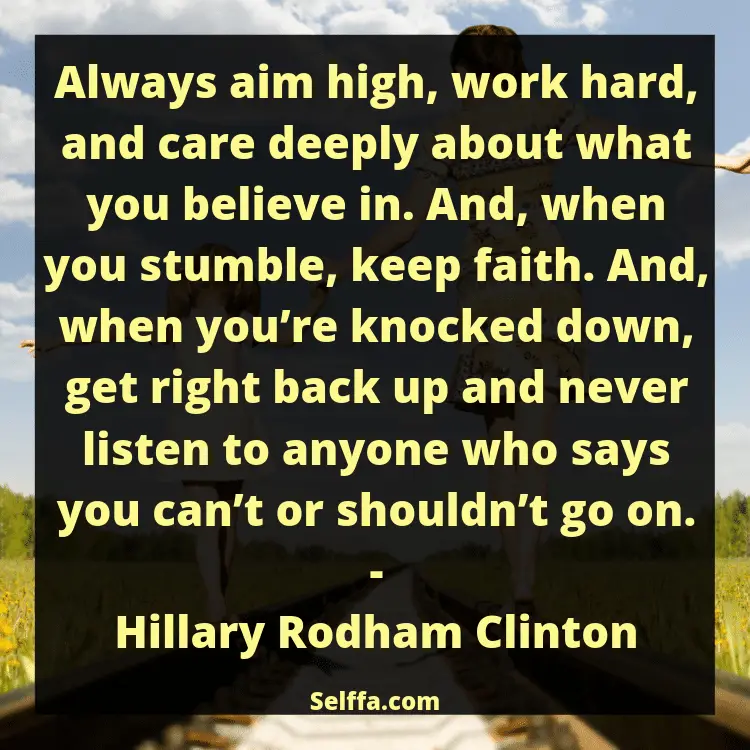 102. Nothing I accept about myself can be used against me to diminish me. – Audre Lorde
103. Some women get erased a little at a time, some all at once. Some reappear. Every woman who appears wrestles with the forces that would have her disappear. She struggles with the forces that would tell her story for her, or write her out of the story, the genealogy, the rights of man, the rule of law. The ability to tell your own story, in words or images, is already a victory, already a revolt. – Rebecca Solnit
104. You're not too fat. You're not too loud. You're not too smart. You're not unladylike. There is nothing wrong with you. – Jessica Valenti
105. The one person who will never leave us, whom we will never lose, is ourself. Learning to love our female selves is where our search for love must begin. – bell hooks
106. My mother told me to be a lady. And for her, that meant be your own person, be independent. – Ruth Bader Ginsburg
107. You should never be surprised when someone treats you with respect. You should expect it. – Sarah Dessen
108. Don't let the bastards grind you down. – Margaret Atwood
109. Just when the caterpillar thought the world was ending, he turned into a butterfly. – Proverb
110. A lot of people are afraid to say what they want. That's why they don't get what they want. – Madonna
111. If you're presenting yourself with confidence, you can pull off pretty much anything. – Katy Perry
112. Life is tough, my darling, but so are you. – Stephanie Bennett Henry
113. …Pledge that you will look in the mirror and find the unique beauty in you. – Tyra Banks
114. When the raindrops come tumbling, remember you're the one who can fill the world with sunshine. – Snow White
115. You can't get what you want just by wishing for it. – Disney's Princess Tiana
116. Are you really going to let fear control your life? – Disney's Frozen
117. Learn from yesterday, live for today, hope for tomorrow. – Albert Einstein
118. We cannot all succeed when half of us are held back. We call upon our sisters around the world to be brave – to embrace the strength within themselves and realize their full potential. – Malala Yousafzai
119. No matter what you look like or think you look like, you're special, and loved, and perfect just the way you are. – Ariel Winter
120. And though she be but little, she is fierce. – William Shakespeare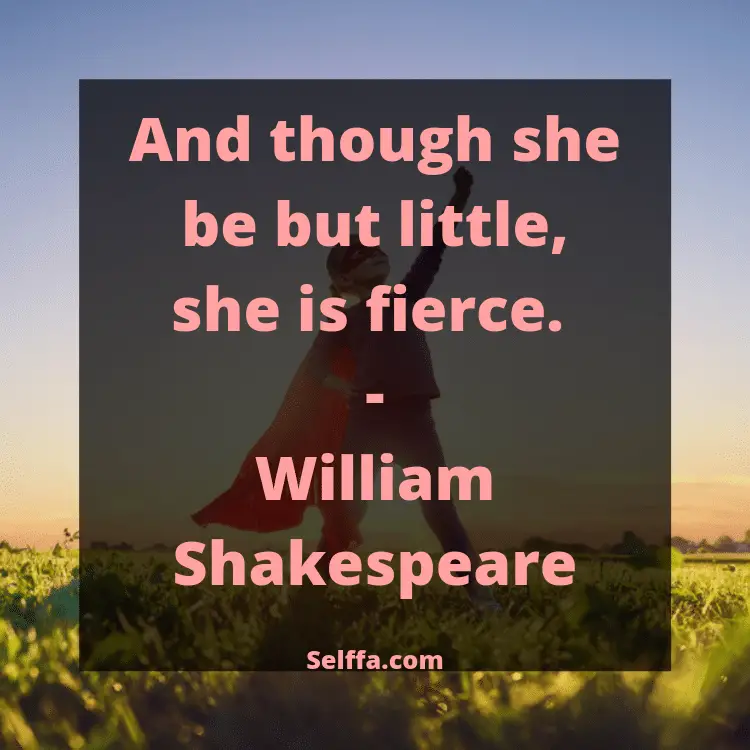 121. The most effective way to do it is to do it. – Amelia Earhart
122. For what it's worth: It's never too late to be whoever you want to be. I hope you live a life you're proud of, and if you find that you're not, I hope you have the strength to start over. – F. Scott Fitzgerald
123. There are two ways of spreading light. To be the candle or the mirror that reflects it. – Edith Wharton
124. You don't want to be the best kept secret. – Lane Odle
125. Everything you do now is for your future. Think about that. – Kushandwizdom
126. The power you have is to be the best version of yourself you can be, so you can create a better world. – Ashley Rickards
127. Don't let anyone rob you of your imagination, your creativity, or your curiosity. It's your place in the world; it's your life. Go on and do all you can with it, and make it the life you want to live. – Mae Jemison
128. I can't think of any better representation of beauty than someone who is unafraid to be herself. – Emma Stone
129. Don't wait on a leader. Look in the mirror– it's you. – Katherine Miracle
130. Little girls with dreams become women with vision. – Unknown
131. Be so good they can't ignore you. – Steve Martin
132. All girls know that they can be anything now. That transformation is to me one of the most satisfying things. – Ellen Johnson Sirleaf
133. Finally I was able to see that if I had a contribution I wanted to make, I must do it, despite what others said. That I was OK the way I was. That it was all right to be strong. – Wangari Maathai
134. Stop wearing your wishbone where your backbone ought to be. – Elizabeth Gilbert
135. I just want women to always feel in control. Because we're capable, we're so capable. – Nicki Minaj