We can rely on God during the most challenging moments of our lives. We might think that there is no hope, but He listens to the sincere prayers of our hearts. So let go and let God inspire us with these 56 inspirational prayers.
Inspirational Prayers
1. Dear God,
Nothing is impossible with You by my side.
I dare to dream big, set high goals, and have lofty ambitions.
Give me the will to reach my aspirations.
Share Your strength. Let determination rule me
and success will surely come.
Amen
2. Dear God,
Thank you for answered prayers and dreams realized.
My faith in You is solid and strong.
I will continue to spread Your love to everyone I meet.
Amen
3. Dear Lord,
I put myself fully in Your calm and capable hands.
Let no evil come to me. Whatever my fate, help me deal with it.
Show me how to embrace the unexpected and live confidently.
You are my salvation.
Amen
4. Lord,
I come, asking You to teach me how to be a helper
to those around me. Show me who is hurting.
Don't let me miss the broken hearts that cross my path.
Give me the hope and love to be Your messenger
to the people in my world.
Amen
5. Dear God,
How do you want me?
Help me discover who I am supposed to be.
Expose my purpose. Make my spiritual gifts
known to me and I will use them for Your glory.
Amen
6. Dear God,
It's time for me to be happy.
In prayer I can let go and feel
my problems disappear.
I'm amazed by how easily
You make my sad heart happy again.
Thank You for making me keenly aware
of the good that surrounds me.
Amen
7. Praise to You Lord, for this wondrous day You made!
Today I will be happy, in charge, and productive.
There is no problem I can't handle,
and no disappointment too great.
You and me Lord, are in it together – and for that,
I am grateful.
Amen
8. Dear God,
Bless my children.
Inspire me to inspire them to be creative.
Help me to motivate them to help others.
Strengthen my will and they will be strong.
I have the responsibility to grow responsible children
and I need to know when to say no,
and when to say: yes, take it on!
Amen
9. Dear God,
I won't let disappointment own me.
I will find a simple and effective way
to be in control when people let me down.
Share Your divine wisdom and I will be
better at knowing my true friends.
Amen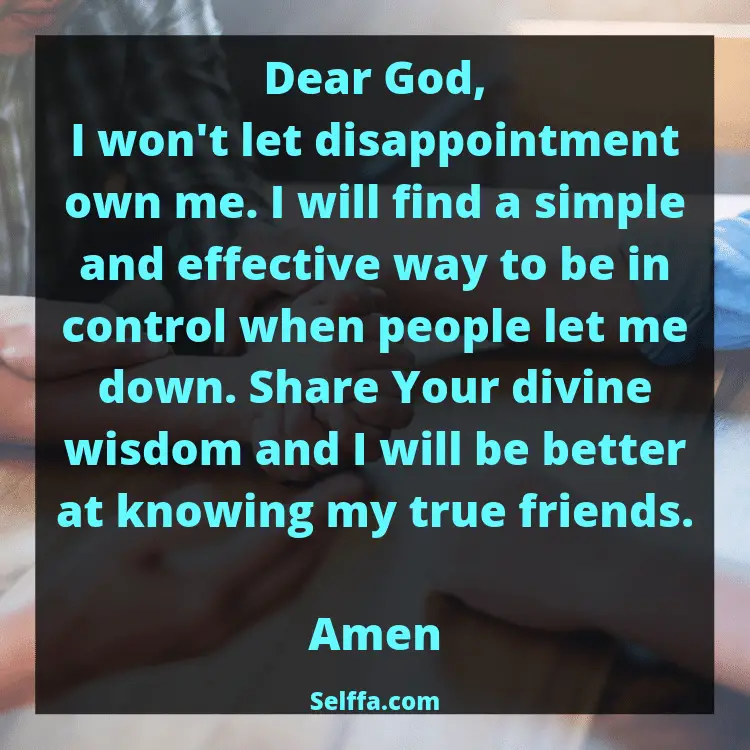 10. Dear God,
Tonight, I am full of uncertainties: rushing water,
rocks and loosened stones. Above me, stars reach
connecting pieces of my scattered life, forming
constellations of doubt. But when all is quiet,
I hear Your presence pulsing outside my window.
You are pushing, persevering through broken waters,
to calm me after a day of storm. I may never know
what will be. But tonight I know You are near.
Amen
11. Search me, God, and know my heart;
test me and know my anxious thoughts.
See if there is any offensive way in me,
and lead me in the way everlasting.
– Psalm 139:23-24 (NIV)
12. Oh, that you would bless me
and expand my territory!
Please be with me in all that I do,
and keep me from all trouble and pain!
– 1 Chronicles 4:10 (NLT)
13. God is my help in every need;
God does my every hunger feed;
God dwells within me, guides my way
Through every moment, night and day.
I now am wise, I now am true,
Patient, kind, and loving, too.
All things I am, can do, and be,
Through Christ, the Truth that is in me.
God is my health, I can't be sick;
God is my strength, unfailing, quick;
God is my all, I know no fear,
Since God and love and Truth are here.
– Hannah More Kohaus
14. Lord, speak to me, that I may speak
In living echoes of they tone;
As Thou hast sought, so let me seek
Thy erring children, lost and lone.
O teach me, Lord, that I may teach
The precious things Thou dost impart;
And wing my words, that they may reach
The hidden depths of many a heart.
O fill me with Thy fullness, Lord,
Until my very heart o'er flow
In kindling thought and glowing word,
Thy love to tell, Thy praise to show.
O use me, Lord, use even me
Just as Thou wilt, and when, and where;
Until Thy blessed face I see,
Thy rest, Thy joy. Thy glory share.
– Frances Ridley Havergal
15. I need you help oh Father
Raise me up from my temptation
To salvation and light.
My spirits are yours' to be with one
My desire is to float with you on clouds high
Make a light for me to follow
Out of this world that is so hollow.
I need your love oh Father
For I am mired in days of turmoil
Your willingness and grace to forgive
Your kindness and generosity yours to give.
Transfer your strength for all these days
So that I may speak of Father's grace
I will work as your vessel of faith
May your guidance make me no disgrace.
My soul is laid at your feet
So I will never feel defeat.
Upon your wisdom I will arise
As your devoted servant, never be unwise. Amen.
– Byron Pulsifer
16. Lord,
Give me strength to carry on
To persevere as I work
To be able to provide
The necessities for my family.
To allow me to work and love
For my family and thee Oh Lord
I ask your guidance and help. Amen.
17. Oh Lord,
Thank you for giving me
A special day of birth
A day that you brought me to serve
And a day to celebrate my being
A day where you have made me
What I am today.
A day to give thanks to You,
For showing me the way.
May I always remain within
Your blessed house forever Amen.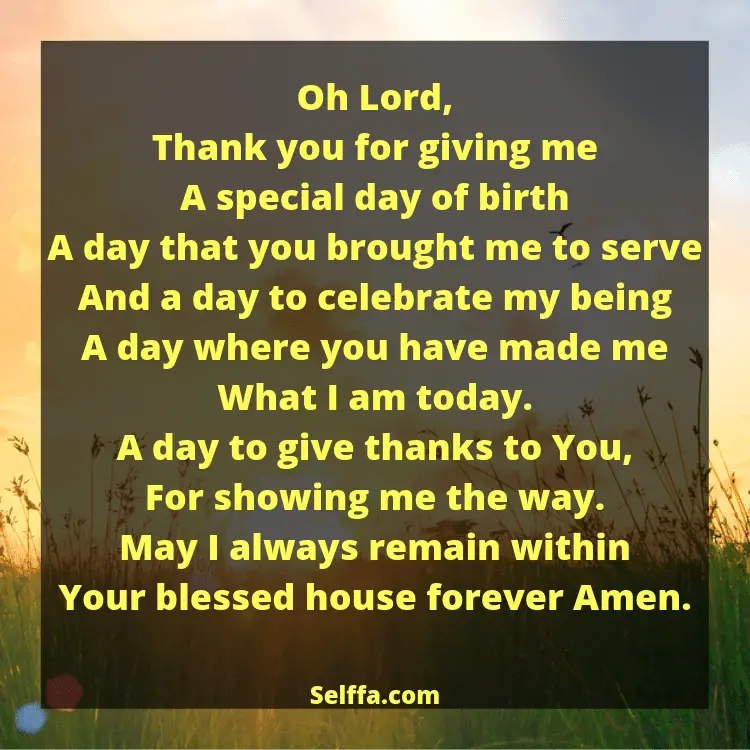 18. Help me to find peace
Make me open when I am closed
Help me to see beyond prejudice
Open my heart to those in need.
Help me to give praise
When all others defame.
Make me see through the dark
To see the light that you have cast.
I need help to praise
When it seems that I falter.
Make me see happiness
When sadness surrounds me.
Make me humble
When I am vain.
Open my eyes
When I do not see.
Grant me the wisdom
To see your calling
That I may be pardoned
And live in eternal peace.
Amen.
19. Father, I am tempted to worry about so many things. Our world is a mess! Forgive me for focusing on anything or anyone but You. Thank You for the Bible that equips and empowers me to live each day. Right now, I declare that You are my only Hope. Please help me remember that You really are in control. In Jesus' Name, Amen.
20. Dear God, Please give me strength in this time of need. Please take away my worry and strengthen me so I can accomplish what is in front of me. I have ultimate trust in you, Amen.
21. Lord, thank you for your greatness. Thank you that when I am weak, you are strong. Lord, the Devil is scheming and I know he desires to keep me from spending time with you. Don't let him win! Give me a measure of your strength so that I might not give into discouragement, deception and doubt! Help me honor you in all my ways. In Jesus' Name, Amen.
22. Lord God, may we be grateful for our lot, and compassionate toward all those who are suffering every kind of distress at this difficult time. May we hold back nothing, and hasten to be the ministers of prayer and mercy, like the disciples of Him who went about doing good in times of need.
23. Lord, my heart is broken but You are near. My spirit is crushed, but You are my rescuer. Your Word is my hope. It revives me and comforts me in especially now. My soul faints, but you are the breath of life within me. You are my help, the One who sustains me. I am weak but You are strong. You bless those who mourn, and I trust You to bless me and my family with all that we need. You will rescue me from this dark cloud of despair because You delight in me. In Jesus' Name, Amen.
24. Lord God, you are my strength. Hold my hand in my weakness and teach my heart to fly. With you, there's nothing to fear, nothing to worry about. Hold me tight in your embrace, so that I can be stronger than the challenges in my life. Amen.
25. Holy Lord, Thank You for grace. Please help me move beyond the hurdles that trip me up and give me the strength and wisdom to look up and see the hope I run toward in Christ. In Jesus' Name, Amen.
26. Dear Gracious Father, You've given us so much. You pour out your blessings all around us and we're grateful. Right now I want to lift up the person reading this prayer. God I pray that you heal them where they are sick, fill them where they are empty, and be a friend to them in all the ways they feel lonely. I pray for their weaknesses Lord, and ask that you give them strength. Pick them up and be with them as they carry on through today. Bless them and guide them so they would do things that honor you. Bless them and keep them and give them peace. This I ask in Jesus' name, Amen.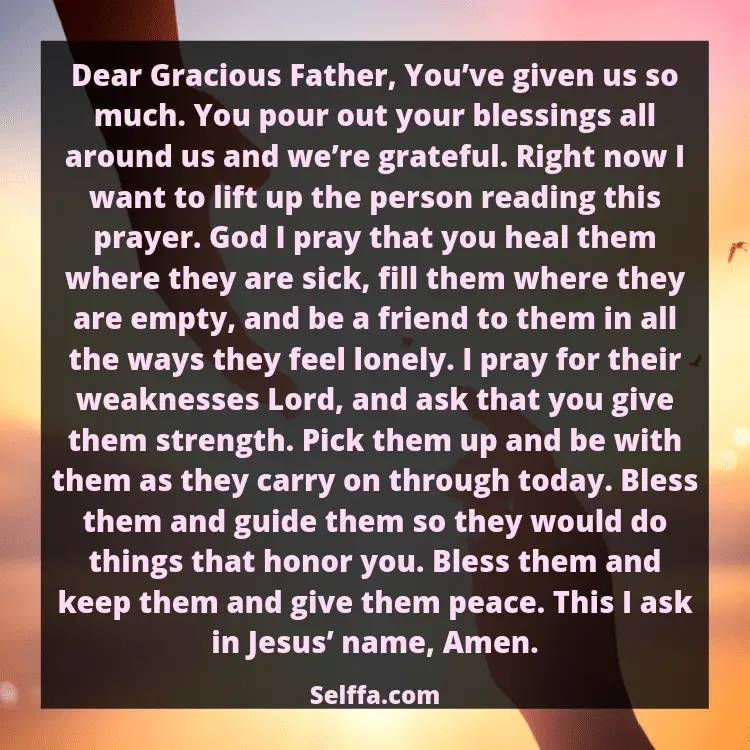 27. Dear Lord, help me – every single morning – to find faith in the midst of the chaos. Give me the desire and ability to see You, hear You, talk to You, and give thanks to You. And as I do, I pray that I will draw nearer and nearer to You, and that my faith will multiply exponentially as I understand in new, deeper ways that You are everything I ever hoped You would be. And so much more. Amen.
28. Lord, I'm here today with open hands and an open heart, ready to depend on you to help me through the day and all it will bring my way. Help me be like Nehemiah, help me come to you for guidance, strength, provision and protection. As I face tough choices and hard situations, help me remember my belovedness, help me remember that I am Your child and Your representative to the world around me. Help me live today in a way that brings honor to Your holy name. In Jesus' Name, Amen.
29. Today, I declare that You, my God, are bigger than
anything I can possibly face, because my steps are
ordered and directed by YOU.
I seek You, Abba Father, to be my eyes and my ears
though all situations. I will praise your name, as You
alone can satisfy the hunger and thirst that I have for You.
Thank You for these mercies, which I pray in the
precious name of Your Son, Jesus Christ, SO BE IT… AMEN!
30. God, sometimes life gets me down and I find it hard to see things to be thankful for. Open my eyes to see the gifts you've given me in my life. I'm going to start by thanking you for loving me enough to come to earth and die so we can live together forever. Amen. – Wendy van Eyck
31. Loving God, please grant me peace of mind and calm my troubled heart. My soul is like a turbulent sea. I can't seem to find my balance so I stumble and worry constantly. Give me the strength and clarity of mind to find my purpose and walk the path you've laid out for me. I trust your Love God, and know that you will heal this stress. Just as the sun rises each day against the dark of night. Please bring me clarity with the light of God.
In your name I pray,
Amen.
32. For all whose journey
has only just begun,
who tread carefully
and heavy laden
along unfamiliar paths,
seeking guidance
from fellow travellers,
fearful of losing their way,
speed their journey, Lord,
keep them from harm,
and bring them safely
into their promised land,
your Kingdom where,
at last unburdened,
they might find their rest in you.
33. When travelling is hard;
mountains to climb,
rivers to cross,
storms that assail,
and in our own strength
we know that we shall fail,
Lord, reach out your hand
to guide us safely,
and without stumbling,
toward our journey's end.
34. Your footsteps are not easy to follow,
for they lead not only to green pastures
where we find nourishment and rest,
but also desert and wilderness places
where we are vulnerable and alone,
and crowded and uncomfortable spaces
where we feel threatened and distressed.
Your footsteps are not easy to follow,
but you have walked this way before
and are never far from any one of us,
your Spirit guiding and instructing,
your arm supporting, your love supplying,
on this necessary path we tread.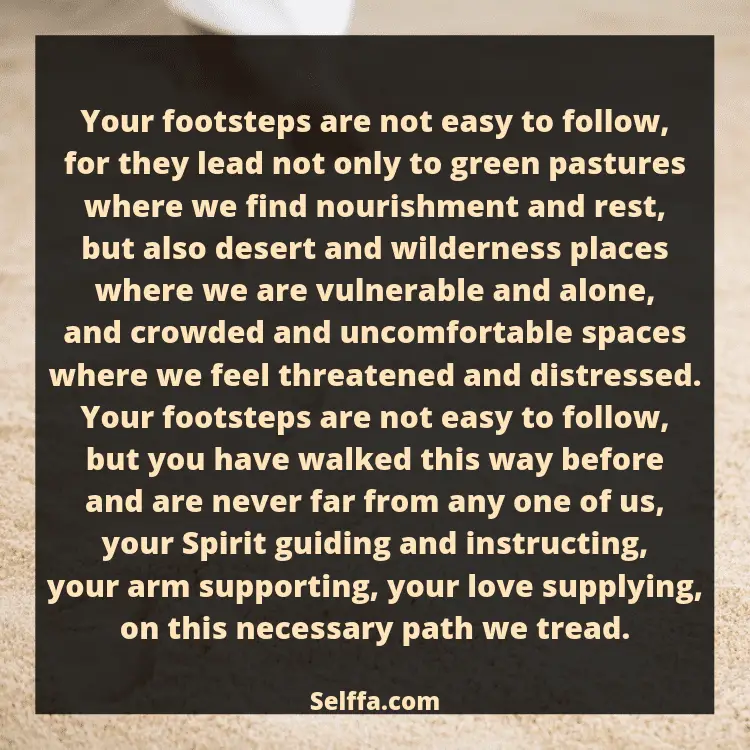 35. God of the journey,
give sight to all
who have not found
the path to follow,
strength to those
who are walking
that you have trod,
and hope to those
growing weary
of the travelling,
that all might meet,
one glorious day,
at this journey's end.
36. God of Grace
In whom I put my trust
Be my rescuer when sins ensnare
The liberator of my soul
The still small voice that says
'Be free'
God of Love
In whom I put my trust
Be my joy and comfort at all times
The source of all my thoughts and words
The still small voice that says
'Rejoice!'
God of Peace
In whom I put my trust
Be my tranquillity in times of turmoil
The steadying hand in raging seas
The still small voice that says
'Be calm'
God of Power
In whom I put my trust
Be my confidence when faith is challenged
The sword and armour that protects
The still small voice that says
'Be strong!'
37. It is a wonderful truth,
that you have already walked
the path that we now follow,
known hardship, temptation and suffering.
And with that knowledge deep in our hearts
we can follow you in confidence,
and when difficulties arise,
listen for your footfall.
38. When our faith is weak
grant us wisdom.
When our body is weak
grant us strength.
When our journey is long
grant us perseverance.
39. As I adventure with you today
be the compass that guides me,
the light that shines on my path,
the only one I follow.
As I adventure with you today
be the word that encourages,
the hand that reaches out,
each time I stumble.
As I adventure with you today
let me glimpse our destination,
and appreciate the places,
through which you lead me .
As I adventure with you today
be the strength I need to follow,
and as the day draws to a close,
let me rest in your embrace.
40. When the journey is hard
strength is failing,
we lose the path,
stumble
or fall,
you raise us up,
refresh,
encourage,
give hope.
You enable us
to continue on our way,
climb mountains,
or simply follow
day by day.
41. Transform our struggles
into victories
Transform our doubting
into certainty
Transform our stumbles
into confidence
Transform our sorrow
into worshipping
Gracious God, we pray.
42. When the question is 'Why?'
be the voice that I hear
When the question is 'Where?''
be the guidance I need
When the question is 'When?
Be the wisdom I seek
When the question is 'How?'
be the strength I require
When my answer is 'Yes!'
be the peace that I feel.
43. Help us overcome
our fears and doubts,
all that comes between
the things you ask of us,
and all that we believe
we are capable of.
Break down the barriers
that daily we create,
and enable us to become
all that you ask us to be.
44. For those struggling
through stormy seas,
growing weary
of the journeying
and losing sight
of their destination,
be the lighthouse
that guides them
past hidden dangers,
into calmer water
and the safe harbor
of your loving arms.
45. Bless all whose journey,
that search for faith,
acceptance and identity,
is made more difficult
by circumstance, doubt,
diversions, exhaustion,
stumbles along the road,
and the load they carry.
May they hear your voice,
and see your footsteps,
know how close you are,
lay down their burden,
reach for your hand
and allow you to lead
them into their promised land.
46. I pray that from his glorious, unlimited resources he will empower you with inner strength through his Spirit. Then Christ will make his home in your hearts as you trust in him. Your roots will grow down into God's love and keep you strong. And may you have the power to understand, as all God's people should, how wide, how long, how high, and how deep his love is. May you experience the love of Christ, though it is too great to understand fully. Then you will be made complete with all the fullness of life and power that comes from God. Now all glory to God, who is able, through his mighty power at work within us, to accomplish infinitely more than we might ask or think. Glory to him in the church and in Christ Jesus through all generations forever and ever! Amen.
47. For this reason we also, since the day we heard it, do not cease to pray for you, and to ask that you: May be filled with the knowledge of His will in all wisdom and spiritual understanding; that you may walk worthy of the Lord, fully pleasing Him, being fruitful in every good work and increasing in the knowledge of God; strengthened with all might, according to His glorious power, for all patience and longsuffering with joy; giving thanks to the Father who has qualified us to be partakers of the inheritance of the saints in the light.
48. Lord, despite the challenges and struggles of yesterday, help me to focus on You, Your provision over my life and the blessings you continue to bestow upon me. Rather than complaining over what I don't have, help me to focus in on all the wonderful things you've blessed me with. In Jesus' name, Amen.
49. Lord, I don't know what lay before me today, but I commit it all to you. Please give me strength and courage to get through the joys, challenges and happenings of the day. I thank you for my life and for all that I have; I commit this day to you. No matter what happens, I know you have me in the palm of your hand. In Jesus' name I pray, amen.
50. God grant me the serenity to accept the things I cannot change, courage to change the things I can, and wisdom to know the difference.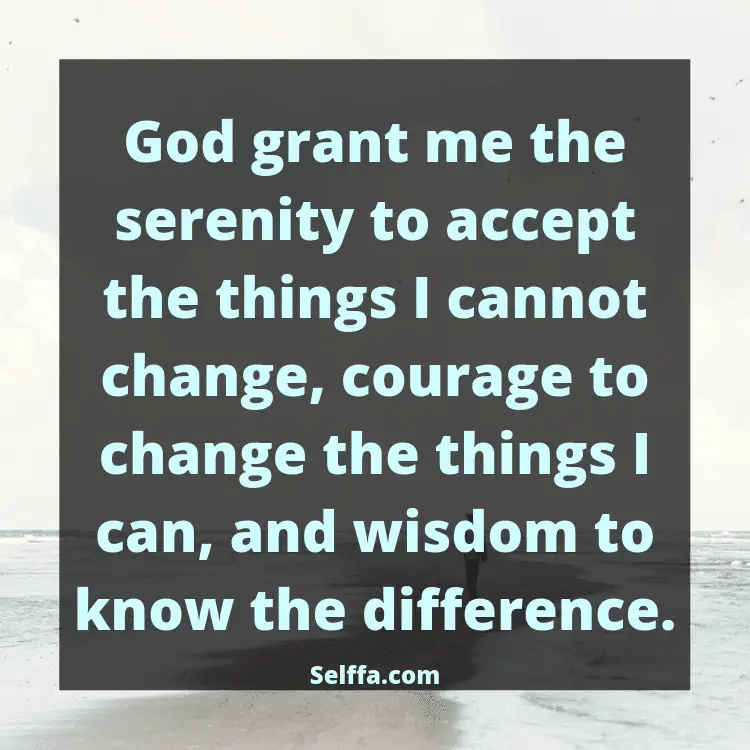 51. Lord, please give me wisdom, not only to journey through my own day, but to also help others around me navigate their journey. Help me, Lord, to follow Your command to love You and to love others. I need Your guidance to live out the day and to honor You. Please help me. In the name of Your son Jesus I pray, Amen.
52. Lord, help me let go of my fear of failure. I know Satan wants to use my fears to hold me back from living boldly for You. Forgive me for not living in faith, and help me from this moment on to live with bold confidence in You. Lord, help me not compare myself to others around me. I pray instead that I can keep my eye on You and live a life that proclaims Your excellence. In Jesus' Name I pray, Amen. – Rick Warren
53. God, please use me today to help illuminate someone's path with Your love. Please guide me toward people who need You, and help me to minister to them today. I am excited for what's to come, and I hope to be able to share the gospel with friends, loved ones and strangers. Please open up those opportunities. In Jesus' name, Amen.
54. Father, clear my sleepy head and fill my mind with expectation. Awake my slow body and energize my heart with love in action. Ignite my spirit and set this day on fire with promise. Make the ordinary extraordinary. Engage me, show me your kingdom alive. Help me to see that every waking moment is full of promise because of you. Amen.
55. As the sun rises, may your love rise in my heart. A love that dispels tiredness. A love that overcomes difficulty. A love that builds relationship. A love that inspires diligence. A love that delivers excellence. A love that develops trust. A love that produces praise. Lord, may I live in the light of your love. Amen.
56. Dear Lord, I pray today that I will yield my spirit completely to You, that You may use me as You please. I pray that You will provide me opportunities to show people how much You mean to me. Give me discretion to know what to say and how to say it. Make me bold enough that I may proclaim salvation cheerfully and joyfully. I pray that the seeds You allow me to plant will grow and mature. I pray that You, Father, will water the seeds that You allow me to plant today. I am forever grateful for the cross; may I proclaim it in a contagious way today. Amen.