Whether you're a businessman trying to leave a lasting impression on your business partners or maybe you want to make a difference in someone else's life, these impact quotes will surely inspire you to just do whatever your heart and mind will tell you. May these quotes remind you to keep on doing what you do best and make people remember you for who you truly are. 
Impact Quotes
1. A life is not important except in the impact it has on other lives. – Jackie Robinson
2. Get around people who have something of value to share with you. Their impact will continue to have a significant effect on your life long after they have departed. – Jim Rohn
3. The only limit to your impact is your imagination and commitment. – Tony Robbins
4. The longer I live, the more I realize the impact of attitude on life. – Charles R. Swindoll
5. If you think you're too small to have an impact, try going to bed with a mosquito. – Anita Roddick
6. As I have said, the first thing is to be honest with yourself. You can never have an impact on society if you have not changed yourself. Great peacemakers are all people of integrity, of honesty, but humility. – Nelson Mandela
7. Every human being has an impact on another. – Patch Adams
8. Physical strength can never permanently withstand the impact of spiritual force. – Franklin D. Roosevelt
9. It is important to remember that all business has an impact on the lives of real people. – Lee R. Raymond
10. Words can never adequately convey the incredible impact of our attitudes toward life. The longer I live the more convinced I become that life is 10 percent what happens to us and 90 percent how we respond to it. – Charles R. Swindoll
11. Americans work a long away ahead of themselves because of the size of the place. To make any impact at all you have to promote yourself with live performances ages before a release. – James Taylor
12. Characters who are on screen from start to finish are not necessarily the ones who have the greatest impact. – Jeanne Moreau
13. News, if unreported, has no impact. It might as well have not happened at all – Gay Talese
14. I think I have made an impact in the workplace and I do believe that will prevail over any of the other things in the end. – Paula Jones
15. What drives people to public service is a sense of possibility. If you haven't sensed that possibility you don't get started in the same way, you don't feel you can have an impact. – Henry Hampton
16. Any form of art is a form of power. It has impact, it can affect change. It can not only move us, it makes us move. – Ossie Davis
17. Aggressive music can only shock you once. Afterwards its impact declines. It's inevitable. – Brian Eno
18. You want to find a place where, because of your skills, you can make an impact.  – John McKinley
19. People that are really very weird can get into sensitive positions and have a tremendous impact on history. – Dan Quayle
20. You want people walking away from the conversation with some kernel of wisdom or some kind of impact. – Harry Dean Stanton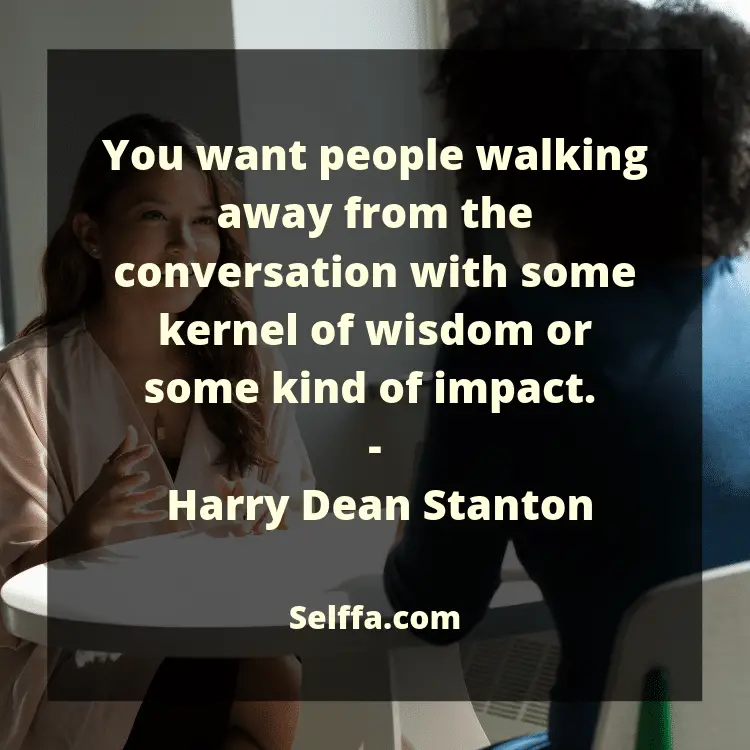 21. We, expert teachers, know that motivation and emotional impact are what matter. – Donald A. Norman
22. When you love people and have the desire to make a profound, positive impact upon the world, then will you have accomplished the meaning to live. – Sasha Azevedo
23. The longer I live the more I realize the impact of attitude on life. Attitude, to me, is more important than facts. It is more important than the past, than education, than money, than circumstances, than failures, than successes, than what other people think or say or do. It is more important than appearance, giftedness or skill. It will make or break a company a church a home. – Charles R. Swindoll
24. You can never have an impact on society if you have not changed yourself. – Nelson Mandela
25. Don't ever underestimate the impact that you may have on someone else's life.
26. Recognize that every interaction you have is an opportunity to make a positive impact on others. – Shep Hyken
27. Every action we take impacts the lives of others around us. – Arthur Carmazzi
28. Genius is in the idea. Impact, however, comes from action. – Simon Sinek
29. The only limit to your impact is your imagination and commitment. – Tony Robbins
30. What you do has far greater impact than what you say. – Stephen Covey
31. Small gestures can have a big impact. Create where it matters.
32. Everything you do has some effect, some impact.
33. You cannot get through a single day without having an impact on the world around you. What you do make a difference, and you have to decide what kind of difference you want to make. – Jane Goodall
34. Success is not measured in the number of dollars you make, but the number of lives you impact.
35. Some people arrive and make such a beautiful impact on your life, you can barely remember what life was like without them. – Anna Taylor
36. Don't use social media to impress people, use it to impact people. – Dave Willis
37. In life you get what you put in. When you make a positive impact in someone else's life, you also make a positive impact in your own life. – MarcAndAngel
38. Small changes and small steps can create massive impact. – Melissa McCreery
39. Could anything be better than this Waking up every day knowing that lots of people are smiling because you chose to impact lives, making the world a better place. – Anyaele Sam Chiyson
40. If you wish to make a positive impact in the world, you must separate yourself from the crowd. – ATGW
41. I've always had a philosophy that position doesn't define power. Impact defines power. What impact are you making on people? What impact are you making on business? – Mindy Grossman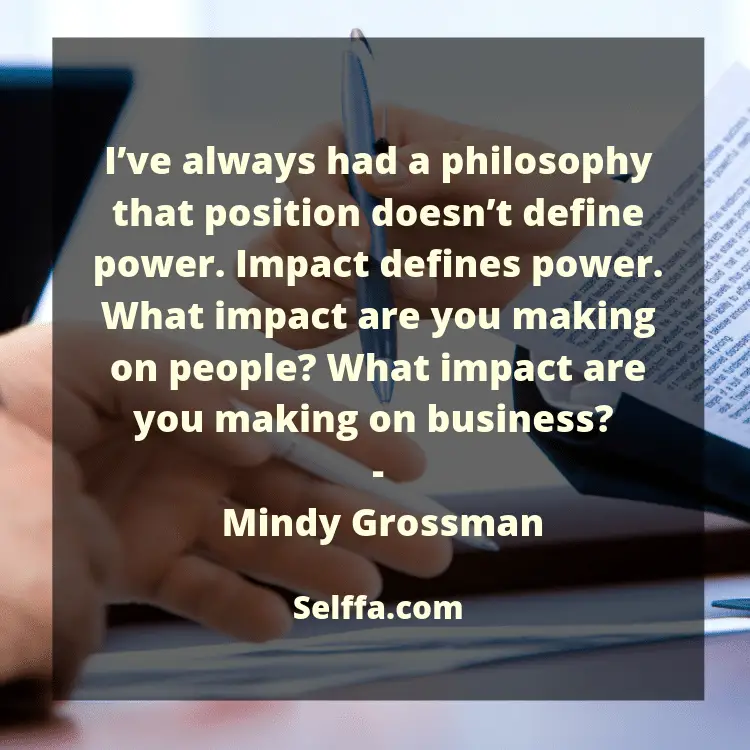 42. Our daily decisions and habits have a huge impact upon both our levels of happiness and success. – Shawn Achor
43. Never underestimate the valuable and important difference you make in every life you touch. For the impact you make today has a powerful rippling effect on every tomorrow.
44. A life is not important except in the impact it has on other lives. – Jackie Robinson
45. Leadership is not about a title or a designation. It's about impact, influence and inspiration. Impact involves getting results, influence is about spreading the passion you have for your work, and you have to inspire team-mates and customers. – Robin S. Sharma
46. Ego gets you inches but it doesn't get you impact. – Cameron Sinclair
47. It's amazing what doors can open if you reach out to people with a smile, friendly attitude, and a desire to make a positive impact. – Richard Branson
48. There's no greater gift than thinking that you had some impact on the world, for the better. – Gloria Steinem
49. Your time is limited, so don't waste it living someone else's life. – Steve Jobs
50. You have the capacity to leave a lasting impact and indelible impression upon this world. Claim the sacred spaces of your minds, nurture and cultivate a vision of fulfillment, and move toward that destiny with patience, perseverance, and prayer. – Mahershala Ali
51. Nothing will work unless you do. – Maya Angelou
52. Don't let the fear of losing be greater than the excitement of winning. – Robert Kiyosaki
53. The best years of your life are the ones in which you decide your problems are your own. You do not blame them on your mother, the ecology, or the president.  You realize that you control your own destiny. – Albert Ellis
54. If you don't value your time, neither will others. Stop giving away your time and talents. Value what you know and start charging for it. – Kim Garst
55. Embrace what you don't know, especially in the beginning, because what you don't know can become your greatest asset. It ensures that you will absolutely be doing things different from everybody else. – Sara Blakely
56. Don't give up. Don't ever give up. – Jimmy Valvano
57. I've missed more than 9,000 shots in my career. I've lost almost 300 games. Twenty-six times, I've been trusted to take the game-winning shot and missed. I've failed over and over and over again in my life. And that is why I succeed. – Michael Jordan
58. What other people label or might try to call failure I have learned is just God's way of pointing you in a new direction. – Oprah Winfrey
59. From what we get, we can make a living, what we give, however, makes a life. – Arthur Ashe
60. If I had eight hours to chop down a tree, I'd spend six hours sharpening the ax. – Abraham Lincoln
61. I attribute my success to this, I never gave or took an excuse. – Florence Nightingale
62. Don't wait. The time will never be just right. – Napoleon Hill
63. Change will not come if we wait for some other person or some other time. We are the ones we've been waiting for. We are the change that we seek. – Barack Obama
64. There's a tremendous bias against taking risks. Everyone is trying to optimize their ass-covering. – Elon Musk
65. Our deepest fear is that we are powerful beyond measure. – Marianne Williamson
66. I am learning to understand rather than immediately judge or to be judged. I cannot blindly follow the crowd and accept their approach. I will not allow myself to indulge in the usual manipulating game of role creation. Fortunately for me, my self-knowledge has transcended that and I have come to understand that life is best to be lived and not to be conceptualized. I am happy because I am growing daily and I am honestly not knowing where the limit lies. To be certain, every day there can be a revelation or a new discovery. I treasure the memory of the past misfortunes. It has added more to my bank of fortitude. – Bruce Lee
67. Your work is discover your world and then with all your heart give yourself to it. – Buddha
68. Happiness is not something you postpone for the future, it is something you design for the present. – Jim Rohn
69. Fearlessness is like a muscle. I know from my own life that the more I exercise it, the more natural it becomes to not let my fears run me. – Arianna Huffington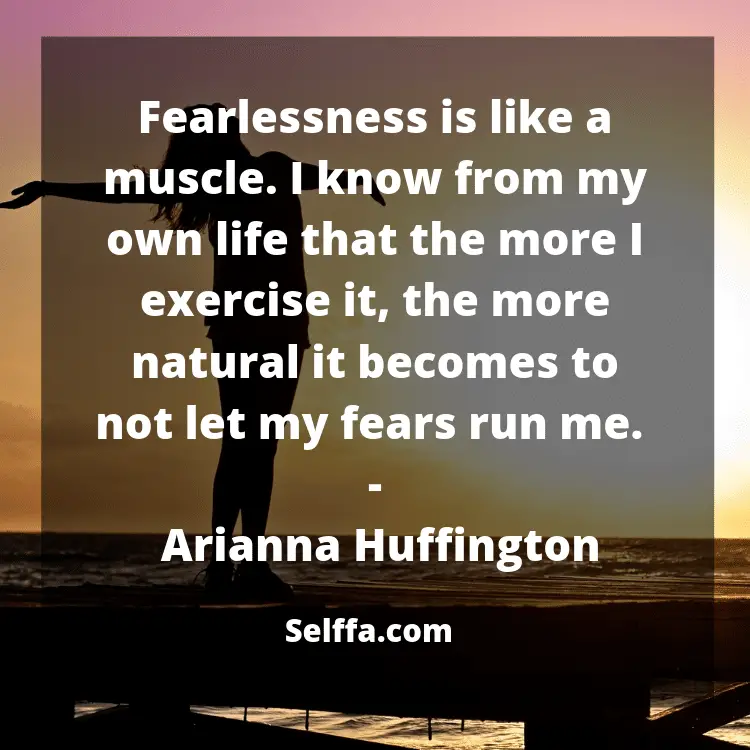 70. Never be ashamed! There's some who will hold it against you, but they are not worth bothering with. – J.K. Rowling
71. When you have a dream, you've got to grab it and never let go. – Carol Burnett
72. In real life, the act of creation is defying death. I think it's just that dumb and simple. – Rick Owens
73. If you truly love life, don't waste time, because time is what life is made of. – Bruce Lee
74. Success is empty if you arrive at the finish line alone. The best reward is to get there surrounded by winners. – Howard Schultz
75. Dwell on the beauty of life. Watch the stars, and see yourself running with them. – Marcus Aurelius
76. In the real world, the smartest people are people who make mistakes and learn. In school, the smartest people don't make mistakes. – Robert Kiyosaki
77. Education is the key to success in life, and teachers make a lasting impact in the lives of their students. – Solomon Ortiz
78. Leadership is not about a title or a designation. It's about impact, influence and inspiration. Impact involves getting results, influence is about spreading the passion you have for your work, and you have to inspire team-mates and customers. – Robin S. Sharma
79. I am not an angry guy. It's just the roles I do that impact my personality. – Randeep Hooda
80. In every day, there are 1,440 minutes. That means we have 1,440 daily opportunities to make a positive impact. – Les Brown
81. Words can never adequately convey the incredible impact of our attitudes toward life. The longer I live the more convinced I become that life is 10 percent what happens to us and 90 percent how we respond to it. – Charles R. Swindoll
82. I've learned that you have to make careful choices because everything has an impact. I've also learned that you can't please everyone in life, so please yourself and figure out what really matters. – Gretchen Bleiler
83. If you don't think your anxiety, depression, sadness and stress impact your physical health, think again. All of these emotions trigger chemical reactions in your body, which can lead to inflammation and a weakened immune system. Learn how to cope, sweet friend. There will always be dark days. – Kris Carr
84. Caring about others, running the risk of feeling, and leaving an impact on people, brings happiness. – Harold Kushner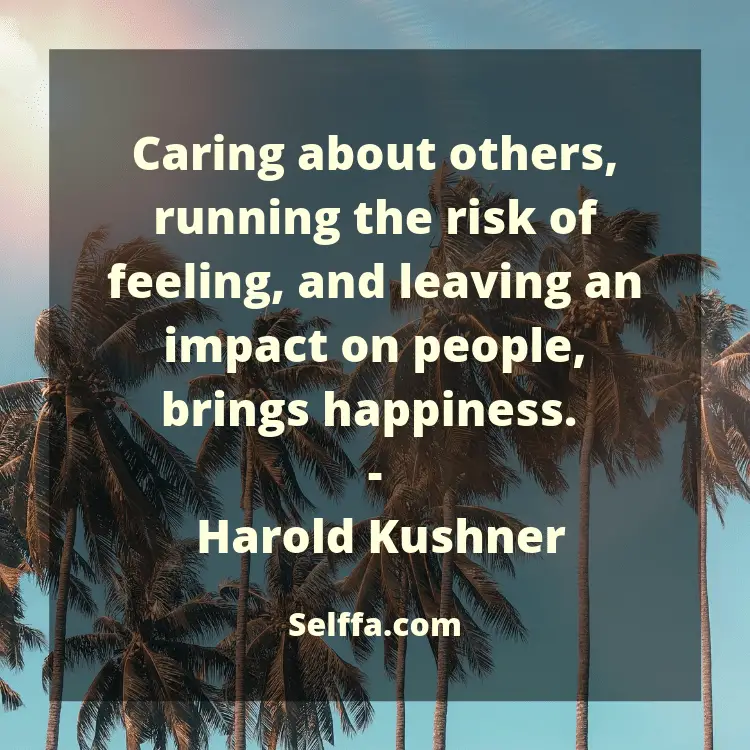 85. The culture of a workplace – an organization's values, norms and practices – has a huge impact on our happiness and success. – Adam Grant
86. You never know when a moment and a few sincere words can have an impact on a life. – Zig Ziglar
87. The promise of artificial intelligence and computer science generally vastly outweighs the impact it could have on some jobs in the same way that, while the invention of the airplane negatively affected the railroad industry, it opened a much wider door to human progress. – Paul Allen
88. I often tell my students not to be misled by the name 'artificial intelligence' – there is nothing artificial about it. AI is made by humans, intended to behave by humans, and, ultimately, to impact humans' lives and human society. Fei-Fei Li
89. Don't walk through life just playing football. Don't walk through life just being an athlete. Athletics will fade. Character and integrity and really making an impact on someone's life, that's the ultimate vision, that's the ultimate goal, bottom line. – Ray Lewis
90. The change I want to see is a start-up environment where everyone, regardless of gender and background, feels welcome and safe; where sexual harassment or discrimination will not impede great talent from producing great impact. – Christine Tsai
91. The most important impact on society and the world is the cell phone. Cell phones have actually been one of the primary drivers in productivity improvements. – Fabrice Grinda
92. I think the reason why strong women have such a powerful impact is that you've got the strength of a man with the heart and sensitivity of a woman. – Emilia Clarke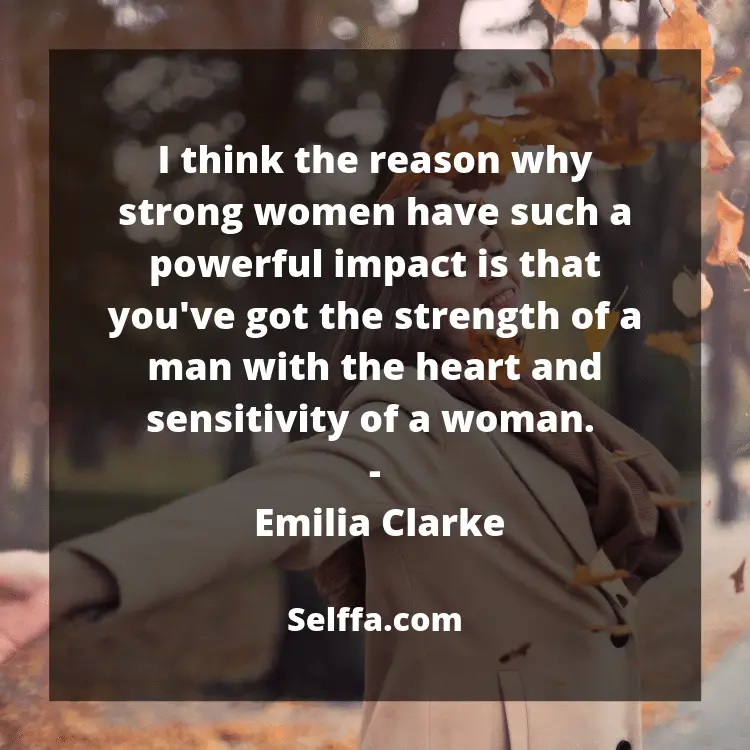 93. Anybody who doesn't see the impact of climate change is really, I would say, myopic. They don't see the reality. It's so evident that we are destroying Mother Earth. This is not the problem of one country or a few countries, it is the problem of mankind. We need to work together to stop this. Otherwise, our future generations will simply disappear. – Juan Manuel Santos
94. Your customers are the lifeblood of your business. Their needs and wants impact every aspect of your business, from product development to content marketing to sales to customer service. – John Rampton
95. Social media is an amazing tool, but it's really the face-to-face interaction that makes a long-term impact. – Felicia Day
96. You should never be defined by what you do, by the things you have; you've got to define yourself by who you are and who you impact and how you impact people. And that's the thing I try to get across to my players. – Tony Dungy
97. In difficult times, it's important to speak up. We cannot change the past, but we can impact the future. – Mark Parker
98. Each meeting occurs at the precise moment for which it was meant. Usually, when it will have the greatest impact on our lives. – Nadia Scrieva
99. You are here to make a difference, to either improve the world or worsen it. And whether or not you consciously choose to, you will accomplish one or the other. – Richelle E. Goodrich
100. Seemingly minor yet persistent things penetrate the mind over time making it difficult to ever realize the impact, hence, though quite unfortunate, the most dangerous forms of corruption are those that are subtle and below the radar. – Criss Jami
101. I think deeply about things and want others to do likewise. I work for ideas and learn from people. I don't like excluding people. I'm a perfectionist, but I won't let that get in the way of publication. Except for education and entertainment, I'm not going to waste my time on things that won't have an impact. I try to be friends with everyone, but I hate it when you don't take me seriously. I don't hold grudges, it's not productive, but I learn from my experience. I want to make the world a better place. – Aaron Swartz
102. Never be complacent about the current steps, don't agree and follow the status quo. Be determined that you are making an indelible impact with great change. Now, dress up and go to make it happen. – Israelmore Ayivor
103. If we're going to impact our world in the name of Jesus, it will be because people like you and me took action in the power of the Spirit. Ever since the mission and ministry of Jesus, God has never stopped calling for a movement of "Little Jesuses" to follow him into the world and unleash the remarkable redemptive genius that lies in the very message we carry. Given the situation of the Church in the West, much will now depend on whether we are willing to break out of a stifling herd instinct and find God again in the context of the advancing kingdom of God. –  Alan Hirsch
104. Don't be a pepper on the eyes of people. Rather be the salt on their tongue and make a difference that influences their sense of belonging to the earth. –  Israelmore Ayivor
105. You got the eggs in you, the world is fully ready to celebrate the chicks out of your laying labour. Never give up. Go and breed! Go and breed great dreams. –  Israelmore Ayivor
106. I have always believed in the power of collaboration. Early on in my professional career, I realized that you can't develop all the competencies you need fast enough on your own. Furthermore, if you don't collaborate, your ideas will be limited to your own abilities. As a result, you will not be able to serve your clientele and thus can't achieve the anticipated impact. – Vishwas Chavan
107. Not every hen lay eggs. Not every hen that lays eggs gets them hatched. Not everyone born with greatness becomes as such. Go, hatch your eggs. – Israelmore Ayivor
108. This civilization is the impact of the world's consumption behavior. – Toba Beta
109. Most often, what I don't know will have a vastly greater bearing on my life than what I do know. – Craig D. Lounsbrough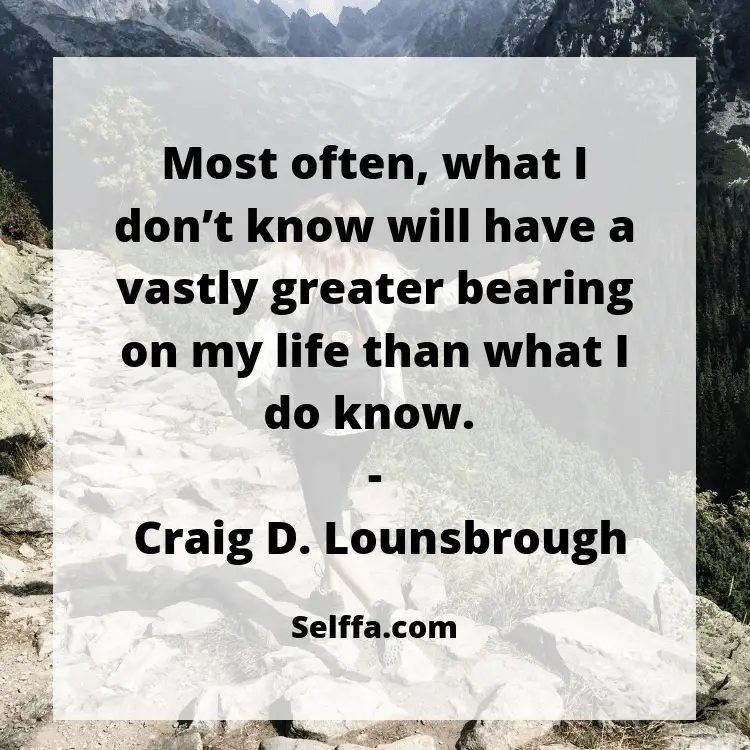 110. Locate the problems in people's lives with the intention of finding a solution. –  Sunday Adelaja
111. Stand for something. Make your life mean something. Start where you are with what you have. You are enough. – Germany Kent
112. Smile out loud. Make them wonder. – Ljupka Cvetanova
113. Time is fleeting. But the impact we make within that time is eternal. – Orly Wahba
114. It's easy to count other people's mistakes. Make your own if you can. – Ljupka Cvetanova,
115. When you are called for a great duty because you have been given a great ability, do your very best to leave great footprints no matter what. – Ernest Agyemang Yeboah
116. Do not ignore a little spark; it can start a wildfire. – Debasish Mridha
117. I cannot teach anybody anything, I can only make them think. – Socrates
118. Remember that failure is an event, not a person. – Zig Ziglar
119. It may be that when we no longer know which way to go that we have come to our real journey. The mind that is not baffled is not employed. The impeded stream is the one that sings. – Wendell Berry
120. Learning is not a spectator sport. – D. Blocher
121. The next best thing to knowing something is knowing where to find it. – Samuel Johnson
122. Never discourage anyone who continually makes progress, no matter how slow. – Plato
123. The eye sees only what the mind is prepared to comprehend. – Henri Bergson
124. I never teach my pupils. I only attempt to provide the conditions in which they can learn. – Einstein
125. All morning I struggled with the sensation of stray wisps of one world seeping through the cracks of another. Do you know the feeling when you start reading a new book before the membrane of the last one has had time to close behind you? You leave the previous book with ideas and themes, characters even, caught in the fibers of your clothes, and when you open the new book, they are still with you. – Diane Setterfield
126. If you want to change the world, pick up your pen and write. – Martin Luther
127. When a reader falls in love with a book, it leaves its essence inside him, like radioactive fallout in an arable field, and after that there are certain crops that will no longer grow in him, while other, stranger, more fantastic growths may occasionally be produced. – Salman Rushdie
128. It's easy to feel helpless – like you can't fight the tide. But remember: small actions can have a huge impact, and one person like you can inspire others to action. – Celeste Ng
129. When I see my own people going through the tough times, it's a wake-up call. I hope my influence can impact someone else's decision to get out here and vote. – Bow Wow