Are you looking for well-thought-out, sweet and meaningful love poems? Look no further because we have compiled some of the best I Love You Poems for you here. Make your girlfriend, fiance or wife appreciate you more by writing any of these beautiful poems on a card and let her know it came straight from your heart. Good luck!
I Love You Poems
1. I dream of a woman clothed in white.
She wears wings that shine with golden light.
Her hair is fine like that of an olden wife.
Her eyes hold a vision of the road of life.
She whispers love through the winds.
Then rivers of love flow to my heart and my spirit ascends.
I grow embraced by heavenly heights.
Then glow rays of warmth and light.
I wait only for her touch of the purest.
I fall to her holding of love, of spirit!
We become one in loving presence together.
In love, we come to heaven forever.
Like two doves we sing and dance.
Love of a queen and king.
Love will forever last.
2. A smile is such a lovely thing especially upon your face,
hiding all the sorrows or simply taking their place.
A kindly spoken word means so much when from you,
it comforts my weary heart or when I'm feeling blue.
A song can make our hearts dance in pretty fast-paced clips
when we hear the melody of our love's unconquerable grips.
Words could lift my spirits and sweet compassion find,
put your hand in mine alone and peace will fill my mind.
A smile, a word, a song, a look seem small little things
but when love sparks an action, what blessings they bring.
3. For Her 
By: Jamie Emm
Your lips so soft and red,
the thought of kissing you is stuck in my head.
Your beauty so bright and warm,
shining through the darkest storm.
Your eyes sparkle like stars in the night sky.
When I stare into them I feel like I am soaring high.
My love for you is pure and true.
I never stop thinking of you.
The sound of your voice saying, "I love you," makes my heart pound,
because I know my one and only I've truly found.
I promise to love you for every moment of forever,
and when everything else crumbles, I will never.
I am your armor to protect you from harm,
like you are to me, a lucky charm.
For you are my heart, my soul.
Baby, you are my whole world.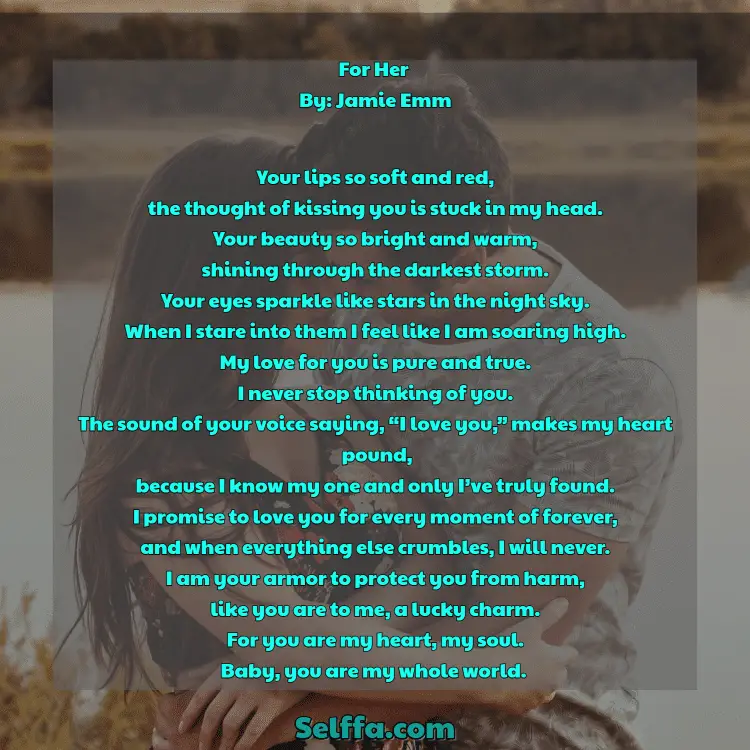 4. So Happy And So Proud 
By: Scott Sabatini
Thoughts of you surround me.
You're the beating of my heart.
The love you give defines me.
My life is no longer dark.
You give your hand so sweetly.
I am lost if you're away.
You have me so completely.
I cherish you night and day.
Without your breath, I cannot live.
I need your lips on mine.
Nothing at all I wouldn't give.
I'll take nothing and be fine.
For in your arms I'm always home,
So happy and so proud.
Never a day you'll feel alone,
And I'll yell it oh so loud.
I love you with all my heart.
5. One Hundred Love Sonnets
By: Pablo Neruda
I don't love you as if you were a rose of salt, topaz,
or arrow of carnations that propagate fire,
I love you as one loves certain obscure things,
secretly, between the shadow and the soul.
I love you as the plant that doesn't bloom but carries
the light of those flowers, hidden, within itself,
and thanks to your love the tight aroma that arose
from the earth lives dimly in my body.
I love you without knowing how, or when, or from where,
I love you directly without problems or pride
I love you like this because I don't know any other way to love,
except in this form in which I am not nor are you,
so close that your hand upon my chest is mine,
so close that your eyes close with my dreams.
6. Alphabet Of Love
By: Noha Nader
Again I'm sitting with pen in my hand and paper in front of me,
Breaking all the doors, trying to set my feelings free.
Carefully I'm choosing the words to write.
Don't want to keep anything inside.
Everything inside me I want to say.
For so long I've been trying day after day.
Guessed it's easy, but it's not in any way.
How hard I tried to tell you
In every way, but I couldn't do so.
Just simple words I have to write,
Kinda magical words that'll make everything right.
Love you deeply from the bottom of my heart.
My life means nothing when we're apart.
No one but you can make me feel that complete.
Ooh, my love we are meant to be, that's our fate.
Please stay with me for always and forever.
Quit anything, but leave me never.
Right inside my heart you will always be.
So happy I feel when you are with me.
To you I hope to be always near.
Unique is the way along you I feel.
Very happy, flying without wings.
What a joy to my heart your touch brings.
X-tremly perfect I feel near you.
Yes, my love, that's what I want you to know.
Zillions of words I have in my heart to say, and all of them are true.
7. Always Marry An April Girl
By: Ogden Nash
Praise the spells and bless the charms,
I found April in my arms.
April golden, April cloudy,
Gracious, cruel, tender, rowdy,
April soft in flowered languor,
April cold with sudden anger,
Ever changing, ever true,
I love April, I love you.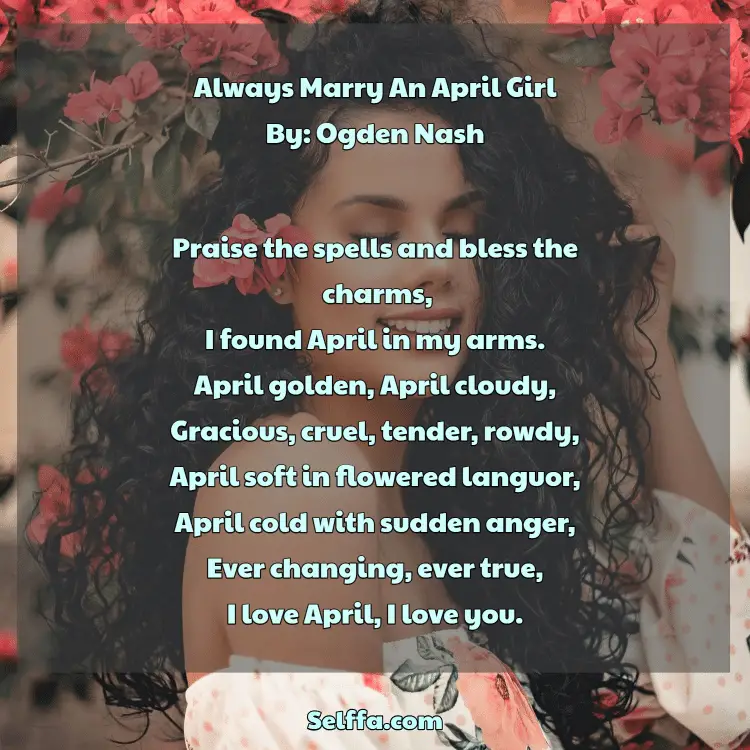 8. You
By: Sabrina
As I lie in my bed,
Your name's running through my head.
All I can think of is you,
All that you do,
And the way you look at me.
I feel as if I'm in a dream.
The blue sky
Reminds me of your eyes,
Which give me butterflies.
You have brightened my life
With that beautiful smile.
No longer are my days a trial.
Your touch is like heaven
Upon my young skin.
If only you knew
That what I say is true
I would do anything just to be with you.
Hand to hand, palm to palm.
Just hold me in your arms.
I love you with all my heart
'Till the very day it falls apart.
I may be young,
But my heart is strong.
I know what love is.
It's my name and his.
You make all the problems float away,
No matter how was my day.
I love our heart-to-heart chats
When our beats connect
And when my head starts to fade back
From when the blue sky
Turns sacred black.
9. No Matter What
By: Angie
There are times when you will upset me and cause me unwanted anger,
but no matter what, "I will always love you."
There are cruel words you might say that will cause me hurt and bring me sadness,
but no matter what, "I will always love you."
There are going to be unwise decisions you make that will disappoint me,
but no matter what, "I will always love you."
There are actions you might act upon that will cause me to worry about you,
but no matter what, "I will always love you."
There will be moments where you will make me cry and bring me to tears,
but no matter what, "I will always love you."
There will be unforgivable mistakes that you bring upon me,
but no matter what, "I will always love you."
There will be lies told to me in which you test my trust in you,
but no matter what, "I will always love you."
In life there are struggles, arguments, and challenges we will have to endure,
but no matter what happens, I want you to know that, "I will always love you," now and forevermore.
10. I Can't Live Without You
By: Lil-T
If I had to live my life without you
Crying all day and all night is what I would do
My love for you is the most precious thing on earth
Like our first kiss or our Childs birth
I want to do it all with you
I want have kids and say I do
Ill be there for you if you should need me
Always in my heart forever you will be
To say I love you is still not a strong enough meaning
If there was a word stronger then love that would be my feeling
If the road we walk looks to far
Ill love will lead away like a guiding star
I cherish every little moment with you
Every little word everything you do
Your more beautiful then the reddest rose
Every time you look at me every time you smile my pain goes
I cant imagine a life with out us together
I cant imagine us being less then forever
When people ask me to describe love, one word is all I do
I think for a bit n smile and say the only word is you
When I look into your eyes I can feel the love that is to be
Your the air I breath the reason I live you are my destiny
I wouldnt be able to live life with out you
Your my girl, my dream come true
11. I'm Still In Love With You
By: Nirea
I know that this love is real
Because of the feelings I get inside
It's something I've never felt before
And it's nothing I can try to hide
I go around telling the world
How much you mean to me
It's not something that I'm ashamed of
I'm in love, and I'm very proud to be
You hold me close to your heart
And take away all my fears
Even when I'm scared and upset
You always wipe away my tears
Every time we're together
Our kisses are so pure and true
If I could be with you everyday, I would
Just spend all my time with you
I love it how you hold me
And look directly into my eyes
Everything about you is perfect
And there's nothing I despise
So just in case you were wondering
I would leave you never
I love you with all my heart
And want to be with you forever
12. I love You Because
By: Leah
I love you because
you are honest and strong
right here, in my arms
is where you belong
you hold me, console me
and you are my best friend
I can,t live without you
no need to pretend.
I love you because
you light up my days
fill my heart and my soul
with your sweet loving ways
I love you because
you never pretend
and if I,m hardheaded
you always give in
you're so easy to love
so hard to forget
faithfull and true
since the day that we met
I could search the world over
and still, never find
a love like yours
you are one of a kind
I love you because
you are quick to forgive
overlooking my faults
each day that I live
so slow to anger
so quick to respond
to my loving wishers
above and beyond.
13. If only you knew
By: Thermidor Jhonny
If only you knew the truth,
The roses would never be faded,
The birds would keep their rhythm,
& our love would keep flourishing!
If only you knew my own world,
The day wouldn't be that dark,
The stream wouldn't be anhydrous,
My heart would not be restless!
If only you knew my real emotion,
My memory would be that blurred,
These words would touch your heart,
And alleviate the mourning inside!
If only you knew, my beloved,
How authentic my feelings are,
How pure this relationship could be,
You will preserve this celestial love!
14. Never Like This
By: Karl Fuchs
I've held others before,
But it was never like this,
Where my body inhales you
And quivers with bliss,
Where my senses are reeling
From the strength of desire,
And if I can't have you soon,
I'll be consumed by the fire.
15. If Not For You
By: Joanna Fuchs
If not for you, I wouldn't know
What true love really meant.
I'd never feel this inner peace,
I couldn't be content.
If not for you, I'd never have
The pleasures of romance.
I'd miss the bliss, the craziness,
Of love's sweet, silly dance.
I have to feel your tender touch,
I have to hear your voice,
No other one could take your place,
You're it, I have no choice.
If not for you, I'd be adrift,
I don't know what I'd do,
I'd be searching for my other half,
Incomplete, if not for you.
16. Creatures of the Fire
By: Joanna Fuchs
We swan-dive into the volcano, burning,
We're creatures of the fire,
Mingled male and female, yearning
For the heat, the sweet explosion of desire.
I splash into the pleasure, all-consuming,
I'm joyfully insane,
My passion for you deep, and fully blooming,
Long after, sweet warm flickers still remain.
You make my body sizzle with your kisses,
And yet there's so much more,
My heart is kindled, too; It knows what bliss is,
This closeness that I've never felt before.
My body and my heart belong to you,
I'm peaceful and complete.
I see more adventures coming for we two,
We creatures of the tender fire and heat.
17. The Connection We Have
By: David L Yearwood
Every moment we've spent together,
Has touched our lives, our souls forever.
The things we share, the things we've done,
are permanent things we can't undo.
The person you are, heart and soul,
came to life, with emotion, desire and passion.
Because of you, I'm full of love,
it's all your fault, I'm loving you like this.
We are connected, wide and deep,
no one can remove, this connection we have.
Our feelings are blended, never to be undone,
you are part of me, forever and ever.
A part of me will always be you
and a part of you will always be me.
no matter what happens, that much is certain,
our souls are one, till that moment comes.
I will love you forever,
for worse or for better.
You are tattooed in my heart,
nothing can tear, our souls apart.
You'll always be mine,
with love and honesty, only for you.
18. Love Is Like A Candle
By: David Yearwood
Light a candle,
see it glow,
watch it dance,
Just like you and me,
think of me,
like the light of love,
I'll always be close,
like day or night,
A candle flickers,
out of sight,
but in your heart,
it still burns bright,
think not of sadness,
but of me,
think of gladness,
Just you and me.
I have not left,
I am not gone,
I'm here to stay
my lovely one,
the light in my heart
will glow and grow,
Watch our lights as they truly glow like love,
in our hearts, we'll always know.
That never will I leave,
even when my feeling is blue
I'm sitting here, with you in my heart,
waiting one day, for you and me.
19. My Passionate Heart
By: David Yearwood
When I look at you,
Love overheats, my pounding heart,
flowing from my spirit, into my veins
The glow from your face flows straight to my soul.
looking into your eyes, your soul's on fire,
Your love I can feel, deep in my bones,
I want you here, to stay with me,
I will always be with you, no matter what.
My passionate heart is ready to explode,
Thinking about that day, our hearts will be one,
It's like, we are meant to be.
The passionate heart shows a reflection of you,
My passion inside,
cries out for you,
but only if you knew,
How much I love you.
My heart is pounding, swelling with love,
a reflection of how I feel about you.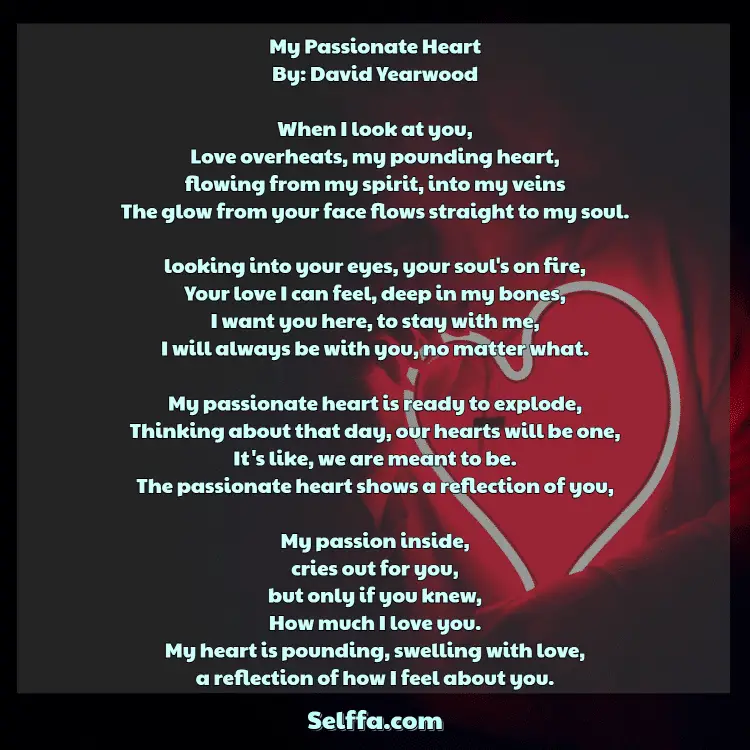 20. Helpless To Thank You
By: Ezzey
My eyes will continue looking at your beautiful face
Your smile is shining with hope that will never stop
You kindly soothe my pain with your warm embrace
As you feel my pain when you taste my tears that drop
I would give you my soul, if you asked me to
I would give you my time, my future, and my life
I would sacrifice for you, like you sacrificed too
I would care for nothing, as long as you're alive
I wish I could repay you, for all the things you gave
for the times you stood by me when I needed you the most
for the times I wronged you, and you kindly forgave
for the times you patiently walked with me, when I felt lost
baby I feel like crying when you come on my mind
I feel helpless, helpless, to thank this great endless Love
you are always, forgiving, so patient, and so kind
You're a human with an angel's heart, sent from above
21. If I'm Just Free
By: Ladyzucheemhey
The more I am fallen for you
The more I am petrify
As I know and you know
We both made a wrong opt
We should not love each other
Let cease it while from the start
Ours is a forbidden love
Surely dilemmas would crop up
If I am just free to choose
No bounds and fences to care
As how's the birds free
To choose trees to dwell on
Surely, I will choose you
To be with me every seconds
As I know I love you
before I meet you
Word that I'd utter to you alone
Only you, I swear
I'd rather stay numb than
To love someone and not you.
22. My Neverfailing Love
Walking with a sunken pain,
I limp every next, for pride.
No faith, no belief, not even
greed, in my losing stride.
Wasted for good, wasted by glory,
I seek an emotion.
Slapped by fate, robbed by time
sensing a premonition.
Well, the times shall change,
the times shall sail.
But the love, for a soul that blessed
my world, shall never ever fail.
I Love you, My love.
23. You Amplify My Joys
No tune is merrier than your words,
For you sing the sweetest.
No heart is closer than yours,
You touch me the deepest.
Pushing away the sorry times,
You carry me to the blessed lanes.
Juggling and jumbling the world around,
You amplify my joys, downgrade the pains.
I shall always love you, Sweetheart.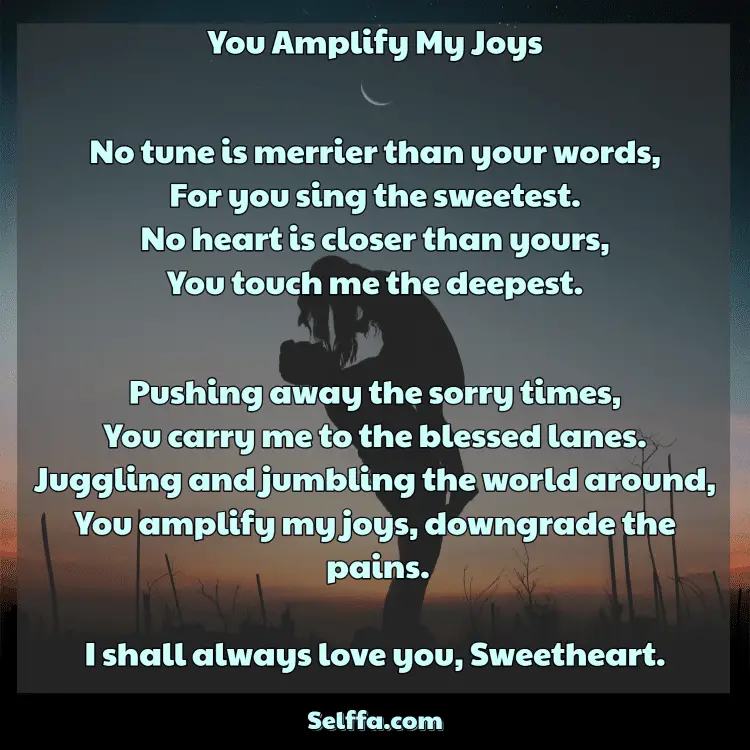 24. You Have No Clue How Much I Love You
To the rest of the world, you must be just another man,
But to me, you're the one who makes me smile, 'coz only you can.
You give me friendship, you give me support, you give me confidence,
Meeting you in life, was definitely no coincidence.
You are the one who is made for me on earth,
And I was made for you, right from birth.
I can imagine myself with no other but you,
I love you so much so much & you actually have no clue.
25. You are my everything
Baby you form my whole world, you are my night and my day,
No matter how my day goes you always manage to brighten up my way.
You make me so happy and so joyful, just with your presence,
You make me fall in love with you every day with your fragrance.
I want to live with you like this forever and ever my love,
Cause you are just like this beautiful angel from heaven above.
I've made a silent promise to myself to love you like this forever,
I will make it a point to see to it that we are always like this together.
26. Any Lit
By: Harryette Mullen 
You are a ukulele beyond my microphone
You are a Yukon beyond my Micronesia
You are a union beyond my meiosis
You are a unicycle beyond my migration
You are a universe beyond my mitochondria
You are a Eucharist beyond my Miles Davis
You are a euphony beyond my myocardiogram
You are a unicorn beyond my Minotaur
You are a eureka beyond my maitai
You are a Yuletide beyond my minesweeper
You are a euphemism beyond my myna bird
27. When You Come
By: Maya Angelou
When you come to me, unbidden,
Beckoning me
To long-ago rooms,
Where memories lie.
Offering me, as to a child, an attic,
Gatherings of days too few.
Baubles of stolen kisses.
Trinkets of borrowed loves.
Trunks of secret words,
I Cry.
28. Sonnet
By: William Shakespeare
When in disgrace with fortune and men's eyes,
I all alone beweep my outcast state,
And trouble deaf heaven with my bootless cries,
And look upon myself and curse my fate,
Wishing me like to one more rich in hope,
Featured like him, like him with friends possessed,
Desiring this man's art and that man's scope
With what I most enjoy contented least;
Yet in these thoughts myself almost despising,
Haply I think on thee, and then my state,
(Like to the lark at break of day arising
From sullen earth) sings hymns at heaven's gate;
For thy sweet love remembered such wealth brings
That then I scorn to change my state with kings.
29. Echo
By: Carol Ann Duffy 
I think I was searching for treasures or stones
in the clearest of pools
when your face.
When your face,
Like the moon in a well
Where I might wish.
Might well wish
For the iced fire of your kiss,
Only on water my lips, where your face.
Where your face was reflected, lovely,
Not really there when I turned
To look behind at the emptying air.
The emptying air.
30. It's All I Have to Bring Today
By: Emily Dickinson
It's all I have to bring today,
This, and my heart beside,
This, and my heart, and all the fields,
And all the meadows wide,
Be sure you count should I forget
Someone the sum could tell,
This, and my heart, and all the Bees
Which is the Clover dwell.