Love cannot be easily described by words and is certainly an emotion that leaves us speechless. Despite being a mystery, love is a necessity as we go through this journey called life. Here are some cute love quotes for you and your loved ones.
Cute Love Quotes
1. Love is never lost. If not reciprocated, it will flow back and soften and purify the heart. – Washington Irving
2. There is no fear in love, but perfect love drives out fear because fear involves punishment. The one who fears has not been perfected in love. – 1 John 4:18
3. Love is that condition in which the happiness of another person is essential to your own. – Robert A. Heinlein
4. Love looks not with the eyes, but with the mind, And therefore is winged Cupid painted blind. – William Shakespeare
5. There's only one thing that cuts through all our realities and that's love—the bridge between all our differences. – The L Word
6. The best and most beautiful things in this world cannot be seen or even heard, but must be felt with the heart. – Helen Keller
7. Love recognizes no barriers. It jumps hurdles, leaps fences, penetrates walls to arrive at its destination full of hope. – Maya Angelou
8. Love is an untamed force. When we try to control it, it destroys us. When we try to imprison it, it enslaves us. When we try to understand it, it leaves us feeling lost and confused. – Paulo Coelho
9. The supreme happiness of life is the conviction that we are loved. – Victor Hugo
10. There is always some madness in love. But there is also always some reason in madness. – Friedrich Nietzsche
11. Love is a better teacher than duty. – Albert Einstein
12. To the world, you may be one person, but to one person you are the world. – Dr. Seuss
13. Love is when the other person's happiness is more important than your own. – H. Jackson Brown, Jr.
14. The water shines only by the sun. And it is you who are my sun. – Charles de Leusse
15. You know it's love when all you want is that person to be happy, even if you're not part of their happiness. – Julia Roberts
16. Being deeply loved by someone gives you strength; loving someone deeply gives you courage. – Lao Tzu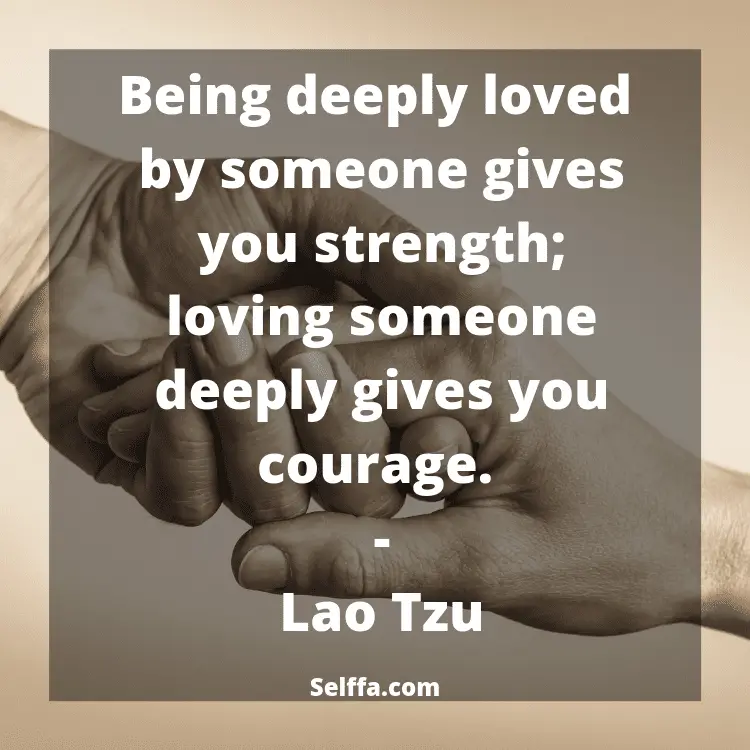 17. The most important thing in life is to learn how to give out love and to let it come in. – Morrie Schwartz
18. The best thing to hold onto in life is each other. – Audrey Hepburn
19. If I know what love is, it is because of you. – Hermann Hesse
20. Love is like the wind, you can't see it but you can feel it. – Nicholas Sparks
21. Darkness cannot drive out darkness: only light can do that. Hate cannot drive out hate: only love can do that. – Martin Luther King Jr.
22. We accept the love we think we deserve. – Stephen Chbosky
23. 'Tis better to have loved and lost than never to have loved at all. – Alfred Lord Tennyson
24. I love you as certain dark things are to be loved, in secret, between the shadow and the soul. – Pablo Neruda
25. When I despair, I remember that all through history the way of truth and love have always won. There have been tyrants and murderers, and for a time, they can seem invincible, but in the end, they always fall. Think of it–always. – Mahatma Gandhi
26. Love is patient and kind; love does not envy or boast; it is not arrogant or rude. It does not insist on its own way; it is not irritable or resentful; it does not rejoice at wrongdoing, but rejoices with the truth. Love bears all things, believes all things, hopes all things, endures all things. – 1 Corinthians 13:4-7
27. In vain have I struggled. It will not do. My feelings will not be repressed. You must allow me to tell you how ardently I admire and love you. – Jane Austen
28. Every heart sings a song, incomplete, until another heart whispers back. Those who wish to sing always find a song. At the touch of a lover, everyone becomes a poet. – Plato
29. We loved with a love that was more than love. – Edgar Allen Poe
30. I heard what you said. I'm not the silly romantic you think. I don't want the heavens or the shooting stars. I don't want gemstones or gold. I have those things already. I want…a steady hand. A kind soul. I want to fall asleep, and wake, knowing my heart is safe. I want to love, and be loved. – Shana Abe
31. They say a person needs just three things to be truly happy in this world: someone to love, something to do, and something to hope for. – Tom Bodett
32. What's meant to be will always find a way. – Trisha Yearwood
33. Love does not begin and end the way we seem to think it does. Love is a battle, love is a war; love is a growing up. – James A. Baldwin
34. It is good to love many things, for therein lies the true strength, and whosoever loves much performs much, and can accomplish much, and what is done in love is well done. – Vincent Van Gogh
35. I loved her against reason, against promise, against peace, against hope, against happiness, against all discouragement that could be. – Charles Dickens
36. Of all forms of caution, caution in love is perhaps the most fatal to true happiness. – Bertrand Russell
37. All I ever wanted was to reach out and touch another human being not just with my hands but with my heart. – Tahereh Mafi
38. We have to allow ourselves to be loved by the people who really love us, the people who really matter. Too much of the time, we are blinded by our own pursuits of people to love us, people that don't even matter, while all that time we waste and the people who do love us have to stand on the sidewalk and watch us beg in the streets! It's time to put an end to this. It's time for us to let ourselves be loved. – C. JoyBell C.
39. If she's amazing, she won't be easy. If she's easy, she won't be amazing. If she's worth it, you wont give up. If you give up, you're not worthy. … Truth is, everybody is going to hurt you; you just gotta find the ones worth suffering for. – Bob Marley
40. We waste time looking for the perfect lover, instead of creating the perfect love. – Tom Robbins
41. You know, when it works, love is pretty amazing. It's not overrated. There's a reason for all those songs. – Sarah Dessen
42. It is the time you have wasted for your rose that makes your rose so important. – Antoine de Saint-Exupéry
43. The beginning of love is the will to let those we love be perfectly themselves, the resolution not to twist them to fit our own image. If in loving them we do not love what they are, but only their potential likeness to ourselves, then we do not love them: we only love the reflection of ourselves we find in them. – Thomas Merton
44. Anyone who falls in love is searching for the missing pieces of themselves. So anyone who's in love gets sad when they think of their lover. It's like stepping back inside a room you have fond memories of, one you haven't seen in a long time. – Haruki Murakami
45. Art and love are the same thing: It's the process of seeing yourself in things that are not you. – Chuck Klosterman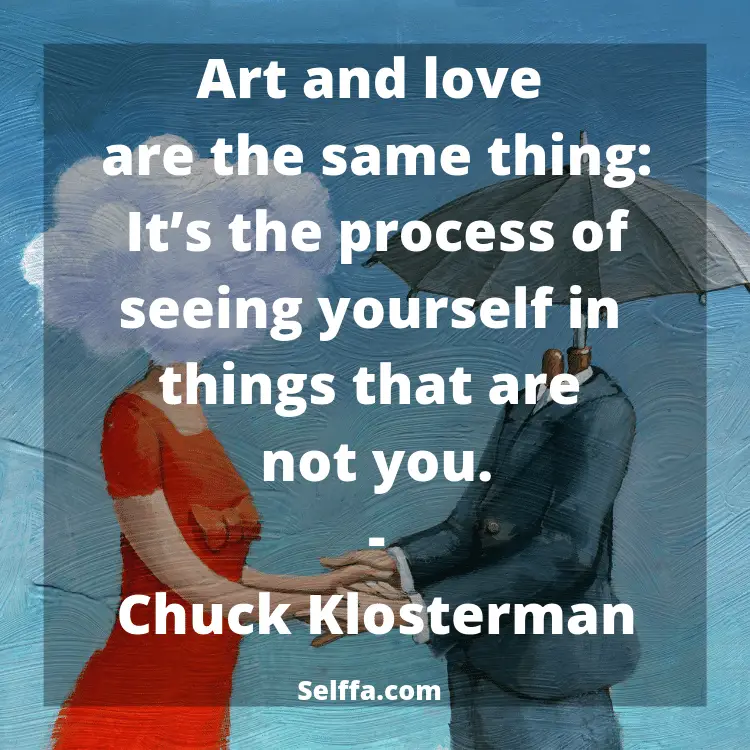 46. You yourself, as much as anybody in the entire universe, deserve your love and affection. – Sharon Salzberg
47. Happiness is holding someone in your arms and knowing you hold the whole world. – Orhan Pamuk
48. There is only one page left to write on. I will fill it with words of only one syllable. I love. I have loved. I will love. – Dodie Smith
49. Love can change a person the way a parent can change a baby- awkwardly, and often with a great deal of mess. – Lemony Snicket
50. When I saw you I fell in love, and you smiled because you knew. – Arrigo Boito
51. Age does not protect you from love, but love to some extent protects you from age. – Jeanne Moreau
52. Love isn't finding a perfect person. It's seeing an imperfect person perfectly. – Sam Keen
53. We love because it's the only true adventure. – Nikki Giovanni
54. True love stories never have endings. – Richard Bach
55. Each time you love, love as deeply as if it were forever – only, nothing is eternal. – Audre Lorde
56. Love is a great master. It teaches us to be what we never were. – Molière
57. Love is the expansion of two natures in such fashion that each include the other, each is enriched by the other. – Felix Adler
58. Life is the first gift, love is the second, and understanding the third. – Marge Piercy
59. You never lose by loving. You always lose by holding back. – Barbara De Angelis
60. One word frees us of all the weight and pain of life: that word is love. – Sophocles
61. The giving of love is an education in itself. – Eleanor Roosevelt
62. A life lived in love will never be dull. – Leo Buscaglia
63. Love is what makes the ride worthwhile. – Franklin P. Jones
64. Trust your intuition and be guided by love. – Charles Eisenstein
65. Where there is great love, there are always miracles. – Willa Cather
66. The first duty of love is to listen. – Paul Tillich
67. Let yourself be silently drawn by the stronger pull of what you really love. – Rumi
68. The more the soul knows, the more she loves, and loving much, she tastes much. – W. H. Murray
69. If you can't stop thinking about it, it's a good thing. It means you're alive. – Maxime Lagacé
70. Love cures people – both the ones who give it and the ones who receive it. – Karl Menninger
71. Wake at dawn with a winged heart and give thanks for another day of loving. – Kahlil Gibran
72. Eventually you will come to understand that love heals everything, and love is all there is. – Gary Zukav
73. To love unconditionally requires no contracts, bargains, or agreements. Love exists in the moment-to-moment flux of life. – Marion Woodman
74. But one of the attributes of love, like art, is to bring harmony and order out of chaos, to introduce meaning and affect where before there was none, to give rhythmic variations, highs and lows to a landscape that was previously flat. – Molly Haskell
75. Patience is the mark of true love. If you truly love someone, you will be more patient with that person. – Thich Nhat Hanh
76. Don't ask yourself what the world needs, ask yourself what makes you come alive. And then go and do that. Because what the world needs is people who have come alive. – Howard Washington Thurman
77. There is always something left to love. And if you ain't learned that, you ain't learned nothing. – Lorraine Hansberry
78. Flatter me, and I may not believe you. Criticize me, and I may not like you. Ignore me, and I may not forgive you. Encourage me, and I will not forget you. Love me and I may be forced to love you. – William Arthur Ward
79. A source of trouble is our unruly minds. We can counter that by developing a warm heart. We need to effect an inner transformation, to understand that love and affection are a real source of joy. – Dalai Lama
80. You learn to speak by speaking, to study by studying, to run by running, to work by working; and just so, you learn to love by loving. All those who think to learn in any other way deceive themselves. – Saint Francis de Sales
81. Infuse your life with action. Don't wait for it to happen. Make it happen. Make your own future. Make your own hope. Make your own love. And whatever your beliefs, honor your creator, not by passively waiting for grace to come down from upon high, but by doing what you can to make grace happen… yourself, right now, right down here on Earth. – Bradley Whitford
82. True love doesn't happen right away; it's an ever-growing process. It develops after you've gone through many ups and downs, when you've suffered together, cried together, laughed together. – Ricardo Montalban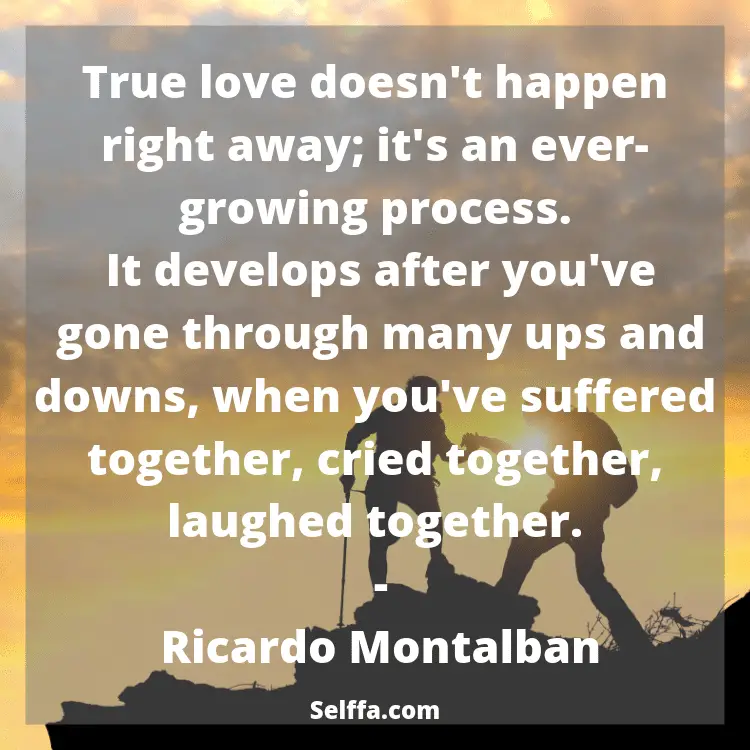 83. Love is friendship that has caught fire. It is quiet understanding, mutual confidence, sharing and forgiving. It is loyalty through good and bad times. It settles for less than perfection and makes allowances for human weaknesses. – Ann Landers
84. A dog will teach you unconditional love. If you can have that in your life, things won't be too bad. – Robert Wagner
85. We should remember that saying 'I love you' is only a beginning. We need to say it, we need to mean it, and most importantly we need consistently to show it. We need to both express and demonstrate love. – David A. Bednar
86. But let there be spaces in your togetherness and let the winds of the heavens dance between you. Love one another but make not a bond of love: let it rather be a moving sea between the shores of your souls. – Khalil Gibran
87. Love is the master key that opens the gates of happiness, of hatred, of jealousy, and, most easily of all, the gate of fear. – Oliver Wendell Holmes, Sr.
88. Love is the answer, and you know that for sure; Love is a flower, you've got to let it grow. – John Lennon
89. I think of love and marriage in the same way I do plants: We have perennials and annuals. The perennial plant blooms, goes away, and comes back. The annual blooms for just a season, and then winter arrives and takes it out for good. But it's still enriched the soil for the next flower to bloom. In the same way, no love is wasted. – Glennon Doyle Melton
90. What does love look like? It has the hands to help others. It has the feet to hasten to the poor and needy. It has eyes to see misery and want. It has the ears to hear the sighs and sorrows of men. That is what love looks like. – Saint Augustine
91. Sorrow is how we learn to love. Your heart isn't breaking. It hurts because it's getting larger. The larger it gets, the more love it holds. – Rita Mae Brown
92. It takes courage to love, but pain through love is the purifying fire which those who love generously know. We all know people who are so much afraid of pain that they shut themselves up like clams in a shell and, giving out nothing, receive nothing and therefore shrink until life is a mere living death. – Eleanor Roosevelt
93. I wonder how many people don't get the one they want, but end up with the one they're supposed to be with. – Fannie Flagg
94. In your light I learn how to love. In your beauty, how to make poems. You dance inside my chest where no-one sees you, but sometimes I do, and that sight becomes this art. – Rumi
95. How do I love thee? Let me count the ways. I love thee to the depth and breadth and height. My soul can reach. – Elizabeth Barrett Browning
96. I bet you could sometimes find all the mysteries of theuniverse in someone's hand. – Benjamin Alire Sáenz
97. When you trip over love, it is easy to get up. But when you fall in love, it is impossible to stand again. – Albert Einstein
98. The only calibration that counts is how much heart people invest, how much they ignore their fears of being hurt or caught out or humiliated. And the only thing people regret is that they didn't live boldly enough, that they didn't invest enough heart, didn't love enough. Nothing else really counts at all. – Ted Hughes
99. We are not trapped or locked up in these bones. No, no. We are free to change. And love changes us. And if we can love one another, we can break open the sky. – Walter Mosley
100. For where all love is, the speaking is unnecessary. – Diana Gabaldon
101. Someday you're gonna look back on this moment of your life as such a sweet time of grieving. You'll see that you were in mourning and your heart was broken, but your life was changing… – Elizabeth Gilbert
102. If there is no love in the world, we will make a new world, and we will give it walls, and we will furnish it with soft, red interiors, from the inside out, and give it a knocker that resonates like a diamond falling to a jeweller's felt so that we should never hear it. Love me, because love doesn't exist, and I have tried everything that does. – Jonathan Safran Foer
103. It is possible to be in love with you just because of who you are. – Maggie Stiefvater
104. Love is a decision, it is a judgment, it is a promise. If love were only a feeling, there would be no basis for the promise to love each other forever. A feeling comes and it may go. How can I judge that it will stay forever, when my act does not involve judgment and decision. – Erich Fromm
105. Love is how you stay alive, even after you are gone. – Mitch Albom
106. Yours is the light by which my spirit's born: – you are my sun, my moon, and all my stars. – E. E. Cummings
107. That's what people do who love you. They put their arms around you and love you when you're not so lovable. – Deb Caletti
108. We are told that people stay in love because of chemistry, or because they remain intrigued with each other, because of many kindnesses, because of luck. But part of it has got to beforgiveness and gratefulness. – Ellen Goodman
109. Listen to the people who love you. Believe that they are worth living for even when you don't believe it. Seek out the memories depression takes away and project them into the future. Be brave; be strong; take your pills. Exercise because it's good for you even if every step weighs a thousand pounds. Eat when food itself disgusts you. Reason with yourself when you have lost your reason. – Andrew Solomon
110. I told you. You don't love someone because of their looks or their clothes or their car. You love them because they sing a song only your heart can understand. – L.J. Smith
111. Love is the strange bewilderment which overtakes one person on account of another person. – James Thurber
112. When all your desires are distilled, you will cast just two votes: To love more, and be happy.- Hafiz of Persia
113. The cure for all ills and wrongs, the cares, the sorrows and the crimes of humanity, all lie in the one word 'love.' It is the divine vitality that everywhere produces and restores life. – Lydia Maria Child
114. Love life and life will love you back. Love people and they will love you back. – Arthur Rubinstein
115. I truly feel that there are as many ways of loving as there are people in the world and as there are days in the life of those people. – Mary S. Calderone
116. Love is anterior to life, posterior to death, initial of creation, and the Exponent of earth. – Emily Dickinson
117. In everyone's life, at some time, our inner fire goes out. It is then burst into flame by an encounter with another human being. We should all be thankful for those people who rekindle the inner spirit. – Albert Schweitzer
118. The little unremembered acts of kindness and love are the best parts of a person's life. – William Wordsworth
119. I have found the paradox, that if you love until it hurts, there can be no more hurt, only more love. – Mother Teresa
120. Love is the most terrible, and also the most generous of the passions; it is the only one which includes in its dreams the happiness of someone else. – Alphonse Karr
121. When it's gone, you'll know what a gift love was. You'll suffer like this. So go back and fight to keep it. – Ian McEwan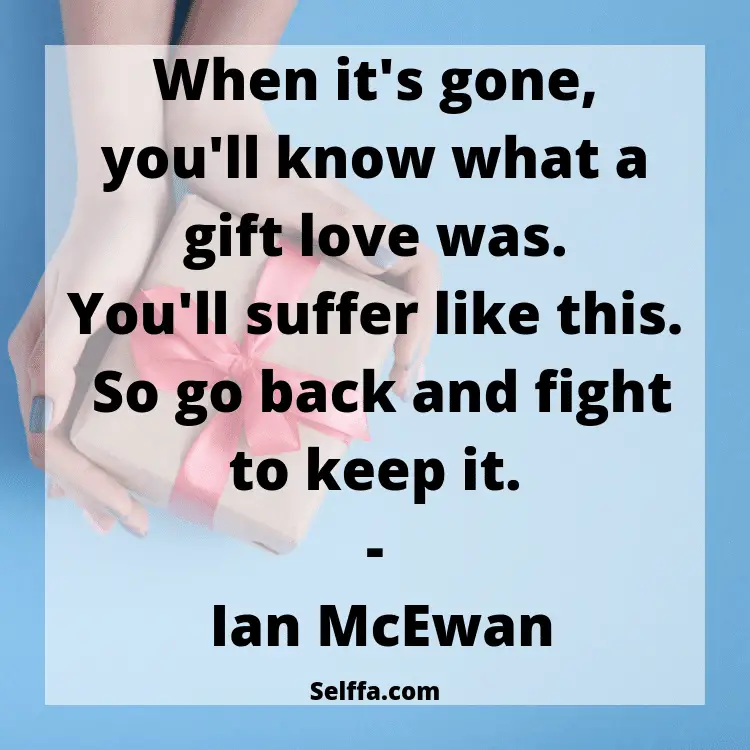 122. The heart is the toughest part of the body. Tenderness is in the hands. – Carolyn Forché
123. Love has nothing to do with what you are expecting to get – only with what you are expecting to give – which is everything. – Katharine Hepburn
124. Love is the extremely difficult realization that something other than oneself is real. – Iris Murdoch
125. Love, it never dies. It never goes away, it never fades, so long as you hang on to it. Love can make you immortal. – Gayle Forman
126. Every atom of your flesh is as dear to me as my own: in pain and sickness it would still be dear. – Charlotte Brontë
127. We are all the pieces of what we remember. We hold in ourselves the hopes and fears of those who love us. As long as there is love and memory, there is no true loss. – Cassandra Clare
128. Because, if you could love someone, and keep loving them, without being loved back . . . then that love had to be real. It hurt too much to be anything else. – Sarah Cross
129. I think we ought to live happily ever after. – Diana Wynne Jones
130. Love is an abstract noun, something nebulous. And yet love turns out to be the only part of us that is solid, as the world turns upside down and the screen goes black.- Martin Amis