How amazing it would be if it would be Christmas every day? This is the time of the year when people are happy, having fun, eating good food with the people they love. It surely is the best time of the year! We want to make your Christmas extra special by sharing with you some of the most beautiful Christmas poems written by famous and creative poets. We hope you share them with your loved ones this Christmas as well!
Christmas Poems
1. A Christmas Wish
by: Debra L. Brown
I wish I could go back to the past,
of Christmases long ago.
I wish I could see my loved ones
who have passed on long ago.
I'd love to be that child again
who sat on Santa's knee.
Yes, all these memories that I have
decorating the tree.
I wish I could wake Christmas morn
to see Daddy baking ham.
And to see my mamma making her yummy
famous candy yams.
I wish I could go to Grandma's house;
her cookies were the best.
The pies and cakes that she would bake,
she kept them in a chest.
Her house would smell like ginger,
with a hint of Balsam Pine.
She'd decorate the house with lights,
and it would surely shine.
All these Christmas memories,
it seems like yesteryear.
I'd love to go back to the past.
This is my Christmas prayer.
2. Merry Christmas Mom
by: Mary Butto
Published: October 2009
For all of the presents
You put under the tree,
For all of the times
You picked up after me.
For all of the times
That you tucked me in tight
And we stayed up to talk
Long into the night
For all of the days
I was feeling so down
And the times that you turned
To a smile my frown
For the cookies you baked
And the stockings you stuffed,
For the cuts that you healed
And the pillows you fluffed.
For the time that you took
Off the training wheels
For the nights that you made me
My favorite meals
For the years throughout
Elementary school
For knowing the right thing
Isn't always what's cool
For putting up with
Those preteen years
For making it through
All the laughs and the tears
For all of the days
That you loved me so much
Even during the times
That I made it so tough.
For all of the memories
We have already shared
For the future for which
We cannot be prepared
For being there for that one-year-old boy
Who sat in the house and sucked on his thumb
For working so hard at being his mom
And making that boy into the man I've become
Look back on all that we have been through
And look at me now mom, how far I have come
For all of the times I'll never forget
Merry Christmas to you, Mom
Here's to the memories
We haven't had yet
Merry Christmas. 
Love, Nick
3. A Friend's Greeting
by: Edgar Guest
I'd like to be the sort of friend
that you have been to me.
I'd like to be the help that you've been
always glad to be.
I'd like to mean as much to you
each minute of the day
As you have meant, old friend of mine,
to me along the way.
I'd like to do the big things
and the splendid things for you,
To brush the gray out of your skies
and leave them only blue.
I'd like to say the kindly things
that I so oft have heard,
And feel that I could rouse your soul
the way that mine you've stirred.
I'd like to give back the joy
that you have given me,
Yet that were wishing you a need
I hope will never be.
I'd like to make you feel
as rich as I, who travel on
Undaunted in the darkest hours
with you to lean upon.
I'm wishing at this Christmas time
that I could but repay
A portion of the gladness
that you've strewn along the way.
And could I have one wish this year,
this only would it be:
I'd like to be the sort of friend
that you have been to me.
5. At Christmas
by: Edgar Guest
A man is at his finest
towards the finish of the year.
He is almost what he should be
when the Christmas season is here.
Then he's thinking more of others
than he's thought the months before,
And the laughter of his children
is a joy worth toiling for.
He is less a selfish creature than
at any other time.
When the Christmas spirit rules him
he comes close to the sublime.
When it's Christmas man is bigger
and is better in his part.
He is keener for the service
that is prompted by the heart.
All the petty thoughts and narrow
seem to vanish for awhile
And the true reward he's seeking
is the glory of a smile.
Then for others he is toiling and
somehow it seems to me
That at Christmas he is almost
what God wanted him to be.
If I had to paint a picture of a man
I think I'd wait
Till he'd fought his selfish battles
and had put aside his hate.
I'd not catch him at his labors
when his thoughts are all of pelf,
On the long days and the dreary
when he's striving for himself.
I'd not take him when he's sneering,
when he's scornful or depressed,
But I'd look for him at Christmas
when he's shining at his best.
Man is ever in a struggle
and he's oft misunderstood.
There are days the worst that's in him
is the master of the good,
But at Christmas kindness rules him
and he puts himself aside
And his petty hates are vanquished
and his heart is opened wide.
Oh, I don't know how to say it,
but somehow it seems to me
That at Christmas man is almost
what God sent him here to be.
5. The Littlest Christmas Tree
by: Amy Peterson
The littlest Christmas tree
lived in a meadow of green
among a family
of tall evergreens.
He learned how to whisper
the evergreen song
with the slightest of wind
that came gently along.
He watched as the birds
made a home out of twigs
and couldn't wait till
he, too, was big.
For all of the trees
offered a home,
the maple, the pine, and the oak,
who's so strong.
"I hate being little,"
the little tree said,
"I can't even turn colors
like the maple turns red.
I can't help the animals
like the mighty old oak.
He shelters them all
in his wide mighty cloak."
The older tree said,
"Why, little tree, you don't know?
The story of a mighty king
from the land with no snow?"
Little tree questioned,
"A land with no snow?"
"Yes!" said old tree,
"A very old story,
from so long ago."
"A star appeared,
giving great light
over a manger
on long winter's night.
A baby was born,
a king of all kings,
and with him comes love
over all things."
"He lived in a country
all covered in sand,
and laid down his life
to save all of man."
Little tree thought of the gift
given by him,
then the big tree said with the
happiest grin,
"We're not just trees,
but a reminder of that day.
There's a much bigger part
of a role that we play."
"For on Christmas Eve,
my life I'll lay down,
in exchange for a happier,
loving ground.
And as I stand dying,
they'll adorn me in trim.
This all will be done
in memory of him."
"Among a warm fire,
with family and friends,
in the sweet songs of Christmas,
I'll find my great end.
Then ever so gently,
He'll come down to see
and take me to heaven,
Jesus and me."
"So you see, little tree,
we are not like the oak
who shelters all things
beneath his great cloak.
Nor are we like the maple
in fall,
whose colors leave many
standing in awe."
"The gift that we give
is ourselves, limb for limb,
the greatest of honor,
in memory of him."
The little tree bowed
his head down and cried
and thought of the king
who willingly died.
For what kind of gift
can anyone give
than to lay down your life
when you wanted to live?
A swelling of pride
came over the tree.
Can all of this happen
Because of just me?
Can I really bring honor?
By adorning a home?
By reminding mankind
that he's never alone?
With this thought, little tree
began singing with glee.
Happy and proud
to be a true Christmas tree.
You can still hear them singing
even the smallest in height,
singing of Christmas
and that one holy night.
6. Christmas Carol
by: Sara Teasdale 
The kings they came from out the south,
All dressed in ermine fine.
They bore Him gold and chrysoprase,
And gifts of precious wine.
The shepherds came from out the north,
Their coats were brown and old.
They brought Him little new-born lambs.
They had not any gold.
The wise men came from out the east,
And they were wrapped in white.
The star that led them all the way
Did glorify the night.
The angels came from heaven high,
And they were clad with wings.
And lo, they brought a joyful song
The host of heaven sings.
The kings they knocked upon the door,
The wise men entered in,
The shepherds followed after them
To hear the song begin.
The angels sang through all the night
Until the rising sun,
But little Jesus fell asleep
Before the song was done.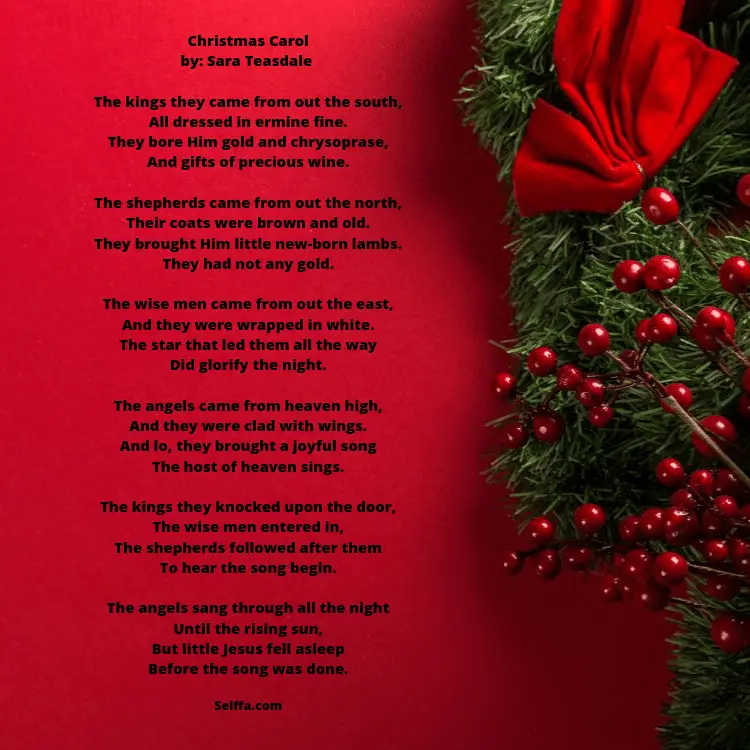 7. The Three Kings
by: Henry Wadsworth Longfellow 
Three Kings came riding from far away,
Melchior and Gaspar and Baltasar.
Three Wise Men out of the East were they,
And they travelled by night and they slept by day,
For their guide was a beautiful, wonderful star.
The star was so beautiful, large and clear,
That all the other stars of the sky
Became a white mist in the atmosphere,
And by this they knew that the coming was near
Of the Prince foretold in the prophecy.
Three caskets they bore on their saddle-bows,
Three caskets of gold with golden keys.
Their robes were of crimson silk with rows
Of bells and pomegranates and furbelows,
Their turbans like blossoming almond-trees.
And so the Three Kings rode into the West,
Through the dusk of the night, over hill and dell,
And sometimes they nodded with beard on breast,
And sometimes talked, as they paused to rest,
With the people they met at some wayside well.
"Of the child that is born," said Baltasar,
"Good people, I pray you, tell us the news.
For we in the East have seen his star,
And have ridden fast, and have ridden far,
To find and worship the King of the Jews."
And the people answered, "You ask in vain.
We know of no King but Herod the Great."
They thought the Wise Men were men insane,
As they spurred their horses across the plain,
Like riders in haste, who cannot wait.
And when they came to Jerusalem,
Herod the Great, who had heard this thing,
Sent for the Wise Men and questioned them.
And said, "Go down unto Bethlehem,
And bring me tidings of this new king."
So they rode away; and the star stood still,
The only one in the grey of morn.
Yes, it stopped—it stood still of its own free will,
Right over Bethlehem on the hill,
The city of David, where Christ was born.
And the Three Kings rode through the gate and the guard,
Through the silent street, till their horses turned
And neighed as they entered the great inn-yard.
But the windows were closed, and the doors were barred,
And only a light in the stable burned.
And cradled there in the scented hay,
In the air made sweet by the breath of kine,
The little child in the manger lay,
The child, that would be king one day
Of a kingdom not human, but divine.
His mother Mary of Nazareth
Sat watching beside his place of rest,
Watching the even flow of his breath,
For the joy of life and the terror of death
Were mingled together in her breast.
They laid their offerings at his feet:
The gold was their tribute to a King,
The frankincense, with its odor sweet,
Was for the Priest, the Paraclete,
The myrrh for the body's burying.
And the mother wondered and bowed her head,
And sat as still as a statue of stone,
Her heart was troubled yet comforted,
Remembering what the Angel had said
Of an endless reign and of David's throne.
Then the Kings rode out of the city gate,
With a clatter of hoofs in proud array;
But they went not back to Herod the Great,
For they knew his malice and feared his hate,
And returned to their homes by another way.
8. Christmas Trees
by: Robert Frost 
The city had withdrawn into itself
And left at last the country to the country.
When between whirls of snow not come to lie
And whirls of foliage not yet laid, there drove
A stranger to our yard, who looked the city,
Yet did in country fashion in that there
He sat and waited till he drew us out
A-buttoning coats to ask him who he was.
He proved to be the city come again
To look for something it had left behind
And could not do without and keep its Christmas.
He asked if I would sell my Christmas trees;
My woods—the young fir balsams like a place
Where houses all are churches and have spires.
I hadn't thought of them as Christmas Trees.
I doubt if I was tempted for a moment
To sell them off their feet to go in cars
And leave the slope behind the house all bare,
Where the sun shines now no warmer than the moon.
I'd hate to have them know it if I was.
Yet more I'd hate to hold my trees except
As others hold theirs or refuse for them,
Beyond the time of profitable growth,
The trial by market everything must come to.
I dallied so much with the thought of selling.
Then whether from mistaken courtesy
And fear of seeming short of speech, or whether
From hope of hearing good of what was mine, I said,
"There aren't enough to be worth while."
"I could soon tell how many they would cut,
You let me look them over."
"You could look.
But don't expect I'm going to let you have them."
Pasture they spring in, some in clumps too close
That lop each other of boughs, but not a few
Quite solitary and having equal boughs
All round and round. The latter he nodded "Yes" to,
Or paused to say beneath some lovelier one,
With a buyer's moderation, "That would do."
I thought so too, but wasn't there to say so.
We climbed the pasture on the south, crossed over,
And came down on the north. He said, "A thousand."
"A thousand Christmas trees at what apiece?"
He felt some need of softening that to me:
"A thousand trees would come to thirty dollars."
Then I was certain I had never meant
To let him have them. Never show surprise.
But thirty dollars seemed so small beside
The extent of pasture I should strip, three cents
(For that was all they figured out apiece),
Three cents so small beside the dollar friends
I should be writing to within the hour
Would pay in cities for good trees like those,
Regular vestry-trees whole Sunday Schools
Could hang enough on to pick off enough.
A thousand Christmas trees I didn't know I had!
Worth three cents more to give away than sell,
As may be shown by a simple calculation.
Too bad I couldn't lay one in a letter.
I can't help wishing I could send you one,
In wishing you herewith a Merry Christmas.
9. I Like to See Christmas
I like to see the stockings
I like to see the gifts
I like to see the bells
I like to see the tree
And I like to see Santa
Looking at me.
10. Peppermint Stick
I took a lick
Of a peppermint stick
And oh it tasted yummy.
It used to be
On the Christmas tree
But now it's in my tummy.
11. A Christmas Angel
by: Denise Burke
Oh, I wish I was an angel on the tree
Oh, I wish I was an angel on the tree
I'd give every girl and boy
Lots of Christmas peace and joy
Oh, I wish I was an angel on the tree
12. Five Little Reindeer
Five little reindeer playing in the snow
The first one said, "Can you see my nose glow?"
The second one said, "Listen to me sing!"
The third one said, "I can hear the bells ring."
The fourth one said, "Let's eat the pie."
The fifth one said, "I'm ready to fly."
Then clomp went their hooves
And the snow fell white
As the five little reindeer flew out of sight.
13. Magic Reindeer Food
Be sure to take this magic food
and sprinkle it on the lawn.
On Christmas Eve, Santa's reindeers
travel miles before the dawn.
The smell of oats and glitter
will guide them on their way.
And you'll wake up to Santa's gifts
on merry Christmas day.
14. I'm a Little Reindeer
I'm a little reindeer,
Ready to fly.
I'll pull Santa's sleigh
Up in the sky.
Christmas is here,
We can't be late.
All the children
Just cannot wait!
15. Snowball
by: Shel Silverstein
I made myself a snowball,
As perfect as could be,
I thought I'd keep it as a pet,
And let it sleep with me.
I made it some pyjamas,
And a pillow for its head.
Then last night it ran away,
But first, it wet the bed.
16. Poem for Santa
Stockings are hung
Christmas carols are sung
Each child is in bed
Slumber stories are read
It's that magical night
When reindeer take flight
In your sleigh you do sit
With toys a tight fit.
This key is for you
Dear Santa, it's true
A long wait it's been
We beg you come in.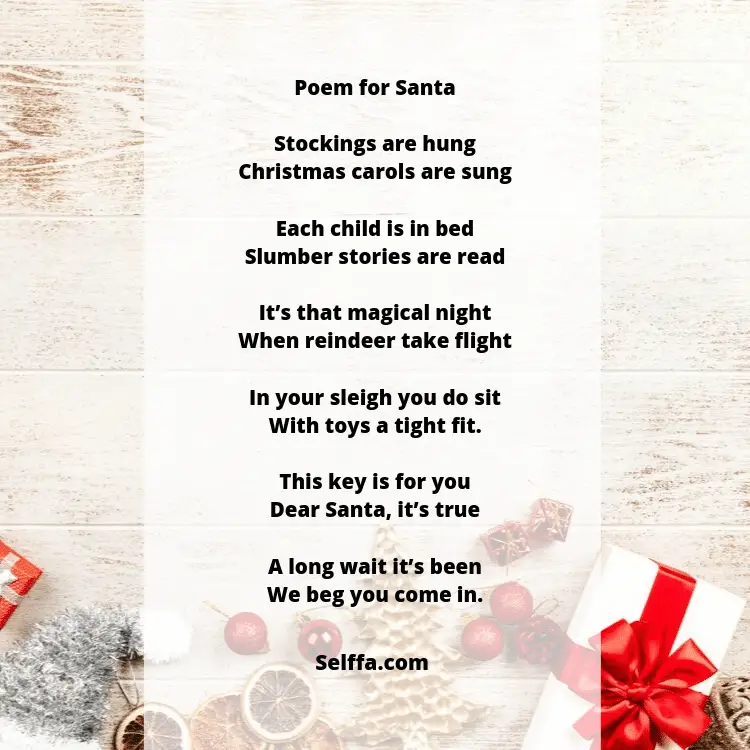 17. A Chubby Snowman
A chubby little snowman
had a carrot nose.
Along came a bunny,
and what do you suppose?
That hungry little bunny,
looking for some lunch,
Grabbed that snowman's nose,
Nibble, nibble, crunch!
18. Mom is Making Christmas
by: Vicky A. Luong
Cookies baking in the kitchen,
The smell floats through the air.
Mom is making Christmas
with her usual merry flair
The house she gaily decorated,
Each gift she stiched with love,
And we'll gather around the Christmas tree
for an evening of old-fashioned fun
This evening she'll sing a carol for us
With her angel's voice.
Yes, Mom is making Christmas,
A true reason to rejoice.
19. Santa's Watching
Christmas time is coming,
It's time we must be good,
For Santa's watching everyday,
And we forgot we should.
Clean our room and wash the car,
Help mom with every chore,
For presents we are after,
And a good one we must score.
No time to chat, no time to play,
There's dishes to be done.
There will be time later,
For us to have some fun.
20. The Grinch 
by: Dr. Seuss
And the Grinch, with his Grinch-feet ice cold in the snow,
Stood puzzling and puzzling, how could it be so?
It came without ribbons. It came without tags.
It came without packages, boxes or bags.
And he puzzled and puzzled 'till his puzzler was sore.
Then the Grinch thought of something he hadn't before.
What if Christmas, he thought, doesn't come from a store?
What if Christmas, perhaps, means a little bit more?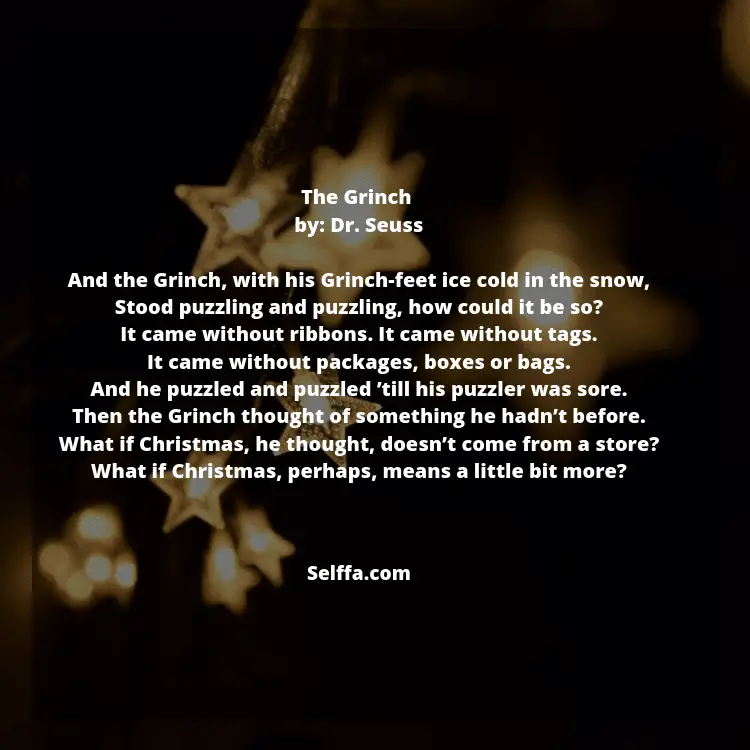 21. What Do We Love About Christmas?
by: Joanna Fuchs
What do we love about Christmas.
Does our delight reside in things?
Or are the feelings in our hearts
The real gift Christmas brings.
It's seeing those we love,
And sending Christmas cards, too,
Appreciating people who bring us joy
Special people just like you.
22. The Nicest Present
by: Joanna and Karl Fuchs
Under the tree the gifts enthrall,
But the nicest present of them all
Is filling our thoughts with those who care,
Wanting our Christmas joy to share.
To you, whom we're often thinking of,
We send our holiday joy and love.
23. Christmas Joys
by: Joanna Fuchs
Evergreen boughs that fill our homes
With fragrant Christmas scents,
Hearts filled with the loving glow
That Christmas represents.
Christmas cookies, turkeys stuffed,
Festive holly berry,
Little faces bright with joy,
Loved ones being merry.
Parties, songs, beribboned gifts,
Silver bells that tinkle,
Christmas trees and ornaments,
Colorful lights that twinkle.
Relatives waiting with open arms
To smile and hug and kiss us.
These are some of the special joys
That come along with Christmas.
24. Recipe for Christmas All Year Long
by: Joanna Fuchs
Take a heap of child-like wonder
That opens up our eyes
To the unexpected gifts in life
Each day a sweet surprise.
Mix in fond appreciation
For the people whom we know.
Like festive Christmas candles,
Each one has a special glow.
Add some giggles and some laughter,
A dash of Christmas food,
Amazing how a piece of pie
Improves our attitude.
Stir it all with human kindness.
Wrap it up in love and peace,
Decorate with optimism, and
Our joy will never cease.
If we use this healthy recipe,
We know we will remember
To be in the Christmas spirit,
Even when it's not December.
25. Christmas Magic
by: Joanna Fuchs
Are we too grownup to feel a thrill
As we light the Christmas tree?
Are we immune to cookies,
Christmas cards and Christmas glee?
Are we too adult to "Ooh" and "Aah"
At the Christmas candle's glow?
Are we blasé about our gifts.
Do we shun the mistletoe?
Are we too mature for carols,
For merry or for jolly?
Do the decorations leave us cold,
The ornaments and holly?
Fat chance! We'll never grow too old
To love the Christmas magic.
A year without a Christmas
Would be boring, even tragic.
So bring it on. The candy canes,
The feasting and good cheer.
O Christmas, lovely Christmas,
You're the highlight of the year.
26. Christmas Tree Poem
by: Joanna Fuchs
Christmas tree, sparkling bright,
Filled with baubles, warmth and light,
Precious symbol of our affection
For Christmas time and its perfection,
Show each night your radiant glory
For "oohs" and "aahs" obligatory.
Christmas tree, don't let us down.
Show something special at your crown,
An angel, star, or splendid piece
To make our holiday joy increase,
An icon, pure, ideal, complete,
For Christmas memories fond and sweet.
Glitter and glisten, gleam and glow,
Oh Christmas tree, we love you so.