Do you aspire to become a leader? Do you want to change the world one day at a time? Then you should write these inspiring leadership quotes in your journal to remind you of your goal. Stay focused and remain passionate, you should be able to reach your dream as a leader one day. We wish you the best of luck!
Inspiring Leadership Quotes
1. Leadership is about making others better as a result of your presence and making sure that impact lasts in your absence. – Sheryl Sandberg 
2. We need to think of the future and the planet we are going to leave to our children and their children. – Kofi Annan 
3. Innovation distinguishes between a leader and a follower. – Steve Jobs
4. Leadership is the art of giving people a platform for spreading ideas that work. – Seth Godin
5. Simply put we don't build services to make money, we make money to build better services. – Mark Zuckerberg 
6. Inexperience is an asset. Embrace it. – Wendy Kopp   
 7. Leadership is not just about giving energy it's unleashing other people's energy. – Paul Polman 
8. Change will not come if we wait for some other person, or if we wait for some other time. We are the ones we've been waiting for. We are the change that we seek. –  Barack Obama 
9. I have not failed. I've just found 10,000 ways that won't work. – Thomas A. Edison
 10. The first and most important choice a leader makes is the choice to serve, without which one's capacity to lead is severely limited. – Robert K. Greenleaf
11. Motivation comes from working on things we care about. It also comes from working with people we care about. – Sheryl Sandberg
12. In the wired world of the 21st century, advancing shared values creates value. – James M. Strock
13. You can have anything you want in life if you just help enough other people get what they want. – Zig Ziglar
14. We make a living by what we get. We make a life by what we give. – Winston Churchill
15. It takes 20 years to build a reputation and five minutes to ruin it. If you think about that, you'll do things differently. – Warren Buffett
16. Technology is nothing. What's important is that you have a faith in people, that they're basically good and smart, and if you give them tools, they'll do wonderful things with them. – Steve Jobs
17. Leadership is the ability to guide others without force into a direction or decision that leaves them still feeling empowered and accomplished. – Lisa Cash Hanson
18. To win in the marketplace you must first win in the workplace. – Doug Conant
19. True leadership stems from individuality that is honestly and sometimes imperfectly expressed. Leaders should strive for authenticity over perfection. – Sheryl Sandberg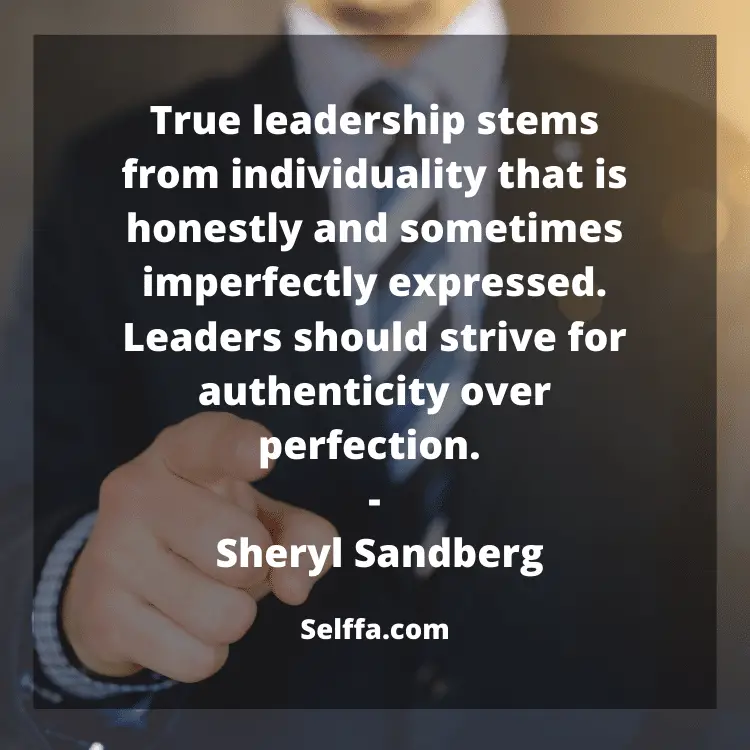 20. From my very first day as an entrepreneur, I've felt the only mission worth pursuing in business is to make people's lives better. – Richard Branson
21. The greatest ability in business is to get along with others and influence their actions. – John Hancock
22. I learned to always take on things I'd never done before. Growth and comfort do not coexist. – Ginni Rometty
23. When people are financially invested, they want a return. When people are emotionally invested, they want to contribute. – Simon Sinek
24. What I have learned is that people become motivated when you guide them to the source of their own power and when you make heroes out of employees who personify what you want to see in the organization. – Anita Roddick
25. We must all learn not only to not fear change, but to embrace it enthusiastically and, perhaps even more important, encourage and drive it. – Tony Hsieh
26. When you listen with empathy to another person, you give that person psychological air. – Stephen R. Covey
27. If leadership serves only the leader, it will fail. Ego satisfaction, financial gain, and status can all be valuable tools for a leader, but if they become the only motivations, they will eventually destroy a leader. Only when service for a common good is the primary purpose are you truly leading. – Sheila Murray Bethel
28. Appreciate everything your associates do for the business. Nothing else can quite substitute for a few well-chosen, well-timed, sincere words of praise. They're absolutely free and worth a fortune. – Sam Walton
29. Your job as leader is to stay as close in touch as possible with those closest to the action. – Kat Cole
30. The strength of the team is each individual member. The strength of each member is the team. – Phil Jackson
31. Some companies don't have an engagement problem, they have a hiring problem. – Bob Kelleher
32. People do not care how much you know until they know how much you care. – John C. Maxwell
33. The difference between successful people and really successful people is that really successful people say no to almost everything. – Warren Buffett
34. If you don't give people a chance to fail, you won't innovate. If you want to be an innovative company, allow people to make mistakes. – Indra Nooyi
35. Whatever is begun in anger, ends in shame. – Benjamin Franklin
36. It doesn't make sense to hire smart people and tell them what to do, we hire smart people so they can tell us what to do. – Steve Jobs
37. Be more concerned with your character than your reputation, because your character is what you really are, while your reputation is merely what others think you are. – John Wooden
38. Everything you've ever wanted is on the other side of fear. – George Addair
39. When one door of happiness closes, another opens, but often we look so long at the closed door that we do not see the one that has been opened for us. – Helen Keller
40.I've missed more than 9,000 shots in my career. I've lost almost 300 games. Twenty-six times I've been trusted to take the game winning shot and missed. I've failed over and over and over again in my life. And that is why I succeed. – Michael Jordan
41. When everything seems to be going against you, remember that the airplane takes off against the wind, not with it. – Henry Ford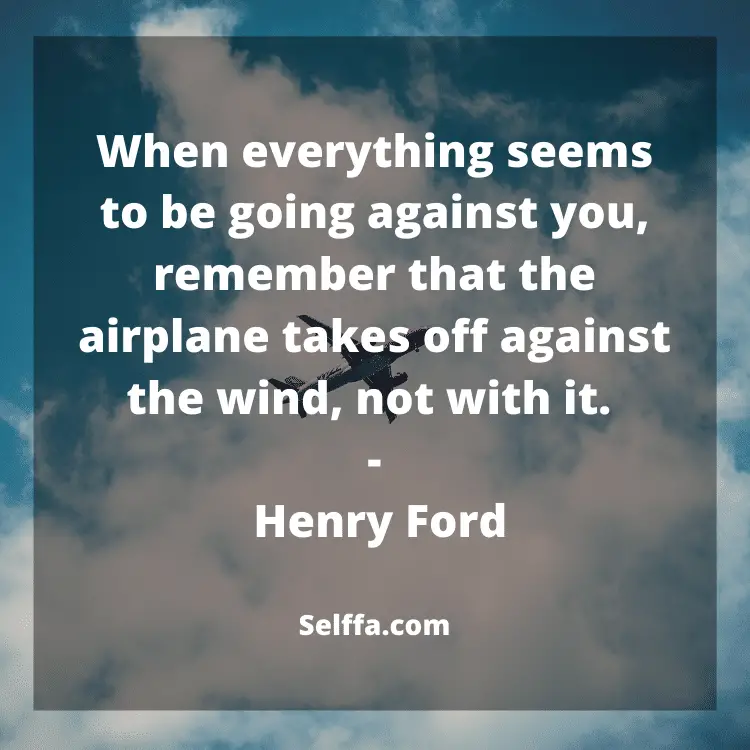 42. The ultimate measure of a man is not where he stands in moments of comfort, but where he stands at times of challenge and controversy. – Martin Luther King, Jr.
43. A leader is one who knows the way, goes the way and shows the way. – John C. Maxwell
44. I alone cannot change the world, but I can cast a stone across the water to create many ripples. – Mother Teresa
45. Nothing will work unless you do. – Maya Angelou
46. A good leader takes a little more than his share of the blame, a little less than his share of the credit. – Arnold H. Glasow
47. To handle yourself, use your head, to handle others, use your heart. – Eleanor Roosevelt
48. Don't tell people how to do things, tell them what to do and let them surprise you with their results. – George Patto
49. What's money? A man is a success if he gets up in the morning and goes to bed at night and in between does what he wants to do. – Bob Dylan
50. Think little goals and expect little achievements. Thing big goals and win big success. – David Joseph Schwartz
51. The question isn't who is going to let me, it's who is going to stop me. – Ayn Rand
52. Do or do not. There is no try. – Yoda
53. Too many of us are not living our dreams because we are living our fears. – Les Brown
54. The only person you are destined to become is the person you decide to be. – Ralph Waldo Emerson
55. What we achieve inwardly will change outer reality. – Plutarch
56. Believe you can and you're halfway there. – Theodore Roosevelt
57. Whatever the mind of man can conceive and believe, it can achieve. – Napoleon Hill
58. Whether you think you can or you think you can't, you're right. – Henry Ford
59. Leadership is a choice, not a position. – Stephen Covey
60. Servant-leadership is more than a concept, it is a fact. Any great leader, by which I also mean an ethical leader of any group, will see herself or himself as a servant of that group and will act accordingly. – M. Scott Peck
61. My research debunks the myth that many people seem to have that you become a leader by fighting your way to the top. Rather, you become a leader by helping others to the top. – William Cohen
62. A person who is worthy of being a leader wants power not for himself, but in order to be of service. – Sam J. Ervin, Jr.
63. Servant-leadership is all about making the goals clear and then rolling your sleeves up and doing whatever it takes to help people win. In that situation, they don't work for you, you work for them. – Ken Blanchard
64. Good leaders must first become good servants. – Robert K. Greenleaf
65. Leadership and learning are indispensable to each other. – John F. Kennedy
66. The nation will find it very hard to look up to the leaders who are keeping their ears to the ground. – Winston Churchill
67. A genuine leader is not a searcher for consensus, but a molder of consensus. –  Martin Luther King, Jr.
68. Great leaders are almost always great simplifiers, who can cut through argument, debate, and doubt to offer a solution everybody can understand. – General Colin Powell
69. Don't follow the crowd, let the crowd follow you. – Margaret Thatcher
70. I always believe that ultimately, if people are paying attention, then we get good government and good leadership. And when we get lazy, as a democracy and civically start taking shortcuts, then it results in bad government and politics. – Barack Obama
71. The exercise of power is determined by thousands of interactions between the world of the powerful and that of the powerless, all the more so because these worlds are never divided by a sharp line, everyone has a small part of himself in both. – Václav Havel
72. Conformity is the jailer of freedom and the enemy of growth. – John F. Kennedy
73. From strategy to persevering, business leaders can gain inspiration and insight from great military leaders. This selection of quotes provides a helpful reminder of some key priorities like integrity, accountability, mentoring, and simplifying what needs to be done.
74. Be willing to make decisions. That's the most important quality in a good leader. – General George S. Patton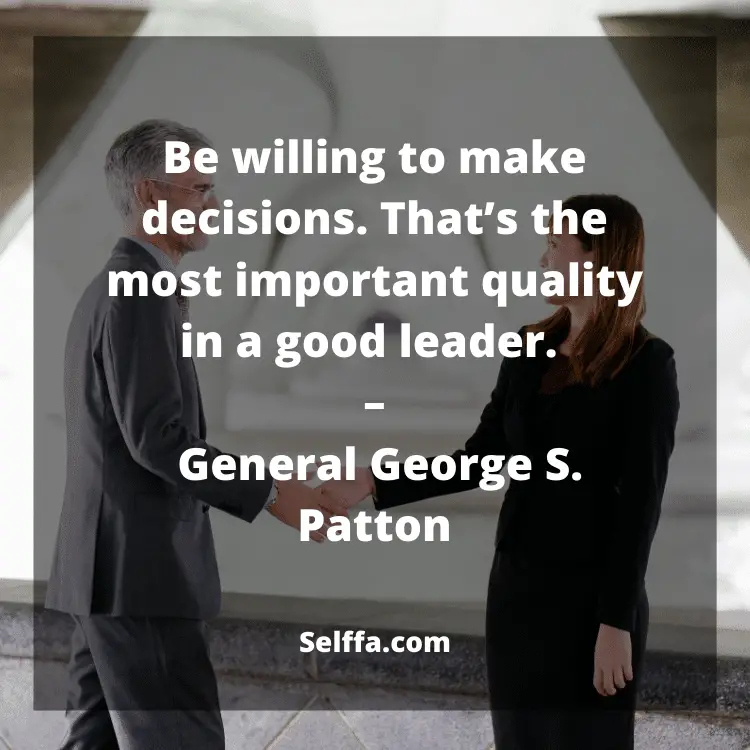 75. Clarity and simplicity are the antidotes to complexity and uncertainty. – General George Casey
76. There's likely a place in paradise for people who tried hard, but what really matters is succeeding. If that requires you to change, that's your mission. – General Stanley McChrystal
77. Never tell people how to do things. Tell them what to do and they will surprise you with their ingenuity. – General George S. Patton
78. Because the crew was convinced that I was on their team there were never any issues with negative criticism. You as a mentor have to establish that you are sincerely interested in the problems of the person you are mentoring. – Capt L. David Marquet
79. When things go wrong in your command, start wading for the reason in increasing larger concentric circles around your own desk. – General Bruce C. Clark
80. The supreme quality for leadership is unquestionably integrity. Without it, no real success is possible, no matter whether it is on a section gang, a football field, in an army, or in an office. – General Dwight D. Eisenhower
81. If you are going to win any battle, you have to do one thing: You have to make the mind run the body. Never let the body tell the mind what to do. The body is never tired if the mind is not tired. – General George S. Patton Jr.
82. In every battle, there comes a time when both sides consider themselves beaten, then, he who continues the attack wins. – General Ulysses S. Grant
83. The truth of the matter is that you always know the right thing to do. The hard part is doing it. – General Norman Schwarzkopf
84. A competent leader can get efficient service from poor troops, while on the contrary, an incapable leader can demoralize the best of troops. – General John J. Pershing
85. The most important thing I learned is that soldiers watch what their leaders do. You can give them classes and lecture them forever, but it is your personal example they will follow. – General Colin Powell
86. It is fatal to enter a war without the will to win it. – General Douglas MacArthur
87. It is necessary for us to learn from others mistakes. You will not live long enough to make them all yourself. – Admiral Hyman G. Rickover
88. Leadership is a potent combination of strategy and character. But, if you must be without one, be without strategy. – General Norman Schwarzkopf
89. Never give an order that can't be obeyed. – General Douglas MacArthur
90. It doesn't take a hero to order men into battle. It takes a hero to be one of those men who goes into battle. – General Norman Schwarzkopf
91. Courage is doing what you're afraid to do. There can be no courage unless you're scared. – Eddie Rickenbacker
92. No captain can do very wrong if he places his ship alongside that of the enemy. – Admiral Horatio Nelso
93. Never forget that no military leader has ever become great without audacity. – Carl von Clausewitz
94. Courage is fear holding on a minute longer. – General George S. Patton
95. A true leader has the confidence to stand alone, the courage to make tough decisions, and the compassion to listen to the needs of others. – General Douglas MacArthur
96. These quotes emphasize character traits and actions that are foundational for leadership. These include choosing friends wisely, being authentic, being a reader, being brave, embracing our dreams, cultivating wisdom, seeking personal growth, and seeking to draw out the best in others.
97. Today a reader, tomorrow a leader. – Margaret Fuller
98. What makes superman a hero is not that he has power, but that he has the wisdom and the maturity to use the power wisely. – Christopher Reeve
99. It is a curious thing, Harry, but perhaps those who are best suited to power are those who have never sought it. Those who, like you, have leadership thrust upon them, and take up the mantle because they must, and find to their own surprise that they wear it well.
100. As we look ahead into the 21st century, leaders will be those who empower others. – Bill Gates
101. I have three precious things, which I hold fast and prize. The first is gentleness, the second is frugality, the third is humility, which keeps me from putting myself before others. Be gentle and you can be bold, be frugal and you can be liberal, avoid putting yourself before others and you can become a leader among men. – Lao Tzu
102. Education is the most powerful weapon, which you can use to change the world. – Nelson Mandela
103, Great leaders harness personal courage, capture the hearts and minds of others and empower new leaders to make the world a better place. – Maxine Driscoll
104. If you want to know what a man's like, take a look at how he treats his inferiors not his equals. – Sirius Black
105. I want every little girl who's told she's bossy to be told instead that she has leadership skills. – Sheryl Sandberg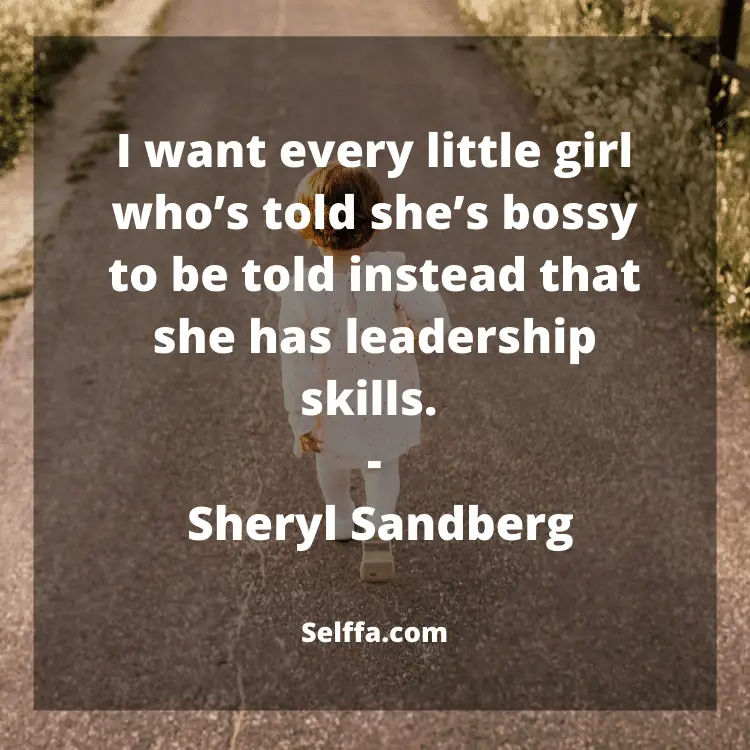 106. A teacher affects eternity, he can never tell where his influence stops. – Henry Adams
107. All our dreams can come true if we have the courage to pursue them. – Walt Disney
108. The future belongs to those who believe in the beauty of their dreams. – Eleanor Roosevelt
109. Hitch your wagon to a star. – Ralph Waldo Emerson
110. I cannot give you the formula for success, but I can give you the formula for failure which is, try to please everybody. – Herbert B. Swope
111. Be who you are and say what you feel, because those who mind don't matter and those who matter don't mind. – Theodor Seuss Geisel
112. Be careful with the environment you choose, for it will shape you, be careful the friends you choose, for you will be like them. – W. Clement Stone
113. Do you see someone skilled in their work? They will serve before kings, they will not serve before officials of low rank. – Proverbs 22:29
114. But select capable men from all the people, men who fear God, trustworthy men who hate dishonest gain and appoint them as officials. – Exodus 18:21
115.And David shepherded them with integrity of heart, with skillful hands he led them. – Psalm 78:72
116. When the righteous thrive, the people rejoice, when the wicked rule, the people groan. – Proverbs 29:2
117. By justice a king gives a country stability, but those who are greedy for bribes tear it down. – Proverbs 29:4
118. Do nothing out of selfish ambition or vain conceit. Rather, in humility value others above yourselves. – Philippians 2:3
119. Now the overseer is to be above reproach, faithful to his wife, temperate, self-controlled, respectable, hospitable, able to teach. – 1 Timothy 3:2
120. Whoever wants to become great among you must be your servant. – Mark 10:43
121. Where there is no vision, the people perish. – Proverbs 29:18
122. Great leaders don't set out to be a leader, they set out to make a difference. It's never about the role, always about the goal.
123. The function of leadership is to produce more leaders, not more followers. – Ralph Nader
124. The challenge of leadership is to be strong, but not rude, be kind, but not weak, be thoughtful, but not lazy, be humble, but not timid, be proud, but not arrogant, have humor, but without folly. – Jim Rohn
125. Do what is right, not what is easy.
126. Leadership and learning are indispensable to each other. – John F. Kennedy
127. The task of the leader is to get his people from where they are to where they have not been. – Henry Kissinger
128. Leadership is action, not position. – Donald H. McGannon
129. As a leader your every action has a consequence, make sure it is one you intend. – Kathrine Bryant
130. Leaders who don't listen will eventually be surrounded by people who have nothing to say. – Andy Stanley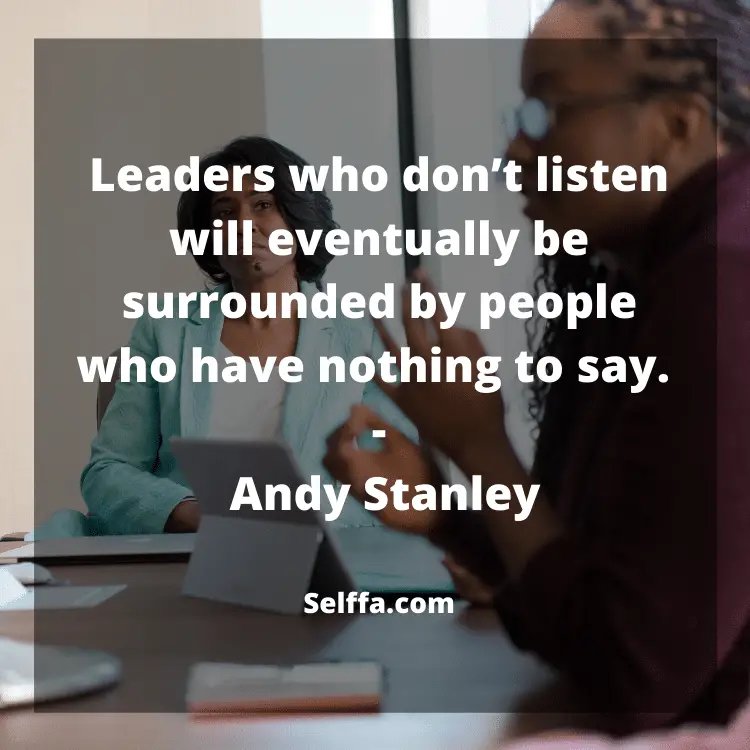 131. Leadership is the art of getting someone else to do something you want done because he wants to do it. – Dwight D. Eisenhower
132. A leader is someone who demonstrates what's possible. – Mark Yarnell
133. A true leader is one who is humble enough to admit their mistakes.
134. Leaders become great, not because of their power, but because of their ability to empower others. – John Maxwell
135. If your actions inspire others to dream more, learn more, do more and become more, you are a leader. – John Quincy Adams
136. Leadership is about being of service to others, not being served by others. Be a mentor, not a boss.
137. Innovation distinguishes between a leader and follower. – Steve Jobs
138. A leader takes people where they want to go. A great leader takes people where they don't necessarily want to go, but ought to be. – Rosalyn Carter
139. The greatest leader is not necessarily the one who does the greatest things. He is the one that gets the people to do the greatest things. – Ronald Reagan
140. Be the kind of leader that you would follow.
141. A person who is quietly confident makes the best leader. – Fred Wilson
142. Leaders aren't born, they are made. And they are made just like anything else, through hard work. And that's the price we'll have to pay to achieve that goal or any goal. – Vince Lombardi
143. I never thought in terms of being a leader. I thought very simply in terms of helping people. – John Hume
144. Great leaders inspire greatness in others.
145. The x-factor of great leadership is not personality, it's humility. – Jim Collins
146. Leaders never stop learning. – Christine Caine
147. The growth and development of people is the highest calling of leadership. – Harvey S. Firestone
148. A good leader leads the people from above them. A great leader leads the people from within them. – M.D. Arnold
149. The role of a great leader is not to give greatness to human beings, but to help them extract the greatness they already have inside them. – J. Buchan
150. I can't change the direction of the wind, but I can adjust my sails to always reach my destination. – Jimmy Dean
151. Perfection is not attainable, but if we chase perfection we can catch excellence. –  Vince Lombardi
152. There is little success where there is little laughter. – Andrew Carnegie
153. Life is 10 percent what happens to me and 90 percent of how I react to it. – Charles Swindoll
154. Don't find fault, find a remedy. – Henry Ford
155. Strive not to be a success, but rather to be of value. – Albert Einstein
156. I've learned that people will forget what you said, people will forget what you did, but people will never forget how you made them feel. – Maya Angelou
157. The mediocre teacher tells. The good teacher explains. The superior teacher demonstrates. The great teacher inspires. – William Arthur Ward
158. Don't judge each day by the harvest you reap but by the seeds that you plant. – Robert Louis Stevenson
159. A person who never made a mistake never tried anything new. – Albert Einstein
160. Remember that not getting what you want is sometimes a wonderful stroke of luck. – Dalai Lama
161. Eighty percent of success is showing up. – Woody Alle
162. You can never cross the ocean until you have the courage to lose sight of the shore. – Christopher Columbus
163. Either you run the day, or the day runs you. – Jim Rohn
164. There is only one way to avoid criticism, do nothing, say nothing, and be nothing. – Aristotle
165. Certain things catch your eye, but pursue only those that capture the heart. – Ancient Indian Proverb